Dallas Colleges:

Lincoln Richard
May, 2, 2013
5/02/13
9:22
AM CT
SMU Mustangs
2012 record:
7-6
2012 conference record:
5-3, C-USA West
Returning starters:
Offense: 6; defense: 6; kicker/punter: 2
Top returners
QB
Garrett Gilbert
, WR
Der'rikk Thompson
, DB
Kenneth Acker
, LB
Randall Joyner

Key losses
RB
Zach Line
, WR
Darius Johnson
, DE Margus Hunt, LB Ja'Gared Davis
2012 statistical leaders (*returners)
Rushing:
Line (1,278 yards, 13 TDs)
Passing:
Gilbert* (268-of-506 for 2,932 yards, 15 TDs, 15 INTs)
Receiving:
Jeremy Johnson
* (679 yards, 3 TDs)
Tackles:
Taylor Reed
(97)
Sacks:
Hunt (eight)
Interceptions:
Acker*, Joyner* Reed (three each)
Spring answers
1. Garrett Gilbert looks sharp.
Coach June Jones said after spring practice wrapped up that he was pleased with the way Garrett looked and improved in the biggest area of all -- accuracy. Gilbert only completed 53 percent of his passes last year but has a better grasp of the offense now and more chemistry with his receivers. It probably helps that he had Hal Mumme working with him, too.
2. Traylon Shead steps up.
The Mustangs lost their best offensive player in Zach Line, but Shead stole the show this spring as he worked his way up to the first team. Jones called the Texas transfer "the real deal," and is confident the running game will be just fine with Line gone.
3. Linebacker depth.
Reed and Davis are gone, but there is depth at this position and some veterans returning to the starting lineup, too, in Joyner and
Kevin Pope
. Jones said Joyner had a great camp, and so did
Lincoln Richard
.
Rishaad Wimbley
moved over from running back as well.
Fall questions
1. Pass-rush specialist.
Defensive end Margus Hunt proved just how special a talent he is this past weekend, when he was drafted in the second round. So how do the Mustangs go about replacing him and their other starting end, Kevin Grenier? Finding another pass-rush specialist takes on even greater importance now that the team is moving to a new league.
2. Offensive line depth.
The Mustangs have to replace three starters and are going to be much more inexperienced at this position. Though Jones feels confident with his starting five, depth still has to be built in the fall. True freshmen may have to be relied on this season.
3. Receiver rotation.
Jeremy Johnson and Thompson are back, along with
Keenan Holman
but otherwise, there are some young faces that are going to find themselves getting much more playing time. Line was also a big part of the pass game. Can Shead fill that role now?
March, 26, 2013
3/26/13
1:00
PM CT
PODCAST
Brett McMurphy joins Fitzsimmons & Durrett to discuss college football's national championship game coming to Cowboys Stadium in Arlington.

Listen

SMU opens spring practice today with lots of holes to fill on both offense and defense. I had a chance to catch up with coach June Jones to ask him about some of the biggest questions surrounding his team.
You are losing so many starters. How do you envision the spring playing out for you, knowing you have to replace your productive guys while moving into a new conference?
JJ:
There's definitely a lot of unknowns. The competition we're playing -- everybody's getting better. The Big East plays a very good brand of football, the schools that are left in there are pretty good. We have some positions to replace, but we think we have on campus a lot of good, young players who have been waiting for an opportunity. We have some kids that maybe, two or three of the freshmen kids will be an upgrade from what we've had the last four or five years, too. I think we'll be OK.
[+] Enlarge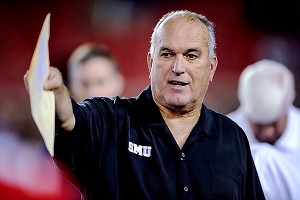 Jerome Miron/USA TODAY Sports"I think sometimes when people don't expect you to be what you are, you have your best seasons," SMU coach June Jones said.
The biggest losses offensively:
Darius Johnson
, a very productive player for us. A receiver has to step up and take that lead. But
Der'rikk Thompson
has started for three years, and he'll take that lead as we go forward. And then we have a transfer running back, Traylon Shead, that I think is going to be a really good player that was recruited by Texas, one of the best running backs in the state after his freshman year left and went to Navarro and he is with us and this spring will help him. But I think he's a big-time runner off what I've seen on his JC tape. And so that solves our two questions. Those two kids have to step up. We have some other kids on campus.
Prescott Line
, Zach's brother, looks like a prototype of his brother. He's going to be a redshirt freshman so he understands what we're doing. I think he'll be productive. From that standpoint, I think we're very good for filling it but until you do it game day you just never know.
The other question on offense surrounds your quarterback, Garrett Gilbert. How are you going to work with him to improve on his accuracy?
JJ:
Any time you're in a system more than one year you get better, you just get more comfortable with it. I think that will help Garrett. I really was happy with his competitiveness as a player. He did a lot of different things for us, running the ball, competing that way when things broke down to get first downs, things like that. He showed that he's a competitive winner. So as long as he keeps getting better in the passing game, he's got a shot to be a step up from where he was last year. We have a kid on campus,
Neal Burcham
, who is very accurate passer and will compete with Garrett. Both Garrett will make Neal better and Neal will make Garrett better. Competition does that.
Along the same lines, how are you going to work on just being a more consistent offense this spring?
JJ:
You have to be or you're not going to be very good. We have to be able to throw the ball more effectively. I'm not really worried about the run part of it. We will get the runs when we have them. The thing we have to be able to do if we're going to be able to be successful, we have to throw the ball effectively. We're in a pass offense. If you're not completing 68 to 72 percent of your passes, that's probably not getting the job done. That's what we have to be able to do.
Defensively, you have to replace guys like Margus Hunt, Taylor Reed and Ja'Gared Davis. Who are the next guys up?
JJ:
We have some kids on campus that played pretty well last year for us. We have a kid named
Zach Wood
and
Beau Barnes
that split time with Margus, they rotated in. Probably the most underrated guy we had was a guy name
Torlan Pittman
, and
Darrian Wright
will replace him. Darrian played as a true freshman and really played pretty well for us. We have some depth and we have some really good kids coming in. The best lineman we ever recruited named Zelt Minor from Lamar will compete right away for a starting job. He's one of those kids that we've never had come to our school, since I've been here anyway, from a talent standpoint. We have some guys here, we have another kid,
Elie Nabushosi
that I think may be really, really great d-lineman. He redshirted last year. We couldn't block him in practice.
We're replacing two pretty productive linebackers in Taylor Reed and Ja'Gared Davis but we have some kids who might be bigger and more talented than them on campus right now, in a kid named
Jarvis Pruitt
and
Lincoln Richard
being the other guy. We're going to be OK but they've got to learn the defense and play on game day. They'll make mistakes but talent wise I think we're going to be pretty good.
It sounds like you've got a lot of talent there, but you're young.
JJ:
Everybody's young. We open up with Texas Tech so obviously you better play pretty good to beat them, but at the same time I think once these kids get to Game 3 and 4 where they have a little game experience -- they'll make plays while they're learning -- but at the same time how you minimize your mistakes is really how you win the games. Who screws it up less is who wins games early so when you've got young kids, you're making mistakes. We'll make some big plays in there, too, because they are very talented.
What do you think when people say this is a rebuilding year and they're not quite sure what they're going to see out of you guys this year?
JJ:
I don't really pay too much attention to that. We were told when I was in Hawaii we were the worst team in the conference and we went 12-0. I think sometimes when people don't expect you to be what you are, you have your best seasons. That's just me. But I don't worry. You're coaching the kids up. You prepare them to win and they'll learn how to win. We just have to hang together until they do. That's how you turn it around.