Dallas Colleges:

Lyle Leong
June, 22, 2011
6/22/11
8:50
AM CT
The Big 12 might be weak at the top of the running back heap, but it's definitely not at receiver. The conference has at least three of the top five receivers in the country, and the top two. They highlight a very strong group of receivers across the league, and I continue our position rankings with receivers today.
Remember that depth plays a big part of these rankings. We'll be ranking the top 10 individuals at each position later on before the season begins.
Other position rankings:
1. Oklahoma
[+] Enlarge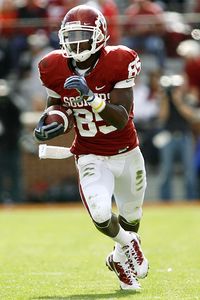 J.P. Wilson/Icon SMIRyan Broyles finished the 2010 season with 131 catches for 1,622 yards and 14 touchdowns.
The Sooners have the nation's No. 2 receiver,
Ryan Broyles
, but found a handful of others to surround him in 2010 and should have a couple more in 2011. Sophomore
Kenny Stills
broke Broyles' freshman receiving record and looks like a budding star.
Dejuan Miller
came on strong before a season-ending knee injury, but he's back. The Sooners lose
Cameron Kenney
, but
Trey Franks
had a strong freshman campaign, and freshmen
Justin McCay
(redshirt) and Trey Metoyer could provide even more playmakers.
2. Oklahoma State
The Cowboys boast the returning Biletnikoff Award winner and 2011 favorite,
Justin Blackmon
, with a great group around him, too. Slot machine
Josh Cooper
returns for his senior year, and fellow senior
Hubert Anyiam
(the team's leading receiver in 2009) is hoping to return to form after being slowed by an ankle injury in 2010.
Isaiah Anderson
is a shifty speedster, while
Michael Harrison
and
Tracy Moore
offer a more aerial approach to receiving.
3. Texas A&M
The Aggies have the Big 12's No. 3 receiver,
Jeff Fuller
, who is arguably one of the top-five in the college game. But they also have the Big 12's most experienced receiving unit, with guys who won't be surprised by anything they see in Big 12 play. Juniors
Ryan Swope
and
Uzoma Nwachukwu
are the team's second and third options, but fellow juniors
Kenric McNeal
and
Brandal Jackson
could be bigger pieces of the offense in 2011. Tight end
Nehemiah Hicks
should see his profile rise in his coming sophomore year.
4. Baylor
Top target
Kendall Wright
will likely end his career as the Bears' leading receiver for all four of his seasons on the field, and 6-foot-4, 220-pound junior
Josh Gordon
looks like the new Jeff Fuller.
Terrance Williams
,
Lanear Sampson
and Tevin Reese round out the Bears' top five, who all had at least 40 catches last season, and all return.
5. Missouri
Missouri still lacks a proven big-play threat, but has two pass-catchers who have some of the best hands in the game. Receiver
T.J. Moe
and tight end
Michael Egnew
won't drop many passes, and combined to catch 182 for 1,807 yards and 11 touchdowns.
Wes Kemp
and
Jerrell Jackson
bring a lot of experience and both had at least 39 catches last season. If
Marcus Lucas
or
Rolandis Woodland
can become a consistent downfield threat, Missouri will rise up these rankings by season's end.
6. Texas Tech
Tech's top two receivers,
Lyle Leong
and
Detron Lewis
, must be replaced, but the Red Raiders have a few solid candidates to do it. Junior
Alex Torres
will likely lead the group, but fellow junior
Austin Zouzalik
and seniors
Jacoby Franks
and
Tramain Swindall
will be counted on for more production. Dark horse/juco newcomer Marcus Kennard could blossom into a household name across the Big 12 by season's end.
7. Texas
Sophomore
Mike Davis
and redshirt freshman
Darius White
are loaded with potential, but two of the team's top three receivers (
James Kirkendoll
,
John Chiles
) are gone, and no Texas receiver caught more than two touchdowns last season.
Malcolm Williams
and
Marquise Goodwin
are as different as two receivers could be, but both need to break out to help whoever becomes the Longhorns quarterback next fall.
8. Kansas State
Brodrick Smith
will be back this season after breaking his leg in a loss to Nebraska. But two of the team's top three receivers are gone, leaving converted quarterback
Chris Harper
as the leading returner, though Smith might have held that title if he'd stayed healthy. Sophomore speedster
Tramaine Thompson
can make plays if he gets the ball with some space.
9. Iowa State
The Cyclones will be breaking in a new quarterback this season and they will need a playmaker to step up. Tight end
Collin Franklin
led team in receiving last season but he is now gone.
Darius Reynolds
looks like a possible candidate to fill the role, although incoming slot receiver Aaron Horne might rack up a few catches in space.
Darius Darks
and
Josh Lenz
should earn some more targets too.
10. Kansas
Converted defensive back Daymond Patterson is the team's top receiver, but the team's No. 3 receiver junior
Bradley McDougald
, moved to safety in the middle of the season. Tight end
Tim Biere
is one of the Big 12's best and led the team with four touchdowns last season.
Chris Omigie
and
D.J. Beshears
have some potential, and converted quarterback
Christian Matthews
keeps showing up in spring games. But all three, along with the rest of the group, would benefit from some consistency at the quarterback spot.
January, 27, 2011
1/27/11
10:09
AM CT
Signing day is exactly a week from Wednesday, and it's time to take a look at who needs what in its 2011 class.
Some schools have addressed these needs with their current class. Some haven't. Others are still trying.
Here's our look at the South, after running down the
Big 12 North
earlier this morning.

BAYLOR
Defensive tackle:
The Bears are loaded on offense and have a ton coming back, but anyone who watched Baylor in 2010 knows the big problems are on defense, starting with the front four. Phil Taylor is headed to the NFL and Nicolas Jean-Baptiste will be a senior next year. Reserve Chris Buford is gone, too. The Bears need to fill out some depth up front to avoid a repeat of their Texas Bowl debacle defending the run against Illinois.
Punter
: Derek Epperson was rock solid as a four-year starter for the Bears, averaging near 44 yards a punt for his past three seasons. He's gone now, and the Bears will need a replacement. The good news is Baylor's offense with
Robert Griffin III
doesn't make the position nearly as important as it used to be.

OKLAHOMA
Receiver:
Ryan Broyles
, a senior, and
Kenny Stills
look ready for big years in 2011, but senior
Cameron Kenney
is gone.
Trey Franks
,
Dejuan Miller
and
Joe Powell
could contribute in 2011, but beyond that, another big-time threat across from Stills would certainly help. One of the Sooners' top 2011 commits, Trey Metoyer, could become that player.
Safety:
Both starters, Quinton Carter and Jonathan Nelson, have graduated, and the Sooners will try to replace them with Sam Proctor, who has started plenty of games, and Javon Harris. The Sooners are pretty well-stocked about everywhere, but more depth in the secondary is always welcome.

OKLAHOMA STATE
Defensive line:
Three of the Cowboys' four starters are gone, and it's always necessary to fill in some depth behind them. Shane Jarka, Chris Donaldson and Ugo Chinasa all had good years in 2010.
Offensive line:
Oklahoma State brings back all five starters for 2011, but four will be seniors. That means replacing them in 2012, which will be a lot easier if those replacements don't end up being true freshmen. Oklahoma State kept offensive line coach Joe Wickline, a candidate for the same job at Texas, and his development of the line last year with four new starters was a big reason for the Cowboys' success. He'll need to do it again in 2012.

TEXAS
Running back:
Fozzy Whittaker
and
Cody Johnson
will both be seniors in 2011, and Tre Newton's career is over because of issues with concussions. Texas would be well-served if its top 2011 commit, Malcolm Brown, can come in and be effective immediately as a true freshman.
Cornerback:
Aaron Williams left early. Curtis and Chykie Brown graduated. Texas needs help at corner and will have big problems in the near future if they don't get it.
Linebacker:
Emmanuel Acho and Keenan Robinson will be seniors in 2011, and Dustin Earnest and Jared Norton already graduated. New talent behind them will help prevent a drop-off in 2012 after Acho and Robinson split.

TEXAS A&M
Kicker:
Randy Bullock will be a senior in 2011, but Texas A&M is already hoping his spot is filled by incoming freshman Taylor Bertolet, the nation's No. 2 kicker who won the Under Armour All-American game with a last-second field goal earlier this month.
Linebacker:
Michael Hodges and Von Miller have graduated, and Garrick Williams will follow them in 2011. The Wrecking Crew was pretty stout for most of 2010, but filling those holes in a four-linebacker front will be key in ensuring things stay that way.

TEXAS TECH
Secondary:
LaRon Moore and Franklin Mitchem are gone, so Texas Tech will be breaking in some new blood in the secondary for new coordinator Chad Glasgow and cornerbacks coach Otis Mounds. Freshmen cornerbacks Jarvis Phillips and Tre Porter made plays in 2010, but they also allowed offenses to make a few of their own. Stopping that will be a big step in Texas Tech getting things rolling under Tommy Tuberville.
Receiver:
Texas Tech already needs to replace
Detron Lewis
and
Lyle Leong
, and
Tramain Swindall
and
Jacoby Franks
will follow suit after 2011.
Alex Torres
was hampered by a back injury all year, but the Red Raiders will need some depth around him at receiver to keep the offense humming.
December, 7, 2010
12/07/10
2:18
PM CT
Mike Leach and Tommy Tuberville are both winning head coaches. Anybody can see they did it in different ways. The transition from a decade of Leach to Tuberville had the looks of a rocky one from the beginning, hence the reason I picked the Red Raiders to finish last in a brutal Big 12 South division that looked likely to land all six teams in bowl games back in August.

Tuberville's offense never established the running game Leach's offenses usually lacked, but the Red Raiders still stuck pretty close to Tuberville's declaration of a 60-40 pass/run ratio, with 561 passes (61.7%) and 408 runs (39.3 %), though that number was the fewest attempts in the Big 12.
Coordinator James Willis' aggressive, high-risk/high-reward defense was more often the former. Texas Tech ranked seventh in the Big 12 in turnovers forced (22), while giving up over 30 points a game to rank 10th in the Big 12 and dead last in total defense by more than 22 yards a game.
Texas Tech's 7-5 record is its worst since 2006, but if the Red Raiders get some consistent play out of a new quarterback, it's easy to see them improving on that record next season.
Offensive MVP:
Lyle Leong
, receiver. The senior didn't have the most catches on the team, but his 17 touchdowns rank second nationally. He offered
Taylor Potts
a reliable option in the red zone, and had three games with three touchdowns, and another two with a pair of touchdowns.
Defensive MVP:
Brian Duncan, linebacker. Duncan finished with seven sacks, four more than any other player on the team, and made 12 tackles for loss, also the most on the team. His 58 tackles were just fourth on the team, and you could make an argument for Cody Davis, Colby Whitlock or even Bront Bird in this spot.
Turning point:
The Red Raiders' 52-38 loss at Iowa State on Oct. 2. A week earlier, it had failed to beat the undefeated Longhorns at home, but allowed just 24 points and looked pretty solid on defense against what ended up being a pretty poor offense. The loss to the Cyclones made it evident that this wasn't the Texas Tech team we were used to seeing, and giving up 52 points to the Cyclones made it clear that the defense would be a liability for most of the season.
What's next:
Just like last offseason, there's another quarterback derby on tap for the Red Raiders. This won't feature two seniors, but a pair of guys will battle during bowl practices, spring and fall. I wouldn't expect a starter between
Jacob Karam
and
Seth Doege
to be named before the fall. Doege has a bit of an edge with some experience during the 2009 season, but it'll be close. The Red Raiders have a solid recruiting class full of defensive talent headed to Lubbock next fall. They lose a lot of experience on defense in seniors Bird, Whitlock and Duncan, but young talent in the secondary like freshmen Tre' Porter and Jarvis Phillips, and sophomore Davis, looks ready to make a lot of noise in the Big 12. I'd expect the Red Raiders to take a slight step back on offense, but be more sound defensively, and less susceptible to big plays.
September, 6, 2010
9/06/10
12:05
PM CT
By
Jeff Caplan
| ESPNDallas.com
This is part of our Monday Morning Quarterback series, designed to give you a quick look at some things we learned from Saturday's college football action. Let's look at some brief items from
Texas Tech
's victory over
SMU
:
Tommy Tuberville wasn't in Lubbock long before he was quickly reminded that there wasn't a fourth-down situation that his predecessor didn't like. Tuberville said not to worry. He said he's not crazy, but he's not exactly conservative either. He proved it Sunday in the fourth quarter when he kept the offense on the field for a fourth-and-1 from its own 34 despite leading 35-20 with 9:37 to go.
Quarterback
Taylor Potts
, who threw for 359 yards and four touchdowns, was under center and not in the shotgun. He bobbled the snap and SMU took over at the 32 and scored to make it 35-27.
Potts said he liked the aggressive call.
"That was a great call. Coach calls it and expects me to get a first down. I need to do it. The snap was my fault," Potts said. "I've got to come back with [center] Justin [Keown] this week and work on it. If he expects us to get a first down, we need to do it. We kind of fell short on that one and that's my fault."
Tuberville took the onus off his quarterback.
"I put them in a bind by going for that fourth down," Tuberville said. "I forgot we don't take many snaps underneath the center. I've got to get that out of my mind, but that was my fault and my call."
*Potts and wide receiver
Lyle Leong
had a huge day, connecting 11 times for 142 yards, both career highs for Leong, and three touchdowns, which tied his career-best. Yes, the two have a feel for one another. They were high school teammates at Abilene High School.
Asked if that was there best game together, Potts had to ponder that for a moment: "I have no idea. Maybe. Maybe better in elementary school. I don't know."
*So much attention has been paid to how coach Tommy Tuberville would alter the Red Raiders' famous aerial attack. Well, Potts put the ball in the air more than 30 times -- in the first half. He finished with 34 completions on 53 attempts. But, what about the defense, Tuberville's specialty?
A defensive scheme promising a more aggressive approach in sacking the quarterback paid off with three sacks of SMU sophomore quarterback
Kyle Padron
. Tech also intercepted Padron three times -- by three different defenders -- and held the Ponies to 218 yards on 21-of-38 passing.
"We played a lot of nickel, a lot of dime, a lot of six DBs. With a passing attack like SMU's, they know what they're doing passing the ball," Tuberville said. "They had us a little confused at times. We gave up 200 yards passing, which is probably a little bit too much, but they had us confused. But, that's what first games are about. We'll get into more of a rhythm, guys will know what to expect and hopefully we'll play a little bit better. But, overall I thought they graded out well for the first time out as a group."
*The Tech ground game certainly didn't come through as expected. The Red Raiders finished with 431 yards of total offense with just 72 yards coming on 31 rushes.
Baron Batch
had a team-high 52 yards on 15 carries, not a great start on the senior's quest to become the first Tech tailback to eclipse 1,000 yards since the 1990s.