Dallas Colleges:

mack brown resigns
December, 18, 2013
12/18/13
4:00
PM CT
In the heat of the greatest moment of his career, Mack Brown did something remarkably savvy and typical of his dedication to recruiting.
Just moments after lifting the crystal BCS national championship trophy in the Rose Bowl, after beating USC for his first title, Brown was asked what this victory meant to the state of Texas. "What it means to us, been a long time," Brown barked. "There's a lot of passion and a lot of pride. I'm proud of these kids, I'm proud of our coaches -- high school football in the state of Texas. We love our fans and they love it."
High school football in the state of Texas. On the biggest stage of his life, Brown remembered to give a shout-out to the high school coaches who raised his players. The gesture was symbolic of Brown's recruiting philosophy: He was always thinking ahead. No matter how history judges his final years, Brown will go down as a recruiting icon and innovator during his time at Texas.
He cared about recruiting kids who truly wanted to be at Texas. And for most of Brown's tenure, what in-state kid wouldn't?
Step into Brown's office, decorated with leather couches, trophies, rings and endless memorabilia and good luck saying no when the man made his pitch or extended an offer.
"You can't say no to Coach Brown," DeSoto (Texas) High School coach Claude Mathis said. "He does a great job once you get the kids on campus and in the office."
To continue reading this story,
click here
.
December, 17, 2013
12/17/13
1:00
PM CT
AUSTIN, Texas -- Your average resignation news conference involving a legendary coach is typically filled with thank-yous, fond recollections and excessive sentimentality. Mack Brown's had that.
Your average resignation news conference doesn't include a school president having to answer whether regents forced out the head coach. The average ones don't involve asking who's actually hiring the next coach and whether that coach can reunify the fan base.
[+] Enlarge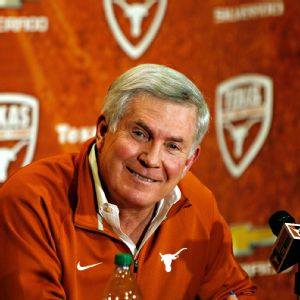 Erich Schlegel/Getty ImagesMack Brown spoke of the many great things about being the Texas coach, but also hinted at some of the problems the next coach will face.
Mack Brown's had that, too. Makes you wonder if that next coach was watching on TV. If so, he should have a better sense of the potential dysfunction that awaits whoever takes over Texas' football program.
Texas is arguably the No. 1 college football job in the country. National brand, unparalleled resources, talent-rich recruiting base, gorgeous campus and city, and oh, by the way, a generous paycheck. It's all there, a dream job in so many ways.
President Bill Powers and athletic director Steve Patterson won't need to accept applications and résumés for this opening. They'll go after the very best of the best in the coaching profession. They won't have a hard time getting someone to take the gig.
But whoever does should know what he's walking into. Brown hinted at this throughout the weekend.
When he put out a statement Saturday night declaring that his run was over, Brown alluded to the Texas program being "pulled in different directions" and that change was necessary.
A day later, he opened his news conference by referring back to a conversation he had with the late Darrell Royal when Brown took the job in the winter of 1997.
"There is such a diverse group that follows this football team that you have to pull them all together, and that is very difficult to do," Brown said. "He said when you get them all together, it's wonderful and it's a powerful place. But when it is not, it is very divided and it is a very difficult place to manage.
"So he said it's like a box of BBs and the BBs are dropped all over the room. What you got to do is get all the BBs back in the box. And we were able to do that. We were able to do that for a long time, until 2010. And then, as of late, the BBs have gotten back out of the box."
The BBs aren't just the fans and season ticket-holders. They're also the big-money donors and boosters, members of the UT System Board of Regents, the people who make up Texas' athletic department and anyone else supporting the cause of Longhorn football.
And they all have a say. They have immense influence. That's why Powers was asked whether the regents drove Brown out, which he denies. That's why he had to declare Patterson is in charge of this hire.
Think Nick Saban faces "special pressures" as the owner and operator of the Alabama dynasty? They're probably nothing like this. Did I mention that the regents could've voted Powers out last week, or that a current and former regent tried to make a run at landing Saban in January?
In Brown's final four years at Texas, he lost 20 games and the faith and support of a strong faction of the fan base. The swirling negativity and vitriol wore on him, his coaches and his players, and was exacerbated with each loss, especially in 2013.
The atmosphere of home games noticeably worsened, to the point that the Longhorns typically played better on the road in recent years.
That's why "energy" and "culture change" are two of the biggest buzzwords associated with what's setting up to be a monumental hire for Texas. The new guy needs serious savvy, enthusiasm and a willingness to play politician when necessary.
And let's not forget, that's on top of the inherent pressure of replacing a coach who won 158 games in 16 seasons, of living and playing up to the standard Brown set during his tenure.
Texas is one of just eight programs in the country with a winning percentage above .750 in the past decade. Its next coach must lead the Longhorns back into the hunt for playoff berths and national championships as soon as possible.
If Royal were still around today, he'd likely offer the new guy the same advice he once gave Brown, after a long spiel about all the folks he'd need to impress at UT: "Oh, yeah: You need to win all the games."
First, Brown's successor will have to mend some fences. He'll need to unify a fractured base. Winning is usually the most effective antidote, but it'll take more than that.
The BBs don't get back in the box all by themselves.
December, 15, 2013
12/15/13
7:04
PM CT
AUSTIN, Texas -- Mack Brown's tenure at Texas shouldn't have ended like this. But you knew once it was all over, once it was time for
the news conference
, he'd make the best of it.
After a hellish and probably heartbreaking week, Brown conceded it was time to walk away. He believed he could coach many more years. His bosses offered a chance to keep going. Brown knew that wasn't going to work.
If the 62-year-old is bitter, if he's crushed by an ending unbecoming of his 16-year run, he hid it well on Sunday. The Mack Brown who sat before reporters and opened up on Sunday was his trademark self, full of class and pride and positive spirit.
Brown held it together. No tears, no pauses. But there was plenty of emotion. He sat down, took one long gulp from a water bottle and then talked for more than 20 minutes, about his passion for Texas and what he's accomplished and what the Longhorns must do after he's gone.
"I want to make sure that everybody knows that I've been treated fairly and it's been a wonderful run here and that I love the University of Texas," Brown said. "I have no regrets at all."
An already toxic situation had become untenable and perhaps unsalvageable without injecting a new coach and embarking on a new era. Brown said so himself.
"I think it's better now and he'll have a chance to come in here and get it back and that's fun for him and fun for these kids," Brown said. "They just need new energy. A lot of negative energy around and you know what, life's too short. We don't need negative energy, especially around kids."
[+] Enlarge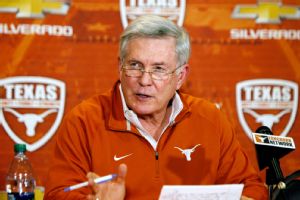 Erich Schlegel/Getty ImagesMack Brown speaks during his news conference on Sunday.
For all the criticism levied against him by a furious fan base and even some of the reporters who cover the program, and for all the talk that his ego and pride were threatening to sink Texas' ship, the man took the high road.
He hopes his days of wearing burnt orange will be remembered for bringing joy to Texas and getting the program back among the nation's elite. He wants to be known for his integrity and class and winning the right way.
But he knew the score all along. He knows the Texas standard -- he is, after all, the one who revived it -- and he knows what the program needs now.
"We used to win 12 and 13 and we won eight," Brown said. "It's not about integrity, it's not about class, it's not about grades, it's not about any of that stuff. You've got to win, and we set a standard at this place that you better win all of them. That's the expectation, and I understand that."
The fan base is divided. A portion probably did some celebrating Saturday night, glad that Brown's reign is finished. In their zeal to hunt down his replacement, let's hope they'll pause to remember the kind of human who ran their program for 16 years.
Brown reminded us on Sunday, in an unscripted moment of honesty. He was asked to reflect on the things he'd go back and change. He had only two.
The first: The death of Texas defensive lineman Cole Pittman in a one-car accident in 2001. He said it was the hardest moment of his coaching career, the one he'll never get over.
"I talked to Marc and Judy Pittman today," Brown said, referring to Cole Pittman's parents. "I have the little program from the funeral in my office that I look at very often."
The second: The death of 12 Texas A&M students in 1999, when the traditional A&M bonfire pyramid collapsed prior to the Aggies' rivalry game against Texas.
"Playing A&M on Thanksgiving, I thought about the families," he said. "Because I want to keep my children, and when you lose your children there is nothing worse than that in the world. I think about that every Thanksgiving, because there are 12 families that don't have a good Thanksgiving. That will never go away."
He lost 47 games at Texas, some of them the hardest of his career. They're meaningless by comparison.
That's Brown at his finest. A lot of coaches can take over at Texas and win big, but that character is what will make Brown irreplaceable. Even on these rough days, he's still got his charm.
"I'm going to get out of the way," Brown said to end his news conference, "because y'all are more excited about the one coming than you are the one leaving."
He stood up and, surrounded by cameras, met men's basketball coach Rick Barnes for a long hug and a laugh. And then he walked away, the clock starting on his final weeks. Soon, he'll become Texas' legendary former coach. It's not the ending he dreamed of, but he's ready for this.
"We're leaving it better than we found it," he said, "and it's been a fun ride."
December, 14, 2013
12/14/13
8:07
PM CT
By
ESPN Stats & Information
Mack Brown announced he would step down as head football coach at Texas following the team's appearance in the Alamo Bowl.
Brown ranks as the school's second-winningest coach with 158 victories, nine shy of Darrell K Royal's all-time mark.
Brown led the Longhorns to the 2005 BCS Championship, their first national title since 1970 and won at least 10 games in every season from 2001 to 2009.
From 2004 to 2009, Texas was tied with Boise State for the best win percentage in the FBS. But since the 2010 season, Texas is 30-20. Its .600 winning percentage ranks 39th in the FBS. The Longhorns were 43-7 in Big 12 play from 2004 to 2009, but only 18-17 since then.
Read the rest of this post
here
.
December, 14, 2013
12/14/13
7:48
PM CT
Texas never had looked so bad as it did the second week of the 1997 football season.
By a final score tailor-made for a newspaper headline -- "Rout 66" -- UCLA ran coach John Mackovic's Longhorns off their own field 66-3. Fans poured out of Darrell K Royal-Texas Memorial Stadium well before halftime, scrambling to avoid seeing any more of the worst Texas loss since 1904.
But Texas' darkest hour came just before the dawn.
The humiliating defeat finally gave the burnt orange brass the impetus to fire Mackovic the day after a season-ending loss to Texas A&M.
It replaced him with Mack Brown.
[+] Enlarge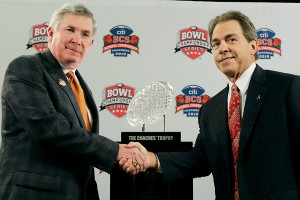 AP Photo/Jae C. HongBy winning one national championship and playing in another BCS title game, Mack Brown put Texas and the Big 12 in the national spotlight.
On Saturday, Brown's 16-year tenure as Texas' head coach mercifully reached its conclusion, following months of speculation on when he ultimately would be forced out. After four seasons of relative mediocrity, Brown resigned, clearing the way for Texas to make another new start.
Predictably, Brown's failures the past four seasons will envelop his exit. No Big 12 titles. No 10-win seasons. Only one victory over Oklahoma, which came far too late to save his job.
Yet even the staunchest of Brown's adversaries can't deny he leaves Texas in better shape than when he got there.
And in turn, the Big 12 is better off with him having coached in it.
"He elevated the Texas football program," said former Oklahoma athletic director Donnie Duncan, who was one of the chief architects of the Big 12. "And that elevated the conference."
Brown's arrival in the Big 12 came at the perfect time, as Nebraska was carrying the torch for the conference in 1997.
The Cornhuskers had captured their third national championship in four years and had become college football's most dominant program.
But after that season, legendary coach Tom Osborne retired, starting a steady decline for Nebraska.
The Big 12 would need one of its other brands to emerge. Thanks to Brown and Bob Stoops, two did.
"Mack drove the competition around him to be better," said Gil Brandt, a former longtime executive with the Dallas Cowboys.
Before Brown came to Texas, the Red River Rivalry had plummeted to an all-time low.
Texas was a mess, and Oklahoma was in even worse shape under coach John Blake. The 1997 meeting was between teams that would go a combined 8-15 -- reducing the Big 12's premier rivalry game to a caricature.
The game still mattered along the Interstate 35 corridor. Elsewhere, it was barely noticed, including by recruits.
"Nobody cared about the Texas-OU rivalry then," said Rod Babers, who was a blue-chip defensive back out of Houston in the 1999 recruiting class. "It wasn't nationally relevant anymore."
Babers wanted to play in big college rivalry games. But that didn't include anywhere in the Big 12. So he initially had his eyes cast to Florida State, which had nationally relevant rivalry games with Florida and Miami.
But Brown soon would give Babers, and the state's other top players, a reason to look at Texas again.
Immediately after getting the job, Brown persuaded star running back Ricky Williams to return to school for one more year. Williams would go on to capture the Heisman Trophy in a 9-3 season -- an amazing one-year turnaround.
The following year, Stoops was hired at Oklahoma. Almost overnight, with the Longhorns and Sooners back to being perennial top-10 teams, the national spotlight returned to the Red River Rivalry.
"Mack Brown and Bob Stoops brought the rivalry back to national relevance, to where young kids being recruited actually cared about it," said Babers, who ended up signing with the Longhorns and became an All-Big 12 cornerback. "It meant something to them. It mattered. They paid attention to it again.
"One of the triumphs of Mack Brown was his role in bringing Texas-OU back to national relevance."
As a result, even as Nebraska dipped, the Big 12 remained nationally relevant.
Thanks to the Longhorns and Sooners, the Big 12 had a representative in the national championship game seven of 10 years from 2000 to 2009.
"Having a team in the national championship is big exposure," Duncan said. "Big for the team. Big for the conference."
Such exposure also translated into dollars.
"Texas gives the Big 12 national exposure on television," Brandt said. "Alone, there are teams in the Big 12 that don't get big TV numbers. But when they play Texas, they do."
In the spring, the conference distributed a record $198 million in television revenue to its 10 members. Without Brown turning Texas around 16 years ago, such a figure would not have been possible.
"Texas is a brand," Duncan said. "The combination of the brand and the success of the team generates that level of television interest. And that has a trickle-down effect."
Brown's success elevating Texas goes beyond Austin.
It has trickled to all corners of the Big 12.