Dallas Colleges:

Maea Teuhema
October, 10, 2013
10/10/13
2:00
PM CT


The Big 12 has a big weekend ahead in Dallas and Texas Tech is surging. Here's a look at some of the Big 12's top recruiting storylines.

Big names set to attend Red River Rivalry
There is never a season, regardless of what type of shape either program is in, that the Cotton Bowl won't be filled with some of the most desirable recruits in the country.
October, 1, 2013
10/01/13
7:00
AM CT
Recruiting rivalries. No matter if two teams are pushing for a national title or in a rebuilding stage, recruiting gets the people going. Nothing ruffles the feathers of recruiting fans more than monitoring the process of a player considering one school and its big rival.
Here are five of the better recruiting rivalries going right now in the Big 12.
To continue reading this article you must be an Insider
May, 30, 2013
5/30/13
9:21
PM CT
The magnitude of
Sione
and
Maea Teuhema
's commitments to Texas on Thursday might not truly be felt for a while, considering Maea, the more highly-touted of the two, won't graduate until 2015.
But make no mistake about how gigantic a victory this is for the Longhorns. If there were a fly on the wall inside Texas' football offices when the coaches got word of the commitments, that fly assuredly saw plenty of chest bumping and high-fives.
To continue reading this article you must be an Insider
May, 30, 2013
5/30/13
9:17
PM CT
KELLER, Texas -- As far as package deals go, they don't get much better than the one Texas landed Thursday night.
As expected, brothers
Sione Teuhema
and
Maea Teuhema
gave their verbal pledges to the Longhorns following Keller (Texas) High School's spring game.
Sione, a 2014 defensive end, becomes the 14th member of Texas' No. 2-ranked recruiting class. His younger brother, coveted offensive tackle Maea, becomes one of the cornerstone pieces of the Longhorns' 2015 class and its fourth verbal pledge.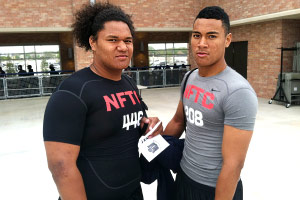 Max Olson/ESPNMaea Teuhema (left) and Sione Teuhema both committed to the Longhorns on Thursday.
This commitment has seemed almost inevitable since the day the Teuhemas set foot on the Texas campus on March 23 and were taken immediately into coach Mack Brown's office to receive scholarship offers.
Ever since, the Longhorns appeared to be the leaders to land the impressive duo. Texas coaches told Sione he reminds them of former UT All-American
Brian Orakpo
, and they viewed Maea as one of the state's best sophomore prospects.
"The biggest thing is it feels like home," their guardian, Robert Taliaferro, said. "It really did to me and to them. We loved the defensive ends coach, and we loved the offensive line coach. And at the end of the day, if the NFL doesn't work out, they want to get a job and live in Texas."
But the Teuhemas did their research before reaching this decision, including visits to LSU, Texas A&M, Oklahoma and several other programs. Alabama also made a strong late push, though the brothers were unable to visit Tuscaloosa.
According to Taliaferro, the decision was tougher than expected at one point this spring.
"I thought we were going to LSU, I really did," he said. "It was dadgum close to being LSU, done deal, and we almost committed that day while we were down there. It was that strong of an impression. But when they got home and realized just how far it was, they went back to Texas again and started talking about how much Texas felt like home."
Sione came to Taliaferro nearly two weeks ago and asked what he'd think if they chose Texas. One day later, he took it a step further.
"He said, 'We pick Texas,' " Taliaferro said. "I talked to Maea alone and asked if he was on board with this, and he said yeah. He said, 'Actually, we decided Texas a long time ago. We just weren't telling you to mess with you.' "
The duo wanted to hold off on announcing so more Keller teammates could get noticed by recruiters during their spring practices.
According to Taliaferro, this commitment completely ends their recruitment. Maea, a 6-foot-4, 344-pound offensive tackle, will be a Longhorn no matter what, even if he doesn't sign his letter of intent for another 20 months.
"We've turned down LSU and Alabama," Taliaferro said. "Who else is going to win us over?"
That was the plan all along. The brothers would not split up and play at different schools, and college recruiters obliged that plan by offering both brothers.
Sione, a 6-3, 211-pound speed rushing end, and his brother also held offers from Baylor, Oklahoma State, Oregon State, TCU, Utah and Washington State.
He's the third defensive end in this Texas class, joining top commit
Derick Roberson
(San Antonio/Brennan) and
Jake McMillon
(Abilene, Texas/Abilene).
Maea becomes the second offensive lineman in Texas' 2015 class, joining Sherman (Texas) guard
Aaron Garza
.