Dallas Colleges:

Marcus Denmon
March, 10, 2012
3/10/12
7:57
PM CT
KANSAS CITY, Mo. -- Quick thoughts from Missouri's
90-75 victory
over Baylor.


Overview:
Missouri's final season as a member of the Big 12 is officially its best.
Kim English
scored 19 points, and
Michael Dixon
added 17 to propel the Tigers to the conference tournament championship at the Sprint Center. Missouri will take a 30-4 record into next week's NCAA tournament, where the Tigers will likely be a No. 2 seed.
Baylor, which defeated regular-season champion Kansas in Friday's semifinal, fell to 27-7 and is expected to be a No. 3 seed next week. Saturday's loss to Missouri was the Bears' third of the season.
Perry Jones III
led Baylor with 16 points and 11 rebounds. The Bears made just 39.7 percent of their shots.
Missouri never trailed Saturday, and the score was never tied. Baylor trailed by as many as eight points in the opening half, when Missouri shot a blistering 53 percent from the field. The Bears pulled within two points twice -- 33-31 and 37-35 -- before intermission. But each time, the Tigers responded with points on the other end. Missouri opened the second half with a 13-5 scoring run that made it 56-42.
Baylor never got closer than five after that.
Turning point:
The Bears made a slight threat in the game's waning minutes. Trailing 75-62, Baylor went on a 10-2 run to whittle Missouri's lead to 77-72 with 2:20 left. But the Tigers made their free throws after Baylor began to foul, and it wasn't long before the game was out of reach.
Key player:
It's hard to pick just one for Missouri, as five Tigers scored in double figures. Along with English and Dixon,
Phil Pressey
,
Ricardo Ratliffe
and
Marcus Denmon
had 15 each. Such balance illustrates the versatility and well-roundedness Missouri has shown all season.
Key stat:
Not many teams would've defeated the Tigers on a night when they shot 53.8 percent from the field and 80.6 percent (25 of 31) from the foul stripe.
Miscellaneous:
It was a bit of an awkward moment when Big 12 interim commissioner Chuck Neinas presented the Tigers with the championship trophy about five minutes after the final horn. Neinas has been ultra-critical of Missouri's decision to leave the Big 12 for the SEC. He was booed heavily.
The all-tournament team:
Kim English (Most Outstanding Player), Phil Pressey (Missouri), Perry Jones III (Baylor),
Brady Heslip
(Baylor),
J'Covan Brown
(Texas).
What's next:
Missouri is expected to open NCAA tournament play in Omaha, Neb., on Thursday. Most prognostications have Baylor going to Albuquerque, N.M., where play begins on Friday.
February, 24, 2012
2/24/12
3:30
PM CT
It's the game of the weekend.
If you're a true college basketball fan, you have to find a way to see Mizzou-Kansas on Saturday afternoon.


This could be the end of the rivalry.
The Big 12 title is at stake. A Missouri victory would put the Tigers and Jayhawks in a 13-3 tie for the first place. A Kansas victory would give the Jayhawks a slice of the Big 12 title for the eighth consecutive season.
It has a pair of serious national coach of the year contenders in Frank Haith and Bill Self. Allen Fieldhouse will go crazy.
The Tigers won the first game 74-71 on Feb. 4, but the Jayhawks have been the better team since that game.
So how can the Tigers beat the Jayhawks for the second time this season? It won't be easy. The Jayhawks look like a Final Four team right now. And the Tigers are coming off a 78-68 loss to Kansas State.
Missouri won't have a chance if it's struggling from the 3-point line. In the first game, the Tigers were 10-for-22 (45 percent) from beyond the arc.
That was a crucial factor in Missouri's victory. The Tigers hit shots -- really
Marcus Denmon
hit shots -- because they put in the work to free their best shooters,
proven in this sequence from the first game (starting at the 1:22 mark).
Michael Dixon is dribbling the corner as the play unfolds. Kim English sets a hard screen that frees up Denmon on the right wing.
(Denmon scored 29 points and went 6-for-9 from the 3-point line in the game. The Jayhawks had to shadow him, and they'll have to stick with him Saturday too.
He hits the big shot at a crucial juncture.
But this play showcases Missouri's versatility and perimeter potency.
After English sets the screen, he's open at the top of the key. Had Denmon been stuck on that play, he could have easily found English (46 percent from the 3-point line) as a second option.
English, Denmon and Dixon shoot 36 percent or better from beyond the arc.
It's quite simple. If Missouri's shooters find more success from the 3-point line, they will put the Tigers in a position to get their second win of the season against the Jayhawks.
February, 24, 2012
2/24/12
2:00
PM CT
When and where:
Saturday (CBS, 4 p.m. ET), Phog Allen Fieldhouse (Lawrence, Kan.)


The setup:
Kansas and Missouri are coming off less than stellar performances. The Jayhawks won an ugly game against Texas A&M, while the Tigers are coming off perhaps their worst conference game of the season, a home loss to Kansas State. But in a happy place or not, this game is not for those who are ready to play. This game is for those who are prepared for a fight. Saturday at the Phog will be the Big 12's top two scoring teams, with Missouri leading the league in scoring (73.7) and second in field goal percentage (48.1) in conference play, while Kansas is second in scoring (73.5) and leads in field goal percentage (48.4).
Kansas leads the Big 12 in scoring defense (60.8) and field goal percentage defense (38.1). It also tops every Big 12 team in scoring margin (+12.1), perhaps the most important indicator of a team's strength and efficiency (and, predictably, a metric that is completely ignored by the RPI). Missouri is second in the league in scoring margin (+7.0) but is a shaky fifth in the Big 12 in scoring defense (66.7) and dead last in the Big 12 in field goal percentage defense (46.9).
Kansas leads the league in rebound margin (+5.7 to Missouri's -1.0), blocks, assists and steals. The Jayhawks might not be deep, but they are rock solid. The Tigers might not be deep, but they are dynamic and fearless. This is one of the great games of the season, with a chance to be a memorable spectacle. The sport needs more matchups like this one.
[+] Enlarge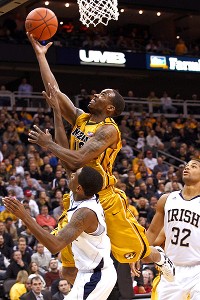 Jeff Moffett/Icon SMIMissouri guard Marcus Denmon is fearless when going to the rim.
Neither team can rely on significant bench production. Kansas, in my judgment (and as reflected in The Bilas Index), is the better team because the Jayhawks have size and the ability to get the ball inside for higher percentage shots and more opportunities to get fouled. If you recall from the first meeting, Kansas seemed to have the game in its win column with three minutes to go and an eight-point lead. But the Jayhawks made a couple of mistakes, and the fearless
Marcus Denmon
made the Jayhawks pay for every one of them, willing Missouri to the home win.
After the game, I was walking down the hallway to the locker rooms and passed Kansas star
Tyshawn Taylor
using the wall to hold himself up. Anyone who believes these players don't care is simply incorrect. They care deeply, and Taylor showed how much he had invested in that game. He was mentally and physically spent, devastated about the loss.
That game was incredible in its solid play. Both teams shot better than 50 percent from the floor, a rarity in today's bump-and-grind games. Missouri hit 10 3-point field goals and more than doubled the Jayhawks in free throw attempts. One thing is certain, the Jayhawks cannot get a bagel from
Jeff Withey
and expect to win, even at home. In Columbia, Withey played 23 minutes and did not score, grabbing four rebounds.
After that first game, it was clear that Kansas and Missouri are capable of reaching a Final Four and could win the whole thing with a good draw and some good fortune. Kansas is probably better suited for it, because of its inside strength and ability to get the ball inside and get to the free throw line. Missouri will cause problems because of its style differences and the matchup problems it poses, but the Tigers are vulnerable to a lot of teams on bad shooting nights.
Tigers' stud:
Denmon. The diminutive wing guard put on a show with 29 points and 9 rebounds against Kansas, including 6 of 9 from 3-point range. Late in the game, Denmon carried the Tigers, and this was after a prolonged shooting slump. He is afraid of nothing and is a difficult cover because he can score in transition, off the catch or the bounce and drives the ball with a relentless attitude. Denmon's play would add up to a Big 12 Player of the Year honor in most seasons, but he just happens to be in the Big 12 with
Thomas Robinson
this year.
[+] Enlarge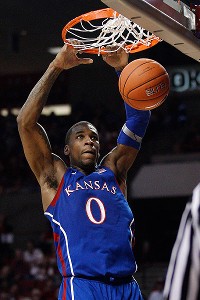 AP Photo/Sue OgrockiKansas' Thomas Robinson had 25 points and 13 rebounds in the first meeting against Missouri.
Jayhawks' stud:
Robinson. A legit national player of the year candidate, Robinson has been magnificent all season long. He never takes a game off, and his only real issue is his penchant for taking a perimeter shot or putting the ball on the floor when he should simply lock down his defender in the post and take him apart. Robinson had 25 points and 13 rebounds, but five turnovers, in the first meeting. Robinson was doubled but hit 11 of 17 shots.
Tigers' wild card:
Ricardo Ratliffe
. He is having a magnificent season and has missed so few shots that he is closing on a national record held by Oregon State star Steve Johnson. Ratliffe is always surrounded by four guards, but Kansas was able to frustrate him, holding him to six points, four rebounds and only five shot attempts. On the floor, Ratliffe usually plays off of his guards, but Kansas did a good job of closing him down and attacking him, putting him into a position to foul. Ratliffe has to give Missouri a presence and be productive in Lawrence.
Jayhawks' wild card:
Withey. The transfer from Arizona has blossomed since the Missouri game, averaging 16.2 points, 10.2 rebounds and 5.4 blocks per game in the past five outings. Withey has the ability to be a game-changer, blocking shots, rebounding and finishing. Missouri presents some difficulties for him because he has to guard Ratliffe and can be drawn away from the basket for ball screens. He needs to stay out of foul trouble and be productive. Missouri served him up his only bagel of the season, and Kansas needs something out of him.
Tigers' X factor:
Kim English
. The senior sharpshooter scored 18 points in the first meeting and has the ability to draw a bigger defender and take him away from the paint. English has been smart about his shot selection and has done a great job defending and laying his body on the line, which he did not do as well last season. English is a respected player and has been an important part of Missouri's success. Unless English has a productive outing, I am not sure the Tigers can win in Lawrence.
Jayhawks' X factor:
Taylor. The senior point guard has had a tremendous season. We spend time talking about his turnovers, but there is no way Kansas is among the nation's top five teams without Taylor and his stellar play. Taylor is averaging 16.5 points, 5 assists and is shooting better than 47 percent from the floor. In Big 12 play, Taylor is third in the league in scoring and fifth in assists. With his speed, ability to get to the rim and improved shooting, Taylor is a tough player to shut down.
Key stat:
Paint scoring. Both teams can score in the lane and get close-in shots, but they do it differently. Kansas pounds the ball inside, hits the offensive glass and gets a ton of high percentage shots that give the opponent a chance to foul. Missouri also gets a lot of paint touches but by dribble penetration and off turnovers. The team that wins the paint will win the game.
And the winner is:
Kansas. The Jayhawks have to feel like they let one get away at Missouri. Kansas will pull out a win and claim the driver's seat toward its eighth straight Big 12 title, 75-70.
February, 11, 2012
2/11/12
6:07
PM CT
COLUMBIA, Mo. -- They call it 10-for-14, a sort of masochistic shooting drill
Marcus Denmon
and
Phil Pressey
dreamed up in the preseason. The idea is simple: Make 10 out of 14 shots from seven spots on the floor.
The catch? If you don't hit 10, start over.
Pressey rarely had to start over when the two Missouri guards got together for the preseason drill. Yet during games, Denmon often finds himself yelling at his point guard, practically begging him to shoot.
"Phil is just naturally a pass-first player,'' Denmon said. "I'm always telling him to shoot. He says he hears me, but he doesn't always shoot it.''
Pressey heard the call against sixth-ranked Baylor, draining four of Missouri's season-high 14 3-pointers in a
72-57
win that solidified both what makes the Tigers so special and what makes the Bears so exasperating.
For 25 games now, the critics and doubters have circled, railing about what Missouri isn't. Mostly, the Tigers aren't big and haven't been since Laurence Bowers went down with a torn ACL before the season.
Perhaps now, with the calendar bearing down on March, with the Tigers owning a 23-2 record and not only jockeying for a No. 1 seed in the NCAA tournament but also elbowing to earn the coveted St. Louis regional top spot -- and with three wins against top-10 opponents for the first time in 22 years -- it is time to finally discuss what Mizzou is.
"When Missouri is on, there is nobody in the country as good as them offensively in the country,'' Baylor coach Scott Drew said. "Nobody. Period. And they've been on a lot this season.''
Drew, who could double as a presidential candidate in his endless effort to spin positive on his own flailing team, for once wasn't trafficking in hyperbole.
Three weeks ago, Drew decided his longer and taller team would be better served if the Bears played man-to-man against Missouri.
Ricardo Ratliffe
went for 27 points, with his speedy guards slicing and dicing the flat-footed defenders.
This time, Drew went zone, figuring it would slow the Tigers down.
"At the end of the day, when you play Missouri, you have to give up something,'' Drew said. "We decided to give up the 3.''
[+] Enlarge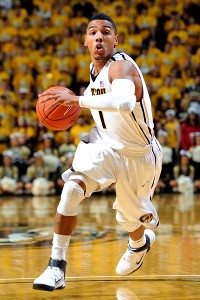 Dak Dillon/US PresswireWith Phil Pressey leading the way, Missouri's offense had Baylor baffled on Saturday.
He got that part right at least. The game was still tight, 38-37, after the under-16 timeout. In the Tigers' next six possessions, they sank five 3-pointers.
It wasn't tight after that. That four players scored those five 3s says everything about Missouri's versatility.
That Pressey was one of them says even more. The sophomore can turn heads on one play and make people bang their heads on the next, a cat-quick guard who occasionally falls in love with the flair more than the finish. He was an offensive nonfactor in his previous two games, scoring just two against Kansas and five against Oklahoma.
The Tigers can and did win without him scoring, but when he does, he makes them that much better. With 12 in his pocket by the break, Pressey forced Baylor to honor his shot in the second and made the Bears pay -- by kicking the ball to Denmon,
Kim English
or
Michael Dixon
.
Asked how he would defend against his own team, Pressey wasn't offering up any insight.
"I don't know what I'd do,'' he said with a smirk. "I can't tell you what our weakness is. I'll let you all figure that out.''
Baylor, certainly, will be wondering for a while. In two games, the Tigers have left the Bears behind like roadkill, hitting them with two different styles yet two equally dominant wins.
And as much as this is about who the Tigers are, it is also an indictment of what Baylor is not.
Or more, what the Bears ought to be. Outside of Kentucky and North Carolina, there might not be a more NBA-loaded roster in the country. Yet in back-to-back games against their two biggest Big 12 rivals, the Bears have looked nothing shy of awful.
The Tigers and Jayhawks have outscored the Bears by an average of 12 points, scored 80.3 points and shot 53 percent. Against everyone else this season, Baylor is 15.9 points better, giving up only 60.5 points and 38 percent shooting.
The Bears have not just lost, but have been embarrassed by the Jayhawks and steamrolled by Missouri, leaving Drew to look for small slivers of a silver lining on a team that has too much talent to require so much searching.
Kansas'
Jeff Withey
was the best big man on the floor last week.
Steve Moore
took the honors Saturday, outplaying, outworking and outhustling a big-boy lineup that includes
Perry Jones III
and
Quincy Acy
.
A game after his five-point APB showing against the Jayhawks, Jones scored four, shooting 2-of-12.
"Every night we depend on Perry Jones, so when he struggles, it hurts us,''
Anthony Jones
said. "We're not the same team without him being Perry Jones.''
Perry Jones is experiencing the burden of the anointed that is the reality of college basketball today. Drew is right when he says that "you are judged on your potential.'' He's also right that he has a fairly young team.
But Kentucky is a fairly young team with an awful lot of anointed players, and the Wildcats are toting the burden with aplomb.
Baylor, instead, is caving under it. The Bears are, barring a miracle, all but eliminated from the Big 12 race.
And instead of picking up steam, they are picking up doubters.
That's just the opposite of Missouri. With every passing game, the Tigers are silencing the critics, showing that while they might be unorthodox, they are no less effective.
Makes sense.
This is the Show Me State, after all.
February, 7, 2012
2/07/12
8:06
AM CT
Here are this week's Big 12 power rankings:
1. Missouri:
The Tigers have played the two toughest teams in the league (Kansas and Baylor) and defeated them both. Guard
Marcus Denmon
had made just five of his previous 31 attempts from 3-point range before going 6-for-9 from beyond the arc in Saturday's win against Kansas.

2. Kansas:
The Jayhawks blew an eight-point lead with just more than 2 minutes remaining in Saturday's loss at Missouri, but with Baylor up next on Wednesday, there's no time to mope about the loss. Kansas is 16-2 all-time against the Bears, who it defeated by 18 points last month at Allen Fieldhouse.
3. Baylor:
The Bears' Big 12 title hopes depend largely on what happens this week. Baylor hosts Kansas on Wednesday and travels to Missouri Saturday. Baylor's only two losses are against those two teams. The Bears' offense looked sloppy and disorganized in last week's victories over Texas A&M (63-60) and Oklahoma State (64-60).
4. Iowa State:
The Cyclones won at Oklahoma Saturday despite getting just three points from leading scorer
Royce White
. Fred Hoiberg's squad has won five of its past six games overall and could continue that streak this week against Texas A&M and Oklahoma State.
5. Kansas State:
The Wildcats got back on the winning track by defeating Texas A&M Saturday at home. And the good times should continue when Kansas State hosts Texas Tech on Tuesday. Leading scorer
Rodney McGruder
has made just four of his previous 20 3-point attempts.
6. Texas:
Rick Barnes' squad hasn't caught many breaks in conference play. Texas' six league losses have come by an average of five points. The Longhorns had lost five of their previous six games before defeating Texas Tech on Saturday. Monday's road game against a beat up Texas A&M squad is winnable.
7. Texas A&M:
The Aggies almost defeated Baylor without
Khris Middleton
and
Dash Harris
on Wednesday, and they led Kansas State at halftime before falling 64-53 Saturday in Manhattan. Considering all of the injuries, Texas A&M deserves credit for competing as well as it has.
8. Oklahoma:
The Sooners have dropped four of their previous five games heading into Monday's contest against Missouri. All of a sudden the team that got off to a 9-1 start is 3-7 in league play.
Steven Pledger
and
Andrew Fitzgerald
are averaging a combined 31.1 points.
9. Oklahoma State:
Three weeks after losing to them by 41 points, Oklahoma State nearly upset the Baylor Bears before falling 64-60 Saturday in Stillwater. Freshman
Brian Williams
had 23 points in the loss. On Tuesday, Oklahoma State hosts the same Iowa State squad that it lost to on a buzzer-beater Jan. 18 in Ames.
10. Texas Tech:
Last week's home game against Oklahoma State appeared to be the Red Raiders' best chance of picking up a Big 12 win. Instead, Billy Gillispie's team was throttled 80-63.
Jordan Tolbert
leads Texas Tech in scoring with 11.9 points per contest. But he's averaging just 6.3 points in his past three games.
January, 21, 2012
1/21/12
3:46
PM CT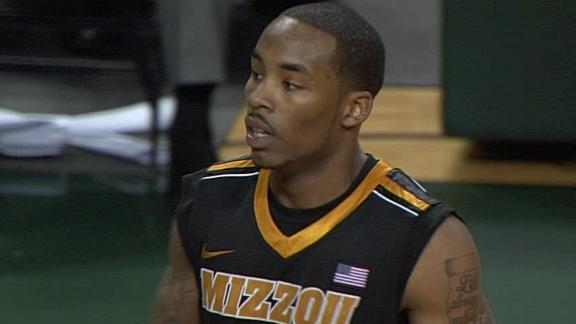 WACO, Texas -- Here are some quick thoughts from Missouri's
89-88 victory
over Baylor Saturday at the Ferrell Center.
Overview:
Marcus Denmon's free throw with four seconds remaining proved to be the difference in No. 5 Missouri's victory over third-ranked Baylor. Denmon's foul shot gave the Tigers an 89-85 lead. A 3-pointer by Baylor's
Brady Heslip
at the buzzer didn't matter.
Ricardo Ratliffe
scored 27 points for Missouri, which led by as many as 12 points late in the second half before Baylor made a run late in the game. Missouri shot 54 percent from the field, forced 19 Baylor turnovers and outrebounded the bigger, longer Bears 27-24.
The Tigers are now 18-1. Baylor dropped its second straight and fell to 17-2.
Turning point:
Missouri used an 11-2 run to stretch a 60-58 lead to a 71-60 cushion midway through the second half. Ratliffe scored eight points during the march.


Star of the game:
Ratliffe's 27 points came on 11-of-14 shooting. Point guard Phil Pressey played one of his best games as a collegian with 18 points, seven assists and six steals. Freshman
Quincy Miller
scored a career-high 29 points for Baylor.
Pierre Jackson
had 15 assists.
What the win means for Missouri:
This was one of the most impressive road wins by any college basketball team this season. Missouri had an excellent game plan that led to loads of open looks for the Tigers. Frank Haith's squad has done a tremendous job of bouncing back from a Jan. 7 loss at Kansas State. Missouri is a legitimate top-5 team and is good enough to win a national championship.
What the loss means for Baylor:
The Bears' chances of their first conference title took a major hit. Baylor's inability to rebound against an undersized Missouri squad was alarming. This team needs to get tougher -- fast. Scott Drew also needs to think about tightening his rotation.
Up next:
Baylor travels to Norman to take on Oklahoma Tuesday. Missouri plays Oklahoma State Wednesday in Stillwater.
January, 20, 2012
1/20/12
2:43
PM CT
For full coverage of all the top matchups,
check out Weekend Watch
.


Saturday's game
No. 5 Missouri at No. 3 Baylor (1 p.m. CT, ESPN):
Missouri
: The Tigers might have the quickest lineup in college basketball. Frank Haith's guards have been very efficient, and have made much better decisions on offense and defense this season. Missouri can still fall into some "chuck and duck" habits, which worked well under Mike Anderson but does not fit with the style favored by Haith.
[+] Enlarge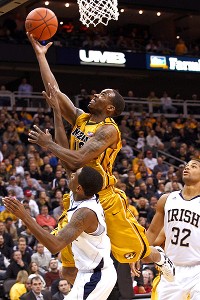 Jeff Moffett/Icon SMIMarcus Denmon is averaging 17.8 points and 5.5 rebounds per game for Missouri.
The Tigers run a set-play, quick-hitting offense that features four guards around undersized big man
Ricardo Ratliffe
. Point guard
Phil Pressey
is almost impossible to stay in front of, and he is an elite passer who willingly gives up the ball. Pressey has a near 3-to-1 assist-to-turnover ratio and leads the team in steals with 37. The wings are among the best in the nation, with All-America candidate
Marcus Denmon
and the ridiculously efficient
Kim English
. English's transformation has been remarkable. Last season, his confidence was waning. This season, he seemingly cannot miss. His decisions have improved, and he is hitting more than 50 percent of his 3-point shots. Ratliffe is benefiting from single coverage in the post and the drop-offs from his teammates to shoot better than 77 percent from the field. The single-season record is 74 percent by Oregon State's Steve Johnson back when Ralph Miller was the Beavers' coach.
Baylor
: The Bears are big, long, athletic and deep along the front line, and have one of the most talented frontcourts in the country.
Perry Jones III
,
Quincy Acy
,
Quincy Miller
,
Anthony Jones
and
Cory Jefferson
provide the bodies and length to overwhelm a smaller team on the glass and the defensive end.
Before the season, I was one who questioned the Baylor guards and whether the Bears would be able to improve ball security. Last season, Baylor turned the ball over at a very high rate. Turnovers are still an issue, but this team is much better with the ball. Guards
Brady Heslip
,
A.J. Walton
and
Pierre Jackson
are far better than I anticipated, and Jackson is a game-changing talent. He has the ability to guard the ball, see the floor with terrific vision and play with a fearlessness that allows his teammates to do their jobs without worrying about his.
Key players
: Denmon and Jackson. Denmon scratches in just about every category for the Tigers and is an attack guard. Denmon excels in transition, and Baylor can afford to put Walton, Jackson or a defender with more size on him. Denmon is a very good defender but might have some issues matching up with bigger Baylor players. Jackson is incredibly strong and athletic, and has the ability to guard Pressey and Denmon. If he can stay out of foul difficulty, Jackson has the ability to change the game with his pressure and steals. On the offensive end, Jackson is a potent scorer, but he is also a fabulous passer. He will get a lob dunk from deep for a teammate; you can bank on it. However, he also has 64 turnovers to go with his 98 assists.
Key shooters
: Heslip and English. Heslip transferred from Boston College and has a really quick release. He has hit 51 3s, by far the most on the Baylor roster, and is shooting 47 percent from 3. English is shooting better than 50 percent from deep, and his stroke is pure. He has hit 45 3s in only 88 attempts.
Key bigs
: Ratliffe and Perry Jones III. Ratliffe plays off his guards very well but must avoid fouls to be able to stay in the game. Without Ratliffe, Missouri can get overwhelmed on the glass. Jones is a special talent. He needs to be assertive and dominate his matchup. No player on the Missouri roster can guard him.
Key stat
: Turnovers and rebounding. Baylor should own the backboards but also has to get to long rebounds, which will be an issue in this game. Baylor turned the ball over against the pressure of Kansas and needs to take care of the ball against the pressure brought by Missouri. Pressey's initial ball pressure will be key.
Who wins
: Baylor is coming off a loss and playing at home. How the Bears guard the 3-point line will go a long way in determining this one. Expect Baylor to play some man-to-man in addition to some zone. If the Bears take good shots and limit Missouri in transition, I like the Bears to win. Baylor 74-70.


No. 7 Kansas at Texas (3 p.m. Saturday):
Kansas is playing at such a high level that the Jayhawks would have to come down a few notches if they're going to lose at erratic Texas. The Longhorns don't have the strength to deal with
Thomas Robinson
. I'd be surprised if Kansas loses this game.
December, 9, 2011
12/09/11
1:46
PM CT
Based on results and not preseason expectations, here's my attempt at ranking the Big 12 teams one month into the season:
1. Baylor
: The Bears are the most talented team in the Big 12, and it's not even close. Just ask previously unbeaten Northwestern, which shot 24.1 percent in a 69-41 home loss to Baylor last weekend. The frontline is imposing, but guard play will determine the Bears' fate. Juco transfer
Pierre Jackson
(11.9 ppg, 4.4 apg) is off to a nice start.

2. Missouri
: Frank Haith's detractors are eating their words, as the guard-oriented Tigers have been one of the most impressive teams in the country thus far. Senior
Marcus Denmon
(21.8 ppg) has looked like an All-American candidate in victories against Notre Dame, Cal and Villanova.
Kim English
is playing the best basketball of his career.
3. Kansas
: We'll know a lot more about the Jayhawks after Saturday's game against Ohio State. For now, though, KU's streak of seven straight Big 12 titles appears to be in jeopardy. Forward
Thomas Robinson
(17.4 ppg, 12 rpg) will contend for national player of the year honors, but a lack of depth and poor guard play -- Kansas committed 22 turnovers Tuesday against Long Beach State -- have been issues.
4. Texas A&M
: The Aggies have done an admirable job in the absence of top player
Khris Middleton
, who is hoping to return in time for A&M's game against Florida on Dec. 17. Billy Kennedy's squad has won its past four games by an average of 16.3 points. Forward
Ray Turner
(14.3 ppg) and guard
Elston Turner
(12.2 ppg), a Washington transfer, have led the way thus far.
5. Kansas State
: The Wildcats aren't as strong as they've been the past few seasons, but Frank Martin has done an impressive job with a team that has a lot of nice pieces but no true star.
Jamar Samuels
is averaging 13 points and 9 rebounds for squad that beat Virginia Tech on the road before dropping a double-overtime heartbreaker to West Virginia on Wednesday.
6. Texas
: The Longhorns are rebuilding after losing Jordan Hamilton, Cory Joseph and Tristan Thompson to the NBA draft. But a pair of gut-wrenching losses (in overtime against Oregon State and by three to NC State) apparently didn't do anything to squelch Texas' spirits. Rick Barnes' squad is on a four-game winning streak thanks in part to J'Covan Brown (19.4 ppg).
7. Oklahoma State
: The Cowboys haven't been all that impressive. They lost to unranked Virginia Tech and Stanford in the NIT, and only managed narrow wins against UT-San Antonio and Tulsa. Highly touted freshman LeBryan Nash has been inconsistent, and is shooting just 40 percent from the field and 29 percent from 3-point range.
8. Iowa State
: Fred Hoiberg's squad has been the league's biggest disappointment thus far. Despite a cast of talented transfers and one of the top all-around players in the conference (
Royce White
), Iowa State finds itself toting losses to Drake and Northern Iowa, the latter of which came at home.
9. Oklahoma
: Lon Kruger is doing an excellent job during his first year in Norman, so don't be surprised if the one-loss Sooners move up a few spots in the rankings in the coming weeks. Nonconference wins against Houston, Arkansas and Cincinnati would do wonders for OU's confidence as it prepares to enter Big 12 play.
10. Texas Tech
: Billy Gillispie is doing the best he can, but he's basically working with a group of freshmen and junior college transfers who had never played a minute of Division I basketball prior to this season. The Red Raiders went 0-3 in the Old Spice Classic, losing to Indiana State, DePaul and Wake Forest. It's going to be a long season in Lubbock.