Dallas Colleges:

Mark Ingram
December, 6, 2011
12/06/11
12:57
AM CT
My Heisman Trophy ballot has changed every week for the last couple of months.
I'm not surprised there are more than three players going to the trophy presentation.
Five players were invited to New York for Saturday night's Heisman Trophy presentation -- quarterbacks
Andrew Luck
of Stanford and
Robert Griffin III
of Baylor, tailbacks
Montee Ball
of Wisconsin and
Trent Richardson
of Alabama and cornerback Tyrann Mathieu of LSU.
It's a shame the Heisman Trust didn't have room for three more quarterbacks because Houston's
Case Keenum
, USC's
Matt Barkley
and Boise State's
Kellen Moore
were just as deserving.
With five finalists going to New York, it figures to be one of the closer votes in recent Heisman Trophy history.
The closest vote in Heisman Trophy history came just two years ago, when Alabama tailback Mark Ingram edged Stanford's Toby Gerhart by only 28 points. Ingram received 227 first-place votes, Gerhart got 222 and Texas quarterback Colt McCoy, the second runner-up, received 203.
Given the number of finalists and their geographical regions, we could have another really close finish on Saturday night.
Luck, the runner-up to Auburn's Cam Newton last season, entered the 2011 season as the Heisman Trophy favorite. His performance didn't slip much this season, as he completed 70 percent of his passes for 3,170 yards with 35 touchdowns and nine interceptions.
I still feel Luck might be the most valuable player on any team in the country. Without him, there's no way the Cardinal is ranked No. 4 in the country and playing No. 3 Oklahoma State in the Tostitos Fiesta Bowl. Luck has done more with less, as Stanford lacks the game-changing playmakers that other teams have.
But Luck might still be the second-best quarterback in New York. Griffin, who is widely known as RG3, completed 72.4 percent of his passes for 3,998 yards with 36 touchdowns and six interceptions. He also ran for 644 yards with nine touchdowns.
Without him, the Bears wouldn't have beaten TCU, Oklahoma and Texas. Griffin's one drawback: He had a late interception that sealed the Bears' fate in a 36-35 loss at Kansas State on Oct. 1 and threw two picks in a 59-24 loss at Oklahoma State on Oct. 29. But with everything else RG3 has done this season, it's easy to give him a mulligan for the miscues.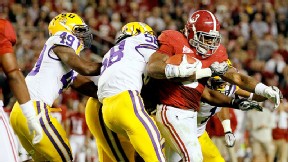 Kevin C. Cox/Getty ImagesRunning back Trent Richardson has been at his best in Alabama's biggest games.
I still believe Richardson is the best player in the country. He looked like the best player on the field in No. 2 Alabama's 9-6 loss in overtime to No. 1 LSU on Nov. 5. He had 89 rushing yards and 80 receiving yards in a game where every yard mattered. He finished the season with 1,583 yards with 20 touchdown runs and three touchdown catches. He's also Mr. Dependable, not losing a fumble in his past 520 touches and only once in 614 career touches.
Ball has been a scoring machine for the No. 10 Badgers this season, running for 1,759 yards with 32 touchdown runs and six touchdown receptions. His 38 total touchdowns are one shy of matching former Oklahoma State running back Barry Sanders' NCAA single-season record of 39 set in 11 games in 1988. Ball's production helped lead the Badgers to a Jan. 2 date against Oregon in the Rose Bowl Game presented by VIZIO.
Mathieu fell off my ballot after he was suspended from playing in the Tigers' 45-10 victory over Auburn on Oct. 22 for smoking synthetic marijuana. But his big plays helped the Tigers overcome deficits in each of their last two victories, over Arkansas and Georgia in the SEC championship game.
Mathieu -- aka the "Honey Badger" -- is the best player on the top-ranked team. He leads the Tigers with 70 tackles and has forced six fumbles and recovered five. He also is the most dynamic punt returner I've seen since Florida State's Deion Sanders. Mathieu has scored four touchdowns -- two on fumble returns and two on punt returns.
To penalize Mathieu for one foolish mistake wouldn't have been right. After all, Newton was briefly ruled ineligible at Auburn last season and 2010 Heisman Trophy finalist
LaMichael James
of Oregon was suspended from playing in last season's opener.
November, 11, 2010
11/11/10
10:36
AM CT
By
Jeff Caplan
| ESPNDallas.com
TCU's
Ed Wesley
has been named one of 10 semifinalists for the 2010 Doak Walker Award, presented to the nation's top running back.
Wesley is one of just two sophomores on the list, joining Oregon's
LaMichael James
.
Wesley tops TCU with 988 yards rushing. He needs 12 yards to become the third-ranked Horned Frogs' first 1,000-yard rusher since Robert Merrill (1,107) in 2003. Wesley is averaging 6.6 yards per carry with a team-high 11 touchdowns, finding the end zone in eight of third-ranked TCU's 10 games.
An Irving, Texas, native, Wesley is on pace for 1,284 yards. It would mark TCU's highest single-season rushing total since LaDainian Tomlinson won the 2000 Doak Walker Award with a nation's best 2,158 yards.
Here are the other nine semifinalists:
John Clay
, Wisconsin
Kendall Hunter
, Oklahoma State
Mark Ingram
, Alabama
LaMichael James
, Oregon
DeMarco Murray
, Oklahoma
Bilal Powell
, Louisville
Jacquizz Rodgers
, Oregon State
Vai Taua
, Nevada
Daniel Thomas
, Kansas State
January, 2, 2010
1/02/10
6:27
PM CT
By
Jeff Caplan
| ESPNDallas.com
The No. 2
Texas Longhorns
practiced Saturday in Southern California for the first time in preparation for Thursday's BCS national title game against the No. 1
Alabama Crimson Tide
at the Rose Bowl.
Brown was asked about the matchup between the Longhorns' excellent defense and Alabama's vaunted rushing attack, which features Heisman Trophy winning tailback Mark Ingram and doesn't put the football on the ground very often.
The Texas coach had a statistic ready for the moment.
"We are 70-0 when we have won the explosive plays and the turnovers, so obviously if I say something to the team tonight at dinner that is really, really important it would be that if you can get more explosive plays than them and win the turnover battle, history says that we will win," Brown said. "Regardless of anything else that anyone is going to talk about, in our life here in football, history says that we will win if we do those things. So what you do is you go back and sell the kids on that, and then you show them how we feel like we are going to get explosives, what we have to do to keep them from getting explosives, and then we have to knock balls loose."
We'll take Brown's word on the 70-0.
December, 28, 2009
12/28/09
2:36
PM CT
By
Jeff Caplan
| ESPNDallas.com
When
Vince Young
lost out on the 2005 Heisman Trophy to USC running back
Reggie Bush
, Texas offensive coordinator Greg Davis sent his star quarterback at text message.
"I said, 'You're my Heisman,'" Davis said. "VY texted back and said, 'Game on.'"
VY, of course, then led Texas to the national championship over Bush and the favored Trojans.
Davis sent the same text to
Colt McCoy
when Alabama running back
Mark Ingram
won the Heisman a few weeks ago. "He had same reply," Davis said, "'Game on.'"
Colt will have the same opportunity that Young did four years ago -- knock off the Heisman winner for the national championship. No. 2
Texas
faces No. 1
Alabama
on Jan. 7 at the Rose Bowl in the BCS national title game.
"I answered [Davis' text message] the way I felt. I mean, I think last year was a lot more disappointing than this year because I know how much more we have to play for," McCoy said. "The only disappointing thing was I was disappointed for my teammates that I couldn't bring it home for them."
December, 12, 2009
12/12/09
10:47
PM CT
By
Jeff Caplan
| ESPNDallas.com
How hard is it to believe that
Mark Ingram
is
Alabama's
first Heisman Trophy winner? That just doesn't seem possible, but it is true. Even more remarkable is that throughout the decades of sensational Crimson Tide players, none ever finished in the top three in Heisman voting.
And talk about a game of inches. The hard-charging Ingram won the 75th Heisman Trophy by the smallest margin ever, barely nudging by another tough runner,
Stanford's
Toby Gerhart
.
Texas
quarterback
Colt McCoy
had to settle for third place, finishing ahead of
Nebraska
defensive tackle Ndamukong Suh and
Florida
quarterback
Tim Tebow
. McCoy likely lost any shot at the trophy with his three-interception game in the Big 12 title squeaker.
For the Texas gunslinger, however, there remains unsettled business on the field. McCoy will try to equal his predecessor
Vince Young
, who also left New York empty handed, but left Pasadena, Calif., with a national championship.
McCoy, who finished second in the Heisman voting a year ago, and Alabama's Ingram will meet on Jan. 7 at the Rose Bowl to settle one last score.
December, 12, 2009
12/12/09
3:13
PM CT
By
Jeff Caplan
| ESPNDallas.com
What
Texas
quarterback
Colt McCoy
really needs is a college football lifetime achievement award. He'd win it, hands down. With a 45-7 record as a four-year starter, McCoy has won more college football games than any quarterback ever.
He finished his second consecutive season having completed more than 70 percent of his passes. That statistic is even more remarkable considering the Longhorns haven't had much of a running attack either year. Every defense knew Colt was going to put it in the air and he still completed every 7 of 10 passs. Consider what Colt had to do on Thanksgiving night just for Texas to get by Texas A&M: 24-of-40 for 304 yards and four touchdowns with no interceptions AND 175 rushing yards and a touchdown. Incredible.
Problem is the Texas offense played inconsistently at the start of the season, then took off in the middle and stunk it up in their last-second 13-12 win over Nebraska in the Big 12 title game. McCoy threw three interceptions with no touchdowns and amassed just 184 passing yards in a game that everyone watched.
McCoy finished second in the voting last season to Oklahoma's
Sam Bradford
, who has said his vote this year went to McCoy.
Alabama running back
Mark Ingram
appears to be the lead horse with Nebraska defensive lineman Ndamukong Suh garnering tons of attention late, especially after his dominating, 4.5-sack performance against Texas in the Big 12 title game, a performance that just might have kept McCoy from winning his first Heisman in his second consecutive trip to New York.
Suh would become the first defensive lineman to win the award and the first defensive player to take home the Heisman since Michigan cornerback
Charles Woodson
in 1997.
Florida quarterback and 2007 Heisman winner
Tim Tebow
does not appear to be a factor this time around. Punishing Stanford running back
Toby Gerhart
, the nation's leader with 1,736 rushing yards and 26 rushing touchdowns, could challenge.
The Heisman clock is ticking. Less than four hours to go.
December, 7, 2009
12/07/09
5:58
PM CT
By
Jeff Caplan
| ESPNDallas.com
Colt McCoy will become the first Texas player to make two trips to New York as a Heisman Trophy finalist.

However, Alabama running back Mark Ingram might be the favorite now after he impressed in the SEC title game while McCoy's uneven showing in the Big 12 squeaker might dip him into underdog status just one game after his otherwordly performance at Texas A&M seemed to surge him in front.

Other finalists who will make the trip to New York for Saturday night's announcement from the Nokia Theatre in Times Square are Stanford RB Toby Gerhart, Nebraska DT Ndamukong Suh and Florida QB Tim Tebow.

Suh was unbelievable in Nebraska's 13-12 loss and would become the first defensive player to win the award since Charles Woodson. Tim Tebow, looking for his second Heisman in three years, likely won 't get it after his Gators were swamped by the Tide.

For McCoy, it's really a case of bad timing. He had a phenomenal junior season, but Oklahoma's equally stellar quarterback Sam Bradford garnered more votes. Had McCoy put up last season's numbers this season, he'd be the runaway winner.

After Saturday, he'll likely have to settle for a shot at winning the BCS national championship.

If McCoy should pull the upset and win it, he'll become the first Texas quarterback to take home the Heisman. Running backs Ricky Williams (1998) and Earl Campbell are the school's other Heisman winners (1977).