Dallas Colleges:

Marlon Humphrey
June, 13, 2014
Jun 13
9:00
AM CT
Who's next? That's the question asked by fan bases across the SEC. They all want to know which top recruit is most likely to come in and play right away. Who are the newcomers who are going to see the field early this fall?
In January, we broke down the top early enrollees once they arrived on campus. Now, as the late enrollees continue to trickle in around the conference, we take a look at a handful of four- and five-star guys who could impact the league in their first year.
Below are 10 late enrollees from the SEC West to keep an eye on. They're listed alphabetically. Check back later today for the top late enrollees from the SEC East.
Malachi Dupre, WR, LSU:
Losing both Odell Beckham Jr. and Jarvis Landry was a huge blow for LSU after last season, but some of that pain went away when Dupre signed with the Tigers. He's not as experienced as fellow wide receiver
Travin Dural
, but he's every bit as talented. Don't be surprised if Dupre becomes the go-to guy for LSU this season.
Leonard Fournette, RB, LSU:
There's not a more highly anticipated freshman in the country. As the nation's No. 1 recruit, that comes with the territory, but the expectations for Fournette this season range from ridiculous to absurd. The scary part is that he has the talent and opportunity to make good on them and be one of the top running backs in the SEC.
Myles Garrett, DE, Texas A&M:
He's not Jadeveon Clowney, but Garrett might be the closest thing since Clowney came out in 2011. At 6-foot-4, 255 pounds, he's a physical freak, and looks like he could step right on the field. The Aggies return all of their defensive ends, but that doesn't mean Garrett won't crack the rotation at some point.
Da'Shawn Hand, DE, Alabama:
Finding pass rushers was a priority for Nick Saban and his staff in 2014, and they landed one of the nation's best in Hand. The 6-foot-4, 262-pound prospect, ranked No. 6 overall, can play both with his hand down on the line or in space as a rush linebacker. Regardless of where he ends up, he'll make an immediate impact.
Marlon Humphrey, CB, Alabama:
Between Humphrey and five-star
Tony Brown
, Alabama should be set at cornerback for the foreseeable future. The question is which one is more likely to play early this season? Brown has a leg up after arriving early, but Humphrey has the size and technical ability to come in and contribute right away.
Bijhon Jackson, DT, Arkansas:
Bret Bielema's goal is to build Arkansas from the inside out, and Jackson is the perfect piece to serve as the cornerstone of the defensive line for years to come. He's already big enough (6-2, 330) and strong enough to play as a freshman and should make a good unit even better for the Hogs this fall.
Rod Taylor, OG, Ole Miss:
Austin Golson's transfer this spring left Ole Miss thin along the offensive line, but Taylor, the Rebels' top-ranked signee in 2014, could be just the man to fill the void. Year-after-year, he drew rave reviews from SEC coaches at various camps, and now he has an opportunity to fulfill the potential that everybody saw in him.
Racean Thomas, RB, Auburn:
The Tigers have three capable running backs already on campus, but the coaches still believe that Thomas will be a factor this season. They're even giving him a chance to compete for the starting job in fall camp. Although it's unlikely he wins the job, Thomas will play and play often for Auburn this fall.
Aeris Williams, RB, Mississippi State:
Mr. Football in the state of Mississippi didn't go to Taylor, the state's top recruit. It didn't go to
Markell Pack
or
C.J. Hampton
. It went to Williams, a four-star running back who had 2,821 all-purpose yards and 33 touchdowns as a senior. He's now expected to carry that over to his freshman year at Mississippi State.
Andrew Williams, DE, Auburn:
With the loss of Dee Ford and the uncertainty surrounding the health of
Carl Lawson
and
LaDarius Owens
, defensive end went from a position of strength to a position of need for Auburn. The good news is that Williams arrived last month and is plenty capable of filling in and contributing early if needed.
Other late enrollees to watch include S
Jamal Adams
(LSU), LB
Rashaan Evans
(Alabama), CB
Nick Harvey
(Texas A&M), CB
Tee Shepard
(Ole Miss) and LB Tre Williams (Auburn).
December, 29, 2013
12/29/13
10:30
AM CT
ORLANDO, Fla. -- There are many topics of conversation among prospects playing in the 2014 Under Armour All-America Game. One of them centers around the past two Heisman Trophy winners.
On Saturday, upon checking in for the prestigious game, a number of prospects weighed in on a hot topic involving Texas A&M's
Johnny Manziel
and Florida State's
Jameis Winston
.
If they had to choose between the two, who would the players take as their college quarterback? Here are their responses:
[+] Enlarge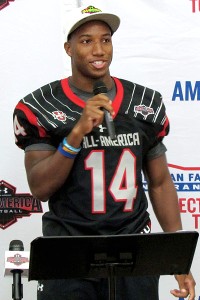 Courtesy of IntersportNo. 9 overall prospect Marlon Humphrey likes how Johnny Manziel makes others around him better.
Five-star cornerback Marlon Humphrey (Hoover, Al./Hoover High)
: Ah man, I think I'm going to have to go with Johnny Manziel. I just feel like he kind of made a team out of nothing. Jameis Winston is a great quarterback too, but he doesn't have the scrambling skills that Manziel has. This year, you could tell that his teams defense wasn't that good, the players around him weren't as good, but he kept making his team better. He's has the fight in him I would want on my team.
Florida commit and No. 20-ranked Dalvin Cook (Miami/Central High)
: I would say Jameis Winston. He's really a pure quarterback, and I think he sets up things more for a running back than Johnny Manziel does.
Auburn running back commit Racean Thomas (Oxford, Al./Oxford High)
: I would probably pick Jameis Winston. The reason behind that is because he is more of a leader for a young quarterback, and I think he can make his team a more mature team. I really think he would be a great quarterback to play with.
Florida wide receiver commit and No. 28 Ermon Lane (Homestead, Fla./Homestead Senior High)
: Whew, I don't know. I think Jameis Winston. I look at how both of them played as a freshman, and I like how Jameis Winston leads his team. He is also more pro-ready than Manziel.
Texas defensive end commit and No. 78-overall Derick Roberson (San Antonio, Texas/William J. Brennan High)
: I guess I would say Johnny Manziel. I like how he plays with his swagger and confidence the most, so I would probably say him.
Notre Dame commit and No. 76-ranked Tyler Luatua (la Mirada, Calif./La Mirada High)
: I would take Manziel just because of the way he plays. If he doesn't have a wide receiver open, he can make plays himself. He can get the ball to his players if and when he wants to, but can also do it on his own when he needs to.
No. 38 overall John Smith (Long Beach, Calif./Long Beach Polytechnic High School)
: That's a hard one. As of right now, I would go with Jameis Winston. Overall, he's a great player. I think Winston has an awesome football IQ. Johnny had his year too, but I think Winston is just a great player. Outstanding.
Dylan Sumner-Gardner
: Jameis Winston, man. I feel comfortable with Jameis Winston as my quarterback because he's smart and accurate. Johnny is accurate too, but Johnny is Johnny. How he runs around, people may get nervous. I would just feel more comfortable with Jameis as my quarterback.
No. 22 overall Laurence Jones (Monroe, La./Neville High)
: That's a hard one right there. Let me think ... maybe Johnny Manziel because I don't think I've ever seen a white boy get down like that. It would have to be Johnny Manziel.
Penn State wide receiver commit Chris Godwin (Middletown, De./Middletown High)
: I think Jameis Winston. I think overall he's a better passer. I want a quarterback back there that can get me the ball on a consistent basis, but Johnny Manziel is a great player, too. I'm actually a big fan of both of them.
Five-star and Virginia defensive tackle commit Andrew Brown (Chesapeake, VA
Oscar Frommel Smith High)
: Dang, that's a good question, man. I would go with Jameis Winston. His leadership qualities, coming in as a freshman and doing the things he is doing is definitely uncommon. It just foreshadows what he is going to do in the future, too. He's already established a great foundation for himself, and I would definitely take him in the future.
Maryland commit Will Ulmer (Washington, D.C./Saint John's High)
: I'm going with Johnny Manziel. I think he's more dynamic, and more of a game-changer. Jameis Winston is a great quarterback too, but you have to think about all the dudes he has around him at FSU -- all the great receivers and good running backs. I would go with Manziel because if you put him on the Florida State team, or a stacked team like that, it would be a scary sight.
November, 15, 2013
11/15/13
4:30
AM CT
The Early Offer is RecruitingNation's regular feature, giving you a daily dose of recruiting in the mornings. Today's offerings: After missing out on
Da'Shawn Hand
, Michigan didn't waste time trying to fill its need at defensive end; can Texas become a factor for the nation's No. 1 prospect?, and how many elite players are still up for grabs?