Dallas Colleges:

Michael Crabtree
January, 13, 2014
Jan 13
2:00
PM CT
After 16 years, the BCS era is finally over. Next season, college football will have a playoff instead.
With the BCS done, we've come up with our Big 12 all-BCS era team (1998-2013) below:
Offense
[+] Enlarge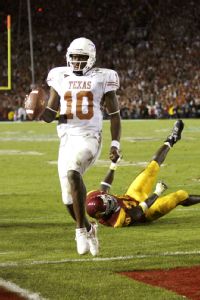 Scott Clarke/Getty ImagesWith Vince Young at the helm, Texas won a national title and Rose Bowl.
QB: Vince Young, Texas (2003-05) --
Young led Texas to its first national title in 35 years with an unforgettable performance in the Rose Bowl against USC. The Heisman runner-up also became the first QB in college football history to throw for 3,000 yards and run for 1,000 in the same season.
RB: Ricky Williams, Texas (1998) --
Williams was part of the BCS era for only one season, but what a season it was. He rushed for 2,327 yards and won the Heisman Trophy going away. Only Wisconsin's
Ron Dayne
has more career rushing yards than Williams (6,279).
RB: Adrian Peterson, Oklahoma (2004-06) --
Despite battling injuries throughout his career, Peterson still was a beast in college. After rushing for 1,925 yards while leading the Sooners to the national title game, he finished second in the '04 Heisman voting, even though there was still a stigma then in voting for a freshman.
WR: Michael Crabtree, Texas Tech (2007-08) --
Crabtree became the first two-time winner of the Biletnikoff Award, given to the nation's top receiver. In '08, he and QB
Graham Harrell
led the Red Raiders to an upset of Texas and a No. 2 ranking in the polls.
WR: Justin Blackmon, Oklahoma State (2009-11) --
Blackmon became the second and only other two-time winner of the Biletnikoff. In his final two seasons, he finished with 233 receptions, 3,304 receiving yards and 38 touchdowns, and he helped propel the Cowboys to their first Big 12 title in '11.
TE: Chase Coffman, Missouri (2005-08) --
Coffman had a monster statistical college career for a tight end with 247 catches for 2,659 receiving yards and 30 touchdowns. He won the '08 Mackey Award, given to the nation's top tight end. Missouri won 37 games during the four years Coffman was in the lineup.
OT: Jammal Brown, Oklahoma (2001-04) --
Brown was a unanimous All-American and a three-time All-Big 12 selection. He became the fifth Sooner to win the Outland Trophy, awarded to the nation's top interior lineman.
OT: Russell Okung, Oklahoma State (2007-09) --
In Okung's final two seasons, Oklahoma State led the Big 12 in rushing yards. The Cowboys were also third in the country in '07 in fewest sacks allowed with Okung at left tackle. He was a unanimous All-American and Outland finalist in '09 and became the sixth overall pick in the '10 NFL draft.
OG: Cyril Richardson, Baylor (2010-13) --
Richardson became Baylor's seventh all-time unanimous All-American. The Outland finalist was also a key piece on the nation's highest-scoring offense this season.
OG: Justin Blalock, Texas (2003-06) --
Though a guard in the NFL, Blalock actually started 50 games for Texas, most coming at right tackle. He was a three-time, first-team All-Big 12 selection and a consensus All-American in 2006.
C: Dominic Raiola, Nebraska (1998-2000) --
Raiola was the inaugural winner of the Rimington Award, named after former Nebraska center Dave Rimington, which recognizes the best center in college football. He was an Outland finalist and a consensus All-American.
APB: Darren Sproles, Kansas State (2001-04) --
One of the most prolific all-purpose performers in college football history, Sproles finished his career with 6,812 all-purpose yards. Among his 39 consecutive starts, his most memorable performance came in the '03 Big 12 championship, when he had 235 yards rushing and 88 receiving, as K-State upset top-ranked Oklahoma 35-7.
Defense
DE: Brian Orakpo, Texas (2005-08) --
Orakpo captured the '08 Nagurski Award as the most outstanding defensive player in the country, and the Lombardi Award, given to the best college lineman or linebacker. He also was the Big 12 Defensive Player of the Year and a consensus All-American while piling up 11 sacks his senior year.
DE: Von Miller, Texas A&M (2007-10) --
Out of a hybrid defensive end/linebacker role, Miller led the nation with 17 sacks in '09. He was a two-time All-American and won the Butkus Award in '10 as the nation's top linebacker.
DT: Ndamukong Suh, Nebraska (2005-09) --
There was no more dominant defensive player in college football during the BCS era. Suh finished fourth in the Heisman voting in '09 and won several national awards, including the Outland, Lombardi, Nagurski (most outstanding defensive player)and Bednarik (defensive player of the year). He was also a unanimous All-American and the Big 12 Defensive Player of the Year.
DT: Tommie Harris, Oklahoma (2001-03) --
Harris was a force from the beginning as a freshman on the OU defensive line. He won the Lombardi his junior year, and he was a two-time consensus All-American, garnering unanimous honors in '03.
LB: Derrick Johnson, Texas (2001-04) --
Johnson was a menacing linebacker for the Longhorns, earning consensus All-American honors in '03 and unanimous honors in '04. He was also a three-time, first-team All-Big 12 selection, and won the Butkus (best linebacker) and Nagurski awards as a senior. Johnson finished his career with 458 tackles.
LB: Rocky Calmus, Oklahoma (1998-2001) --
Calmus played a major role in OU's resurgence under Bob Stoops. He won the Butkus in '01 and was a finalist for the Nagurski and Bednarik. A three-time All-Big 12 pick, Calmus led the Sooners in tackles in all three of those seasons.
LB: Teddy Lehman, Oklahoma (2000-03) --
Lehman too won the Butkus, beating out Johnson for the award in '03. He also was Big 12 Defensive Player of the Year, captured the Bednarik, was a unanimous All-American and played in two national championship games.
[+] Enlarge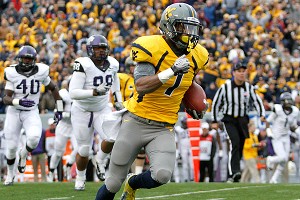 Justin K. Aller/Getty ImagesWest Virginia receiver and returner Tavon Austin had a huge 2012 season.
CB: Terence Newman, Kansas State (1999-2002) --
Newman was a solid player for Bill Snyder his first three seasons, then broke out as a senior. Newman was the Big 12 Defensive Player of the Year, a unanimous All-American and the Thorpe winner, given to college football's top defensive back.
CB: Derrick Strait, Oklahoma (2000-03) --
A four-year starter, Strait finished with a school-record 52 career pass breakups. He also won the Thorpe, and was a unanimous All-American.
S: Roy Williams, Oklahoma (1999-2001) --
Nicknamed "Superman," Williams was the Big 12's most dominating defensive player until Suh came along. He won the Thorpe and Nagurski in '01, and was the Big 12 Defensive Player of the Year and a unanimous All-American the same season. He also famously skied over the Texas offensive line to force the game-clinching interception to earn his moniker.
S: Michael Huff, Texas (2002-05) --
Huff became the first Longhorn to win the Thorpe, and was the leader of the '05 national championship defense. He was also a unanimous All-American that season.
Special teams
K: Mason Crosby, Colorado (2003-06) --
Crosby was three-time, first-team All-Big 12 selection, and twice was a consensus All-American even though he never won the Lou Groza Award, given to the nation's top kicker. He was also the Big 12 Special Teams Player of the Year as a junior, and converted 66 field goals in his career.
P: Quinn Sharp, Oklahoma State (2009-12) --
Sharp became the first three-time All-American in Oklahoma State history, and he earned All-American honors both as a punter and a kicker. He was twice named the Big 12 Special Teams Player of the Year. In his career, he made 50 of 59 field goals, averaged 45.9 yards per punt and missed only one extra point.
KR: Tavon Austin, West Virginia (2012) --
Austin was in the Big 12 only one season, but he was unstoppable that one season. On top of being one of the most dangerous kick returners in the country, Austin had 1,289 yards receiving and 643 rushing, and finished second in the country in all-purpose yards.
PR: Ryan Broyles Oklahoma (2008-11) --
On top of being a prolific punt returner, Broyles was one of the most efficient receivers in college football history. He finished his career with an FBS-record 349 receptions, and was a two-time consensus All-American before a knee injury cut his senior season short.
November, 4, 2013
11/04/13
1:35
PM CT
The Big 12 has featured some prolific wide receiver tandems over the years.
Baylor's
Tevin Reese
and
Antwan Goodley
, however, have a chance to top that list.
[+] Enlarge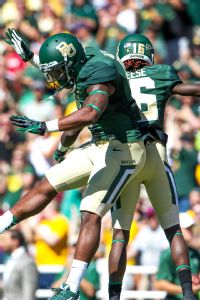 Jerome Miron/USA TODAY SportsAntwan Goodley and Tevin Reese rank 1-2 in the Big 12 in receiving yards per game.
This season, Reese is second in the Big 12 with 118 yards receiving a game. He trails only Goodley, who leads the league with an average of 128 yards receiving. They are a big reason why the Bears are on pace to break the FBS records for points (56.0) and yards (624.9) per game that were set by Army in 1944 and Houston in 1989.
But Reese and Goodley aren't the only big-time duos in the Big 12 this year.
Kansas State's
Tramaine Thompson
and
Tyler Lockett
have been lighting it up since returning from injury. The last two weeks the two have totaled five touchdown catches.
Jalen Saunders
and
Sterling Shepard
lead the Sooners with five touchdowns apiece. Texas Tech's
Eric Ward
and
Jakeem Grant
are fifth and sixth in the league in receiving. Oklahoma State's
Josh Stewart
and
Tracy Moore
are beginning to warm up with
Clint Chelf
at QB. And
Jaxon Shipley
and
Mike Davis
have been stalwarts in this league for years.
But who are the best tandems ever to play Big 12? We lay it out below.
Tight ends were not included (sorry Jermaine Gresham and Chase Coffman). The tandems were evaluated on what they accomplished together, not on whether their careers simply overlapped (eliminating Jeremy Maclin and Danario Alexander, for example); and, this is a list for duos, not singles, trios or quartets (apologies to Rashaun Woods, and the 2008 Oklahoma and 2010 Baylor receiving corps).
To the list:
1. Stedman Bailey and Tavon Austin, West Virginia (2012):
In their only year in the league, this tandem was one-two in the Big 12 in receiving, combining for 224 receptions and 2,914 receiving yards. Bailey himself had 25 receiving touchdowns; nobody else in the league had more than 13. Austin, meanwhile, also rushed for 344 yards in one game at running back. As Bailey tweeted out earlier Monday morning on this topic, "case closed."
2. Michael Crabtree and Danny Amendola, Texas Tech (2007):
Crabtree got all the headlines in 2007 on his way to winning his first of two Biletnikoff awards. But out of the slot, Amendola quietly put up 109 receptions for 1,245 yards, as Tech went 9-4.
3. Jordan Shipley and Quan Cosby, Texas (2008):
Shipley and Cosby starred on one of the three best Big 12 teams that didn't win a conference title. The two each had 1,000 receiving yards and double-digit TDs from QB Colt McCoy, as the Longhorns finished the year 12-1, their only loss coming on Crabtree's game-winning touchdown in the final seconds in Lubbock. The two were also prolific on special teams, with Shipley's kick return touchdown sparking Texas' 45-35 comeback win over Oklahoma.
4. Justin Blackmon and Josh Cooper, Oklahoma State (2011):
As with Crabtree-Amendola, Blackmon got all the attention on his way to a second Biletnikoff award. But Cooper was a pivotal piece in OSU's first Big 12 title team, as he racked up 71 receptions out of the slot. Blackmon, of course, had a monster year with 121 catches and 18 touchdowns.
5. Kendall Wright and Terrance Williams, Baylor (2011):
Reese was actually the third wheel to this duo, which shined with RGIII at quarterback. Wright was an All-American with 108 catches, 1,663 yard and 14 touchdowns. Williams was big time, too, finishing fifth in the Big 12 in receiving before taking over the No. 1 role in 2012.
6. Ryan Broyles and Kenny Stills, Oklahoma (2010):
Broyles led college football with 131 receptions on his way to becoming the all-time FBS leader in career catches. Stills broke OU's freshman single-season receiving record, as the Sooners stormed back to capture the Big 12 crown after a pair of midseason losses.
7. Kerry Meier and Dezmon Briscoe, Kansas (2008):
It might be difficult to remember now, but the Jayhawks used to play some ball. Meier tied Crabtree for second in the league with 97 receptions. Briscoe trailed only Dez Bryant with 1,402 receiving yards. This was an underrated duo.
8. Quincy Morgan and Aaron Lockett, Kansas State (1999):
On one of the first passing teams in the Big 12, Morgan and Lockett shined. Morgan had 42 receptions for 1,007 yards and nine touchdowns and was a first-team all-conference selection. Lockett, Tyler Lockett's uncle, was a second-team all-league pick for the Wildcats, who went 11-1 and finished the year ranked sixth in the polls.
9. Jarrett Hicks and Joel Filani, Texas Tech (2005):
Neither might be a household name around the Big 12 anymore, but these two were both first-team All-Big 12 selections in '05 along with Iowa State WR Todd Blythe.
10. Mark Clayton and Travis Wilson, Oklahoma (2004):
Clayton carried the moniker of best receiver in OU history until Broyles came around. Because of Adrian Peterson, Clayton's numbers dipped in '04, but he was still an All-American with 66 catches. Wilson led the Sooners with 11 TD grabs, as OU advanced to a second consecutive national championship game.
August, 16, 2013
8/16/13
9:00
AM CT
Colleague Brandon Chatmon looked at a few guys across the Big 12 who could be "The Next
Johnny Manziel
" yesterday, but really, those kinds of guys do exist. I will not be encouraging you to curb your collective enthusiasms today. Sometimes, players who haven't played a down of football in the Big 12 end up being some of the best players in the league.
Want a few examples, even from just the past few seasons? I'm glad you asked.
Michael Crabtree, WR, Texas Tech, 2007:
A position switch and transcript issues meant a redshirt season in 2006, but Crabtree had one of the greatest debut seasons in Big 12 history. He caught three touchdowns in his first game ever, and finished the season with 1,962 yards and 22 touchdowns on 134 catches. No Big 12 receiver has had more yards since, and he took home the Biletnikoff Award after leading the nation in receiving yards by 356 yards. His closest competition caught just 16 touchdowns, too.
[+] Enlarge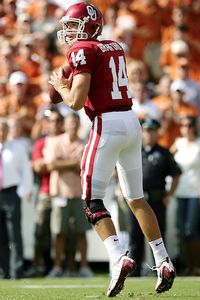 Nelson Chenault/US Presswire Sam Bradford had a stellar first season at Oklahoma.
Sam Bradford, QB, Oklahoma, 2007:
Bradford narrowly beat out blue-chip recruit Keith Nichol and junior Joey Halzle to win the job after redshirting in 2006, and by the end of the season, he led the nation in quarterback rating, and no Big 12 quarterback was within 20 points of him. He threw for 3,121 yards, 36 touchdowns and just eight interceptions. He won the Heisman Trophy the following season.
Robert Griffin III, QB, Baylor, 2008:
Griffin committed to Houston first, but followed Art Briles to Baylor and electrified the crowd with early runs in a loss to Wake Forest. He eventually broke the FBS record for passes without an interception, and didn't throw his first until the ninth game of the season. It was clear he was the future of the program, and he finished the season with almost 3,000 yards of offense, accounting for 28 touchdowns.
Daniel Thomas, RB, Kansas State, 2009:
Thomas joined the long line of junior college stars under Bill Snyder at Kansas State. Thomas arrived in Manhattan as an unknown and led the Big 12 with 1,265 yards and 11 touchdowns, showcasing great vision and toughness on the way to an eventual NFL draft selection. He led the Big 12 in rushing again in 2010, too.
Devonte Fields, DE, TCU, 2012:
Fields was the Frogs' top recruit in 2012 as the nation's No. 73 overall player and the No. 11 defensive end. By the first week of October, he had 9.5 tackles for loss and cruised to earning the Big 12's Defensive Player of the Year honors.
Lavonte David, LB, Nebraska, 2010:
He's one of the many Blackshirts' greats over the years, and made adjusting to life in the Big 12 from junior college look easy. He led the league with an eye-popping 152 tackles, and anybody who watched the Huskers every week might have sworn it was more. He was everywhere. He added 12.5 tackles for loss and six sacks, as well as eight pass breakups.
Lache Seastrunk, RB, Baylor, 2012:
Seastrunk didn't get much time on the field for the first two months of the season, but once November arrived, he broke out in a huge way. The Oregon transfer was stuck behind
Glasco Martin
and Jarred Salubi on the depth chart, but earned the nod as the featured back heading into November, and rushed for 831 yards in Baylor's final six games, including an upset of No. 1 Kansas State in the Bears' 5-1 run to close the season.
Bruce Irvin, DE, West Virginia, 2010
: Irvin's
road was incredible
, using junior college to turn his life around and earn his way to WVU after dropping out of high school. In his first season as a Mountaineer, he finished second nationally with 14 sacks, and forced a pair of fumbles.
Travis Lewis, LB, Oklahoma, 2008:
Lewis redshirted his first season in Norman, but led the Big 12 with 144 tackles as a redshirt freshman, making 12 tackles for loss and intercepting four passes. It was the start of an incredible career. He led the Sooners in tackles for each of the next four seasons.
March, 14, 2013
3/14/13
4:00
PM CT
Turnover is an annual tradition in college football, but with that, teams' strengths and weaknesses constantly shift, too. Today, we'll begin a look at the biggest strengths and weaknesses for each Big 12 team.

Strongest position: Pass-catchers
I had to expand the position of strength to include tight ends, because to exclude
Jace Amaro
would be criminal. He and
Eric Ward
will be a strong 1-2 punch in the passing game next season, but there are a ton of options that give this unit lots of depth, too. Ward caught 82 passes for 1,053 yards and 12 touchdowns and will be the Red Raiders' first returning 1,000-yard receiver since Michael Crabtree in 2007-08.
Darrin Moore
is gone, but Amaro wouldn't have been far from 1,000 yards if he'd avoided a rib injury suffered in the sixth game of the season when he racked up 156 receiving yards and a score in a blowout win over West Virginia.
Jakeem Grant
and
Javon Bell
offer two more solid options at receiver, and ESPN 150 recruits
Reginald Davis
and
Dominique Wheeler
may make an impact after redshirting in 2012.
Bradley Marquez
should find more responsibility this year as well. This unit is solid from top to bottom, with lots of possible contributors, lots of targets with varying strengths who can help
Michael Brewer
grow into his new role as starting quarterback. That's nothing new at Texas Tech, and watching his offense take shape in 2013 will look pretty familiar for new coach Kliff Kingsbury.
Weakest position: Safety
Replacing
Cody Davis
, a four-year starter and the leader of the defense, is an unbelievably difficult task.
D.J. Johnson
is gone, too, leaving the Red Raiders without their top two tacklers and a big hole at the back of the defense. We saw how poor Tech's defense can look when the safety play is weak like in 2010 and 2011, but the unit grew up a bit this past season, and Davis and Johnson were two big reasons why. New coordinator Matt Wallerstedt will have a lot of youth to deal with back there, and Kevin Curtis will coach the position with the most turnover for Tech in 2013. It's anyone's guess as to who fills Davis' and Johnson's void, and reserve
Chris Yeakey
is gone, too. Sophomore
J.J. Gaines
should get a shot, but I wouldn't rule out a position change from a more experienced corner.
March, 11, 2013
3/11/13
4:00
PM CT
ESPN draft expert Mel Kiper has two Big 12 players -- Oklahoma's
Lane Johnson
and Texas'
Kenny Vaccaro
-- potentially going in the first round of this year's NFL draft.
Fellow expert Todd McShay has the same two as Kiper and also is optimistic about the chances of West Virginia's
Geno Smith
and
Tavon Austin
.
So let's split the difference and label the potential Big 12 first-round picks as an optimistic three, with Johnson being the only absolute first-round lock.
Those three would represent the fewest Big 12 players taken in the first round of the NFL draft since 2008. Even if four went, the Big 12 still would have the fewest since 2008.
That year, only Kansas -- yep, the Jayhawks -- managed a first-rounder,
Aqib Talib
to Tampa Bay with the 20th pick. In the four drafts that followed, the Big 12 has always put at least five players into the first round, including the first four overall picks in 2010.
How well this year's group of first-round picks will fare might not be known for years. What is known, though, is how well Big 12 players have done when they are selected in the first round. With that in mind, here is a ranking -- from worst to best -- of the Big 12's best first-round draft classes over the past 10 years.
2008
: It's all about quantity, and a little bit of quality. In 2008, the Big 12 only produced one first-round pick, Talib. He has not produced dramatic returns in the NFL. In the past two years, he has only started nine games. He was somewhat productive for Tampa Bay in the previous three seasons, starting 41 games and playing in 53. But, again, he was the only Big 12 player taken in the first round in 2008.
2006:
Vince Young
is working out at Texas' pro day at the end of March. Enough said.
Davin Joseph
and
Michael Huff
have been solid producers. But when the No. 3 overall pick is out of the league and having to work out at his alma mater's pro day, it means it was a bad year for the Big 12 in the first round of the NFL draft.
2004:
Tommie Harris
and Marcus Tubbs, the two defensive tackles taken in the first round, were productive for a few years, with Harris selected to Pro Bowls in 2005, '06 and '07 before he was beset by injuries. Tubbs lasted four seasons in the NFL. Roy Williams had 5,715 receiving yards but never lived up to the hype he generated coming out of Texas. Rashaun Woods played only two years and had seven career catches.
2005:
The lack of numbers might be what hurts this group the most.
Cedric Benson
,
Jammal Brown
,
Derrick Johnson
,
Mark Clayton
and
Fabian Washington
all proved they could play at the NFL level. Benson has had three 1,000-yard-plus seasons. Johnson is one of the top linebackers in the game. Brown remains a solid option on the offensive line. Clayton played seven NFL seasons; Washington played six. But there were only five guys selected and that isn't enough to push 2005 to the top of the list.
[+] Enlarge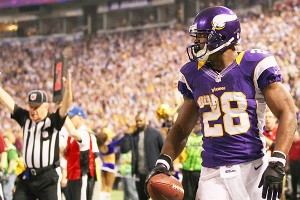 Andy Clayton King/Getty ImagesThe Big 12's 2007 draft class wasn't huge, but did feature 2012 NFL MVP Adrian Peterson.
2009:
Every Big 12 player selected in the first round in 2009 has produced and appears to be poised to continue to do so. Only
Jason Smith
didn't have a start last year. But the offensive lineman still played in all 16 games for the
New York Jets
.
Michael Crabtree
,
Brian Orakpo
,
Josh Freeman
,
Jeremy Maclin
,
Brandon Pettigrew
and
Ziggy Hood
are all starters for their respective teams.
2007:
It wasn't the biggest group, but it did include
Adrian Peterson
, so there could be some quibbling that maybe 2007 should be higher in the rankings. Throw in
Aaron Ross
and
Michael Griffin
and the debate could get even more heated.
Adam Carriker
was also taken this year. He started his career strong but suffered an injury and only played in two games last season.
2003
:
Kevin Williams
has been the standout of this group. The defensive tackle has started every game but four in his 10-year career.
Terence Newman
has been effective as a defensive back, first in Dallas and last season in Cincinnati. Tyler Brayton played at least 15 games on the defensive line in a nine-year career.
Ty Warren
played eight solid seasons for New England but tailed off last season with Denver. Andre Woolfolk lasted four seasons, mostly as a reserve.
2011:
Von Miller
, who was the highest pick among Big 12 players this year, has proved to be the top player so far.
Aldon Smith
is not far behind. Add in
Prince Amukamara
,
Phillip Taylor
, who when healthy is a starter at defensive tackle, a somewhat productive
Blaine Gabbert
and
Nate Solder
as well as reliable backups
Danny Watkins
and
Jimmy Smith
and this proved to be a successful year for Big 12 first-round selections.
2012:
Three quarterbacks, and all were not only starters as rookies but also made huge differences for their respective squads. Clearly,
Robert Griffin III
made the most dramatic impact, but
Ryan Tannehill
, with the Dolphins, and
Brandon Weeden
, with Cleveland, were both solid.
Kendall Wright
and
Justin Blackmon
each had 64 catches, for Tennessee and Jacksonville, respectively. Blackmon was targeted more (133 to 104) and had 200 more receiving yards.
2010:
This list maybe doesn't have the star power and is not littered with offensive playmakers, but six of the nine players picked were selected for the 2013 NFL Pro Bowl:
Gerald McCoy
,
Trent Williams
,
Ndamukong Suh
,
Earl Thomas
,
Russell Okung
and
Jermaine Gresham
. And the other three players --
Dez Bryant
,
Sam Bradford
and
Sean Weatherspoon
-- were vital pieces for their respective teams.
January, 17, 2013
1/17/13
10:01
AM CT
Before the season began, I
released my picks for the Big 12's 1,000-yard receivers
in 2012. The Big 12 had four 1,000-yard rushers in 2011, but I picked the league to have five in 2012.
There were 35 1,000-yard receivers this season across college football, but six came from the Big 12. Here's how I picked them from the Big 12 this year.
1. Tavon Austin, WR, West Virginia:
Austin did what we all thought he would do: Had a huge senior season. He validated his status as one of the Big 12's most dangerous players and was third in the league with 1,289 yards and 12 scores.
2. Stedman Bailey, WR, West Virginia:
Bailey was a touchdown machine this year, hauling in 25 touchdowns, seven more than any other player in the country. He was a nominee for the Biletnikoff Award and racked up 1,622 yards on his league-high 114 catches. Both WVU receivers were anything but overrated this year. Studs, the both of them.
3. Terrance Williams, WR, Baylor:
I said there was a good shot Williams could crack 1,000 yards easily, but I never thought he'd make it look this easy. I had high hopes for Williams, but he far exceeded them, leading the nation with 1,832 yards on 97 catches with 12 scores. What a year.
4. Kenny Stills, WR, Oklahoma:
I picked Stills to crack his first-ever 1,000-yard season, but he came up short in a year he even admitted was a bit disappointing. He finished seventh in the league with 959 yards, just 41 short of a 1,000-yard season. He'd have cleared 1,000 yards if he had 50 yards receiving against TCU's stingy defense. He did have 11 scores, including four against West Virginia.
5. Josh Boyce, WR, TCU:
Boyce likely would have cleared 1,000 yards if
Casey Pachall
stayed on the team. He took a bit of a step back this year, though, with only two 100-yard games this season and finishing with 891 yards and seven touchdowns. He had 998 yards and nine scores last season in the MWC.
Sadly, though, I missed three of the Big 12's 1,000-yard receivers this season. I did give
Darrin Moore
and
Josh Stewart
my apologies in the preseason post, but I predicted the touches would be too spread out for either player to top 1,000 yards. Shows what I know.
Here are the guys I didn't get:
Josh Stewart, WR, Oklahoma State:
Stewart was the biggest breakout star in the Big 12 this year and will be the Big 12's leading returning receiver in 2012. He caught 101 passes for 1,210 yards this season, with seven touchdowns. Heck of a year, and high hopes for his junior campaign, especially considering he racked up those numbers with three different quarterbacks playing about a third of the season each.
Darrin Moore, WR, Texas Tech:
Tech hadn't had a 1,000-yard receiver since Michael Crabtree won his second Biletnikoff Award back in 2008. The Red Raiders had two this year, and Moore led the team in receptions (92) and touchdowns (13).
Eric Ward, WR, Texas Tech:
Ward took home the Red Raiders' receiving title and elected to stay in Lubbock for his senior season, too. He caught 82 balls for 12 touchdowns and 1,053 yards. Great season, and he'll be a huge help for
Michael Brewer
next year.
November, 30, 2012
11/30/12
3:00
PM CT
Time for one more week of fun facts, courtesy of ESPN Stats & Info and various sports information departments around the Big 12.
We love you. You make your readers the smartest folks at their tailgate. Let's get to it!
Did you know ...
Since Mack Brown and Bob Stoops have been at Texas and OU, only three teams have ever beaten both teams in the same season. All three, however, have been in the past two years (Oklahoma State and Baylor, 2011; Texas A&M 2010). With wins on Saturday, TCU and K-State could both add to that list.
If Texas loses to K-State, it will be 11-15 in Big 12 play in the past three seasons. It will be the first time Texas has lost at least four games in league play in three consecutive seasons since 1935-38.
Kansas State had given up zero points off turnovers in the first nine games and three quarters of its season. In the last five quarters, it's given up 21 points off turnovers, falling from first to third nationally in the stat.
The Wildcats commit an average of 3.6 penalties a game, but had five in the first half against Baylor two weeks ago, not counting two that were declined.
Kansas State averaged 213 rushing yards in its first nine games. It had 76 against Baylor.
Bill Snyder is 4-2 vs. Mack Brown, and K-State is +14 in turnover margin in those six games.
Three of those four wins came by double digits.
Texas is giving up an average of 99.5 rushing yards per game ... after contact. That's the most in the Big 12.
The Longhorns have missed 107 tackles this year, the most in the Big 12.
Kansas State has missed 71 tackles this year, the fewest in the Big 12.
Collin Klein attempted 17 passes longer than 15 yards in the loss to Baylor. He'd never attempted more than 10 in a game.
He completed three of those 17 attempts to K-State teammates and three of those attempts to Baylor defenders.
Of the 14 incompletions, 10 were overthrown.
Klein had completed more than 60 percent of those throws on the season for eight scores and two picks. He completed 17.6 percent of those attempts against Baylor for three interceptions and no touchdowns, and was 0-of-6 on third-down pass attempts longer than 15 yards.
Case McCoy is completing 70 percent of his throws longer than 10 yards this season with three touchdowns and an interception.
David Ash is completing 49 percent of those same throws, for eight touchdowns and six interceptions.
On those throws against TCU, Ash was 2-of-8 for two interceptions.
McCoy is 3-1 on the road as starter in his career.
When facing five or more pass-rushers, Landry Jones is completing 67.4 percent of his passes this season. That's up eight percentage points from 2011.
K-State has beaten Texas in their last four meetings, and is 7-5 all-time vs. Texas. The Longhorns have played 23 different teams at least 10 times, and only three of those teams have winning records against Texas in those meetings: Notre Dame, Vanderbilt and K-State.
Oklahoma has gone three-and-out just 16 times this season, second-fewest in FBS.
TCU leads the nation with nine of its interceptions coming on throws longer than 20 yards downfield.
Jones has thrown three interceptions on 60 attempts at this distance.
TCU converted 44.7 percent of its third downs in its first seven weeks. Since then, it has converted just 25 percent of its third downs, 118th in FBS.
Baylor receiver Terrance Williams has 22 catches longer than 25 yards and 14 catches longer than 40 yards this season. Both marks lead FBS.
Baylor receiver Tevin Reese has six touchdown catches longer than 40 yards. Only USC's Marqise Lee has more, with seven.
Since becoming a starter, Oklahoma State's Clint Chelf is completing 76.9 percent of his passes off play-action for three scores and no interceptions.
Last week against Oklahoma, he was 11-of-14, including a 75-yard touchdown pass to Josh Stewart.
That 75-yard touchdown was OSU's longest play from scrimmage this season.
Baylor quarterback Nick Florence has 21 touchdown passes thrown longer than 15 yards downfield, the most in FBS.
Baylor's 13 three-and-outs this season are the fewest in FBS.
The Big 12 has 50 percent of its teams in the top 12 nationally in total offense.
Baylor has had 400 yards of offense in every game this season, and over 600 yards in five games.
Kansas has a rush of 55 yards or more in four consecutive games.
Landry Jones owns all three 500-yard passing games in Oklahoma history.
Since 2005, TCU is 48-1 when winning the turnover battle. That's the best mark in the nation.
TCU is 4-1 on the road in Big 12 play, but 0-3 at home.
Texas is now 51-23-2 when playing on Thanksgiving.
Texas Tech receiver Darrin Moore's 146-yard first half against Baylor last week was the most in a half since Michael Crabtree had 152 at Oklahoma State in 2007.
Jakeem Grant's kickoff return for a touchdown was Texas Tech's first since Vincent Meeks returned one against Oklahoma all the way back in 2002.
October, 24, 2012
10/24/12
10:24
AM CT
It was an all-too-familiar feeling for Texas Tech, despite earning a big win over West Virginia.
A big hit sent
Jace Amaro
to the sidelines with a rib injury. A fractured foot ended
Javon Bell
's season. A knee injury did the same to
Bradley Marquez
.
Just like last season, the Red Raiders were forced to deal with injuries. It had been a mostly healthy year, something coach Tommy Tuberville had been unfamiliar with in his first two seasons in Lubbock.
This time, though, the Red Raiders easily adjusted in the wake of these injuries. How? Depth.
"We went out and took some junior-college players the last couple of years. We added more speed," Tuberville said. "It was ironic last week, the old hands that have been around here,
Alex Torres
and
Austin Zouzalik
, had not played as much this year as they had in the past, just because of the depth, but they really stood out last week, made a lot of plays."
[+] Enlarge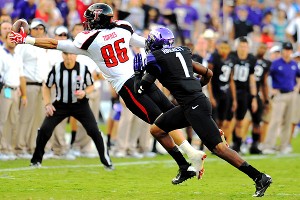 Shanna Lockwood/US PresswireSenior Alex Torres stepped up against TCU, his five catches including the winning TD for Texas Tech.
With three injuries to the receiving corps, quarterback
Seth Doege
needed help. Torres and Zouzalik provided it, combining for 10 catches, 108 yards and a pair of touchdowns, the final one coming in triple overtime by Torres to clinch the 56-53 victory over TCU, Tech's second win over a top-25 team in two weeks.
"They've shown me that I can have trust in them. They compete every Saturday and they want the ball in their hands and want to make big plays," Doege said of his new receivers. "That's the best quality of this whole corps. They're very unselfish, but they all want to compete and they all want to do what it takes to win football games."
Eight different Red Raiders have at least 100 yards receiving and 13 catches this year. Fourteen receivers have at least five catches.
The rest of the team is relatively injury-free, but when the bug bit the receivers, they were prepared.
"Outside of the '08 group, I think it has to be one of the best I've been around, because of the depth. There's so many guys that can come in and make plays on Saturday," said Doege, who redshirted that 2008 season as a freshman. "It does remind me of the '08 group that had (two-time Biletnikoff Award winner Michael) Crabtree and Eric Morris and even before that when they had Crabtree and Morris and (Danny) Amendola. There was a lot of big-time players that are still playing.
"I don't know if we have a Crabtree here, but we have a lot of solid guys that can make a lot of plays."
Maybe the Red Raiders don't have a Crabtree, but it likely has the Big 12's best tight end in Amaro, who may return this week after suffering the rib injury against West Virginia. The 6-foot-5, 257-pounder leads the team with 394 receiving yards, despite missing last week's game.
"That guy's a beast. There's no other way to explain how he plays," Doege said. "In the blocking game he makes DBs and linebackers look like rag dolls when he puts his hands on 'em. Then when he catches the ball, he's hard to bring down. He's hard to cover because he's so big."
A year ago, this might not have been the case for the Red Raiders. Injuries to just about every unit knocked the Red Raiders down to 5-7 and out of the postseason. Tech has already surpassed its win total from a year ago, and this time, it was ready to handle the injury issues.
"It pays off the most when you have times like this and have a few guys go down and then the next guy steps up and you don't lose any production," said Doege, who leads the nation with 28 touchdown passes.
Added Tuberville: "Whenever you throw 28 touchdown passes in seven games, something's going right with your receivers and quarterbacks."
July, 18, 2012
7/18/12
3:00
PM CT
The Biletnikoff Award, given annually to college football's best receiver, has released its preseason watch list. Eight players from the Big 12 cracked the list. Here they are:
It's an OK list, but how does the award include Texas' Mike Davis and not
Jaxon Shipley
? Shipley's the better player now, and will be in the future. That's a shame. Neither is a real contender for the award this year, so I don't know if it's fair to consider Shipley a snub as much as Davis a surprising addition. If you include one, you've got to include the other. That, or neither.
Other than that snub complaint every other player on the list certainly deserved their spot.
The Big 12 was loaded at receiver last season, and could have swept the list of three finalists, but Big 12 receiving champ was snubbed in favor of USC's
Robert Woods
and Oklahoma's Ryan Broyles, who led the league in receiving before tearing his ACL.
Oklahoma State's Justin Blackmon became the second player ever and second from the Big 12 (Michael Crabtree, Texas Tech, 2007-08) to win the award in two consecutive seasons.
June, 5, 2012
6/05/12
10:26
AM CT
Yesterday, I
unveiled my list of the best Big 12 seasons of all-time
, but there were plenty of seasons that got left out.
In no particular order, here are the best of the rest:
Colt McCoy, QB, Texas, 2008:
McCoy carried the Longhorns to a BCS bowl win and a win over national title participant and Big 12 champion Oklahoma while throwing for 3,859 yards, 34 touchdowns and just eight interceptions. Most impressive? He completed just under 77 percent of his passes. Crazy.
Jason White, QB, Oklahoma, 2003:
White racked up 3,846 yards passing with 40 touchdowns to just 10 interceptions, and won the Heisman Trophy and Davey O'Brien Award. The Sooners went undefeated in the regular season, but lost in the Big 12 Championship and national title games.
Robert Griffin III, QB, Baylor, 2011:
Griffin did the unthinkable and brought a Heisman Trophy to Baylor, as well as a 10-win season. He threw for 4,293 yards, 37 touchdowns and just six interceptions. He also ran for 699 yards and completed 72.4 percent of his passes.
Darren Sproles, RB, Kansas State, 2003:
Sproles led the nation with 1,986 yards and 16 touchdowns, leading K-State to its only Big 12 title with an upset of No. 1 Oklahoma, soundly beating the unbeatable Sooners, 35-7. Sproles ran for an eye-popping 235 yards and caught three passes for 88 yards, including a 60-yard touchdown.
Justin Blackmon, WR, Oklahoma State, 2010:
Blackmon caught a touchdown pass and topped 100 yards in every game he played all season, winning the Biletnikoff Award (he'd do it again in 2011) and putting together the league's best individual season of 2010. He finished with 1,782 receiving yards, 111 catches and 20 touchdowns.
Graham Harrell, QB, Texas Tech, 2007:
Harrell threw for a country mile and then some, topping 5,700 yards in Texas Tech's pass-happy offense (713 attempts in 2007) under Mike Leach and throwing 48 touchdowns to just 14 interceptions.
Michael Crabtree, WR, Texas Tech, 2007:
Tech had a more memorable season as a team in 2008, but Crabtree's first of two Biletnikoff-winning seasons was better. He finished with a Big 12-record 1,962 receiving yards and 22 touchdowns on 134 catches.
Eric Crouch, QB, Nebraska, 2001:
Crouch carried the Huskers to the national title game in 2001 despite a Big 12 Championship Game loss, throwing for 18 touchdowns and running for 19 more. He rushed for 1,178 yards and threw for 1,115 to win the Heisman Trophy and Davey O'Brien Award.
Troy Davis, RB, Iowa State, 1996:
Davis finished second in the Heisman voting after carrying the ball 402 times for 2,185 yards and winning Big 12 Offensive Player of the Year honors in the league's inaugural season. That's not enough for you? It was his second consecutive 2,000-yard rushing season.
Roy Williams, S, Oklahoma, 2001:
Williams is best known for his "Superman" play that sealed a Red River victory over Texas, but he had 12 tackles for losses and five interceptions that season. He also recovered two fumbles, returning one for a touchdown. Williams revitalized the safety position in the Big 12, bringing some bulk to the position and playing closer to the line of scrimmage. He earned the Nagurski Trophy and Thorpe Award that season.
Chase Daniel, QB, Missouri, 2007:
Daniel took Missouri to the No. 1 ranking entering the Big 12 Championship Game and put Missouri football on the map. He finished with 4,306 yards, 33 touchdowns and 11 interceptions in the best season ever under Gary Pinkel. He also completed 68 percent of his passes and rushed for four scores.
Michael Bishop, QB, Kansas State, 1998:
Bishop carried Kansas State to an undefeated regular season before losses in the Big 12 title game and Alamo Bowl. He threw for 2,844 yards, 23 touchdowns and four interceptions, while also running for 748 yards and 14 touchdowns.
October, 23, 2011
10/23/11
12:58
AM CT
The Sooners have struggled in the red zone all season, and have shuffled kickers in and out of the lineup for three seasons.
Both came into play and cost Oklahoma in a shocking
41-38 loss
to Texas Tech, 28-point underdogs.


Michael Hunnicut clanged a 28-yard field goal off the upright late in the fourth quarter, and Oklahoma scored just one of its three second-half touchdowns from the red zone. It settled for one field goal, and also missed a 39-yard kick earlier in the game.
With that, Oklahoma's home-game winning streak and it's national championship hopes are over.
The warning signs were there in lackluster wins over Kansas and Missouri this year. The offense sputtered for most of the game against the worst defense in the nation last week at Kansas, and the defense gave up more than 500 yards to Missouri.
Saturday night, Texas Tech did what it wanted offensively for almost the entire 60 minutes and put up 600 yards and 41 points, all season highs, against the Sooners.
Just like Texas Tech did against Texas in 2008, the Sooners' national title hopes are dashed.
Seth Doege
to
Alex Torres
may not have the same ring to it as Graham Harrell to Michael Crabtree, but the duo was almost as potent Saturday against Oklahoma's defense, which was missing top cornerback Jamell Fleming.
Torres caught four passes for 94 yards and three touchdowns, tormenting Oklahoma's secondary with big plays.
Doege threw for 441 yards and four touchdowns on 33-of-52 passing.
Oklahoma didn't play well, but Texas Tech walked in and won this game, fully intending to do so all night. Tommy Tuberville faked a punt and went for it on fourth down twice inside the 5-yard line.
Only one of those attempts worked, but it said a lot about Texas Tech's intentions and mindset. Both paid off, and Tuberville has the biggest win of his two seasons in Lubbock.
Next week's showdown with Kansas State has lost a bit of its luster, but Oklahoma State and Kansas State are the last two remaining undefeated teams in the Big 12.
Who saw that one coming?
August, 19, 2011
8/19/11
1:29
PM CT
We'll cap our Big 12 preview today with five predictions for the year.

1. The Big 12 will have two teams in BCS bowls.
The Big 12 did it in 2007 and 2008, but hadn't done it since the 2004 season before that. This year, the Big 12 is in perfect position to land two teams on college football's grandest stage. Oklahoma, tied with Ohio State at eight appearances for the most in the nation, is the league's surest thing, but there are three quality teams below the Sooners that can get it done. The winner of the Sept. 24 matchup between Oklahoma State and Texas A&M in College Station will lose only to Oklahoma and reach a BCS bowl.
2. Texas Tech and Missouri will have a 1,000-yard rusher. Oklahoma will not.
Hop aboard the
Eric Stephens
and
Kendial Lawrence
buses. They're going a long ways. For Tech, it'll be the first 1,000-yard rusher since Ricky Williams (no, not that one) in 1998. Both players have strong offensive lines and first-year starters at quarterback. Each is fully capable of handling a big load, and will do it. Meanwhile, Oklahoma will ride its experience at quarterback and receiver while a platoon of running backs split the duty.
3. Oklahoma will go undefeated and play for a national title.
The injury to Travis Lewis, possible ineligibility of Ronnell Lewis and a trip to Tallahassee in Week 3 won't deter the Sooners. The offensive firepower is enough to push the Sooners through a rough Big 12 slate unscathed. What happens in that national title game? Well, we'll find out in January, won't we?
4. Texas will not finish in the top half of the Big 12.
The Big 12 has too many quality teams with too many quality offenses. Texas reaches a bowl game, but finishes behind Missouri and Baylor, setting for a sixth-place finish heading into a strong spring.
5. Justin Blackmon will become the second player to ever repeat as Biletnikoff Award winner.
Believe it or not, but only Texas Tech's Michael Crabtree has won the 17-year-old award twice. That changes this year. Blackmon is the nation's best receiver and he proves it for a second year. His numbers dip to around 1,600 yards and 17 touchdowns, but it's still enough to be the clear winner.