Dallas Colleges:

Michael Egnew
May, 2, 2012
5/02/12
3:44
PM CT
We've already gone over
my thoughts on the Big 12's first round of the draft
. What about the rest? Here are some thoughts:
[+] Enlarge

Brian Spurlock/US PresswireThe Lions saw enough from Ryan Broyles to take a risk on him in the second round.

Absolutely fantastic to see Ryan Broyles find a home in Detroit in the second round. Broyles is a second-round talent, and it was great to see him recognized as such -- with NFL teams seeing enough out of his newly-rehabbed knee to know he's a solid prospect. No player in the history of college football had more receptions. I like his chances for a productive career, especially on a building Detroit team with a lot of talent, especially at the offensive skill positions.

I've written about it in the past, but I'm intrigued to see what Missouri tight end Michael Egnew does at the next level. He was less productive than his predecessors at Mizzou, Martin Rucker and Chase Coffman, but supposedly is a more talented blocker. Coffman got stuck in a franchise that didn't seem willing to use him for what he is -- a receiving tight end -- but can Egnew shed the Mizzou tight end stereotype? We'll find out in Miami.

Really happy to see things work out well for Oklahoma's Frank Alexander, who was drafted in the fourth round by Carolina. He had a scare at the combine. Doctors thought he had a heart condition and his playing career was in jeopardy. Turns out, he was fine. Glad the mixup didn't cost him more than it could have.

Allow me to join in the chorus of folks asking, "What the heck is Washington doing drafting Kirk Cousins?" Nothing against Cousins, who I actually think will do well at the next level (or could elsewhere, at least), but this isn't even about bringing in a fellow rookie to "compete with" Robert Griffin III. Washington has plenty of other holes. The Redskins couldn't try to draft and fill it, while finding a backup quarterback in free agency? Seriously. Good grief. And you wonder why Washington hasn't won anything in a long while.

Ronnell Lewis' fall from top-25 prospect to fourth-rounder is intriguing. Did NFL teams see him up close and get spooked by his lack of a true position? In my book, he'd be a great defensive end, but if NFL teams think he's too small, I have major, major doubts about his ability to play the linebacker spot. The mental part of the game didn't come easily to Lewis at OU, but his career will be fascinating to watch. He's got a high motor, and if it doesn't work out, it won't be because of a lack of effort.

Good on A&M's Randy Bullock, who went in the fifth round. Prepare for a similar fate in 2011, Quinn Sharp.

Interesting to see OU's Travis Lewis fall all the way to the seventh round. How much did his broken toe in 2011, which he rushed back from to help his team, hurt his NFL stock? His tape from senior season was underwhelming, no doubt. NFL teams had to be scared about his lack of progression from freshman to senior year, at least not what you'd expect from a guy who topped 140 tackles as a freshman.

A year ago, A&M folks were rejoicing a future Big 12 title run when Jeff Fuller announced his intention to return. The Aggies went 7-6 and Fuller went undrafted. I hate to see when guys who make decisions to come back get hurt by them, but Fuller's season started with a hamstring injury, and his production never recovered, even when he got healthy. Almost the exact same scenario with A&M corner Coryell Judie, who couldn't get healthy in 2011 and didn't get drafted, even though he was one of the Big 12's top players in 2010.

Meanwhile, Bryce Brown was drafted, and his 2011 tape included three total carries, one of which was a fumble on his own goal line that nearly cost 10-win Kansas State a game early in the season. Take a bow, Mr. Brown.

Adding Josh Cooper to the Browns to play with Brandon Weeden? Well played, Cleveland. Well played.

How did Leonard Johnson go undrafted? I have no idea. Seemed like a solid middle rounder to me, and he proved his worth plenty of times this year against some great Big 12 receivers. His physical skills don't wow you, but he's instinctive at the position, and was physical and productive.
February, 14, 2012
2/14/12
9:00
AM CT
We're continuing our look at the postseason rankings for each position in the Big 12. Here's a look back at
where the receivers ranked in the preseason
.
In this position, unlike quarterback, depth is a major, major factor in these rankings.
More postseason position rankings:
[+] Enlarge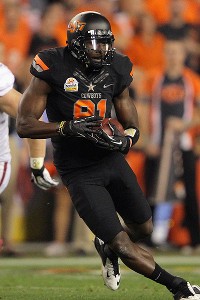 Doug Pensinger/Getty ImagesJustin Blackmon highlighted Oklahoma State's deep group of receivers this season.
1. Oklahoma State:
The Cowboys boasted two-time Biletnikoff winner
Justin Blackmon
, but he wasn't the only weapon. The Cowboys had nine (!) receivers with at least 19 catches and 200 yards receiving this season. Insane. Life is good with
Brandon Weeden
at quarterback.
2. Baylor:
Kendall Wright
actually outperformed Blackmon and
Ryan Broyles
on the stat sheet, catching 108 balls for 1,663 yards. The Bears didn't have the insane depth of OSU, but the trio of Wright,
Terrance Williams
(59 rec, 957 yards, 11 TDs) and
Tevin Reese
(51 rec, 877 yards, 7 TDs) were all in the Big 12's top seven receivers.
3. Texas A&M:
Ryan Swope
emerged to become one of just four Big 12 receivers to notch 1,000-yard seasons.
Jeff Fuller
's season was disappointing, but he still finished eighth in the league in receiving, and
Uzoma Nwachukwu
was in the league's top 15 in receiving.
4. Oklahoma:
The Sooners weren't quite as solid as they thought to begin the season. Broyles was as advertised, though his Biletnikoff-contending season was cut short by a torn ACL. The unit was productive, but came down with the drops late in the season. Broyles and
Kenny Stills
were both in the league's top seven in receiving, and
Jaz Reynolds
caught 41 passes for 715 yards to crack the top 10.
5. Texas Tech:
Tech's top target,
Darrin Moore
, battled injuries all year, but
Eric Ward
emerged as the team's most consistent target, catching 84 passes for 800 yards and 11 scores.
Alex Torres
missed two games, but added 616 more yards.
6. Missouri:
The Tigers' receivers had their production dip with a dual-threat passer in
James Franklin
who ran the ball more than his predecessor, but they were still pretty good, despite lacking a true big-time threat.
T.J. Moe
caught 54 passes for 649 yards and four scores. Tight end
Michael Egnew
added 50 grabs for 523 yards and three scores.
L'Damian Washington
,
Marcus Lucas
and
Wes Kemp
had unremarkable individual seasons, but their production added up to a good year for Mizzou's receivers.
7. Kansas State:
Kansas State was better than most thought to begin the season, but the ground-based offense limited their receivers' ability to finish with big production.
Chris Harper
(40 rec, 547 yards, 5 TDs) led the group.
Tramaine Thompson
and
Tyler Lockett
showed some good promise, too.
8. Texas:
The Longhorns could get really good, really fast at this spot. The uncertainty/struggles at quarterback limited this group, but
Jaxon Shipley
and
Mike Davis
could both mature into absolute stars. For now, though, they didn't quite crack the top 15 in the Big 12 in receiving. Both topped 40 catches and 600 receiving yards.
9. Iowa State:
Darius Reynolds
' size downfield will be missed, but
Aaron Horne
and
Josh Lenz
are tough covers working the middle of the field. Reynolds caught seven touchdowns, and Horne and Lenz both topped 38 catches.
10. Kansas:
Yikes. The Jayhawks didn't have a receiver in the league's top 20, but
D.J. Beshears
led the team with 40 grabs for 437 yards and three touchdowns. He was the only Jayhawk in the Big 12's top 32 in receiving.
December, 13, 2011
12/13/11
7:48
PM CT
The season has come and gone, and
brought with it an All-Big 12 team
. But where do these guys come from? How easy is it for a no-name recruit to earn all-conference first-team honors?
Let's take a look at the All-Big 12 offense and see who surprises us.
You'll need ESPN Insider

to see each player's recruiting page from back in the day, but I excerpted a bit of what the scouts had to say about each player coming out of high school.
OFFENSE
QB:
Robert Griffin III
, Baylor
Griffin was infamously recruited as an "athlete" by top programs like Texas that may have moved him to safety or receiver. Scouts graded him as a 77 and the No. 40 quarterback. He committed to Houston before following coach Art Briles to Houston. One interesting note: He only threw for 1,734 yards as a high school senior. Development much? Scouts take: Griffin is a wonderful athlete with great size, solid arm strength and the ability to move to wide receiver if he doesn't remain at quarterback in college. He is long-legged, well built and is a smooth athlete. He's at his best when he is out of the pocket and can improvise. He will create when things break down and he shows very good presence to avoid the rush, use his feet to get on the perimeter and throw on the move.
All-purpose:
Collin Klein
, QB, Kansas State
Klein was graded as a 75 by ESPNRecruiting and the nation's No. 60 quarterback. He picked K-State over Colorado State, Utah and Air Force. Scouts take: Klein has prototypical size and a powerful arm. What you don't expect is how athletic he is and while he is a pocket passer, if he gets on the move, he can build momentum and create a few plays here and there with his legs. He can be unorhtodox in his delivery and mechanics can be inconsistent, but he is very productive and has a lot of physical tools to mold at the next level.
RB:
Terrance Ganaway
, Baylor
Ganaway played at Houston before transferring from junior college to Baylor. He was graded at the minimum grade of 45 and wasn't ranked by ESPN coming out of high school or junior college.
RB:
Henry Josey
, Missouri
Josey was a two-star recruit and the nation's No. 258-ranked athlete. He was also recruited by Baylor, TCU and UTEP. Scouts take: Josey flashes playmaker skills on both sides of the ball at the high school level and may get recruited on either side of the ball in college. We feel he is a bit of an overachiever and his weaknesses may get exposed at the major college level, but we like his foot-speed, quickness and overall savvy as a potential hybrid safety/Bandit type or change-of-pace back on offense.
FB:
Trey Millard
, Oklahoma
Millard was a three-star prospect and the nation's No. 59 athlete in the 2010 class. He graded out at 78, and was also recruited by Syracuse, Iowa, South Carolina and Tennessee. Scouts take: Millard is a thick inside linebacker prospect with good mobility and downhill burst between the tackles. We like his athleticism as a future tight end or H-back as well. Has a large upper-body and overall frame. Carries his weight well and has above average lateral agility for a defender with his thickness.
WR:
Kendall Wright
, Baylor
Wright was No. 118 in the 2008 ESPNU 150 and was the nation's No. 12 athlete. He was also recruited by Arkansas, Nebraska, Oklahoma and Texas A&M. Scouts take: Wright is an athlete playing quarterback who belongs at either wide receiver or at cornerback at the next level. He is an athlete with great speed and acceleration. He is at quarterback because he is a playmaker and is very difficult to handle in the open field. With the ball in his hands, he has running back-type skills. (My take: Hey, remember this?)
WR:
Justin Blackmon
, Oklahoma State
Blackmon was the nation's No. 139 receiver and was also recruited by Colorado and Missouri, grading out at a 74. Scouts take: Blackmon is a smooth-looking, natural receiver prospect with well-rounded tools at the position. A potential sleeper at this time. He is tall, rangy and layered with good muscle tone. Shows great downfield, big-catch ability with his good size, hands and large catch radius. Displays very good concentration tracking the ball in tight coverage and plucks the ball smoothly in stride.
WR:
Ryan Broyles
, Oklahoma
Broyles was the No. 58 receiver and graded out at a 77. He committed to Oklahoma State before switching to OU just before signing his letter of intent. He was also recruited by Arkansas, South Carolina and Tennessee. Scouts take: This versatile athlete excels as both a cornerback and wide receiver but appears to be more of a playmaker on the offensive side of the ball at this stage. Broyles is a lean, sleek athlete who is very shifty and fluid in his movements. He has excellent straight-line speed and acceleration. He is a threat to turn a short gain into a big play but is also a vertical threat who plays bigger than his size. Has very good hands.
TE:
Michael Egnew
, Missouri
Egnew was a two-star recruit who graded out at 40 and wasn't ranked. He was also recruited by Purdue and TCU.
C:
Grant Garner, Oklahoma State
Garner was the No. 20 center in the 2007 class and graded out at 72. He was also recruited by Iowa State and Vanderbilt. Scouts take: Garner is a good center prospect but will need to add bulk to his frame. He is going to need some time to properly get up into that 280-290 lbs. range. He looks to have a strong quick snap and can also adequately handle shotgun responsibilities. Once he snaps the ball, he does a good job of bringing his off hand and making good contact.
OL:
Kelechi Osemele, Iowa State
Osemele graded out at 68 and was the nation's No. 149 offensive tackle in the 2007 class. He was also recruited by Arkansas, Houston and TCU. Scouts take: Osemele is a good sized prospect that can deliver a good initial blow. He gets good hand placement and displays the ability to get into a defender and push him off the line of scrimmage in the run game. He needs to work on his initial footwork coming out of his stance.
OL:
Levy Adcock, Oklahoma State
Adcock was a junior college recruit and not scouted by ESPN.
OL:
Gabe Ikard, Oklahoma
Ikard was the nation's No. 19 tight end and graded out at 78. He was also recruited by Notre Dame, Stanford and Oklahoma State. Scouts take: Ikard is a good football player and it is tough not to like him. He comes across as a smart, hard working, and productive player. He plays both defensive end and tight end in high school and is a legitimate recruit on both sides of the ball. He is a sound defensive end prospect.
OL:
Luke Joeckel, Texas A&M
Joeckel was No. 83 in the 2010 ESPNU 150 and was a four-star recruit. He was ranked as the nation's No. 6 offensive tackle prospect. He was also recruited by Nebraska, LSU, Oklahoma and Oklahoma State. Scouts take: Joeckel is a dominant offensive lineman. He has great size and is an intimidating force on the field. Exceptional run blocker that completely engulfs smaller defensive lineman. Has a real nasty streak and finishes his run blocks on a consistent basis. Does a great job of getting his hands into the frame of the defensive lineman and locks on like vice grips. Drives feet after initial contact and often puts defender into the turf due to his aggressiveness in finishing the block.
Fascinating stuff here. I enjoyed looking these guys up. The two most highly recruited players on the All-Big 12 team? Kendall Wright and Luke Joeckel. Shocking stuff.
December, 9, 2011
12/09/11
4:30
PM CT
Editor's Note: Tune into the "AT&T ESPN All America Team Show" on Saturday (ABC, 1:30 p.m. ET) to see who ESPN's writers and experts selected.
It's been a fun season across the Big 12, with a few big names who didn't play as well as we thought, and lots of unknowns who became household names by the end of the season.
I'll offer my comments below, but here's our All-Big 12 team for 2011.
OFFENSE
[+] Enlarge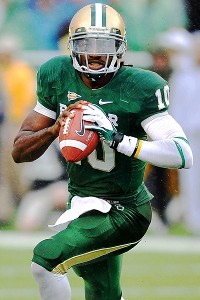 Jerome Miron/US PresswireThe heroics of Robert Griffin III got Baylor to 9-3 and made him a Heisman Trophy finalist.
QB:
Robert Griffin III
, Baylor
All-purpose:
Collin Klein
, QB, Kansas State
RB:
Terrance Ganaway
, Baylor
RB:
Henry Josey
, Missouri
FB:
Trey Millard
, Oklahoma
WR:
Kendall Wright
, Baylor
WR:
Justin Blackmon
, Oklahoma State
WR:
Ryan Broyles
, Oklahoma
TE:
Michael Egnew
, Missouri
C:
Grant Garner, Oklahoma State
OL:
Kelechi Osemele, Iowa State
OL:
Levy Adcock, Oklahoma State
OL:
Gabe Ikard, Oklahoma
OL:
Luke Joeckel, Texas A&M
DEFENSE
DE:
Frank Alexander, Oklahoma
DT:
Dominique Hamilton, Missouri
DE:
Alex Okafor, Texas
DE:
Jamie Blatnick, Oklahoma State
LB:
Sean Porter, Texas A&M
LB:
Jake Knott, Iowa State
LB:
Emmanuel Acho, Texas
NB:
Tony Jefferson, Oklahoma
CB:
Nigel Malone, Kansas State
CB:
Carrington Byndom, Texas
S:
Kenny Vaccaro, Texas
S:
Markelle Martin, Oklahoma State
SPECIALISTS
P:
Quinn Sharp, Oklahoma State
PK:
Randy Bullock, Texas A&M
PR:
Dustin Harris, Texas A&M
KR:
Tyler Lockett, Kansas State
Finally, a few notes and explanations:
I loved the media's idea to craft an all-purpose spot to accomodate Collin Klein. The Big Ten did the same for Michigan's Denard Robinson last season. I followed suit, and did so on the defensive side of the ball with a nickel-back spot for Oklahoma's Tony Jefferson. Two players that missed first-team designation by the coaches, but clearly deserve to be recognized.

Additionally, I prefer the teams to reflect the Big 12 style of play, so the nickel back fits. Each team doesn't have 11 players, but there were deserving linebackers. The same with Egnew and Millard. Does every team use a fullback or a tight end? No, but both are standout performers. They'd rotate in anyway, just as Jefferson would in a theoretical package.

Tough call to leave Philip Blake from Baylor off my team, but Garner's been better. Blake is very, very close, though.

Hated to leave off Brodrick Brown and E.J. Gaines, but I went with a more traditional two corners and two safeties, rather than four corners like the media's team.

Steven Johnson and Arthur Brown would have been right behind my three linebackers. That race was probably closer than at any other position, except maybe cornerback. Difficult to leave either of those guys off my first team, but the three on the team were better. I gave Brown my Newcomer of the Year nod, though.

I don't like going with three defensive ends and one defensive tackle, but there wasn't a defensive tackle who deserved the honor more than Okafor, my third defensive end. Okafor was a defensive tackle last year anyway, so that's close enough, right? He moved from tackle to end before spring practice earlier this year. In the Big 12, an additional pass rusher is necessary, too, right?

I made a similar move with my offensive line. Went tackle-heavy, but the guards didn't have quite as many standouts.
July, 19, 2011
7/19/11
3:56
PM CT
The Big 12 has released its All-Big 12 preseason team as voted on by the media, including yours truly.
Here's my ballot
, for reference.
And here's the preseason team, in all its glory.
OFFENSE
QB:
Landry Jones
, Oklahoma
RB:
Cyrus Gray
, Texas A&M
RB:
Bryce Brown
, Kansas State
RB:
Roy Finch
, Oklahoma
WR:
Justin Blackmon
, Oklahoma State
WR:
Ryan Broyles
, Oklahoma
TE:
Michael Egnew
, Missouri
OL:
Levy Adcock, Oklahoma State
OL:
Kelechi Osemele, Iowa State
C:
Ben Habern, Oklahoma
OL:
Lonnie Edwards, Texas Tech
OL:
Luke Joeckel, Texas A&M
DEFENSE
DL:
Brad Madison, Missouri
DL:
Ronnell Lewis, Oklahoma
DL:
Kheeston Randall, Texas
DL:
Frank Alexander, Oklahoma
LB:
Travis Lewis, Oklahoma
LB:
Jake Knott, Iowa State
LB:
Keenan Robinson, Texas
DB:
Coryell Judie, Texas A&M
DB:
Markelle Martin, Oklahoma State
DB:
Blake Gideon, Texas
DB:
Demontre Hurst, Oklahoma
SPECIALISTS

K:
Grant Ressel, Missouri
P:
Quinn Sharp, Oklahoma State
KR:
Coryell Judie, Texas A&M
PR:
Ryan Broyles, Oklahoma
AWARDS
Offensive Player of the Year:
Justin Blackmon, WR, OSU
Defensive Player of the Year:
Travis Lewis, LB, Oklahoma
Newcomer of the Year:
Malcolm Brown
, RB, Texas
Selections by team:
Oklahoma (9), Oklahoma State (4), Texas A&M (4), Missouri (3), Texas (3), Iowa State (2), Kansas State (1)
And a few thoughts:
Generally, I agree with most of the selections. Nothing was really shocking. Brandon Weeden vs. Landry Jones is pretty close to a coin flip, and let's not act surprised that the quarterback from the bigger program got the nod. Perception is reality, even if the numbers are so, so close. Jones has the Heisman hype coming into the season, certainly more than Weeden, based on little more than the possibility his team runs the table.
Running back is going to get a lot of attention, but let's not get riled up. This is going to sound bad, but believe me when I say I don't mean it to: Bryce Brown's selection is more an indictment of the returning talent at running back in the Big 12 than an endorsement of the hype surrounding Brown, who isn't even the clear-cut starter at K-State just yet. Here's what I wrote when I posted my ballot earlier this month. "The second running back spot is near impossible. Just about anyone might get it on the official vote when its revealed by the Big 12. You could realistically make a convincing case for James Sims, Eric Stephens, Joe Randle, Roy Finch and even newcomers like Malcolm Brown, Bryce Brown or Oklahoma's Brandon Williams. And that's the first team!" Well, there you go. For the record, I voted for Christine Michael, and still feel good about it.
Finch and Brown tied for votes, giving the Big 12 three running backs. There weren't three spots on the ballot. And it also explains how Malcolm Brown got Newcomer of the Year and Bryce Brown got first-team All-Big 12 running back, despite both being newcomers. It's a little confusing, I suppose, and maybe not everyone did it, but my guess is a lot of ballots had Finch as the first-team running back and Malcolm Brown as the Newcomer of the Year. Not all that surprising.
I originally had Luke Joeckel on my ballot, but took him off for Missouri's Elvis Fisher. I think Joeckel will end up being better, and maybe even by the end of this year, but right now, Fisher is the better lineman, and that's how I define the ballot. Perhaps others see it differently. There's no concrete rubric for this.
I'm not very surprised to see Ronnell Lewis and Blake Gideon grab spots on the team, though I voted for Tony Jerod-Eddie and Trent Hunter in those spots on my ballot. Second safety and defensive line were pretty tough for me to fill out. Neither spot is very deep in this league, and both Lewis and Gideon have two of the biggest names, which matters in a media vote.
Quite a huge gap between Oklahoma and the rest of the league. The Sooners had a lot of guys on my ballot that were close, but five more selections than anyone else in the league? That's impressive, and if ballot deadlines had been after Jamell Fleming's reinstatement, Oklahoma might have had 10 guys on the team. My ballot had Oklahoma State leading the way with seven selections, followed by Texas A&M with six and Oklahoma with five. My ballot also only had six teams represented. The media's Bryce Brown vote put Kansas State on the board, making it seven teams represented on the official team.
June, 22, 2011
6/22/11
8:50
AM CT
The Big 12 might be weak at the top of the running back heap, but it's definitely not at receiver. The conference has at least three of the top five receivers in the country, and the top two. They highlight a very strong group of receivers across the league, and I continue our position rankings with receivers today.
Remember that depth plays a big part of these rankings. We'll be ranking the top 10 individuals at each position later on before the season begins.
Other position rankings:
1. Oklahoma
[+] Enlarge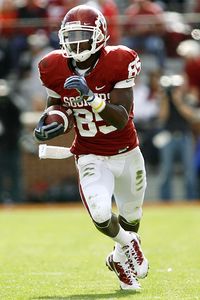 J.P. Wilson/Icon SMIRyan Broyles finished the 2010 season with 131 catches for 1,622 yards and 14 touchdowns.
The Sooners have the nation's No. 2 receiver,
Ryan Broyles
, but found a handful of others to surround him in 2010 and should have a couple more in 2011. Sophomore
Kenny Stills
broke Broyles' freshman receiving record and looks like a budding star.
Dejuan Miller
came on strong before a season-ending knee injury, but he's back. The Sooners lose
Cameron Kenney
, but
Trey Franks
had a strong freshman campaign, and freshmen
Justin McCay
(redshirt) and Trey Metoyer could provide even more playmakers.
2. Oklahoma State
The Cowboys boast the returning Biletnikoff Award winner and 2011 favorite,
Justin Blackmon
, with a great group around him, too. Slot machine
Josh Cooper
returns for his senior year, and fellow senior
Hubert Anyiam
(the team's leading receiver in 2009) is hoping to return to form after being slowed by an ankle injury in 2010.
Isaiah Anderson
is a shifty speedster, while
Michael Harrison
and
Tracy Moore
offer a more aerial approach to receiving.
3. Texas A&M
The Aggies have the Big 12's No. 3 receiver,
Jeff Fuller
, who is arguably one of the top-five in the college game. But they also have the Big 12's most experienced receiving unit, with guys who won't be surprised by anything they see in Big 12 play. Juniors
Ryan Swope
and
Uzoma Nwachukwu
are the team's second and third options, but fellow juniors
Kenric McNeal
and
Brandal Jackson
could be bigger pieces of the offense in 2011. Tight end
Nehemiah Hicks
should see his profile rise in his coming sophomore year.
4. Baylor
Top target
Kendall Wright
will likely end his career as the Bears' leading receiver for all four of his seasons on the field, and 6-foot-4, 220-pound junior
Josh Gordon
looks like the new Jeff Fuller.
Terrance Williams
,
Lanear Sampson
and Tevin Reese round out the Bears' top five, who all had at least 40 catches last season, and all return.
5. Missouri
Missouri still lacks a proven big-play threat, but has two pass-catchers who have some of the best hands in the game. Receiver
T.J. Moe
and tight end
Michael Egnew
won't drop many passes, and combined to catch 182 for 1,807 yards and 11 touchdowns.
Wes Kemp
and
Jerrell Jackson
bring a lot of experience and both had at least 39 catches last season. If
Marcus Lucas
or
Rolandis Woodland
can become a consistent downfield threat, Missouri will rise up these rankings by season's end.
6. Texas Tech
Tech's top two receivers,
Lyle Leong
and
Detron Lewis
, must be replaced, but the Red Raiders have a few solid candidates to do it. Junior
Alex Torres
will likely lead the group, but fellow junior
Austin Zouzalik
and seniors
Jacoby Franks
and
Tramain Swindall
will be counted on for more production. Dark horse/juco newcomer Marcus Kennard could blossom into a household name across the Big 12 by season's end.
7. Texas
Sophomore
Mike Davis
and redshirt freshman
Darius White
are loaded with potential, but two of the team's top three receivers (
James Kirkendoll
,
John Chiles
) are gone, and no Texas receiver caught more than two touchdowns last season.
Malcolm Williams
and
Marquise Goodwin
are as different as two receivers could be, but both need to break out to help whoever becomes the Longhorns quarterback next fall.
8. Kansas State
Brodrick Smith
will be back this season after breaking his leg in a loss to Nebraska. But two of the team's top three receivers are gone, leaving converted quarterback
Chris Harper
as the leading returner, though Smith might have held that title if he'd stayed healthy. Sophomore speedster
Tramaine Thompson
can make plays if he gets the ball with some space.
9. Iowa State
The Cyclones will be breaking in a new quarterback this season and they will need a playmaker to step up. Tight end
Collin Franklin
led team in receiving last season but he is now gone.
Darius Reynolds
looks like a possible candidate to fill the role, although incoming slot receiver Aaron Horne might rack up a few catches in space.
Darius Darks
and
Josh Lenz
should earn some more targets too.
10. Kansas
Converted defensive back Daymond Patterson is the team's top receiver, but the team's No. 3 receiver junior
Bradley McDougald
, moved to safety in the middle of the season. Tight end
Tim Biere
is one of the Big 12's best and led the team with four touchdowns last season.
Chris Omigie
and
D.J. Beshears
have some potential, and converted quarterback
Christian Matthews
keeps showing up in spring games. But all three, along with the rest of the group, would benefit from some consistency at the quarterback spot.