Dallas Colleges:

Michael Griffin
March, 11, 2013
3/11/13
4:00
PM CT
ESPN draft expert Mel Kiper has two Big 12 players -- Oklahoma's
Lane Johnson
and Texas'
Kenny Vaccaro
-- potentially going in the first round of this year's NFL draft.
Fellow expert Todd McShay has the same two as Kiper and also is optimistic about the chances of West Virginia's
Geno Smith
and
Tavon Austin
.
So let's split the difference and label the potential Big 12 first-round picks as an optimistic three, with Johnson being the only absolute first-round lock.
Those three would represent the fewest Big 12 players taken in the first round of the NFL draft since 2008. Even if four went, the Big 12 still would have the fewest since 2008.
That year, only Kansas -- yep, the Jayhawks -- managed a first-rounder,
Aqib Talib
to Tampa Bay with the 20th pick. In the four drafts that followed, the Big 12 has always put at least five players into the first round, including the first four overall picks in 2010.
How well this year's group of first-round picks will fare might not be known for years. What is known, though, is how well Big 12 players have done when they are selected in the first round. With that in mind, here is a ranking -- from worst to best -- of the Big 12's best first-round draft classes over the past 10 years.
2008
: It's all about quantity, and a little bit of quality. In 2008, the Big 12 only produced one first-round pick, Talib. He has not produced dramatic returns in the NFL. In the past two years, he has only started nine games. He was somewhat productive for Tampa Bay in the previous three seasons, starting 41 games and playing in 53. But, again, he was the only Big 12 player taken in the first round in 2008.
2006:
Vince Young
is working out at Texas' pro day at the end of March. Enough said.
Davin Joseph
and
Michael Huff
have been solid producers. But when the No. 3 overall pick is out of the league and having to work out at his alma mater's pro day, it means it was a bad year for the Big 12 in the first round of the NFL draft.
2004:
Tommie Harris
and Marcus Tubbs, the two defensive tackles taken in the first round, were productive for a few years, with Harris selected to Pro Bowls in 2005, '06 and '07 before he was beset by injuries. Tubbs lasted four seasons in the NFL. Roy Williams had 5,715 receiving yards but never lived up to the hype he generated coming out of Texas. Rashaun Woods played only two years and had seven career catches.
2005:
The lack of numbers might be what hurts this group the most.
Cedric Benson
,
Jammal Brown
,
Derrick Johnson
,
Mark Clayton
and
Fabian Washington
all proved they could play at the NFL level. Benson has had three 1,000-yard-plus seasons. Johnson is one of the top linebackers in the game. Brown remains a solid option on the offensive line. Clayton played seven NFL seasons; Washington played six. But there were only five guys selected and that isn't enough to push 2005 to the top of the list.
[+] Enlarge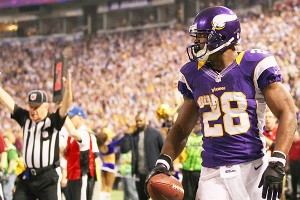 Andy Clayton King/Getty ImagesThe Big 12's 2007 draft class wasn't huge, but did feature 2012 NFL MVP Adrian Peterson.
2009:
Every Big 12 player selected in the first round in 2009 has produced and appears to be poised to continue to do so. Only
Jason Smith
didn't have a start last year. But the offensive lineman still played in all 16 games for the
New York Jets
.
Michael Crabtree
,
Brian Orakpo
,
Josh Freeman
,
Jeremy Maclin
,
Brandon Pettigrew
and
Ziggy Hood
are all starters for their respective teams.
2007:
It wasn't the biggest group, but it did include
Adrian Peterson
, so there could be some quibbling that maybe 2007 should be higher in the rankings. Throw in
Aaron Ross
and
Michael Griffin
and the debate could get even more heated.
Adam Carriker
was also taken this year. He started his career strong but suffered an injury and only played in two games last season.
2003
:
Kevin Williams
has been the standout of this group. The defensive tackle has started every game but four in his 10-year career.
Terence Newman
has been effective as a defensive back, first in Dallas and last season in Cincinnati. Tyler Brayton played at least 15 games on the defensive line in a nine-year career.
Ty Warren
played eight solid seasons for New England but tailed off last season with Denver. Andre Woolfolk lasted four seasons, mostly as a reserve.
2011:
Von Miller
, who was the highest pick among Big 12 players this year, has proved to be the top player so far.
Aldon Smith
is not far behind. Add in
Prince Amukamara
,
Phillip Taylor
, who when healthy is a starter at defensive tackle, a somewhat productive
Blaine Gabbert
and
Nate Solder
as well as reliable backups
Danny Watkins
and
Jimmy Smith
and this proved to be a successful year for Big 12 first-round selections.
2012:
Three quarterbacks, and all were not only starters as rookies but also made huge differences for their respective squads. Clearly,
Robert Griffin III
made the most dramatic impact, but
Ryan Tannehill
, with the Dolphins, and
Brandon Weeden
, with Cleveland, were both solid.
Kendall Wright
and
Justin Blackmon
each had 64 catches, for Tennessee and Jacksonville, respectively. Blackmon was targeted more (133 to 104) and had 200 more receiving yards.
2010:
This list maybe doesn't have the star power and is not littered with offensive playmakers, but six of the nine players picked were selected for the 2013 NFL Pro Bowl:
Gerald McCoy
,
Trent Williams
,
Ndamukong Suh
,
Earl Thomas
,
Russell Okung
and
Jermaine Gresham
. And the other three players --
Dez Bryant
,
Sam Bradford
and
Sean Weatherspoon
-- were vital pieces for their respective teams.
May, 31, 2012
5/31/12
10:50
AM CT
Yesterday, we tackled the Big 12's best offensive players in the NFL, but today, it's time for the other side of the ball.
The rules:
Players must be active
Players are judged by their current skills
The 2012 draft class is not eligible
Only players from the 2011 configuration of the Big 12 (No Nebraska, Colorado. Mizzou, Texas A&M are included.) are eligible
Let's get to it.
DE: Justin Smith, San Francisco 49ers (Missouri)
Smith has made Pro Bowls in each of the past three seasons and emerged as one of the NFL's premier pass rushers, nearly winning Defensive Player of the Year in 2011. He's forced 14 career fumbles and had 72.5 career sacks.
DT: Phil Taylor, Cleveland Browns (Baylor)
Taylor snuck into the first round of the 2011 draft and started every game for the Browns in 2011, making 59 tackles and four sacks, as well as forcing a fumble.
DT: Casey Hampton, Pittsburgh Steelers (Texas)
Hampton's career has peaked, but the 2001 first-rounder is still effective. He's won two Super Bowls and made five Pro Bowls, the last coming in 2009. He has 350 career tackles with nine sacks and four forced fumbles.
DE: Antonio Smith, Houston Texans (Oklahoma State)
Smith earned his first trip to the Pro Bowl last season, even though it was as an alternate. He has 29.5 career sacks and seven forced fumbles.
LB: Aldon Smith, San Francisco 49ers (Missouri)
Smith was one of the NFL's best pass rushers as a rookie in 2011. He didn't start a single game, yet came within a half sack of
Jevon Kearse
's rookie record for sacks, with 14 sacks. That broke the team record, and the Pro Football Writers of America named him the Defensive Rookie of the Year.
LB: Brian Orakpo, Washington Redskins (Texas)
Orakpo edges out
Derrick Johnson
for this spot, though Johnson was better in 2011. Orakpo was an alternate on this year's Pro Bowl team, but made the squad as a rookie in 2009 and in 2010.
LB: Von Miller, Denver Broncos (Texas A&M)
Miller earned NFL Defensive Rookie of the Year honors and a trip to the Pro Bowl after notching 11.5 sacks and making 64 tackles. He forced a fumble on the first snap of his career, too.
CB: Terence Newman, Cincinnati Bengals (Kansas State)
Newman's taken his fair share of knocks as a Cowboy before being released, but he made the Pro Bowl in 2007 and 2009 and has 32 career interceptions. The Wildcats' former Thorpe Award winner is moving on to the next phase in his career after an up and down career in Dallas.
CB: Aaron Ross, Jacksonville Jaguars (Texas)
Ross won two Super Bowls as a New York Giant, but he's moving on to warmer climates this offseason. He's made 200 career tackles and intercepted 10 passes in five seasons as a Giant before the former Thorpe Award winner signed a new deal with the Jags.
S: Michael Griffin, Tennessee Titans (Texas)
Griffin was a first-round pick in 2007 and made Pro Bowls in 2008 and 2010. He earned an All-Pro selection in 2010 and has 17 career interceptions and seven forced fumbles with his 389 tackles.
S: Earl Thomas, Seattle Seahawks (Texas)
Thomas gives the Longhorns a third member of the All-Big 12 NFL secondary after a Pro Bowl season in his second year, 2011. Thomas was arguably the Seahawks' top defender and has seven career interceptions.