Dallas Colleges:

Michael Kidd-Gilchrist
April, 2, 2012
4/02/12
12:00
PM CT
NEW ORLEANS -- Iowa State and Baylor have played each of the participants in Monday night's NCAA championship game between Kentucky and Kansas. Here is a breakdown of each team by the head coach of each program as well as a player.
IOWA STATE HEAD COACH FRED HOIBERG

You've got the two elite shot-blockers in the country in
[Jeff] Withey
and
Anthony Davis
. The big thing for Kansas is their transition game. They're so good at getting out and running. Against Kentucky, if you're setting up in the half court every time down the floor, you're going to be grinding it out against that length and athleticism. It's going to be very difficult to score. From Kansas' standpoint, the more they attack, they better off they'll be. They've got players capable of doing that with
[Tyshawn] Taylor
and
[Elijah] Johnson
spacing the floor. I really think they need to attack before Kentucky gets a chance to set up in that half-court defense where they're so effective. For Kentucky, Anthony Davis can do so many things. He's expanded his game as the season has gone on. You have to be so selective on when you try to take it at him, because when he blocks a shot, it usually leads to a layup on the other end.
When Kentucky is in their transition game, you're not going to stop them, so the other thing Kansas has to do a good job of is taking care of the basketball. They've got to limit their turnovers and get up quality shots, and try to get Kentucky into a half-court game going back the other way, which is pretty tough to do. When Kentucky is hitting shots, they're almost unbeatable. It starts with
[Marquis] Teague
. If he can get that thing out there and beat everyone in transition, everyone collapses in. That's how they get all those lobs. If you can take away those highlight plays by Kentucky, that hurts their mojo a little bit. But they're so fast and explosive, that's very difficult to do.
With Kansas, Bill [Self] has done as good of a coaching job as anyone in the country this year. You look at what they lost, with the Morris twins and [Brady] Morningstar and [Tyrel] Reed ... Bill still found a way to build his new guys up and to get them to play with so much confidence. That's a testament to Bill and his staff. Bill is as good as there is in this business. It's fun to compete against him, and it's great to have him in our league. Tyshawn is the key to their team. He's what makes them go. He gets it up and down the floor so quickly. You've got to do your best to stay in front of him. They're using a lot of pick-and-roll in their offense. Tyshawn has handled that very well and shown he can make the right decisions. They're so precise in their offense. I think they've got a shot. Don't ever count out Bill Self. Every time they look like they're down and out, they find a way to come back. If Kentucky is hitting their shots, there just isn't much you can do. But if they're having an off night, and Kansas is hitting their shots, they have a very good chance to win.
IOWA STATE GUARD SCOTT CHRISTOPHERSON

[The Wildcats] have great length at pretty much every position. Even if they don't call out a screen quick enough, they can just switch everything because they [have] such a great help side on their defense. They can cover up minor mistakes. When we played them,
[Darius] Miller
played really well. Teague played really well. He hit some outside shots. When those two and
[Doron] Lamb
are hitting their outside shots -- combined with their inside game -- they're pretty much impossible to stop. On defense, they have guys that are good perimeter defenders, but more than anything, even if you are able to get by them, they have such good length, even on the help side. ... You're just not used to playing against guys like Anthony Davis and
[Michael Kidd-]Gilchrist
and Jones -- guys that can just come from the weak side out of nowhere and get your shots. We shot the ball very poorly from 3 because we had never seen length like that. At times you're actually able to get into the paint on them. I'm not saying they're not good perimeter defenders, because they are. But it's not like they're impossible to get by.
The problem is that you have to expend so much energy getting by them, and then you've got Anthony Davis waiting for you at the rim -- it poses a lot of problems. If you've got a guy on the low block that can really be physical, it will certainly help. Kansas will be able to utilize
Thomas Robinson,
because he's physical and very strong. I'm sure Kansas is hoping he'll be able to get some easy baskets inside and maybe draw some fouls on Kentucky's big guys. The biggest thing is just getting the ball moved from one side of the court to the other. If you come down and just have it sit on one side and try to break Kentucky down that way, with their length, you're not going to be very successful. I would try to drive the ball into the paint and kick it out as many times as I could. But I'd get as many paint touches as I could and get the defense distorted as much as possible. And if you can get out in transition and get some easy buckets, that will help your confidence, too. Kansas has always been very good in transition.
With Kansas, we were able to do a good job of mixing up our post defenses on Robinson. Defensively, we played about as well as anyone did against them in both of our games. You're going to have to rebound and be physical with them. Defensively they're always in position. They're very well-coached, very disciplined. You just have to be very sharp and solid. You can't try to be a hero against them. You have to make simple plays and play very hard. I think Kentucky's length makes them a little bit better defensively, just because they've got guys like Kidd-Gilchrist that can guard the 4-man or the point guard. But Kansas, year-in-and-year-out, is the best team in the Big 12 defensively. Withey has come a really long way. He does a good job of doing what he does. He blocks shots, runs the court, rebounds, finishes around the rim. To me, the difference in the game is going to be who wins between Doron Lamb and Darius Miller, and Elijah Johnson and
Travis Releford
. And Tyshawn Taylor has to outplay Teague. Johnson is a really good defender. And when he's able to stretch the defense with his perimeter shot, it does a lot of things for Kansas. When you have to close out long on him, it gives Robinson so much more room to work on the inside.
BAYLOR HEAD COACH SCOTT DREW

You have to score in transition if you want to have any shot of beating Kentucky. You can't just hope to score in the half court against them. They're so good defensively. You have to get easy ones when you can. When you can't, you really have to make them work on the defensive end. Kansas will do that. But you also have to get some easy ones, and Kansas has always done a great job of pushing it. If Kansas is scoring and not turning it over, that means Kentucky isn't getting out and running. And if Kentucky isn't getting out and running, Kansas has a chance. Sometimes people make the mistake of saying, 'OK, we want to slow it down and play a half-court game against Kentucky.' That means they never push it and get easy buckets. I don't know if you can score enough to beat them if you slow it down.
Juniors and seniors don't want to go home. Kansas is very good, but out of almost all of the good tournament teams, they've had the most experience. They start all juniors and seniors, and juniors like Releford and Withey are four-year guys. They're starting three fourth-year guys and two true juniors. That's a veteran group. The more experienced at something, the better you are at what you do. They've been there, done that. It may mean more to them because they've been there three or four years. So they have the experience, but they also have that mental toughness. Winning a national championship may mean more to them than it does a freshman.
When Withey is on, Kansas goes to another level. You know what you're going to get night in and night out from Tyshawn and Thomas. But if you had Withey knocking down shots and rebounding and scoring, they're on another level. In their two wins against us, he was the difference. Tyshawn Taylor is probably the main key, though. If you keep Tyshawn from getting it in the paint, and if you can keep him from creating for others ... you can guard Thomas Robinson if you don't give him angles and just play solidly behind him. And Withey, if he doesn't catch it deep, I don't know how bad he's going to hurt you. But the reason Robinson is able to get angles, and the reason Withey is able to catch it deep is because of Tyshawn's ability to get into the paint. He's as good with his first step and at blowing by defenders as any point guard in the country.
BAYLOR GUARD BRADY HESLIP

[Kentucky's] athleticism can be overwhelming, even to us. They've got five guys that can handle the ball. Their outlet passes are so impressive. One second after they rebound, the ball is at half court. They get out in transition so quick. They can all handle it. It makes things easy for them. Defensively, Anthony Davis gets a lot of attention for blocking shots, but the guys on the perimeter really pressure the ball. I was watching yesterday, and Louisville would dribble around for 15 or 20 seconds because they were having so much trouble getting it into the paint and getting Kentucky in foul trouble.
Teague can guard. He's fast. Tyshawn Taylor is probably a little stronger than him. Lamb is strong. Kidd-Gilchrist can defend 1 through 4. Jones is so physical, and then Davis has that great length. You've got to do a good job of answering their runs and hope to get some easy baskets. When you try to slow it down, on defense they can really stop you. They forced us into taking bad shots, and they forced us into turnovers. Those result in the first pass of their transition offense. They run the floor and convert it, and get to the free throw line.
Kansas is an amazing team with all of their pieces. They've got strong guys that are athletic and physical. They play well and they defend. Kentucky, statistically, is the best defensive team. But Kansas on defense is ridiculous. They rotate like a machine. They've got Withey blocking shots. Releford is a great defender, and so are Taylor and Johnson. Those guys are relentless on defense, and they can get out and run, too. It should be an up-and-down game. Taylor is the key for them. At this time of year, you've got to have a great point guard to still be playing. He does a great job of scoring and making things happen, because he's so athletic. Once he gets going, that's a tough freight train to stop. He does a great job of getting into the paint. If he gets into the paint against Kentucky and guys help out, he can throw lobs to Robinson and Withey. I think it could be a good game. Kansas is too good of a team and Bill Self is too good of a coach to let it get out of hand. It'll be a close game.
March, 25, 2012
3/25/12
7:40
PM CT
ATLANTA --
Anthony Davis
finally left the game with 33 seconds remaining, and only because he had blood on his lip.
Kentucky was ahead of Baylor, 82-68, at the time.
Davis didn't want to leave the court. And why would he? Who wouldn't want to be a part of something that must have been as enjoyable to play as it was to watch?
Davis had suffered a left knee contusion in a collision with Baylor's
Perry Jones III
with 18:28 left in the second half and the Wildcats up 44-22. Davis was treated and sent back in, left again, then went back in because he couldn't get enough of this game.
"The knee is doing fine,'' said Davis after the Wildcats' South Regional-clinching
82-70 victory
over Baylor on Sunday afternoon at the Georgia Dome.
"I just bumped knees with Perry Jones, and it started hurting real bad. But I knew my team needed me to play. I wasn't going to sit out, especially with a trip to the Final Four, and all of us want to go to the Final Four. So I knew I needed to come in the game and help my team out, so I decided to come in.''
Davis finished with 18 points, 6 blocks and 11 boards. And the consensus national player of the year was hardly alone in another stellar performance.
This effort by the Wildcats was their best this season -- and that's quite a statement, considering they lost only one regular-season game to Indiana in December and one to Vanderbilt in the SEC tournament championship.
If you watched the way Kentucky flipped a 10-5 deficit into a 20-point lead in a matter of minutes, then you know.
Baylor coach Scott Drew had no clue the Wildcats could turn it on like that in a flash.
"I had no idea they were this good,'' Drew said as he walked out of the postgame news conference.
"We made one substitution, called a timeout and addressed within the team and said to each other, 'Let's go. Let's do it with defense, we've got to guard and let's put this thing away and be the aggressor and attack. Let's go.' It didn't look good to start the game, did it?''
Well, Baylor was the aggressor for a few possessions.
Then the Bears committed turnovers on successive possessions and it was on. Boy, was it on.
"I'd say we were just aggressive,'' said Kentucky's
Terrence Jones
. "I just think we got real aggressive on offense and defense and just mentally locked down on defense. It just led to fast breaks on offense.''
[+] Enlarge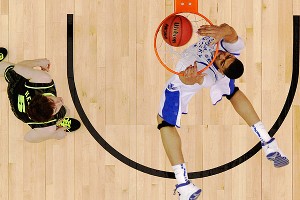 AP Photo/David J. PhillipAnthony Davis slams home two of his 18 points over Baylor's Brady Heslip during Sunday's first half.
Kentucky had the UNLV look about it when it flipped toward a fast-break team. The efficiency from
Marquis Teague
at the point, the acrobatic nature of Davis in retrieving errant passes, even when he's underneath the net, the way in which
Michael Kidd-Gilchrist
heads to the hoop without any fear of being hit, the unselfish play by Jones (6 assists) and the spot shooting from
Doron Lamb
and even
Kyle Wiltjer
off the bench makes this as complete a team as any John Calipari has had at UMass, Memphis or Kentucky.
"In that first half, we played flying up and down the court,'' Calipari said. "If it's not there, we run the offense. If you go zone, we're driving that ball. We're not settling.
"Defensively, we're swarming and blocking shots,'' Calipari said.
Kentucky did have some foul trouble, with Kidd-Gilchrist ultimately fouling out and Davis playing with four.
But who would quibble over officiating Sunday?
The unselfishness of this squad shouldn't be lost on anyone. Kentucky's two previous teams weren't this giving with each other. And both of them reached the Elite Eight, with last season's team losing in the national semifinal. This one should be able to take the next step.
"We've got seven players on this team that average 25 points a game in high school and all seven led us in scoring this year [at some point],'' Calipari said. "Anthony Davis, would you say he's pretty good? He's our fifth-leading shot-taker. Michael Kidd-Gilchrist is our fourth. When Kyle Wiltjer's in the game, they love it and they throw him the ball. They're fine with that. They're excited when he makes it. They figured it out that as a young team they had to do it together and they would all benefit.''
Calipari said he doesn't make any promises in recruiting. He won't say how many starts you'll get or shots you'll take.
"If you want to shoot 30 times a game, you're not coming here,'' Calipari said. "If you want to win a national title and the answer is, 'Yes I do,' then you can't do it alone. There are a bunch of other guys like you on the team so you'll have to share the ball.''
Kentucky faces Louisville in the national semifinal Saturday in New Orleans. The Commonwealth will implode in delight.
Calipari has already toned down the rivalry with Louisville coach Rick Pitino, saying they don't exchange cards but are friendly acquaintances. Calipari said if he had five players from Kentucky, he would be more worried about this being a big deal. He does not, so he's not. And the players don't seem too fazed by the Cardinals' matchup, either.
The fans? Well, that's another matter.
If Kentucky wasn't the favorite to win the title before Sunday then it must be now. The Wildcats were the No. 1 overall seed and played like it Sunday. They head to face Louisville, with Kansas playing Ohio State in the other semifinal, so this is still Kentucky's title to lose. The Wildcats can surely lose to Louisville or to KU or Ohio State. But they won't be the overwhelming pick to do so.
"Has my team ever been the favorite? Let me think,'' Calipari said. "At UMass, we were the No. 1 team but Kentucky had nine NBA players. And then the Memphis team, there was Kansas, North Carolina, we were a No. 1, but we weren't the number-one No. 1. No one picked us to win. Last year, no one picked us to win.
"Yeah, it's the first time. How about that. Are we the favorite?''
Yes.
"Wow. That's a good thing I guess.''
March, 25, 2012
3/25/12
4:37
PM CT
ATLANTA -- Instant analysis from No. 1 seed Kentucky's
82-70
win over No. 3 seed Baylor in Elite Eight action in the South Regional at the Georgia Dome on Sunday:


Overview
: Kentucky waged the most UNLV-like assault on another elite team as we've seen in the NCAA tournament in 20 years.
The Wildcats were down 10-5 early in the first half and completely flipped a switch. Baylor did everything right in the first few possessions by being aggressive and attacking the basket.
And then the Bears did everything wrong. They got careless with the basketball. They turned the ball over. They were left to watch a number of run-outs.
Kentucky, meanwhile, put on a clinic. The Wildcats forced turnovers and ran the floor exceptionally well. They shared the ball. They made transitions, on-the-catch jumpers and 3-pointers to completely take over the game. They finished with authority.
The lead grew to 20 at one point and Baylor was reeling by halftime.
But to Baylor's credit, the Bears didn't quit and had the Cats nervous late in the game, especially with foul troubles for
Anthony Davis
and
Michael Kidd-Gilchrist
(four each). Kentucky allowed Baylor to get the game down to a 13-point difference.
The biggest scare was when Davis went out briefly with a left knee contusion and looked to be in pain. Davis had the knee worked on, returned, came out and then returned again.
If you were in awe of the display then you weren't alone. Big Blue Nation gobbled up the Indiana and Xavier tickets here at the Georgia Dome and dwarfed the Baylor contingent. This was truly a Catlanta crowd. No other school had its own souvenir stands littered throughout the Centennial Olympic Park area near the Dome. They were loud and boisterous early, but didn't need to say much late.
Kentucky entered the NCAA tournament as the favorite. The Wildcats arrive at the Final Four in the same position.
Key stat:
The Wildcats shot better than 50 percent and continued to take high-percentage shots. Baylor couldn't defend the Wildcats' transition at all. Kentucky was efficient on the break, and even in the half court, working the ball when it needed to share. It played unselfish basketball.
Key player:
Do we have to choose? The Wildcats were so good that it was a tough call. But Kidd-Gilchrist gets the nod. He scored 19 points, didn't miss a free throw and was efficient from the field. He helped lift the Wildcats from an early deficit to getting up by 20. MKG continued to look to take the basketball to the hoop. He never pulled up or tried to take the easy shot. Instead, he was always about going straight to the hoop and if there was contact, so be it.
Turning point:
When the Cats were down 10-5 and Baylor turned the ball over. Kentucky converted at a clip that was unheard of during the NCAA tournament. The Wildcats raced out to a 40-18 lead at one point.
What's next:
Call it a Commonwealth of Kentucky explosion or the ultimate utopia. Kentucky versus Louisville in the national semifinal Saturday at the Mercedes-Benz Superdome in New Orleans. Rick Pitino coaching against John Calipari for the right to play for the national title.