Dallas Colleges:

Mike Matthews
August, 8, 2014
Aug 8
11:30
AM CT
Last week, we all saw Peyton Manning dancing to "Rocky Top" during practice. Now we know that he's taken care of when he returns to Tennessee.
If you need me I'll just be hanging out in Peyton Manning's mancave at the Tennessee athletic facility. pic.twitter.com/Arz24L4qTc

— Travis Haney (@TravHaneyESPN) August 8, 2014
Now to the lunch links. Enjoy.
May, 20, 2014
May 20
12:00
PM CT
The SEC unveiled
a 12-year rotation of nondivision opponents
through 2025, and while Alabama returns to Georgia next season, we have to wait until 2019 to see Auburn and Florida play again. For more on the schedule and other league news, check out Tuesday's lunch links.
April, 28, 2014
Apr 28
2:30
PM CT
In their two seasons together at Texas A&M,
Mike
and
Jake Matthews
had distinct roles and personalities.
Jake was the cagey veteran, a quiet leader and productive offensive tackle who helped anchor one of the best units in the country. Mike was the up-and-coming center, the younger brother was a little bit louder and "rowdy," according to a teammate.
[+] Enlarge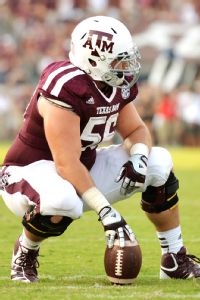 Thomas Campbell/USA TODAY SportsAs his brother Jake heads off to the NFL, center Mike Matthews is preparing to lead what looks to be another strong line at Texas A&M.
Now that Jake Matthews is preparing for his professional career as a projected first round pick in the upcoming NFL draft, Mike Matthews continues to make significant strides as the Aggies' center, finding a comfort level as he enters his junior season.
"I think I'm just a lot more comfortable with this offense and the guys here," Mike Matthews said. "I just enjoy it, go out here every day, I'm not nervous. ... Now I feel comfortable with what I'm doing -- I feel confident."
He should. Having played only part-time as a freshman in 2012, the 2013 season was his first as a full-time starter. Texas A&M coach Kevin Sumlin elected to have Mike Matthews serve as the backup center in his first season rather than redshirt behind then-senior Patrick Lewis so that Matthews would get a taste of SEC life: the travel, the opponents, the whole nine yards.
That helped prepare the younger Matthews for the starting role once Lewis graduated. While there were some bumps in the road in his sophomore season, he looks poised for a strong 2014 based on what Texas A&M offensive line coach B.J. Anderson saw in spring football.
"Mike has total control of the offense," Anderson said. "He's got as much freedom as any center I've ever coached. He's got it all. He can change whatever he wants to change and I trust him that much. Guys around him trust him."
For the Aggies, that's huge. In their uptempo, no-huddle offense, communication is critical, especially when it comes to protection calls for the offensive line. Anderson said Matthews can handle that responsibility well and on top of it, he continues to be a high-energy presence in all facets of the program.
"He's doing exactly what we need him to do," Anderson said. "He's really a leader for us up front. Great energy guy, outspoken guy, he brings the juice to practice, brings the juice to the game, brings the juice to the meetings. He's a big piece of that puzzle."
The 6-foot-2, 285-pound (depending on the day) Matthews is one of four returning starters on the Aggies' offensive line. Offensive tackle
Cedric Ogbuehi
and guards
Jarvis Harrison
and
Germain Ifedi
join him to bring plenty of experience as the Aggies look to match or exceed their performance from a season ago.
"I think just approach every day like it's our last day," Matthews said. "Go out there and work hard, not take any plays off. I think if we do that, we're going to have a good chance to be just as good as last year."
While Anderson praises Matthews' physical strength, he continues his effort to keep his weight up. Matthews hovered around 283 pounds during spring practice.
"You can get him up, but then he'll go into [the weight room] with [strength and conditioning coach] Larry Jackson and Larry will run him and lift him and do that stuff, and next time he weighs in, he'll be down," Anderson said. "The key is don't get too focused on the weight because he's one of the strongest -- if not the strongest guys -- in my room. He plays with great leverage. We're going to keep working on the weight, but we're not chasing number. He's very effective at the weight he's at."
Anderson said Matthews' energy is contagious to those around him and it's helpful. Since he arrived on campus, Jake Matthews has noted Mike's constant chatter, but as he continues to develop into a leader for the Aggies, it's a safe bet that those around him are listening and enjoying it.
"It's a job, but at the same time, you don't want to come in here and hate it," Mike Matthews said. "You want to have fun and on the field, [so I'm] just being loud and making noise and getting guys to run up to the ball after every play and staying on guys. That way we can have high energy."
April, 16, 2014
Apr 16
9:00
AM CT
The last two seasons, Texas A&M hasn't had to tap deep into its offensive line because the Aggies have had good fortune health-wise at the position.
In 2012, the Aggies had the same starting five offensive linemen for all 13 games and in 2013, they had the same starting five for 11 of their 13 games, missing only tackle
Cedric Ogbuehi
for two games in the middle of the season.
But with left guard
Jarvis Harrison
sitting out the spring while recovering from offseason shoulder surgery, the Aggies were able to see that they do have quality depth on their offensive line should they need it.
Harrison's absence made way for two players to find their way into the lineup with the first team this spring:
Garrett Gramling
and
Joseph Cheek
.
Texas A&M returns four of five starters from 2013: Ogbuehi, Harrison, center
Mike Matthews
and right guard
Germain Ifedi
. The right tackle spot is open for competition and though the spring began with junior college transfers
Avery Gennesy
and
Jermaine Eluemunor
competing for the position, the majority of the spring saw Ifedi manning that spot.
With Ifedi shifted over and Harrison out, that left the two guard spots open, which both Gramling and Cheek ably filled during spring drills.
Offensive line coach B.J. Anderson made it clear during spring football that "we're not earning any jobs right now" and that his players were focusing on technique and fundamentals. Still, Ifedi established himself as a candidate to be the future right tackle and Gramling -- who started at left guard the two games Ogbuehi was out while Harrison played left tackle -- has positioned himself to compete for a starting guard job.
"I've got Joe Cheek over at the right guard and Garrett at the left guard and you add Jarvis to that mix and there's three guys for those two positions," Anderson said. "We'll find out who wins it in fall camp."
Eluemunor spent most of the spring working at guard and Gennesy at tackle and Anderson wanted both to get comfortable in their new surroundings. He also noted that both were training at both right guard and right tackle.
"I think that's important," Anderson said. "They need to do be able to do both in case we get into an injury scenario."
Ogbuehi, who played right tackle last year, spent the spring getting acclimated to the left side of the offensive line. He felt good about his progress from the first spring practice to the last one on April 5.
"I feel a lot better," Ogbuehi said. "I feel better than I was last year at right tackle."
Matthews, who is entering his junior season at center, will be a steady presence for the Aggies in the middle.
"Mike has total control of the offense," Anderson said.
The standard this group has to live up to is a high one. The last two seasons, the Aggies have been considered one of the country's best offensive lines, paving the way for a top-10 offense and protecting quarterback
Johnny Manziel
. It's a unit that produced the No. 2 overall pick in the 2013 NFL draft (
Luke Joeckel
) and likely will produce another top-10 pick next month (
Jake Matthews
). Even SEC fans
are picking the Aggies to be the league's best unit
this season.
Though it remains to be seen how this group develops, there certainly is no shortage of options for the Aggies up front.
April, 15, 2014
Apr 15
1:30
PM CT
Maybe it's a surprise to some, and maybe it shouldn't be. Either way, Texas A&M's offensive line will be the cream of the crop in the SEC in 2014, according to the fans.
More than 17,000 people voted in our
SportsNation poll last week
, and the Aggies were a clear winner. They received 34 percent of the vote. LSU was second with 23 percent and then Auburn with 16 percent, Alabama with 14 percent and South Carolina with 13 percent.
The Aggies will have a bit of a new look up front offensively in 2014. Senior
Cedric Ogbuehi
is moving from right tackle to left tackle and is another in a long line of outstanding tackles to play at Texas A&M. Luke Joeckel was the second overall pick in the 2013 NFL draft.
Jake Matthews
is being projected as a top-10 pick in May's draft, and Ogbuehi also has the makings of a first-rounder when the 2015 draft rolls around. He got a first-round grade from the advisory board this past year but decided to return for his senior season.
Ogbuehi is one of four returning starters up front for the Aggies, who should also have more depth next season. Senior left guard
Jarvis Harrison
was out all spring with a shoulder injury, and senior
Garrett Gramling
worked with the first team. He played well enough that he could work his way into the starting lineup. Every good offensive line is stout right up the middle, and junior
Mike Matthews
returns as one of the top centers in the league. He has excellent command of the offense in terms of all his checks and calls.
The right tackle job is the big question, although sophomore
Germain Ifedi
worked there this spring after playing last season at guard. The 6-5, 330-pound Ifedi is a mammoth individual, but seems to move well enough to play outside at tackle. Junior college tackles
Avery Gennesy
and
Jermaine Eluemunor
will benefit from having gone through the spring, and junior
Joseph Cheek
got a lot of first-team work at guard this spring.
The big surprise coming out of the SportsNation poll was that South Carolina received the fewest votes. The Gamecocks also return four starters and have three players -- tackles
Corey Robinson
and
Brandon Shell
and left guard
A.J. Cann
-- who are likely to be drafted. This also will be their third season playing together. When it's all said and done, here's betting that the Gamecocks are as good as anybody up front offensively in 2014.
We'll see how it all plays out in the fall.
October, 31, 2013
10/31/13
1:15
PM CT
COLLEGE STATION, Texas — In last Saturday's 56-24 victory over Vanderbilt, Texas A&M quarterback
Johnny Manziel
recorded a career-low 11 rushing yards.
Nursing an injured throwing shoulder, Manziel recorded only four official carries, which also was a career low. There were no designed running plays in the game plan for him, Manziel said, and coaches noted that they wanted to be smart about not putting the Heisman Trophy winner's shoulder in harm's way.
But throughout his college career, Manziel's scrambling ability has become a signature trait, something that has helped make him one of the most electrifying players in the country. His combination of speed, agility and decision-making have made him a challenge for opposing defenses, but it also took some adjusting for the Aggies' offensive line last season, when he rushed for 1,410 yards. (Manziel has 497 so far this year.)
[+] Enlarge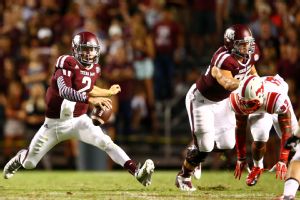 Mark J. Rebilas/USA TODAY SportsJohnny Manziel's unique abilities required a lot of adjustment for his offensive linemen at Texas A&M.
"It just takes a while," offensive line coach B.J. Anderson said. "We came in last season and -- it's not just the linemen, it's the coaching staff, too -- I've learned a lot. I remember the Florida game last year [to open the season]. If you look at our offense then as compared to our offense now, now it looks like it's built around our quarterback. Then it looks like it's built around Case Keenum. And that's just the truth of it."
Keenum was the record-breaking passer at the University of Houston, who enjoyed tremendous success under Kevin Sumlin and the Cougars' offensive coaching staff, many of whom followed Sumlin when he accepted the Texas A&M head coach job. Keenum, now starting for the NFL's Houston Texans, wasn't a statue in the pocket, but he wasn't quite the athlete that Manziel is. Few quarterbacks are.
Because of Manziel's ability to extend plays from a traditional three, four or five seconds, the Aggies' offensive linemen must block longer and be smarter, because they never know when or where Manziel might take off and run. Look at his signature play from the 2012 season: a 10-yard touchdown pass to Ryan Swope against Alabama. On that play, Manziel collided into
Jake Matthews
, who was playing right tackle, before gathering himself, recovering a near-fumble then scrambling away to throw the pass.
Even 21 games into his career, the veterans up front say it's still a process.
"There's still times where you feel like you're adjusting because you never know which way he's going to dart out of that pocket," offensive tackle Jake Matthews said. "Sometimes he's right behind you and you think he's going under you. It can get kind of confusing sometimes. But he makes so many plays for us that we're willing to go the extra mile and block that much longer for him. It's a little bit of a challenge, but you've got to love it."
And Manziel has helped matters by being open about what his preferences are when the play breaks down.
"He's such a football nut," Anderson said of Manziel. "He'll tell you, 'I don't want to run up in there [pointing to a specific area]. There's too much [going on] in there. It's not clear to me. I want to run around people.
"So that's why you've seen all these packages of us pulling everybody around and there goes Johnny. We're not geniuses, but what they're good at, we want to do."
Starting center
Mike Matthews
says he pays keen attention to where his defender is going, which is what many linemen do anyway because the defensive linemen are chasing after the quarterback. But when the defender takes off abruptly, it can get tricky.
"When [Manziel] rolls out sometimes, it's kind of hard because you're blocking a guy and next thing you know, he sprints straight to the sideline," Matthews said. "I'm assuming Johnny rolled out, so I just start running after him."
Anderson said he believes his group has made significant strides in learning and adapting to their quarterback based on film study and practice time. Opponents try several different tactics, but the Aggies seem to handle them well. The key, Anderson said, is to finish blocks.
"You've got to maintain blocks unlike you've ever done," Anderson said. "Most quarterbacks, you know where they are the whole time. Johnny, that's just part of his game.
"We work awfully hard at finishing blocks, putting pressure on guys -- A, so they don't jump and knock balls down; and B, in case he's right beside you, a guy can't yank him and bring him to the ground. We're going to get to our spots, our intersection points in the passing game, cover people up and apply pressure and let Johnny make us right."
October, 18, 2013
10/18/13
2:30
PM CT
COLLEGE STATION, Texas — After losing a left tackle who was the No. 2 pick in the NFL draft and a center who was a two-year starter at the position and a four-year starter overall, it was easy to believe that there would be a drop-off in performance from the Texas A&M offensive line.
Through six games, the No. 7 Aggies can safely say all is well up front. Even with two newcomers and some shuffling by moving returning starters around, the unit is again performing at a high level and is one of the reasons Texas A&M's offense continues to be one of the best in college football.
While it's difficult to replicate what the Aggies had last season, when all five starters last season played multiple seasons together, it's easy to see how well this year's group is doing. All it takes is watching quarterback
Johnny Manziel
drop back and sit comfortably in the pocket for five, six and sometimes seven seconds looking for a receiver or deciding to use his scrambling ability to gain yardage.
[+] Enlarge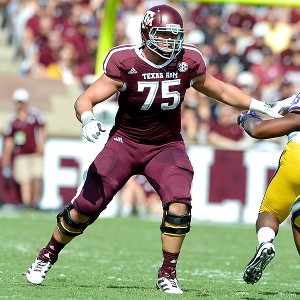 Cal Sport Media via AP ImagesJake Matthews is playing well at left tackle after playing right tackle in 2012.
And in the Aggies' victory over Arkansas on Sept. 28, the line paved the way for two second-half touchdown drives that consisted of all running plays. Texas A&M had more rushing yards than passing yards.
"Offensive line has played really good, with the exception of one game," offensive coordinator Clarence McKinney said. "I think those young guys in one of those six games -- I think it was SMU -- had some struggles. But for the most part, they've played great."
Against SMU, there were some penalties and self-inflicted errors that the Aggies needed to clean up. Their performance against No. 1 Alabama was strong and they've been consistent, for the most part, the rest of the year.
The transition began back in spring, moving
Jake Matthews
from right tackle to left tackle to replace Luke Joeckel. To fill Matthews' void, right guard
Cedric Ogbuehi
kicked out to right tackle. Jake's younger brother
Mike Matthews
stepped in as the starter at center and redshirt freshman
Germain Ifedi
slid in at right guard. The only player still in the same position last season is left guard
Jarvis Harrison
.
Behind that quintet, the Aggies are putting up 586.5 yards per game (No. 3 in the country) and have allowed only seven sacks, which puts them in the top 30 statistically in the country. They're 20th in rushing yards (224.6 yards per game) and sixth in passing yards (361.8 per game).
"They're getting better every week," senior running back
Ben Malena
said. "It's hard to compare this year's group to last year's because they're only six games in, but I can tell you every week they are getting better."
The biggest question marks coming into the season centered around the first-time starters. So far, they've answered the questions.
"I'm really pleased with the young guys," offensive line coach B.J. Anderson said. "I think they've made some strides. They've played in some atmospheres where we had to communicate. Mike's done a really good job. I've changed protections on him a couple games. ... I'm really pleased with where he's at, and the same way with Germain. He's getting better every game and we're fixing some things that need to get fixed and we'll just keep working."
Anderson noted that they're not holding anything back from Mike Matthews, who is just a sophomore, when it comes to game-planning and protections. That's critical considering the vast array of defensive looks Anderson said opponents have thrown at the Aggies.
"If you had told me that I had that flexibility back in August, I'm not sure I would have believed you," Anderson said. "But he's got the kitchen sink right now. I'm not doing anything that I didn't do with Pat Lewis, who was a senior. He's able to make all the adjustments I need and I'm really pleased with the mental work he does during the week, preparation-wise."
The "older guys" -- senior Jake Matthews and juniors Harrison and Ogbuehi -- have also shined. Matthews' adjustment to left tackle has been smooth, as has Ogbuehi's to right tackle. Harrison has impressed Anderson with his effort week to week.
"Jake's Jake and Ced's doing a good job and Jarvis Harrison is playing his tail off -- as well as he's played since I've been here," Anderson said. "He's playing with great effort. It shows on tape and I'm happy with those older guys."
Manziel's progression and mastery of the offense in the second season in the scheme has helped as well. Players say they notice Manziel has tried to stay in the pocket more often.
"I feel more this year that he hasn't scrambled as much and he has been more patient," Ogbuehi said. "He looks to throw more, too. He's always looking to make a big play with his arm, and that's good."
Perhaps the best aspect of this group is it has stayed healthy. The Aggies were fortunate to keep all five starters healthy last season, and that's been the case this year, too. It isn't a perfect group, but it is a smart, talented one that continues to improve every day.
"This year, we're still trying to get there but so far we're getting there," Ogbuehi said. "It's exciting so far what we've done in the little time we've had together."
September, 4, 2013
9/04/13
10:00
AM CT
COLLEGE STATION, Texas -- Silence isn't a word typically synonymous with a stadium hosting more than 86,000 rabid fans, particularly at Kyle Field, where Texas A&M is known to hold a tremendous home-field advantage.
But silence is a key word in describing some of the growing pains the Aggies had to go through in their season-opening win against Rice on Saturday, as they played 16 true freshmen, 11 of which were defensive players.
A&M coach Kevin Sumlin illustrated that point thusly:
"We had a couple situations where a couple guys actually froze up out there and wouldn't even open their mouths and couldn't get lined up," Sumlin said after Saturday's 52-31 victory. "The D-line said they couldn't hear and then one of them admitted to me "Coach, I just didn't say anything. I was just standing there.'"
Not exactly what a coach is looking to hear from defensive players, particularly when facing a no-huddle offense. Communication, especially in those situations, is key for a defense.
[+] Enlarge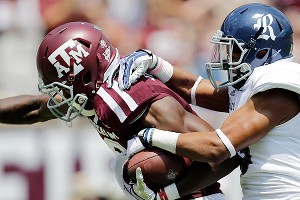 AP Photo/Eric GayFreshman wide receiver Ricky Seals-Jones made an impact in his college debut, hauling in a 71-yard touchdown pass.
But that was the position the Aggies were put in, missing eight players to start the game, six on defense -- including five defensive players who were listed as starters on the week's depth chart -- because of suspensions. There were true freshmen playing in every defensive position group, plus some at receiver. That doesn't include a handful of redshirt freshmen and junior college players who were making their debuts as well.
The Aggies coaches did what they could to prepare their newcomers, but some lessons are only learned the hard way.
"It's like anything else," Sumlin said. "As a coach, you try to prepare guys for all situations, but until the live bullets are flying, you don't know. It'll get better as it goes on, but I think the experience that we gained from today will help us down the road, a bunch. Particularly [in the front seven] because that's where most of the guys are gone."
The struggles were clear. As the defense tried to find its footing, Rice showed the ability to move the ball with ease. The Owls finished the game with 509 total offensive yards, including 306 rushing. The last time they gave up that many offensive yards was in their marathon battle against Louisiana Tech last October (615) and they haven't allowed that many rushing yards since a 66-28 drubbing at the hands of Oklahoma on Nov. 8, 2008.
True freshman played on the defensive line (
Jay Arnold
,
Isaiah Golden
,
Daeshon Hall
and
Hardreck Walker
), at linebacker (
Darian Claiborne
,
Jordan Mastrogiovanni
,
Shaan Washington
) and defensive back (
Noel Ellis
,
Tavares Garner
,
Alex Sezer Jr
. and
Jonathan Wiggins
).
"There's no way to duplicate the tempo and the emotion [of a game]," Sumlin said on Tuesday. "You know what you're doing, but the pressure to perform in that environment can be very, very difficult on a young guy, and that's what experience is all about."
Offensively, the Aggies were much better off. Even though
Matt Joeckel
made his first career start at quarterback, he's a junior who has spent more than a year practicing in the offense and he had at least seen some game time. Center
Mike Matthews
, who received high praise from Sumlin on Tuesday, also played in games and traveled with the team last season.
The true freshmen who saw the field for the first time on offense were all receivers:
Ricky Seals-Jones
,
Jeremy Tabuyo
,
LaQuvionte Gonzalez
and
Ja'Quay Williams
. But because there were more experienced players surrounding them on Saturday, not to mention Heisman Trophy winner
Johnny Manziel
entered the game in the third quarter, the transition was smoother for the Aggies' offense.
In total, 21 newcomers saw the field for Texas A&M on Saturday, many in significant roles. Plenty will log significant time this Saturday against Sam Houston State, as four players received two-game suspensions and won't be back until Sept. 14 against Alabama. With a signing class of 31 players in February, there was no question the Aggies were going to need some of the newcomers to contribute. By being forced to play so many in the first game, Sumlin feels like it could be a positive later in the season.
"[It's] a real, real learning experience," Sumlin said. "I think for those guys, that's going to pay dividends for us down the road."
August, 22, 2012
8/22/12
10:47
AM CT
[+] Enlarge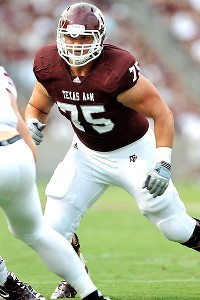 Patrick Green/Icon SMIJake Matthews forms one half of one of the best offensive tackle tandems in the country.
COLLEGE STATION, Texas --
Jake Matthews
is an older brother to his teammate,
Mike Matthews
, but to hear him speak of Mike, he almost sounds like a proud father.
They were teammates at Missouri City (Texas) Elkins High and now that Mike, a true freshman, is in Aggieland, they are again teammates for Texas A&M.
And big brother is loving it.
"With Mike, I couldn't be more proud of him, just having your little brother come in, living with him, going to class with him all the time, working out with him," Jake Matthews said. "It's pretty cool to have him around."
Both are sons of NFL Hall of Fame offensive lineman and Tennessee Titans assistant coach Bruce Matthews and are part of a line of football-playing Matthews boys. Their older brother, Kevin, played at Texas A&M and is on the Titans' roster now.
Jake came in just after Kevin's career concluded in College Station but Jake has since carved out a nice career of his own. He started seven games as a true freshman, had a solid sophomore year and is now part of what is perhaps the premier tandem of offensive tackles in college football this year along with teammate Luke Joeckel. At 6-foot-5 and 305 pounds, Jake will almost certainly be an attractive NFL draft prospect whenever he decides to pursue the next level.
In the meantime, he's making sure that Mike, a reserve center, is adjusting to life in college football.
"That's my little brother," Jake said. "I've got to protect him, make sure he learns it and knows what's going on. I just want him to do well and I'm looking forward to him getting a lot better and just learning."
During fall camp, the coaches were pleased by Mike's progress, though it was briefly interrupted by a minor ankle injury suffered in a recent scrimmage. Coach Kevin Sumlin said he'd like to have Mike travel with the team this fall, even though he would be a backup center to starter Patrick Lewis, so that he can get a taste of everything before taking over as the starter for the next three seasons.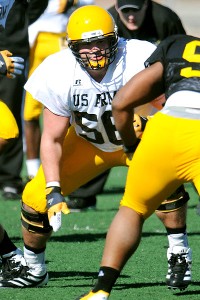 Credit: John Albright/Icon SMI
Mike Matthews is being groomed to take over as the starting center for Texas A&M next season.
"My feeling is, a year from now with Pat being gone ... that if [Mike] can handle it, I'd rather him travel and be the backup center and play in games and have three years to start as a center rather than have a brand new center next year who has never been in a game and do that," Sumlin said. "There's some people who would say that's crazy, but I think if you start in the SEC for three years at his position, that's pretty d--- good. He's got ability, he's got to learn the offense, he's got to be in those types of things, he's not ready yet, but I think over the course of the year, he'll give us some flexibility to really develop that second line for guys in case of injury or in case of substitution."
Offensive line coach B.J. Anderson said Mike has picked things up quickly.
"He's done a really nice job," Anderson said. "His football IQ is higher than most freshmen that come in here. He's picked this offense up."
Of course, the pair of Matthews boys keep their dad posted on a daily basis and Jake said they benefit from it.
"Every day I call my dad after every practice," Jake said. "He loves hearing what's going on. He wants to know how we're doing. He wants to know what we did good and what we messed up on. He loves hearing it all so Mike and I usually give him a call right when we get home. It's pretty beneficial.
"I told a lot of people, it's like having a second coach. I have coach Anderson here and then I go home and any little thing that I may have forgotten to ask him or things that I didn't know that he might be able to help me with, I can call him up 'Hey, what do you think about this?' It's a big advantage to have."