September, 19, 2014
Sep 19
10:00
AM CT
An imposing figure at 6-foot-4, 252 pounds,
Geneo Grissom
lined up in a blitzing position before the snap. Seconds later, the Oklahoma linebacker stepped back, re-aligning over Tulsa's slot receiver. After the snap, Grissom dropped into his zone, passed off the inside route to a teammate before leaping into the passing lane to intercept a pass from Golden Hurricane quarterback
Dane Evans
and gallop 38 yards into the end zone.
It was just like Sooners defensive coordinator Mike Stoops envisioned.
[+] Enlarge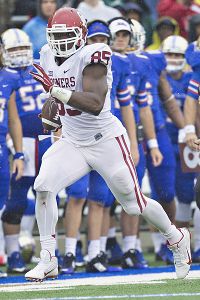 Wesley Hitt/Getty ImagesGeneo Grissom's versatility was on full display with his 38-yard interception-return touchdown against Tulsa.
After making several position changes during his first four seasons at OU, Grissom has finally found a home as a linebacker in the Sooners' 3-4 system. In doing so the senior joins
Eric Striker
to give the Sooners arguably the nation's top pass-rushing linebacker duo while also providing the versatility to handle the various offensive attacks of the Big 12.
"He's a great athlete," OU coach Bob Stoops said. "Geneo's a big guy, he has great range, he can run, he's got great hands. If our 120 players on our team had a pickup basketball game, he'd be one of the first couple picked. That's the kind of athlete he is, even with that size."
Cornerback
Zack Sanchez
probably puts it best.
"He's a freak of nature, the way he can get to the ball and make plays," Sanchez said. "Geneo is a freak athlete, he's a ball player."
In many ways, Grissom is too good an athlete for his own good as the Sooners kept tinkering to find the best way to put his skills to use. His athletic prowess resulted in stops at defensive end as a freshman, tight end as a sophomore and defensive end again as a junior before finally finding a home at linebacker this fall.
In Saturday's Big 12 opener against West Virginia, Grissom's versatility and talent will be in the spotlight. WVU coach Dana Holgorsen excels at finding ways to create mismatches and exploit defenses with the run or pass, but that task gets harder with Grissom on the field.
Last time these two teams met in 2012, the versatility of
Tavon Austin
gave the Sooners fits. This time around it could be the versatility of Grissom that creates chaos for WVU's offense. He has the size and strength to handle the run and the athleticism to be comfortable in coverage against the pass. No matter what approach the Mountaineers' offense takes, run or pass, Grissom can remain on the field and impact the game.
"For me personally, this is going to be a good game for me to test where I'm at and where I need to get better," Grissom said. "I'll measure myself and the things I need to work on."
Don't be surprised if Grissom and Striker excel against the Mountaineers, as their ability to rush the passer or drop in coverage is one of the reasons the Sooners made the change to a 3-4 defense after the 2012 season.
"Every game is like that with those two guys, they give us a lot of versatility," Mike Stoops said. "That's what we like about this defense, and it will be put to the test again."
Grissom has started all three games for the Sooners, contributing 12 tackles, including 1.5 tackles for loss, along with his interception.
"If he hasn't shown it already, this [game] will add on to what he's capable of doing," Sanchez said. "Playing tight end a couple years ago helps him go up and get the ball and make crazy plays like that. He's so athletic, he's smart, he knows where to be, he just flies around the field."
While Striker creates havoc all over the field from his position as "field" linebacker, Grissom has more than held his own as the "boundary" linebacker. He finally got comfortable at his new position near the end of two-a-days in August and has performed like a veteran during nonconference action.
"He's one of those guys who's always watching film," Sanchez said. "He's always watching film and if he makes a mistake, he's fixing it. He's not one of those guys that makes the same mistake twice. He's real tenacious in everything he does."