Dallas Colleges:

Mississippi State Bulldogs
February, 24, 2012
2/24/12
11:02
AM CT
Editor's note: Jay Bilas breaks down Missouri-Kansas in today's Weekend Watch. Andy Katz offers a dozen more games to keep an eye on this weekend.
Friday


Marquette at West Virginia (9 p.m. ET, ESPN):
West Virginia has to win this game, right? The Mountaineers have lost six of their past eight games. The only wins were over lower-level teams (Providence and Pitt) on the road. Marquette has been on a tear of late and may have the Big East Player of the Year in
Jae Crowder
or
Darius Johnson-Odom
.
Saturday


Vanderbilt at Kentucky (noon ET, CBS):
Kentucky has three games left to finish off an undefeated SEC regular season. No offense to Georgia, but the Cats should take care of the Bulldogs. If Kentucky takes out Vandy, the only obstacle left is a game at Florida to end the regular season. If Kentucky can accomplish an unblemished mark, it would go down as one of the most impressive regular seasons in coach John Calipari's career.


Iowa State at Kansas State (1:30 p.m. ET, ESPN3):
Wins at Baylor and Missouri have changed the complexion of Kansas State's season. The Wildcats have finally finished games by playing smart in the final possessions. Iowa State has a tough slate to finish the season with games at Kansas State and Missouri and then hosting Baylor. Not an easy road for a bubble team.


North Carolina at Virginia (4 p.m. ET, ESPN):
UVa has had injury issues and hasn't been able to find consistency against the league's elite (Duke and North Carolina). But the Cavs have a shot to re-establish themselves. This could turn into an ACC Player of the Year-type game as
Tyler Zeller
of the Tar Heels matches up with
Mike Scott
of the Cavs. UVa must ensure that it controls the tempo to have a chance.


Mississippi State at Alabama (6 p.m. ET, ESPN):
Mississippi State has stumbled down the stretch and has no momentum going into the SEC tournament. The Bulldogs have lost to the bottom of the SEC and now to Kentucky at the top. Meanwhile, Alabama has done a tremendous job, despite player suspensions, to be in the hunt for an NCAA tournament berth. The win at Arkansas was one of the more impressive for the Tide this season.


George Mason at VCU (6 p.m. ET, ESPN2):
George Mason was going to be in position to possibly catch Drexel and win the conference. But an overtime loss at Northeastern has pushed the Patriots into a second-place tie with VCU. The winner will get the No. 2 seed in the CAA tournament and potentially set up for a final matchup against Drexel.


Temple at Saint Joseph's (7 p.m. ET, ESPNU):
Temple has emerged as the class of the A-10. Saint Joe's had some fleeting hopes of getting a bid, but the Hawks lost at home to Richmond and scored only 49 points in the process. This is a huge rivalry game but the toughness of the Owls should prevail.


Penn at Harvard (7 p.m. ET, ESPN3):
If Harvard gets by Princeton on Friday night, a win against Penn could give the Crimson a share of the Ivy League title and a chance to clinch it outright the following Friday at Columbia. Harvard is trying to get to the NCAAs for the first time since 1946.


Syracuse at Connecticut (9 p.m. ET, ESPN):
The Huskies have new life after
Shabazz Napier's
3-point heave went in to beat Villanova on Monday night. The Orange have been as good, if not better, on the road than at home -- other than at Notre Dame. Syracuse should dominate the bench scoring. The Huskies have a chance if
Andre Drummond
and
Alex Oriakhi
can win the post, and Napier and
Ryan Boatright
can get into the zone with floaters to score. UConn is in desperate mode to get this win.
Sunday


Wisconsin at Ohio State (4 p.m. ET, CBS):
The Badgers lost at Iowa on Thursday night and now have to go to Ohio State? Yikes. Iowa let Wisconsin back in the game, but then the Badgers couldn't finish and lost by one. OSU, save the game against Michigan State, has been as dominant at home as any team in the country. The Badgers have to find a way to score and avoid the droughts that can decimate their chances of pulling off an upset like this one.

California at Colorado (5:30 p.m. ET, FSN):
Colorado had a chance to make some noise down the stretch in the Pac-12, but losing at home to Stanford took some of the energy out of this game. The Buffaloes had overachieved to that point. Cal needs to get a sweep of the mountain area to win the Pac-12 regular-season title, assuming Washington doesn't stumble.


Florida State at Miami (6 p.m. ET, ESPNU):
The Seminoles lost their shot to win the ACC regular-season title by dropping a home game to Duke. Miami desperately needs this game to prove to the selection committee that it is tourney-worthy. This game will have ACC tournament seeding implications.
January, 28, 2012
1/28/12
6:57
PM CT
So much for a slow Saturday. College basketball fans and pundits alike should know better by now, but we always assume the worst on a supposedly "slow" weekend.
Let's change the rules, based on what we've seen today. If you survey the weekend slate and you can't find any meaningful games and potential upsets that you're overly interested in, that means it's time to call Earl and the crew (everybody has a friend named Earl), stock the fridge and get ready for some good basketball. If this was a lukewarm weekend in college basketball, what qualifies as a great one?


Iowa State 72, No. 5 Kansas 64
Many laughed when Fred Hoiberg began his tenure at Iowa State by recruiting from a pool of players known for their checkered pasts.
Royce White
, who left Minnesota two seasons ago after a tumultuous stay, led the bunch. But Hoiberg looks like a genius right now after the Cyclones handed No. 5 KU its first Big 12 loss of the season. The win snapped both the Jayhawks' 13-game winning streak over Iowa State and their 10-game overall winning streak (they hadn't lost since Dec. 19).
The postgame court-storming was well-deserved for the 'Clones and their fans. Hoiberg has as much job security as any coach in the country based on his legendary career in Ames, which allowed him to pursue so many transfers without worry. In other words, he'd get a mulligan if things didn't work out.
Against Kansas, however, Hoiberg proved that he's more than a risk-taking recruiter. He can coach, too. Iowa State, a squad that suffered an 82-73 loss at Kansas on Jan. 14, led by three points at halftime. But that didn't last. The Jayhawks scored 11 unanswered points early in the second half. The crowd's energy dropped after that KU run, but Iowa State kept fighting, something it had failed to do down the stretch in its earlier loss to the Jayhawks.
White led the charge. With his team leading 56-53 and five minutes to play, he scored the Cyclones' next eight points (three straight layups and a pair of free throws). He entered the game as a 51 percent free throw shooter -- ISU was the Big 12's worst free throw shooting team at 61 percent overall -- but he was 6-for-8 from the charity stripe in the second half. He finished with a team-high 18 points, nine rebounds and five assists, making up for his six turnovers. The team was 25-for-34 from the charity stripe.
So yes, the same Iowa State squad that lost at Drake Nov. 15 looks like an NCAA tournament team right now -- no matter what my colleague Doug Gottlieb might tweet. At 5-3, the Cyclones are off to their best Big 12 start in a dozen years and sure seem like they won't be fading away anytime soon.


No. 4 Syracuse 63, West Virginia 61
It just can't happen. Not in late January with the stakes so high. Not when it's so blatant. Officials in this game missed one of the more obvious and critical goaltending calls of the season. In the final seconds, West Virginia's
Truck Bryant
air-balled a 3-pointer that ended up in
Deniz Kilicli's
hands with his team down by a bucket. Kilicli's layup was swatted away in mid-air by Syracuse's
Baye Keita
, but replays showed what looked like a clear goaltending violation by Keita. Officials never blew their whistles.
West Virginia got the ball back and
Kevin Jones
(20 points, eight rebounds) missed a deep 3-pointer to win the game, but the final outcome might have changed had that crew flagged Keita for goaltending. Now granted, WVU had its chances.
Brandon Triche
(18 points) hit a pair of free throws with a minute and a half to play and the Mountaineers missed four consecutive shots. But the no-call clearly impacted the game.
Syracuse struggled in its third consecutive game without
Fab Melo
. The Orange just haven't looked like the same squad without him and his defensive presence. West Virginia secured an astounding plus-21 (41-20) rebounding edge over the Cuse and had nearly as many offensive boards (19) as the Orange had total. How does that happen? It's not like the Mountaineers are the biggest team in the country. They were just tougher than Syracuse most of the afternoon. And had it not been for that missed goaltending call, West Virginia might have avoided its 13th loss to the Cuse in 14 meetings.


No. 7 Baylor 76, Texas 71
With 4:09 to go, Texas'
Myck Kabongo
hit a 3-pointer as
Pierre Jackson
committed a ridiculous foul to put him on the line for a four-point play opportunity. Texas had been down by 12 points early in the second half, but Kabongo's shot cut Baylor's advantage to just one. Cameras panned to Baylor coach Scott Drew on the sidelines. He had the "I can't believe this is happening at home" look on his face.
Perry Jones
(22 points, 14 rebounds) was far more aggressive than he'd been in some of his efforts, but Baylor couldn't keep the pressure on the Longhorns and nearly blew one at home.
J'Covan Brown
scored 32 points (11-for-22), his third consecutive 30-point effort. But he had way more time to create a better shot than the deep 3-ball he took with 14 seconds on the clock. His team was down by three points in the closing seconds, so I understand why he'd take a deep shot, but he didn't have to shoot it when he did. He had more time on the clock.
Here's where you have to have more question marks about Baylor, though. The Bears are at home. Texas shot 36 percent from the field in the first half and was 1-for-12 from beyond the arc before halftime. Seemed like an opportunity for Baylor to flex its muscle. But it turned into another lukewarm finish for the Bears.


No. 13 Florida 69, No. 16 Mississippi State 57
The Bulldogs just couldn't handle Florida's inside-outside attack.
Patric Young
(12 points, six rebounds) was solid for the Gators, especially after halftime.
Bradley Beal
led the Gators' talented backcourt with 19 points. The nation's leaders in 3-point field goals hit 11 of them as they won their fifth straight and 17th in a row at home.
Arnett Moultrie
was 4-for-10 and scored 12 points for a Bulldogs team that committed 14 turnovers. It was MSU's third SEC road loss of the season. At 5-3 in league play, they'd better find a way to compete away from home. They're certainly talented, but the Bulldogs have really struggled on the road. Thought this one would have been a closer game, but give the Gators credit. They can spread teams out with their guard play and minimize their size disadvantages, a tactic they used to perfection against the Bulldogs.


No. 1 Kentucky 74, LSU 50
The Wildcats are in Beast Mode right now. They're just crushing teams. LSU entered this game following a tight road loss at Mississippi State. But the Wildcats are just a different animal.
Terrence Jones
led all scorers with a season-high 27 points and the Wildcats held LSU to a 1-for-9 clip from the 3-point line. Just two Tigers reached double figures.
Although LSU is only 2-5 in the SEC, you have to wonder how dangerous the Wildcats can be in March when a guy like Jones can explode despite some inconsistency this season. He entered the game averaging 11.6 ppg and he only scored five points against Georgia on Tuesday. But this game was further proof that Kentucky is a "pick your poison" kind of opponent. How do you defend a team with that number of studs? The Wildcats have so many weapons.
Syracuse is deep. Ohio State has balance. But no team in America looks as potent as Kentucky right now.
Some more observations from the afternoon games ...
December, 29, 2011
12/29/11
6:17
AM CT
DALLAS -- Forget the national-player-of-the-year candidate.
And don't be overly concerned with the freshman who's projected as an NBA lottery pick, or the veteran senior who scores half of his baskets on dunks.
Perry Jones III
,
Quincy Miller
and
Quincy Acy
might form one of the most imposing frontcourts in the nation. But all week long, Mississippi State coach Rick Stansbury told his squad that stopping the trio wasn't the key to beating the
Baylor Bears
.
"
Pierre Jackson
is the key to their team," Stansbury said. "He's the guy that makes them go."
It was certainly hard to argue that point Wednesday, when Jackson -- the Bears' diminutive 5-foot-10 point guard -- came through for Baylor yet again.
With 22 seconds remaining, Jackson beat Bulldogs guard
Dee Bost
off the dribble and streaked through the lane for an uncontested layup that propelled the No. 7 Bears to a
54-52 victory
over 14th-ranked Mississippi State at American Airlines Arena.
At 13-0, Baylor is off to its best start in school history. The Bears are one of just four remaining undefeated teams in the country. Mississippi State fell to 12-2 after losing for the first time since Nov. 9.
"That was probably one of the toughest teams we'll play all year," said Jackson, who scored a game-high 14 points. "Our chemistry is really good right now. We've got to keep getting better."
Wednesday wasn't the first time that Jackson -- who earned national junior college player-of-the-year honors at the College of Southern Idaho last season -- has come through for Baylor in the clutch.
[+] Enlarge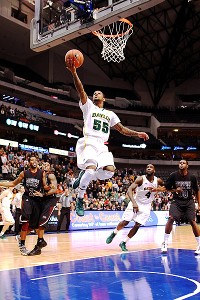 Ronald Martinez/Getty ImagesPierre Jackson swoops in for Baylor's winning layup against Mississippi State.
He scored 23 points and hit a 3-pointer that forced overtime in last week's victory over West Virginia, when he reeled off eight consecutive points during a stretch from late in the second half through the first 70 seconds of the extra period. And he blocked a game-tying 3-point attempt at the buzzer in Baylor's 86-83 win at BYU on Dec. 17.
In short, Jackson and Boston College transfer
Brady Heslip
have completely reshaped a Baylor squad that missed the NCAA tournament last season because of a porous backcourt that, at times, could barely get the ball up the court. The twosome combined for 21 of the Bears' 34 first-half points against MSU.
"Those two killed us," Stansbury said. "Like I said, people can talk about Jones and those other guys all they want. But Jackson is the reason Baylor is so good."
That's not to say Jackson and the Bears are without flaws. Baylor found a way to win Wednesday despite turning in one of its sloppiest performances of the season.
The Bears shot just 21 percent after intermission and missed all eight of their 3-point attempts. Baylor also clanked three of its five foul shots in the final 3 minutes -- yet it managed to emerge victorious.
"When you can shoot 21 percent in the second half and still beat a top-15 team, it shows that you really defended and rebounded well," BU coach Scott Drew said. "We weren't very good rebounding early in the year. We made it a focus after the BYU game and we've improved."
Indeed, Baylor outrebounded Mississippi State 40-32 and came up with some huge stops down the stretch. Moments before Jackson's winning basket, the Bears forced Bost into a terrible shot against his momentum on the other end. The Bulldogs had a chance to tie or win after Jackson's layup, but they couldn't get a good look before
Rodney Hood
went up for a guarded jumper with 6 seconds left. Hood's shot was blocked, and Jackson made a heady play by batting the ball toward the other end of the court as time expired.
"The toughest thing for young players is ... when you're not scoring, you don't want to play defense," Drew said. "For us, to shoot 21 percent and still play defense shows a lot of [character]. I'm proud of our guys."
The victory in Dallas -- Baylor's first this season against a top-25 opponent -- could have long-reaching effects. Drew touted after the game that his team is the only one in the country with wins against six top-50 opponents, according to the Sagarin ratings.
"It's a win that resonates on your resume throughout the rest of the season," Drew said.
It should also do wonders for Baylor's confidence, as the Bears likely won't face many teams in the Big 12 as tough as the Bulldogs. No team in the league has as good of a frontcourt as Mississippi State's tandem of
Renardo Sidney
and
Arnett Moultrie
. Bost is regarded as one of the nation's top point guards and Hood probably won't be in school longer than two years before jumping to the NBA.
Baylor has plenty of future pros on its roster, too, but its biggest strength continues to be its depth. Jones and Acy combined for just 15 points on 6-of-20 shooting. But it didn't matter thanks to players such as Jackson, Heslip and Miller, who had 12 points and 6 boards. Nine Baylor players saw at least seven minutes of action Wednesday, and seven of them played 19 minutes or more.
"We came down here and went nose-to-nose-to-nose with them," Stansbury said. "We took a team averaging 80 points and held it to 54. It was a hell of a game. These were two pretty good teams. We'll take a lot of positives from this and get better from it, and I'm sure Baylor will, too."