Dallas Colleges:

Morris Claiborne
April, 2, 2012
4/02/12
2:00
PM CT
AUSTIN, Texas -- Texas has a well-earned reputation as the nation's "DBU," a proverbial factory of NFL defensive backs.
Even so, when three NFL-caliber corners leave a team, like they did at Texas before the 2011 season, doubts will surface.
Can you replace Aaron Williams' versatility? What about Curtis Brown's cover skills and Chykie Brown's knack for being in the right place for the big play at the right time?
[+] Enlarge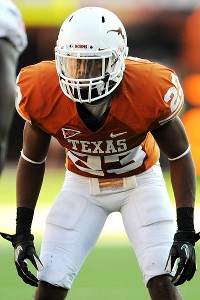 John Albright/Icon SMICarrington Byndom is part of an experienced Texas backfield.
New defensive coordinator Manny Diaz looked down his depth chart and saw a true freshman,
Quandre Diggs
, and a little-used sophomore in
Carrington Byndom
.
By season's end, though, the duo transformed one of the Longhorns' biggest question marks -- and after a 5-7 season in 2010, they had plenty -- into arguably its biggest strength.
"Both of them are both very bright," coach Mack Brown said. "They made an easy transition to the field. Both of them were in very good high school programs."
Diggs showcased his fearlessness early in the spring. He went head-to-head with -- and held his own against -- the team's top and more experienced receivers while he should have been in high school. The contact did not faze the former high school running back.
"Quandre was tough," Brown said. "He got knocked around a lot."
Meanwhile, Brown pointed to Byndom's outstanding athletic ability for his early success. Byndom had the option to play college baseball, but elected to stick to football.
"Carrington has gotten tougher every minute he's been here," Brown said, adding that he was a "very good athlete."
By fall, both were entrenched as starters.
Diggs finished the season with four interceptions, more than all but one freshman in college football (
Bryce Callahan
of Rice). The league's coaches named him the Big 12's top defensive freshman and Diggs was named a freshman All-American. He landed a spot on the All-Big 12 second team, too.
Byndom, a first-year starter, landed a nod as a first-team All-Big 12 talent and a key cog in a defense that topped the conference in total defense for a fifth consecutive season. He picked off two passes and tied Diggs with a team-high 15, earning the team's defensive player of the week honors on four occasions.
Notes KC Joyner of Football Outsiders:
His 6.2 yards per attempt (YPA) allowed total was better than the YPA marks posted by Alabama Crimson Tide cornerback Dre Kirkpatrick (6.6) and LSU Tigers cornerback Morris Claiborne (7.5), two coverage specialists who will likely end up selected in the first round of the 2012 NFL draft.
DBU, indeed.
The Longhorns also were the only team in college football to not allow a touchdown pass for 20 yards or longer before the season finale against Heisman winner
Robert Griffin III
and receiving champ
Kendall Wright
.
"They were very responsible," Brown said. "That was one of our biggest question marks sitting there in the spring and in the fall. And I thought you have to give a lot of credit to Manny and to [defensive backs coach] Duane [Akina] for devising a scheme that took pressure off of them as well.
"We didn't play near as much man and didn't put them in as many one-on-one situations, and then because of their confidence you see the play that Carrington made at A&M probably changed that game."
Byndom swung the momentum for the burnt orange in the final chapter of a heated rivalry with the in-state Aggies before they left for the SEC.
Trailing 16-7 at halftime, Byndom stepped in front of a
Ryan Tannehill
pass early in the third quarter, returning it 58 yards for a touchdown, silencing a rabid Kyle Field crowd and igniting a second-half comeback for the ages.
Brown saw plenty out of both corners in 2011, but they were young and inexperienced. What happens now?
Big 12 receivers, beware.
December, 6, 2011
12/06/11
4:10
PM CT
I'll preface this by saying that I think the BCS got it right.
LSU and Alabama are the
two best teams in the country
and they deserve to play each other in the BCS Allstate National Championship Game. It should be a great game and I guarantee that each team will get at least one touchdown this time.
You know you'll be watching. Don't act like you won't.
But there is part of me that's curious … very curious.
I can't help but wonder what the national title would be like with LSU's ferocious defense pitted against Oklahoma State's high-powered, Playstation offense. For all the talk about how good SEC defenses are and how high-flying Big 12 offenses are, there's part of me that wants to see it this season.
Besides, if the SEC truly wants to show its dominance, doesn't it make sense to do it against someone
outside
of the conference?
Again, I believe the BCS actually got this one right, but it wouldn't have bothered me if the Cowboys took the Crimson Tide's place.
We'd actually get to see if Mike Gundy's Pokes could muster up a way to score the 30-plus points he thinks they'd put up against the Tigers' vaunted defense. You know, the same defense that ranks second nationally, allowing just 252 yards per game and has forced 30 turnovers. And the same defense that has waves of speed, athleticism and depth, and has dismantled just about everyone.
I don't know if Oklahoma State would look like, well Oklahoma State, against the Tigers, and I don't think the Cowboys would even touch 30 points against LSU, but I think we'd have a pretty exciting game on our hands.
LSU might have the most aggressive defense out there, but it has a tendency to play too fast and too aggressive. We saw it at times against talented offenses. West Virginia racked up 533 yards, including 463 passing, on LSU. Both Arkansas and Georgia both made a some first-half plays against LSU, as well.
For as great as this defense has been all year, it hasn't been perfect, and good passing games have found ways to make plays. Have they found ways to get wins over the Tigers? No, but there's a formula there ... if you can combat LSU's ability to go on hellacious runs and wear down defenses in the second half.
The Cowboys, who had the nation's third-best offense (557 yards a game), have the pieces to give the Tigers headaches. Quarterback
Brandon Weeden
was a legit Heisman Trophy candidate at one point and finished the season third nationally with 4,328 yards and had 34 touchdowns. In that offense, he and the Cowboys could spread teams out and exploit plenty of mismatches. It didn't hurt that All-World receiver
Justin Blackmon
accounted for 111 receiving yards a game and had 15 touchdowns.
Weeden had two other receivers record more than 600 yards as well, so there are weapons in Stillwater, Okla., to keep the Tigers' defense on its toes.
Just imagine Blackmon, who might be the first receiver taken in next year's NFL draft, trying to get space on Morris Claiborne, or Tyrann Mathieu making a mad dash from God knows where on the field to scare the daylights out of Weeden? Could Weeden's receivers match the track speed of LSU's secondary?
And don't forget about LSU coach Les Miles facing his old school. If ahead late, does he kneel early or kick a field goal?
Defensively, the Cowboys would have to tighten up, though. They allowed 180 rushing yards a game, and we all know the pounding LSU's run game puts on opponents.
But the Big 12 offense-SEC defense matchup is what we'd all be salivating over. Winner shuts the other side up for a good year.
Unfortunately, we're left only wondering. We don't have the system in place to make this game possible.
LSU-Bama should be
the
game, but, man, LSU-OSU would have been fun.