April, 2, 2012
4/02/12
12:21
PM CT
Texas guard J'Covan Brown announced Monday that he'll skip his senior season to enter the NBA draft.
"There were a lot of reasons to come back to school next year, most importantly getting my degree and being around my teammates every day," Brown said in a statement released by the university. "But the time has come for me to pursue a career in professional basketball and take care of my daughter, Jordyn. This has been a difficult decision, but it is the best decision for myself and my family."
Read
more about Brown's decision here
.
June, 9, 2010
6/09/10
7:00
AM CT
By
Jeff Caplan
| ESPNDallas.com
Ekpe Udoh
is about to become a very rich young man. It's not certain exactly when his name will be called on the evening of June 24, but it appears that it won't take long for the
Baylor Bears
power forward to find a home. He is widely expected to be among the first 14 players selected in the NBA draft.
That's called a lottery pick and that's called hitting the jackpot.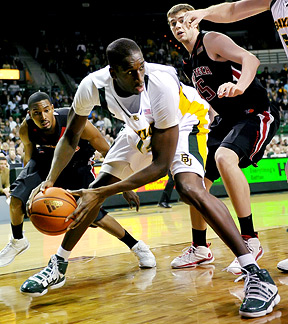 Manny Flores/Icon SMIEkpe Udoh averaged 13.9 points, 9.8 rebounds and 3.7 blocks per game for Baylor last season.
Udoh, a junior last season, certainly worked for it. He was barely on the radar after spending two years at Michigan where he was known as a shot-blocker but limited offensively. After transferring to Baylor, he sat out the 2008-09 season and worked relentlessly on his offensive game. He produced big-time for the Bears, helping to take them to the Elite Eight for the first time in the program's history.
Displaying an array of offensive ability, from post-ups to dribble-drives to mid-range jumpers, he quickly became one of the most-watched college prospects in the land. Some at least had him as a blip on their radar screen before his breakout season.
"One of our big scouts is in Detroit, Don Sicko, when Udoh didn't get much playing time up there, he kept just writing him up, saying you've got to track this guy regardless," said Ryan Blake, the NBA's director of scouting. "And once he hits, you've got to be ready for him, he's going to explode if he continues to work."
Udoh set a Big 12 Conference record for blocks and averaged 9.8 rebounds, results the Bears coaching staff half expected. But, Udoh's 13.9 points a game on 49 percent shooting and 2.7 assists completely changed the dynamics of the Bears' previously perimeter-based offense.
The 6-10, 240-pounder continued to produce at high level through the Big 12 tournament and the NCAA tournament, further cementing his place as a lottery pick.
"He also had a maturation process that went along through the year and his confidence was what really absorbed in him because regardless what level you go to, whether it's high school to college or college to the pros, some people can be the greatest athlete and very good on the court, but lose confidence and basically they don't have it," Blake said. "I think with him, getting into the Big Dance and keeping himself focused was really, really big, so I think that really helped. He is a smart kid."
Now, where will Udoh land?
That's a toss up. The various mock drafts have him going anywhere from No. 7 to No. 14 in the draft. Those teams, in order, are Detroit, the LA Clippers, Utah, Indiana, New Orleans, Memphis, Toronto and Houston.
In Chad Ford's
latest mock draft (version 3.0)
on ESPN.com, he has Udoh headed to the Houston Rockets with the No. 14 pick. And only two of the
12 mock drafts featured on NBA.com
do not include Udoh among the top 14.
There are some concerns that Udoh, despite possessing a remarkable wing span of 7-foot-4 inches, won't be physical enough or have the leaping ability to battle the top power forwards in the league.
"It's going to be a little bit more physical, he's going to have to get stronger, but I think with his opportunity, I think he is going to be able to reach that," Blake said. "I don't know at what level because he's still developing."
April, 13, 2010
4/13/10
5:46
PM CT
By
Jeff Caplan
| ESPNDallas.com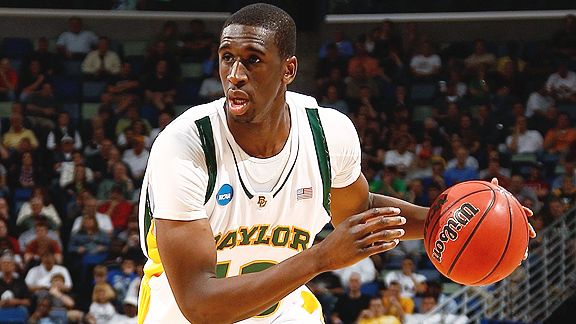 Chris Graythen/Getty ImagesEkpe Udoh played just one season at Baylor but made a huge impact on the program.
You will be hard-pressed to find a college basketball player this season who did more to progress his own career path and elevate his program than
Baylor
junior power forward
Ekpe Udoh
.
Udoh completed an epic campaign in his first season with the Bears, leading the school to a record 28 victories and its first Elite Eight appearance. And on Tuesday, the 6-foot-10 shot-blocker extraordinaire and much more made did the inevitable, making his intentions known that
he will declare for the 2010 NBA draft
in June.
Initially, he said he would not immediately hire an agent, but that was only because he has yet to find one he is comfortable with. Bears fans, if only for a second, held out hope of a return. But, that will not be the case. His father, Sam, said as much.
"I think it was very difficult for him to make the decision," Sam Udoh said. "He is leaning very much to the NBA. If he is not, I don't think he would have declared for the draft."
Quite simply, the NBA money is too good pass up. Udoh is projected as a late lottery pick. If drafted, he will sign a guaranteed two-year contract with an opportunity to later extend it by another three years and bank millions of dollars.
There's a significant factor at play for any player contemplating turning pro. The NBA's cloudy labor picture threatens to wipe out the 2011-12 season with a work stoppage, the season after what would be Udoh's senior year. A new collective bargaining agreement will eventually be hammered out and the league is looking to revamp the salary structure, and that would assuredly include a reduction in the value of current rookie contracts.
Udoh, who established a school and Big 12 season blocks records with 133 and was the Big 12 Newcomer of the Year and a second-team All-Big 12 selection, averaged 13.9 points, 9.8 rebounds, 3.7 blocks and 2.7 assists in 36 games. His outstanding performances in the Big 12 tournament and the NCAA tournament only increased his draft stock.
Udoh spent his first two seasons at Michigan before deciding to transfer to Baylor. When he arrived in Waco two years ago, Udoh was known as good defender who lacked a consistent offensive game. While sitting out last season due to NCAA transfer rules, he spent every day in the gym with former Baylor assistant Matt Driscoll (now head coach at North Florida) and refined his offensive attack, which includes an array of low-post moves, dribble-drives and mid-range jumpers.
Baylor fans would certainly have loved to have seen Udoh back in green-and-gold, especially with leader
Tweety Carter
graduating. Baylor will lose three starters in all, including 7-foot center
Josh Lomers
.
But, now Baylor fans can turn their attention to the next big thing in McDonald's All-American forward Perry Jones out of Duncanville.
In his heart, Udoh might have liked to have stayed one more season. But, his head made the right decision. Really, he had no other choice.
"My time here was great. It was the best time of my life," Udoh said. "I have got 13 new brothers. I got a coaching staff that I can ride with until I die."
And in the end, Udoh's venture to the NBA will work in coach Scott Drew's favor. He will soon have a player in the NBA, and all recruits love to hear that.
March, 13, 2010
3/13/10
2:10
PM CT
By
Jeff Caplan
| ESPNDallas.com
KANSAS CITY, Mo. -- Baylor coach Scott Drew has certainly learned how to take a punch or two and so has his team. The Bears bowed out of the Big 12 tournament Friday night with an 82-75 loss to Kansas State in a tremendous game.
Baylor, 25-7, still hasn't lost by more than seven points, but it will need to win an NCAA tournament game to set a new school record with a 26th victory. The last time the Bears won a tournament game? 1950 (56-55 over BYU) when the bracket included eight teams.
The good news for the Bears is they have yet to lose consecutive games this season.
Baylor dearly wanted a second consecutive title game appearance, but they're not done yet. Some inside the Baylor program believe a 3-seed is coming Sunday when the selection committee reveals the 65-team NCAA Tournament bracket. Wherever the Bears land, they learned Friday night, as they have all season, that they'll be a tough out.
"This was a great experience," Baylor power forward Ekpe Udoh said. "Basically, we played an away game up here in Kansas City. Towards the end of the game I think we kind of lost our mojo. It's something you can't have happen from here on out and we're going to learn from that. In the tournament, if you slip up one time you go home."
Udoh will have decision to make
Ekpe Udoh
is widely regarded as a lottery pick in June's NBA Draft and he only enhanced his stock at the Big 12 tournament. The 6-foot-10 junior power forward averaged 21.5 points and 9.5 rebounds in the two games. The Big 12's new shot-blocking king chewed up Texas for 25 points and eight rebounds.
Rule of thumb for draft prospects is if you're a lock to be a first-round pick, then go grab the guaranteed money. If Udoh trusts he'll be a lottery pick (sorry Baylor fans) it should make that decision easier. The money is too good and with an impeding lockout looming in 2011-12 and impending salary restructuring once the NBA re-opens for business, this might be the time to maximize dollars.
Is Baylor's Jerome Tang head-coaching material?
Baylor athletic director Ian McCaw thinks so: "He's really matured as a coach. I see him being a head coach in the very near future."
Coach Scott Drew made Tang one of his first hires seven years ago, plucking him from controversial Heritage Christian, a small-private school near Houston that had a reputation as a basketball factory. Tang also didn't have a college degree when hired, a prerequisite at Baylor (and most universities) in the past. Since, Tang received a Bachelor of Science degree from Charter Oak State College, an online program.
Clip and save
Baylor guard
LaceDarius Dunn
will lead the Big 12 in scoring next season and will win Player of the Year honors. Along the way, he'll likely become Baylor's all-time leading scorer.
He already holds school records for most 3-pointers in a game, season and career.
"You know, Anderson was great this year, he scored consistently, and Lace scored consistently, so it was a toss-up on who should have got it this year," said Baylor senior guard
Tweety Carter
, referring to Oklahoma State's
James Anderson
, the Big 12's Player of the Year. "I'm pretty sure that next year he'll get it."
Texas less than its parts
Texas coach Rick Barnes called the ugly quarterfinal loss to Baylor a microcosm of the season: a few minutes of scatterbrained play and then the Horns panic and lose all ability to execute. The Bears buried Texas with a 13-2 to run to open the second half and you could see in the Horns' body language and frustration how their spirit was crushed.
"Like coach says, we don't play together sometimes," center
Dexter Pittman
said. "Once we start playing together, we'll be unstoppable and untouchable, but, man, we just got to go back to that."
It would appear it is too late. Junior forward
Gary Johnson
summed up the disappointing situation best.
"When you have a team full of guys with as much talent as we do, it's hard to give each guy a role, like you have to do this when a guy feels like he could do other things," Johnson said. "At times, guys feel like they can do everything on this team and it just isn't the right decision at that moment. Guys know their roles, but it's like a panic factor and guys try to go out and do other things that they're not capable of and we find ourselves in deep holes."
Red Raiders to NIT?
Caach Pat Knight hit the campaign trail hard at the Big 12 tournament, determined to get the Red Raiders into the NIT.
Knight said it would be a "shame" if the NIT ignored the 17-win Raiders out of the top-rated RPI conference in the nation. Tech's chances didn't look good after losing their final seven regular-season game, but it proved it belonged after putting a scare into top-seeded Kansas in the quarterfinal.
The last time Tech went to the NIT under Bob Knight it made it to the final four in New York and rode the momentum to a trip to the NCAA Tournament the following season (much like Baylor this season). It could happen again. Tech will be a senior-dominated team in 2010-11 and returns four of its top five scorers, including its top two in
Mike Singletary
and
John Roberson
.
If Tech gets in, it would give the Big 12 eight teams in postseason play -- assuming other tournament upsets don't leave Oklahoma State out. The Cowboys should be able to breath easy.
A&M star in making?
Texas A&M has to be excited about the future of freshman
Khris Middleton
. The 6-foot-7 forward from North Charleston, S.C., had a breakout in two games in Kansas City.
Having averaged 6.7 points a game during the regular season, he dropped 31 combined against Nebraska and Kansas, making 10-of-19 from the field and 5-of-11 from 3-point range. One weakness? Turnovers. He had eight in the two games.
With scoring leader
Donald Sloan
graduating, Middleton looks poised to take over as a No. 1 scoring option.
So long, Mr. Killian
After 23 years working in the Texas A&M media relations office, Colin Killian will hang 'em up after the NCAA tournament. He's accepted a job with the city of College Station. Killian has an 8-year-old son and while the new gig won't be as exciting as Texas A&M hoops has become the past five years, it will have its perks -- namely no work at night or weekends or holidays and no travel.
Good luck, Colin.
Is Oregon tugging at Turgeon?
Oregon basketball coach Ernie Kent isn't officially out, but the writing is on the wall. Texas A&M coach Mark Turgeon has come up as a possible replacement. Turgeon was a Ducks assistant from 1992-97. Unless Oregon is tugging at the Topeka, Kan., native, A&M is a better job and the Big 12 is a better conference.
Roland hoping for one more year
First-class A&M senior
Derrick Roland
is hopeful the NCAA will grant him a medical redshirt and allow him to return to the Aggies next season.
The shooting guard from Seagoville broke his leg during a late-December game in Washington and is out for the season after undergoing surgery. Remarkably, he is already walking around as if nothing happened as he continues a grueling daily rehabilitation process.
"Hopefully the NCAA has some sympathy for me," Roland said. "It would give me the opportunity to graduate and that's important to my family."
Roland said if he's not granted an extra year of eligibility he will try to complete his degree during the summer.