November, 6, 2012
11/06/12
3:59
PM CT
Former
Dallas Cowboys
defensive lineman Ed "Too Tall" Jones was elected to the Black College Football Hall of Fame on Tuesday.
Jones, the first overall pick of the Cowboys in 1974, had a fantastic career at Tennessee State, where he attended originally to play basketball.
After two seasons playing basketball, Jones moved to football and became a two-time All-American and finished his career ranked third in school history in sacks in a single season (12) and fifth in career sacks with 38.
"Surprised," Jones said of the recognition. "To be honored now is very humbling. Tennessee State turned out lots of pros for a Division II school. A lot of those athletes were considered prospects by the pros."
Jones joins a star-studded Class of 2013 that includes Elvin Bethea, Charles Brackins, Joe Gilliam Jr., Ken Houston, Charlie Joiner, Larry Little,
Shannon Sharpe
,
Jackie Slater
, John "Big John" Merritt and Charlie Neal.
Jones played with Gilliam Jr., whose father Joe Gilliam Sr. was his defensive line/defensive coordinator at Tennessee State. Merritt was Jones' head coach.
"Joe Sr. was the one that turned my career around," Jones said. "It's wonderful to have three people from Tennessee State going into the Hall of Fame."
One thing still eluding Jones is the Cowboys' Ring of Honor. Jones played 15 seasons with the Cowboys, starting every game from 1980-86. He was three-time Pro Bowler and a All-Pro in 1982. He finished his career with 57.5 sacks.
"I thought I was a true team player," Jones said. "Dallas took me to become a true pass rushing end. I wanted to be what coach (Tom) Landry wanted me to be and what my teammates wanted from me. I have no control for anything. I just wanted to be the best player that I could be for the Dallas Cowboys."
The inductees will be honored February 16, 2013 in Atlanta.
April, 4, 2012
4/04/12
1:55
PM CT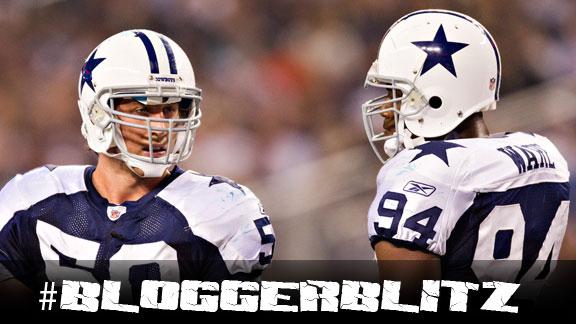 Starting Thursday, the Cowboys can host prospective draft picks with local high school and college ties at the annual Dallas Day workout at Valley Ranch.
DeSoto native and Texas A&M running back Cyrus Gray will visit the Cowboys.
Gray, a 5-foot-10, 206-pounder, rushed for 2,178 yards and 24 touchdowns the past two seasons for the Aggies. But a stress fracture in his left shoulder forced him to miss the final two games of A&M's 2011 season and the Senior Bowl.
Gray ran a 4.47-second 40-yard dash at the NFL scouting combine and did some position work at Texas A&M's pro day.
Here's what
Scouts Inc. had to say about Gray
, a potential third- or fourth-round pick.
NFL Draft Scout also
provides some insight
.
December, 19, 2011
12/19/11
8:00
AM CT
The Pac-10 and Big 12 nearly got married last year, but only Colorado ended up eloping with the now-Pac-12.
You know: The conference that can count!
But the Pac-12, which has, yes, 12 teams, and the Big 12, which has 10 teams (though it's often hard to keep up with which ones), play each other in three bowl games this holiday season.
Joy to the world.


So it seemed like a good time for the Pac-12 and Big 12 bloggers -- Ted Miller and David Ubben -- to say howdy and discuss all the coming fun.
Ted Miller
: Ah, David, the bowl season. Pure bliss. Unless you're the Pac-12, which is expected to get a whipping from your conference over the holidays. We have three Pac-12-Big 12 bowl games with the Tostitos Fiesta Bowl between Stanford and Oklahoma State, the Valero Alamo with Baylor and Washington, and the Bridgepoint Education Holiday matching California and Texas. And the Big 12 is favored in all three!
Poor ole West Coast teams. What are we to do? It's almost like the Big 12 is the SEC or something. Speaking of which, how are things with your Cowboys? Are they over not getting a shot at LSU for the national title? Are they excited about getting a shot at
Andrew Luck
and Stanford? We might as well start with that outstanding matchup in Glendale.
David Ubben
: You know, I was actually a little surprised. I stuck around Stillwater for the BCS bowl selection show announcement, and the players took the news pretty well. They found out an hour before, but there wasn't a ton of down-in-the-dumpiness from the Pokes. When you've never been to this point before, it's a bit difficult to develop a sense of entitlement. If Oklahoma had OSU's record and was passed over by Alabama and sent to the Fiesta Bowl for the 17th time in the past six years, you might have had a different reaction.
But Oklahoma State's first trip to the BCS and first Big 12 title aren't being overlooked. These players are looking forward to this game. There's no doubt about that.
I know the Big 12 seems like the SEC, but I have a confession, Ted. I wasn't supposed to tell anybody, but I can't hold it in anymore. When the Big 12 began back in 1996 ... wow, I'm really going to do this ... then-SEC commissioner Roy Kramer graciously allowed the league to keep two of his teams. The league made a similar arrangement with the Big Eight a century ago, and the Southwest Conference around the same time. Missouri and Texas A&M are really wolves in sheep's clothing: SEC teams just pretending to be in other leagues. So, that might explain the Big 12's recent dominance.
These should all be fun games, though. I ranked two of the matchups among the top three in my bowl rankings.
As for the big one, they say you learn more by losing than by winning. Stanford got its first BCS win. How do you think that experience plays into this year's game? I hate to ruin the surprise, but Oklahoma State's a bit better than the Virginia Tech team Stanford beat last season. OSU's loss to Iowa State this season is bad, but it's nothing like the Hokies' loss to James Madison last season.
[+] Enlarge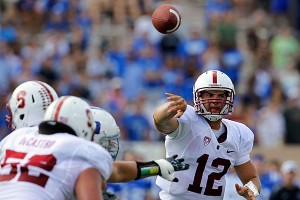 AP Photo/Gerry BroomeQuarterback Andrew Luck leads Stanford into its second consecutive BCS bowl, this season against Oklahoma State in the Fiesta Bowl.
Ted Miller
: Not only is Oklahoma State better than Virginia Tech, it's still questionable whether this Stanford team is better than last year's. Since we're going all crazy and whispering about the SEC, there was a feeling out West that by the end of the 2010 season the Cardinal might not only be the best team in the Pac-12 but also in the nation. They were big and physical and quarterback Luck actually had a solid receiving corps with which to work. After a loss to Oregon in the fifth game, they didn't lose again until playing, er, Oregon in this year's 10th game. If we could go back in time and have the Cardinal play Auburn, I think Stanford would have won the national title.
But that's 2010. The difference this year is the season-ending knee injury to middle linebacker Shayne Skov, who was an All-American candidate, a slight step back on the offensive line and a lack of top-flight receivers. But if Oklahoma State fans are looking for something to worry about it is this: Stanford's running game.
The Pokes are bad against the run, and they haven't faced a team that is as physical and creative in the running game as Stanford. As much as folks talk about Luck's passing, it's his run checks that often ruin a defense's evening.
The Fiesta Bowl matchup looks like a great one, perhaps the best of the bowl season. But I'm excited to see Mr. Excitement
Robert Griffin III
in the Alamo Bowl against Washington. Of course, I'm not sure that the Huskies, their fans and embattled Huskies defensive coordinator
Nick Holt
are as thrilled. First, tell us about what Washington should be most worried about with Griffin. Then tell us about Baylor in general. Such as: Can the Bears stop anyone?
David Ubben
: Nope. Not really.
Oklahoma State's defense unfairly gets a bad rap. Baylor's bad rap is earned. This is the same team that won five consecutive games late in the season -- but became the first team ever to win four consecutive in a single season while giving up 30 points in each.
[+] Enlarge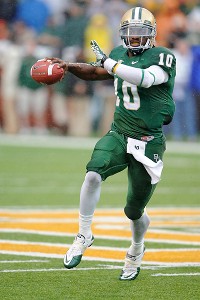 Jerome Miron/US PresswireBaylor's Robert Griffin III will try to make it three straight bowl victories by Heisman Trophy winners.
Which, if you ask me, says plenty about both the defense and the power of RG3. They've got a lot of athletes on the defense, but when four of your top five tacklers are defensive backs, well, you need a guy like RG3 to go 9-3.
The man is a nightmare. Top to bottom, he's the most accurate passer in a quarterback-driven league. Then, you add in his athleticism, which he doesn't even really need to be extremely productive. It sets him apart, though, and forces defenses to account for it, and it buys him time in the pocket. How many guys break a 20-plus yard run before hitting a receiver for a game-winning 39-yard score to beat a team like Oklahoma for the first time?
How do you think Washington will try to slow him down? What has to happen for them to have some success?
Ted Miller
: This game matches the 99th (Washington) and 109th (Baylor) scoring defenses. It has a 78-point over-under, the biggest of any bowl game. The offenses are going to score plenty, at least that's the conventional wisdom.
How does Washington stop RGIII? His name is
Chris Polk
. He's a running back. Baylor gives up 199 yards rushing per game. Polk right, left and up the middle is a good way to contain Griffin. The Huskies' best hope is to reduce Griffin's touches with ball control. It also needs to convert touchdowns, not field goals, in the redzone. The Huskies are pretty good at that, scoring 36 TDs in 45 visits to the red zone.
The Huskies also have a pretty good quarterback in
Keith Price
, who set a school record with 29 touchdown passes this year. He and a solid crew of receivers have prevented teams from ganging up against Polk. But Polk is the guy who burns the clock.
Should be a fun game. As should, by the way, the Holiday Bowl. David, Cal fans are
still
mad at Texas coach Mack Brown and his politicking the Longhorns into the Rose Bowl in 2004. Every team wants to win its bowl game, but the Old Blues really want to beat Brown.
Of course, neither team is what it was in 2004. Cal has an excuse. It's not a college football superpower. Sure you've been asked this before, but give me the CliffsNotes version of why the Longhorns have fallen so hard since playing for the national title in 2009.
David Ubben
: Cal fans are still mad? Really? I'd suggest they get over themselves. What's anybody on that Cal team ever done anyway? It's not like the best player in the NFL missed out on a chance to play in the Rose Bowl. Now, if that were the case, we might have a problem. But honestly, I don't think Tim Tebow cares all that much about the Rose Bowl.
As for Texas' struggles?
The easy answer is quarterback play. Texas relied on Colt McCoy and Jordan Shipley more than anyone realized. When they were gone, Texas couldn't run the ball, and quarterback Garrett Gilbert never made it happen. Two seasons later, the Longhorns still don't have a quarterback.
The other big answer last season was turnover margin. Gilbert threw 17 interceptions and the Longhorns were minus-12 in turnovers, which ranked 115th nationally.
They were still only 90th this year, and without solid quarterback play in a Big 12 dominated by passers, they scored five, 13 and 17 points in three of their five losses. Texas keeps people from moving the ball and runs the ball better this year, but without a solid passing game and a defense that changes games, it's tough to rack up wins in the Big 12.
It's been awhile since Cal was in the mix for the BCS, even as USC has fallen. Oregon answered the call and rose, but what has prevented Cal from winning the Pac-10 and Super Pac-10 since the Trojans' swoon?
Ted Miller
: You mention quarterback play. Cal fans ... any thoughts? You mention Aaron Rodgers. Cal fans? Oh, well, that's not very nice during this festive time of the year.
Cal has become a solid defensive team, but it's lost its offensive mojo, and that can be traced to a drop in quarterback play since Rodgers departed. The latest Bears quarterback,
Zach Maynard
, started fairly well, stumbled, but then seemed to catch on late in the season. It's reasonable to believe the team that gets better quarterback play -- mistake-free quarterback play -- is going to win this game.
Nice to cover a conference where quarterback play matters, eh David?
Speaking of quarterback play and winning, let's wind it up. Our specific predictions aren't coming on these games until after Christmas. But we can handicap the Big 12-Pac-12 side of things. We have a three-game series this bowl seasons.
I say the Pac-12, underdogs in all three games, goes 1-2. What say you?
David Ubben
: And to think, before the season, all I heard was the Pac-12 had surpassed the Big 12 in quarterback play. Did somebody petition the NCAA for another year of eligibility for Jake Locker and/or clone
Matt Barkley
? You West Coast folk are geniuses; I figured you'd find a way. We can't all be Stanford alums ...
Clearing out all the tumbleweeds here in middle America, I'll go out on a limb for the Big 12 in this one. Every matchup is a good one, and I don't think Cal has seen a defense like Texas' and Washington hasn't seen an offense like Baylor's. People forget that, yeah, RG3 is outstanding, but the Bears also have the league's leading receiver and leading rusher.
Stanford-OSU is a toss-up, but I'll go with a perfect sweep for the Big 12. The Cowboys haven't played poorly on the big stage yet, so I'll give them the benefit of the doubt in this one, and they clean up for the Big 12 against what was almost its new conference this fall.
Oh, what could have been. Ubben and Miller on the same blog? Divided ultimately by a little thing we call the Rockies.
November, 18, 2011
11/18/11
8:55
AM CT
By
Jeff Caplan
| ESPNDallas.com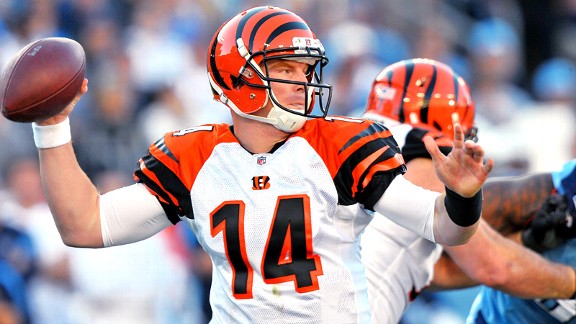 Jim Brown/US PresswireAndy Dalton's quiet leadership has helped turn things around in Cincinnati.
Andy Dalton
got married in July and reported to the
Cincinnati Bengals
in August when the NFL lockout ended. There is no sign of either honeymoon ending soon.
The understated former TCU quarterback who led the underdog Horned Frogs to consecutive BCS bowl games and a riveting Rose Bowl championship as a senior is applying his humble, hard-working approach to the Bengals. He is orchestrating one of the major surprise stories of the NFL season, quickly and remarkably restoring credibility to one of the league's more chaotic -- and downtrodden -- franchises.
In the Queen City, Dalton is dubbed the "Red Rifle" for his fiery red hair and an arm that isn't exactly a cannon. It's certainly been steady enough to lift the Bengals to a 6-3 start after winning just four games all of last season.
Remember, this is a franchise that has stumbled through a mindboggling number of arrests and suspensions; that regrettably joined
Terrell Owens
with
Chad Ochocinco
; whose franchise quarterback,
Carson Palmer
, became so disenchanted with the organization's chronic dysfunction that he walked away after last season vowing never to play another game in tiger stripes.
Could a more volatile situation exist across the NFL for a rookie quarterback with no option other than to start?
"I wasn't worried about anything that happened in the past. I was coming into a new situation where there was basically just open competition for the quarterback job," Dalton said in a phone interview this week. "I was just trying to be myself and try to do what I can to help this team. I think that's the attitude everyone's kind of taken here. We have a young team that's really hungry and wants to be really good. It's the practice we put in and the effort and time, and I think that's helped with our success."
Whether Dalton and the Bengals can keep this going and contend for an AFC playoff berth will unfold over the next seven weeks. They lost a tough, 24-17 decision for first place to North Division rival
Pittsburgh Steelers
. Dalton threw two touchdowns through three quarters, but was picked-off twice in Pittsburgh territory in a scoreless fourth quarter.
Sunday's divisional opponent is another difficult defensive draw and first matchup against the
Baltimore Ravens
, also 6-3. That Dalton's favorite target, rookie
A.J. Green
(41 catches, 635 yards and six touchdowns), left last week's game with an injury and might not play Sunday doesn't make the task easier.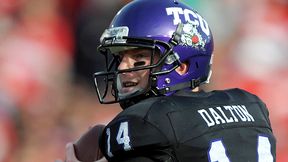 Kirby Lee/Image of Sport/US PresswireAndy Dalton's work ethic and humble demeanor convinced Bengals coach Marvin Lewis to keep coming back "You could tell that they were very high on what he could do and how he did it and how he handled himself," TCU coach Gary Patterson said.
"If you really want to see what it's like to be a quarterback, go play the Ravens and the Steelers with the way they play defense," said Gary Patterson, Dalton's TCU coach and one of his biggest promoters. "He's got his hands full, so let's see how he does. He's probably going 24 hours [a day] doing what he's doing."
That's how Dalton operated even before he became the Red Rifle. His study habits are legendary at TCU and a week rarely goes by when Patterson doesn't reference "Dalton's teams" as an example of discipline and determination that he doesn't always see from this season's younger bunch of Frogs.
Patterson tells stories of Dalton sitting in a darkened film room on the team's day off or of firing up his laptop to break down the road game he just completed before the bus driver can find his keys to whisk the team to the airport.
"My time is devoted to football and there's a lot that goes on, and it's not just while I'm here," Dalton said, speaking of the Bengals' practice facility. "I've got a laptop at home that I watch film on, and it's kind of fun because I get my wife watching it, too, and I try to teach her what's going on. It's definitely been a lot of fun and I'm definitely enjoying it."
Dalton's work habits, demeanor, steadiness and dedication convinced Bengals coach Marvin Lewis and new offensive coordinator Jay Gruden to keep coming back to the TCU campus to work him out. They'd open the playbook to the new West Coast offense they'd install when the lockout ended and let Dalton familiarize himself with it by running plays on TCU's practice field.
A group of TCU's talented senior receivers and defensive backs joined him and, each time, the Bengals walked away more impressed with his accuracy and understanding. The 6-2 Dalton is shorter than most NFL quarterbacks, and he certainly isn't the physical specimen that is fellow rookie
Cam Newton
, whose
Carolina Panthers
have matched last season's win total of two.
But the Bengals concentrated on the qualities that allowed Dalton to lead Katy High School to the state championship game and then rewrite TCU's record books as a four-year starter. They focused on a quarterback that didn't have his best day in the 2010 Fiesta Bowl loss, and then who dedicated his senior season to making amends. His teammates followed. The Frogs beat Wisconsin in the Rose Bowl to finish undefeated and No. 2 in the nation.
"I think their coaching staff took the right approach. They were the last team here before the draft. I mean they had five coaches here," Patterson said. "I'm standing out there with the Bengals head coach and their offensive coordinator and a couple of other assistant coaches and they're throwing the ball all over the place. And you can tell that they were very high on what he could do and how he did it and how he handled himself. So, it was not a surprise to me that the Bengals took him."
He has delivered as advertised: smart, accurate, decisive, even-keeled, competitive and even dangerous. Dalton has provided stability for a franchise in desperate need of a rudder at the game's most important position.
"I came in with an open mind and I came into a great situation getting drafted here," Dalton said. "I felt like the coaches trusted me and had confidence in me early on, so I was just trying to be myself."
Through nine games, no rookie quarterback since the 1970 merger has thrown more touchdowns than Dalton's 14.
Dan Marino
and Jim Plunkett both had 13. Dalton is on pace to break Peyton Manning's rookie record of 26 touchdown passes in 1998.
Dalton has completed 173-of-287 passes, a 60.3 completion rate with just nine interceptions. His accuracy and ability to manage the natural ebb and flow of a 60-minute game helped the Bengals win five consecutive games for the first time since 1988. He says each time he steps on the field he gains a greater understanding of what the NFL's more complicated defensive schemes are attempting to do and how they try to disguise what they do.
"The style of our offense [at TCU] and the things that we were doing, the way we called plays and the way I was able to make checks at the line of scrimmage are very similar to what we're doing here," Dalton said. "The way I was coached and all that stuff really helped me out to get to this point. And, when I came in I feel like the coaches had a lot of confidence in me."
Quickly and quite remarkably, Dalton picked up in the NFL where he left off at TCU.
"It was just going out and being myself, doing what I can to learn everything, to come in and show everybody that they can trust me," Dalton said. "I think I did a good job of that."
August, 29, 2011
8/29/11
3:32
PM CT
Nobody likes sounding relentlessly redundant, but if the story doesn't change the story doesn't change.
For all that Oregon has accomplished in two years under Chip Kelly, it has flopped against highly rated nonconference foes who have had extra time to prepare for the Ducks high-tempo, spread-option attack.
In 2009, the Ducks opened at Boise State. While that game is most remembered for LaGarrette Blount's post-game meltdown in Kelly's debut, Boise State fans will be glad to remind you the Broncos held the Ducks to 31 yards rushing in a 19-8 victory.

The Ducks righted themselves dramatically in 2009 and earned a berth opposite Ohio State in the Rose Bowl. But the Buckeyes held the Ducks to 260 yards in a 26-17 victory

And, finally, in the national title game against Auburn, the Ducks only scored 19 points. They gained 449 yards but only 75 on the ground.
[+] Enlarge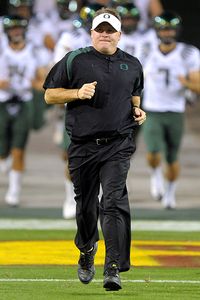 Kirby Lee/Image of Sport/US PresswireOregon coach Chip Kelly and the Ducks would score a big win for the Pac-12 with a defeat of LSU on Saturday.
Those three games, against which there is little counter argument, other than the Ducks Pac-10 success, have inspired this sort of analysis:
Oregon needs to get more physical
.
If you have ever played football, you surely understand that when a football player has his physicality doubted, well, that's pretty galling.
Before all you Ducks get bent over this, keep in mind that Kelly has been a stand-up guy about this very point. In all three instances, he admitted the Ducks got beat at the point of attack. Further, during preseason camp, I asked running back
LaMichael James
about what went wrong against Auburn.
"Their defensive line was overpowering our offensive line," he said. "That was just the way it was."
How do you think this goes over with a Ducks offensive lineman? Department of "Truth Hurts."
Here's the good news: Oregon can end such talk on Saturday. All it has to do is take it to No. 4 LSU, a program as physically talented in terms of future NFL potential as any in the nation.
That's the micro-economic level of the super-cool-awesomeness of this marquee season-0pener in Cowboys Stadium.
Any one else curious to see what Kelly's got up his sleeve to counter LSU's extra prep time to school itself on the Ducks misdirection?
The macro-economic level is this: Pac-12 versus SEC. One game for a regular-season's worth of trash talking.
You might have heard the SEC has experienced some football success of late. On occasion, SEC fans will take a moment to remind you of it. There is a rumor, in fact, that five consecutive seasons have ended with a happy ending in some SEC outpost, the latest against the Pac-12's newest top-dog.
That would be Oregon.
To be honest, last January, I though Oregon was going to pound Auburn. I didn't think a two-player team -- no matter how good those two players were -- could beat the Kelly and the Ducks. The last time I had such a strong hunch about a game and was so completely wrong was when Washington pushed Miami around in 2000. (This is not to say I've had a long run of correct strong hunches about games before January. They just don't come by very often before marquee matchups).
Even if you throw out the stakes specific to Oregon and the Pac-12, this game has huge meaning nationally. The winner could -- should, in my mind -- rise to No. 1 in both major polls. Voters should reward the winner for showing the courage to play this game, which is great for college football at a time college football needs something great to distract fans from a stunning onslaught of scandals. A couple of which, rumor has it, might involve these two teams, territory we're choosing not to explore at this moment.
So if Oregon wins, it could rise to No. 1. If LSU has a successful season in the rugged SEC West, that win will grow in value. But even if LSU falters, the Ducks will be in position to play again for the national title if they keep winning.
Further, the odds aren't terrible that Oregon could arrive at Stanford on Nov. 12 and we find ourselves eyeballing two unbeaten teams. It could be a One-Two matchup even. At the worst, if the Ducks and Cardinal face each other without a blemish on either slate, it will be the biggest Pac-12 game in years (last year's game also matched unbeaten teams but was much earlier -- Oct. 2 -- in the season). If Stanford prevailed, it also could crow about beating the team that beat LSU and likely would play for the national title if it finished 12-0.
If Oregon loses to LSU, the Ducks could still have a great season. They could rally and perhaps get back into the national title hunt. And there's always the Rose Bowl, hardly a terrible destination. One nonconference game can't completely make or break a season.
But an Oregon victory would give the program a level of early-season gravitas it has never had. It would silence any remaining doubters, both of the Ducks and the Pac-12.
So, yes, you have heard correctly: This game is very, very big.
July, 26, 2011
7/26/11
2:30
PM CT
By
Master Tesfatsion
| ESPNDallas.com
DALLAS -- With the NFL's new rookie wage scale, part of the recently agreed upon collective bargaining agreement, expected to drastically cut into rookie salaries, will it make college players think twice about leaving school early to enter the NFL draft?

Oklahoma coach Bob Stoops doesn't think so.

"I don't know that it will in that it's hard to predict," Stoops said.

Stoops has coached a number of first-round draft picks at OU. He had three players cash in as top-five picks in the 2010 draft. Quarterback Sam Bradford was the No. 1 overall pick and signed a six-year, $78 million contract with the St. Louis Rams. Before Bradford ever took a snap, his contract guaranteed him $50 million -- the highest in NFL history.

Tampa Bay selected defensive tackle Gerald McCoy third and signed him to a five-year, $63 million deal, while and offensive tackle Trent Williams went fourth to the Washington Redskins, coming to terms on a six-year deal worth $60 million.

Those days are over.

"Seems like it's only going to affect maybe the first half or so of the first round, right?" Stoops said. "And so we'll see. I don't know that it will a whole lot because, again, those are usually only a few guys. And, I've never had a problem of a guy wanting to go out. If he's going to be in the top half of the first round, hey, have at it."

Stoops recalled when defensive back Roy Williams considered entering the NFL draft following his junior year when Williams won the Jim Thorpe and Bronko Nagurski awards -- given to college football's best defensive back and defensive player, respectively.

"I told Roy, I said, 'I felt you're too good for what we're doing,'" Stoops said. "He said he was bored. I said, 'This isn't challenging enough for you.' And, I thought Roy would be a top-10 pick. I said, 'Hey you ought to go.' So anyway, I don't think it will change what I'm talking about playing for your value. I don't think it will change that."
February, 25, 2011
2/25/11
2:28
PM CT
INDIANAPOLIS -- One of the big surprises coming from the early portions of the combine is that Alabama quarterback and Southlake native
Greg McElroy
said he won't throw Sunday.
McElroy is wearing a soft cast over his right hand to protect a broken index finger suffered in the fourth quarter of the Senior Bowl last month. McElroy got hurt when his hand hit the back of a helmet after throwing a pass.
He is scheduled to get the cast off his hand Monday but doesn't plan throwing during his Pro Day on March 9. There is a tentative date scheduled for him to throw on March 24.
"After about 17 physicals today, I realize I have a fractured second metacarpal. If you believe it, that's what I knew two weeks ago," McElroy said. "Hopefully the new bone is starting to come in. It's a little tender right now. Just been a lot of use on it the last couple of days. I'm [still] going to run this week and do everything that I possibly can, and that's the competitor in me. I want to be out there. It's driving me nuts to watch these guys get better, and I'm kind of sitting here on the sidelines."
After McElroy hit his finger, he had to leave the game but doctors didn't say it was broken. But over time, things didn't feel right. McElroy has problems gripping a football and, after some examinations at the combine, it was determined he had a broken index finger.
It hasn't stopped NFL teams from talking to him. At least 12 teams have spoken to McElroy, including the
Green Bay Packers
.
The Cowboys have not talked to him. McElroy, whose father, Greg McElroy, a senior vice president of sales and marketing for the Cowboys, doesn't expect them too.
"I think they've seen enough of me," joked Greg McElroy.
July, 27, 2010
7/27/10
12:14
PM CT
By
Jeff Caplan
| ESPNDallas.com
IRVING, Texas -- Under former Texas Tech coach Mike Leach, winning Big 12 championships wasn't talked about and any mention of the NFL was forbidden.

Those rules are long gone under new coach Tommy Tuberville.

"After the first meeting I was sold. The first thing he told us was he was trying to win a Big 12 championship and that was something that was never brought up before then. Championships were not talked about in the Leach era," senior quarterback Steven Sheffield said. "It was win one game a week, it was play one play, play the next play, which is a good thing, you want to focus on that. If you win one game a week, you'll win the national championship. But, I think us being young guys and the society we live in today, I don't know, sometimes it's good to have your goal out there and be like, 'Hey, we're trying to win the Big 12 and let's remember that.' And in order to do that, we've got to win one game a week."

And there was the NFL taboo under Leach.

"We didn't talk about and championships and the NFL was not to be talked about. You couldn't talk about the NFL," Sheffield said. "There was no agent talk, nothing like that. Here we are, we thought it was illegal to talk to agents. I don't know if you've ever seen, but there was a sign in our facility that said there was a $500 reward if anybody saw an agent. If they told coach Leach, he'd give them $500 if they turned in an agent just for being in the facility. Then sure enough, you find out you're allowed to talk to these guys -- I'm not saying I talk to these guys -- I'm just saying it's not against the rules.

"And sure enough, here we are in our strength and conditioning program and we're doing a bunch of NFL-based drills for the Combine."

Sheffield said the new coaching staff, including offensive coordinator Neal Brown, are more detail-oriented in their drills.

"Every single step, if our drop is not straight back then it's wrong, it's marked down wrong, it's on our sheets," Sheffield said. "I think it's good to see. We get to see more of our stats that we do everyday in practice and what we really need to focus on. You know, NFL scouts look at that stuff, they look at the first step being straight back, not false-stepping, stuff like that. That's just stuff we were never coached up on, which wasn't a bad thing because we were successful. But, just a different coaching style."
April, 25, 2010
4/25/10
12:17
PM CT
By
Jeff Caplan
| ESPNDallas.com
TCU Horned Frogs
long snapper Clint Gresham and cornerback Rafael Priest are free-agent additions to the Super Bowl champion New Orleans Saints, while
offensive tackle Nic Richmond is headed to the San Diego Chargers.
When combined with draft picks Jerry Hughes (first round, Indianapolis Colts), Daryl Washington (second round, Arizona Cardinals) and Marshall Newhouse (fifth round, Green Bay Packers), TCU will have six players from its 2009 team in NFL camps this summer.
In his nine seasons as TCU's head coach, Gary Patterson has had 47 players sign NFL contracts.
December, 27, 2009
12/27/09
2:34
PM CT
By
Jeff Caplan
| ESPNDallas.com
Mississippi
quarterback
Jevan Snead
, the former Stephenville High School star who initially went to Texas, but transferred to Ole Miss after
Colt McCoy
won the starting job, could be leaning toward leaving the Rebels for the NFL despite an up-and-down season that began with high expectations.
Snead will get a chance to showcase his talents at the Jan. 2 Cotton Bowl against
Oklahoma State
at Cowboys Stadium.
Next year the Rebels will lose offensive weapons in running back
Dexter McCluster
and receiver
Shay Hodge
and the offensive line will be in flux, so if Snead stays for his senior season it could mean a rebuilding year for the Rebels.
"I figure after this game I'll sit down with my family and close friends and kind of make a decision, look where I am, at least evaluate it and make a decision then," Snead said.
Snead's passing totals all declined in 2009, except interceptions, which rose from 13 in 2008 to 17. This season, Snead completed 178-of328 passes for 2,464 yards and 20 touchdowns. In 2008, he completed 184-of-327 for 2,762 yards and 26 touchdowns. At 6-foot-3, 220 pounds, pro scouts love his size and arm strength. Decision-making is one knock against him.
"I talked to him in the summer, that's really the only time I've really talked to him about that and I basically told him, you will know when it's time," Mississippi coach Houston Nutt said. "What I've told him here lately is focus. When you're focused, when you're concentrating on the game plan and you're doing it the right way, we've got a chance to win. That's basically our conversation. We'll talk after the game. The only thing that's important to us right now is this ballgame."
November, 16, 2009
11/16/09
2:23
PM CT
Texas Tech coach Mike Leach was asked about Patriots coach Bill Belichick's decision to go for it on fourth-and-2 from the New England 28-yard line. The Patriots were six points ahead with just over two minutes left in the game. The Patriots ended up losing by one to Indianapolis.

"I didn't see it," Leach said. "I don't know the situation. It probably was a good call. The people closest to the situation made the call. ... If Belichick and his staff cared what I thought or anybody else thought about it, we would have been asked earlier in the week or asked to their meetings. Our opinion would have been considered and evaluated.

"They didn't care what we thought. They didn't ask us as they shouldn't care. I would doubt that they regret going for it. They may have wished they called a different play or executed differently. I doubt they regret doing it."