Dallas Colleges:

Nigel Bethel II
July, 16, 2014
Jul 16
7:30
PM CT
Nigel Bethel II
has been reinstated by Texas Tech, less than three weeks after he was dismissed for punching Red Raiders women's basketball player Amber Battle.
The freshman cornerback from Miami will return to Lubbock, Texas, and rejoin the program but will be suspended for Texas Tech's first three games, the school announced Wednesday.
"This is an unfortunate situation with a unique set of circumstances and there are no winners," Texas Tech athletic director Kirby Hocutt said in a statement. "Every decision related to this case has been the right one at that particular time based upon our principles, student-athlete code of conduct and team rules.
"As I continued to work with Coach [Kliff] Kingsbury and Coach [Candi] Whitaker, we looked at the totality of the situation and have arrived at this decision. Two talented young people made a mistake, have shown remorse and learned some very valuable life lessons."
Bethel's suspension for 25 percent of the season is equal to the one-month suspension Battle previously received for all TTU games in the month of November.
"I'm really excited," Bethel told ESPN.com about his reinstatement. "I feel like Texas Tech is my only home."
You can read the rest of this story
here
.
May, 9, 2014
May 9
1:30
PM CT
One of the fastest athletes in Florida is ready to bring his talents to the state of Texas.
Texas Tech signee
Nigel Bethel II
led Booker T. Washington to a state track championship last week, winning gold medals in the 100 (10.73 seconds) and 200 (21.22) and another for the 400-meter relay. Next up, he'll graduate and arrive in Lubbock at the start of June with the hopes of earning immediate playing time.
Our summer series of weekly Q&As with the Big 12's best incoming freshmen continues today with Bethel, the No. 226 recruit in the 2014 ESPN 300.
How did your family react when you decided to play your college ball in Texas?
Bethel:
They were actually happy with the decision. At first they thought I was actually scared to go away for college. I took my visits and I just fell in love with the best fit for me.
[+] Enlarge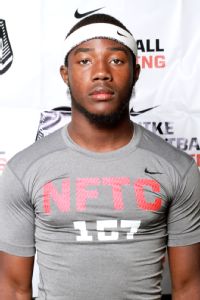 Tom Hauck for Student SportsCB Nigel Bethel II is ready to "to bring some Miami swag" to Texas Tech.
How many times did you get to visit Lubbock?
Bethel:
One time. When I actually went over and visited, I wasn't really coming out there to give them a legitimate chance. I was just coming to use my visit. So when I went up there, I talked with the coaches and saw the cool environment and things like that, I wasn't in a rush to get home. It felt good even though it wasn't a big week, they played Texas State. I was like dang, when the environment gets big and they play bigger teams, I'm going to like it even more.
As a kid from Miami, what was your first impression when you arrived?
Bethel:
When I got off the plane it was actually cold, it was September. They toured me around the campus, it was a big campus. And everybody loves football there. I had on my state championship ring and everybody walked up to me saying, 'Whoa, where did you get that? Oh you play for Booker T.? Oh I know, you guys are the No. 1 team in the nation.' That felt good.
Think folks where you're from know much about the Red Raiders?
Bethel:
I think people down here know about
Michael Crabtree
, but I've always known Texas Tech as a team that upsets big opponents. West Virginia, Texas, they upset a lot of teams. That's what I always liked. I never really imagined myself playing for them, but I'm glad for the opportunity. I guess people in Florida think it's a small school or something.
Growing up, what did you consider your dream school?
Bethel:
I actually thought I was going to end up at Florida State because that was my dream school, and then they offered me my sophomore year. That was my first scholarship offer, so I always thought I was going there. I thought I'd let the rest of the offers pile up and I'd go to Florida State.
But then that didn't work out. They got a brand new coaching staff, Mark Stoops and James Coley had offered but they went to Kentucky and Miami, they split. The new DB coach came in and he said he liked me, but I'm not tall enough. The rest of the guys they're recruiting were 5-11 or 6 foot. He said, "I thought you'd be bigger in person."
So you ended up committing to Miami last summer. Why?
Bethel:
With Miami, me and my coaches came to an agreement that was the best opportunity for me. But I was actually still thinking about Texas Tech, and my coach said, "They have a young coach, wait and see how the season plays out."
Was it Tech's 7-0 start last season that started to change your mind?
Bethel:
That caught my attention. I was already committed to Miami, but I wanted to see how everything plays out. They told me I was going to be the only cornerback in the class, and I was at first, and then after a while I saw the secondary and defense really wasn't producing. I was like, man, I feel like I can go to a better conference like the Big 12 and play better competition each week. They're going to throw the ball each and every week and I can showcase my talents.
Does that excite you, to play on an island in a league full of spread offenses?
Bethel:
It means a lot to me. I'm a very competitive person, no matter what. If
LeBron James
called me out to play one-on-one, I'd come right to him and be like, "OK, you've got to beat me to say you better."
You'll be just the second Florida native on this Texas Tech team. What does that mean to you?
Bethel:
I've got a chance to bring some Miami swag. I think I'm the first person from Miami to actually go there. The closest dude they'd had, I think, was from like Fort Lauderdale. So I'm the first from Miami to go play at Texas Tech.
Tell me about your relationship with Kliff Kingsbury.
Bethel:
Coach Kliff is a cool dude. He's a young guy and he has the program up and coming. He has a nice personality and I see him and Coach (Kevin) Curtis as big brothers. They talk to me like a man, treat me like a man. They don't have to sugar coat anything with me, they can always be real with me at all times. That's what they've done from day one.
Finally, what are your expectations for your freshman season?
Bethel:
I'm coming up there to work hard like I usually do. That's how I earned my position in ninth grade as a freshman. I never played any sports until I got to high school. I just came with a great work ethic and it paid off. Great work ethic and being coachable, that's the No. 1 thing.
May, 8, 2014
May 8
3:00
PM CT
The NFL draft gets underway in a matter of hours so we decided to have a little fun on the Big 12 blog today.
The premise: What could things be like if college football, and the Big 12 in particular, acquired players via a draft instead of recruiting?
Therefore, this afternoon we'll be posting a three-round Big 12 draft. Any recruit who signed with a Big 12 school is eligible to be drafted and the draft order reflects the 2013 final standings. Jake Trotter will draft for Iowa State, Texas Tech and Oklahoma State. Max Olson will draft for Baylor, TCU and Texas. Brandon Chatmon will draft for Kansas, West Virginia, Oklahoma and Kansas State.
Without further ado, let's kick the draft off with Round 1:

1. Kansas: QB Jerrod Heard
Signed with:
Texas
Brandon Chatmon:
The Jayhawks need a playmaker at the quarterback position, and Heard is the best quarterback who will enter the Big 12 this season, in my opinion. He's a dual-threat quarterback and the perfect guy to rebuild the Jayhawks offense around.

2. Iowa State: S Steven Parker II
Signed with:
Oklahoma
Jake Trotter:
With
Jacques Washington
and
Deon Broomfield
both gone off last season's team, the Cyclones need a new anchor at the back end of their defense they can rebuild around. Cornerback
Nigel Tribune
(who started in 2013 as a freshman) and Parker would give Iowa State one of the best young defensive back combinations in the league.

3. West Virginia: QB William Crest
Signed with:
West Virginia
Chatmon:
Ironically, I think Crest is the ideal fit for West Virginia and coach Dana Holgorsen. Crest could have the highest upside of any Big 12 quarterback signee, and his athleticism could take Holgorsen's offense to another level. Oklahoma signee
Justice Hansen
was strongly considered, but Crest gets the nod due to his upside.

4. TCU: ATH Davion Hall
Signed with:
Baylor
Max Olson:
The Horned Frogs get the second-highest rated Big 12 signee and a player who has the potential to not only contribute immediately, but he also addresses a need no matter what position he plays. At TCU, Hall would get a chance to become the playmaker the Frogs' new offense needs if
Brandon Carter
can't play, and he'd even be able to help a secondary missing
Jason Verrett
from the safety spot. Considering Gary Patterson's reputation for maximizing the potential of versatile athletes, it's a good fit.

5. Texas Tech: RB Tyreek Hill
Signed with:
Oklahoma State
Trotter:
With
Kenny Williams
now plying his craft at linebacker, the Red Raiders need help at running back. With his hands and unmatched speed, Hill would be the perfect fit in the backfield alongside
DeAndre Washington
. Because of his ability to slide over to the slot, Tech could line up in five wide sets, too, without having to substitute with Hill on the field. Hill would also alleviate Tech's problems returning punts, and with
Jakeem Grant
and
Reginald Davis
manning kicks, the Red Raiders would be a constant threat for a big play on special teams.

6. Kansas State: RB Joe Mixon
Signed with:
Oklahoma
Chatmon:
The Wildcats need a running back to ensure balance in an offense that features quarterback
Jake Waters
and receiver
Tyler Lockett
. Mixon would bring balance with his running ability and versatility with his receiving skills, thus allowing him to be a three-down threat for the Wildcats offense.

7. Texas: QB Mason Rudolph
Signed with:
Oklahoma State
Olson:
It's tempting to go with the Longhorns' top-rated signee, DE
Derick Roberson
, at this spot. But with Heard already off the board, the safe move here is probably Rudolph. The 6-foot-4 pocket passer might be a really good fit for what Shawn Watson wants in his future QBs, and Rudolph did receive an offer from Louisville during his recruiting process. Charlie Strong is a defensive-minded coach, no doubt, but hard to think he'd pass up a chance to address Texas' obvious issues at quarterback with this very talented one.

8. Oklahoma State: WR K.D. Cannon
Signed with:
Baylor
Trotter:
Cannon doesn't fill a position of need for the Cowboys, but as the top-rated Big 12 signee of this class, he's too talented of a player to pass up. The Oklahoma State offense has a strong track of producing first-round wideouts (Rashaun Woods, Dez Bryant, Justin Blackmon). Cannon would have the skill set to become the next star.

9. Oklahoma: CB Nigel Bethel II
Signed with:
Texas Tech
Chatmon:
Speed. Speed. And more speed. Bethel would bring much-needed speed to the Sooners secondary that needs someone to fill the void left by two-time All-Big 12 cornerback
Aaron Colvin
. Bethel recently won a few Florida state titles in track and would step right into the competition for playing time in the secondary.

10. Baylor: ATH Michiah Quick
Signed with:
Oklahoma
Olson:
Tough call with this pick. You can talk yourself into a few other touted wideouts. You can go in several different directions if you want to address needs. But we'll settle for speed and upside, two traits the Bears obviously covet. ESPN scouts loved Quick for his versatility as a WR and CB. They called him "an explosive jet of a weapon." Sounds like the kind of kid Baylor would have some fun with, right?
May, 7, 2014
May 7
3:00
PM CT
With spring ball done, we've been
re-examining and re-ranking the positional situations of every Big 12 team
. Wednesday, we finish up with defensive backs. Once again, these outlooks could look different in August. But this is how we see them post-spring:

1. TCU (pre-spring ranking: 1):
Juco safety
Kenny Iloka
was one of the storylines of the spring in Fort Worth, augmenting an already loaded secondary. In TCU's spring game, Iloka scored a touchdown off a fumble return and picked off a pass, underscoring pretty much how he performed all spring. Iloka could probably start for the majority of teams in the Big 12. At TCU, he's a backup. Coach Gary Patterson seemingly praised
Ranthony Texada
more than anyone else on his roster this spring, and the redshirt freshman cornerback looks poised to step into the starting role vacated by All-American
Jason Verrett
. At 5-foot-9, Texada isn't big. Then again, neither was Verrett. Safeties
Sam Carter
and
Chris Hackett
and cornerback
Kevin White
could play for anyone in the conference. In other words, this TCU secondary is stacked.

2. Texas (2):
Texas is one of the few teams in the Big 12 without really any position battle in its secondary coming out of the spring. Senior safeties
Mykkele Thompson
and
Josh Turner
have been up and down throughout their careers, but they really buttoned up their play in the spring. Thompson delivered a pick-six in the Orange-White game. Turner had the hit of the day and intercepted a pass. At cornerback,
Quandre Diggs
isn't an All-American, but he's developed into a solid veteran leader.
Duke Thomas
can really run at the other cornerback spot. This is a sound group.

3. Oklahoma (3):
The Sooners return two proven players in cornerback
Zack Sanchez
and nickel back
Julian Wilson
. Sanchez was erratic at times last season, but he displayed mental toughness and usually came back with big plays of his own after getting burned. Wilson will be a three-year starter. Safety
Quentin Hayes
had a decent junior season, too. After that, things get murky, and that's not necessarily a negative.
Dakota Austin
, who was an unheralded two-star signee last year, is probably the favorite coming out of the spring to start at cornerback opposite Sanchez and over more heralded classmate
Stanvon Taylor
. Sophomores
Ahmad Thomas
and
Hatari Byrd
are both talented young safeties, but they have yet to prove they're every-down players.
Steven Parker II
will be the player to watch here. Insiders in Norman believe the incoming true freshman has the talent and the temperament to win a starting job by the opener the way
Tony Jefferson
did in 2010. If he does, that will allow coordinator Mike Stoops to utilize Byrd and Thomas in certain sub-packages where the scheme will be more simplified.

4. Kansas State (4):
K-State already boasts one of the best nickel backs in the league in
Randall Evans
and an up-and-coming safety in
Dante Barnett
.
The Wildcats had a productive spring elsewhere in their secondary, as
Morgan Burns
stepped up to essentially nail down a starting job at corner. Coveted juco transfer
Danzel McDaniel
progressed after arriving on campus and exited spring ball on the cusp of earning the other starting cornerback gig.
Dylan Schellenberg
, who started the two games
Ty Zimmerman
missed last season, will go into the fall as the favorite to start at safety alongside Barnett.

5. West Virginia (5):
The Mountaineers might have the best underclassman cornerback in the league in sophomore
Daryl Worley
, who locked up
Mario Alford
in West Virginia's spring game. Worley was fabulous all spring, and he brings a maturity and attitude that defies his age. Like Worley,
Karl Joseph
started as a true freshman, and he could be on the verge of turning into one of the best safeties in the Big 12 as a junior. It will be interesting to see if incoming blue-chip freshman
Dravon Henry
can break into the rotation at cornerback, which would only make this secondary better.

6. Kansas (6):
Senior cornerback
Dexter McDonald
put in the work during the offseason, and it showed in Kansas' spring game. He's become a technically-sound player. Fellow cornerback
Kevin Short
, a juco transfer forced by the NCAA to sit out last season, can fly. Safety
Isaiah Johnson
, who became the Big 12 Defensive Newcomer of the Year after picking off five passes last season, had another pick in the spring game. With four starters back from last fall, plus the addition of Short, Kansas' secondary will be the team's strength next season.

7. Oklahoma State (7):
The emergence of
Ashton Lampkin
was a positive development for the Cowboys. Lampkin had a pick-six in the "Orange Blitz" scrimmage, and after two seasons as a key backup, looks ready to take over as a starting cornerback opposite All-Big 12 hopeful
Kevin Peterson
. The Cowboys are completely inexperienced at safety, with second-year players
Jordan Sterns
,
Deric Robertson
,
Jerel Morrow
and
Tre Flowers
basically comprising the position. Only time will determine how effective the Cowboys can be at the back end.

8. Texas Tech (8):
The Red Raiders have to feel good about their safeties coming out of the spring.
Keenon Ward
was the defensive MVP and brought the hammer all spring.
J.J. Gaines
will soon be completely back from a season-ending shoulder injury. He played extremely well through five games last season.
Justis Nelson
is oozing confidence after earning a starting job as a true freshman last fall. The biggest question is at the other cornerback spot. Sophomore
La'Darius Newbold
is currently the starter, but speedy true freshman
Nigel Bethel II
could make noise once he arrives this summer.

9. Baylor (9):
The rebuild of a secondary that graduated four starters remains a work in progress. Sophomore
Orion Stewart
had the best spring of the young players and looks primed to take over the deep safety role held by All-American
Ahmad Dixon
. Sophomore cornerbacks
Terrence Singleton
and
Xavien Howard
also won starting jobs, but they'll have to fend off juco transfer
Chris Sanders
in the preseason. Walk-on senior
Collin Brence
was the surprise of the spring and is listed as the starter at nickelback. This a group, though, that still has more questions to answer.

10: Iowa State (10):
Nigel Tribune
, who was the only true freshman to play at Iowa State in the past two seasons, is one of the best young cornerbacks in the league and a cornerstone defender for the Cyclones. The rest of the secondary is a big fat unknown. Juco transfer
Devron Moore
, whom Iowa State beat TCU, Texas Tech and West Virginia for, left school in the middle of spring ball with homesickness. He is dubious to return. That leaves juco transfer
Qujuan Floyd
, redshirt freshman
Kamari Cotton-Moya
and
T.J. Mutcherson
, who suffered an MCL injury in the spring game (he should be back in June), as Iowa State's only remaining options at safety.
May, 1, 2014
May 1
7:00
AM CT
Three things we learned in the spring
1. Bryce Petty's reign as the Big 12's best quarterback could be in jeopardy.
Texas Tech quarterback
Davis Webb
picked up this spring right where he left off after earning MVP honors at the National University Holiday Bowl. The sophomore passed for 354 yards and four touchdowns during the Red Raiders' spring game and looks ready to take his game to another level in his second season in Lubbock.

2. The Red Raiders' defense needs help.
Replacing
Kerry Hyder
along the defensive line won't be easy as Texas Tech needs junior college signees like
Rika Levi
to provide depth and competition up front while the secondary is young and inexperienced. The return of defensive coordinator Matt Wallerstedt means Texas Tech will have stability and consistency in its defensive coaching staff the first time in years, which should help, but Texas Tech's defense will need to grow up fast if Red Raiders hope to insert themselves into the Big 12 title race.
3. Is there anything Kenny Williams cannot do?
After leading the team in rushing and starring on special teams last season, the senior switched from running back to linebacker and found himself atop the depth chart at the end of spring. Second-year coach Kliff Kingsbury didn't indicate that Williams time on offense is over so Texas Tech could have one of the nation's top three-way playmakers at its disposal this fall.
Three questions for the fall
1. What happens if Webb goes down?
Disaster. It's telling that Texas Tech released a post-spring depth chart with Webb as a lone quarterback on the two-deep. If the sophomore is forced to miss time the Red Raiders' hope of a dream season will take a major hit.
2. Who fills the playmaking void left by Jace Amaro and Eric Ward?
Receiver
Jakeem Grant
is the first in line to fill the playmaking void left by the duo that combined for 2,299 receiving yards and 15 touchdowns in 2013. But Grant was a key piece in the offense last season, so someone else needs to show they're ready to produce in Kingsbury's offense. Keep an eye on
D.J. Polite-Bray
,
Devin Lauderdale
and
Reginald Davis
, a trio of sophomore receivers who could be poised to explode in Texas Tech's passing attack.
3. Which defensive newcomers will make an immediate impact?
ESPN 300 cornerback
Nigel Bethel II
and linebacker
Dakota Allen
are a pair of high school signees with the talent to help immediately while junior college defensive line signees Levi,
Keland McElrath
and
Brandon Thorpe
will get plenty of opportunities. The answer to this question will have the biggest impact on Texas Tech's ultimate destiny this fall, particularly if Webb remains healthy, because it will be critical for defensive newcomers to be ready to contribute right away.
One way-too-early prediction
The Red Raiders will have a major impact on the Big 12 championship race. Lack of overall depth will keep Texas Tech from putting itself in the title hunt, but the Red Raiders will record an upset in 2014 that alters the title race and changes the destination of the 2014 Big 12 championship rings during the home stretch of the conference schedule in November.
April, 14, 2014
Apr 14
3:00
PM CT
LUBBOCK, Texas -- With a school-record crowd of 19,500 in attendance, Texas Tech finished its spring schedule with a two-hour spring game at Jones AT&T Stadium. Here's what we learned from the game:
Best offensive performance:
A bulked-up
Davis Webb
put on a show, completing 25 of 37 passes for 354 yards and four touchdowns. Most of his reps came in the first half, and he showed off some impressive touch on his TD throws -- his 23-yard score to
Bradley Marquez
under pressure was a gem. The sophomore QB even added a long touchdown run that was called back. And for what it's worth, Webb was even better in Tech's previous open scrimmages this spring. He's just no fun to defend, and his coaches will vouch for that. "He's driving me to drink Pepto-Bismol," defensive coordinator Matt Wallerstedt joked after the game.
[+] Enlarge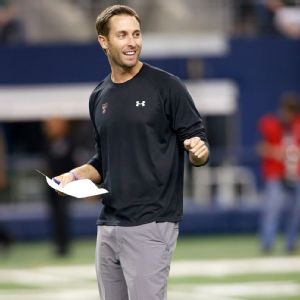 Tim Heitman/USA TODAY SportsKliff Kingsbury said his team will start the season with a lot more confidence than last year.
Best defensive performance:
Got to give credit to
Josh Keys
for being opportunistic. The junior college transfer safety scooped up a fumble that rolled right to him at the end of the first quarter and scored from 22 yards out. That takeaway, a strip after a screen pass, had to be encouraging for a defense that ranked third-worst in FBS with a turnover margin of minus-14 last season. Redshirt freshman linebacker
Collin Bowen
also snagged an interception.
Best debut:
This wasn't a true debut, since he did play some special teams last season, but receiver
Brent Mitcham
made a nice impression. The senior spent three years on the scout team and had a minimal role in 2013 but stepped up on Saturday with a game-high six receptions for 80 yards. The best of the bunch was a catch over the middle that Mitcham turned and took down the sideline for a 41-yard gain.
Notable play:
On a play-action pass in the first quarter, Webb rolled right, planted and fired a pass toward the opposite hash to a wide-open
Jakeem Grant
. The speedster made a defender miss along the sideline and cut across the field for a 75-yard touchdown. Grant finished with 105 yards on five receptions.
Developing storyline:
Help is still on the way for this Texas Tech defense. Much will be expected of ESPN 300 cornerback signee
Nigel Bethel II
and junior college transfers
Rika Levi
,
Brandon Thorpe
and
Marcus Smith
when they arrive this summer. You should see a few more freshmen (maybe safety
Payton Hendrix
and linebacker
Dakota Allen
) fight their way into the two-deep. "As all of our guys get here in June and we have a monster summer, this thing will look a little different than even what it looked like today," Wallerstedt said.
Biggest question answered:
Can Texas Tech's receivers make up for the loss of
Eric Ward
and
Jace Amaro
? From a statistical standpoint, they will go down as two of the all-time greats among Red Raider pass-catchers, but Webb is confident this group can be even better. In addition to Grant and Marquez, he singled out
Reginald Davis
,
D.J. Polite-Bray,
Devin Lauderdale
and
Derreck Edwards
as playmakers he's excited to utilize this fall. "This is the fastest receiving group I've known since I've ever watched Texas Tech football," Webb said.
Quotable:
"We have a lot more confidence than last year. Last year, we just tried to install and the guys are trying to figure us out and figure out our expectations. They know what they can be after that bowl game and carry that confidence over to being a top-15 team. They know what they can be if they put it all together, so that's exciting." -- Texas Tech coach Kliff Kingsbury
April, 3, 2014
Apr 3
9:00
AM CT
Last year, just a pair of true freshmen received votes for Big 12 Defensive Freshman of the Year honors: Iowa State cornerback
Nigel Tribune
and the winner of the award, Oklahoma linebacker
Dominique Alexander
.

This year, the immediate impact from the incoming freshman class could be much greater. Collectively, the league signed 11 defensive players ranked in the ESPN 300. And several could vie for time from the moment they step on campus.
But who among them will make the biggest impact? There are some notable contenders.
Nigel Bethel II
was the gem of the Texas Tech recruiting class, and he fits the profile of an instant-impact recruit. A four-star signee out of Miami whom Tech flipped from the University of Miami late in the recruiting window, Bethel II brings a level of speed the Red Raiders just don't possess elsewhere on defense. Given that two-year starter
Bruce Jones
is gone, the opportunity for playing time at corner is there for Bethel, too.
Playing-time opportunities are also there for Oklahoma State linebacker
Gyasi Akem
. The Cowboys graduated three key linebackers, including starters
Shaun Lewis
and
Caleb Lavey
. With the lone returning starter,
Ryan Simmons
, moving to the middle this spring, the Cowboys have a hole on the weak side. Akem, who was Oklahoma State's top defensive signee, has the closing speed and physicality to help fill it.

Steven Parker II
, Oklahoma's top defensive recruit, also might carve out a role rather quickly. The safety out of Jenks, Okla., could help the Sooners replace another safety from Jenks (
Gabe Lynn
). Oklahoma has some other intriguing young defenders vying for time at the back end of their defense, notably
Ahmad Thomas
and
Hatari Byrd
. But Parker has the potential to make an immediate impression.
West Virginia, meanwhile, returns both its starting cornerbacks in
Ishmael Banks
and
Daryl Worley
, who started as a true freshman. But it won't be easy keeping
Dravon Henry
off the field. Henry, the top-ranked player from the state of Pennsylvania this year, had offers from Alabama, Florida State and Ohio State before picking the Mountaineers. He is a ball hawk who will bring a playmaking reputation to the West Virginia secondary when he gets his chance. That might come sooner, rather than later.
Henry, Parker, Akem and Bethel are all elite prospects. But the top-rated defensive signee in the Big 12 this year is Texas defensive end
Derick Roberson
, who was the No. 78 overall recruit in the ESPN 300. Even though he's still slight, Roberson can get after the quarterback. The Longhorns are in terrific shape at one end with returning All-Big 12 performer
Cedric Reed
. Roberson has the skill set to break into the rotation on the other side in the fall.
Among a few others, any of the five above could make a huge splash next season. So we put it to you in a poll: Of Akem, Bethel II, Henry, Parker II and Roberson, which true freshman defender will have biggest impact in 2014?
March, 7, 2014
Mar 7
10:00
AM CT
In today's mailbag, we discuss Iowa State's offensive potential, Texas Tech's defensive potential and OU's potential to run the table. There's also major disagreement about which schools I'm actually a homer for.
To the 'bag:

Rusty in Denver writes:
Thanks for totaling the position rankings at the end last week. I thought that was a good summary. I do think you missed out on two key aspects for the coming season: schedule and coaching. As a K-State fan, I would push us up for the coaching staff, but take us back down for our schedule. Thoughts?
Trotter:
Glad you enjoyed the series, Rusty. But I wasn't trying to predict records, which obviously coaching and schedule play a big part into. I only wanted to focus on the position groups, and where every team stood relative to the rest of the league. When we try to predict how each team will finish in the league down the line, coaching and schedule obviously will be factored in.
---
Bryan in Norman, Okla., writes:
What do you think of OU's chances of running the table this year?
Trotter:
OU could be favored in every game on its schedule, which obviously would give them a decent chance of running the regular-season table. But the Sooners also have a recent history of dropping games as double-digit favorites, as well (TCU '05, Colorado '07, BYU '09, Texas Tech '11, Texas '13). This has a chance to be OU's best team since 2008. And they are a legitimate threat to make the College Football Playoff. But they won't get there unless they can avoid the double-digit land mine.
---

Justin in West Des Moines, Iowa, writes:
Am I the only Cyclones fan here that is not sold on
Grant Rohach
and this "dangerous" wide receiving group with
Quenton Bundrage
,
Allen Lazard
and
E.J. Bibbs
that everyone is hyped about? Not to discredit those three, but isn't this just a replay of what we saw near the end of the 2012 season when Sam Richardson replaced good ol' Steele Jantz and torched Kansas and nearly beat West Virginia? I agree, those three are going to be great targets for Rohach, but they're going to be making him look much better than what I've seen so far. I still feel like to get to the next level (more than 6-7 wins), ISU still needs more than what Rohach can provide.
Trotter:
I disagree with your put down of the Iowa State WR corps. Bundrage has proven he can make big plays, Lazard was one of the top-rated WR recruits in the country and Bibbs is the Big 12's best returning receiving tight end. But the point about the QBs is very valid. Iowa State always seems to find its answer at QB at the end of a season, only to restart its search the next. I don't know if Rohach is the answer. Maybe he is. Or maybe it's a healthy Richardson. Or perhaps it's
Joel Lanning
. Whoever it is, that quarterback will have some weapons to work with next season. The key will be finding -- and sticking with -- that right quarterback.
---

Crews in Tyler, Texas, writes:
Is there any way possible that Texas Tech's defense is underrated going into next season? Even with a ton of new starters, how much does playing in the same system/coaching staff from the previous season help?
Trotter:
Well, there's no doubt that getting through that first year in coordinator Matt Wallerstedt's 3-4 scheme is going to help. But I don't know that I'd term the Tech defense underrated at this point. The Red Raiders gave up 41 points or more in their final four regular-season games, and while the Holiday Bowl showing was impressive, losing the likes of
Kerry Hyder
,
Dartwan Bush
,
Will Smith
,
Terrance Bullitt
,
Tre' Porter
and
Bruce Jones
is going to hurt. I do like the potential athleticism of this defense, though. And they do have the chance to surprise, particularly if some of the juco transfers up front pan out.
---
Joshua Parsons in Lubbock, Texas, writes:
Which freshman will have the biggest impact for this upcoming season for the Red Raiders?
Trotter:
It's possible receivers
Ian Sadler
or
Byron Daniels
work their way into the rotation, but I think cornerback
Nigel Bethel II
will make the biggest impact. The Red Raiders just don't have a corner on their roster with the speed or playmaking potential of Bethel. He might not start right way, but he will play. And ultimately he will end up starting, perhaps sooner rather than later.
---

Cliff W. in Madison, W. Va., writes:
I heard rumors that
Shelton Gibson
was an academic non-qualifier this spring -- is there any truth to it? It may be old news but I'm an underground coal miner and I don't get much time to keep myself updated about the drama up in Morgantown.
Trotter:
Basically, Gibson was a partial qualifier last season, which means he can't join the team in an official capacity until this summer. Ultimately, since Gibson redshirted, it won't matter much. Provided he keeps his grades up, he will still have four years of eligibility left once he joins the team.
February, 12, 2014
Feb 12
9:00
AM CT
Ranking recruits is an unscientific process. If it were, it would be easy to predict future all-conference teams. As an exercise, I've cobbled together what an All-Big 12 team would look like based exclusively on ESPN's freshman recruiting rankings -- though chances are, actual All-Big 12 teams down the road will have a very different look.
Offense
QB: Justice Hansen, Oklahoma
(Edmond, Okla./Santa Fe)
RB: Joe Mixon, Oklahoma
(Oakley, Calif./Freedom)
RB: Donte Thomas-Williams, West Virginia
(Durham, N.C./Hillside)
WR: K.D. Cannon, Baylor
(Mount Pleasant, Texas/Mount Pleasant)
WR: Armanti Foreman, Texas
(Texas City, Texas/Texas City)
WR: Allen Lazard, Iowa State
(Urbandale, Iowa/Urbandale)
TE: Carson Meier, Oklahoma
(Tulsa, Okla./Union)
OT: Alec Ruth, Kansas State
(Highlands Ranch, Colo./Valor Christian)
OT: Kenyon Frison, Oklahoma
(West Valley City, Utah/Granger)
OG: Natrell Curtis, Oklahoma
(Phoenix/Mountain Pointe)
OG: Dontae Angus, West Virginia
(Philadelphia/Martin Luther King)
C: Jacob Bragg, Kansas
(Nacogdoches, Texas/ Nacogdoches)
AP: Davion Hall, Baylor
(Texarkana, Texas/Liberty-Eylau)
Defense
DE: Derick Roberson, Texas
(San Antonio/William J. Brennan)
DE: Jordan Brailford, Oklahoma State
(Tulsa, Okla./Booker T. Washington)
DT: Poona Ford, Texas
(Hilton Head, S.C./Hilton Head)
DT: Courtney Garnett, Oklahoma
(New Orleans/St. Augustine)
LB: Edwin Freeman, Texas
(Arlington, Texas/Bowie)
LB: Kyron Watson, Kansas
(East St. Louis, Ill./East St. Louis)
LB: Gyasi Akem, Oklahoma State
(Broken Arrow, Okla./Broken Arrow)
CB: Nigel Bethel II, Texas Tech
(Miami/Booker T. Washington)
CB: Jermaine Roberts, Texas
(New Orleans/St. Augustine)
S: Steven Parker II, Oklahoma
(Jenks, Okla./Jenks)
S: T'Kevian Rockwell, Baylor
(Wylie, Texas/Wylie)
A few observations on this team:
Oklahoma leads the way with seven players. Underscoring their strong close, the Sooners landed four of those players after their Allstate Sugar Bowl win over Alabama. In December, Oklahoma's class ranked 24th. But it finished ranked at the top of the Big 12 and 13th nationally.
The Big 12 didn't have a class ranked outside the top 60 nationally, and this list highlights that with nine teams represented.
TCU is the only school without a player here, though running back Shaun Nixon (Austin, Texas/Lake Travis) was slotted only five running back spots behind Thomas-Williams, whom the Mountaineers snagged on signing day. Nixon, who flipped from Texas A&M, was a huge get for the Horned Frogs.
Charlie Weis and his staff really delivered a solid recruiting class, despite a lack of success on the field. The Jayhawks had two players on this team, and that doesn't even include four-star running backs Traevohn Wrench (Gardner, Kan./Gardner Edgerton) and Corey Avery (Dallas/Carter).
Oklahoma State and Texas Tech, known for their high-powered offenses, didn't have an offensive player make the team. They did, however, comprise three of the defensive spots with Brailford, Akem and Bethel II. Oklahoma State CB Chris Hardeman (Houston/Alief Taylor) was rated just below Roberts, too.
Best players at each position who didn't make the list:
QB:
Jerrod Heard
(Denton, Texas/Guyer), Texas
RB:
Devon Thomas
(Broken Arrow, Okla./Broken Arrow), Oklahoma State
WR:
Lamar Parker
(Miami/Booker T. Washington), West Virginia
TE:
Mark Andrews
(Scottsdale, Ariz./Desert Mountain), Oklahoma
OT:
Orlando Brown
Jr. (Duluth, Ga./Peachtree Ridge), Oklahoma
OG:
Joseph Paul
(New Orlean/St. Augustine), Oklahoma
C:
Terrell Cuney
(Jasper, Texas/Jasper), Texas
DE:
Trey Carter
(Dallas/Pinkston), Oklahoma State
DT:
D.J. Williams
(Lufkin, Texas/Lufkin), Kansas
LB:
Davonte James
(Springfield, Ohio/Springfield), West Virginia
CB: Chris Hardeman, Oklahoma State
S:
John Bonney
(Houston/Lamar), Texas
AP:
Michiah Quick
(Fresno, Calif./Central East), Oklahoma
February, 5, 2014
Feb 5
9:00
AM CT
Today will be the busiest of the year for fax machines. That's because it's national signing day, and recruits across the country will be faxing in their letters of intent.
It's always an exciting day for college football fans. And there's plenty to be excited about in the Big 12.
Below is a breakdown of the most exciting element from each of the 10 Big 12 recruiting classes:

Baylor
What to get excited about:
The wide receivers
The players:
K.D. Cannon
(Mount Pleasant, Texas/Mount Pleasant),
Davion Hall
(Texarkana, Texas/Liberty-Eylau),
Ishmael Zamora
(Houston/Alief Elsik),
Chris Platt
(Willis, Texas/Willis)
The skinny:
The Bears have one of the best WR classes in the country, with four players ranked in the ESPN 300. With
Antwan Goodley
also back in Waco, QB
Bryce Petty
should have a big, signing day smile on his face.

Iowa State
What to get excited about:
A blue-chip wideout
The player:
Allen Lazard
(Urbandale, Iowa/Urbandale)
The skinny:
Elite skill talent has come at premium in Ames the last few years. But that's exactly what Iowa State is getting in Lazard, an ESPN 300 prospect who had offers from Notre Dame, Nebraska and Stanford. If Lazard comes ready to play, new offensive coordinator Mark Mangino will have a dynamic complement to pair with No. 1 wideout
Quenton Bundrage
.

Kansas
What to get excited about:
The replacements for RB
James Sims
The players:
Traevohn Wrench
(Gardner, Kan./Gardner Edgerton),
Corey Avery
(Dallas/Carter)
The skinny:
The Jayhawks graduated their only All-Big 12 performer this past season in Sims. But they prevailed in a pair of hard-fought recruiting battles to land four-star running backs Wrench and Avery. Wrench was the first commit in the class, and gave coach Charlie Weis a player to build the rest of the class around. Then this week, Weis beat out Nebraska, Ohio State and LSU, among others, to reel in Avery. The one-two combination of Wrench and Avery is reason to be optimistic about the future of the KU offense, even without Sims.

Kansas State
What to get excited about:
Junior-college impact
The players:
Terrell Clinkscales
(Dodge City, Kansas),
Andre Davis
(Santa Rosa, Calif./Santa Rosa), D'Vonta Derricott (Garden City, Kan./Garden City),
Danzel McDaniel
(Dodge City, Kan.)
The skinny:
The Wildcats have a returning core capable of contending for the Big 12 title. In this recruiting class, they'll be adding four players in the ESPN Junior College 50 to aid that cause. K-State swiped Clinkscales from Nebraska, and he could team with
Travis Britz
to form a stout one-two punch at DT. Davis could be the perfect complement opposite wideout
Tyler Lockett
. Derricott (OLB) and McDaniel (CB) should help the defense.

Oklahoma
What to get excited about:
Backfield firepower
The player:
Joe Mixon
(Oakley, Calif./Freedom)
The skinny:
The Sooners closed as strong as any program in the country, and that included plucking the No. 53 overall recruit away from the West Coast powers. Mixon, together with last year's No. 3 RB
Keith Ford
and budding dual-threat QB
Trevor Knight
, could be a devastating rushing force in the Big 12 for years to come.

Oklahoma State
What to get excited about:
The linebackers
The players:
Gyasi Akem
(Broken Arrow, Okla./Broken Arrow),
Josh Mabin
(Spring, Texas/Klein Oak),
Kirk Tucker
(Tucker, Ga./Tucker),
Devante Averette
(Melvindale, Mich./Ellsworth Community College),
Justin Phillips
(Pearland, Texas/Pearland)
The skinny:
The Cowboys graduated a pair of all-conference linebackers in
Caleb Lavey
and
Shaun Lewis
, who played big parts in Oklahoma State's defensive turnaround. But impressive help is on the way. Akem is a ESPN 300 prospect, and Tucker, the other outside linebacker in the class, ended up at Oklahoma State after failing to gain admission to Stanford. Averette should provide instant impact on the inside, and Mabin is a four-star recruit.

TCU
What to get excited about:
The offensive skill talent
The players:
Foster Sawyer
(Fort Worth, Texas/All Saints Episcopal),
Grayson Muehlstein
(Decatur, Texas/Decatur),
Shaun Nixon
(Austin, Texas/Lake Travis),
Corey McBride
(Geismar, La.,/Dutchtown),
Emanuel Porter
(Dallas/Lincoln)
The skinny:
The top five players in TCU's class are offensive skill players, providing help where the Horned Frogs really need it. Sawyer and Muehlstein could battle for the starting QB job right away. The opportunity for playing time is there for receivers McBridge and Porter, too. TCU also pulled off a coup Tuesday by flipping Nixon, a four-star RB, from Texas A&M.

Texas
What to get excited about:
Possible QB of the future
The player:
Jerrod Heard
(Denton, Texas/Guyer)
The skinny:
Charlie Strong's quickest path to putting Texas back on top is finding a solution at QB that eluded Mack Brown the last four years. Heard, an ESPN 300 quarterback who won two state titles in high school, could very well emerge as the answer.

Texas Tech
What to get excited about:
A shutdown corner
The player:
Nigel Bethel II
(Miami, Fla./Booker T. Washington)
The skinny:
The Red Raiders lose three starters from their secondary, but they have a player who can come in and help right away in Bethel. The ESPN 300 prospect is one of the better pure coverage corners in the country. To win in the Big 12, you have to defend the pass. And Bethel can defend the pass.

West Virginia
What to get excited about:
The quarterbacks
The players:
Skyler Howard
(White Settlement, Texas/Riverside Community College),
William Crest
(Baltimore/Dunbar)
The skinny:
Coach Dana Holgorsen struggled to replace
Geno Smith
last year, using three quarterbacks to limited success. But Holgorsen is bringing in a pair of talented players at the position who could be immediate factors. Howard was the No. 3 dual-threat juco QB in the country and is already enrolled for spring ball. Crest is the No. 11 high school dual-threat QB nationally.
February, 3, 2014
Feb 3
10:30
AM CT
On Wednesday, many of the top stars of the 2014 recruiting class will transition from being college commits to college signees. Don't be surprised if a last-minute flip or two occurs, as committed athletes will use these final hours to re-examine their choices and weigh them against new possibilities one last time.

Flipping is common in recruiting, and the Big 12 this year has had its share of players leaving for other conferences, as well as players choosing to play in the Big 12 after originally picking another conference. Here are five players who flipped to Big 12 programs and could have an impact on the college level sooner than later.


January, 15, 2014
Jan 15
2:00
PM CT
The big question entering the new week: Would Texas take a dive in the
ESPN class rankings
after losing three defensive tackle pledges?
To continue reading this article you must be an Insider
January, 13, 2014
Jan 13
8:00
AM CT
With a little more than three weeks until signing day, schools are now in the 11
th
hour of recruiting for 2014 targets. While some programs will try to land the big fish still uncommitted, other programs will try to make some commits have a change of heart just in time for the Feb. 5 signing day.
Texas picked up junior college tight end
Blake Whiteley
(Vancouver, British Columbia, Canada/Arizona Western College), but the Longhorns losing three defensive lineman commitments proved to be the talk of last week. Oklahoma, however, managed to add two to its growing class and Kansas State and Texas Tech also got big-time commitments. Expect a lot more fireworks this week, as several athletes will take game-changing official visits.
Here are some of this past week's highlights:
<!—offer-->

Biggest commitment
: Few commits last week were bigger -- or arguably more shocking -- than ESPN 300 cornerback
Nigel Bethel II
(Miami/Booker T. Washington), who switched his pledge from Miami to Texas Tech. The 5-foot-9, 172-pound cornerback became the Red Raiders' first ESPN 300 commit, and he'll offer immediate help for Kliff Kingsbury's secondary. Bethel, No. 233 in the ESPN 300 and the nation's 19
th
-ranked cornerback, is a true cover corner, and in the Big 12, defenders of his caliber are always welcomed.
To continue reading this article you must be an Insider