April, 4, 2013
4/04/13
10:32
PM CT
NEW YORK -- Quick thoughts on Baylor's
74-54 victory
over Baylor in Thursday's NIT title game at Madison Square Garden:


What it means:
Baylor is your 2013 NIT champion -- the first Big 12 team ever to win this tournament.
Baylor (23-14) had a disappointing regular season. The Bears were ranked No. 19 in the country in the preseason, coming off a berth in the NCAA tournament's Elite Eight a year ago. They didn't even make the Big Dance this time around but finished the season on a high note.
Iowa (25-13) was on the bubble on Selection Sunday and didn't make the NCAA cut, but collected four wins and some valuable experience the past couple of weeks.
The turning point:
After Iowa's
Roy Devyn Marble
scored the first bucket of the game, Baylor scored nine consecutive points and led the rest of the first half. It took the Bears' leading scorer,
Pierre Jackson
, almost 15 minutes to collect his first point. But Baylor still led 27-22 at intermission. The Hawkeyes shot just 7-for-28 (25 percent) in the first half and committed eight turnovers.
Iowa cut the deficit to one early in the second half, 28-27, thanks to five quick points by
Eric May
. But Baylor answered with seven points in a row to reassert control, and soon turned the game into a rout. The Bears pushed the lead past 20 for the first time on a
Cory Jefferson
two-hand slam with 7:04 remaining. The rest was garbage time.
Star watch:
Jackson scored just four points in the first half, shooting 1-for-6. The second half was a different story. The senior finished with 17 points and 10 assists, and was named the tournament's most outstanding player. Jefferson scored a game-high 23 points, and
Isaiah Austin
added 15.
Mike Gesell
scored a team-high 13 points off the bench for Iowa, while
Aaron White
chipped in 12. Marble finished with just six points.
Number crunch:
It just wasn't Iowa's night offensively. The Hawkeyes missed open shots from the perimeter, and several chippies around the rim -- they were clearly bothered by the presence of the 7-foot-1 Austin (five blocked shots) in the paint. For the game, Iowa shot 18-for-69 from the field (26.4 percent), including 5-for-24 from beyond the arc (20.8), while Baylor shot 26-for-48 (54.2 percent).
What's next:
That's the final college basketball game of the season at Madison Square Garden. Enjoy the Final Four, and we'll see you next year.
April, 3, 2013
4/03/13
10:19
AM CT
By
Kieran Darcy, ESPNNewYork.com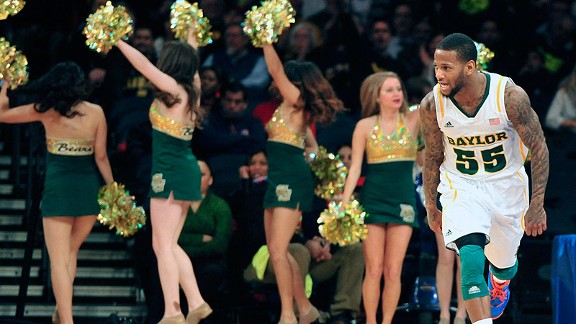 Joe Camporeale/USA TODAY SportsPierre Jackson paced Baylor with a game-high 24 points and 10 assists in Tuesday's win over BYU.
Baylor and Iowa are both a long way from New York City.
They're also both one win away from an NIT title.
Neither team has won this tournament before. The Bears and Hawkeyes are trying to make history, and finish their seasons on a winning note.
Baylor advanced first, defeating BYU 76-70 in the first game of Tuesday night's doubleheader at Madison Square Garden. The Bears led by just two at halftime, and three with just under five minutes remaining, before
Pierre Jackson
scored seven straight points to help Baylor pull away.
The electrifying 5-foot-10 senior scored a game-high 24 points -- 15 of them coming in the second half -- and also had 10 assists. "Pierre is like a time bomb," said Baylor coach Scott Drew. "You just wait for him to go off. He had a nice spurt there and that gave us a cushion."
[+] Enlarge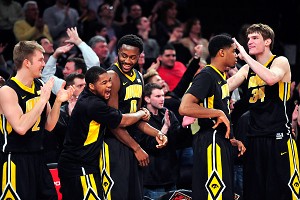 Joe Camporeale/USA TODAY SportsThe Iowa Hawkeyes celebrate a trip to the NIT championship.
Iowa won the nightcap, taking a 14-point first-half lead against Maryland, and then holding off a Terrapins rally in the second half to win 71-60. Junior forward
Roy Devyn Marble
scored a game-high 21 points, and nine of the 10 Hawkeyes who got into the game also got into the scoring column.
"I thought one of the keys to the game was how we came out, in particular with Dev offensively," said Iowa coach Fran McCaffery. "We got into a flow early, and then the same thing late, kept everything going."
What we're left with is a championship game in midtown Manhattan between schools from Waco, Texas and Iowa City, Iowa -- 1,627 and 995 miles away, respectively.
It's also a matchup between one of the best offensive teams in the country and one of the best defensive teams. Baylor entered Tuesday night's game ranked 21st in the nation in scoring, at 76 points per contest. Iowa was ranked 18th in defensive field goal percentage, at 38.8.
Makes for an intriguing matchup Thursday night at MSG.
Both these teams dealt with disappointment this year. Baylor was picked to finish second in the Big 12, but ended up in sixth. Iowa finished ahead of Illinois and Minnesota in the Big Ten standings, yet those schools went to the Big Dance, while the Hawkeyes were left out.
Nevertheless, Baylor and Iowa are two of the last college teams still in action in the first week of April. And the players sound pumped up about it.
"It feels good. We've got one more," said Jackson. "If we win on Thursday, I'll probably be shaking because I'm too excited."
"It means a lot to me and the team and our program," said Marble. "A lot of teams look down upon [the NIT] because they didn't get into the other tournament, but we just looked at it as another opportunity to win a championship."
March, 14, 2012
3/14/12
2:12
AM CT
By
ESPN.com wire services
SEATTLE --
Terrence Ross
scored 23 points and top-seeded Washington beat Texas-Arlington 82-72 on Tuesday night in the first round of the National Invitation Tournament.
C.J. Wilcox
added 14 points off the bench and
Darnell Gant
had 13 for the Huskies (22-10), regular-season champions of the Pac-12.
Washington is the first team to win a regular-season title in a power conference and get left out of the NCAA tournament, and it took the Huskies some time to shake off the disappointment.
"I thought we were ready to play, but I thought we were able to turn it up," coach Lorenzo Romar said. "Once we got that feeling, that hit, I think we adjusted."
LaMarcus Reed III
scored 20 points for Texas Arlington (24-9), the regular-season champion in the Southland Conference.
Washington will host fourth-seeded Northwestern in the second round Friday night. The fourth-seeded Wildcats beat No. 5 seed Akron 76-74 earlier Tuesday night.
You can read the rest of the story
here
.
March, 23, 2010
3/23/10
11:30
PM CT
Texas Tech's NIT run came to an end Tuesday night at Mississippi. The Red Raiders went to double overtime before falling in their bid to reach Madison Square Garden for the semifinals.
You can read the recap here
.
March, 14, 2010
3/14/10
9:07
PM CT
Texas Tech
needed to win the Big 12 tournament in shocking fashion if it was going to get into the NCAA tournament. That didn't happen, of course, as the Red Raiders were knocked out in the second round by eventual champion Kansas.
But Tech's first-round win against Colorado may have pushed it over the top for an NIT bid. The Raiders (17-15) are seeded fifth and will open at fourth-seeded
Seton Hall
(19-12), which tied for ninth in the brutal Big East. The game will be Tuesday at 8 p.m. (CT) and be televised on ESPN2.
Here's the NIT bracket.