Dallas Colleges:

Oral Roberts Golden Eagles
February, 18, 2012
2/18/12
8:15
PM CT
It's OK to admit it: This is hardly the best Saturday we've seen this season. But here's the good news: It's Feb. 18. We're well within sniffing distance of Selection Sunday, and so every game is meaningful -- including, but certainly not limited to, the various BracketBusters matchups around the country. We're in crunch time, the time when tourney hopefuls have to go out and actually prove they belong. That's exactly what Kansas State did at Baylor this afternoon. Let's start there.
[Editor's note: Per usual, we encourage you to stay with the blog all day for on-site reports from our writers across the country and, later, our recaps of all the big-time Saturday night action, including Saint Mary's-Murray State and Ohio State-Michigan.]


Kansas State 57, No. 10 Baylor 56
: I found myself defending Baylor quite a bit in recent days.
Myron Medcalf and I have been pretty hard on the Bears at times this season
, and for good reason -- this team should be much better than it is. Frankly, it should be dominant. But for all of the struggles and frustrations and close scrapes with obviously inferior teams, it was important to remember one thing: Two teams had beaten Baylor all season. One of them was Kansas. The other was Missouri. There's something to be said for that.
At least there was before Saturday. Kansas State went ahead and spoiled that line, toppling Baylor in Waco in an ugly, questionably officiated contest. Not that the Wildcats minded. For obvious reasons, this was the win of the season for Frank Martin's team. K-State has long been dogged in the bubble discussion
by an inexplicably anemic RPI figure
, one that threatened to derail a mediocre
but otherwise tourney-worthy at-large résumé
. The Wildcats needed a big win down the stretch to compensate for that RPI number. An escape from Baylor with a one-point margin, aesthetically displeasing though it may have been, is just what the doctor ordered.
As for the Bears, well, what's left to say? You know the drill by now: This team is as talented as any in the country. It is also every bit as suspect. For whatever reason -- growth, personality, sheepishness, your guess is as good as mine --
Perry Jones III
continues to register games like this: 6 shots, 4 points, 4 rebounds, 5 fouls and zero (yes, zero) free throw attempts. In each of Baylor's past four losses, Jones posted single-digit scoring and rebounding efforts. We hate to be openly critical of a college kid, but for a player of Jones' talent, isn't that inexcusable? For a team as long and active as this one, why are the Bears so blasé on the boards, so mediocre on the defensive end? Why, after a 2010-11 season derailed by constant turnovers, haven't these guys learned to value the ball?
It's not like Baylor is having a bad season. (Though since starting 17-0 they are a disconcerting 5-5 in their past 10 games.) The standard defense in the first paragraph still, for all intents and purposes, makes sense. But it's impossible to watch this team and not know that the product on the floor is merely a fraction of what it could be. We only ever get hints.
That's
what's frustrating.


New Mexico 65, No. 11 UNLV 45
: If you failed to notice what New Mexico did earlier this week (winning at San Diego State, moving to 7-2 and alone atop the Mountain West conference standings) and haven't seen just how good this team has been playing over the past three weeks (before Saturday, UNM had won six in a row and
risen to No. 11
overall in
Ken Pomeroy's adjusted efficiency rankings
) it's officially time to take note. The Lobos are rolling, kids -- and Saturday was no different.
The lopsided outcome wasn't a foregone conclusion from the opening tip, and UNLV was in solid shape in a typically frenzied Pit atmosphere for nearly 30 minutes. But with 12:15 remaining, the Lobos did what they do best: They locked down on the defensive end. At that point, the score was 36-36. Just four minutes later, after a handful of impressive plays by
Tony Snell
,
Demetrius Walker
and
Drew Gordon
, the Lobos led 48-36. UNLV scored just nine points the rest of the way.
This is where New Mexico really shines. For as good as UNLV and SDSU have been this season, the Lobos are the MWC's best defensive team. They rank No. 1 in the league (and No. 11
in the nation
) in adjusted defensive efficiency, primarily thanks to really good first-shot defense. The Runnin' Rebels have been struggling lately -- this week's 101-97 loss at TCU was profoundly strange, and they're now just 5-6 on the road this season, with four of those coming to unranked teams. But they're still awfully talented, and their struggles today had as much to do with the Lobos' pressure as any self-inflicted cause.
In the game's final moments, as Walker poured in another bucket and Gordon topped off his beast-mode 27-point, 20-rebound performance (Gordon was just the eighth player in the past 10 seasons to drop a 20-20 game on a Top-25 team, and just the fifth to do so in regulation), CBS play-by-play man Tim Brando said the affair had "become a New Mexico coronation." He was absolutely right. For too long, the Lobos slipped slightly under the radar. Their gaudy efficiency numbers belied a team that, when you got right down to it, hadn't beaten a team better than Saint Louis all season. It was easy to cast doubt.
No more. In the past week, New Mexico has held Wyoming to 38 points, beaten San Diego State in Viejas Arena by 10, and coasted right by a very good UNLV team. Steve Alford has built a beast in Albuquerque. If you were sleeping on UNM before, it will be impossible to do so now.


Washington 79, Arizona 70
:Both of these teams' at-large pictures remain in flux, and that didn't change much today. A win over Arizona won't put Washington in the tournament in any definite way; a loss to Washington won't drop Arizona off the bubble. This is life in the current Pac-12, a power-six league in name only. (PSINO? PINO? We'll work on it.) This league was 2-31 against the RPI top 50 in nonconference play and 0-15 against the top 25. Simply put, this conference offers zero opportunities for marquee wins. At this point, the best the at-large contenders can do is just keep winning.
On Senior Day, the Huskies did exactly that, dinging the defensively resurgent Wildcats in the process.
Terrence Ross
was fantastic, and his line -- 25 points, 5 rebounds, 5 steals, 1 assist, 1 block -- was the stuff of fantasy basketball fever dreams. That's a pretty good example of why this Washington team has been so frustrating this season. With Ross and freshman guard
Tony Wroten
(not to mention
Aziz N'Diaye
and
Abdul Gaddy
and so on) this team has obvious Top-25 talent. But here it is, struggling to get in the field. The Huskies have been better in Pac-12 play and are 12-3 atop the standings, but as recently as last week were absolutely drubbed 82-57 at Oregon.
If this team makes a run in the NCAA tournament, I won't be the least bit surprised. A first-round loss wouldn't shock me, either. Everything is on the table here. But the Huskies have to get there first. With their final three games on the road, and opportunities for bad losses -- at Washington State, at USC, at UCLA -- any and all outcomes are on the table. Should be interesting.


No. 21 Florida State 76, NC State 62
: This is not what NC State needed. OK, sure, Thursday night's loss at Duke -- wherein the Wolfpack coughed up a 20-point second-half lead -- was hard to swallow. I get that, and I empathize. But NC State still has much to accomplish in Mark Gottfried's first season, chief among it a possible NCAA tournament bid. And so Saturday's game could have gone two ways: Either NCSU would come out angry at Thursday's letdown and focused on fixing it, or the Wolfpack would be emotionally (and physically, on one day's rest) exhausted.
Turns out it was the latter. Gottfried's team committed 17 turnovers and it shot just 29 percent. (Some of that is FSU's lockdown defense, but still.) In doing so, the Pack saw a chance to get a quality résumé win slip away. Will NC State's tourney chances, already very much in doubt, do the same?
For the Seminoles, this win was their 10th in the ACC. In each of the past four years, Leonard Hamilton's team has won at least 10 league games. FSU has stamped its position as the third-best team in its conference as Hamilton has built a program with staying power at a school that has traditionally treated its basketball as an only occasionally worthwhile diversion from breathless updates about the next great football recruiting class. Really impressive.


Wichita State 91, Davidson 74
: Davidson, with that December win over Kansas in its back pocket, desperately needed a win here if it wanted to hold on to any scant hope of an at-large look. Obviously, that's done now. Wichita State just keeps beating up on people. Forget the mid-major label -- there are few teams in the country, regardless of conference, playing as well as this team right now. How many? Five? Maybe six? If that?
Anyway, before we move on, let's pause and reflect on the insane performance
Joe Ragland
unleashed Saturday. He scored 30 points and grabbed seven boards at the guard position. Even better? His points came on 11-of-14 from the field. He shot 3-of-4 from 3 and 5-of-5 from the charity stripe. He was about as close to offensive perfection as a college basketball player can ever get. Bravo, sir.
Other observations from the afternoon action:
After the big win, I thought it was pretty much impossible (or unpossible!) for Steve Alford's day to get any better. And then it did: San Diego State fell to lowly Air Force on Saturday, 58-56, thanks to an 18-of-52 mark from the field and -- even worse for this perimeter-oriented team -- a 3-of-16 mark from behind the line. The Aztecs got to the line with relative ease. But they went 17-of-25, and when you're shooting that poorly on the road, and you leave eight points on the board, look out.
Following UConn's home loss to Marquette -- the Huskies' seventh loss in their past nine games -- guard Shabazz Napier, who has tried (and failed) all year to emerge as a bona fide leader of a UConn team that desperately needs just that, told reporters the following: "I hate to say it, but I have to question some of these guys' heart." Anyone who's seen Connecticut play this season has no choice but to agree. What a timid, lifeless bunch. That's the polar opposite of the Golden Eagles' scrappy style, and it showed all 40 minutes Saturday. (For colleague Andy Katz's dispatch from this game, click here)
A win at Cleveland State doesn't quite look as great as it might have, say, three weeks ago, but no matter: Drexel's 20-point road victory was its 15th win in a row and 21st in its past 22 games. The committee may have a problem getting past the Dragons' cruddy performances in November (including the loss to Norfolk State), and those nonconference issues are part of the reason the CAA isn't getting much at-large love or even remotely passable RPI numbers for top teams like Drexel, VCU and George Mason. But 21-1 in 22 games? That's awfully hard to ignore.
Speaking of mid-major teams with gaudy records that haven't earned much of a tourney look, how about Oral Roberts? The Golden Eagles held on to top Akron in their BracketBusters affair, moving to 25-5 overall in the process. ORU is 18-1 in the Summit League. If it wins out but loses in the conference tournament, can it get a bid? We'll see. Unlike those CAA squads, this team's RPI is certainly in the picture. The question is whether the committee can look past ORU's lack of quality wins (the victory at Xavier came just a few days after the Dec. 10 brawl against a skeletal, half-suspended Musketeers lineup) and ugly nonconference strength-of-schedule figure. ORU might want to play it safe and just go ahead and win the tournament. Why leave it to chance? Either way, this is an undeniably above-average team.
Missouri is really good. Texas A&M is not. Our research group passed along two stats that rather tidily demonstrate as much: (1) This victory was Missouri's first win in College Station since 2001, and (2) Missouri's 56 percent shooting made the Tigers the first team to shoot better than 50 percent against A&M all season. Just a solid, workmanlike win from a really self-assured club. Fun to watch.
DePaul is a little unlucky to be just 2-9 in Big East play after today's overtime loss to Louisville. It's not that the loss itself was particularly unlucky -- DePaul played well for 40 minutes, but the Cardinals were too much in OT -- it's just that this team's obvious improvements on the floor haven't quite shown up in its record. Such is life at a rebuilding project, I suppose.
Nice win for Iona. The Gaels were probably a bit hard done by their BracketBusters matchup -- they needed a higher-profile game to really make a dent in the bubble picture -- but we can't fault the aesthetic quality of the end result. In other words, this was still a pretty awesome game. Iona won 90-84, and the replay is available on ESPN3. It's worth your while. Iona's offense was scorching hot: The Gaels went 33-of-53 from the field (62.3 percent) and 8-of-14 from beyond the arc, and had five players score 13 points or more. Point guard Scott Machado had 15 assists, which is nothing new; Machado's 9.9 assists per game lead the nation (his assist rate of 44.3 percent is the nation's third-highest; word to Tim Frazier!) and his brilliance is emblematic of this team in general. With Machado, MoMo Jones and Michael Glover, Iona might the most talented mid-major squad in the country. The only problem? The Gaels don't really defend. But if that changes even marginally in the coming weeks, look out. Points in bunches, and all that.
Kentucky and North Carolina both easily handled their middling conference foes, and both looked great doing so. The Wildcats' win was their 50th in a row at home. John Calipari doesn't lose at Rupp Arena. That's just the way it goes.
And then there's Binghamton. The nation's last winless team had its best remaining opportunity to notch a victory on the road at 5-23 Radford. Unfortunately, the Bearcats lost 64-59, and so the sad story of their brutal season rolls on. Binghamton's next two opponents (Vermont, Albany) are both much better than lowly Radford (though the Bearcats do get both games at home, so that's good), and their season finale at New Hampshire isn't a totally insurmountable challenge (though Pomeroy's predictive model gives the Bearcats just a 7 percent chance of winning). Bottom line? This team could very well go the entire length of its season without a win. Poor Binghamton. Can you say Bottom 10?
June, 4, 2011
6/04/11
6:38
PM CT
By
ESPN.com news services
FORT WORTH, Texas -- Jared Schlehuber drove in three runs and Drew Bowen shut down Oklahoma's anemic offense in a 7-0 victory Saturday in an elimination game at the Fort Worth regional.

Bowen (6-2) gave up six hits, walked three and struck out one in eight innings for the Golden Eagles (37-21). Schlehuber hit a two-run single in Oral Roberts' three-run first inning, and the Golden Eagles made it 6-0 with three more in the second.

Oral Roberts also benefited from six fielding errors by Oklahoma (41-19), which left 12 runners on base and finished the season with 14 runs in their last six games. Sooners starter Burch Smith (10-4) allowed three runs in just two-thirds of an inning.

June, 4, 2010
6/04/10
5:02
PM CT
By
Josh Davis
| ESPNDallas.com
In the Norman Regional: Oklahoma's Chris Ellison hit a walk-off single with the bases loaded to give Oklahoma a 7-6 win over fourth seeded Oral Roberts in 10 innings. Oklahoma starter Michael Rocha gave up five runs over five innings before giving way to relievers Jeremy Erben (3 2/3 innings) and Duke Ryan (1 1/3).

In the Austin Regional: No. 2 seed Rice was upset after Zach Osborne pitched a five-hit shutout to lead Louisiana-Lafayette to a 1-0 win. Rice will play the Texas/Rider loser in the first game Saturday.
June, 3, 2010
6/03/10
4:49
PM CT
By
Josh Davis
| ESPNDallas.com
1. OKLAHOMA
44-15, 17-11 Big 12, 9-1 last 10

At their best: When Garrett Buechele is leading the offense, and their relievers carry them home. Third baseman Buechele is a true power hitter with amazing consistency. He can change a game with one swing, especially with the Sooners having several hitters who get on base. Oklahoma's starting pitching staff is OK for a tournament team, but they have three relievers in Erben, Rocha and Mayfield who can all pitch several innings to secure a win.

At their worst: They're no better than Cal. The Golden Bears can match up favorably with Oklahoma through the first two starters and also have a very deep hitting lineup. The Sooners didn't control their conference the way most No. 1 seeds did, as Texas was easily the best team in the conference (sweeping OU by 16-3 combined score). As it stands, however, they are the best team in a weak region. They should advance if they stay focused and get a boost from the home crowd.

Biggest strength: The Sooners' three right-handed relievers (Erben, Rocha and Mayfield) don't do anything unusual. None are strikeout machines, but all have low ERAs (4.10, 3.02, 2.03, respectively). It's like having a fresh starter, and they all can be counted on to stifle opposing batters.

Last NCAA appearance: 2009 (Regional)


2. CALIFORNIA
29-23, 13-14 Pac 10, 2-8 last 10

At their best: Sporadically, when their offense is clicking. The Golden Bears were a bad team at the end of the year, as they were soundly swept by UCLA, Washington State and Stanford. But when you look at their quality wins, it's hard to know what to make of Cal. They swept Oregon State late in the year and took two of three games from Oregon last weekend. The Golden Bears can score runs, but they can't prevent runs vs. top teams like most top seeds can.

At their worst: In tough games. The Bears don't really have the necessary wins against a UCLA or Arizona State to be considered an elite team. They're above-average in most categories and played in a tough conference, and it resulted in a two seed. They could surprise, but it won't be because they dominated one aspect of every game. It will be because they limited mistakes and Oklahoma struggles.

Biggest strength: A versatile offense with eight hitters batting at least .300. Tony Renda leads the Golden Bears in average (.365), runs (52) and hits (76). Cal has four players with an on-base percentage in the .400s, but Chadd Krist and Mark Canha can also hit home runs (10 and 9, respectively). It take a great pitcher to silence Cal's bats.

Last NCAA appearance: 2008 (Regional)


3. NORTH CAROLINA
36-20, 14-16 ACC, 7-3 last 10

At their best: The Tar Heels have looked really good, although they were swept by Virginia late in the season. They came up just short of qualifying for the ACC tournament because of early conference losses. North Carolina swept Virginia Tech, swept Wake Forest and took two of three at Clemson late in the season. They could be a threat to steal the region if a capable pitcher steps up in their second or third game.

At their worst: National powerhouses Virginia, Georgia Tech and Miami all swept North Carolina this season, but that's not indicative of the Tar Heels' individual talent. Thankfully, there isn't much to be intimidated about in the Norman Regional. Oklahoma is a better all-around team and Cal has a stronger offense, but North Carolina's 4.21 team ERA ranks in the top 25 nationally. Oklahoma isn't that much better (3.79, 16th nationally), and the teams could be even if Oklahoma uses too much relief talent in an early game.

Biggest strength: Starting pitcher Matt Harvey has a 3.10 ERA and has pitched two complete games. He might be the best pitcher in the region. But all hope will be lost if the Tar Heels can't get a win with him on the mound.

Last NCAA appearance: 2009 (CWS)


No. 4 ORAL ROBERTS
35-25, 22-9 Summit, 8-2 last 10

At their best: The moment Nick Ballgod or Tyler Saladino make contact. The Golden Eagles have a wealth of hitters, and Ballgod and Saladino are the best. They will find a way to produce runs, but whether that means two runs or 10 depends on the opposing pitcher. Their run production was lower against competition from TCU, UCLA, Texas and Arkansas. But they beat the Longhorns, 3-2, showing they could be a tough out.

At their worst: ORU's pitchers have pedestrian ERAs and aren't a very good fielding team. But be assured, they'll go down swinging.

Biggest strength: Ballgod has one of the most ridiculous stat lines in the country: .396, 78 hits, 53 RBIs. But teammate Saladino can beat him: .381, 72 runs, 91 hits, 17 home runs, 73 RBIs, .678 slugging percentage and 16 of 18 stolen base attempts. They're the stuff of nightmares for an unprepared pitcher or cold reliever.

Last NCAA appearance: 2009 (Regional)
June, 1, 2010
6/01/10
2:42
PM CT
By
Josh Davis
| ESPNDallas.com
Record: 44-15, 17-11 Big 12, 9-1 last 10

Beat: Baylor (7-6), Texas A&M (2X: 6-5, 10-2), Kansas State (3X: 14-3, 15-11, 13-2), Texas Tech (12-1), TCU (2X: 4-2, 8-3), Arkansas (5-2)

Lost to: Baylor (8-3), Texas A&M (6-2), Kansas State (14-9), Texas Tech (2X: 8-3, 7-3), UCLA (5-2), Texas (series sweep, 16-3 combined score), Oklahoma State (2X: 7-6, 4-3)

Key Players:

Sophomore 3B Garrett Buechele -- .393, leads team in runs (50), hits (88), RBIs (61), home runs (15) and slugging percentage (.679) for players with at least 10 starts

Sophomore OF Chris Ellison -- .331, 48 runs, 52 hits, 21-of-24 steals, leads team in walks (26) and fielding percentage (.989) out of players with at least 30 starts

Sophomore SS Caleb Bushyhead -- .327, 48 runs, 73 hits

Starting rotation:

Junior RHP Zach Neal -- 8-3, 4.52 ERA, 76 strikeouts/20 walks

Junior RHP Bobby Shore -- 8-4, 4.52 ERA, allowed 80 hits in 75.2 IP

Freshman LHP Ryan Gibson -- 5-2, 3.76 ERA, 40 strikeouts/23 walks

Senior LHP J.R. Robinson -- 2-3, 4.61 ERA, 59 strikeouts/22 walks, allowed 61 hits in 52.2 innings pitched

Most used relievers:

Senior RHP Jeremy Erben -- 7-1, 4.10 ERA, 59.1 IP, 27 appearances (two starts), 65 strikeouts/24 walks, three saves

Junior RHP Michael Rocha -- 7-1, 3.02 ERA, 17 appearances, four starts, allowed seven home runs in 56.2 innings pitched

Freshman RHP Jack Mayfield -- 4-0, team-low 2.03 ERA, 40 IP, 15 appearances, three starts, allowed 16 runs in 40 innings but only nine were earned, 27 strikeouts/10 walks

Junior LHP Anthony Collazo -- 1-0, 3.92 ERA, 24 appearances, one start, 20.2 IP, 27 strikeouts/nine walks

Will move on if:

They finally find some consistency. Oklahoma had a great start and finish to the year, but the middle of their schedule was filled with frustrating losses to Big 12 opponents (Nebraska, Oklahoma State twice, Missouri, two of three to Texas Tech) and they typically couldn't overcome superior opponents. Luckily there isn't a superior team in their region, as Cal stunningly was given the Norman two seed. Cal is a very capable team after being tested in a very tough Pac-10 (eight NCAA bids) but they were 38th in the ESPN/USA Today poll released Monday. Oklahoma doesn't have a single dominant starter, but they have a very deep rotation that could see them outlast their region.

Could be trouble if:

Any of the other teams in the region start hot. Cal may have been on the bubble, but the committee saw something they liked. No. 3 North Carolina and No. 4 Oral Roberts are also very capable of stealing a game. North Carolina didn't make the ACC Tournament, but is a solid team. Oral Roberts claimed the Summit League title and can catch fire offensively. The Sooners can escape Norman, but an elimination wouldn't shock the college baseball landscape by any means.

First game: Friday, 1 p.m. vs. 4. Oral Roberts
May, 31, 2010
5/31/10
6:46
PM CT
By
Josh Davis
| ESPNDallas.com
* As Ryan Burr pointed out on The Road to Omaha selection show, the Los Angeles region really is the "Group of Death" when it comes to college baseball, and it's hard not to feel sorry for national No. 6 UCLA.

Handing the Bruins red-hot LSU, the SEC and defending national champions, as their two seed would be okay -- whoever would walk out would be tested and the loser probably wasn't going much further. But by throwing in the higher-ranked No. 21 UC-Irvine as a three seed, a team that has been as battle-tested as any this season, the committee made sure whoever escapes UCLA's regional will a very tough out going forward and there may be another Super Regional-worthy team sitting at home.

* Can't help but feel for TCU, which has another date with Texas looming if it can get by familiar foe Baylor. TCU has a shallow rotation after its best choices for a fourth starter just haven't seemed to pan out. Plus, the Frogs frequently had to play better Big 12 opponents in midweek games, so their lack of depth caused them to lose some winnable games over name opponents, and the ensuing RPI drop placed them as a national "ninth seed."

NCAA baseball committee chairman Tim Weiser said he views all eight hosts who aren't in the national top eight as "ninth seeds." I understand financially, geographically and logistically why the committee has to do that, but that doesn't mean it's fair. UConn, Florida State, Oklahoma and Auburn didn't have as strong a season as Cal State Fullerton, South Carolina and TCU -- they would make for great cannon fodder for Texas, Coastal Carolina and the winner of the "Group of Death." It's a shame the financial constraints of travel can keep some of the eight best teams out of the College World Series.

* The Austin regional is not an easy one either, as the state of Texas is loaded with good teams even when you leave a couple out (UT-Arlington and Texas State) and ship one off (A&M to Miami).

Rice has been a NCAA tournament regular (16 straight, actually) for nearly as long as UT freshman pitcher Hoby Milner has been on this earth. Throw in a Louisiana-Lafayette team that has won 23 of its last 27 games and won a surprisingly tough Sun Belt Conference, and you've got another very tough region. The Longhorns may not have paid dearly for their Big 12 tournament disappointment as the No. 2 overall seed, but karma has come back to bite them with tough matchups.

* The way the Aggies are playing right now, I'll pick Texas A&M to take the Coral Gables regional before bowing to a very good Florida team.

* And Coral Gables is also where FIU's Garrett Wittels will watch his hit streak die. Nothing personal, just a feeling he'll be walked a few times before Florida International's nice run ends.

* For those who haven't heard, Connecticut is hosting their regional as a two seed this year, with Florida State as the one. Again, in an ideal world the committee would not have to worry about geographical balance, but I think Florida State is on its way out either way. UConn has a better pitching staff in Connecticut and it would have the better staff in Florida, too.

* I like Texas and TCU to both handle their business in their opening games against Rider and Lamar, respectively. But I have a feeling Oral Roberts hitters Mark Ballgod and Tyler Saladino (15 home runs) will make some noise in Norman. I don't think the Golden Eagles are going to win the region by any means, but I feel good about them stealing one from an OU team looking ahead to what will be a great scrap with Cal.
May, 31, 2010
5/31/10
3:07
PM CT
By
Josh Davis
| ESPNDallas.com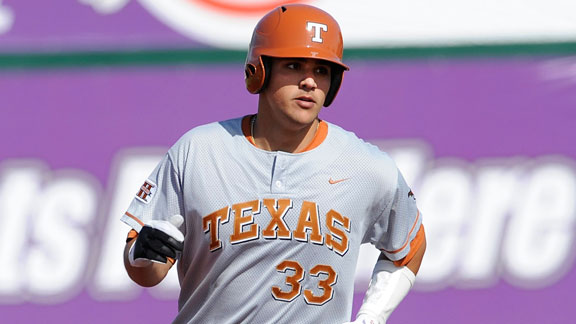 Record:
46-11, 24-6 Big 12, 7-3 last 10 games
Beat:
Rice (2X: 2-1, 5-1), New Mexico (6-2), Oklahoma (Series sweep, 16-3 combined score), Texas A&M (Series sweep, 26-3), Kansas State (2x: 17-2, 6-5), Swept Stanford (Series sweep, 20-5)
Lost to:
Rice (10-6), New Mexico (2x: 6-5, 3-1), Oral Roberts (3-2), Houston (1-0), Kansas State (2-1)
Key players:
Junior first baseman Tant Shepherd -- .344, 76 hits, 14 of 15 stolen base attempts, 18 doubles (leads team)
Junior catcher Cameron Rupp -- .316, 67 hits, 51 RBIs
Junior outfielder Kevin Keyes -- .302, 64 hits, 13 home runs (tied for first on team), 53 RBIs, no errors
Starting rotation:
Junior RHP Cole Green -- 10-0, 2.08 ERA, four complete games
Sophomore RHP Taylor Jungmann -- 6-3, 2.16 ERA, has pitched the most innings of any UT pitcher, 113 strikeouts to just 37 walks
Junior RHP Brandon Workman -- 11-1, 3.77 ERA, three complete games
Most used relievers:
Junior RHP Chance Ruffin -- 6-1, 0.79 ERA, 13 saves
Junior RHP Stayton Thomas -- 33.2 IP, 3.21 ERA, .271 opponents batting average
Freshman LHP Hoby Milner -- 3-1, 32 IP, 1.97 ERA, 31 strikeouts to 12 walks
Sophomore LHP Andrew McKirahan -- 22.2 IP, 2.78 ERA
Will move on if:
The Longhorns play like they did all year. Texas' bats have been fearsome all season and home runs have been the driving force behind their offense. At the same time, their starting rotation has been spectacular and cut through the Big 12 to a 24-3 regular-season conference record.
Could be trouble if:
UT shows up like it did in the Big 12 tourney. It was hard to fault the Longhorns' play all year, other than an early slip-up against New Mexico, until this week. They played lifelessly in three losses in their conference tournament to Missouri (7-3), Texas Tech (4-2) and Texas A&M (9-3). When the Horns couldn't find their big hits, they proved they are not a small-ball first team. When they combined that with mediocre to bad pitching performances, Texas looked vunerable for the first time since that NMU series many months ago. They must escape from their funk with a proper beating of inferior No. 4 seed Rider.
First game:
Friday, 6:30 p.m. vs. No. 4 Rider