September, 9, 2012
9/09/12
10:12
AM CT
Late game, great game. Arizona upset No. 18 Oklahoma State,
59-38
, in Tucson, Ariz., on Saturday night. Here's how it happened:


It was over when:
Arizona cornerback
Jonathan McKnight
picked off a pass from OSU quarterback
Wes Lunt
and returned it 48 yards for a touchdown. The Wildcats blitzed the true freshman and it paid off as Lunt threw off his back foot across the field, making it easy for McKnight to intercept the pass and cruise untouched into the endzone. OSU never recovered.
Game ball goes to:
Matt Scott
. The Wildcats senior quarterback was poised and efficient. He completed 28 of 41 pass attempts for 320 yards, two touchdowns and zero interceptions. He added 55 rushing yards and another score on the ground.
Stat of the Game:
15 OSU penalties for 167 yards. Those numbers defined the game for the Cowboys who made mental mistakes and dropped passes throughout the game. It's possible some Cowboy players will have to walk back to Stillwater.
Unsung hero:
With 14 tackles, one forced fumble and one fumble recovered,
Jake Fischer
put his stamp on the game. The Wildcats junior linebacker was all over the field and relentless in his pursuit of OSU running backs and receivers.
Unsung hero, Part II:
Once Scott softened up the Cowboys' defense through the air, running back
Ka'Deem Carey
exploited them on the ground. The sophomore finished with 26 carries for 125 yards and three touchdowns for the Wildcats. He added four catches for 28 yards and another score to account for four touchdowns on the night.
What it means:
The Big 12 Conference's BCS profile takes a hit. A ranked Big 12 squad suffered a double-digit loss to an unranked Pac-12 foe, simple as that. For Arizona, it gives Rich Rodriguez a signature win early in his tenure. For OSU, it will be a long plane ride home as the Cowboys know they got in their own way on Saturday night.
September, 20, 2011
9/20/11
5:05
PM CT
By
Jeff Caplan
| ESPNDallas.com
It's bad enough in this super-intelligent age of tablet computers and calculators right there on your cell phone that college athletic conferences -- with the notable exception of those bright minds at the Pac-12 -- clearly don't place a premium on the fundamental ability to count correctly.
PODCAST
TCU coach Gary Patterson shares his thoughts on the Horned Frogs' 2-1 start, his program's future in the Big East, Casey Pachall and more.

Listen

And now, school presidents, chancellors and athletic directors offer Greed 101 to impressionable students as they scramble to find conference zip codes flush with cash and eternal stability all the while trampling on the very core values they espouse. Well, it has all gone too far.
TCU coach Gary Patterson on Tuesday said this seemingly unending and unnerving game of musical conference chairs -- one that again has the gypsy-like Horned Frogs fretting after less than a year of relative security awaiting entrance into the now crumbling Big East Conference -- is sending very poor messages.
"We're trying to teach every day, we're trying to teach kids to do the right things and make good decisions and do things for the right reasons; don't do them because of financial [gain], and then everything they read we do it opposite," Patterson said, whose 'we' references all those schools bolting and contemplating bolting. "So, we'll see how it all goes."
TCU, of course, is poised to bolt the Mountain West Conference for what it believes to be all the right reasons -- finally an AQ-status conference for Patterson's football team to easier access the coveted BCS bowl games. Now, who knows? By the end of the week the Big East might be swirling the big drain.
TCU athletic director Chris Del Conte is in New York for a Tuesday night meeting
with officials from the six remaining Big East football-playing schools. It is possible, but not confirmed, that TCU president Victor Boschini will also be present. Del Conte has not returned a phone message. Boschini's location was not divulged by a TCU official, only to say he will not be available for the duration of Tuesday.
"I think we're going to end up well," Patterson said. "Before this is all said and done, I think we're going to be in a good position and all you got to do is understand where you're at and how you do things. I don't see us being any less of a commodity than we were last year when we were taken the first time. I think we'll just keep doing what we do."
The first time, though, the Big East placed heavy value on TCU's addition. The formidable basketball league was a football laughingstock among the six BCS conferences. The Frogs were viewed as the heavy to improve the league's image and competitiveness.
Now, if we are headed to superconferences -- and Texas, Oklahoma, Texas Tech and Oklahoma State to the Pac-16 (again, they are good counters out west) would set in a motion a race for the SEC, Big Ten and ACC to fill out their 16-team rosters -- would TCU be attractive to any of the Almighty Four?
If the Big 12 dissolves, the Big East and Big 12 have talked of a merger of survivors. But would a reconfigured Big East or Big 12 -- whichever name it chooses really doesn't matter -- be granted AQ status after their BCS contract expires in 2014? This is the great unknown. Perhaps worse, what if the Big 12 survives yet again and superconferences are again off the table? Then what of a shrunken Big East and TCU's options?
Patterson said he is no fan of 16-team conferences, having been a part of one in the over-expanded WAC during TCU's early wanderings after the demise of the Southwest Conference.
"To be honest with you," Patterson said of that WAC, "I didn't really like it very much."
Well, this time Patterson might not have to worry about a 16-team conference, although I'm guessing he'd sure rather have that problem than the one that appears to be coming.
It's all enough to make your head spin and why Patterson likely preferred to talk about Saturday's home opponent, Portland State. To start his weekly media session Patterson reminded that there is a football season going on in the midst of realignment season.
"Right now, I've got a lot of other things I need to take care of, so that's my job," he said. "If I don't win then I won't get a chance to worry about what conference TCU's in."
September, 5, 2011
9/05/11
3:40
PM CT
By
Jeff Caplan
| ESPNDallas.com
Dallas Mavericks owner Mark Cuban is trying to push a four-team college football December invitational. He served as guest game picker on ESPN's College GameDay on Saturday from Cowboys Stadium. So why shouldn't he have an opinion on the murky future of the Big 12 as well?
Good, because he does. He wrote all about it on his blog (
blogmaverick.com
) and he thinks Texas' best move is not to make one.
Cuban believes the formation of super-conferences will turn into a huge mistake, suggesting that more schools won't mean more TV money, that fans will hate the scheduling of games to slot them all on a network and that geographical rivalry games will disappear -- Cuban, the Pennsylvania native, notes his favorite ghost of a rivalry game between Pittsburgh and Penn State.
There's plenty more the Mavs owner has to say on the subject. Just click the link above.
August, 29, 2011
8/29/11
3:32
PM CT
Nobody likes sounding relentlessly redundant, but if the story doesn't change the story doesn't change.
For all that Oregon has accomplished in two years under Chip Kelly, it has flopped against highly rated nonconference foes who have had extra time to prepare for the Ducks high-tempo, spread-option attack.
In 2009, the Ducks opened at Boise State. While that game is most remembered for LaGarrette Blount's post-game meltdown in Kelly's debut, Boise State fans will be glad to remind you the Broncos held the Ducks to 31 yards rushing in a 19-8 victory.

The Ducks righted themselves dramatically in 2009 and earned a berth opposite Ohio State in the Rose Bowl. But the Buckeyes held the Ducks to 260 yards in a 26-17 victory

And, finally, in the national title game against Auburn, the Ducks only scored 19 points. They gained 449 yards but only 75 on the ground.
[+] Enlarge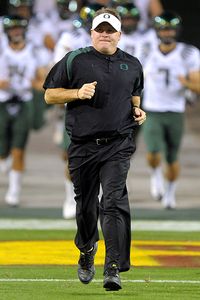 Kirby Lee/Image of Sport/US PresswireOregon coach Chip Kelly and the Ducks would score a big win for the Pac-12 with a defeat of LSU on Saturday.
Those three games, against which there is little counter argument, other than the Ducks Pac-10 success, have inspired this sort of analysis:
Oregon needs to get more physical
.
If you have ever played football, you surely understand that when a football player has his physicality doubted, well, that's pretty galling.
Before all you Ducks get bent over this, keep in mind that Kelly has been a stand-up guy about this very point. In all three instances, he admitted the Ducks got beat at the point of attack. Further, during preseason camp, I asked running back
LaMichael James
about what went wrong against Auburn.
"Their defensive line was overpowering our offensive line," he said. "That was just the way it was."
How do you think this goes over with a Ducks offensive lineman? Department of "Truth Hurts."
Here's the good news: Oregon can end such talk on Saturday. All it has to do is take it to No. 4 LSU, a program as physically talented in terms of future NFL potential as any in the nation.
That's the micro-economic level of the super-cool-awesomeness of this marquee season-0pener in Cowboys Stadium.
Any one else curious to see what Kelly's got up his sleeve to counter LSU's extra prep time to school itself on the Ducks misdirection?
The macro-economic level is this: Pac-12 versus SEC. One game for a regular-season's worth of trash talking.
You might have heard the SEC has experienced some football success of late. On occasion, SEC fans will take a moment to remind you of it. There is a rumor, in fact, that five consecutive seasons have ended with a happy ending in some SEC outpost, the latest against the Pac-12's newest top-dog.
That would be Oregon.
To be honest, last January, I though Oregon was going to pound Auburn. I didn't think a two-player team -- no matter how good those two players were -- could beat the Kelly and the Ducks. The last time I had such a strong hunch about a game and was so completely wrong was when Washington pushed Miami around in 2000. (This is not to say I've had a long run of correct strong hunches about games before January. They just don't come by very often before marquee matchups).
Even if you throw out the stakes specific to Oregon and the Pac-12, this game has huge meaning nationally. The winner could -- should, in my mind -- rise to No. 1 in both major polls. Voters should reward the winner for showing the courage to play this game, which is great for college football at a time college football needs something great to distract fans from a stunning onslaught of scandals. A couple of which, rumor has it, might involve these two teams, territory we're choosing not to explore at this moment.
So if Oregon wins, it could rise to No. 1. If LSU has a successful season in the rugged SEC West, that win will grow in value. But even if LSU falters, the Ducks will be in position to play again for the national title if they keep winning.
Further, the odds aren't terrible that Oregon could arrive at Stanford on Nov. 12 and we find ourselves eyeballing two unbeaten teams. It could be a One-Two matchup even. At the worst, if the Ducks and Cardinal face each other without a blemish on either slate, it will be the biggest Pac-12 game in years (last year's game also matched unbeaten teams but was much earlier -- Oct. 2 -- in the season). If Stanford prevailed, it also could crow about beating the team that beat LSU and likely would play for the national title if it finished 12-0.
If Oregon loses to LSU, the Ducks could still have a great season. They could rally and perhaps get back into the national title hunt. And there's always the Rose Bowl, hardly a terrible destination. One nonconference game can't completely make or break a season.
But an Oregon victory would give the program a level of early-season gravitas it has never had. It would silence any remaining doubters, both of the Ducks and the Pac-12.
So, yes, you have heard correctly: This game is very, very big.
August, 17, 2011
8/17/11
6:55
PM CT
By
Jeff Caplan
| ESPNDallas.com
DALLAS -- With Texas A&M's renewed efforts to join the SEC, SMU coach June Jones now sees the future alignment of college football as inevitable: Four 16-team super-conferences.

"It seems to me that's where it's headed. It still has to happen. I think, though, within the next 15 to 24 months that will take place," Jones said Monday at SMU's kickoff luncheon at the Hilton Anatole. "Money drives all those decisions and those are all BCS schools, and if that's what they want to happen, that's what's going to happen."

Jones said he believes A&M "jumped the gun" with last week's bold attempt to quickly exit the Big 12 for greener (think dollars) SEC pastures free of shadow-casting Longhorns. Jones said he believes the SEC slowed things down only to allow itself time to secure four schools and make one major announcement instead of doing it one-by-one.

Once it does, the domino effect will unleash chaos across the land. Non-BCS schools such as SMU will be on the outside looking in and pushed further down college football's caste system. They will potentially have no gateway to a BCS bowl such as the one that has methodically and painstakingly been ushered in through the years, but one which requires the non-BCS team to go undefeated simply to achieve BCS bowl consideration.

"We better think about ways to entice them [the BCS] to do it," Jones said of securing a future path to a BCS bowl in a super-conference world. "If we sit around and wait for that to happen, then we're going to be left behind and I think we've got to be pro-active in our thinking."

One idea that surfaced last summer when the Big 12 was teetering on collapse and college athletics was on the brink of major realignment was a championship game between non-BCS conferences, say the Conference USA champ against the Mountain West champ with the winner earning a BCS bowl bid.

"And, I'm not sure they will do that," Jones said of college football's ruling powers. "Unless we're pro-active, thinking out of the box as a non-BCS participant, I do think we'll be left behind."

Over in Fort Worth, where TCU thinks it's sitting pretty with next year's move to the Big East Conference and its coveted automatic BCS bid, the Horned Frogs are no doubt quite interested observers.

Picture this shakeup as a potential realignment scenario -- and, mind you, this is pure speculation -- in which A&M and, say, Missuori, Clemson and Florida State complete a 16-team SEC. The Pac-12 adds Oklahoma, Oklahoma State, Texas Tech and Texas (if The Longhorn Network issue can be resolved; if not Texas goes independent), or perhaps BYU for a 16-team league. With the Big 12 and ACC raided, the Big Ten and Big East swallow those major-conference schools left behind and a small, way-out-of-region school like TCU is suddenly squeezed out of a Big East that has now doubled its football-playing member schools to 16 (think additions of Kansas, Kansas State, Virginia, Virginia Tech, Miami, Boston College, North Carolina and North Carolina State -- or some mix that includes Georgia Tech, Maryland, Wake Forest and Duke).

Again, this scenario is pure speculation, but the point is that in such a massive shift, plenty of orphaned major-conference schools will be scrambling for new affiliations in the money-driven conferences and anything can happen.

"The cat is out of the bag," Jones said.