Dallas Colleges:

Pat Knight
March, 14, 2012
3/14/12
10:47
AM CT
March, 7, 2011
3/07/11
4:41
PM CT
By
Jeff Caplan
| ESPNDallas.com

On Dec. 8, 2009, The Texas Tech men's basketball team came to TCU's Daniel-Meyer Coliseum undefeated and after an 80-70 victory the Red Raiders moved up to 16th in the nation. Pat Knight was in his second full season and hopes were high that the ranking wasn't fool's good and that Knight, the son of legend Bob Knight, was forging his own identity in his first foray as a collegiate head coach.

Years of working under his father had produced interviews, but no college head coaching jobs until Bob stepped down unexpectedly in February 2008. Pat was tapped as the coach-in-waiting a few years earlier.

After that game at TCU, Pat, unlike in his father in that he never met a media member he didn't like to engage in a friendly manner, said he felt as though he was just coming into his own. He said it took some time, but he was figuring out the type of head coach he wanted to be instead of the type of coach he thought he should be.

"Last year was tough," Knight said then of his first full season as head coach that ended with a 14-19 record. "You take over a team and, you know, I've got to follow my dad's footsteps and you sit here, 'How do I act? Should I try to be more subdued when I'm more like him than anybody knows?' And then finally, towards the middle of the year, I was like, 'The hell with it, I've got to be me, that's getting after people.' So, there was just too much stuff I worried about that I shouldn't have [worried about]."

Fifteen months later Texas Tech, with incoming athletic director Kirby Hocutt taking over for longtime AD, former Tech basketball coach and Bob Knight friend Gerald Myers, has decided it has seen enough. A 10-year run of Knight-coached Red Raiders teams will come to an end when Tech concludes this week's Big 12 Tournament in Kansas City.

Perhaps Knight just never found the formula and balance he craved as a head coach. That 2009-10 season that started so promisingly at 9-0 ended in disappointment at 19-16, Knight's lone season above .500.

Tech fans rarely came out in droves to watch the Raiders under Bob, and he often voiced his displeasure. And big crowds certainly haven't greeted Pat's teams that will finish a third season without advancing to the NCAA Tournament. This season, early losses to North Texas and TCU, among others, got the grumbling started and put Knight behind the 8-ball.

Tech started the Big 12 season with four consecutive losses and followed it up with three straight wins to put the season at a tipping point. Unfortunately for Knight, who couldn't get what he needed out of his senior class, the team dropped four in a row and six of seven to effectively end the season and Knight's tenure.

Perhaps Knight will find success somewhere else, totally free of his father's shadow.

As for Tech's next move, get set to hear plenty of one name in particular: Billy Clyde Gillispie.
March, 13, 2010
3/13/10
2:10
PM CT
By
Jeff Caplan
| ESPNDallas.com
KANSAS CITY, Mo. -- Baylor coach Scott Drew has certainly learned how to take a punch or two and so has his team. The Bears bowed out of the Big 12 tournament Friday night with an 82-75 loss to Kansas State in a tremendous game.
Baylor, 25-7, still hasn't lost by more than seven points, but it will need to win an NCAA tournament game to set a new school record with a 26th victory. The last time the Bears won a tournament game? 1950 (56-55 over BYU) when the bracket included eight teams.
The good news for the Bears is they have yet to lose consecutive games this season.
Baylor dearly wanted a second consecutive title game appearance, but they're not done yet. Some inside the Baylor program believe a 3-seed is coming Sunday when the selection committee reveals the 65-team NCAA Tournament bracket. Wherever the Bears land, they learned Friday night, as they have all season, that they'll be a tough out.
"This was a great experience," Baylor power forward Ekpe Udoh said. "Basically, we played an away game up here in Kansas City. Towards the end of the game I think we kind of lost our mojo. It's something you can't have happen from here on out and we're going to learn from that. In the tournament, if you slip up one time you go home."
Udoh will have decision to make
Ekpe Udoh
is widely regarded as a lottery pick in June's NBA Draft and he only enhanced his stock at the Big 12 tournament. The 6-foot-10 junior power forward averaged 21.5 points and 9.5 rebounds in the two games. The Big 12's new shot-blocking king chewed up Texas for 25 points and eight rebounds.
Rule of thumb for draft prospects is if you're a lock to be a first-round pick, then go grab the guaranteed money. If Udoh trusts he'll be a lottery pick (sorry Baylor fans) it should make that decision easier. The money is too good and with an impeding lockout looming in 2011-12 and impending salary restructuring once the NBA re-opens for business, this might be the time to maximize dollars.
Is Baylor's Jerome Tang head-coaching material?
Baylor athletic director Ian McCaw thinks so: "He's really matured as a coach. I see him being a head coach in the very near future."
Coach Scott Drew made Tang one of his first hires seven years ago, plucking him from controversial Heritage Christian, a small-private school near Houston that had a reputation as a basketball factory. Tang also didn't have a college degree when hired, a prerequisite at Baylor (and most universities) in the past. Since, Tang received a Bachelor of Science degree from Charter Oak State College, an online program.
Clip and save
Baylor guard
LaceDarius Dunn
will lead the Big 12 in scoring next season and will win Player of the Year honors. Along the way, he'll likely become Baylor's all-time leading scorer.
He already holds school records for most 3-pointers in a game, season and career.
"You know, Anderson was great this year, he scored consistently, and Lace scored consistently, so it was a toss-up on who should have got it this year," said Baylor senior guard
Tweety Carter
, referring to Oklahoma State's
James Anderson
, the Big 12's Player of the Year. "I'm pretty sure that next year he'll get it."
Texas less than its parts
Texas coach Rick Barnes called the ugly quarterfinal loss to Baylor a microcosm of the season: a few minutes of scatterbrained play and then the Horns panic and lose all ability to execute. The Bears buried Texas with a 13-2 to run to open the second half and you could see in the Horns' body language and frustration how their spirit was crushed.
"Like coach says, we don't play together sometimes," center
Dexter Pittman
said. "Once we start playing together, we'll be unstoppable and untouchable, but, man, we just got to go back to that."
It would appear it is too late. Junior forward
Gary Johnson
summed up the disappointing situation best.
"When you have a team full of guys with as much talent as we do, it's hard to give each guy a role, like you have to do this when a guy feels like he could do other things," Johnson said. "At times, guys feel like they can do everything on this team and it just isn't the right decision at that moment. Guys know their roles, but it's like a panic factor and guys try to go out and do other things that they're not capable of and we find ourselves in deep holes."
Red Raiders to NIT?
Caach Pat Knight hit the campaign trail hard at the Big 12 tournament, determined to get the Red Raiders into the NIT.
Knight said it would be a "shame" if the NIT ignored the 17-win Raiders out of the top-rated RPI conference in the nation. Tech's chances didn't look good after losing their final seven regular-season game, but it proved it belonged after putting a scare into top-seeded Kansas in the quarterfinal.
The last time Tech went to the NIT under Bob Knight it made it to the final four in New York and rode the momentum to a trip to the NCAA Tournament the following season (much like Baylor this season). It could happen again. Tech will be a senior-dominated team in 2010-11 and returns four of its top five scorers, including its top two in
Mike Singletary
and
John Roberson
.
If Tech gets in, it would give the Big 12 eight teams in postseason play -- assuming other tournament upsets don't leave Oklahoma State out. The Cowboys should be able to breath easy.
A&M star in making?
Texas A&M has to be excited about the future of freshman
Khris Middleton
. The 6-foot-7 forward from North Charleston, S.C., had a breakout in two games in Kansas City.
Having averaged 6.7 points a game during the regular season, he dropped 31 combined against Nebraska and Kansas, making 10-of-19 from the field and 5-of-11 from 3-point range. One weakness? Turnovers. He had eight in the two games.
With scoring leader
Donald Sloan
graduating, Middleton looks poised to take over as a No. 1 scoring option.
So long, Mr. Killian
After 23 years working in the Texas A&M media relations office, Colin Killian will hang 'em up after the NCAA tournament. He's accepted a job with the city of College Station. Killian has an 8-year-old son and while the new gig won't be as exciting as Texas A&M hoops has become the past five years, it will have its perks -- namely no work at night or weekends or holidays and no travel.
Good luck, Colin.
Is Oregon tugging at Turgeon?
Oregon basketball coach Ernie Kent isn't officially out, but the writing is on the wall. Texas A&M coach Mark Turgeon has come up as a possible replacement. Turgeon was a Ducks assistant from 1992-97. Unless Oregon is tugging at the Topeka, Kan., native, A&M is a better job and the Big 12 is a better conference.
Roland hoping for one more year
First-class A&M senior
Derrick Roland
is hopeful the NCAA will grant him a medical redshirt and allow him to return to the Aggies next season.
The shooting guard from Seagoville broke his leg during a late-December game in Washington and is out for the season after undergoing surgery. Remarkably, he is already walking around as if nothing happened as he continues a grueling daily rehabilitation process.
"Hopefully the NCAA has some sympathy for me," Roland said. "It would give me the opportunity to graduate and that's important to my family."
Roland said if he's not granted an extra year of eligibility he will try to complete his degree during the summer.
March, 10, 2010
3/10/10
1:43
PM CT
By
Jeff Caplan
| ESPNDallas.com
KANSAS CITY, Mo. -- Texas Tech coach Pat Knight has said his team is capable of scoring a "hellacious" amount of points in any game, but if it wants to be successful it has to get serious on defense.

No. 9-seed Tech, down by 10 early, held No. 8 Colorado to 42.6 percent shooting and steamrolled to 47-second half points for an 82-67 win in the first round of the Big 12 tournament. The Red Raiders finally ended a seven-game losing streak, getting a win for the first time since Feb. 9.

The Red Raiders move to 17-14 on the season and just might have sealed a berth in the NIT, Knight's goal coming into K.C.

"I think we should be in," Knight said. "I know we had a tough three weeks, but we play in the toughest league in the country and five of the teams [in the seven-game losing skid] were ranked. For them [NIT committee] to overlook us and the best conference in the country would be a shame. Honestly, I believe we deserve it."

Tech's John Roberson scored 19 points and Nick Okorie got hot in the second half to finish with 18. Brad Reese came off the bench to finish with 16 points. Mike Singletary finished with 13 points, making up for a poor shooting game by getting to the free throw line 11 times and making nine.

Now Tech gets a chance to make a big splash at 11:30 a.m. Thursday against No. 1 Kansas. The Jayhawks smothered the Red Raiders in their lone meeting this season, 89-63. Singletary, Tech's leading scorer, was held scoreless in the game on just four shot attempts in 20 minutes. He's looking forward to the rematch.

"It's always fun to play Kansas," Singletary said. "It's always fun to play the so-called best team in the country."
March, 9, 2010
3/09/10
4:30
PM CT
By
Jeff Caplan
| ESPNDallas.com
Wednesday's first-round games in the Big 12 Championship is a day for the underdogs and unranked to catch lightning in a bottle and play on as long as possible.
The
Baylor Bears
did it a year ago and it's exactly what the
Texas Longhorns
hope to do.
Once No. 1, the sixth-seeded Longhorns are looking for any momentum it can find to take into the NCAA Tournament. But, don't count on a walk in the park Wednesday at Kansas City's Sprint Center against 11th-seeded
Iowa State
with those pesky
Baylor Bears
awaiting the winner.
The Cyclones are 2-4 in their last six, but all four losses have come by fewer than five points and they stunned
Kansas State
in Manhattan in the regular-season finale. Iowa State gave Texas a good run ealry in the conference season before losing, 90-83.
"The last six [games] we've been right there with an opportunity to win," Iowa State coach Greg McDermott said. "I give great credit to my team."
Texas Tech Red Raiders
coach Pat Knight said he one of the lower-seeded teams will get hot and advance. Why not Tech?
It happened last year when
Mike Singletary
set scored 29 consecutive points in the second half and set a Big 12 record with 43 points to lead No. 11 Tech past No. 6 Texas A&M.
The ninth-seeded Red Raiders are coming off a horrendous three weeks and drag a seven-game losing streak into its game against eighth-seeded
Colorado
Knight is still holding out the carrot of an NIT berth.
"We're in the best conference, finished with a winning record, I think we're deserving," Knight said. "So you don't want to shut the door on it, kind of lead them with that carrot a little bit that they're still playing for something, that each win that they can add to their record just helps them play in the NIT."
Here's the Big 12 Championship schedule:
Wednesday's first round
8 Colorado vs. 9 Texas Tech, 11:30 a.m. (Big 12 Network - KTXA/Ch. 21)
5 Missouri vs. 12 Nebraska, 2 p.m. (Ch. 21)
7 Oklahoma State vs. Oklahoma, 6 p.m. (Ch. 21)
6 Texas vs. 11 Iowa State, 8:30 p.m. (Ch. 21)
Thursday's Quarterfinals
1 Kansas vs. Colorado/Texas Tech winner, 11:30 a.m. (ESPN2)
4 Texas A&M vs. Missouri/Nebraska winner, 2 p.m. (Ch. 21)
2 Kansas State vs. Oklahoma/Oklahoma State winner, 6 p.m. (Ch. 21)
3 Baylor vs. Texas/Iowa State winner, 8:30 p.m. (ESPN2)
Friday's semifinals
6 p.m. and 8:30 p.m. (Ch. 21)
Saturday's championship
5 p.m. (ESPN)
March, 2, 2010
3/02/10
12:41
PM CT
By
Jeff Caplan
| ESPNDallas.com
The early season Top 25 ranking given to
Texas Tech
, long before No. 22
Baylor
or No. 24
Texas A&M
broke through, was clearly premature.
The Red Raiders (16-11, 4-9 Big 12) have likely played themselves out of the NIT with a five-game losing streak that includes three in a row at home. It will be difficult tonight to avoid a four-game home skid, which would be Tech's longest in more than 10 years, with hot Baylor (22-6, 9-5) in town.
The Bears have won two in a row, are after a school-record 23rd victory and are trying to lock down a top-four seed and bye in next week's Big 12 Championship in Kansas City. Baylor finishes the regular season at home Saturday against the
Texas Longhorns
with a chance for Scott Drew's team to win 11 conference games. Not bad for a club the coaches picked to finish 10th.
If Tech is going to get out of its rut, Knight knows what has to happen.
"I've got to get [John] Roberson and [Mike] Singletary playing," said Knight of his two juniors and co-leading scorers. "I realize some of the other guys are going to struggle because some of them are new to the program, but when my two best guys are struggling and making mistakes in crunch time, we have no chance. So, I've got to get those two playing."
January, 19, 2010
1/19/10
1:06
PM CT
By
Jeff Caplan
| ESPNDallas.com
Even when Bob Knight was wearing his red sweater and scowling from the Texas Tech bench, the men's basketball team, unlike the storied women's program, has always been a tough sell in Lubbock.
After a December 2003 non-conference game against San Diego State in which 6,136 attended, Knight, accustomed to routine sellouts at hoops-crazed Indiana, blasted Tech fans for not supporting the home team:
"If that's all that's going to attend basketball here, then I think Tech ought to give up basketball. This team works like hell. It's 8-2. We don't bring [expletive] teams in here to play. We bring teams in here that are going to be competitive. I really think that if we can't have a better attendance from a community this size and a university with 30,000 students, I think we're spending too much money on basketball and we ought to give it up."
[+] Enlarge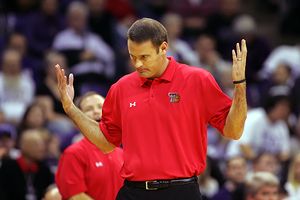 Ray Carlin/Icon SMIPat Knight was brutally honest at Big 12 media day: "To me, this is either a 'get an extension or get fired' kind of year. This is a big year for me."
Fast forward to January 2010 and son Pat Knight, now in his second full season succeeding his dad, is dealing with mediocre attendance. Complicating matters his team's recent three-game slide to start Big 12 play. Tech produced excitement early with an overtime home win over a ranked Washington team. It helped get Tech ranked in the Top 25 for the first time since 2005.
But, Tech (12-5, 0-3) is just 5-5 in its last 10 games. It suffered blowout losses at Oklahoma State and Kansas, plus a heart-pounding overtime home loss against Missouri, a game that drew a disappointing crowd of 9,788 inside the 15,098-seat United Spirit Arena.
On Monday's weekly Big 12 coach's conference call, Pat Knight was asked by a reporter from Tech's student newspaper to give a reason for Tech fans, considering the team's 0-3 league start, to show up at Wednesday's home game against Iowa State. The question obviously triggered mounting frustration.
"If you've got real fans they don't pay attention to the record. If you're a real basketball fan and really support our team you come when we're 0-16. That's up to them," Knight said. "We need them for a homecourt advantage, but I'm getting worn out trying to fight this fan stuff. I don't know why I'm getting questions about that. I think these kids are proven; they've played some really good basketball early on. All teams are going to go in slumps, especially playing in this league. If you don't want to come, I'm not going to worry about it. I've got to try to win some games. I wish people would quit bringing up the fan thing."
Tech has surpassed 10,000 fans this season just once in 11 home games. Against Stanford, 13,617 saw the Red Raiders defeat the Cardinal, 100-87 to go 3-0 against the Pac-10. Otherwise, attendance has consistently dragged between 7,761 and 9,788.
"You show up to support your team. If you don't want to show up that's fine, we're still going to try to win games with you or without you," Knight said. "But, it's pretty obvious, if you went to the game up in Lawrence (16,300 attended Texas Tech at Kansas), how much fans help you. We need our fans to show up no matter what our record is just because we have Texas Tech on our uniform. It doesn't matter what your record is. It's got to get to a point where people start showing up just because these kids play for Texas Tech."
Knight's contention that fans should show up simply to support the name on the front of the jersey is ideal, but outdated, and particularly so at a so-called football school like Tech. Fans can be fickle and they tend to support their teams during the good times and bail during the bad, especially as ticket prices continue to rise nationally. Tech has seven home games remaining and while ticket prices are not the highest in the conference, the depressed economy is clearly adding another layer to the attendance issue.
For Wednesday's game against Iowa State, plus later games against Kansas State and Baylor, tickets sold on the Texas Tech website begin at $12 for upper level seats. For games against Oklahoma, Oklahoma State, Texas A&M and Texas, the lowest-priced ticket available is $18.
Tech's average home attendance, 9,101, ranks eighth in the Big 12. But, Tech isn't alone in disappointing attendance. Baylor is off to a hot start and recently cracked the Top 25. Yet, the Bears have drawn, on average, 6,172 inside the 10,284-seat Ferrell Center. A rejuvenated Missouri program is drawing 6,950 below capacity. Texas A&M is under 4,000 capacity and is drawing nearly 2,000 fewer fans per home game than Tech. Even No. 1 Texas is averaging about 3,000 below capacity.
Only Kansas, ranked No. 1 for much of the season and easily the conference's most storied program, is filling every seat.
Texas Tech will try to get back on the winning side of things Wednesday night. Knight, whose team's 12 wins are three more than all of last season, has pleaded for patience from fans as well as for their support as the Red Raiders navigate through a highly competitive Big 12 schedule.
"If you're not Kansas or Texas, you're going to go through some bad weeks and that's what it was, it was a bad week for us. We lost three in a row," Knight said. "We should have won the one here at home if we hit some free throws against Missouri, but that's just how it is. One year we lost five in a row and still made it to the NCAA Tournament when we had Jarrius Jackson. In this league, if you're not one of the top one or two top teams and you're sitting there fighting in the pack you can have weeks like this."
December, 19, 2009
12/19/09
2:15
PM CT
By
Jeff Caplan
| ESPNDallas.com
Keep an eye on undefeated Texas Tech (9-0) tonight. The 16th-ranked Red Raiders haven't played since a come-from-behind victory at TCU on Dec. 8. They play at Wichita State, always a tough challenge at their place, at 7 p.m.

"We were fortunate that at TCU half the crowd was for us," Tech coach Pat Knight said. "It won't be that way at Wichita state."
December, 14, 2009
12/14/09
11:45
AM CT
By
Jeff Caplan
| ESPNDallas.com
Big 12 basketball coaches have long pleaded for a broader national spotlight on their conference, but this is football country and Big 12 basketball often gets overlooked as being an elite league. Of course,
Kansas
, a former Big 8 school, is a perennial power and Rick Barnes has built
Texas
into an annual tourney team.
Big 12 basketball coaches are banging the drum again for greater attention and they say they have the numbers worthy of being called the nation's best basketball conference.
So far in the non-conference season, the Big 12 has posted a 91-20 record (an .827 winning percentage). The conference is 5-1 against Top 25 competition. The 20 losses are the fewest of any conference and if the Big 12 can finish the non-conference slate with an .800 winning percentage it will do so for the first time.
"We've argued about this before with our league, we've got to publicize this league as a basketball league because I think we've always had one of the top two leagues in the country every year and sometimes we get overlooked," Texas Tech coach Pat Knight said. "We should be sitting there on Selection Sunday worried if we're going to get six teams in. We should always get six teams in and maybe a seventh like a year we're having this year."
Already, No. 2 Texas has wins over Iowa, Pittsburgh and USC, with consecutive games upcoming against last year's two national finalists in No. 11 North Carolina (1 p.m., Saturday at Cowboys Stadium) and No. 12 Michigan State. No. 1 Kansas won at UCLA. No. 23
Texas Tech
dumped ranked Washington,
Texas A&M
has defeated Clemson and Minnesota.
Baylor
beat Xavier and Arizona State.
Oklahoma
beat Arkansas and Arizona.
"I think you can really argue that this is the best league in the country and we should be sitting on Selection Sunday hopefully looking at six or seven teams, because last year everybody was so enamored with the Big East, they should get 10 teams in," Knight said. "I think they've got to start focusing more on our league and the better we do in the preseason, each team -- it's probably the only time we root for each other actually because when the Big 12 starts you want guys to lose so you can finish well -- but right now as a league I think we're pretty united because we just want to do well and prove that we are one of the best basketball leagues out there."
December, 8, 2009
12/08/09
3:04
PM CT
By
Jeff Caplan
| ESPNDallas.com
Texas Tech plays at TCU tonight at 6:30 p.m. and brings with it a No. 23 ranking. The Red Raiders moved into the Associated Press Top 25 this week for the first time, believe it or not, in four years. What was that former head coach's name?
Oh yes, Robert Montgomery Knight, who clearly wasn't getting what he wanted out of his troops.
Patrick Knight is.
The son of Bob is in his second full season at the helm (Tech went 14-19 last season) and has the Red Raiders at 8-0, one of 11 undefeated teams in the Top 25. They're coming off an impressive overtime win last Thursday (Bob was in attendance) against then-No. 12 Washington.
While TCU (5-3) continues its rebuilding process under second-year coach Jim Christian, this will be a challenge for the Red Raiders, who have played just one other road game this season, a 63-61 win at Stephen F. Austin on Nov. 24.
One player to keep a close eye on is Tech's 5-foot-11 guard
John Roberson
, who was named the Big 12's Player of the Week.