Dallas Colleges:

Patric Young
April, 5, 2014
4/05/14
8:38
PM CT
ARLINGTON, Texas --
Florida
is 36-3, but
UConn
is playing Monday night. Five things on UConn's
63-53 win
in AT&T Stadium, a victory that puts it one win away from a national title every bit as unlikely as 2011's
Kemba Walker
-led sprint:


1. UConn beat Florida at its own game. Which is to say: defense.
The Gators entered Saturday with the top-ranked adjusted efficiency defense in the country; the Gators had allowed just 0.94 points per possession in their four NCAA tournament games. Much less was made of UConn's defensive prowess, but the Huskies were no slouches on the defensive end in their own right: They entered Saturday ranked 10th in adjusted defensive efficiency thanks to their combination of perimeter pressure and interior shot-blocking.
That's exactly what they unleashed on the Gators on Saturday. Freshman guard
Kasey Hill
-- who had 10 assists in the Elite Eight against
Dayton
-- looked in over his head. Sharpshooter
Michael Frazier II
made his first 3-pointer of the game -- the first shot of the game, which put Florida up 3-0 -- and was never heard from again.
SEC player of the year
Scottie Wilbekin
was hampered by cramps and couldn't shake
Ryan Boatright
or
Shabazz Napier
. Wilbekin finished with three turnovers, one more than he had in his first 212 tournament possessions. One, with about seven minutes left in the first half, saw him leave the ball out in front of his body, practically begging for Napier to swipe it. Napier happily complied. Wilbekin's best look of the night came down 12 -- Florida's biggest deficit of the season, by the way -- with 49.9 seconds left. He barely grazed the rim. Florida scored less than a point per possession.
In short, UConn locked Florida down on the perimeter. It was the kind of disruptive, comprehensive performance we'd come to expect from the Gators -- the type of game in which you can't fathom the opponent scoring with any regularity. Only this time, in their first Final Four since 2007, the Gators were on the receiving end.
2. The Huskies were awfully good on the offensive end, too.
UConn had polished off 1.10 points per trip by the time final buzzer sounded, the most any team had scored on the Gators in weeks. Some of those points came in transition, but a fair number came in the half court, with Napier and Boatright breaking down the Florida perimeter and finding open shooters for quality 3-point attempts. UConn shot 5-of-12 from 3 for the game -- a tidy, efficient 41 percent. Coupled with its defense, it was enough.
3. UConn's start gave no hint of what would come next.
In the first 8 minutes, 49 seconds, the Huskies scored a grand total of four points. They didn't make shots, obviously, but the issues were deeper than that: UConn couldn't create any shots to take. Every ball screen was greeted by a Florida defender. Every attempt at penetration was halfhearted and tentative. Florida's defense was smothering, the Gators were scoring with relative ease on the other end and the energy in AT&T Stadium was nonexistent. It looked like we were in store for a dud. Not so much.
4. DeAndre Daniels is on a tear.
Remember Daniels? The guy who came out of relative (though not total) obscurity to pour in 27 points in UConn's Sweet 16 win over
Iowa State
? He was great again Saturday night, shooting 9-of-14, scoring 20 points, grabbing 10 rebounds and making life immensely difficult for a Florida defense already scrambling to catch up with the UConn guards. Daniels makes UConn a nightmare to guard.
5. Casey Prather and Patric Young gave Florida a shot.
Prather, a former role player turned star, was Florida's best player all season; Young was a four-year contributor with more than 3,600 minutes on his legs. Both will be heartbroken by the loss, but at least they can say they played well: Young had 19 points on 13 shots and added five rebounds, while Prather scored 15 points on 6-of-10 from the field and added six rebounds.
March, 29, 2013
3/29/13
1:30
PM CT
ARLINGTON, Texas -- Leading scorer
Sherwood Brown
was a walk-on. Guard
Bernard Thompson
's awkward shot scared most schools away. Dunking phenom
Eddie Murray
scored 11 points in an entire season two years ago.
PODCAST
Florida Gulf Coast athletic director Ken Kavanagh joins Fitzsimmons & Durrett to discuss his school's Cinderella story and playing in the Sweet 16 at Cowboys Stadium.

Listen

Point guard
Brett Comer
led the Atlantic Sun Conference in assists this season. Not bad for a guy who had no idea how to play the position when he arrived in college.
These are the
Florida Gulf Coast Eagles
, the first No. 15 seed to advance to the Sweet 16 -- and the team you'll be rooting for Friday evening.
Unless you're a Florida fan, of course.
The third-seeded Gators (28-7) will try to avoid becoming FGCU's latest upset victim when the teams square off in the South Regional semifinals at Cowboys Stadium. Andy Enfield's squad opened NCAA tournament play by defeating 2-seed Georgetown and 7-seed San Diego State.
"We know the nation is behind us," Murray said. "Everybody loves a Cinderella."
Especially this Cinderella, with its motley crew of a roster filled with basketball vagabonds and unlikely success stories. The Eagles' personalities make them easy to root for -- and their loose, high-flying, slam-dunking style of play has made them the must-watch team of the tournament.
[+] Enlarge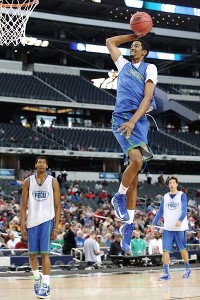 Kevin Jairaj/USA TODAY SportsLeonard Livingston and FGCU are enjoying the ride to the Sweet 16, where No. 3 Florida is next.
"Our main goal is to have fun," Comer said. "You'll see Sherwood Brown with some kiss-blowing, some flexing. You'll see
Christophe Varidel
do a heel click after a 3. It's just the way we are."
And that's fine with Enfield.
"It's the personality of our players and our team and our culture," he said. "What you're seeing is genuine. They enjoy being here. They enjoy playing the game of basketball."
The Eagles (26-10) have certainly earned the respect of their opponent.
"It's tremendous what they've done," Florida coach Billy Donovan said. "It's been a great ride for them. NCAA tournament-history-wise, this has never happened. It's a state-of-the-art, new thing."
And the Florida Gulf Coast campus is relishing it.
When forward
Chase Fieler
walked into the bookstore on the school's Fort Myers campus this week, he said the place was so packed he could hardly move.
"You can't really describe the atmosphere on campus," he said. "It's just been a busy week, with the attention and the media being around. It's exciting.
"At the first news conferences [last week], people weren't really sure what questions to ask us. They looked at us with blank stares. Now they're asking us how we're preparing for a No. 3 team, or they have questions for us personally. No matter what happens from here on out, this is something we'll never forget."
WHOM TO WATCH
Florida's
Erik Murphy
,
Patric Young
,
Kenny Boynton
and
Mike Rosario
each average between 10.3 and 12.8 points per game. Guard
Scottie Wilbekin
is the Gators' defensive specialist. Florida Gulf Coast's Eddie Murray and Chase Fieler have produced some of the NCAA tournament's best dunks thus far.
WHAT TO WATCH
Florida Gulf Coast is the first 15-seed to advance to the Sweet 16, so it'd obviously be a huge feat if the Eagles ended up in the Elite Eight. Florida has lost in the Elite Eight each of the past two seasons.
STAT TO WATCH
Billy Donovan's Gators have been brutal in close contests this season. Florida is 0-6 in games decided by single digits.
January, 28, 2012
1/28/12
6:57
PM CT
So much for a slow Saturday. College basketball fans and pundits alike should know better by now, but we always assume the worst on a supposedly "slow" weekend.
Let's change the rules, based on what we've seen today. If you survey the weekend slate and you can't find any meaningful games and potential upsets that you're overly interested in, that means it's time to call Earl and the crew (everybody has a friend named Earl), stock the fridge and get ready for some good basketball. If this was a lukewarm weekend in college basketball, what qualifies as a great one?


Iowa State 72, No. 5 Kansas 64
Many laughed when Fred Hoiberg began his tenure at Iowa State by recruiting from a pool of players known for their checkered pasts.
Royce White
, who left Minnesota two seasons ago after a tumultuous stay, led the bunch. But Hoiberg looks like a genius right now after the Cyclones handed No. 5 KU its first Big 12 loss of the season. The win snapped both the Jayhawks' 13-game winning streak over Iowa State and their 10-game overall winning streak (they hadn't lost since Dec. 19).
The postgame court-storming was well-deserved for the 'Clones and their fans. Hoiberg has as much job security as any coach in the country based on his legendary career in Ames, which allowed him to pursue so many transfers without worry. In other words, he'd get a mulligan if things didn't work out.
Against Kansas, however, Hoiberg proved that he's more than a risk-taking recruiter. He can coach, too. Iowa State, a squad that suffered an 82-73 loss at Kansas on Jan. 14, led by three points at halftime. But that didn't last. The Jayhawks scored 11 unanswered points early in the second half. The crowd's energy dropped after that KU run, but Iowa State kept fighting, something it had failed to do down the stretch in its earlier loss to the Jayhawks.
White led the charge. With his team leading 56-53 and five minutes to play, he scored the Cyclones' next eight points (three straight layups and a pair of free throws). He entered the game as a 51 percent free throw shooter -- ISU was the Big 12's worst free throw shooting team at 61 percent overall -- but he was 6-for-8 from the charity stripe in the second half. He finished with a team-high 18 points, nine rebounds and five assists, making up for his six turnovers. The team was 25-for-34 from the charity stripe.
So yes, the same Iowa State squad that lost at Drake Nov. 15 looks like an NCAA tournament team right now -- no matter what my colleague Doug Gottlieb might tweet. At 5-3, the Cyclones are off to their best Big 12 start in a dozen years and sure seem like they won't be fading away anytime soon.


No. 4 Syracuse 63, West Virginia 61
It just can't happen. Not in late January with the stakes so high. Not when it's so blatant. Officials in this game missed one of the more obvious and critical goaltending calls of the season. In the final seconds, West Virginia's
Truck Bryant
air-balled a 3-pointer that ended up in
Deniz Kilicli's
hands with his team down by a bucket. Kilicli's layup was swatted away in mid-air by Syracuse's
Baye Keita
, but replays showed what looked like a clear goaltending violation by Keita. Officials never blew their whistles.
West Virginia got the ball back and
Kevin Jones
(20 points, eight rebounds) missed a deep 3-pointer to win the game, but the final outcome might have changed had that crew flagged Keita for goaltending. Now granted, WVU had its chances.
Brandon Triche
(18 points) hit a pair of free throws with a minute and a half to play and the Mountaineers missed four consecutive shots. But the no-call clearly impacted the game.
Syracuse struggled in its third consecutive game without
Fab Melo
. The Orange just haven't looked like the same squad without him and his defensive presence. West Virginia secured an astounding plus-21 (41-20) rebounding edge over the Cuse and had nearly as many offensive boards (19) as the Orange had total. How does that happen? It's not like the Mountaineers are the biggest team in the country. They were just tougher than Syracuse most of the afternoon. And had it not been for that missed goaltending call, West Virginia might have avoided its 13th loss to the Cuse in 14 meetings.


No. 7 Baylor 76, Texas 71
With 4:09 to go, Texas'
Myck Kabongo
hit a 3-pointer as
Pierre Jackson
committed a ridiculous foul to put him on the line for a four-point play opportunity. Texas had been down by 12 points early in the second half, but Kabongo's shot cut Baylor's advantage to just one. Cameras panned to Baylor coach Scott Drew on the sidelines. He had the "I can't believe this is happening at home" look on his face.
Perry Jones
(22 points, 14 rebounds) was far more aggressive than he'd been in some of his efforts, but Baylor couldn't keep the pressure on the Longhorns and nearly blew one at home.
J'Covan Brown
scored 32 points (11-for-22), his third consecutive 30-point effort. But he had way more time to create a better shot than the deep 3-ball he took with 14 seconds on the clock. His team was down by three points in the closing seconds, so I understand why he'd take a deep shot, but he didn't have to shoot it when he did. He had more time on the clock.
Here's where you have to have more question marks about Baylor, though. The Bears are at home. Texas shot 36 percent from the field in the first half and was 1-for-12 from beyond the arc before halftime. Seemed like an opportunity for Baylor to flex its muscle. But it turned into another lukewarm finish for the Bears.


No. 13 Florida 69, No. 16 Mississippi State 57
The Bulldogs just couldn't handle Florida's inside-outside attack.
Patric Young
(12 points, six rebounds) was solid for the Gators, especially after halftime.
Bradley Beal
led the Gators' talented backcourt with 19 points. The nation's leaders in 3-point field goals hit 11 of them as they won their fifth straight and 17th in a row at home.
Arnett Moultrie
was 4-for-10 and scored 12 points for a Bulldogs team that committed 14 turnovers. It was MSU's third SEC road loss of the season. At 5-3 in league play, they'd better find a way to compete away from home. They're certainly talented, but the Bulldogs have really struggled on the road. Thought this one would have been a closer game, but give the Gators credit. They can spread teams out with their guard play and minimize their size disadvantages, a tactic they used to perfection against the Bulldogs.


No. 1 Kentucky 74, LSU 50
The Wildcats are in Beast Mode right now. They're just crushing teams. LSU entered this game following a tight road loss at Mississippi State. But the Wildcats are just a different animal.
Terrence Jones
led all scorers with a season-high 27 points and the Wildcats held LSU to a 1-for-9 clip from the 3-point line. Just two Tigers reached double figures.
Although LSU is only 2-5 in the SEC, you have to wonder how dangerous the Wildcats can be in March when a guy like Jones can explode despite some inconsistency this season. He entered the game averaging 11.6 ppg and he only scored five points against Georgia on Tuesday. But this game was further proof that Kentucky is a "pick your poison" kind of opponent. How do you defend a team with that number of studs? The Wildcats have so many weapons.
Syracuse is deep. Ohio State has balance. But no team in America looks as potent as Kentucky right now.
Some more observations from the afternoon games ...