Dallas Colleges:

Patrick Vahe
February, 5, 2015
Feb 5
4:00
PM CT
Evaluating recruits is an inexact science. From every class, five-star prospects become busts; two-star signees turn into All-Americans.
But as an exercise, I've compiled below what an All-Big 12 team would look like based solely on ESPN RecruitingNation rankings -- even though the actual All-Big 12 teams down the road are sure to look very different (jucos not included):
OFFENSE
QB:
Jarrett Stidham
, Baylor (No. 2 QB-DT)
RB:
Chris Warren, Texas (No. 9 RB)
RB:
Tristian Houston
, Texas (No. 20 RB)
WR:
Jovon Durante
, West Virginia (No. 13 WR)
WR:
Ryan Newsome
, Texas (No. 22 WR)
WR:
John Humphrey
, Oklahoma (No. 23 WR)
TE:
Devonaire Clarington
, Texas (No. 1 TE-H)
OT:
Bobby Evans
, Oklahoma (No. 16 OT)
OG:
Patrick Vahe
, Texas (No. 12 OG)
C:
Jozie Milton
, TCU (No. 8 C)
OG:
Conner Dyer
, Texas Tech (No. 31 OG)
OT:
Madison Akamnonu
, Texas Tech (No. 28 OT)
AP:
DeAndre McNeal
, Texas (No. 28 ATH)
DEFENSE
DE:
Ricky DeBerry
, Oklahoma (No. 14 DE)
DT:
Breiden Fehoko
, Texas Tech (No. 10 DT)
DT:
Neville Gallimore
, Oklahoma (No. 16 DT)
DE:
Louis Brown
, Oklahoma State (No. 23 ATH)
OLB:
Malik Jefferson
, Texas (No. 3 OLB)
ILB:
Anthony Wheeler
, Texas (No. 3 ILB)
ILB:
De'Amontae Jackson
, Iowa State (No. 19 ILB)
OLB:
Cameron Townsend
, Texas (No. 17 OLB)
CB:
P.J. Mbanasor
, Oklahoma (No. 6 CB)
CB:
Holton Hill
, Texas (No. 14 CB)
S:
DeShon Elliott
, Texas (No. 5 S)
S:
Will Sunderland
, Oklahoma (No. 17 S)
Best players at each position who didn't make the cut:
QB:
John Kolar
, Oklahoma State (No. 3 QB-PP)
RB:
Ja'Mycal Hasty
, Baylor (No. 21 RB)
WR:
John Burt
, Texas (No. 25 WR)
TE:
Stone Wolfley
, West Virginia (No. 16 TE-Y)
OT:
Johnny Wilson
, Oklahoma State (No. 34 OT)
OG:
Vaimoe Sekona
, Oklahoma State (No. 37 OG)
C:
Cody Wheeler
, Texas Tech (No. 14 C)
AP:
Blake Lynch
, Baylor (No. 30 ATH)
DE:
Gabriel Campbell, Oklahoma (No. 27 DE)
DT:
Marquise Overton
, Oklahoma (No. 20 DT)
OLB:
Reggie Walker
, Kansas State (No. 54 OLB)
ILB:
Cecil Cherry
, Texas (No. 20 ILB)
CB:
Tyrek Cole
, West Virginia (No. 19 CB)
S:
Jamile Johnson
, Texas Tech (No. 19 S)
A few observations:
Everyone relax. Again, this is not a personal projection. It's based solely on the ESPN RecruitingNation evaluations and rankings. Some will be right. Some will be wrong. OK, you can all breathe again.
The teams above underscore how dominant the defensive classes from Texas and Oklahoma were. The Longhorns landed the league's two best linebackers in Malik Jefferson and Anthony Wheeler, and its best safety in DeShon Elliott. Bob Stoops, meanwhile, called this the best secondary class the Sooners had signed in his tenure, and it's difficult to argue with Oklahoma bringing in a pair of blue-chippers in P.J. Mbanasor and Will Sunderland. Both Red River rivals have difference-makers coming in at every level. It will be interesting to watch how they all develop.
Oklahoma State and Texas Tech quietly put together a pair of noteworthy classes up front. Besides loading up on transfer offensive linemen, the Cowboys signed two of the Big 12's best high school blockers in Johnny Wilson and Vaimoe Sekona. On the other side, Louis Brown is a little raw, but he has the athleticism to be a big-time playmaking defensive end down the line. In Lubbock, Madison Akamnonu and Conner Dyer have the chance to be cornerstones for future Tech offensive lines. The Red Raiders also scored a potential stud up front defensively in tackle Breiden Fehoko. Both the Cowboys and Red Raiders successfully beefed up their trenches, after enduring major struggles last year (OSU offensively, Tech defensively).
Once again, Baylor and West Virginia are two of the leaders in incoming skill talent. Jovon Durante is top-rated receiving coming into the Big 12 and has a chance to help the Mountaineers in 2015 at a position of need. Also watch out for his Miramar, Florida, cohort, cornerback Tyrek Cole, who will be joining a potentially loaded West Virginia secondary. Baylor signed the league's top QB in Jarrett Stidham, one of its top-three running backs in Ja'Mycal Hasty and a dynamic receiver in Blake Lynch. Once again, neither the Bears nor the Mountaineers will be lacking firepower.
TCU doesn't show up much on the above teams, but last season's 12-1 record will have a much bigger effect on the Class of 2016. In fact, it already has. The Horned Frogs are off to a phenomenal start on next year's class with eight 2016 commits already on board, including four in the ESPN Junior 300.
May, 2, 2014
5/02/14
10:00
AM CT
Editor's note: This week we're taking a closer look at five key takeaways from Texas' spring practices and what they mean for the summer and beyond.
AUSTIN, Texas -- High school kids like new. In hindsight, we really shouldn't have underestimated that.
New uniforms, new helmets, new stadiums. All critical assets in recruiting. Just ask Kevin Sumlin, who, seemingly overnight, changed the perception of Texas A&M.
[+] Enlarge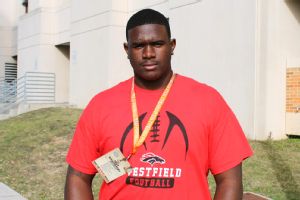 Max Olson/ESPNLSU's 10th-ranked recruiting class by ESPN includes standout offensive lineman Toby Weathersby.
Texas isn't changing its uniform or its helmets this year. Its stadium isn't expanding just yet. But the Longhorns have a brand new coach, and that has made a world of difference on the trail this spring.
For all the disadvantages Charlie Strong and his staff faced when they first arrived, it's hard to call the early results anything other than impressive. Texas' staff has assembled the No. 11 recruiting class in the nation and is well on its way to transforming the way recruits look at the Longhorns.
Defensive end
Charles Omenihu
, one of nine verbal commits in the class, was hooked from the very beginning of his junior day visit. New Texas defensive coordinator Vance Bedford's pitch was simple and compelling: "Why not Texas?"
"He was right. Why would you not want to go to Texas if you live in the state of Texas?" Omenihu said. "Why wouldn't you want to play big ball at a place with a tradition for winning? That really stayed in my mind."
The three-star defensive end from Rowlett, Texas, committed two days later and has become one of the leaders of the class, constantly staying in touch with his fellow commits and countless blue-chip targets.
He didn't think much of Texas in recent years. The new staff got his attention, however, and convinced him that the Longhorns' glory days are coming again, and soon.
"I remember visibly when they won it all in 2006 and them guys were flying around and looked good doing it, too," Omenihu said. "They looked good, played hard and beat people up. You could see that in practice this spring. You could just tell."
For the new staff, that rebranding of Texas football in the spring helped make up for a lot of lost time. Keep in mind, Strong, Bedford and several other assistants hardly recruited the Lone Star State at Louisville and they risked falling behind with the 2015 class with all the time they expended to secure the glass that inked in Februarby.
While Texas scrambled to close out that group, Texas A&M and other in-state foes were already hosting early junior days. Everyone else had a head start.
But the Longhorn staff had their house and their recruiting board in order by the time they hosted that first junior day on Feb. 23. The event led to commitments from Omenihu,
Ronnie Major
and
DeShon Elliott
, and also ensured
Patrick Vahe
would stay on board. That's when the #letsride momentum starting rolling.
Since that first event, Texas has secured eight new verbal commitments and completed a major overhaul of the class Strong inherited. Only two of the nine verbal commitments Mack Brown landed for 2015 are still on the commit list.
Five of those early pledges elected to decommit. The other two, defensive backs
Jalen Campbell
and
Johnny Shaw
, will continue to be evaluated by the new staff this spring and summer.
As it stands today, the revamped class has pledges from five ESPN 300 prospects. Offensive tackle
Toby Weathersby
, the nation's No. 138 recruit, bought in one month after his junior day trip.
"It's just the way they go about doing things," Weathersby said. "They get to the point. Real demanding. Coach Strong wants them to get back to a winning tradition and he's doing everything the way he wants it to go. Let's get it done."
The intensity was just what he was looking for, he said, because he plays on a tight ship at Houston Westfield. And how did Strong take it when Weathersby declared he was ready to commit?
"Well, I had to catch him," Weathersby said. "He jumped in my arms."
Like Omenihu, Weathersby had his own beliefs about what was wrong with the Longhorns. He felt that in terms of intensity, Texas was "like a golf club" in Brown's final years. Strong drastically flipped his perspective on the program's future.
"I can't really go into detail, because it would take me months and months," Weathersby said with a laugh. "But the way he changed everything, I think it's a more strict football program and, with his way of doing things, it's for the better."
Omenihu's wish list for this Texas class is ambitious, and includes ESPN 300 recruits
Malik Jefferson
,
Chris Warren III
,
Holton Hill
,
Kris Boyd
,
Ryan Newsome
and
Cameron Townsend
. And he doesn't intend to give up on five-star Texas A&M commit
Daylon Mack
.
"I wonder why great defensive players would choose to go to A&M," Omenihu said. "It boggles my mind. They don't really play defense. If I'm wrong, someone please tell me."
Worse things were being said about the Longhorns before Strong showed up, that's for sure. This is a game of perception, and so far, Texas' head coach is already changing the game.
April, 18, 2014
4/18/14
11:00
AM CT
AUSTIN, Texas -- Charlie Strong's
#letsride
movement is picking up momentum, and it's going to the next level on Saturday at Texas' Orange-White spring game.
Strong and his coaching staff already have picked up seven verbal commitments since taking over and could have a chance to lock up a few more at the annual spring game. As many as 100 prospects from the 2014, 2015, 2016 and even 2017 classes are expected to be on the sidelines and in the stands for the unofficial first game of the Strong era.
The highlight of that lengthy list? Texas is expected to receive unofficial visits from the following members of the newly released ESPN 300:
April, 18, 2014
4/18/14
11:00
AM CT
AUSTIN, Texas -- Charlie Strong's
#letsride
movement is picking up momentum, and it's going to the next level on Saturday at Texas' Orange-White spring game.
Strong and his coaching staff already have picked up seven verbal commitments since taking over and could have a chance to lock up a few more at the annual spring game. As many as 100 prospects from the 2014, 2015, 2016 and even 2017 classes are expected to be on the sidelines and in the stands for the unofficial first game of the Strong era.
The highlight of that lengthy list? Texas is expected to receive unofficial visits from the following members of the newly released ESPN 300:
To continue reading this article you must be an Insider
April, 16, 2014
4/16/14
1:30
PM CT
Today is a minor holiday for recruitniks: The newest edition of the ESPN 300 recruiting rankings have been released, along with a slew of other grades and evaluations.

It's always a big-time endeavor for the ESPN crew of scouts, so be sure to
click HERE for the ESPN 300
rankings.
Several of today's updates to the ESPN 300 affect the Big 12. Here's a closer look at what you should take away from the rankings:
February, 23, 2014
2/23/14
10:00
AM CT
AUSTIN, Texas -- In the midst of the January recruiting frenzy, a process far more hectic than usual for Texas' brand new coaching staff, defensive coordinator Vance Bedford submitted a plea on his Twitter account to the class of 2015: Be patient.
The new Longhorns coaches were scrambling to crisscross the state and finish off the recruiting class they inherited. They needed every day they could get.
Once the fax machine was turned off for good on signing day, the next battle began. Charlie Strong and his coaches had 16 days to plan for its first junior day and, truly, its first impression with a brand new batch of recruits.
That big day arrived Saturday. When it was over, the visiting recruits offered a common reaction as they left campus. Texas, they said, seemed different.
[+] Enlarge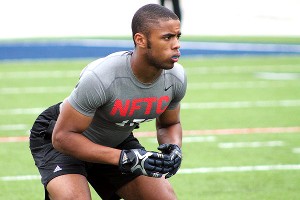 Max Olson/ESPNLinebacker Cameron Townsend says the new Texas coaching staff has made a strong early impression.
"Coach Strong and Coach Mack Brown are two totally different people. But, you know, I still get similar vibes," Missouri City (Texas) Ridge Point linebacker
Cameron Townsend
said. "I definitely like the new coaching staff a lot. I really like Coach Strong. He seems like a really legit guy."
Based on the standards his predecessor established, Strong's first Texas junior day wasn't filled with fireworks or countless rapid-fire commitments. But the first step in a long year of recruiting was a successful one.
Offensive tackle
Ronnie Major
switched his commitment from Baylor to the Longhorns midway through the day. The Huntsville, Texas, lineman landed his offer during the visit and committed on the spot.
Parting ways with Baylor wasn't easy -- Major had been committed since August -- but it was the relationship he built with Joe Wickline and the staff in the past month that sealed the deal.
"That's a great coaching staff," Major said. "I'm going to like playing for them. They said when I come to Texas, we'll have a great program and I'll get a lot better."
Major was one of seven visiting recruits who left town with scholarship offers. Those new offers went to ESPN 300 cornerback
Holton Hill
, receiver
Ryan Newsome
, safety
DeShon Elliott
, defensive end
Charles Omenihu
, Houston cornerback pledge
Jordan Tolbert
and a 2016 prospect, tight end
Kaden Smith
.
Smith already holds offers from the likes of Alabama, Oklahoma, Clemson, Texas A&M and Michigan but had never visited the Longhorns. Strong made it clear just how much Texas needed him.
"We were definitely impressed with Coach Strong," said Janell Smith, his mother. "He has a lot of energy and it looks like a great future here."
Hill, a corner from Houston Lamar, received the second offer of the day and admitted he's built up a stronger relationship with this staff in a short period of time than he had with previous Texas coaches.
"I actually liked it better," Hill said of the coaching change. "I like the coaching staff. I feel like I'll have a better connection to them."
Former LSU commit
Xavier Lewis
(Laplace, La./East St. John) remembers the first thing Strong said to him Saturday when they shook hands was simple: "I want you here."
"Coach [Chris] Vaughn and Coach Bedford, they're not all just about football," the ESPN 300 cornerback said. "They're about building you up as a man. I liked that [Strong] was really hands-on with everybody and moving around and talking to everybody."
The experience had to be somewhat surreal for the six prospects committed to Texas. Brown and his assistants had recruited them for nearly a full year and convinced them they belonged on the 40 Acres. How would the new staff make them feel wanted?
That's a question ESPN 300 running back
Jordan Stevenson
wanted to answer. The Dallas South Oak Cliff standout was recently offered by Alabama but says he's confident he'll still feel comfortable at Texas, no matter who's coaching him.
Stevenson made his verbal pledge one day after Texas' stunning Red River Rivalry victory over Oklahoma in October. A lot has changed since then.
"Everything happened so fast," he said. "But now I'm stronger and prouder of the decision I made. I don't ever question that. It's a blessing."
When his cousins
Sione Teuhema
and
Maea Teuhema
decommitted from Texas earlier this month and chose LSU,
Patrick Vahe
knew many expected him to do the same.
The ESPN 300 offensive guard from Euless (Texas) Trinity said he isn't having second thoughts after spending time with Strong and his coaches. He brought his entire family along for the visit and was proud of what he witnessed.
"The coaches had a really close bond, and it only took them a few weeks to get that," Vahe said. "That said a lot about them, about how they communicate with each other and get on the same page. I feel like they'll do the same with the players.
"I'm not following people. I've thought about it and I think UT is the best place for me. Coach Strong, he showed us a lot."
Corpus Christi (Texas) Flour Bluff cornerback
Jalen Campbell
is one of the leaders of that committed class. He still has lots of love for Brown and what he did at Texas.
But after Saturday, Campbell can't wait to see what's coming next.
"You could tell everybody was ready to go. The main goal is winning," Campbell said. "I think, for the most part, the coaches were more serious. They were smiling, but they're ready to go."
September, 6, 2013
9/06/13
10:40
AM CT
College football is in full effect, but high school football opened with a bang as well. From SportsCenter-worthy catches to conflicting reports about a Big 12 commit -- or decommit, depending on which side you believe -- the weekend is expected to provide a lot of enthusiasm and excitement.
Here's a look at some of the Big 12 storylines:
To continue reading this article you must be an Insider