Dallas Colleges:

Penn State Nittany Lions
November, 15, 2012
11/15/12
11:30
AM CT
While this year's Puerto Rico Tip-Off field isn't chock-full of ranked teams, the bracket is dotted with notable players and emerging squads hoping to prove their worth -- and perhaps pull an upset or two. Here's a quick look:
The basics:
Nov. 15-16, 18 at Coliseo de Puerto Rico in San Juan, Puerto Rico
The set matchups:
Nov. 15 -- Akron vs. Oklahoma State, 10:30 a.m. ET; UNC Asheville vs. Tennessee, 1 p.m.; NC State vs. Penn State, 5 p.m.; Providence vs. Massachusetts, 7:30 p.m.
(
For the full bracket, click here.
)
The favorite:
NC State.
There's a lot of hype surrounding the sixth-ranked Wolfpack, and for good reasons: a strong finish last season that led to an NCAA Sweet 16 berth; the return of junior forward
C.J. Leslie
; and the addition of a heralded freshman class led by
Rodney Purvis
. This is the chance for Mark Gottfried's squad to show it can, and will, build off last March.
[+] Enlarge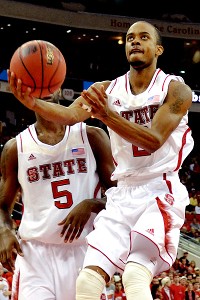 Rob Kinnan/US PRESSWiRENC State will need Lorenzo Brown's leadership as much as his statistics.
FIVE PLAYERS TO WATCH
Jeremy Atkinson, UNC Asheville:
The Bulldogs lost their top three scorers from the squad that won the Big South and came oh-so-close to beating Syracuse in the NCAA tournament last season. Now they're counting on this senior forward. He is averaging 20.5 points and eight rebounds for a team that has already beaten Western Carolina by 10, but lost to UNC Wilmington by eight.
Lorenzo Brown, NC State:
The Wolfpack have plenty of weapons in Leslie, Purvis,
Scott Wood
and
Richard Howell
, but to be consistently successful, Brown has to be the leader of the Pack. He posted 15 points and seven assists in their season-opening blowout win over Miami (Ohio), and those stats are great. But his most important contributions may well be his calm, his confidence and his leadership when this team is tested.
Tim Frazier, Penn State:
The guard was the only Division I player to average at least 17 points and six assists per game last season, setting a PSU season assist record (198) and recording 17 20-point games in the process. Pretty impressive, considering the team averaged only 61.8 ppg. The senior got off to a similar start this season, notching 23 points and six assists in a win over St. Francis (PA).
Marcus Smart, Oklahoma State:
The preseason Big 12 Freshman of the Year recorded 8 points, 7 rebounds, 7 assists and just 1 turnover in 34 minutes in his regular-season college debut against UC Davis. Highly praised for his competitiveness and court vision, the point guard's versatility and decision-making will be key to how far the Cowboys advance.
Jarnell Stokes, Tennessee
: Stokes wasn't quite sure of his identity as a player when he joined the Volunteers out of high school during the middle of last season. But now the 6-8, 260-pound sophomore is a bruiser and a low-post threat. He recorded 10 points and five rebounds in the Vols' season opener, and he will be looking to make things tough in the lane for foes this week. Making him even tougher: the fact that he has so many veterans around him.
FIVE BIG QUESTIONS
Will NC State live up to its ranking?
In this tourney, the Wolfpack are playing for more than what they hope will be the first of several championships this season; they're also playing for credibility. Win, and the kudos continue. Lose, and folks might wonder if NC State is ready for the spotlight. This tournament could set the tone for the rest of NC State's season.
How does Providence fare without Vincent Council?
Ricky Ledo's ineligibility and a shoulder injury to
Kris Dunn
had already left the Friars with only seven scholarship players. Council's hamstring injury not only cuts that to six but also means Providence will be missing the guy coach Ed Cooley considers the best guard in the Big East.
Bryce Cotton
started at point guard in Council's place against Bryant and posted a double-double (24 points, 11 rebounds), but the competition is about to get a whole lot stiffer.
Can Oklahoma State rebound?
In their season opener, the Cowboys had trouble putting away a UC Davis team that won only five games last season, and one of the concerns remains their lack of size. OSU -- playing without expected starting center
Michael Cobbins
, who injured his toe during the preseason -- was outrebounded 40-28 versus UC Davis. The Cowboys will face some tall challenges during this tournament, beginning with Akron's
Zeke Marshall
, and possibly continuing with Tennessee's Stokes.
Who else will step up for UMass?
There's no doubt that guard
Chaz Williams
is the star of this team, but the other Minutemen need to step up in big moments, too. They did just that earlier this week against Harvard, as
Jesse Morgan
and
Sampson Carter
bookended a Williams-forced turnover with 3-pointers to win by three points. Who's next?
Who's that guy with the 7-5 wingspan?
Why, that's the aforementioned 7-foot Akron senior Zeke Marshall. He entered the season as the Zips' career leader in blocked shots (246) and is averaging 4.5 blocks to go along with 11.5 points and 8.5 rebounds. And according to the school's website, he was the first top-100 recruit to sign with a Mid-American Conference program since Rivals.com began its ranking system in 2003.
THE PICKS
Opening games:
Oklahoma State over Akron; Tennessee over UNC Asheville; NC State over Penn State; UMass over Providence
Semifinal games:
Tennessee over Oklahoma State; NC State over UMass
Championship game:
NC State over Tennessee
September, 9, 2010
9/09/10
7:05
AM CT
By
Jeff Caplan
| ESPNDallas.com
It's been well-chronicled the past few days:
TCU
and
Boise State
are pretty darn good.
No argument there. But, national-championship good? The voters, in this case the reporters who cover the teams and the games, think so. When this week's AP top 25 poll revealed that TCU had leaped the Longhorns, bouncing from No. 6, over No. 5, and to No. 4, it put the Horned Frogs bumper-to-bumper with its BCS-buster nemesis, No. 3 Boise State.
Those poll positions, for the first time since the creation of the BCS, mean not just one, but two "non-automatic qualifying" teams are legitimate contenders to bust on through to the national championship game.
Boise has the edge over the Frogs if both sweep their respective schedules -- for a second consecutive season. But, if Boise bumbles just once and TCU stays true, the Frogs would be in position to possibly get the chance to color in the tip of coach Gary Patterson's famed pyramid of goals. It reads: No. 1, National Champions.
But, when push comes to shove, would an undefeated Boise or TCU really get the nod over, say, a one-loss
Florida
or
Oklahoma
?
"I don't think we'll know until we get to the end of the season," Patterson said.
If Boise or TCU -- or both -- don't lose, the coaches that vote in the USA Today top 25 poll will have to think long and hard. (Patterson, by the way, will not be casting votes this season. With a slight smirk, he said he's glad.) The Harris Poll voters will also have to think long and hard. Then it will all come down to a formula and a computer will spit out No. 1 and No. 2 and the national championship matchup is born. (The AP poll is not part of the BCS formula, but the other polls, logically, would be in close step.
So does TCU or Boise have the more difficult path to perfection? And what about No. 1
Alabama
? And No. 2
Ohio State
? Does either have an early loss lurking? And what about No. 5
Texas
? Could Bevo push from behind if it builds a head of steam?
Two of three face stiff tests Saturday: Alabama welcomes No. 18
Penn State
, and Ohio State plays No. 12 Miami at home. Texas should get an easy, crowd-pleasing win in its home opener against the Mountain West's
Wyoming
.
Meanwhile, TCU will be heavy favorites in each of its games, starting Saturday at home against
Tennessee Tech
and leading into the Nov. 6 showdown in Salt Lake against big-in-its-britches
Utah
, soon-to-be Pac-10-bound. The Utes broke into the rankings this week at No. 20.
The Broncos face the Beavers at home on Sept. 25. Two late-season WAC games, fortuitously at home against
Fresno State
and Oklahoma-stunner
Utah State
, stack up as Boise's most challenging obstacles.
If Boise and TCU continue to win, how voters weigh overall strength-of-schedule, an edge the "major conference" teams will win every time, will be an interesting study.
But, who knows? Anything is possible.
Here's a look at the key areas of the remaining schedules for the nation's top five teams:
No. 1 Alabama
Ranked teams defeated:
None
Ranked teams left on schedule:
6 (No. 18 Penn State, No. 14 Arkansas, No. 8 Florida, No. 24 South Carolina, No. 19 LSU, No. 21 Auburn)
Others close to being ranked:
None
Trap game:
at Tennessee
No. 2 Ohio State
Ranked teams defeated:
None
Ranked teams left on schedule:
4 (No. 12 Miami, No. 11 Wisconsin, No. 18 Penn State, No. 9 Iowa)
Others close to being ranked:
Michigan
Trap game:
at Minnesota
No. 3 Boise State
Ranked teams defeated:
1 (No. 10 Virginia Tech)
Ranked teams left on schedule:
None.
Others close to being ranked:
Oregon State, Fresno State
Trap game:
at Idaho
No. 4 TCU
Ranked teams defeated:
1 (No. 24 Oregon State)
Ranked teams left on schedule:
1 (No. 20 Utah)
Others close to being ranked:
BYU
Trap game:
at Colorado State
No. 5 Texas
Ranked teams defeated:
None.
Ranked teams left on schedule:
2 (No. 10 Oklahoma, No. 6 Nebraska)
Others close to being ranked:
None.
Trap game:
at Texas Tech
May, 26, 2010
5/26/10
11:01
AM CT
By
Jeff Caplan
| ESPNDallas.com
At some point, and probably sooner than later, the Big Ten is going to grow. Sure, you've heard
Missouri
and
Nebraska
as the likely candidates to flee the Big 12 for the "greener" pastures of the Big Ten and its lucrative TV network.
But, let's get real. The Big Ten wants powerful
Texas
over them all. UT has the academic standing, the fan base, a sold-out 100,000-seat stadium and all those big-city Texas television sets that make Big Ten officials salivate.
Talk of Texas to the Big Ten was a conversation topic at the Rose Bowl during the national championship week. But, I've never believed Texas would find a better life in the Big Ten as opposed to the Big 12. Here's why: Take a look at Texas' annual favorable football schedule. The conference's largest athletic budget -- heck, the nation's largest athletic budget -- spends next-to-nothing on travel, not to mention the tremendous road-game accessibility for its more-than-ever rabid fans.
The 2010 football schedule includes 10 of 12 games in the state of Texas. Seven games are in Austin. The season opener against Rice is at Houston's Reliant Stadium. Who's the home team is in that game? The Longhorns play at Texas Tech in Lubbock and against Oklahoma in Dallas. Their only other road games are at Kansas State and at Nebraska. That's it.
In 2009, Texas played 9 of 12 regular-season games in Texas, plus the Big 12 title game at Cowboys Stadium in Arlington. Again, home team? Against Baylor at Waco, Floyd Casey Stadium, 90 minutes north of Austin and barely that south of Dallas-Fort Worth, shimmers with burnt orange. In 2008, 10 of 12 games were played in Texas, and 9 of 12 in 2007.
Football is one thing, but the bigger travel factor comes down to the seven men's and 10 women's non-revenue sports. Joining the Big Ten would be a logistical and budgetary nightmare. This week's Big Ten baseball tournament is in Columbus, Ohio. The Big 12 baseball tourney starts today at Oklahoma City.
I haven't worked out the financial figures, but take those 17 non-revenue teams and tally up airfare and buses to travel to and around Columbus, Chicago, Champagne, Ill., Minneapolis, State College, Pa., Ann Arbor, Mich., East Lansing, Mich., Bloomington, Ind., West Lafayette, Ind., Madison, Wis., and Iowa City, Iowa.
Now, want to talk travel and weather, especially for men's and women's basketball in the dead of a Midwest winter? And how about all that additional lost class time for those student-athletes due to travel that the NCAA seems so stressed out about whenever the subject is a football playoff?
As attractive as it sounds to play annual football games against Michigan, Ohio State and Penn State, the overall picture would seem to make little sense for Texas to take its substantial muscle to the heartland.