Dallas Colleges:

Peyton Manning
November, 18, 2011
11/18/11
8:55
AM CT
By
Jeff Caplan
| ESPNDallas.com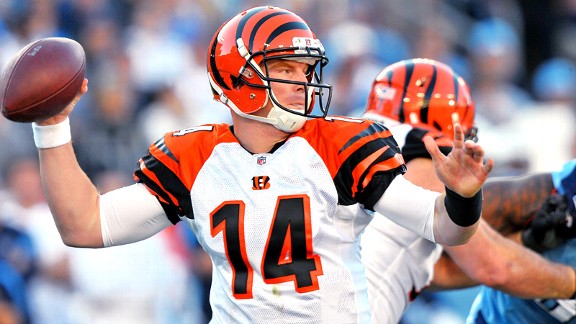 Jim Brown/US PresswireAndy Dalton's quiet leadership has helped turn things around in Cincinnati.
Andy Dalton
got married in July and reported to the
Cincinnati Bengals
in August when the NFL lockout ended. There is no sign of either honeymoon ending soon.
The understated former TCU quarterback who led the underdog Horned Frogs to consecutive BCS bowl games and a riveting Rose Bowl championship as a senior is applying his humble, hard-working approach to the Bengals. He is orchestrating one of the major surprise stories of the NFL season, quickly and remarkably restoring credibility to one of the league's more chaotic -- and downtrodden -- franchises.
In the Queen City, Dalton is dubbed the "Red Rifle" for his fiery red hair and an arm that isn't exactly a cannon. It's certainly been steady enough to lift the Bengals to a 6-3 start after winning just four games all of last season.
Remember, this is a franchise that has stumbled through a mindboggling number of arrests and suspensions; that regrettably joined
Terrell Owens
with
Chad Ochocinco
; whose franchise quarterback,
Carson Palmer
, became so disenchanted with the organization's chronic dysfunction that he walked away after last season vowing never to play another game in tiger stripes.
Could a more volatile situation exist across the NFL for a rookie quarterback with no option other than to start?
"I wasn't worried about anything that happened in the past. I was coming into a new situation where there was basically just open competition for the quarterback job," Dalton said in a phone interview this week. "I was just trying to be myself and try to do what I can to help this team. I think that's the attitude everyone's kind of taken here. We have a young team that's really hungry and wants to be really good. It's the practice we put in and the effort and time, and I think that's helped with our success."
Whether Dalton and the Bengals can keep this going and contend for an AFC playoff berth will unfold over the next seven weeks. They lost a tough, 24-17 decision for first place to North Division rival
Pittsburgh Steelers
. Dalton threw two touchdowns through three quarters, but was picked-off twice in Pittsburgh territory in a scoreless fourth quarter.
Sunday's divisional opponent is another difficult defensive draw and first matchup against the
Baltimore Ravens
, also 6-3. That Dalton's favorite target, rookie
A.J. Green
(41 catches, 635 yards and six touchdowns), left last week's game with an injury and might not play Sunday doesn't make the task easier.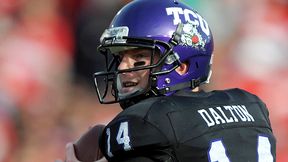 Kirby Lee/Image of Sport/US PresswireAndy Dalton's work ethic and humble demeanor convinced Bengals coach Marvin Lewis to keep coming back "You could tell that they were very high on what he could do and how he did it and how he handled himself," TCU coach Gary Patterson said.
"If you really want to see what it's like to be a quarterback, go play the Ravens and the Steelers with the way they play defense," said Gary Patterson, Dalton's TCU coach and one of his biggest promoters. "He's got his hands full, so let's see how he does. He's probably going 24 hours [a day] doing what he's doing."
That's how Dalton operated even before he became the Red Rifle. His study habits are legendary at TCU and a week rarely goes by when Patterson doesn't reference "Dalton's teams" as an example of discipline and determination that he doesn't always see from this season's younger bunch of Frogs.
Patterson tells stories of Dalton sitting in a darkened film room on the team's day off or of firing up his laptop to break down the road game he just completed before the bus driver can find his keys to whisk the team to the airport.
"My time is devoted to football and there's a lot that goes on, and it's not just while I'm here," Dalton said, speaking of the Bengals' practice facility. "I've got a laptop at home that I watch film on, and it's kind of fun because I get my wife watching it, too, and I try to teach her what's going on. It's definitely been a lot of fun and I'm definitely enjoying it."
Dalton's work habits, demeanor, steadiness and dedication convinced Bengals coach Marvin Lewis and new offensive coordinator Jay Gruden to keep coming back to the TCU campus to work him out. They'd open the playbook to the new West Coast offense they'd install when the lockout ended and let Dalton familiarize himself with it by running plays on TCU's practice field.
A group of TCU's talented senior receivers and defensive backs joined him and, each time, the Bengals walked away more impressed with his accuracy and understanding. The 6-2 Dalton is shorter than most NFL quarterbacks, and he certainly isn't the physical specimen that is fellow rookie
Cam Newton
, whose
Carolina Panthers
have matched last season's win total of two.
But the Bengals concentrated on the qualities that allowed Dalton to lead Katy High School to the state championship game and then rewrite TCU's record books as a four-year starter. They focused on a quarterback that didn't have his best day in the 2010 Fiesta Bowl loss, and then who dedicated his senior season to making amends. His teammates followed. The Frogs beat Wisconsin in the Rose Bowl to finish undefeated and No. 2 in the nation.
"I think their coaching staff took the right approach. They were the last team here before the draft. I mean they had five coaches here," Patterson said. "I'm standing out there with the Bengals head coach and their offensive coordinator and a couple of other assistant coaches and they're throwing the ball all over the place. And you can tell that they were very high on what he could do and how he did it and how he handled himself. So, it was not a surprise to me that the Bengals took him."
He has delivered as advertised: smart, accurate, decisive, even-keeled, competitive and even dangerous. Dalton has provided stability for a franchise in desperate need of a rudder at the game's most important position.
"I came in with an open mind and I came into a great situation getting drafted here," Dalton said. "I felt like the coaches trusted me and had confidence in me early on, so I was just trying to be myself."
Through nine games, no rookie quarterback since the 1970 merger has thrown more touchdowns than Dalton's 14.
Dan Marino
and Jim Plunkett both had 13. Dalton is on pace to break Peyton Manning's rookie record of 26 touchdown passes in 1998.
Dalton has completed 173-of-287 passes, a 60.3 completion rate with just nine interceptions. His accuracy and ability to manage the natural ebb and flow of a 60-minute game helped the Bengals win five consecutive games for the first time since 1988. He says each time he steps on the field he gains a greater understanding of what the NFL's more complicated defensive schemes are attempting to do and how they try to disguise what they do.
"The style of our offense [at TCU] and the things that we were doing, the way we called plays and the way I was able to make checks at the line of scrimmage are very similar to what we're doing here," Dalton said. "The way I was coached and all that stuff really helped me out to get to this point. And, when I came in I feel like the coaches had a lot of confidence in me."
Quickly and quite remarkably, Dalton picked up in the NFL where he left off at TCU.
"It was just going out and being myself, doing what I can to learn everything, to come in and show everybody that they can trust me," Dalton said. "I think I did a good job of that."
April, 11, 2011
4/11/11
9:49
AM CT
STILLWATER, Okla. -- We'll have plenty more on the Cowboys a little bit later this week, but I'll give a little sample today from my time in Stillwater.
Why'd Weeden pick up a third sport?
Brandon Weeden
is already one of the most entertaining stories in the league, considering the 28-year-old spent a handful of years in the New York Yankees' organization after high school before coming to Oklahoma State. The Yankees, as is custom in minor league baseball, paid his tuition before Weeden was put on scholarship four semesters ago. This spring, however, he's added another sport to his repertoire: Weeden joined the university's golf team.
Why? Well, to put it simply, boredom.
Weeden, who didn't even begin playing golf until after his pro baseball career got underway, is only taking three hours this semester as he finishes up his degree in business management. He wanted an outlet to go with his football responsibilities, which have taken a front seat while spring football is in session. During spring break, however, Weeden took to the golf course on all eight days the team was off. A walk-on, Weeden hasn't qualified for an event yet, but he has been competing.
His Cowboys' teammate, Peter Uihlein, got a taste of the Masters this week, shooting 72-77 as an amateur while missing the cut. Weeden ended up in Augusta on Sunday. College life, it would seem, gets pretty awesome when your only responsibilities are three hours of class and football. Oh, and a wife, too. But still. My hat's off. Seems like quite the college experience.
[+] Enlarge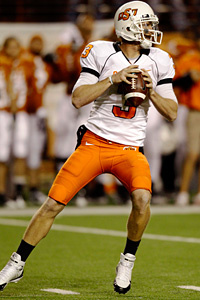 AP Photo/Eric GayOklahoma State quarterback Brandon Weeden picked up another sport this spring.
As for his baseball experience, that seemed pretty good, too. Weeden saw the ESPN 30 for 30 film, "Jordan Rides the Bus" about Michael Jordan's minor league baseball exploits, but he says those famed minor league bus rides aren't all that bad.
"It was the same kind of bus we travel on from hotel to games. I always got my own seat," Weeden said. "I actually enjoyed them. I'd just play cards or be on my cell phone. I'd find something to do. The longest one I ever had was 18 hours, but they're usually 6-9 hours at the most."
Weeden only took four days between the end of his baseball career and the beginning to his college football career.
"I always knew this is what I wanted to do. If I had been 25 at the time, I probably wouldn't have done it. But I was 23 and still felt like I could compete and do it," he said. "Baseball was my first love, but football was another option."
Coach Mike Gundy found out Weeden wanted to play back in 2007, had then-offensive coordinator Larry Fedora place a call to the quarterback and told him he was welcome to walk on. That was in April. By June, he had made it to Stillwater and joined the team.
Early on, he wasn't sure if he'd be able to make it.
"Once I got here for a year or so and started knocking all the rust off, I felt like there was an opportunity, that I might have an opportunity before it was all said and done. I just needed an opportunity. It's tough when you're a walk-on guy like that. You don't get many opportunities, and as a third-string quarterback, you don't get opportunities," he said.
Weeden's came during a Thursday night game against Colorado. Second-string quarterback Alex Cate struggled in place of an injured Zac Robinson, and Gundy turned to Weeden. He engineered a comeback win from down 14, Cate eventually transferred, the Cowboys hired Dana Holgorsen in the offseason and well ... here we are.
"Once I got it, I made the best of it," said Weeden, Oklahoma State's first all-conference quarterback since 1932.
Leach, Holgorsen and pounding Red Bull
One of the more entertaining rumors of the offseason was Mike Leach and Oklahoma State's supposed mutual interest in one another. Leach had been out of football a year, and Oklahoma State needed an offensive coordinator (more on the coordinator it they
did
hire later) to run the Air Raid that made them one of college football's most potent offenses last season.
So, what'd they think about Leach?
Receiver
Justin Blackmon
laughed.
"I thought it'd be a good time," he said.
"It definitely would have been a good time," added Weeden. "I don't know Coach Leach well enough to even say, to be honest, but he came by one time last year, and I think he had a coffee and/or a red bull in his hand at all times. He's definitely wired a little differently."
Wired differently perhaps, but on the same wavelength as Holgorsen, who ESPN cameras
caught chugging a Red Bull on the sidelines of the Alamo Bowl
, a screen shot that made the rounds on the blog circuit in the days that followed.
"That just happened to be the screen shot, but that could have happened any time," Weeden said. "There's no water involved in his beverage choice. It was usually Red Bull, Red Bull or … Red Bull."
On the NFL, Weeden and Blackmon
By electing to return to Stillwater, Weeden and Blackmon provide the possibility for a season even more special than last year's 11-2 campaign -- the most wins in school history.
Their new offensive coordinator, Todd Monken, made the move from the NFL to college. Monken brought with him film for both to check out, including two receivers that rank among Blackmon's favorites: Chad Ochocinco and Andre Johnson.
"I like (Ochocinco) because he talks a lot of trash out on the field, and Andre's just a great receiver who catches the ball better than about anybody," Blackmon said.
As for Weeden? He patterns himself after Peyton Manning, mostly in the way he runs every part of the offense and shapes it before and during plays.
"I've always kind of followed the Colts because of Peyton. I'll watch every Colts game. I like watching him operate. He doesn't have the strongest arm in the NFL, but it's on time and it's on target," he said.
Lots more to come from the Cowboys.