Dallas Colleges:

Phil Forte
February, 18, 2014
2/18/14
1:19
AM CT
Just one month ago, Oklahoma State visited Kansas and lost the kind of game that still managed to spark optimism. The Cowboys' rallied from a 19-point deficit and fell just two points short in an 80-78 loss.
No one could have envisioned a seven-game losing streak back then.
A month ago,
Marcus Smart
was still a viable player of the year candidate and the Cowboys were still a formidable group. For much of the season they were a trendy pick to reach the Final Four.
They looked good in wins over Memphis, a full-strength Colorado, and Texas. And despite bumps along the way -- such as losing starting forward Michael Cobbins to injury and Stevie Clark to dismissal -- they kept the fašade of holding it all together.
That's no longer the case, as things continue to fall apart in Stillwater. Oklahoma State, which was once ranked in the top 10, might not even be a NCAA tournament team after Monday's 70-64 overtime loss at Baylor.
[+] Enlarge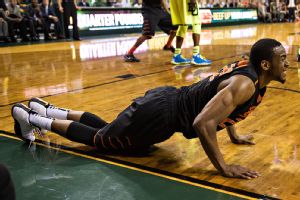 Jerome Miron/USA TODAY SportsMarkel Brown drove himself to a point of exhaustion against Baylor in a gutty 26-point, 45-minute effort.
The Bears, which overcame a five-game losing streak last month, have stopped their precipitous free fall, having pieced together a three-game winning streak. The win moved them ahead of OSU in the Big 12 standings and keeps their hopes of a NCAA berth alive.
The Cowboys have now lost seven consecutive games for the first time since the 1972-73 season. Three of those were without Smart, who will return to the lineup for a rematch against Texas Tech, as it was the loss in Lubbock that landed him a suspension in the first place. It was where Smart shoved a fan who was mouthing off in the stands during the final seconds of another frustrating loss.
The Cowboys were imploding before then, but in the chaos they maintain hope.
Oklahoma State coach Travis Ford said his team had to find an identity while Smart was sidelined. What the Cowboys seemed to discover was toughness, even in defeat. They played Oklahoma to a 77-74 loss on Saturday.
They rallied in the first half against Baylor despite
Le'Bryan Nash
getting in early foul trouble. The Cowboys' best frontcourt option played just six minutes of the first half while little-used reserves
Christien Sager
,
Marek Soucek
and
Mason Cox
all found themselves in the rotation.
For a moment, it seemed like the reserves would mask their shortcomings as the Cowboys led 33-28 at halftime and maintained the lead until about six minutes remained in regulation.
Freshman forward
Leyton Hammonds
, who played just six minutes the entire game, made the 3-pointer at the buzzer to force overtime. It was just his third 3 all season.
Baylor, which was also ranked in the top 10 when league play started, was just as desperate as Oklahoma State for a win. And the Bears had a much deeper frontcourt to rely upon. They exploited an inside advantage, as forward
Cory Jefferson
scored 25 points and had 13 rebounds while center
Isaiah Austin
chipped in 12 points and 12 rebounds.
The Bears controlled the boards 51-36 and outscored the Cowboys 16-1 in second-chance points.
Oklahoma State tried to counter Baylor's brawn with its backcourt.
Markel Brown
, the Cowboys' second-leading scorer, played all 45 minutes and scored a game-high 26 points. Brown seemed to cramp up on one defensive possession to the point in the second half that he was unable to lift himself from the ground. That wasn't enough to get him out of the game though.
Phil Forte
played alongside Brown for all but one minute of the game, adding 20 points for the Cowboys. But no other player scored in double figures. The Cowboys needed one more player to score.
They will now regain that in Smart, who will rejoin a group of teammates who haven't given up on the season.
The Cowboys close with Kansas and Kansas State at home before their regular-season finale at Iowa State. That's three games that could boost their resume and earn them a bid. Judging by their recent games, don't be surprised if they're not done fighting yet.
January, 27, 2014
1/27/14
11:00
AM CT
Just for kicks, let's start with a quiz: Is Oklahoma State a better offensive or defensive team?
Last season, the answer was obvious: The Cowboys were defined by their defense. Nowhere was the impact of
Marcus Smart
's arrival felt more acutely. In the matter of one season, Oklahoma State went from allowing nearly a point per possession to 0.90. The offense got better, but the gains were fractional compared to how Oklahoma State guarded.
This season, things are not so simple. Overall, Oklahoma State's year-over-year efficiency leap on offense rivals 2012-13's defensive jump. Meanwhile, the Cowboys' defense gives up 0.95 points per trip (adjusted, per
kenpom.com
) -- still very good, but a slight upward tick from last season.
[+] Enlarge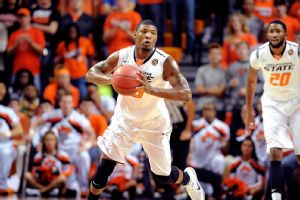 AP Photo/Brody SchmidtExpect Marcus Smart and Oklahoma State to push the pace against another team that likes to run, Oklahoma.
But! Since the start of Big 12 play, the Cowboys have played the league's tightest defense and rank a mere fourth in points per possession on offense. Some of that has to do with having nearly a fourth of their shots blocked by
Joel Embiid
at Kansas, but still. Confusing, right? If you asked the opening question to a Magic 8 Ball, it would tell you to concentrate and try again.
Fortunately, one Cowboys trait has remained consistent all season: speed. Also fortunately, it's one that Oklahoma happens to share and one that all but guarantees another gripping, up-and-down Big 12 affair Monday night in Norman, Okla. Because, believe it or not, Oklahoma and Oklahoma State are more alike than different.
The Cowboys average a healthy 70.8 possessions per game. This season, Ken Pomeroy introduced possession length data into his team reports, which provides a fine-grained look at exactly how fast teams are on both ends of the floor. Oklahoma State wants to score in a hurry: It averages just 15.5 seconds per offensive possession, the 15th-shortest average in the country.
This all makes sense: Oklahoma State has Smart pushing the ball and
Le'Bryan Nash
,
Markel Brown
and
Phil Forte
filling in on the wings. Of course it wants to run. It also wants to slow opposing offenses down: Oklahoma State opponents take 18.3 seconds (rank: 272) to fully deliberate the best course of action. It is this ability to dictate games -- to push the pace on offense and then force a struggle on the return serve -- that makes playing Oklahoma State so challenging in the first place.
Meanwhile, in Norman, the Sooners' success has been one of the surprises of the season. But it pales in comparison to the how. Lon Kruger's reputation for smart, solid basketball teams -- teams that don't hurt themselves with mistakes -- was well earned at UNLV, where Kruger's teams rarely ranked above average in matters of pace.
His first two teams at Oklahoma largely followed that script. This season, the Sooners are positively run-and-gun. They average 72.9 possessions per contest and 1.17 points per trip, and they dispose of those possessions even faster than State -- in just 15.0 seconds, 10th fastest in college basketball. Much like the Cowboys, the Sooners also seek to delay opponents in defensive transition but they're not nearly as good at it, which is among the reasons their defense is giving up 1.07 points per possession in Big 12 play.
That's where the similarities stop. Both teams will be happy to play a fast-paced game. Both teams will look to score in transition and secondary breaks. Both teams will try to do that, all while halting the other. Thus far, though, there is no confusion about what Oklahoma is. It has to outscore you to beat you. Oklahoma State has more than one tool in its box -- and the best two-way point guard in the country to wield them.
November, 9, 2011
11/09/11
4:17
PM CT
FLOWER MOUND, Texas -- Oklahoma State is getting a set of basketball twins from Flower Mound Marcus next season.
[+] Enlarge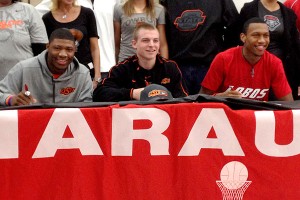 Travis L. Brown/ESPNDallas.comMarcus Smart and Phil Forte will continue their longtime basketball connection at Oklahoma State. Meanwhile, FM Marcus teammate Nick Banyard is heading to New Mexico.
They're not be related by blood, but the connection Marcus Smart and Phil Forte have on the court goes well beyond teammates or even friendship.
"We got to a point where I could tell where he was on the court without even looking at him and vice versa with him," Smart said. "We have a perfect feel for each other. It's like that twin telepathy for each other -- when a twin can feel what the other is feeling -- that's what me and Phil have on the court."
Both signed letters of intent Wednesday to play together at Oklahoma State, continuing a streak of seasons they have been teammates that began in the third grade.
"It's great knowing every time you go out to practice -- to work -- you have your brother beside you," Forte said. "We've been through so much together, good times and bad. Playing four more years with him in college will just make it that much better."
Forte said Oklahoma State was an easy sell because he loved the way he fit into the Cowboys' system as a point guard, especially after watching Keiton Page thrive in Stillwater.
Once Smart -- the ESPNU No. 11 recruit in the nation for his class -- found Oklahoma State to be a good fit as well, the decision was simple.
So family, friends and teammates gathered outside of Marauder Gym on Wednesday morning to watch Smart, Forte and Nick Banyard, a New Mexico commit, ink their pledge to play college ball.
While signing the letter of intent was a moment each savored, there was no question who won the contest of signing their name the required four times first.
"Marcus finished first and we gave him a hard time because he doesn't know how to not finish first in anything in his life," Forte said.
More:
ESPNHS All-Texas basketball team