Dallas Colleges:

Phil Taylor
May, 31, 2012
5/31/12
10:50
AM CT
Yesterday, we tackled the Big 12's best offensive players in the NFL, but today, it's time for the other side of the ball.
The rules:
Players must be active
Players are judged by their current skills
The 2012 draft class is not eligible
Only players from the 2011 configuration of the Big 12 (No Nebraska, Colorado. Mizzou, Texas A&M are included.) are eligible
Let's get to it.
DE: Justin Smith, San Francisco 49ers (Missouri)
Smith has made Pro Bowls in each of the past three seasons and emerged as one of the NFL's premier pass rushers, nearly winning Defensive Player of the Year in 2011. He's forced 14 career fumbles and had 72.5 career sacks.
DT: Phil Taylor, Cleveland Browns (Baylor)
Taylor snuck into the first round of the 2011 draft and started every game for the Browns in 2011, making 59 tackles and four sacks, as well as forcing a fumble.
DT: Casey Hampton, Pittsburgh Steelers (Texas)
Hampton's career has peaked, but the 2001 first-rounder is still effective. He's won two Super Bowls and made five Pro Bowls, the last coming in 2009. He has 350 career tackles with nine sacks and four forced fumbles.
DE: Antonio Smith, Houston Texans (Oklahoma State)
Smith earned his first trip to the Pro Bowl last season, even though it was as an alternate. He has 29.5 career sacks and seven forced fumbles.
LB: Aldon Smith, San Francisco 49ers (Missouri)
Smith was one of the NFL's best pass rushers as a rookie in 2011. He didn't start a single game, yet came within a half sack of
Jevon Kearse
's rookie record for sacks, with 14 sacks. That broke the team record, and the Pro Football Writers of America named him the Defensive Rookie of the Year.
LB: Brian Orakpo, Washington Redskins (Texas)
Orakpo edges out
Derrick Johnson
for this spot, though Johnson was better in 2011. Orakpo was an alternate on this year's Pro Bowl team, but made the squad as a rookie in 2009 and in 2010.
LB: Von Miller, Denver Broncos (Texas A&M)
Miller earned NFL Defensive Rookie of the Year honors and a trip to the Pro Bowl after notching 11.5 sacks and making 64 tackles. He forced a fumble on the first snap of his career, too.
CB: Terence Newman, Cincinnati Bengals (Kansas State)
Newman's taken his fair share of knocks as a Cowboy before being released, but he made the Pro Bowl in 2007 and 2009 and has 32 career interceptions. The Wildcats' former Thorpe Award winner is moving on to the next phase in his career after an up and down career in Dallas.
CB: Aaron Ross, Jacksonville Jaguars (Texas)
Ross won two Super Bowls as a New York Giant, but he's moving on to warmer climates this offseason. He's made 200 career tackles and intercepted 10 passes in five seasons as a Giant before the former Thorpe Award winner signed a new deal with the Jags.
S: Michael Griffin, Tennessee Titans (Texas)
Griffin was a first-round pick in 2007 and made Pro Bowls in 2008 and 2010. He earned an All-Pro selection in 2010 and has 17 career interceptions and seven forced fumbles with his 389 tackles.
S: Earl Thomas, Seattle Seahawks (Texas)
Thomas gives the Longhorns a third member of the All-Big 12 NFL secondary after a Pro Bowl season in his second year, 2011. Thomas was arguably the Seahawks' top defender and has seven career interceptions.
July, 21, 2011
7/21/11
11:43
AM CT
We've tackled every other spot, and now we'll wrap up out Big 12 position rankings with the defensive lines across the Big 12.
Here are the rest of the position rankings.
Now that we've finished ranking the complete units, we'll start ranking the top 10 at each position very soon leading into the 2011 season.
This is a decent position for the Big 12 this season, and the top half of the league should feel pretty good about their group. There aren't many studs in this group, but there are a whole lot of solid players.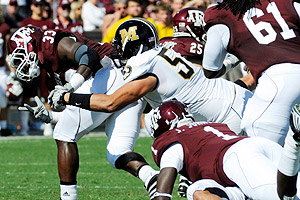 AP Photo/Pat SullivanMissouri has one of the Big 12's best pass rushers in Brad Madison.
1. Missouri --
Missouri has the Big 12's best returning pass rusher and a Defensive Player of the Year contender in Brad Madison, but its depth is what lands it on top of the list. Jacquies Smith is solid at the opposite defensive end spot, and Michael Sam and Kony Ealy provide great depth at DE. Dominique Hamilton's absence last season hurt after breaking his ankle against Oklahoma, but he's back, alongside Terrell Resonno. Sheldon Richardson, who may be transferring from junior college, is a wildcard that could be anywhere between a complete game changer, irrelevant or absent.
2. Oklahoma --
Oklahoma's defensive tackles are somewhat suspect, but the defensive end combo of Ronnell Lewis (provided he is eligible come fall camp) and Frank Alexander is on par with the best in the Big 12. Both were preseason All-Big 12 selections, but Jamarkus McFarland needs to make good on his potential. Stacy McGee and Casey Walker should both get time at the other tackle spot.
3. Texas --
Defensive end Jackson Jeffcoat is loaded with potential as the nation's former No. 1 recruit. He had a big impact early last season before being slowed by an ankle injury. Alex Okafor moved outside from defensive tackle just before spring and had five sacks in the spring game. Inside, Kheeston Randall is an All-Big 12 favorite, but Ashton Dorsey had a strong spring and could help out with Reggie Wilson opposite Randall.
4. Texas A&M --
The Aggies have one of the best linemen in the league in Tony Jerod-Eddie, but Jonathan Mathis, Eddie Brown Jr. and Ben Bass have a lot to prove around him after the loss of Lucas Patterson, who was outstanding in 2010.
5. Texas Tech --
Sam Fehoko has moved to defensive end from middle linebacker, and should provide some good speed to the front line. Scott Smith looked on his way to an All-Big 12 campaign last season, but was suspended for the remainder of the season by coach Tommy Tuberville and has yet to be officially reinstated. For now, Dartwan Bush and Aundrey Barr will help out at defensive end, outside of Donald Langley, Kerry Hyder and Pearlie Graves. The Red Raiders did snatch a big pickup from departed UNC signee Delvon Simmons, a defensive tackle that could have an impact immediately.
6. Oklahoma State --
Defensive line is the biggest weak spot for the Cowboys, who have a decent set of ends in Jamie Blatnick and former heralded recruit Richetti Jones, but an even bigger question mark at defensive tackle where Christian Littlehead and Nigel Nicholas enter fall camp as starters.
7. Kansas --
Top rusher turned defensive end Toben Opurum came on strong late last season and should be one of the most exciting Jayhawks to watch in 2011, but the rest of the line leaves a bit to be desired. Keba Agostino has the other starting spot at defensive end ahead of Pat Lewandowski, who had a great spring. Patrick Dorsey and John Williams enter fall camp as starters at defensive tackles.
8. Kansas State --
K-State recruited this position hard in its 2011 class. For now, defensive end Brandon Harold will try to bounce back from a disappointing 2010 after a promising 2009. Lance Dunbar and Taylor Martinez think this group is ranked too high, but Meshak Williams could start opposite Harold, while Ray Kibble and Raphael Guidry should be the tackles inside.
9. Baylor --
Tevin Elliott was limited this spring because of offseason shoulder surgery, and Terrance Lloyd exited spring practice as the starter, but I'd expect Elliott to regain the spot by the time the season arrives. Phil Taylor, a first-round pick, is a big loss, but Gary Mason Jr. will try to fill his spot next to Nicolas Jean-Baptiste.
10. Iowa State --
Having a pair of linebackers combine for 241 tackles is a good and bad thing. They've got outstanding linebackers, but the defensive line was the Big 12's worst last season for a unit that ranked 10th in rush defense and had just 11 sacks. That was the fewest sacks in the Big 12 and more than just three teams in all of college football. The good news is all four starters return, but for now, this is where the Cyclones start. Stephen Ruempolhamer has some promise, but Cleyon Laing, Jake McDonough and ends Patrick Neal and Roosevelt Maggitt have a lot to prove. Jacob Lattimer ran into offseason trouble, but re-appeared atop the depth chart released by the Cyclones on Wednesday.
May, 2, 2011
5/02/11
9:00
AM CT
The NFL draft has come and gone, and I hope you're all prepared for no more NFL anything for awhile. I know I'm not.
Anyway, here's how the Big 12 shook out over the weekend, with a few thoughts to follow.
First round (8)
Second round (2)
Third round (2)
Fourth round (6)
Fifth round (3)
Sixth round (1)
Seventh round (8)
No. 216: Mikail Baker, CB, Baylor (St. Louis)

No. 227: Scotty McKnight, WR, Colorado (New York Jets)

No. 229: Jonathan Nelson, DB, Oklahoma (St. Louis)

No. 232: Baron Batch, RB, Texas Tech (Pittsburgh)

No. 234: Andrew Gachkar, LB, Missouri (San Diego)

No. 246: Jay Finley, RB, Baylor (Cincinnati)

No. 247: Jeremy Beal, DE, Oklahoma (Denver)

No. 248: Eric Hagg, S, Nebraska (Cleveland)
Here's how the Big 12 teams ranked in terms of total draftees:
1. Nebraska
- 7
2. Baylor
- 4
2. Colorado
- 4
2. Oklahoma
- 4
2. Texas -
4
6. Missouri
- 3
7. Kansas State
-1
7. Oklahoma State
- 1
7. Texas A&M
- 1
7. Texas Tech
- 1
11. Iowa State
- 0
11. Kansas
- 0
And the major conferences (counting where players
actually
played):
SEC
- 38
Pac-12
- 33
Big 12
- 30
Big Ten
- 29
ACC
- 35
Big East
- 22
Texas A&M had just one player drafted, but the Aggies will have plenty next year, including a handful of possible first-rounders. Cyrus Gray, Ryan Tannehill and Jeff Fuller could all go very early in 2012, depending on what happens between now and then.

[+] Enlarge

Matthew Emmons/US PresswireOklahoma defensive end Jeremy Beal was drafted in the seventh round by Denver.

Interesting that Miller went 245 selections before the Big 12's Defensive Player of the Year, according to the media, Jeremy Beal. Also an interesting coincidence? The same team drafted both. I do think Beal will have a productive NFL career, and there's no denying what he did at Oklahoma, but the measurables were never quite there for Beal. What's not measurable? How difficult he is to block. That said, Miller was my vote for the Big 12's Defensive Player of the Year.

Good to see some hard-working, perhaps under-respected guys get drafted. This was an important year for that, considering those left over won't be able to get into NFL minicamps until the lockout ends and won't be able to do anything to further their NFL careers besides work out on their own. I'll have a post later today on some of those snubs. There's no guarantee that late-drafted guys like Baron Batch, Scotty McKnight, Jay Finley or Eric Hagg will catch on in the the pros, but I'd be willing to guarantee they'll do everything in their power to maximize what opportunities they get.

One of the most interesting selections? Mikail Baker. He wasn't invited to the combine, and played just one full season on defense at Baylor after working as a kick returner and a cornerback in 2009 before a season-ending knee injury. You don't see that kind of impressive athleticism at Baylor traditionally.

Let the debate continue: Kendall Hunter vs. DeMarco Murray. Murray getting drafted 40-some spots earlier only intensified that discussion, if you ask me.

Also, what's more impressive from Art Briles? That Baylor had four picks, the most in school history since 1996? Or that despite those four picks, Baylor's returning an even better team than last season, when it ended a 16-year bowl drought?

Colorado's draft, meanwhile? Not exactly a ringing endorsement for Dan Hawkins' coaching job in Boulder.

Alex Henery didn't win the Lou Groza Award, but his fourth-round selection makes him the earliest kicker draft pick since 2006. Will that end the state of Nebraska's blood feud against respectable OSU kicker Dan Bailey, who did win the Lou Groza Award? I doubt it. (Save your emails. For the 100th time, I agree, Nebraska fans. Henery > Bailey.)

A few guys who went way lower than I thought they would. In order of my surprise level: Beal, Gabbert, Amukamara, Hagg, Hunter.

A few guys who went way higher than I thought, in the same order: Aldon Smith, Batch, Gachkar, Baker.
April, 29, 2011
4/29/11
1:01
PM CT
The last time Texas and Oklahoma didn't have a first-round pick?
That was 1998.
The following year, Kansas State and Texas A&M battled for the Big 12 title, with the Aggies earning a berth in the Sugar Bowl.
Every year since, the Sooners or Longhorns have played for a Big 12 title -- winning nine of 12 championships -- and at least one program had a first-rounder the following April.
[+] Enlarge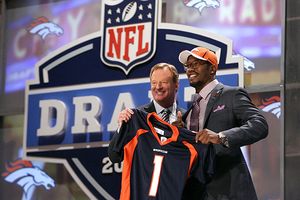 Jerry Lai/US PresswireVon Miller, the No. 2 overall pick, was the first Aggie taken in the first round since 2003.
That streak ended on Thursday night. In a new 10-team Big 12, could we see a new champion come fall? Texas or Oklahoma have won every Big 12 title since 2004.
Oklahoma will be a tough out next year, likely to open the season atop the polls. Next year, they're sure to have at least one first-round pick, and perhaps more. Texas struggled to a 5-7 season in 2010 and will start anew with a handful of fresh faces on the coaching staff in 2011.
But Oklahoma and Texas aside, it's impossible to ignore the rise that other programs in the Big 12 have experienced, culminating in a historic night for three programs.
Excusing Texas' last season, this year's first round is more about Big 12 programs building something big than Oklahoma or Texas eroding.
Want to give your program added credibility? Draft picks are second only to wins in doing so. Nights like these schools had will pay off on the recruiting trail in the future.
Baylor topped the list, adding its second and third first-round picks in Big 12 history. Before Jason Smith in 2009, the Bears hadn't had one. The last time two players from the program were picked in the first round in the same year? 1957.
Phil Taylor
and
Danny Watkins
both were drafted earlier than projected, with Taylor headed to the
Cleveland Browns
and Watkins the
Philadelphia Eagles
. Along the way, Watkins
provided one of the night's signature moments
when his five Canadian firefighter buddies cheered him on from the stands with Watkins pointing in their direction from the stage.
Missouri is further along in its own rise, adding a pair of top 10 picks after having none since Justin Smith went fourth overall in 2001.
Aldon Smith
pulled a surprise, going seventh overall to the
San Francisco 49ers
, significantly earlier than most mock drafts had placed him, and shockingly, ahead of his quarterback.
Blaine Gabbert
followed three picks later, when the
Jacksonville Jaguars
selected him at No. 10.
That gave the Tigers five first-round picks in three years after Smith had previously been the lone first-rounder for Mizzou since the Big 12 began in 1996.
Von Miller
went No. 2 to the
Denver Broncos
, the Aggies first first-round pick since 2003.
Missouri's come the closest of any team in that group to a Big 12 title, reaching the Big 12 title game in 2007 and 2008, where it lost to Oklahoma.
Will either of the three teams eventually reach a Big 12 title? Who knows. But it's clear that all three programs have coaches that are getting them closer and closer.
All three teams are deeper than ever, well-equipped to weather this talent drain. Texas A&M should start the season in the top 15 and looks like a title contender. Despite losing Gabbert, Missouri is better than ever nearly everywhere else. Baylor is building on its first bowl appearance since 1994 and has a great chance to exceed its seven wins from 2010.
Texas and Oklahoma have run the Big 12 on the field for a long time. There are no guarantees in this game, but last night's draft is more evidence that their monopoly could be in jeopardy.
January, 27, 2011
1/27/11
10:09
AM CT
Signing day is exactly a week from Wednesday, and it's time to take a look at who needs what in its 2011 class.
Some schools have addressed these needs with their current class. Some haven't. Others are still trying.
Here's our look at the South, after running down the
Big 12 North
earlier this morning.

BAYLOR
Defensive tackle:
The Bears are loaded on offense and have a ton coming back, but anyone who watched Baylor in 2010 knows the big problems are on defense, starting with the front four. Phil Taylor is headed to the NFL and Nicolas Jean-Baptiste will be a senior next year. Reserve Chris Buford is gone, too. The Bears need to fill out some depth up front to avoid a repeat of their Texas Bowl debacle defending the run against Illinois.
Punter
: Derek Epperson was rock solid as a four-year starter for the Bears, averaging near 44 yards a punt for his past three seasons. He's gone now, and the Bears will need a replacement. The good news is Baylor's offense with
Robert Griffin III
doesn't make the position nearly as important as it used to be.

OKLAHOMA
Receiver:
Ryan Broyles
, a senior, and
Kenny Stills
look ready for big years in 2011, but senior
Cameron Kenney
is gone.
Trey Franks
,
Dejuan Miller
and
Joe Powell
could contribute in 2011, but beyond that, another big-time threat across from Stills would certainly help. One of the Sooners' top 2011 commits, Trey Metoyer, could become that player.
Safety:
Both starters, Quinton Carter and Jonathan Nelson, have graduated, and the Sooners will try to replace them with Sam Proctor, who has started plenty of games, and Javon Harris. The Sooners are pretty well-stocked about everywhere, but more depth in the secondary is always welcome.

OKLAHOMA STATE
Defensive line:
Three of the Cowboys' four starters are gone, and it's always necessary to fill in some depth behind them. Shane Jarka, Chris Donaldson and Ugo Chinasa all had good years in 2010.
Offensive line:
Oklahoma State brings back all five starters for 2011, but four will be seniors. That means replacing them in 2012, which will be a lot easier if those replacements don't end up being true freshmen. Oklahoma State kept offensive line coach Joe Wickline, a candidate for the same job at Texas, and his development of the line last year with four new starters was a big reason for the Cowboys' success. He'll need to do it again in 2012.

TEXAS
Running back:
Fozzy Whittaker
and
Cody Johnson
will both be seniors in 2011, and Tre Newton's career is over because of issues with concussions. Texas would be well-served if its top 2011 commit, Malcolm Brown, can come in and be effective immediately as a true freshman.
Cornerback:
Aaron Williams left early. Curtis and Chykie Brown graduated. Texas needs help at corner and will have big problems in the near future if they don't get it.
Linebacker:
Emmanuel Acho and Keenan Robinson will be seniors in 2011, and Dustin Earnest and Jared Norton already graduated. New talent behind them will help prevent a drop-off in 2012 after Acho and Robinson split.

TEXAS A&M
Kicker:
Randy Bullock will be a senior in 2011, but Texas A&M is already hoping his spot is filled by incoming freshman Taylor Bertolet, the nation's No. 2 kicker who won the Under Armour All-American game with a last-second field goal earlier this month.
Linebacker:
Michael Hodges and Von Miller have graduated, and Garrick Williams will follow them in 2011. The Wrecking Crew was pretty stout for most of 2010, but filling those holes in a four-linebacker front will be key in ensuring things stay that way.

TEXAS TECH
Secondary:
LaRon Moore and Franklin Mitchem are gone, so Texas Tech will be breaking in some new blood in the secondary for new coordinator Chad Glasgow and cornerbacks coach Otis Mounds. Freshmen cornerbacks Jarvis Phillips and Tre Porter made plays in 2010, but they also allowed offenses to make a few of their own. Stopping that will be a big step in Texas Tech getting things rolling under Tommy Tuberville.
Receiver:
Texas Tech already needs to replace
Detron Lewis
and
Lyle Leong
, and
Tramain Swindall
and
Jacoby Franks
will follow suit after 2011.
Alex Torres
was hampered by a back injury all year, but the Red Raiders will need some depth around him at receiver to keep the offense humming.
September, 18, 2010
9/18/10
3:36
PM CT
By
Jeff Caplan
| ESPNDallas.com
FORT WORTH, Texas -- Heading up the creaky, old elevator to the pressbox atop creaky, old Amon G. Carter Stadium, a young TCU staffer, clearly someone on the junior level of the operation, joked with an Indianapolis scout also on the elevator that it's too bad the Colts are here and not the New England Patriots.

Not sure why the Patriots, but whatever.

"Hey, we got one of your guys," the Colts scout said. "Such animosity."

The Colts drafted former Horned Frog Jerry Hughes with the 31st overall pick in the 2010 NFL draft. Hughes might have company in the 2011 draft. Scouts are high on TCU left tackle Marcus Cannon, a 6-foot-6, 350-pound senior, as well as 6-3, 305-pound senior center Jake Kirkpatrick. Quarterback Andy Dalton is also on the radar, not as first- or second-rounder, but he's on the NFL's radar.

Five NFL teams are here today: Cowboys, Bears, Chargers, Texans and Colts.

Not to shortchange the Baylor Bears, who also have a few notable pro prospects starting with left tackle senior Danny Watkins, a 5-11, 310-pounder who is 25 years old and a former firefighter from British Columbia. Also being looked at is senior nose tackle Phil Taylor (6-4, 340), a transfer from Penn State, and punter Derek Epperson Southlake Carroll High School.
July, 26, 2010
7/26/10
2:53
PM CT
By
Richard Durrett
| ESPNDallas.com
IRVING, Texas -- The expectations for defensive lineman Phil Taylor were sky high in 2009.

"A year ago, if Phil Taylor would have walked into this room after I got through talking, you'd have wondered why he was walking and not flying or if there was water, if he needed somebody to get on his back and walk across it, because I really thought, and rightfully so, that Phil would have an outstanding year," Baylor coach Art Briles said Monday.

Of course, that didn't happen. Taylor, who transferred from Penn State, had 25 tackles in 12 starts. But he wasn't the impact player everyone figured he'd be. Taylor said Monday that he wasn't happy with his season and he blamed fatigue. So he went about getting his weight down, dropping 25 pounds and coming in around 340 pounds.

"When I got the weight down, I knew I could play longer and go harder," Taylor said. "I feel a lot better."

Taylor said he would get tired on long drives or even as the games went into the late quarters. And that prevented him from making the kind of plays he needed to make.

"I told him this year, we're going to pass judgment after six ball games," Briles said. "I think I know where he's at, but I thought I knew a year ago too, and I found out I wasn't as smart as I thought I was. We'll see where it goes from there," Briles said.

Taylor said when he's right, he can be a dominating player. That's what he expects from himself this season.