Dallas Colleges:

Polo Manukainiu
October, 25, 2013
10/25/13
11:45
AM CT
COLLEGE STATION, Texas — The words "youth" and "inexperience" are frequently used to describe the Texas A&M defense this season.
The struggles are significant. The Aggies rank near the bottom of the FBS in most defensive statistical categories. According to ESPN Stats & Information, the five teams that have allowed more yards per game than the Aggies -- New Mexico State, Idaho, California, Nevada and Indiana -- have a combined record of 8-27.
Texas A&M is fortunate enough to have a 5-2 record (2-2 in the SEC). It certainly helps to have one of the nation's most high-powered offenses and a reigning Heisman Trophy winner at quarterback (
Johnny Manziel
).
For defensive coordinator Mark Snyder and his staff, it has been a challenge from the start of the season. Suspensions, injuries and ineffectiveness are all to blame.
The Aggies currently have 11 freshmen in their defensive two-deep depth chart. Two true freshmen (defensive tackle
Isaiah Golden
and linebacker
Darian Claiborne
) are starting. The four defensive line first-team spots include Golden and two sophomores. At linebacker, a former receiver who moved to linebacker this offseason (
Nate Askew
) is the starter at strongside linebacker. Of the seven linebackers on the Aggies' two-deep, only one (
Steven Jenkins
) started a full season at the position before this year.
Head coach Kevin Sumlin's first signing class that was completely under his watch had 32 members, 18 of whom were on defense. Of those 18, a dozen have already played this season.
But how did the Aggies get to this point, playing this many freshmen and newcomers? There are some juniors and seniors on the field, but there aren't nearly as many as there were a year ago when the Aggies went 11-2 in their debut season in the SEC.
In 2012, the Aggies were fortunate to have the benefit of some good leaders on defense and others who were productive. At linebacker, Sean Porter and Jonathan Stewart both provided leadership and production. Along the defensive line, Spencer Nealy made the move from defensive end to defensive tackle effectively despite not having the ideal size for the position. Steven Terrell was a steady and heady player at free safety. All four of those players were seniors and part of the 2009 recruiting class. So was Dustin Harris, who didn't always start but played plenty at cornerback and was the team's primary punt returner.
One defensive player still remains from that 2009 class: defensive tackle
Kirby Ennis
, who started last season and this year but suffered a season-ending knee injury on Sept. 28 against Arkansas. But last year's A&M starting defense was more than half made up of what turned out to be a solid recruiting class on the defensive side of the ball.
So to understand why A&M is in the position it is now, take a look at the recruiting classes on defense since then:
In 2010, the Aggies signed seven defensive players and two more that were offensive players but eventually moved to defense. Defensive end Damontre Moore turned out to be a star, but declared for early entry into the 2013 NFL draft with a year of eligibility remaining. For a team that's lacking in its pass rush (only three FBS teams have fewer sacks than Texas A&M's seven this season) a guy like that could help. Of the remainders in that class, three are starting: Toney Hurd Jr. at nickel back, Gavin Stansbury at defensive end and Askew, who was recruited and spent his first three years at receiver, at strongside linebacker. Two others (defensive tackle Ivan Robinson and quarterback Clay Honeycutt, who's now a reserve safety) are playing but not starting. Nehemiah Hicks was considered to be either a defensive end or tight end and became a tight end. The other two players in the defensive class are no longer on the team.
The 2011 class -- the final class signed by former head coach Mike Sherman -- brought 13 defensive players. Deshazor Everett, a cornerback with ability to play safety, is currently the defense's best player. Safeties Howard Matthews and Floyd Raven and linebacker Steven Jenkins also emerged as starters out of that group. One of the big fish landed late in that class, defensive end Brandon Alexander, has rarely played. He's now getting some playing time at tight end. Linebacker Donnie Baggs entered this season as the starting middle linebacker but is now a reserve. Tyrell Taylor is rotating at defensive end. The rest of the group hasn't made any impact at all. Five players in that group are no longer with the program.
The 2012 class, the first one Sumlin signed after essentially two months on the job, had some holdovers that committed to the program under Sherman. It is a mixed bag. Four of those players are starting as either true sophomores (Julien Obioha at defensive end, Alonzo Williams at defensive tackle and De'Vante Harris at cornerback) or in one case, a senior (cornerback Tramain Jacobs, who was a junior college transfer). Defensive end Tyrone Taylor, brother of Tyrell, gets some playing time at defensive end. Edward Pope, who was a receiver/defensive back, is playing receiver for the Aggies. A car accident took away one member from that class -- defensive tackle Polo Manukainiu, who died in a crash in July and is being honored by the team every week this season. A spinal injury took away another member, linebacker Michael Richardson, who played as a freshman. He had successful surgery and was fortunate to not suffer any major physical issues, but is no longer playing football. Defensive back Kenneth Marshall, though on the team, was not part of the 105-man roster during preseason training camp. Linebacker Jordan Richmond transferred to Navarro College in the offseason and one player in the class, defensive tackle Edmund Ray, never made it to campus because of qualifying issues.
August, 29, 2013
8/29/13
1:30
PM CT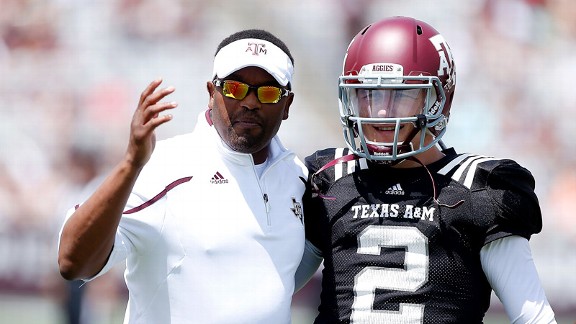 Scott Halleran/Getty ImagesIt's been a long offseason for Texas A&M, with Johnny Manziel's eligibility status and the death of Polo Manukainiu, so Kevin Sumlin and Co. can't wait to get back to playing football.
COLLEGE STATION, Texas — Since joining the SEC, Texas A&M football has been building.
Take one walk in front of the Bright Football Complex and evidence is everywhere. While you can hear the echo of quarterbacks barking commands, coaches making critiques and whistles blowing, those familar sounds are sometimes overshadowed by the sound of moving construction vehicle or the engine of an 18-wheeler.
Last year, it was a 20,000-square foot, $9 million football-only weight room. This year, it's a $4 million expansion of the Bright Complex's lobby and the addition of $12 million nutrition center where athletes can dine. Over the next two years, Texas A&M will renovate Kyle Field to the tune of $450 million.
On the field the Aggies are building for what they hope is a special season. With a preseason top-10 ranking, a Heisman Trophy winner returning at quarterback, a handful of returning starters in key spots and a plethora of talented newcomers added to a squad that was 11-2 in its first SEC campaign, hopes have been high for the Aggies this offseason.
When news came to light about an NCAA investigation into allegations that
Johnny Manziel
profited from signing autographs for brokers, dreams of that historic season required a brief pause. With his eligibility in question, it was uncertain how much field time -- if any -- he would miss. If he missed too much, the Aggies' hopes of an SEC West title, an SEC title, and perhaps even a BCS title, would likely be dashed.
But Wednesday the saga was resolved. The NCAA and Texas A&M released a joint statement indicating that Manziel has a few things to do to restore eligibility, including serve a suspension in the first half of Saturday's season opener against Rice.
What that means for the Aggies is that fans can go back to dreaming about what could be. Since the redshirt sophomore quarterback won't have to miss an extended period of time, he'll be on the field when the Aggies host No. 1 Alabama in a Sept. 14 showdown and every game thereafter as the Aggies attempt to do something they haven't since the last century: win a conference championship, and perhaps a national championship.
January, 31, 2012
1/31/12
12:21
PM CT
The big day is so, so close. National signing day will get started bright and early Wednesday morning, but it's time to take a look at where the Big 12 teams sit with one day left before players can officially sign.
This will change quickly in the next couple days, but here's how they look before things get real crazy. Here's
how the rankings looked two weeks ago, when we last updated the Big 12 scorecard.
This scorecard is written in pencil. Tomorrow, players will sign in ink.
1. Texas Longhorns
National ranking:
No. 3
Total commits:
27
ESPNU 150 commits:
11
Key commits
: RB
Johnathan Gray
, DT
Malcom Brown
, WR
Cayleb Jones
, QB
Connor Brewer
Latest news:
Texas recently added the nation's No. 1 inside linebacker, former Tennessee commit Dalton Santos. That may help its national ranking, which fell from No. 2 to No. 3 since our last update. The Longhorns also added No. 14 ATH Daje Johnson, a former TCU commit. Both were ESPNU 150 prospects. Texas also added defensive end Bryce Cottrell, who had previously been committed to Oregon.
2. Oklahoma Sooners
National ranking:
No. 10
Total commits:
20
ESPNU 150 commits:
5
Key commits:
RB
Alex Ross
, WR
Sterling Shepard
, WR Durron Neal, OL Ty Darlington, WR Trey Metoyer
Latest news:
Oklahoma surpassed Texas A&M since our last update, and added Sam Grant, the nation's No. 18 TE. David Smith, the nation's No. 124 ATH, also joined the fold for the Sooners. One of the nation's top juco offensive tackles, Will Latu also pledged to Oklahoma and could make an immediate impact. Oklahoma swiped Zack Sanchez on Monday, a cornerback who had been committed to Baylor since July.
3. Texas A&M Aggies
National ranking:
No. 12
Total commits:
22
ESPNU 150 commits:
5
Key commits:
OLB
Jordan Richmond
, RB
Trey Williams
, ATH
Bralon Addison
, QB
Matt Davis
Latest news:
The nation's No. 33 defensive end,
Polo Manukainiu
, became a late addition to the Aggies' class, and the nation's No. 30 safety, Edward Pope, also gave new coach Kevin Sumlin a commitment.
4. Texas Tech Red Raiders
National ranking:
No. 17
Total commits:
26
ESPNU 150 commits:
3
Key commits:
WR
Reginald Davis
, WR Dominique Wheeler, OT
Michael Starts
, QB Clayton Nicholas
Latest news:
The Red Raiders added juco cornerback Ola Falemi to their class, but look out for Tuberville on signing day. Switches on the big day are no surprises with him at Tech.
5. Baylor Bears
Total commits
: 22
ESPNU 150 commits
: 0
Key commits
: ATH
Corey Coleman
, OT Kyle Fuller, DT Javonte Magee, OLB Brian Nance
Latest news:
Baylor swiped Kansas QB commit Seth Russell, No. 47 nationally at the position, to make a big wave across the Big 12. It also grabbed cornerback Patrick Levels out of Dallas. Nance and Magee both pledged to Baylor after the new year.
6. Missouri Tigers
Total commits:
18
ESPNU 150 commits:
1
Key commits:
OG Evan Boehm, QB Maty Mauk, ILB Donavin Newsom, OLB Torey Boozer
Latest news:
Missouri may be in the lead in the DGB sweepstakes after hosting the nation's No. 1 receiver on a visit on the final weekend of the recruiting season. The nation's No. 105 ATH John Gibson and No. 151 DT, Harold Brantley, are the latest additions to Mizzou's class.
7. Oklahoma State Cowboys
Total commits:
21
ESPNU 150 commits:
1
Key commits:
TE
Dominic Ramacher
, OLB
Jeremiah Tshimanga
, OT Michael Wilson, QB Wes Lunt
Latest news:
OSU has added five commits since our last update, including Wilson, the nation's No. 22 offensive tackle. Receiver Chance Allen (No. 141) joins the squad as well. CB Kevin Peterson came to OSU after originally committing to Oklahoma. OSU also added receiver Jhajuan Seales. Juco offensive tackle Chris Grishby committed on Jan. 22.
8. Iowa State Cyclones
Total commits:
21
ESPNU 150 commits:
0
Key commits:
OT Daniel Burton, WR P.J. Harris, WR
Quan West
, ATH Damien Lawry
Latest news:
The Cyclones have two fewer commits than the last time we checked in, but added Devlyn Cousin, the nation's No. 154 defensive tackle.
9. Kansas State Wildcats
Total commits
: 18
ESPNU 150 commits
: 0
Key commits:
WR
Vernon Vaughn
, DT Travis Britz, RB Jarvis Leverett, QB Tavarius Bender
Latest news:
Kansas State added five commitments in the last two weeks, highlighted by Demonte Hood, the nation's No. 111 DT. RB Charles Jones is headed to Manhattan via Louisiana, too. S Donovan Starks is coming from Crosby, Texas, and receiver Judah Jones is a Wildcat after wrapping his high school career at power Evangel Christian in Louisiana. OT Ellwood Clement gave K-State five juco players in this class, low by Bill Snyder's standards.
10. Kansas Jayhawks
Total commits:
18
ESPNU 150 commits:
0
Key commits:
TE Jordan Smith, OG Brian Beckmann, S Gregg Allen, DT Tyler Holmes
Latest news:
New coach Charlie Weis has added four commits since our last update. QB Seth Russell, the team's top commit, is gone, but the Jayhawks have the QB spot settled for the next three years with transfers Dayne Crist and Jake Heaps. Greg Allen (No. 89 safety) is the top new addition, and Charles Brooks gives the class a second tight end. The Jayhawks also added a pair of juco defensive tackles that figure to have immediate impacts, Chaquil Reed and Jordan Tavai.