Dallas Colleges:

Prince Ibeh
November, 22, 2014
11/22/14
12:10
AM CT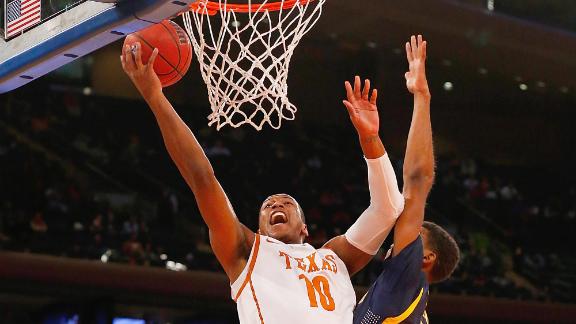 The game was already over. Two minutes left,
Texas
up 64-51. Cruise control.
Texas forward
Jonathan Holmes
was on the right baseline corner when he caught the bounce-pass product of
Javan Felix
's scuttled dribble penetration. Cal's defense stretched. Holmes slid past the close-out, gathered his dribble in his right hand, and jumped at the right side of the rim. For maybe a second, it looked like another easy gliding finish.
Cal center
Roger Moute a Bidias
had other ideas. He jumped too, and when he did he awkwardly and (probably) unintentionally caught his arm around Holmes' neck. The Longhorns forward went down hard.
[+] Enlarge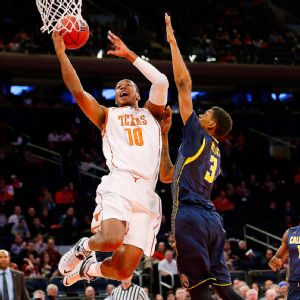 Jim O'Connor/USA TODAY SportsTexas' Jonathan Holmes drives to the basket against Cal's Tyrone Wallace during the Longhorns' win. Holmes has proven to be Texas' most indispensable player early on.
A few seconds later, Holmes was up again. Rick Barnes, and anyone with a shred of investment in the Texas men's basketball program, could breathe a sigh of relief.
The alternate ending to that collision -- an injury -- would have been next-level cruel. On Thursday night, Longhorns point guard
Isaiah Taylor
, in the midst of an aggressive 15-point start to his sophomore campaign, likewise soared to the rim, was likewise battered by an opposing center (in this case, Iowa's Melsahn Basabe) and suffered a left wrist injury that will keep him out of the Longhorns' lineup for weeks. Another key injury on an exact replica of Taylor's garbage-time play would have been unfortunate. Star-crossed, even, and we've barely cracked Week 2.
But an injury to Holmes would have been much worse than that, and not just because Texas has a quality backup point guard in Felix. If two nights at Madison Square Garden told us anything, it's that no player is more important to the Longhorns' success than its one and only senior.
In Texas's two 2K Classic wins, Holmes scored 40 points on 13-of-23 from the field, 4-of-6 on 3-pointers, and 10-of-13 from the free throw line. He grabbed 13 rebounds in Friday's end-to-end dismantling of the Bears. On Thursday, his perimeter shooting was the key ingredient to the Longhorns' second-half burst against Iowa, wherein Texas turned a six-point halftime deficit into a 71-57 blowout. (The Longhorns scored 24 points in that first half and 47 in the second. By the 10-minute mark, the Hawkeyes looked astonished. Understandably so.)
And yes, he was more impressive than his lines. Holmes defended multiple areas on the floor, his length allowing him to pinch in to the paint and spread to the wing in nearly equal measure. He disrupted shots, tracked back on fastbreaks. When Cal went to a zone, Holmes was devastating in the pivot -- his best play of Friday night may well have come with 15:11 left in the second half, when he fired a quick high-low bounce pass to
Prince Ibeh
that made Cal's 2-3 zone look like an art installation. In an event featuring four legitimate NCAA tournament hopefuls, celebrated veteran players like
Aaron White
and
David Kravish
and a fair number of talented newcomers -- to say nothing of Holmes' own teammates -- the Texas swingman had no obvious peer.
It wasn't always supposed to be this way. After two mostly nondescript seasons, Holmes was versatile and plenty efficient as a junior, but the fact that he took even 88 3s -- he made 33 percent of them -- was a sign less of his own strengths than of the Longhorns' weaknesses. He averaged nearly two turnovers per assist. In the spring, Texas landed center
Myles Turner
, the No. 2-ranked player in the class of 2014 (behind only
Jahlil Okafor
). With Turner en route and
Cameron Ridley
already on the block, it was fair to wonder whether Holmes' minutes as a quasi-power forward would be displaced.
Put another way: When people talked about Texas, they talked about Taylor and Turner, and how it would all work out.
Holmes has immediately made that conversation seem silly. He was braced for a change in his role, so, as he said at Big 12 Media Day in October, he worked on becoming a "true" small forward. Passing, ballhandling, shooting. Playing away from the rim on the offensive end. Playing anywhere Barnes needed him, really.
Turns out he didn't need to brace himself much. Turner has been introduced to the college game as a reserve. Barnes is starting forward
Connor Lammert
and giving Ibeh plenty of minutes, too. Turner's game has been tantalizing in spots; a 7-footer with soft baby hooks and quality footwork can't help but get the blood boiling. But he also has had his share of ill-advised shots and missed defensive rotations. He hasn't set the world alight, or forced Barnes to give him for 30 minutes a night.
No matter. With Taylor injured and Turner figuring it out on the fly, Texas has had the most impressive start to the season of any team in the country not named Kentucky or Gonzaga. Soon, people are going to start talking about Texas' odds of unseating Kansas from its 10-year reign atop the Big 12 -- if they haven't started already. As long as Holmes is on the floor, you'll know why.
February, 11, 2014
2/11/14
11:04
PM CT
AUSTIN, Texas -- With less than three minutes left, the taunting was brief and almost merciful.
"Where is Marcus?"
The chant came from a small contingent of Texas fans standing under the basket, and lasted no more than one Oklahoma State possession. In this Frank Erwin Center crowd more than half-gone amid a blowout, everyone could hear it.
"Where is Marcus?"
Marcus Smart
wasn't in the building. As mandated by his three-game suspension, he couldn't travel with his Cowboys to Austin. And without their star, an Oklahoma State team whose season is spiraling looked even more lost.
[+] Enlarge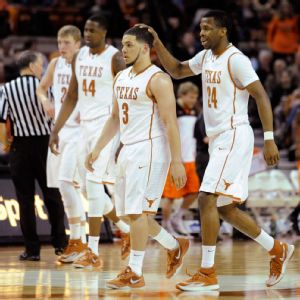 Brendan Maloney/USA TODAY SportsThe Longhorns had plenty to celebrate in their win over the struggling Cowboys.
The Cowboys took their fifth straight loss, this one a 87-68 road beatdown from No. 19 Texas. With or without its star player, this team has now lost six of its last seven games.
"This has nothing to do with Marcus Smart. He wasn't here tonight," Oklahoma State coach Travis Ford said. "So we had to play with what we've got. We can't get caught up in any of that, to be honest with you. I don't even really want to talk about it. Doesn't do us any good. This team has to form its own identity and get out there and play."
The result might've been no different had the Pokes had Smart on the court. Texas (19-5, 8-3 Big 12) came out firing and stayed hot throughout, draining 11 3-pointers on the night and leading by as much as 29 at one point.
This one fell apart quickly on Oklahoma State, (16-8, 4-7), which gave up 54 first-half points to a team that had scored a total of 57 and 59 in its previous two games and was missing its top scorer,
Jonathan Holmes
, to a knee injury.
Going in, Oklahoma State liked its defensive plan in theory. Open up in the zone, defend
Cameron Ridley
,
Connor Lammert
and
Prince Ibeh
inside and dare Texas to make tough shots from long range.
The result: The Longhorns ran off to leads as big as 36-14, 49-25 and 54-28 en route to a season-best half.
Javan Felix
answered the challenge, dropping 17 of his game-high 27 in the first half and hitting a career-high six 3-pointers.
"Give Texas credit. They're a team that's last in the Big 12 in 3-pointers made and they go out and make 11 threes," Ford said. "So they played well, they made shots, they did a great job moving the ball."
Ford liked how his team responded in the second half, with more physical defense and better aggression on both ends, but there was no chipping away at a 21-point halftime deficit.
"We just waited until the second half to start playing how we know how to play," OSU center
Kamari Murphy
said. "It was too late by then."
In three weeks, Oklahoma State has gone from No. 9 in the nation to unranked and eighth place in the Big 12, a staggering slide that got worse Saturday when Smart shoved Texas Tech fan Jeff Orr at the end of a 65-61 loss in Lubbock and received a three-game ban as punishment.
"There was no way I would've thought we would've won the game the way we did. They've got a good team and it's a tough situation for them," Texas coach Rick Barnes said. "I really feel for Travis and their team. This is a team that, you talk about Murphy's Law, what can go wrong has. But there's still a lot of basketball left to play."
Ford isn't making excuses, but the days following that incident haven't been easy. The Cowboys didn't practice on Sunday and arrived in Austin late on Monday after a flight delay. They got in just one practice, around 6 p.m. Monday, to prepare for their stint without Smart.
Add up the loss of Smart, starting center
Michael Cobbins
(ruptured Achilles) and guard Stevie Clark, who was dismissed from the program last week, and you're left with a brutally thin team in need of help.
OSU had no bench players averaging more than 1 point per game available on Tuesday, and just six players who averaged more than 5 minutes per game in Big 12 play.
"I hope we will be better Saturday as far as comfortability," Ford said. "We had guys out there who hadn't played very much."
Added Murphy: "We knew that we would have to get extreme effort from other players that we aren't used to."
And now Oklahoma State is staring down a fate the program can't get used to: Missing the NCAA tournament for a third time in four years. The road ahead doesn't look any easier and it starts with a meeting with rival Oklahoma on Saturday.
"We're going through a tough time right now," Murphy said. "I think everybody in the locker room still has their head in winning. We're not down, not blaming nobody else, not making excuses. We just have to find some way on the team, somewhere in our heart, to win a game."
The question after Tuesday isn't really, "Where is Marcus?" No, the better question is: Who are these Cowboys without him? They received a brutal and honest answer on Tuesday.
February, 3, 2014
2/03/14
2:30
PM CT
AUSTIN, Texas -- Midway through the first half came a play that defined not just
Texas
'
81-69 victory
over
Kansas
, but the Longhorns' season.
Texas guard
Isaiah Taylor
continued his dribble and crashed into Kansas center
Joel Embiid
after a reaching foul had already been called. Embiid tried to snatch the ball away, and, as Taylor jerked it away, it sailed out of bounds.
The brief physical exchange left the 6-foot-1 Taylor standing toe-to-toe and jawing in the face of the Jayhawks' 7-footer.
Taylor made it clear he wasn't backing down.
Neither was Texas.
Following Taylor's lead, Texas brought the fight to Kansas.
The Longhorns don't have a roster full of projected NBA first-round picks, but they have toughness. And it will carry them to more marquee wins like Saturday's.
"I felt like Texas was the hungrier team today," Kansas coach Bill Self said.
[+] Enlarge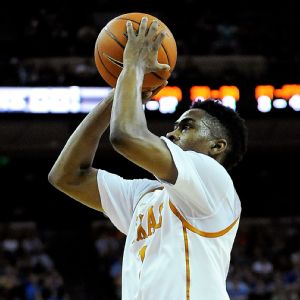 Stacy Revere/Getty ImagesIsaiah Taylor set a tough tone for Texas in its home victory over Kansas.
Starting with Taylor. His energy seemed to ignite the Longhorns, and his quickness confounded Kansas defenders. Taylor had one of his best performances of the season with a game-high 23 points.
"They say that the offensive tempo and defensive tempo ends and starts with me," Taylor said. "Just knowing that they encourage me to do that, it helps my team and it helps my confidence."
While Self said the Longhorns were hungrier Saturday, guard Demarcus Holland said they've been that way for a while now.
They know how fast things can turn. Texas started Big 12 play with consecutive losses to Oklahoma and Oklahoma State and flirted with a third loss at Texas Tech before squeezing out a victory. Now that the Horns have won four in a row over ranked teams and, at 6-2, sit one game behind Kansas for first place, Holland said there was no room for complacency.
"We don't think we're better than what we are," Holland said. "We know who we are as a team; we know what we have to get better at. We're not going to let it get to our heads or anything like that."
Texas coach Rick Barnes won't let it, or more three-hour practices will be in the forecast.
With a week off between games, Barnes allowed the team to have Sunday and Monday off after their victory over Baylor last Saturday. Barnes noted that the team hasn't "responded well to two days off."
Right on cue, the players returned to the court Tuesday and were flat and listless. Instead of allowing them to stay that way, Barnes kept the team practicing until two hours became three. At a time of the season when he normally tapers off hard practices, it sent a message.
"I didn't feel like we were getting done what we needed to get done," Barnes said. "You're always tweaking and adding some things, but it was more just the mental side of it."
The Longhorns responded to Barnes' prompting. Thursday's practice was back at the level Barnes expected, and it carried over into their game against the Jayhawks.
Texas held the Jayhawks to 38.5 percent shooting from the floor, which was second only to 29.8 percent in a loss to San Diego State as Kansas' worst percentage of the season. The Longhorns frustrated
Andrew Wiggins
, who was coming off a career-best 29 points against Iowa State. The freshman star missed his first nine shots from the floor and finished with seven points on 2-of-12 shooting.
"That was definitely the toughest team we've played, probably even some of our [nonconference] games we had," Kansas guard
Naadir Tharpe
said.
Texas' toughness comes from getting contributions from seemingly whoever is in the lineup.
Jonathan Holmes
added to Taylor's scoring outburst with 22 points of his own. Holland tied a career-high with 11 rebounds and
Cameron Ridley
added 10. Ridley and
Prince Ibeh
also had four blocks each as the Longhorns' 12 blocks tied a season high.
"We're not just counting on one guy," Barnes said. "We've had different guys at different times do different things to help us win, and that's what has been the beauty of this group."
Depends on who is doing the viewing. Holland said the beauty was in knowing there is more to come.
"The best thing about it is we know we haven't peaked yet," Holland said. "We still have a lot of room to get better, and we're looking forward to it."