Dallas Colleges:

Quentin Jammer
November, 4, 2013
11/04/13
1:00
PM CT
AUSTIN, Texas -- His jersey and an oil painting of him hang in the hallways of the Texas football facility. His picture is on the wall of the "DBU" room alongside the legends. His highlights are forever cut into secondary coach Duane Akina's greatest hits.
And his little brother wants it all.
Texas cornerback
Quandre Diggs
wants to live moments such as the one he witnessed Friday night, when big brother Quentin Jammer was inducted into the Longhorn Hall of Honor.
Diggs watched with his family, wearing a suit complete with an orange shirt and pocket square and a pink bow tie, and you can guess what was on his mind. No doubt he could envision himself at that hotel ballroom podium, the bronze statuette in his hands.
[+] Enlarge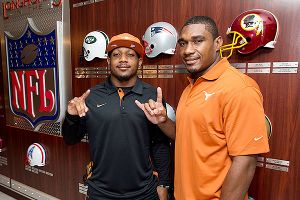 University of TexasQuandre Diggs wants to be just like his brother, NFL cornerback Quentin Jammer. They were born 13 years apart.
All in due time. On this night, Diggs snuck away from the Longhorns' team hotel for a chance to celebrate the reason he plays this game. His brother always had it all. Now it's his turn to go earn it.
Jammer and Diggs share an uncommon bond for brothers born 13 years apart. They both admit they'd probably clash more if they were any closer in age. And now, as the end of one brother's career nears, another is just beginning.
The story of their brotherhood isn't about Diggs living in a shadow. He loves the shadow.
"There's no other role model that I'd rather have in life, honestly," Diggs said.
They've been scrappy, merciless competitors ever since they were young boys living in Angleton, Texas. Diggs says he loves his brother to death and wouldn't trade him for anyone in the world, but that doesn't mean he drops his tough-guy personality around him.
Jammer was a unanimous All-American and Thorpe Award finalist as a Longhorns cornerback from 1997 to 2001. He's a 12-year NFL veteran. Diggs has always promised he's going to be even better.
"Good luck," Jammer says with a grin.
Diggs has been boasting like that since he was a boy, always trying to keep up with the guy he looks up to most. Their oldest memory together, the story they like to tell, is one of Diggs' fascination with doing anything Jammer can.
When he was 5, he once watched as Jammer played with a pocket knife in his bedroom. When he set it down and walked off to take a shower, Diggs pounced.
Out of sheer curiosity, the young boy tried to slice a hole in Jammer's waterbed. That worked a little too well. He covered up the resulting mess with a pillow and bolted out of the room.
"When I came back after my shower, I jumped in the bed and got splashed," Jammer said.
"I was already in the living room by that time," Diggs said, "because I knew what was going to happen."
What followed was the first and only time Jammer had to give his little brother a spanking. Jammer has been teaching Diggs lessons ever since.
He's the one who taught little Quandre to catch a football by firing full-speed passes in the front yard. The boy was always tagging along, always wanting to play catch, even after Jammer became a Longhorn.
"You don't really think about it," Jammer said. "Because he's so young, you try to ease out of the door and he's like, 'Nope, coming with you.' "
Diggs got to hang around the likes of Ricky Williams, Kwame Cavil and Wane McGarity. He liked to duel Major Applewhite in video games and ran routes for the quarterback in the parking lot outside the apartment.
"It's crazy to think about it now," Diggs said, "that the way [Applewhite] talks trash to me now is the way he would talk trash to me when I was younger: 'Get out the way, little man,' and things like that."
Diggs' big brother was a celebrity. He heard about it everywhere he went. Teachers would swoon at the stories he'd tell of hanging with the beloved Applewhite. Even after Jammer went to the NFL with the No. 5 overall pick in the 2002 draft and his fame kept rising, a growing Diggs was never afraid to call after Chargers games and offer his honest take.
"His first five or six years in the league, I was his hardest critic," Diggs said. "If he did something wrong, I was on him telling him what he did wrong, like I really knew what was going on."
"See, that's the difference in his personality," Jammer said. "He would just tell you right after the game."
The truth is, Diggs had nothing but affection for his idol. He'll never forget the time he got to stand on the field and high-five Jammer and his Texas teammates as they ran out of the tunnel amid billowing white smoke.
"It was something that I always wanted to be a part of," Diggs said.
He's living that dream now, and he knows how good he's got it. Diggs is coached by the same expert defensive backs coach who molded Jammer. His old nemesis Applewhite is the co-offensive coordinator who helped recruit him to Texas.
And the quest to surpass his brother's accomplishments is ongoing. Diggs has started 31 games at Texas and has developed into a dangerous weapon for Akina playing the nickel, recording 2.5 sacks off the edge this fall. Opposing quarterbacks know not to throw his way. And, no surprise here: He's as confident as ever.
"I feel like when I'm on the field and when I step on the field, I'm the best player on the field, regardless of who we're playing," Diggs said.
He's just as quick to declare Jammer one of the best to ever wear burnt orange. They're different players. Jammer prided himself on hard hits and lockdown coverage. Diggs calls himself the better playmaker. Better hands, too.
"I feel like the one thing we do have in common is we're both physical as heck and not going to take much crap from anybody on the field," Diggs said. "That's for sure."
Said Jammer: "I didn't just want to beat you; I wanted to beat the hell out of you."
The standard his brother set more than a decade ago, the one Jammer continues to uphold at age 34 with the Denver Broncos, ensures Diggs is never satisfied. In order to be better, he has to be the best.
"When I walk past those pictures of him being on the wall, it makes me want to grind that much more," he said.
Jammer encourages the goal. Keep chopping wood, he says, and continue down the path. Perhaps, someday, that path will lead the brothers back to a hotel ballroom to revel in Diggs' career.
"It's just another thing that helps me chase his legacy," Diggs said.
April, 4, 2011
4/04/11
10:15
AM CT
AUSTIN, Texas -- Taking a big-picture look at Texas' spring game on Sunday, I can't say it was much better or worse than I expected. Our postgame coverage can only say so much, but there was plenty more leftover after Sunday. Here's a few thoughts and notes:
First things first: Texas, to me, looks like a seven- to eight-win team. The defense in 2010 was better than it gets credit for, but the truth is the talent on offense isn't there, and unless
Malcolm Brown
is quite literally the reincarnation of Adrian Peterson, I don't see it happening right away. Maybe Texas proves some people wrong and exceeds expectations. Maybe not. If so, they're going to have to do it as the season goes along. A month of fall camp and improving over the summer isn't going to give the Longhorns enough offense to compete in a league that should be as high-scoring as ever next season.
That said, when fall comes around, Texas will get votes in the preseason poll. Big 12 fans, just be ready for it. Those that do put Texas in their preseason top 25 though, simply aren't paying attention to anything more than the name on the front of the jersey. Texas could certainly improve over the course of the season and play their way pretty quickly into the top 25 with BYU and UCLA on the nonconference schedule along with a likely early-season conference game on the slate. But to start the season, the only teams in the Big 12 that Texas looks markedly better than are Kansas, Kansas State, Iowa State and ... well for now, that's it. To beat anyone else (i.e., Missouri, Baylor, Texas Tech) they'll have to overachieve a bit and improve rapidly, especially on offense. It's really, really hard to envision the team I watched on Sunday knocking off Oklahoma, Texas A&M or Oklahoma State next season.
Texas isn't far off. I believe Mack Brown when he says turnover ratio (-12 in 2010, ranking 116th nationally) is the biggest thing they have to fix. But fixing that will only get them to 7-8 wins. The talent level across the board on offense, quarterback, running back, receiver and offensive line, just isn't what it was in past years. Bringing in more guys like
Mike Davis
or perhaps
Darius White
and Malcolm Brown can help change that, but looking back, Colt McCoy and Jordan Shipley carried the Longhorns offense perhaps even more than any of us knew.
So, that's where I see the Longhorns right now. That's not to say there weren't plenty of positives on Sunday.
For all the pressure he's under, Brown did a nice job of not showing it too much on Sunday. He was all smiles and even left the media room just after entering for interviews to visit with some recruits who were making visits rather than begin answering questions again. "You all are a really important part of our lives, but not nearly as important as recruits," Brown joked when he returned. "I know that's disappointing, but it's fact." He also joked about being undefeated a few times. I'm sure part of him has to be at least a little rejuvenated by what should be a big challenge next year.
Everyone had to be really impressed with both defensive end Alex Okafor and early-enrolling freshman cornerback Quandre Diggs. Okafor looks like he and Jackson Jeffcoat should be great up front, though Jeffcoat's two tackles on Sunday pale in comparison to Okafor's five sacks, a feat he said he never even duplicated in high school. Okafor is even more impressive when you consider he was planning on remaining at defensive tackle until a few days before spring practice began. "We saw that he had the ability to move around and change direction where he could be that guy that can move around. And he is a big imposing figure out there at defensive end," defensive coordinator Manny Diaz said. "The thing is this: he has to be that guy for us. If you look around, he is it. He is our elder-statesman at defensive end. If he feels like he can be good some of the time, then we're going to be good at defense some of the time. For us to be really great on defense, we need him to be great on defense."
As for Diggs, I don't mean to overhype him, but the coaches did it plenty after the game. He looks a lot like a player who could leave Texas with "All-American" affixed to the front of his name. "Quandre is a guy who was born to play defensive back. He just has the knack," Diaz said. "Some guys you have to draw them a map, but Quandre understands what it takes to play there."
Of Diggs, Brown later added: "He does get it," Brown said. "You would never think he's a guy who should be a high school senior." Brown credited Diggs being around his brother, NFL defensive back Quentin Jammer, who was in attendance on Saturday. Texas' secondary is replacing three corners next season, and I'd be shocked if, at the very least, Diggs wasn't in the rotation along with Adrian Phillips and Carrington Byndom. I wouldn't rule him out as a starter, even. Considering everyone is starting on even ground this spring, I doubt he's far behind either.
And one final note on Diggs, a rousing endorsement from senior safety Blake Gideon: "Quandre's going to be a very good player. He's got a chance to do some great things while he's here. There's only so much you can coach. Coach [Duane] Akina tells us that all the time, and he seems to have that natural part, that instinct, that knack for the game, stems on routes and feeling a receivers hips, and that's something that, for a young defensive back is pretty rare," he said. "I think everybody is pretty excited about Quandre and what he brings, and he keeps his mouth shut, which is a very important aspect of being a freshman here."
I'd caution fans not to put a ton of stock in
Case McCoy
's performance on Sunday for two reasons:
It was one scrimmage, albeit an important one.
The numbers were good, but the performance left a lot to be desired.
I was really impressed with McCoy's ability to keep the chains moving and make completions, which is definitely important. But he still looked uncomfortable in the pocket, unwilling to set his feet and throw despite no threat of taking any big hits in a spring game that protected Texas' quarterbacks. He threw off his back foot often, and mechanics like that will have to be fixed if he's going to have consistent success and put up the kind of numbers he did on Sunday throughout next year.
It was a nice step for the quarterback, but when Texas' coaches insist there's no real leader in this competition, I don't believe they're slow playing anyone and trying not to show their hand. I do believe the coaches really have no idea who's going to start next season and need someone to step up and play. With this new system being as complex for quarterbacks as Brown says it is, I don't see last season's experience for
Garrett Gilbert
being a huge advantage.
Finding a quarterback will be a good test for offensive coordinator Bryan Harsin, who found a freshman named
Kellen Moore
in 2008 and got to the Fiesta Bowl the last time he had one of these competitions. In practices, Harsin will let his quarterbacks throw until they have an incompletion in pass skeleton drills, a move to make separation more obvious and one Brown called "genius."