Dallas Colleges:

Quincy Russell
November, 22, 2013
11/22/13
4:00
PM CT
In today's mailbag, Baylor's schedule is compared to Ohio State's, Iowa State fans yearn for the second coming of Bill Snyder and Texas fans want a louder stadium,
Tyrone Swoopes
at QB and a certain coach to be fired.
To the 'bag:
[+] Enlarge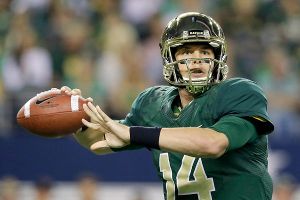 AP Photo/LM OteroOklahoma State will need to force some turnovers, but Baylor QB Bryce Petty has thrown just one interception all year.
Brenna in Stillwater, Okla., writes:
It doesn't seem like anyone is giving Oklahoma State a chance against Baylor. I know you predicted Baylor would win, but do you think the Pokes have a legitimate chance to get the win in convincing fashion?
Jake Trotter:
The win, yes. But in convincing fashion? That's asking a lot. That would require Oklahoma State forcing a bunch of turnovers, which the Cowboys have been terrific at. Problem is, Baylor doesn't turn the ball over.
Bryce Petty
has thrown just one interception all year. The Cowboys are more than capable of winning this game. I almost picked them. But I don't see a scenario in which Baylor gets blown out. That offense is just too good to let that happen.
Isaac in Waukee, Iowa, writes:
Aside from hiring their own "Wizard" what needs to happen at Iowa State to reach Kansas State's level of consistent success? They seem to be similar schools with agricultural roots, true college towns, isolated from bigger TV markets.
Trotter:
Bill Snyder didn't build K-State in a day. The Wildcats had only one winning season in Snyder's first four years. Yes, the Cyclones have taken a step back this year. But Paul Rhoads has proven to be a solid coach, underscored by the fact he took the Cyclones to bowls in three of his four years. Iowa State needs to give him more time. Way more time. Rome wasn't built in a day. Neither was Manhattan. Neither will Ames.
John in Dramaville writes:
So what happens if OU beats K-State, Oklahoma State beats Baylor, Texas Tech beats Texas, Baylor beats TCU, OU beats Oklahoma State and Texas beats Baylor? There would be a four-way tie. Who would get the BCS bowl bid?
Trotter:
The same tiebreakers would apply. The first tiebreaker would be the records of the four teams compared against each other. OU would be 1-2. Baylor would be 1-2. Texas would be 2-1. Oklahoma State would be 2-1. But the Cowboys would get the BCS bowl bid, having defeated Texas head-to-head. Thanks for the headache I now have, by the way.
William in Washington, D.C., writes:
What's going on with
Quincy Russell
and
Hatari Byrd
? Why aren't they getting any playing time?
Trotter:
Because they aren't as good as the guys playing. I know OU fans wanted Russell to be the second coming of Tommie Harris, but that was always a pipedream. I tried many times to tell OU fans this. Byrd is a nice prospect, but he's a true freshman.
Josh Brown in Dallas writes:
In all these hypothetical debates about Baylor and Ohio State, I hear a lot about both teams playing a weak schedule. But I never hear about the one team they played in common, Buffalo. Ohio State won 40-20, while Baylor was up 56-13 at HALF! Any reason this doesn't get more attention as it is the obvious best point of comparison?
Trotter:
I think a more powerful argument favoring Baylor is this: Ohio State has four road wins over teams (Cal, Illinois, Northwestern, and Purdue) who are a combined 0-26 in league play. Contrast that with a potential road win for Baylor at No. 10 Oklahoma State, and the case would be closed, in my opinion. Of course, the Bears have to win that game first.
James Fulton in El Paso, Texas, writes:
Jake, with only two games plus a bowl game left, do you see
David Ash
sitting out the rest of the season? I assume he is eligible for a redshirt, and can come back as a junior next year.
Trotter:
Ash would only be eligible for a medical redshirt if doctors didn't clear him the rest of the season (sitting him while he's cleared doesn't count). But assuming he's not cleared, which is doesn't look like he will be, then yes, a medical redshirt is a very good possibility.
Daniel in Houston writes:
Let me start by saying I'm one of the biggest Texas fans around. That said, what's up with the Texas fans at home games? We are by far the quietest fans I've ever seen. Last year Kenny Vaccaro was scrutinized for making similar comments when he was absolutely right. The student section looks like they are AARP members. I honestly can't get over how quiet it is in DKR. Please help me understand.
Trotter:
The people in Austin have higher expectations than what the Longhorns have been delivering. And 9-3 seasons don't cut it at Texas. They don't get the fans there fired up, either.
David in Richmond, Va., writes:
During the Kansas-West Virginia game, the announcers kept talking about how many West Virginia players were injured. So I have to wonder, how many players are out for each team in the Big 12?
Trotter:
I don't have enough space here to list every injury for every team. But just about every team in the Big 12 has been hit with major injuries. Texas lost
Johnathan Gray
, David Ash and
Chris Whaley
. TCU lost
Devonte Fields
for the year and
Casey Pachall
for several games. Oklahoma lost
Corey Nelson
,
Jordan Phillips
and
Trey Millard
. Baylor lost
Tevin Reese
and now
Spencer Drango
. Oklahoma State lost
Devin Davis
during the preseason and has been without
Josh Stewart
. Texas Tech is missing several key defensive players. Iowa State has been beat up offensively pretty much all year. Injuries are part of football, and West Virginia is hardly exclusive to them.
James in Overland Park, Kan., writes:
Will Tyrone Swoopes start for Texas against Texas Tech? Also will
Mack Brown
be fired after the Baylor game?
Trotter:
Swoopes could play more, but McCoy is going to get the start. It's possible that Brown resigns after the Baylor game, but he's not going to be fired Lane Kiffin style.
Scott in Edgewater, Md., writes:
What does Dana Holgorsen have to do to right the ship? Better recruits? More experience? Better coaches? I understand that the Big 12 is not the Big East, and that we have lost Stedman Bailey,
Geno Smith
and Tavon Austin. But this is getting unacceptable to me. At what point does Holgorsen have to worry about his job?
Trotter:
I don't think Holgorsen is in danger yet, even after that disappointing performance in Lawrence. The man who hired him (Oliver Luck) is still there, and this was always going to be a rebuilding year. But the Mountaineers better show improvement in 2014, or things could get tense real fast in Morgantown.
Josh in Hastings, Neb., writes:
Obviously the best bowl scenario for the Big 12 would be for two undefeated teams to lose and Baylor to go to the national title game. But if that doesn't happen, wouldn't the best scenario be for Oklahoma State to beat Baylor this week, then for Baylor to win out? Baylor would then be in good position to get a BCS at-large bid. What do you think?
Trotter:
The scenario you lay out is the best path for the Big 12 to get two BCS bowl teams. Probably the only way.
Cat in Manhattan, Kan., writes:
Any chance we get ranked if we beat OU?
Jake Trotter:
Doubtful. K-State is still not receiving any votes for the Top 25. But if the 'Cats finish the regular season with an 8-4 record and a six-game winning streak, maybe they'll slip in. They'd definitely be deserving at that point.
August, 1, 2013
8/01/13
3:00
PM CT
Oklahoma is one of three Big 12 teams to open up camp today. With grass and sweat officially in the air, you know football isn't far off. Let's take a closer look at the Sooners.

Schedule:
Oklahoma opens camp later today in preparation for its Aug. 31 opener at home against Louisiana-Monroe. The Sooners will host a fan day on Saturday, too.
Setting the scene:
The story of the offseason for the Sooners is replacing quarterback Landry Jones and a host of defensive players from a unit that started 2012 strong but finished in disastrous fashion with rough outings against West Virginia, Oklahoma State and a blowout loss to Texas A&M. The quarterback competition heated up a bit more than expected during the spring, but
Blake Bell
separated himself a bit in the spring game, though he hasn't been officially named the starter ahead of
Trevor Knight
and
Kendal Thompson
.
All eyes on: Bell
. That's going to be the story for a lot of Big 12 teams this fall. Everybody knows Bell is a physical presence, but there seems to be a lot of skepticism around the league about his ability to throw the ball. That skepticism seems to be rooted in an ignorance regarding his high school career. He's still got a lot to prove despite rushing for 24 touchdowns in the past two seasons, but Bell threw for 69 touchdowns and 15 interceptions along with just under 6,000 yards in his last two years of high school. Kansas high school ball isn't the Big 12, but the point is, Bell was recruited because of his passing acumen, and his ability to get some tough yards was simply a bonus. "Blake is a guy that does throw the football well. We have a history in my going on 15 years of having guys in quarterbacks that are really excellent throwers, and Blake fits that mold," coach Bob Stoops said at Big 12 media days last week. "We would never recruit a guy that we didn't feel would be a great passer."
Outlook:
Oklahoma finds itself in an odd position of being something of an underdog. Not a big one, but this is the first time since the Big 12 went to 10 teams that the Sooners haven't been picked to win the league. Oklahoma did get eight first-place votes from 43 voters, and is second in the league's media preseason poll, but Oklahoma is not used to starting the season outside the top 15, which might happen.
Stepping up:
The Sooners need major help on the defensive line, and might need even more with the lone returning starter,
Chuka Ndulue,
likely suspended for the season opener after an offseason DUI arrest. Last season was one of the worst defensive lines at Oklahoma in a long time, which was painfully evident in the Cotton Bowl loss to the Aggies. Oklahoma needs promising prospects like
Geneo Grissom
,
Jordan Phillips
,
Charles Tapper
and
Mike Onuoha
to start turning the corner. Getting juco transfer Quincy Russell officially eligible as soon as possible would be a huge help, too.
Breaking out:
Jalen Saunders
is likely to emerge as Bell's top target, but keep an eye on
Sterling Shepard
. He showed tons of promise as a true freshman a year ago, catching 45 balls for 621 yards and three scores. He caught multiple passes in 11 games last season, and drew comparisons to Ryan Broyles along the way.
Quotable:
Stoops, on fixing the defense that returns just four starters -- "Definitely, in some of our schemes a year ago, we were more coverage-conscious, and it hurt us in the run game. We'll have to make some adjustments there. And personnelwise, we do lose quite a few guys, but we are very excited about the talent and ability of some of the young players coming up that we're still developing, still polishing, still trying to improve skills."
February, 28, 2013
2/28/13
9:00
AM CT
This week, I asked you to weigh in with your vote as the Big 12's biggest impact junior college transfer next fall.

Whaddaya know, Big 12 fans dig the quarterback. junior college All-American quarterback and Kansas State transfer
Jake Waters
took home your vote by a sizeable margin. He hauled in 37 percent of the vote, outpacing every other contender by at least 16 percent of the votes.
It could definitely happen, and like I said in the post, he could be a household name this time next year. Coach Bill Snyder's track record with junior college transfers speaks for itself, and Waters has a good shot to win the quarterback job this spring when he goes head to head with
Daniel Sams
. I'm still a bit surprised Waters won the vote by that much.
Oklahoma defensive tackle
Quincy Russell
grabbed 21 percent of the vote, finishing second. He won't be a household name by this time next year, but how many Big 12 defensive tackles ever are? There's opportunity for him to make a big impact for the Sooners' depleted defensive line immediately.
My pick for the biggest impact, though? I'm looking square at Oklahoma State defensive end
Sam Wren
, who received 17 percent of the vote, good for fourth in the poll. Oklahoma State needs a ton of help there after losing three seniors, and I don't see a lot of potential in the guys following them up on the line. I obviously don't spend much time watching junior college football, but when Mike Gundy is talking about his recruiting class and Wren's name is one of the first out of his mouth, that's a very good sign. We'll see how Wren does this spring. Enrolling early will be huge for him.
Texas offensive tackle
Desmond Harrison
was third with 18 percent of the vote. I'd expect him to find a place in the rotation, but I don't know that I'd call him a huge impact player. Oddly, the highest-ranked player in the poll hauled in the fewest votes. Big 12 fans don't seem to be buying into defensive tackle
Marquel Combs
' potential to make an impact at Kansas. I'll be shocked if he doesn't start, but the nation's No. 3 overall prospect will have plenty to say in spring practice when KU kicks off next week.
What'd you think of the poll results?
February, 27, 2013
2/27/13
10:00
AM CT
We talked freshmen last week, but today, it's time to look at the league's biggest incoming juco transfers. Take your vote on which one will have the biggest impact in 2013.

Jake Waters, QB, Kansas State:
Waters is an All-American who broke Cam Newton's completion percentage record for his Iowa junior college, and he'll try to knock off
Daniel Sams
and win K-State's starting quarterback spot. The 6-foot-2, 215-pounder is No. 70 in our ESPN Juco 100. If he wins the job, he could be a household name this time next year.
Marquel Combs, DT, Kansas:
Combs is the highest-ranked player among jucos headed to the Big 12. The No. 3 overall prospect signed on to help Kansas beef up its defensive line and could have a big impact immediately at 6-foot-3 and 310 pounds out of Memphis.
Sam Wren, DE, Oklahoma State:
Mike Gundy has been raving about Wren, who'll help Oklahoma State fill its void at defensive end, where the Cowboys lost three seniors from last year's team. The 6-foot-3, 255-pound Palestine, Texas native is coming to OSU from junior college in Arizona.
Quincy Russell, DT, Oklahoma:
Oklahoma needs a whole lot of help on its defensive line, and Russell might be the man to help. The San Antonio, Texas native is a load at 308 pounds and 6-foot-4, ranking as the nation's No. 39 overall juco prospect.
Desmond Harrison, OT, Texas:
Texas had success bringing
Donald Hawkins
in from junior college last year on the offensive line, and they're going back to the well with Harrison, a 6-foot-8, 310-pound California native who'll try to contribute for the Longhorns as the nation's No. 38 overall prospect among jucos.
Vote in our poll.