Dallas Colleges:

R.C. Slocum
November, 22, 2013
Nov 22
3:00
PM CT
How long has it been since Texas A&M traveled to Baton Rouge, La., to play LSU in Tiger Stadium? Aggies head coach Kevin Sumlin offers perspective.
"It's a little bit different for our current players than maybe it is for our former students or our fans," Sumlin said. "That was [19] years ago. Guys like [starting middle linebacker]
Darian Claiborne
, shoot, they couldn't even
walk
the last time we went to Tiger Stadium."
[+] Enlarge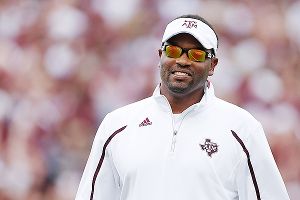 Scott Halleran/Getty ImagesKevin Sumlin will take Texas A&M back to Death Valley for the first time in 19 years.
To be exact, Sept. 3, 1994 was the last trip the Aggies made to Death Valley. Texas A&M won 18-13 and the teams played the next season at Kyle Field, a 33-17 win for the Aggies.
The 1995 battle was the last of 10 straight and the teams didn't meet again until the Cotton Bowl brought them together in 2010. The major shifts that shook up college football because of conference realignment have usually broken up rivalries, but in this particular case, it rekindled an old one with the Aggies and Tigers becoming conference mates in the SEC West Division.
LSU and Texas A&M have a long history together with the Tigers leading the all-time series 28-20-3. Former Texas A&M coach R.C. Slocum, who coached in seven of those battles, called it a "great rivalry."
"I think over the years it's been a natural thing because the closeness of the two states and the environment," said Slocum, who was born in Louisiana and coached high school football in that state, but grew up in Orange, Texas, virtually on the Texas/Louisiana border. "There were so many people, particularly in Southeast Texas and in Houston in the oil industry that had Louisiana ties. And if you went into Southeastern Louisiana and down to New Orleans, again, because of the oil industry, there were a lot of people with Texas ties."
It was a bit of baptism by fire for former LSU coach Gerry DiNardo. When the teams met in 1995, the last time they would meet for 15 years, it was DiNardo's first game as the Tigers coach. And he had the unenviable task of coaching the season opener at raucous Kyle Field.
"I don't know that anybody wants to open up at A&M when you take over a job," DiNardo said with a laugh.
"I really didn't know much about it. I was in the Southeast for four years at Vanderbilt then I went to LSU. When you first take over a job, there's so many things that you have to do that honestly, you don't pay much attention to your first opponent until it's close up.
"I did have an appreciation for the rivalry. It was a great setting and a good game."
The teams' first meeting dates back to 1899 and the teams played sporadically until 1942, which began a series of seven straight years that the teams played. The teams played annually from 1960-1975 then didn't again until 1986, which started a string of eight consecutive games.
The teams were to continue playing through at least the 1997 season but LSU chose not to play the final two games that were part of a 10-year contract between the teams that began in the 1988 season.
[+] Enlarge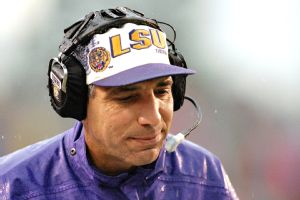 Andy Lyons/Getty ImagesGerry DiNardo's first taste of the rivalry came in his first-ever game as LSU's coach.
DiNardo suspects that the SEC expansion that turned the conference into a 12-team league and split it into two divisions back in 1992 was a big factor in ending the rivalry at that time.
"When the SEC went to two six-team divisions, everybody thought they were all going to kill one another," DiNardo said. "I was at Vanderbilt the first year we had that and I'm sitting in the coaches meetings and coaches were saying 'We will never win another national championship game.'
"Alabama won it that year and obviously, the rest is history. Just the opposite happened."
Now the teams share the same division and will see each other annually. With Texas A&M not playing longtime rival Texas, its former Southwest Conference and Big 12 Conference mate, for the foreseeable future, it could be LSU that emerges as the Aggies' traditional Thanksgiving weekend rival. The teams are scheduled to play on Thanksgiving Day in 2014.
"I am ecstatic about LSU and being able to play on Thursday of Thanksgiving," Texas A&M athletics director Eric Hyman said when the SEC schedule was announced in August. "To be able to play LSU just makes a natural rivalry, the proximity and everything else."
There also should be some familiarity with players on each side, as LSU recruits Texas and Texas A&M recruits Louisiana. As long as Sumlin and Les Miles are coaching, that will continue. But for it to develop as a rivalry, the teams might have to play each other a few more times consecutively and it won't hurt if both teams are successful -- as they are right now with both ranked in the Top 25 -- when those meetings occur.
"For our fans, it has the potential [to become a rivalry]," Sumlin said. "… I've got a feeling that as soon as we try to get into Tiger Stadium tomorrow at about 12:30 they'll figure out what kind of atmosphere we're playing in and what kind of rivalry it is."
September, 4, 2012
9/04/12
3:58
PM CT
A little more spice has been added to Saturday's game between No. 24 Florida and SEC newcomer Texas A&M.
There's a humorous billboard standing in Gainesville, Fla., heralding Texas A&M and taking shots at the SEC.
[+] Enlarge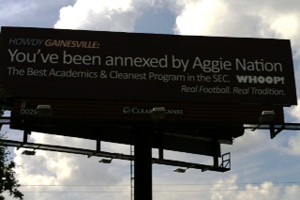 ESPN.com's Michael DiRoccoTexas A&M denies any involvement with this billboard displayed in Gainsville, Florida.
The billboard reads: "You've been annexed by Aggie Nation. The Best Academics & Cleanest Program in the SEC. WHOOP! Real Football. Real Tradition."
WHOOP, indeed!
Texas A&M spokesman Jason Cook said on Twitter that the university isn't associated with the billboard and had nothing to do with it being planted in Gainesville.
"The Gainesville billboard was NOT placed by Texas A&M University. We are investigating," Cook tweeted.
Cook later came out with a statement in which he clarified even more that the Aggies had nothing to do with the billboard:
"This billboard was not placed by Texas A&M University, and it is certainly not reflective of how we have handled our transition into the SEC. We are investigating aggressively, as we believe that our institutional trademarks have been infringed upon. Texas A&M has tremendous respect for the University of Florida, and we look forward to hosting the Gators in our first SEC football game this weekend."
Well, that's just no fun at all. Nothing wrong with a little trash talk and strategically placed billboards.
While the location of the billboard, which is at the intersection of 13th Street and 53rd Avenue, sits about four and half miles away from Ben Hill Griffin Stadium and Florida's campus, someone in Gainesville is bound to be irked by it.
"I really didn't pay attention to it," Florida safety Josh Evans said. "I saw it but my mind ain't on that. I'm about winning this game."
You just can't get upset at Texas A&M about it. The school didn't put it there and is associated with it by name alone. Still, it's funny. The creator of this sign used some interesting word play by stating that Texas A&M is the "cleanest" program in the SEC. How soon we forget about the two times A&M was hit with the "lack of institutional control" label under Jackie Sherrill and R.C. Slocum. And 1988 wasn't so great for the Aggies, as the NCAA uncovered numerous incidents involving improper incentives for prospective student-athletes.
Also, I think we can all agree that Vanderbilt takes home the academic trophy in this league.
The billboard is all in fun, but I'm sure Will Muschamp and his staff will find someway to use it as motivation for their players. And it's not like Texas A&M needs the Gators to be even more motivated. They are playing their first game of the season -- in their new conference, against a new conference foe -- while Florida is a game ahead. Florida can see what it needs to fix from an actual game. And something says the offense wants to do much better than it did over the weekend.
March, 30, 2012
3/30/12
4:00
PM CT
Schedule:
Texas A&M opens spring practice on Saturday and will play its Maroon & White spring game on April 28 at 2 p.m. ET. The Aggies will give fans a couple of chance to see open scrimmages prior to the spring game. Fans are invited to the April 14 scrimmage at 11 a.m. and the April 20 scrimmage at 8 p.m.

What's new:
Really, just about everything. The Aggies will begin play in the SEC in 2012, and Kevin Sumlin takes over as head coach after spending the last four seasons as Houston's head coach. Sumlin worked under R.C. Slocum at Texas A&M in 2001 and 2002 and called the Aggies' plays for most of the 2002 season. Sumlin's offensive coordinator and quarterbacks coach will be Kliff Kingsbury, a record-setting quarterback during his time at Texas Tech. Clarence McKinney will coach the running backs and serve as recruiting coordinator, and B.J. Anderson will coach the offensive line. Kingsbury, McKinney and Anderson were all with Sumlin last season at Houston. David Beaty will coach receivers after serving as Kansas' co-offensive coordinator last season. Brian Polian, who was previously at Stanford, will coach tight ends and oversee special teams. Former Marshall head coach Mark Snyder will be the Aggies' defensive coordinator. Snyder was the defensive coordinator at South Florida the past two seasons and also served under Jim Tressel at Ohio State. Marcel Yates will be the co-defensive coordinator and secondary coach after spending the last nine seasons coaching defensive backs at Boise State. Former Texas A&M player Terry Price will coach the defensive line. He was previously on the Ole Miss staff. Matt Wallerstedt will coach the Texas A&M linebackers after serving as associate head coach, defensive coordinator and linebackers coach at Air Force the past two seasons.
On the mend:
Senior running back
Christine Michael
, who tore his left ACL toward the end of last season, is ahead of schedule in his recovery, but the Aggies won't chance it with any contact this spring.
On the move:
Junior
Damontre Moore
, who had 17.5 tackles for loss as the "joker" linebacker in the Aggies' 3-4 scheme last season, is moving to defensive end in their new 4-3 defense. Also, the Aggies won't have running back
Brandon Williams
, who transferred from Oklahoma. Williams is a former five-star recruit, but his appeal to the NCAA to be eligible in 2012 was denied, and he'll have to sit out the season.
Key battle:
With
Ryan Tannehill
taking his talents to the NFL, the Aggies hope to settle on a new quarterback this spring. It could take longer, as nobody has any real experience. Third-year sophomore
Jameill Showers
played in four games last season and threw all of five passes in mop-up duty. He's the "veteran" of the group. Redshirt freshman
Johnny Manziel
might be the most dynamic athlete of the bunch, and Kingsbury also likes the way midterm enrollee
Matt Davis
can move around and make plays. Sophomore
Matt Joeckel
is more of a pocket passer. Kingsbury said all four have their strengths and do different things well, which should make for a close race.
New faces:
Being on campus early and going through spring practice will give Davis a legitimate chance to win the starting quarterback job as a freshman. Defensive back
Kenneth Marshall
of South Houston, Texas, also graduated high school early and will go through the spring. Derel Walker of Trinity Valley Community College was rated among the top junior-college receivers nationally. Cornerback Tremaine Jacobs is another junior-college newcomer who's enrolled and will go through the spring. Jacobs is from Mississippi Gulf Coast Community College.
Breaking out:
Even with Moore moving to defensive end, the Aggies have a chance to make a big splash at linebacker. There's already a buzz surrounding senior
Jonathan Stewart
and his move to middle linebacker. He led the Aggies with 98 total tackles last season, including 55 solo stops. He's had a terrific offseason, and by all accounts, is poised for a big senior season. It only helps that he'll have fellow senior
Sean Porter
playing alongside him at outside linebacker. Porter led the Aggies with 9.5 sacks last season and racked up 17 tackles for loss.
Don't forget about:
One of Sumlin's biggest coups this offseason was convincing star receiver
Ryan Swope
to return for his senior season. Sumlin got a big assist from Kingsbury, who painted an enticing picture of what Swope's role would be in this new offense. Swope was third in the Big 12 last season in both receptions (89) and receiving yards (1,207). He also caught 11 touchdown passes and will be key player in keeping opposing defenses from loading up against the Aggies' running game.
All eyes on:
What will the offense look like? Chances are that it won't be quite as much of an "Air Raid" attack it was in Houston. Sumlin is always going to utilize the passing game, but the strength of this team will be the offensive line. Tackles
Luke Joeckel
and
Jake Matthews
are future pros, and senior
Patrick Lewis
also proved to be a devastating blocker at center after moving over from right guard. The Aggies will lean heavily on their offensive line, which has a chance to be one of the top units in the SEC.
February, 21, 2012
2/21/12
11:34
AM CT
TCU and West Virginia don't "officially" join the Big 12 until July 1.
But nothing happens in July. In March, we have spring football, and in every meaningful sense, the Horned Frogs and Mountaineers have become the first teams to join the Big 12 since its creation back in 1994.
[+] Enlarge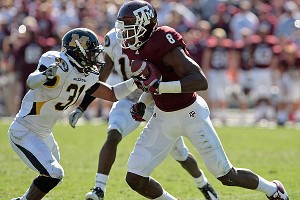 Troy Taormina-US PresswireThe overall results produced by Texas A&M and Missouri should be easily replaced by new Big 12 members TCU and West Virginia.
Big 12 teams are showing up on both programs' new film for 2012. Recruiting efforts are shifting.
It's a new world in the Big 12. If you lost track, it still has 10 teams.
Since June 2010, though, it has lost four teams (Nebraska, Colorado, Texas A&M, Missouri) before gaining two more back in October.
The Big East let TCU, which had promised to join the league in 2012, go without incident. Months of legal wrangling and a hard-to-swallow $20 million price tag for leaving were needed for the Mountaineers to make it official.
The Big 12 lost a lot when storied Nebraska left for the Big Ten. It lost nowhere near as much when Colorado left for the Pac-12.
Two big programs with lots of eyes, in Mizzou and Texas A&M, are gone. There's no getting around it: They'll be missed in some ways. You can't replace a century of rivalries without a century of new rivalries. And even then, it's difficult.
Missouri-Kansas? Texas A&M-Texas? You can't replace that, no matter how hard you try. Both rivalries -- annual staples on the college football calendar -- are dead now.
But what you can replace?
Texas A&M and Missouri's modest-to-OK results on the field since the Big 12 began.
TCU and West Virginia will be every bit the teams the Aggies and Tigers were on the field. They'll lack the history, sure. They'll lack the familiarity even more.
But they won't lack the success, however moderate it was for the Aggies and Tigers.
TCU coach Gary Patterson revitalized a historically mediocre program to unprecedented success, winning 11 games in six of seven seasons in the Mountain West Conference, including BCS bowl appearances in consecutive seasons in 2009 and 2010, capped by a win in the Rose Bowl.
TCU won't make winning 11 games an annual occurrence in the Big 12, but would Texas A&M have done much better with a similar schedule?
Meanwhile, West Virginia is 3-0 in BCS bowl games of its own, winning six Big East titles since 2003.
Could Missouri have done much more in the Big East?
Doubtful.
The Tigers have won eight games in six consecutive seasons, one of just a handful of teams to duplicate the feat. It won at least a share of the Big 12 North in three of the division's final four seasons before the Big 12 moved to 10 teams in 2011.
A 12-win season in 2007 was the highlight under Gary Pinkel, but the Tigers have yet to reach the BCS and never won a Big 12 title, getting blown out by Oklahoma in both Big 12 title game appearances.
WVU, though, won 32 games in the final three seasons under Rich Rodriguez and won 27 games in three seasons under Bill Stewart. Dana Holgorsen won 10 games in his first season.
The Big East isn't the Big 12, but Missouri won 63 games in that same span. Add up West Virginia's? The Mountaineers have 69 wins.
Why can't WVU step in and duplicate, if not exceed, what Missouri was able to do?
The Mountaineers can -- and will.
Meanwhile, the Big 12's most frustrating question -- why can't Texas A&M be a national power? -- is the SEC's problem now.
The Aggies have had all the facilities, all the support and all the resources necessary to become one. It has exactly one Big 12 title to show for it and still yearns for the days of R.C. Slocum. The legendary coach won four conference titles, but the program has been blanked since 1998.
TCU, meanwhile, is poised for a rise in the new Big 12. Recruiting will get a boost now that the school has major conference affiliation to offer prospects. Win totals will take a knock from recent totals but stabilize.
For the curious: TCU won 77 games in its past seven seasons. Texas A&M won 47 games in the same span.
Call it a small sample size. Call it a down period for the Aggies.
It's both, but now is now, and TCU looks more than capable to replace every bit of what Texas A&M brought the Big 12 on the field while the Aggies try to swim in the cutthroat SEC West, college football's toughest division.
The Big 12 is adjusting to a new world.
Off the field, the Aggies and Tigers will be sorely missed. To argue otherwise is foolish.
But on the field?
Credit the Big 12 on this one. The conference can easily say "
Sayonara
" without shedding a tear.
October, 1, 2011
10/01/11
5:49
PM CT
ARLINGTON, Texas -- R.C. Slocum coached Texas A&M to its first and what now looks like it will be its only Big 12 title in 1998.
Dallas Cowboys owner Jerry Jones was a co-captain of Arkansas' only national title team back in 1964. Before Saturday's game, the two shared a moment on the Texas A&M sideline.
"How 'bout those Aggies comin' to the SEC?" Jones asked. His school made the move from the Texas-based Southwest Conference to the SEC in 1991.
"Oh, man," Slocum said with a grin of anticipation as the two shook hands.
Oh man, indeed.
If Slocum had known what he was about to watch, that grin would have been a groan.
Last week, Texas A&M blew a 17-point halftime lead in a loss to Oklahoma State. A day later, it celebrated its move to the SEC.
This week? Try 18 to Arkansas, which roared back to take its first lead with 1:41 left and beat the Aggies, 42-38.
Broderick Green
's 244-pound frame barreled over the goal line, and the Arkansas contingent exploded as the Aggies in attendance began wondering what the traffic on Interstate 30 would look like on the way back home.
Not the best first impression for the Texas A&M Aggies, who didn't quite fill their half of Cowboys Stadium as Hog fans showed up in force.
[+] Enlarge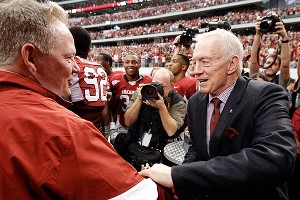 AP Photo/Brandon WadeJerry Jones congratulates Arkansas coach Bobby Petrino after the Razorbacks beat Texas A&M.
By game's end, Jones was back on his alma mater's sideline, handing over the trophy for the Southwest Classic (a game he helped create) to Bobby Petrino's Hogs.
"It's a travesty that we didn't win this football game," Texas A&M coach Mike Sherman said.
The Razorbacks won this game where good SEC teams win games: at the line of scrimmage.
Texas A&M sacked Arkansas quarterback
Tyler Wilson
four times and harassed him on countless other occasions, assuring he wakes up Sunday morning as sore as he's been all season. Arkansas' struggling running game continued to do so, rushing for just 71 yards on 30 carries.
The Aggies, meanwhile, protected quarterback
Ryan Tannehill
well and ran for 376 yards on 54 carries, an average of seven yards a carry on Arkansas' defense, which played without its two best defensive linemen: Tenarius Wright and Jake Bequette.
Texas A&M, though, lost this game where the rest of college football loses games: on the scoreboard.
"The stats don't matter," Tannehill said. "The only things that matter are the W or L and we didn't get it covered in the second half."
For a day, Texas A&M looked on the field exactly what it is off the field: an odd hybrid of an SEC and Big 12 defense. For all of Texas A&M's strength up front, it lost the game the way Big 12 teams have lost games for the majority of the league's 15-year history.
Wilson racked up a school-record 510 yards passing, shattering Ryan Mallett's record of 409 yards against SEC doormat Vanderbilt.
Texas A&M's defense has now gone 15 quarters without forcing a turnover, with apologies to
Justin Blackmon
's gifted touchback at Kyle Field last week.
"This defense is structured -- we take some risks defensively," Sherman said of his defense, which ran defensive backs at Wilson from various angles throughout Saturday's loss. "There's some gain when you create turnovers, and we've not been able to do that now for three weeks. That is certainly an obvious concern."
Also of concern for the Aggies was Sherman's unwillingness to try to convert a fourth-and-2 at Arkansas' 39-yard line, nursing a 35-20 lead, and a fourth-and-1 on Texas A&M's 49-yard line with a 35-27 lead.
The Aggies punted both times -- first for 19 yards to the Arkansas 25 and second for 37 yards down to Arkansas' 14 -- and the Hogs scored touchdowns after both kicks.
"If I felt like our defense was playing a little bit better, I probably would have gone for it. I felt like I just couldn't give them a shortened field," Sherman said. "If we were had been playing better defense--if this had been last year -- probably would have."
Said Tannehill: "That's the head coach's call. That's what he gets paid the big bucks for. Whatever he calls, we're going to go with it. ... We trust coach and you've just got to go with the call."
The game ended, and despite holding a huge lead early, Texas A&M was serenaded with an "S-E-C" chant at Cowboys Stadium for a fourth time in three seasons, dropping to 0-4 on the field in Arlington.
"It's emotionally tough," Tannehill said.
Maybe soon, the Aggies will be the chanters and not the chant's target. But for now, another painful loss.
For two consecutive weeks, Texas A&M has known well what it feels like to lose a game it should have won.
For at least another few months at the end of a 16-year and seven-game drought, the Aggies are left wondering how it feels to beat an SEC team.
April, 1, 2011
4/01/11
3:44
PM CT
COLLEGE STATION, Texas -- It's tough to plan around which practices I'll get to see when I come to campuses during the spring or preseason camp, but it was a pretty ideal situation at Texas A&M on Wednesday. The team was in full pads, practiced for about an hour and a half, and the vast majority of it was 11-on-11 team drills.
Texas A&M's practices are open to the public, something that's increasingly rare in college football, but there were probably 70-80 fans who made it to the afternoon workout on a gorgeous day for spring football. To my knowledge, the only teams in the new Big 12 that open up spring practice to fans are Texas A&M, Missouri and Baylor.
Additionally, it takes a lot for women's hoops to generate buzz, but there was definitely a bit out at practice. The Aggies beat rival Baylor, featuring arguably the game's biggest star, 6-foot-8 Brittney Griner, in Dallas earlier this week to reach the first Final Four in school history. I'm sure there will be plenty of maroon in the stands in Indianapolis this weekend. (
More on that here
from colleague Mechelle Voepel.)
But back to football.
A few thoughts and observations from practice:
Two guys a bit under the radar who had great days: Receiver
Kenric McNeal
and running back
Ben Malena
. With all the skill-position talent at Texas A&M, both get a bit overshadowed, but Malena, at least for one day, looked every bit as good a runner as the backs ahead of him on the depth chart,
Christine Michael
and
Cyrus Gray
. He has a lot of development to do in things like feeling creases in the line but when he got a chance to get to the second level and let his instincts take over, he was giving the defense fits. He looked solid in the open field.
Additionally, McNeal has a reputation as a shifty slot receiver who works best underneath, but he was stretching the field on Thursday like I hadn't seen from him before. His two longest plays of the year (27 and 32 yards) came late last season, but he had a couple of deep catches in the end zone after slipping past the safeties and bringing it in behind the defense. He got open a few more times, and quarterback
Ryan Tannehill
missed a couple of deep balls to him, but it has to be encouraging for the offense to see him break a few off like that.
Michael looking confident on healed leg
[+] Enlarge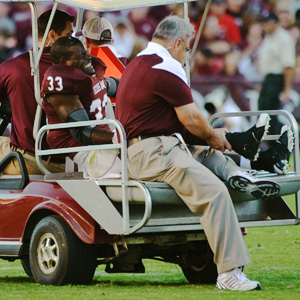 AP Photo/Dave EinselChristine Michael is working his way back from a broken tibia he suffered against Texas Tech.
Michael was one guy I wanted to see, and it was tough to get a read on his mobility -- he didn't get into the open field very much. But one encouraging sign was he didn't look like he was shying away from contact at all. That's exactly what A&M wants to see. Michael brings a mean running style that no other back on the roster can provide. Early in the conference season last year, he was running over plenty of linebackers. He looks like he wants to get back to doing exactly that, and he did it on Thursday, dragging a couple of defenders at times.
I don't think the mental side of returning from the injury will be an issue. He's never been quite as shifty as Cyrus Gray, but he runs with power that you won't find anywhere else in the Big 12, and considering how the rest of the league defended the run during the bowl season -- especially power runners -- the Aggies will once again be glad he's on their team this fall.
Wrecking Crew missing a few members
Diehard A&M fans are surely already aware, but the Aggies' defense is missing quite a few key pieces this spring, especially in the back seven. Defensive backs Terrance Frederick and Coryell Judie are both sidelined after offseason shoulder surgery and linebacker Sean Porter is out with an injury to his left foot from earlier in spring practice.
Lionel Smith is also out for spring ball.
Former Aggies on hand
It's always good to see alums and former coaches on hand for spring practice. Former Aggies linebacker Michael Hodges was milling around the practice field. He's one of just three defensive starters (Von Miller, Lucas Patterson) the Aggies have to replace this spring.
Additionally, former Aggies coach R.C. Slocum was in attendance.
October, 4, 2010
10/04/10
2:07
PM CT
By
Gregg Found, ESPN's Stats & Information Department
Let's take a trip back in a Longhorn time machine to October 15, 2000 -- the last time Texas was unranked in the AP Poll ...
Then:
Mack Brown was 3 years into his head coaching tenure at Texas, with a 21-10 record and outranked in tenure by several of his Big 12 colleagues, including Texas A&M's R.C. Slocum, Iowa State's Dan McCarney and Missouri's Larry Smith.
Now:
Mack Brown is 13 years into his head coaching tenure at Texas, with a 131-29 record and the longest tenure in the Big 12.
Then:
Will Muschamp was just six years out of college and was the defensive coordinator of the Division II
Valdosta State Blazers
.
Now:
Will Muschamp is the Texas defensive coordinator and head coach in waiting.
Then:
Texas fell out of the poll even though it beat Colorado 28-14 the day before.
Now:
Texas fell out of the poll after losing to Oklahoma 28-20 the day before.
Then:
Garrett Gilbert
was 9 years old.
Now:
Garrett Gilbert is 19 years old and Texas' starting quarterback.
Then:
Major Applewhite was one of two main Texas quarterbacks.
Now:
Major Applewhite is assistant head coach and running backs coach at Texas after becoming the youngest coordinator in FBS in 2007 when he coached the offense at Alabama.
Then:
Chris Simms was one of two main Texas quarterbacks.
Now:
Chris Simms is an NFL free agent quarterback after spending the 2009 season with the Denver Broncos.
Then:
Shaun Rogers and Casey Hampton were a pair of defensive tackles for Mack Brown's Texas team.
Now:
Shaun Rogers and Casey Hampton are both 10-year NFL veteran defensive tackles playing in the AFC North, combining for eight Pro Bowl selections and 44.5 sacks in their careers.
Then:
Oklahoma beat Texas 63-14 in the Red River Rivalry behind six Rush TD from Quentin Griffin.
Now:
Oklahoma beat Texas 28-20 in the Red River Rivalry behind two Rush TD from
DeMarco Murray
.
Then:
Oklahoma was 6-0, on its way to an undefeated season and national title.
Now:
Oklahoma is 5-0, eyeing an undefeated season and national title.
Then:
Purdue, Oregon State, Minnesota, Georgia and Notre Dame were ranked in the AP Top 25.
Now:
Those teams are a combined 8-15 this season.
Then:
Alabama, Boise State, Auburn, LSU and Michigan State were not ranked in the AP Top 25.
Now: Those teams are a combined 24-0 this season.
Then:
The Big 12 was still forming its own identity. It was its fifth year as a conference, having recently added four Texas schools from the Southwest Conference to the existing Big 8 to form a new conference.
Now:
The Big 12 will soon form a new identity. It will lose two members when Colorado leaves for the Pac-10 and Nebraska leaves for the Big Ten.
Then:
Texas had three national titles, one Big 12 Title and two Heisman Trophy winners (Earl Campbell and Ricky Williams).
Now:
Texas has four national titles, three Big 12 Titles and the same number of Heisman Trophy winners (despite the recent Reggie Bush-Vince Young controversy).
Then:
The Longhorn Sports Network was nowhere to be found.
Now:
The Longhorn Sports Network is broadcasting Texas football and Texas basketball coverage on both television and radio, and could expand to become the first of its kind -- a broadly distributed sports network created by and focused on one university.
Then:
Bo Pelini was in his first year as the linebackers coach of the Green Bay Packers.
Now:
Bo Pelini is the coach of Texas' next opponent, No. 7 Nebraska.
Then:
The State Fair of Texas (during which the Red River Rivalry was played) unveiled the Millennium Quilt -- Texas Then and Now.
Now:
The State Fair of Texas (during which the Red River Rivalry was played) featured the Eli Young Band, Collective Soul and fried beer.