Dallas Colleges:

Randy Bullock
July, 11, 2012
7/11/12
12:00
PM CT
The Lou Groza Award, given annually to college football's best kicker, has released its watch list.
Plenty of Big 12 talents cracked the list. Here they are:
Good list, there. I might have added
Anthony Cantele
from Kansas State, too, but he can earn his way on the list with a good season. Sharp's got a good shot to win the whole thing, too. He was outstanding last season as Oklahoma State's Swiss Army special teamer. Sharp placekicks, punts and is the kickoff specialist for the Cowboys, and led the Big 12 in all three categories last season.
Big 12 kickers have won the past two Groza Awards. Texas A&M's Randy Bullock upset Sharp last season to win the award, but Oklahoma State's Dan Bailey won it in 2010.
Before that, Kansas State's Martin Gramatica (1997) was the last Big 12 player to win the trophy.
May, 2, 2012
5/02/12
3:44
PM CT
We've already gone over
my thoughts on the Big 12's first round of the draft
. What about the rest? Here are some thoughts:
[+] Enlarge

Brian Spurlock/US PresswireThe Lions saw enough from Ryan Broyles to take a risk on him in the second round.

Absolutely fantastic to see Ryan Broyles find a home in Detroit in the second round. Broyles is a second-round talent, and it was great to see him recognized as such -- with NFL teams seeing enough out of his newly-rehabbed knee to know he's a solid prospect. No player in the history of college football had more receptions. I like his chances for a productive career, especially on a building Detroit team with a lot of talent, especially at the offensive skill positions.

I've written about it in the past, but I'm intrigued to see what Missouri tight end Michael Egnew does at the next level. He was less productive than his predecessors at Mizzou, Martin Rucker and Chase Coffman, but supposedly is a more talented blocker. Coffman got stuck in a franchise that didn't seem willing to use him for what he is -- a receiving tight end -- but can Egnew shed the Mizzou tight end stereotype? We'll find out in Miami.

Really happy to see things work out well for Oklahoma's Frank Alexander, who was drafted in the fourth round by Carolina. He had a scare at the combine. Doctors thought he had a heart condition and his playing career was in jeopardy. Turns out, he was fine. Glad the mixup didn't cost him more than it could have.

Allow me to join in the chorus of folks asking, "What the heck is Washington doing drafting Kirk Cousins?" Nothing against Cousins, who I actually think will do well at the next level (or could elsewhere, at least), but this isn't even about bringing in a fellow rookie to "compete with" Robert Griffin III. Washington has plenty of other holes. The Redskins couldn't try to draft and fill it, while finding a backup quarterback in free agency? Seriously. Good grief. And you wonder why Washington hasn't won anything in a long while.

Ronnell Lewis' fall from top-25 prospect to fourth-rounder is intriguing. Did NFL teams see him up close and get spooked by his lack of a true position? In my book, he'd be a great defensive end, but if NFL teams think he's too small, I have major, major doubts about his ability to play the linebacker spot. The mental part of the game didn't come easily to Lewis at OU, but his career will be fascinating to watch. He's got a high motor, and if it doesn't work out, it won't be because of a lack of effort.

Good on A&M's Randy Bullock, who went in the fifth round. Prepare for a similar fate in 2011, Quinn Sharp.

Interesting to see OU's Travis Lewis fall all the way to the seventh round. How much did his broken toe in 2011, which he rushed back from to help his team, hurt his NFL stock? His tape from senior season was underwhelming, no doubt. NFL teams had to be scared about his lack of progression from freshman to senior year, at least not what you'd expect from a guy who topped 140 tackles as a freshman.

A year ago, A&M folks were rejoicing a future Big 12 title run when Jeff Fuller announced his intention to return. The Aggies went 7-6 and Fuller went undrafted. I hate to see when guys who make decisions to come back get hurt by them, but Fuller's season started with a hamstring injury, and his production never recovered, even when he got healthy. Almost the exact same scenario with A&M corner Coryell Judie, who couldn't get healthy in 2011 and didn't get drafted, even though he was one of the Big 12's top players in 2010.

Meanwhile, Bryce Brown was drafted, and his 2011 tape included three total carries, one of which was a fumble on his own goal line that nearly cost 10-win Kansas State a game early in the season. Take a bow, Mr. Brown.

Adding Josh Cooper to the Browns to play with Brandon Weeden? Well played, Cleveland. Well played.

How did Leonard Johnson go undrafted? I have no idea. Seemed like a solid middle rounder to me, and he proved his worth plenty of times this year against some great Big 12 receivers. His physical skills don't wow you, but he's instinctive at the position, and was physical and productive.
January, 18, 2012
1/18/12
9:43
PM CT
We took a
look at the best atmospheres on Tuesday
, and today, it's time to rank the top 10 games involving Big 12 teams of 2011.
1. Kansas State 53, Texas A&M 50 (4 OT):
Kansas State erased a double-digit lead in the final half of the fourth quarter to force overtime.
Collin Klein
burrowed into the end zone on a quarterback sneak to earn a huge win and a memorable night in Manhattan.
2. Baylor 50, TCU 48:
The first game of the entire season for the Big 12 began in style.
Robert Griffin III
began his Heisman campaign with five touchdown passes, but the Bears blew a 47-23 lead in just over 11 minutes, giving up 25 fourth-quarter points. Griffin, though, hauled in his only catch of the season to extend a game-winning drive on third down, and
Aaron Jones
booted a 37-yard game winner with just over a minute left, cueing the Baylor fans to storm the field after a game-clinching interception.
3. Oklahoma State 41, Stanford 38 (OT):
This was what we thought it was. Neither defense could stop the opposing offense, and Oklahoma State converted a fourth down from
Brandon Weeden
to
Justin Blackmon
to extend the game and take the lead, but Stanford drove back down the field and missed a 35-yard field goal as time expired. It missed another kick in overtime, and OSU kicked a game-winning field goal after
Colton Chelf
's game-winning touchdown was overturned to just a 24-yard gain.
4. Baylor 45, Oklahoma 38:
This gave way to the signature moment of Robert Griffin III's Heisman campaign, and it wasn't the 87-yard touchdown pass to
Kendall Wright
off
Tevin Reese
's helmet. The teams traded second-half leads and Oklahoma erased a 14-point, fourth-quarter lead before Griffin extended a play and hit
Terrance Williams
for a 34-yard, game-winning touchdown pass with eight seconds left.
5. Iowa State 37, Oklahoma State 31 (2 OT):
This game made our top 10 moments of 2011, too. The Cowboys lost a 24-7 second-half lead and missed a game-winning field goal. Brandon Weeden threw an interception in the second overtime and
Jeff Woody
set off the biggest party in Ames in a long while with his game-winning, four-yard touchdown run in the second overtime.
6. Texas 27, Texas A&M 25:
The Aggies led 10-0 and 16-7, but once again, it didn't matter.
Jeff Fuller
gave the Aggies back the lead with a big 16-yard touchdown with 1:48 to play. The two-point conversion failed, though, and
Case McCoy
got free for a 25-yard scramble that set up a 40-yard, game-winning field goal by
Justin Tucker
as time expired to give the Longhorns bragging rights in the heated rivalry for as long as they want, perhaps forever. The two teams aren't scheduled to meet again after A&M leaves for the SEC.
7. Oklahoma State 52, Kansas State 45:
OSU fell behind 24-14 early after a pick six by Weeden, putting the undefeated season in doubt. The teams traded three touchdowns in just under two minutes, and
Joseph Randle
's 23-yard run gave OSU the lead for good with 3:16 to play, making it four touchdowns in three minutes. Kansas State drove to tie the game and possibly win it with a two-point conversion, but two Collin Klein passes fell incomplete, and OSU survived to move to 9-0.
8. Baylor 31, Kansas 30 (OT):
This game wasn't televised, but it was quietly a classic. Baylor struggled to stop the run, and trailed 24-3 in the fourth quarter before RG3 broke a 49-yard run and hit on two long touchdown passes to tie the game. The two teams traded touchdowns in overtime, but Kansas failed to convert a game-winning two-point conversion, and Turner Gill's guts went unrewarded. Kansas also went without a win in conference play. Baylor loses this game, and RG3 doesn't win the Heisman.
9. Missouri 31, Texas Tech 27:
This is a sneaky pick for our top 10 list. Texas Tech jumped out to a 14-0 lead, and Missouri trailed by 10 in the fourth quarter, but
James Franklin
threw one touchdown pass and ran for another to take the lead. Texas Tech drove inside the Missouri 10-yard line in the final minute, but a tipped
Seth Doege
pass was intercepted to give Mizzou a dramatic win.
10. Missouri 38, Texas A&M 31 (OT):
The SEC bowl helped bury Texas A&M's season and spark Missouri's. The Tigers trailed by 14 early and 11 points at half before taking the lead in the fourth quarter.
Randy Bullock
tied the game with a field goal in the final minutes to force overtime. James Franklin hit
Marcus Lucas
for an 11-yard score and
Ryan Tannehill
's final pass was batted down as Missouri stormed the field and celebrated the end of their three-game losing streak. The Tigers would win four of their final five games, and that bounced Mizzou to 4-4 instead of 3-5. That loss for then-No. 16 Texas A&M keyed off four in the final five regular-season games, including two in overtime (K-State, Mizzou) and another as time expired (Texas).
Honorable mention:
Kansas State 28, Miami 24; Baylor 67, Washington 56; Iowa State 44, Iowa 41 (3 OT); Texas 17, BYU 16; Arkansas 42, Texas A&M 38; Oklahoma State 30, Texas A&M 29.
January, 9, 2012
1/09/12
3:48
PM CT
Four Texas A&M players will suit up for the Senior Bowl on Jan. 28 in Mobile, Ala.
Cornerback Coryell Judie was also invited and accepted, but he won't be able to participate after breaking his wrist in Texas A&M's 33-22 win over Northwestern in the Meineke Car Care Bowl of Texas.
They'll
join three Baylor players in Mobile
for the week.
The game is big, but really, the Senior Bowl week is most about the practices, while scouts flood to Alabama to see NFL draft talent go head-to-head in rep after rep for the week of practice. Those, like the game, are televised on the NFL Network.
Draft stocks can rise and fall during the week just as much as they can during the combine.
Their NFL futures offer even more reason to be disappointed with the 2011 season. The talent was obvious, especially in these four, who are just about as good as anyone at their position in the Big 12. The Aggies' 6-6 finish after warranted preseason hype cost Mike Sherman his job.
Tannehill, Gray, Fuller and Bullock will get a chance to show what they can do at the Senior Bowl, and I'd expect them all to have solid careers at the next level. Judie, too.
But there's no forgetting what could have been -- and wasn't -- in 2011.
December, 31, 2011
12/31/11
3:19
PM CT
After a rough season that included the death of teammate Joey Villavisencio last week and the firing of coach Mike Sherman, the Aggies got a bowl win. It's been an emotional year at Texas A&M, but it will end in fine fashion with a good win over Northwestern.
The Aggies did it without top rusher
Cyrus Gray
, too. Gray missed his second consecutive game and the final game of his career with a stress fracture in his shoulder that he suffered early in a win over Kansas.


Here's some instant analysis.
How the game was won:
Texas A&M was the better team and proved it for the first three quarters, but like we've seen all year, the team swooned in the second half. This time it came in the fourth quarter. The Aggies survived via two huge third-down catches from
Uzoma Nwachukwu
and
Jeff Fuller
to keep the ball out of Northwestern's hands in the final minutes. This season, the Aggies blew leads of 18 (Arkansas), 17 (Oklahoma State), 14 (Missouri), 13 (Texas) and 10 (Kansas State). They avoided a sixth loss in extravagant fashion this season with a clutch late drive to close out the Wildcats.
Turning point:
Trailing 7-3, Texas A&M scored on its final three drives of the first half, highlighted by a vertical, 26-yard touchdown catch by Jeff Fuller from
Ryan Tannehill
. The Aggies took control and the Wildcats weren't able to get within realistic reach the rest of the game. The Aggies scored the first 10 points of the second half for a 30-7 lead.
Player of the game: A&M receiver
Ryan Swope
. Swope continued his tear this season with eight catches for 105 yards and broke a few tackles on a 37-yard catch-and-run to set up an early touchdown that put the Aggies ahead for good. Fuller had a huge catch late to seal the game, but Swope kept the A&M offense humming in the first half while it built the big lead.
Unsung hero:
Northwestern quarterback
Kain Colter
. He spelled what looked like a gimpy
Dan Persa
and ran for 65 yards and a touchdown in a nice performance.
What it means
: One epic bowl losing streak ended while another lives on. Northwestern had lost five bowl games going back to 1949 and made it a sixth. Texas A&M ended its eight-game bowl losing streak dating back to 2001. The Northwestern streak was represented on the sidelines by a monkey wearing a No. 63 jersey, the number of years since the Wildcats won a bowl.
Well wishes:
Coryell Judie. The Aggies' kick returner and cornerback finally returned to full health against Texas on Thanksgiving after missing a handful of games with a hamstring injury. However, he suffered a fractured wrist during his final collegiate game. It's a rough break for a huge talent, but he'll hear his name called next April in the NFL draft.
Record performance:
With his first field goal midway through the first quarter, kicker Randy Bullock broke Texas A&M's single-season scoring record set back in 1927. The Lou Groza Award winner surpassed Joel Hunt's record of 128 points and finished the season with 139 points after making three field goals and three extra points on Saturday.
December, 21, 2011
12/21/11
3:45
PM CT
Five players from the Big 12 have earned consensus All-American status.
Levy Adcock, OT, Oklahoma State
Justin Blackmon, WR, Oklahoma State
Ryan Broyles, WR, Oklahoma
Randy Bullock, K, Texas A&M
Robert Griffin III, QB, Baylor
To earn consensus All-American status, players must be named to at least two of the five recognized All-American teams.
Those five are the American Football Coaches Association, Associated Press, Football Writers Association of America, The Sporting News and Walter Camp Foundation.
December, 9, 2011
12/09/11
4:30
PM CT
Editor's Note: Tune into the "AT&T ESPN All America Team Show" on Saturday (ABC, 1:30 p.m. ET) to see who ESPN's writers and experts selected.
It's been a fun season across the Big 12, with a few big names who didn't play as well as we thought, and lots of unknowns who became household names by the end of the season.
I'll offer my comments below, but here's our All-Big 12 team for 2011.
OFFENSE
[+] Enlarge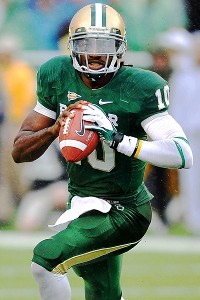 Jerome Miron/US PresswireThe heroics of Robert Griffin III got Baylor to 9-3 and made him a Heisman Trophy finalist.
QB:
Robert Griffin III
, Baylor
All-purpose:
Collin Klein
, QB, Kansas State
RB:
Terrance Ganaway
, Baylor
RB:
Henry Josey
, Missouri
FB:
Trey Millard
, Oklahoma
WR:
Kendall Wright
, Baylor
WR:
Justin Blackmon
, Oklahoma State
WR:
Ryan Broyles
, Oklahoma
TE:
Michael Egnew
, Missouri
C:
Grant Garner, Oklahoma State
OL:
Kelechi Osemele, Iowa State
OL:
Levy Adcock, Oklahoma State
OL:
Gabe Ikard, Oklahoma
OL:
Luke Joeckel, Texas A&M
DEFENSE
DE:
Frank Alexander, Oklahoma
DT:
Dominique Hamilton, Missouri
DE:
Alex Okafor, Texas
DE:
Jamie Blatnick, Oklahoma State
LB:
Sean Porter, Texas A&M
LB:
Jake Knott, Iowa State
LB:
Emmanuel Acho, Texas
NB:
Tony Jefferson, Oklahoma
CB:
Nigel Malone, Kansas State
CB:
Carrington Byndom, Texas
S:
Kenny Vaccaro, Texas
S:
Markelle Martin, Oklahoma State
SPECIALISTS
P:
Quinn Sharp, Oklahoma State
PK:
Randy Bullock, Texas A&M
PR:
Dustin Harris, Texas A&M
KR:
Tyler Lockett, Kansas State
Finally, a few notes and explanations:
I loved the media's idea to craft an all-purpose spot to accomodate Collin Klein. The Big Ten did the same for Michigan's Denard Robinson last season. I followed suit, and did so on the defensive side of the ball with a nickel-back spot for Oklahoma's Tony Jefferson. Two players that missed first-team designation by the coaches, but clearly deserve to be recognized.

Additionally, I prefer the teams to reflect the Big 12 style of play, so the nickel back fits. Each team doesn't have 11 players, but there were deserving linebackers. The same with Egnew and Millard. Does every team use a fullback or a tight end? No, but both are standout performers. They'd rotate in anyway, just as Jefferson would in a theoretical package.

Tough call to leave Philip Blake from Baylor off my team, but Garner's been better. Blake is very, very close, though.

Hated to leave off Brodrick Brown and E.J. Gaines, but I went with a more traditional two corners and two safeties, rather than four corners like the media's team.

Steven Johnson and Arthur Brown would have been right behind my three linebackers. That race was probably closer than at any other position, except maybe cornerback. Difficult to leave either of those guys off my first team, but the three on the team were better. I gave Brown my Newcomer of the Year nod, though.

I don't like going with three defensive ends and one defensive tackle, but there wasn't a defensive tackle who deserved the honor more than Okafor, my third defensive end. Okafor was a defensive tackle last year anyway, so that's close enough, right? He moved from tackle to end before spring practice earlier this year. In the Big 12, an additional pass rusher is necessary, too, right?

I made a similar move with my offensive line. Went tackle-heavy, but the guards didn't have quite as many standouts.
December, 9, 2011
12/09/11
8:54
AM CT
Texas A&M's
Randy Bullock
won the Groza Award as the nation's top kicker on Thursday night during "The Home Depot College Football Awards" show.
Bullock led the nation with 25 field goals made on 29 attempts, and is the first Texas A&M player to ever win the Groza Award.
He's the second consecutive Big 12 player to win the Groza Award after Oklahoma State's Dan Bailey won the award last year.
Bullock beat out Florida's Caleb Sturgis and Florida State's Dustin Hopkins.
Chalk it up as a win for the Aggies over their future SEC opponents, the Gators.
January, 27, 2011
1/27/11
10:09
AM CT
Signing day is exactly a week from Wednesday, and it's time to take a look at who needs what in its 2011 class.
Some schools have addressed these needs with their current class. Some haven't. Others are still trying.
Here's our look at the South, after running down the
Big 12 North
earlier this morning.

BAYLOR
Defensive tackle:
The Bears are loaded on offense and have a ton coming back, but anyone who watched Baylor in 2010 knows the big problems are on defense, starting with the front four. Phil Taylor is headed to the NFL and Nicolas Jean-Baptiste will be a senior next year. Reserve Chris Buford is gone, too. The Bears need to fill out some depth up front to avoid a repeat of their Texas Bowl debacle defending the run against Illinois.
Punter
: Derek Epperson was rock solid as a four-year starter for the Bears, averaging near 44 yards a punt for his past three seasons. He's gone now, and the Bears will need a replacement. The good news is Baylor's offense with
Robert Griffin III
doesn't make the position nearly as important as it used to be.

OKLAHOMA
Receiver:
Ryan Broyles
, a senior, and
Kenny Stills
look ready for big years in 2011, but senior
Cameron Kenney
is gone.
Trey Franks
,
Dejuan Miller
and
Joe Powell
could contribute in 2011, but beyond that, another big-time threat across from Stills would certainly help. One of the Sooners' top 2011 commits, Trey Metoyer, could become that player.
Safety:
Both starters, Quinton Carter and Jonathan Nelson, have graduated, and the Sooners will try to replace them with Sam Proctor, who has started plenty of games, and Javon Harris. The Sooners are pretty well-stocked about everywhere, but more depth in the secondary is always welcome.

OKLAHOMA STATE
Defensive line:
Three of the Cowboys' four starters are gone, and it's always necessary to fill in some depth behind them. Shane Jarka, Chris Donaldson and Ugo Chinasa all had good years in 2010.
Offensive line:
Oklahoma State brings back all five starters for 2011, but four will be seniors. That means replacing them in 2012, which will be a lot easier if those replacements don't end up being true freshmen. Oklahoma State kept offensive line coach Joe Wickline, a candidate for the same job at Texas, and his development of the line last year with four new starters was a big reason for the Cowboys' success. He'll need to do it again in 2012.

TEXAS
Running back:
Fozzy Whittaker
and
Cody Johnson
will both be seniors in 2011, and Tre Newton's career is over because of issues with concussions. Texas would be well-served if its top 2011 commit, Malcolm Brown, can come in and be effective immediately as a true freshman.
Cornerback:
Aaron Williams left early. Curtis and Chykie Brown graduated. Texas needs help at corner and will have big problems in the near future if they don't get it.
Linebacker:
Emmanuel Acho and Keenan Robinson will be seniors in 2011, and Dustin Earnest and Jared Norton already graduated. New talent behind them will help prevent a drop-off in 2012 after Acho and Robinson split.

TEXAS A&M
Kicker:
Randy Bullock will be a senior in 2011, but Texas A&M is already hoping his spot is filled by incoming freshman Taylor Bertolet, the nation's No. 2 kicker who won the Under Armour All-American game with a last-second field goal earlier this month.
Linebacker:
Michael Hodges and Von Miller have graduated, and Garrick Williams will follow them in 2011. The Wrecking Crew was pretty stout for most of 2010, but filling those holes in a four-linebacker front will be key in ensuring things stay that way.

TEXAS TECH
Secondary:
LaRon Moore and Franklin Mitchem are gone, so Texas Tech will be breaking in some new blood in the secondary for new coordinator Chad Glasgow and cornerbacks coach Otis Mounds. Freshmen cornerbacks Jarvis Phillips and Tre Porter made plays in 2010, but they also allowed offenses to make a few of their own. Stopping that will be a big step in Texas Tech getting things rolling under Tommy Tuberville.
Receiver:
Texas Tech already needs to replace
Detron Lewis
and
Lyle Leong
, and
Tramain Swindall
and
Jacoby Franks
will follow suit after 2011.
Alex Torres
was hampered by a back injury all year, but the Red Raiders will need some depth around him at receiver to keep the offense humming.