Dallas Colleges:

Renardo Sidney
December, 29, 2011
12/29/11
6:17
AM CT
DALLAS -- Forget the national-player-of-the-year candidate.
And don't be overly concerned with the freshman who's projected as an NBA lottery pick, or the veteran senior who scores half of his baskets on dunks.
Perry Jones III
,
Quincy Miller
and
Quincy Acy
might form one of the most imposing frontcourts in the nation. But all week long, Mississippi State coach Rick Stansbury told his squad that stopping the trio wasn't the key to beating the
Baylor Bears
.
"
Pierre Jackson
is the key to their team," Stansbury said. "He's the guy that makes them go."
It was certainly hard to argue that point Wednesday, when Jackson -- the Bears' diminutive 5-foot-10 point guard -- came through for Baylor yet again.
With 22 seconds remaining, Jackson beat Bulldogs guard
Dee Bost
off the dribble and streaked through the lane for an uncontested layup that propelled the No. 7 Bears to a
54-52 victory
over 14th-ranked Mississippi State at American Airlines Arena.
At 13-0, Baylor is off to its best start in school history. The Bears are one of just four remaining undefeated teams in the country. Mississippi State fell to 12-2 after losing for the first time since Nov. 9.
"That was probably one of the toughest teams we'll play all year," said Jackson, who scored a game-high 14 points. "Our chemistry is really good right now. We've got to keep getting better."
Wednesday wasn't the first time that Jackson -- who earned national junior college player-of-the-year honors at the College of Southern Idaho last season -- has come through for Baylor in the clutch.
[+] Enlarge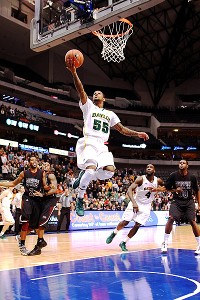 Ronald Martinez/Getty ImagesPierre Jackson swoops in for Baylor's winning layup against Mississippi State.
He scored 23 points and hit a 3-pointer that forced overtime in last week's victory over West Virginia, when he reeled off eight consecutive points during a stretch from late in the second half through the first 70 seconds of the extra period. And he blocked a game-tying 3-point attempt at the buzzer in Baylor's 86-83 win at BYU on Dec. 17.
In short, Jackson and Boston College transfer
Brady Heslip
have completely reshaped a Baylor squad that missed the NCAA tournament last season because of a porous backcourt that, at times, could barely get the ball up the court. The twosome combined for 21 of the Bears' 34 first-half points against MSU.
"Those two killed us," Stansbury said. "Like I said, people can talk about Jones and those other guys all they want. But Jackson is the reason Baylor is so good."
That's not to say Jackson and the Bears are without flaws. Baylor found a way to win Wednesday despite turning in one of its sloppiest performances of the season.
The Bears shot just 21 percent after intermission and missed all eight of their 3-point attempts. Baylor also clanked three of its five foul shots in the final 3 minutes -- yet it managed to emerge victorious.
"When you can shoot 21 percent in the second half and still beat a top-15 team, it shows that you really defended and rebounded well," BU coach Scott Drew said. "We weren't very good rebounding early in the year. We made it a focus after the BYU game and we've improved."
Indeed, Baylor outrebounded Mississippi State 40-32 and came up with some huge stops down the stretch. Moments before Jackson's winning basket, the Bears forced Bost into a terrible shot against his momentum on the other end. The Bulldogs had a chance to tie or win after Jackson's layup, but they couldn't get a good look before
Rodney Hood
went up for a guarded jumper with 6 seconds left. Hood's shot was blocked, and Jackson made a heady play by batting the ball toward the other end of the court as time expired.
"The toughest thing for young players is ... when you're not scoring, you don't want to play defense," Drew said. "For us, to shoot 21 percent and still play defense shows a lot of [character]. I'm proud of our guys."
The victory in Dallas -- Baylor's first this season against a top-25 opponent -- could have long-reaching effects. Drew touted after the game that his team is the only one in the country with wins against six top-50 opponents, according to the Sagarin ratings.
"It's a win that resonates on your resume throughout the rest of the season," Drew said.
It should also do wonders for Baylor's confidence, as the Bears likely won't face many teams in the Big 12 as tough as the Bulldogs. No team in the league has as good of a frontcourt as Mississippi State's tandem of
Renardo Sidney
and
Arnett Moultrie
. Bost is regarded as one of the nation's top point guards and Hood probably won't be in school longer than two years before jumping to the NBA.
Baylor has plenty of future pros on its roster, too, but its biggest strength continues to be its depth. Jones and Acy combined for just 15 points on 6-of-20 shooting. But it didn't matter thanks to players such as Jackson, Heslip and Miller, who had 12 points and 6 boards. Nine Baylor players saw at least seven minutes of action Wednesday, and seven of them played 19 minutes or more.
"We came down here and went nose-to-nose-to-nose with them," Stansbury said. "We took a team averaging 80 points and held it to 54. It was a hell of a game. These were two pretty good teams. We'll take a lot of positives from this and get better from it, and I'm sure Baylor will, too."
December, 28, 2011
12/28/11
11:17
PM CT
DALLAS -- Here are a few quick observations from Baylor's
54-52 victory
over Mississippi State on Wednesday at American Airlines Arena in Dallas.
Overview:
Baylor point guard
Pierre Jackson
scored a team-high 14 points -- including the game-winning layup with 22 seconds remaining.
Quincy Miller
added 12 points for the Bears, who are off to their best start ever at 13-0. Baylor trailed for nearly all of the second half -- but never by more than four points. The Bears outrebounded Mississippi State (38-31), an area that Scott Drew's team struggled in recent weeks.
Renardo Sidney
and
Jalen Steele
had 10 points each for Mississippi State, which lost for the first time since Nov. 9


Turning point:
Baylor trailed for almost the entire second half before Jackson beat
Dee Bost
off the dribble for what proved to be the game-winning layup with 22 seconds remaining. The Bears also caught a huge break at the 1:35 mark, when Mississippi State's Sidney was whistled for a technical while arguing with an official who had just whistled him for his fifth personal foul. The Bears shot four free throws -- two for the fifth foul, two for the technical -- and made two of them to force a 52-52 tie. Bost missed a runner on the other end. Baylor rebounded and then Jackson made his heroic shot.
Star of the game:
Jackson may have hit the winning shot, but Miller may have been the Bears' top all-around performer in a sloppy game. The freshman forward scored 12 points and grabbed six rebounds in 25 minutes, an encouraging sign considering his recent struggles.
What the win means for Baylor:
The Bears should be ecstatic about being one of four undefeated teams in the country. They've defeated some good teams and have earned the accolades that will come their way. Still, all teams strive to improve, so head coach Scott Drew should use Wednesday's game to address a handful of flaws that may have been masked by Baylor's successful start. Much like they did last season, the Bears play out of control at times. Jackson, in particular, took a ton of terrible shots in traffic against Mississippi State. Instead of trying to take the game over by himself, he needs to get better at sharing the ball and dishing off when he draws help defense. He's an incredible talent who has a knack for hitting huge shots, but he needs to develop some discipline. Drew also needs to let Miller play through his mistakes. He sat out way too long in the second half. He's simply too talented to keep on the bench. Drew also may want to consider tightening his rotation. Playing 10 to 12 guys early in the season is fine when you're trying to figure things out, but by now it may be better to go with a rotation of seven to eight guys.
Brady Heslip
sat way too many minutes in the second half. Still, none of that should diminish the magnitude of Wednesday's victory. No one can question the Bears' legitimacy now.
What the loss means for Mississippi State:
There is no reason for the Bulldogs to hang their heads. They went toe-to-toe against a Final Four contender and could've easily won. If anything, Mississippi State should be encouraged. On a night when leading scorer
Arnett Moultrie
wasn't all that productive (eight points) the Bulldogs got huge contributions from secondary players such as
Brian Bryant
(eight points) and Steele (10). Aside from a silly technical foul in the waning minutes, Sidney turned in a strong performance, scoring 10 points and blocking two shots in just 19 minutes. His poor conditioning is still an issue, but Mississippi State doesn't lose much when
Wendell Lewis
subs for him. This is a deep, talented team that should finish no worse than third in the SEC. Rick Stansbury, who was under fire after a disappointing 2011-12 season, is doing a nice job.
Up next:
Baylor opens Big 12 play Jan. 2 against Texas A&M in Waco. Mississippi State hosts Utah State on Saturday before opening SEC play Jan. 7 at Arkansas.
December, 17, 2011
12/17/11
6:18
PM CT
For one scary moment,
Perry Jones III
feared he was done for a long time.
Baylor's big man was writhing on the court in pain and wasn't sure he could come back into the game, let alone how much of the season might be missed.
Jones had knocked knees with BYU's
Brandon Davies
atop the perimeter on a drive with 1:26 left and his seventh-ranked Bears up 84-83. Without its star forward, Baylor looked like it might lose not only the game, but its shot at a glorious season.
"I was scared,'' Jones told ESPN.com by phone Saturday. "I couldn't move my leg on my own. I thought I tore something.''
But Jones quickly made a decision while on the bench.
He wanted back in.
"I didn't want to let my team down,'' Jones said. "I just wanted to ignore the pain, get to the weak side and get the rebound. I was there at the right time.''
Jones' tip-in follow with 21 seconds left gave Baylor an 86-83 lead.
"That was huge,'' BU coach Scott Drew said. "What was really special is that normally a player gets injured, limps around and doesn't make the big play. He got the big play.''
Brigham Young had one more chance to tie the game when Davies had a 3-pointer at the buzzer. But
Pierre Jackson
, a 5-foot-10 guard, came from the side and blocked the 6-9 forward's shot.
"I was closest to him,'' Jackson said after the Bears'
86-83 victory
. "I know I can jump pretty high. I wanted to contest it but I happened to block it. It was a big block, and it saved the game for us.''
Drew said Jackson is as athletic a player as Baylor has and that he wasn't surprised Jackson found a way to block Davies' shot.
Jones, a clear contender for All-America status and Big 12 player of the year, finished with a career-high 28 points and eight rebounds, while Jackson added 13 off the bench.
Brady Heslip
made six of 10 shots from beyond the arc and finished with 18 for the Bears.
Baylor hadn't been tested yet this season, blowing out all its competition, even in the one previous road game at Northwestern.
[+] Enlarge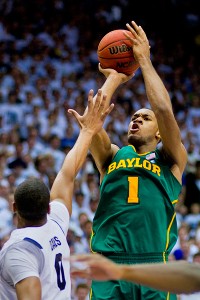 Douglas C. Pizac/US PresswireBaylor's Perry Jones III led all scorers with 28 points, adding eight rebounds and four assists.
So Drew wasn't sure how his team would handle going into the Marriott Center, a notorious graveyard for BYU opponents.
"You're not going to find a tougher atmosphere in college,'' Drew said. "They were 48-2 in their last 50 games. This definitely gets us ready for Big 12 play and tells us a lot about our team. It showed we know how to execute at the end of games. Toughness is required to win on the road. We weren't ready early on, and we got dominated on the glass.''
The Cougars added UCLA transfer
Matt Carlino
for this game, and he tied Davies for the team lead with 18 points. But Baylor did have length, size and depth advantage in the frontcourt with BYU missing sixth man
Stephen Rogers
.
However, it was Cal transfer guard
Gary Franklin
who played a key role Saturday. He made two 3s in 12 minutes, but Drew said Franklin's defense was just as crucial.
"Normally you like to bring in a player that you add midseason for a home game,'' Drew said. "But he was tremendous. He guarded very well.''
It's pretty clear the Bears are more than capable of competing for the Big 12 title and a deep run in March, possibly long enough to get to New Orleans.
But there still are some potholes ahead. Baylor plays Saint Mary's and West Virginia in Las Vegas next week, and then squares off with Mississippi State on Dec. 28 in Dallas.
The length of
Arnett Moultrie
and size of
Renardo Sidney
will certainly test Jones,
Quincy Miller
and
Quincy Acy
, while Heslip, Franklin, Jackson and
A.J. Walton
will have their hands full with
Dee Bost
and
Rodney Hood
.
So plenty of tests remain for the unbeaten Bears. But one of the biggest of all was passed in Provo.
"We got through the adversity together,'' Jones said. "We just have to play smarter and play better together.''