Dallas Colleges:

Robert Rose
April, 27, 2012
4/27/12
2:22
PM CT
I've been inspired by the boys at the Big Ten Blog, and this should be a fun walk-through each week in the new-look Big 12 next season. I'll pick one game a week during the season that I'd attend if it were entirely up to me. I don't make the call, and things change as games are played, of course. But right now, this is how it would look if it were up to me. I'll include road nonconference games, too.
Here's the Week 11 slate in the Big 12:
Baylor at Oklahoma
Iowa State at Texas
Kansas at Texas Tech
Kansas State at TCU
West Virginia at Oklahoma State
My pick: Kansas State at TCU
Somehow, we made it until Week 11 before I got a chance to see the Horned Frogs play. In Week 11, it would be at TCU's shiny, brand-new Amon G. Carter Stadium. As we've mentioned before, it's tough to project how the Big 12 standings will look this late in the season, but this game could serve as a de facto elimination game in the Big 12 title race.
That may be more true for TCU than Kansas State, but this will be a fun game with a whole lot of purple. The Horned Frogs and Wildcats are two of the most physical teams in the entire league, and we'll see a game that doesn't look like all that much of a "Big 12" game once it starts. K-State has two 900-yard rushers in
John Hubert
and
Collin Klein
, and
Robert Rose
has come on strong this spring.
TCU boast three 700-yard rushers, but has a more evolved passing game than anything Kansas State showed through 2011. Will that change with another year of experience. Could be.
Klein could show something special in what would be a huge win for Kansas State, or an even bigger one for TCU.
July, 18, 2011
7/18/11
3:36
PM CT
A week from today, college football will feel oh-so-close. The Big 12 will kick off its media days, slimmed down to two days with its new 10-team configuration, instead of 12 teams over three days like it's been in the past.
[+] Enlarge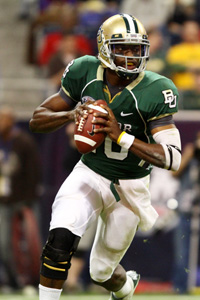 Thomas Campbell/US PresswireBaylor's Robert Griffin III will be attending Big 12 media days after missing last year's event.
I'll be there for every second of the action, with plenty of stories and videos, just like last year. Here's a look at
what we had for you every day
at media days last year.
You can expect more of that, and here's who we'll be dealing with here in Dallas.
Monday, July 25
Baylor
Oklahoma State
Missouri
Jacquies Smith, DE

Kenji Jackson, S

Elvis Fisher, OL

T.J. Moe, WR
Texas
Emmanuel Acho, LB

Keenan Robinson, LB

Blake Gideon, S

Fozzy Whittaker, RB
Texas A&M
Tuesday, July 26
Kansas
Steven Johnson, LB

Tim Biere, TE

Jeremiah Hatch, OL
Iowa State
Kansas State
Oklahoma
Texas Tech
I've got a lot of thoughts about this lineup:
Texas' quarterbacks haven't spoken to the media since the Thanksgiving Day loss to Texas A&M, and that streak won't end next week. Not that it necessarily should, at least not at this event. For better or worse, bringing a quarterback to media days implies a certain amount of confidence in said player, and every indication we got during the spring is that this race is wide open. Last year, Texas Tech brought both Steven Sheffield and Taylor Potts, and Mack Brown raised eyebrows when he brought his first-year starter, Garrett Gilbert, to media days before fall camp and before his first-ever start. He won't be making a return trip in 2011.

Kansas State's contingent is rather telling. If Bill Snyder was trying to temper the hype surrounding Arthur Brown, he wouldn't bring the transfer who has never played a game for Kansas State to Dallas. But Brown is coming, and his brother, running back Bryce Brown, isn't. That's plenty telling. As is Collin Klein's presence. It's not like Kansas State is starved for marketable talents. Cornerback David Garrett would fit in nicely, but he won't be coming. It's not explicit, but Klein will enter fall camp with the lead in the quarterback race, but Snyder has to feel good about him at this point. Bryce Brown's role on this team is still a bit unclear with Robert Rose and John Hubert still competing with him for carries, but I'm still feeling very good about making Arthur Brown my pick for Big 12 Newcomer of the Year. Except for Texas Tech quarterback Seth Doege, he's the only player in the entire league to come to Big 12 Media Days without at least a season of starting experience, and Doege at least has one start on his resume.

Serious, serious star power in Oklahoma and Oklahoma State's crews. Some of the biggest names in college football will be heading down to Dallas from just up north across the state line. Landry Jones will be making his first trip this year, as will Justin Blackmon. Weeden, Lewis and Broyles all attended in 2010. Another good bunch from A&M this year, too.

Glad to see Iowa State bring Kelechi Osemele to Dallas. He's a quiet star in this league who's been one of its best linemen for a couple seasons now. He'll finally get a bit more exposure in his first trip to media days. I'm a little surprised to see ISU bring Darius Darks, though, instead of Darius Reynolds, who Paul Rhoads went out of his way to praise this spring. That said, Darks is a solid choice as a co-captain and a contributor for three seasons heading into 2011, vs. Reynolds, a high-profile juco transfer who only emerged as a major contributor in 2010 after a quiet 2009.

Baylor's Robert Griffin III is back on Baylor's wagon after sitting out last year's media days to give the cameras and notepads a chance to get to know his teammates (and avoid about 4,000 questions about his knee, which was clearly fine last season).
June, 22, 2011
6/22/11
8:49
AM CT
Here's the next in our look at the Big 12 rankings by position: Running backs.
Last year's class was one of the best in recent history, but this year's class? Unassuming to begin the season. There are a few possible stars looming, but very, very little talent returning.
Cyrus Gray
ranked seventh in rushing yards last year (thanks to an insane finish), but he's the only player returning to the Big 12 from the conferences' top 10 rushers in 2010.
That's nuts.
The Aggies are the only team with a truly elite backfield tandem, though I could see Oklahoma and/or Oklahoma State joining that group by the end of the year.
The rest of the league? Every team has at least a couple of players to get excited about, and teams 5-10 are all pretty close. No one is really understaffed at the position, but obviously, they're fit to be ranked.
Here's where I have them:
1. Texas A&M
[+] Enlarge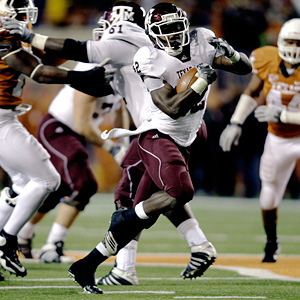 AP Photo/Eric GayCyrus Gray had at least 100 yards rushing in each of A&M's final seven games last season.
I wouldn't have been surprised if Cyrus Gray and
Christine Michael
were the Big 12's top leading returning rushers this year, but a midseason injury from Michael prevented it from happening. Regardless, his return gives Texas A&M by far the best tandem in the Big 12, and arguably the best in the country. When
Mister Jones
isn't cranking the Counting Crows on his stereo, he's a pretty good reserve, alongside
Ben Malena
, who
impressed me on my visit to College Station this spring
.
2. Oklahoma
Oklahoma will try and replace do-everything forever (or whatever) back DeMarco Murray with a platoon likely led by shifty Florida native
Roy Finch
. True freshman
Brandon Williams
made a big impact in spring camp, and
Brennan Clay
will likely earn a few touches, too. Health concerns raise questions about a pair of other OU backs' knees (
Jermie Calhoun
,
Jonathan Miller
), but walk-on
Dominique Whaley
led the team in rushing in the spring game
.
3. Oklahoma State
The Cowboys have a great pair in sophomores
Joseph Randle
and
Jeremy Smith
, and a nice set of backs to spell them if needed, too.
Kye Staley
, once a top-flight recruit, returned this spring after quitting the team following a severe knee injury, and might earn a few touches this spring. Also, Abilene, Texas, native and 2011 ESPNU 150 signee Herschel Sims arrives this fall and may jockey for time and the opportunity to shed a redshirt.
4. Missouri
What the Tigers lack in a truly elite back, they have in depth. Missouri has four backs who are all capable of being very good in the Big 12, even though neither of the four topped 600 yards a year ago. A big reason for that was none of the four got more than 100 carries, but with the carries they did get, every back averaged more than five yards per carry. The platoon approach works for Missouri, but senior
De'Vion Moore
and junior
Kendial Lawrence
will lead the way with sophomores
Henry Josey
and
Marcus Murphy
not far behind.
5. Kansas
[+] Enlarge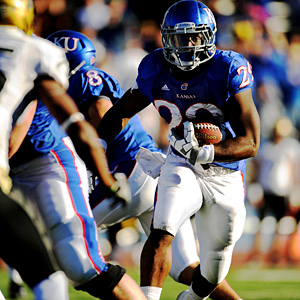 John Rieger/US PRESSWIREJames Sims is the No. 2 returning rusher in the Big 12 this season.
Running back will be a strength for Kansas next year, who might have found a second back this spring that perfectly complements power runner
James Sims
, a rising sophomore who racked up 742 yards last year after not playing in the opener. Believe it or not, he's the Big 12's No. 2 returning rusher, behind A&M's Gray. Darrian Miller burst onto the scene this spring, and figures to be a big part of the team in the fall. I see him being the Jayhawks' biggest home-run threat. DeShaun Sands and
Brandon Bourbon
offer even more depth at the position.
6. Texas Tech
The Red Raiders lose backfield constant Baron Batch, but have a good group lined up for 2011. Tommy Tuberville's effort to establish a more efficient running game is a realistic possibility with
Eric Stephens
as the likely feature back, and
Aaron Crawford
,
Ben McRoy
and
Harrison Jeffers
in the mix. True freshman Ronnie Daniels' strong spring likely earned him some time, too, rather than a redshirt.
7. Baylor
Baylor loses a 1,200-yard rusher in Jay Finley, and figures to use a thunder-and-lightning approach with 6-foot, 240-pound bowling ball
Terrance Ganaway
and shifty, 5-foot-9, 205-pound
Jarred Salubi
.
Glasco Martin
, a more balanced back, may earn a few carries, too. Regardless of who has the ball, life is good for Baylor backs, who get a bit more room from defenses that are forced to respect
Robert Griffin III
's legs.
8. Kansas State
The Wildcats' top two rushers, including two-time league rushing champ Daniel Thomas, are gone. Hopes are high for Wichita native and former blue-chip back
Bryce Brown
, but he's still entrenched in a position battle with
John Hubert
and
Robert Rose
heading into fall camp.
9. Texas
Texas brings back a pair of seniors in Fozzy Whittaker and
Cody Johnson
, but if the Longhorns are going to climb up this ladder by year's end (and they might) it's likely to be on the back of hyped incoming freshman
Malcolm Brown
, who is on campus and set to begin fall camp.
D.J. Monroe
might be the fastest player in the Big 12, but he'll have to master the nuances of pass blocking to get more than a few touches every game.
Jeremy Hills
can offer some depth at the position, too, after Tre Newton was forced to quit the game because of concussions.
10. Iowa State
Shontrelle Johnson
showed some flash last year, but he still brings just 35 career carries into his 2011 effort to replace
Alexander Robinson
.
Jeff Woody
and
James White
offer a bit more depth, too. Florida native DeVondrick Nealy might get into the mix if he can put together a strong fall camp.