Dallas Colleges:

Rod Strickland
July, 22, 2014
Jul 22
9:40
AM CT
The Big 12 media days continue on Tuesday in Dallas, as Oklahoma's Bob Stoops and new Texas coach Charlie Strong each take the stage. Keep this page open throughout the day's proceedings as we bring you the latest from our reporters, who will cover all 10 teams at the event.
May, 11, 2012
5/11/12
3:00
PM CT
ESPNChicago.com's Scott Powers
has the story
:
Former Illinois shooting guard Crandall Head committed to SMU on Thursday. [...] Head said his relationship with SMU assistant Jerrance Howard, who also recruited Head to Illinois, was the main reason for his commitment.

"He's a great friend. He's like a brother to me," Head said of Howard. "Everything he told me about SMU was true. Coach (Larry) Brown is great to be around. The coaching staff was pretty good. The facilities they're working on look great. They have some great players coming in. I got a good look at everything.
What does this mean? Needless to say, SMU basketball fans -- y'all
are
out there, right? -- aren't going to suddenly leap head over heels at the arrival of Crandall Head in 2013-14. Head averaged 1.0 points, 0.6 rebounds, 1.0 assists and 9.2 minutes in nine games in his sophomore season, which was cut short in December when he left the team. This is not a major impact player, at least not as far as we can tell right now.
But it is an interesting development. Head was obviously candid about his feelings toward Jerrance Howard, a highly regarded recruiter in the state of Illinois and the city of Chicago specifically. Howard is one piece of newly hired SMU coach Larry Brown's rather excellent staff, which also includes former Illinois State head coach Tim Jankovich in a coach-in-waiting position
and former Kentucky assistant Rod Strickland
. (
Update
: Actually, Strickland wasn't hired; instead Brown nabbed Ulric Maligi, the Houston assistant who landed two top 30 recruits, Danual House and Chicken Knowles, in the class of 2012. Apologies for the mixup.) That staff's challenge is clear: Branch out far and wide, get as many good players as possible to consider SMU and, whether through the transfer process or good old-fashioned recruiting, get them to consider a long-dormant program they may have never otherwise heard of.
Which is hard enough on its own. It will no doubt be made even more difficult by Brown's reputation. College players will surely have respect for a coach who bested the Lakers with Chauncey Billups and Rasheed Wallace and helped make Allen Iverson an NBA MVP*, but they will also know -- because other people will surely tell them -- that Brown has a noted proclivity for leaving jobs early and often. So not only do Howard & Co. have to lay a groundwork for recruiting that doesn't already exist at SMU, they need to do so
before
Brown decides he's had enough fun with his latest coaching adventure.
Transfers are a good place to start, but they can't be the entire strategy. Or maybe they can? That's the point here: SMU's trajectory into the Big East, under Brown, with Howard and the rest of that staff, is going to be utterly fascinating to watch. How quickly, with a legendary coach and a great staff, can a few men bring a long-forgotten basketball program into relevance? And how? And if/when the players do arrive, can Brown still work his coach-'em-up magic?
I do not know the answers to these questions, but it will be thoroughly interesting to watch them unfold.
*And without caring about practice (not a game, NOT a game, we talkin' 'bout practice) to boot. I still don't understand how Iverson was so good, and I fear I never will. What a freak of nature.
April, 18, 2012
4/18/12
8:28
AM CT
It is not at all difficult to figure out why the Southern Methodist University men's basketball program wants to hire Larry Brown, and they most likely will,
as reported Tuesday afternoon by ESPN.com's Jason King
.
The Mustangs -- a program with one winning season since 2003-04, just 10 all-time NCAA tournament appearances (exactly one since Brown last coached in a college game in 1988), and no long-term tradition or cachet to speak of -- are in the process of moving from Conference USA to the Big East. This is a program that needs to get good quickly. It is a program that needs a splash hire, a boost to national perception, a conversation-starter. It is a program that needs to take a risk.
Larry Brown, it is safe to say, represents all of those things.
[+] Enlarge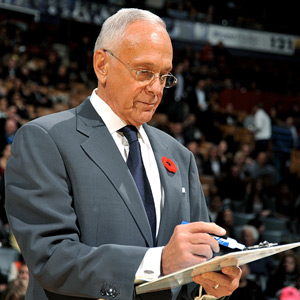 Garrett W. Ellwood/NBAE/Getty ImagesLarry Brown can certainly coach -- but rarely sticks around anywhere for very long.
Brown is something like a legend in the game, the only coach ever to win both a national title and an NBA championship. His legacy in the game, his sheer reach, extends well beyond his own former programs: Both Kansas coach Bill Self and Kentucky coach John Calipari -- the two men in charge of your 2012 national runner-up and champion, respectively -- consider Brown a mentor. Good luck finding someone to tell you this man can't coach the game. Because he really, really can.
But along with that acumen and experience comes the rest of the overstuffed Brown baggage cart. He is just as legendary for his short attention span; his longest coaching tenure --
q.v.
this timeline for the details
-- was six years (with the 76ers), and more frequently he has left his job after two or three seasons, and often even sooner than that. He has coached
30 percent
of the NBA's teams and is on the verge of taking his 13th head coaching job.
Even worse, especially for an athletics program with SMU's history, is Brown's run-ins with NCAA regulatory brass: At UCLA, a Final Four appearance was vacated, and when he left Kansas in 1988 the program was under NCAA probation.
That said, SMU appears to be working on some built-in Brown backup plans. The first is a potential coach-in-waiting deal with Illinois State coach Tim Jankovich, who was still deciding on the opportunity as of early Tuesday evening.
But according to reports, Brown's staff would also include former Illinois assistant/recruiting ace Jerrance Howard and current Kentucky assistant Rod Strickland. That's a good staff. It's also a staff that could take over on a moment's notice if Brown, now 71 years old, decides this whole "coaching basketball again" wasn't such a good idea after all.
So there are huge upsides, sure. In fact, you're looking at one right now. I'm writing about SMU basketball right this very minute. You're reading about SMU basketball. That is a massive improvement over the recent state of the program -- and by "recent" I mean "since 1993 or so" -- in and of itself.
But there are massive risks here, too. The Mustangs, it seems, have decided to take the entire package, the putative risks with the potential rewards. It could work out. It could blow up. That's the Larry Brown package, and all that comes with it.