Dallas Colleges:

Royce White
March, 9, 2012
3/09/12
12:59
AM CT
KANSAS CITY, Mo. -- Moments before a final half of basketball that may have decided the fate of Texas' season, coach Rick Barnes stood before a dry-erase board in the Longhorns' locker room.
On one side, Barnes scribbled three letters: "N-I-T."
Then he took a step to his right and jotted down four more: "N-C-A-A."
Barnes put down the marker and looked at his team.
"Who are we?" he asked the Longhorns. "Which one would you put your name under?"
By the time Texas left the Sprint Center, the question had been answered.
In a game that so many predicted they would lose, the Longhorns fought back from an 11-point deficit and defeated Iowa State
71-65
in the quarterfinals of the Big 12 tournament. Along with propelling them into Friday's semifinal against Missouri, the victory significantly enhanced the résumé of a Texas team that entered the contest on the NCAA tournament bubble.
Now 20-12, the Horns feel much better about their chances of earning a 14th consecutive bid under Barnes, who isn't the type to politick to the selection committee.
He shouldn't have to.
Texas finished 9-9 in what is generally regarded as the second-best league in the country behind the Big Ten. The Longhorns' strength of schedule is No. 20 in the country according to
ESPN's InsideRPI
, and they have only one defeat (at Oklahoma State) that can be viewed as a "bad loss."
Thursday's victory over Iowa State also should turn some heads considering the Cyclones -- who tied for third in the Big 12 standings -- entered the game touting wins in four of their previous five contests. Texas' win Thursday came before 18,792 people, most of whom were in support of Iowa State.
"You love to walk into other gyms and quiet their fans," UT guard
J'Covan Brown
said.
Texas led 65-59 with 2 minutes, 55 seconds left before Iowa State scored six consecutive points to force a tie. But rather than flounder in the face of adversity, the Longhorns flourished.
[+] Enlarge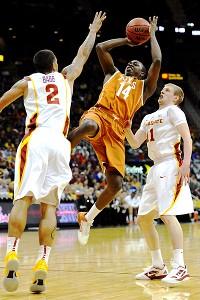 Peter G. Aiken/US PresswireJ'Covan Brown's late-game cool helped Texas hold off Iowa State -- and strengthen its NCAA case.
With 36 seconds left, Brown spun into the lane and swished a floater as he was fouled. He sank the ensuing free throw to convert the 3-point play to give Texas a 68-65 lead. It was yet another huge shot for a player whose career has been defined by gut-check moments.
Brown scored seven of his game-high 23 points in the second half.
"A few seconds before I hit that shot, Coach was like, 'Are you feeling it?'" said Brown, a junior. "I told him I was, and he let me go out and do my thing. It gives you a lot of confidence when your coach has your back like that."
Brown's performance this season -- he averages a Big 12-best 20.1 points -- is even more impressive considering he's on a team that features five freshmen among its top seven players. Opposing defenses are geared to stop Brown, yet he still finds ways to score. His game winner Thursday came against Iowa State's
Chris Babb
, who is regarded as one of the top defenders in the Big 12.
"[Brown] is a gifted offensive player," Barnes said. "He has such great vision. On that last play he had three or four different options, and he picked the right one to get the ball where it needed to be."
The Cyclones still had a chance after Brown's clutch basket, but standout
Royce White
lost control of the ball on the perimeter, and it ended up in the hands of Texas forward
Jonathan Holmes
. Iowa State immediately fouled Holmes, and the freshman made both free throws to make it 70-65 with 22 seconds left.
Ballgame.
As proud as he was of Brown, Barnes was also ecstatic about the play of freshman point guard
Myck Kabongo
, who has been on a steady incline all season. Kabongo finished with 11 points, five assists and no turnovers -- Texas had only six turnovers as a team -- and he played excellent defense on Iowa State 3-point ace
Scott Christopherson
.
A senior, Christopherson entered Thursday's game averaging 21.8 points in his previous five contests and had made 19 of 36 3-point attempts during that span. Pestered by Kabongo, he scored just 10 points on 4-of-13 shooting and missed four of his six attempts from beyond the arc.
As a team, the Cyclones made just five 3-pointers Thursday. They came in averaging nine per game.
Texas now advances to play another strong shooting team in Missouri. The Tigers are shooting 49.9 percent from the field, a mark that ranks third in the nation. Mizzou defeated Texas 84-73 in Columbia on Jan. 14 and 67-66 in Austin on Jan. 30.
"We feel good about this win," Brown said. "But we can't let our young guys celebrate too much. We've got another big one tomorrow."
February, 20, 2012
2/20/12
11:35
AM CT
Saturday's game between Kansas and Missouri will go a long way toward deciding this year's Big 12 regular-season champion. Both teams have identical 12-2 conference records, but Missouri gets the nod in this week's Conference Power Rankings because of its victory over the Jayhawks on Feb. 4 in Columbia.

1. Missouri:
Frank Haith's squad eked out another hard-fought road victory Saturday when it defeated Texas A&M 71-62 in College Station. The win was the seventh straight for the Tigers, who will try to avenge a Jan. 7 loss to Kansas State on Tuesday.
2. Kansas:
The Jayhawks had an easy time with last-place Texas Tech in Saturday's 33-point win. Forward
Thomas Robinson
continues to make a case for national player of the year honors. The junior is averaging 17.7 points and 11.8 rebounds.
3. Kansas State:
Angel Rodriguez
scored 15 points to lead the Wildcats to their best win of the season against Baylor on Saturday. The 57-56 victory upped Kansas State's Big 12 record to 7-7 and will greatly enhance its resume on Selection Sunday. Two more tough tests await this week. The Wildcats visit Missouri on Tuesday and host Iowa State on Sunday.
4. Baylor:
The Bears are in a downward spiral with losses in three of their past four games. Scott Drew's team failed to score in the final two minutes of Saturday's home defeat against Kansas State and looked completely disorganized and lost on its final two possessions. Getting healthy at Texas on Monday won't be easy.
5. Iowa State:
Scott Christopherson
scored 25 points and
Chris Allen
added 16 in Saturday's 80-69 victory over Oklahoma. At 9-5, the Cyclones are now tied with Baylor for third place in the Big 12 standings. Standout
Royce White
has had three single-digit scoring outputs in his past five games.
6. Texas:
Saturday's 90-78 loss to Oklahoma State in Stillwater snapped the Longhorns' four-game winning streak. Texas was outscored from the free throw line 43-14. At 7-7 in league play, Rick Barnes' team desperately needs a home win against Baylor on Monday to enhance its NCAA tournament hopes. Texas lost to the Bears 76-71 on Jan. 28 in Waco.
7. Oklahoma State:
The Cowboys are the Big 12's most improved team; especially when they play at home. Oklahoma State has now defeated Missouri, Texas, Iowa State, Texas Tech and Oklahoma in Stillwater. They still have home games remaining against Texas A&M and Kansas.
Keiton Page
had 40 points in Saturday's win over Texas, when he was 20-for-20 from the foul stripe.
8. Texas A&M:
The Aggies have lost five of their past six games, and with Kansas coming to town Wednesday, things may get worse before they get better. Point guard
Dash Harris
hasn't played since Jan. 23 because of a foot injury.
Elston Turner
averages a team-high 14 points.
9. Texas Tech:
The Red Raiders didn't do much to capitalize on their Feb. 11 victory over Oklahoma. They turned in a dismal offensive performance in a 47-38 setback against Texas A&M on Tuesday before getting stomped by 33 points at Kansas on Saturday.
10. Oklahoma:
The Sooners have lost six games in a row and eight of past last nine. Wednesday's home game against Oklahoma State looks like a possible victory, as the Cowboys have been terrible on the road. Still, it's been quite a collapse for a team that opened the season with wins in nine of its first 10 games.
February, 7, 2012
2/07/12
8:06
AM CT
Here are this week's Big 12 power rankings:
1. Missouri:
The Tigers have played the two toughest teams in the league (Kansas and Baylor) and defeated them both. Guard
Marcus Denmon
had made just five of his previous 31 attempts from 3-point range before going 6-for-9 from beyond the arc in Saturday's win against Kansas.

2. Kansas:
The Jayhawks blew an eight-point lead with just more than 2 minutes remaining in Saturday's loss at Missouri, but with Baylor up next on Wednesday, there's no time to mope about the loss. Kansas is 16-2 all-time against the Bears, who it defeated by 18 points last month at Allen Fieldhouse.
3. Baylor:
The Bears' Big 12 title hopes depend largely on what happens this week. Baylor hosts Kansas on Wednesday and travels to Missouri Saturday. Baylor's only two losses are against those two teams. The Bears' offense looked sloppy and disorganized in last week's victories over Texas A&M (63-60) and Oklahoma State (64-60).
4. Iowa State:
The Cyclones won at Oklahoma Saturday despite getting just three points from leading scorer
Royce White
. Fred Hoiberg's squad has won five of its past six games overall and could continue that streak this week against Texas A&M and Oklahoma State.
5. Kansas State:
The Wildcats got back on the winning track by defeating Texas A&M Saturday at home. And the good times should continue when Kansas State hosts Texas Tech on Tuesday. Leading scorer
Rodney McGruder
has made just four of his previous 20 3-point attempts.
6. Texas:
Rick Barnes' squad hasn't caught many breaks in conference play. Texas' six league losses have come by an average of five points. The Longhorns had lost five of their previous six games before defeating Texas Tech on Saturday. Monday's road game against a beat up Texas A&M squad is winnable.
7. Texas A&M:
The Aggies almost defeated Baylor without
Khris Middleton
and
Dash Harris
on Wednesday, and they led Kansas State at halftime before falling 64-53 Saturday in Manhattan. Considering all of the injuries, Texas A&M deserves credit for competing as well as it has.
8. Oklahoma:
The Sooners have dropped four of their previous five games heading into Monday's contest against Missouri. All of a sudden the team that got off to a 9-1 start is 3-7 in league play.
Steven Pledger
and
Andrew Fitzgerald
are averaging a combined 31.1 points.
9. Oklahoma State:
Three weeks after losing to them by 41 points, Oklahoma State nearly upset the Baylor Bears before falling 64-60 Saturday in Stillwater. Freshman
Brian Williams
had 23 points in the loss. On Tuesday, Oklahoma State hosts the same Iowa State squad that it lost to on a buzzer-beater Jan. 18 in Ames.
10. Texas Tech:
Last week's home game against Oklahoma State appeared to be the Red Raiders' best chance of picking up a Big 12 win. Instead, Billy Gillispie's team was throttled 80-63.
Jordan Tolbert
leads Texas Tech in scoring with 11.9 points per contest. But he's averaging just 6.3 points in his past three games.
January, 28, 2012
1/28/12
6:57
PM CT
So much for a slow Saturday. College basketball fans and pundits alike should know better by now, but we always assume the worst on a supposedly "slow" weekend.
Let's change the rules, based on what we've seen today. If you survey the weekend slate and you can't find any meaningful games and potential upsets that you're overly interested in, that means it's time to call Earl and the crew (everybody has a friend named Earl), stock the fridge and get ready for some good basketball. If this was a lukewarm weekend in college basketball, what qualifies as a great one?


Iowa State 72, No. 5 Kansas 64
Many laughed when Fred Hoiberg began his tenure at Iowa State by recruiting from a pool of players known for their checkered pasts.
Royce White
, who left Minnesota two seasons ago after a tumultuous stay, led the bunch. But Hoiberg looks like a genius right now after the Cyclones handed No. 5 KU its first Big 12 loss of the season. The win snapped both the Jayhawks' 13-game winning streak over Iowa State and their 10-game overall winning streak (they hadn't lost since Dec. 19).
The postgame court-storming was well-deserved for the 'Clones and their fans. Hoiberg has as much job security as any coach in the country based on his legendary career in Ames, which allowed him to pursue so many transfers without worry. In other words, he'd get a mulligan if things didn't work out.
Against Kansas, however, Hoiberg proved that he's more than a risk-taking recruiter. He can coach, too. Iowa State, a squad that suffered an 82-73 loss at Kansas on Jan. 14, led by three points at halftime. But that didn't last. The Jayhawks scored 11 unanswered points early in the second half. The crowd's energy dropped after that KU run, but Iowa State kept fighting, something it had failed to do down the stretch in its earlier loss to the Jayhawks.
White led the charge. With his team leading 56-53 and five minutes to play, he scored the Cyclones' next eight points (three straight layups and a pair of free throws). He entered the game as a 51 percent free throw shooter -- ISU was the Big 12's worst free throw shooting team at 61 percent overall -- but he was 6-for-8 from the charity stripe in the second half. He finished with a team-high 18 points, nine rebounds and five assists, making up for his six turnovers. The team was 25-for-34 from the charity stripe.
So yes, the same Iowa State squad that lost at Drake Nov. 15 looks like an NCAA tournament team right now -- no matter what my colleague Doug Gottlieb might tweet. At 5-3, the Cyclones are off to their best Big 12 start in a dozen years and sure seem like they won't be fading away anytime soon.


No. 4 Syracuse 63, West Virginia 61
It just can't happen. Not in late January with the stakes so high. Not when it's so blatant. Officials in this game missed one of the more obvious and critical goaltending calls of the season. In the final seconds, West Virginia's
Truck Bryant
air-balled a 3-pointer that ended up in
Deniz Kilicli's
hands with his team down by a bucket. Kilicli's layup was swatted away in mid-air by Syracuse's
Baye Keita
, but replays showed what looked like a clear goaltending violation by Keita. Officials never blew their whistles.
West Virginia got the ball back and
Kevin Jones
(20 points, eight rebounds) missed a deep 3-pointer to win the game, but the final outcome might have changed had that crew flagged Keita for goaltending. Now granted, WVU had its chances.
Brandon Triche
(18 points) hit a pair of free throws with a minute and a half to play and the Mountaineers missed four consecutive shots. But the no-call clearly impacted the game.
Syracuse struggled in its third consecutive game without
Fab Melo
. The Orange just haven't looked like the same squad without him and his defensive presence. West Virginia secured an astounding plus-21 (41-20) rebounding edge over the Cuse and had nearly as many offensive boards (19) as the Orange had total. How does that happen? It's not like the Mountaineers are the biggest team in the country. They were just tougher than Syracuse most of the afternoon. And had it not been for that missed goaltending call, West Virginia might have avoided its 13th loss to the Cuse in 14 meetings.


No. 7 Baylor 76, Texas 71
With 4:09 to go, Texas'
Myck Kabongo
hit a 3-pointer as
Pierre Jackson
committed a ridiculous foul to put him on the line for a four-point play opportunity. Texas had been down by 12 points early in the second half, but Kabongo's shot cut Baylor's advantage to just one. Cameras panned to Baylor coach Scott Drew on the sidelines. He had the "I can't believe this is happening at home" look on his face.
Perry Jones
(22 points, 14 rebounds) was far more aggressive than he'd been in some of his efforts, but Baylor couldn't keep the pressure on the Longhorns and nearly blew one at home.
J'Covan Brown
scored 32 points (11-for-22), his third consecutive 30-point effort. But he had way more time to create a better shot than the deep 3-ball he took with 14 seconds on the clock. His team was down by three points in the closing seconds, so I understand why he'd take a deep shot, but he didn't have to shoot it when he did. He had more time on the clock.
Here's where you have to have more question marks about Baylor, though. The Bears are at home. Texas shot 36 percent from the field in the first half and was 1-for-12 from beyond the arc before halftime. Seemed like an opportunity for Baylor to flex its muscle. But it turned into another lukewarm finish for the Bears.


No. 13 Florida 69, No. 16 Mississippi State 57
The Bulldogs just couldn't handle Florida's inside-outside attack.
Patric Young
(12 points, six rebounds) was solid for the Gators, especially after halftime.
Bradley Beal
led the Gators' talented backcourt with 19 points. The nation's leaders in 3-point field goals hit 11 of them as they won their fifth straight and 17th in a row at home.
Arnett Moultrie
was 4-for-10 and scored 12 points for a Bulldogs team that committed 14 turnovers. It was MSU's third SEC road loss of the season. At 5-3 in league play, they'd better find a way to compete away from home. They're certainly talented, but the Bulldogs have really struggled on the road. Thought this one would have been a closer game, but give the Gators credit. They can spread teams out with their guard play and minimize their size disadvantages, a tactic they used to perfection against the Bulldogs.


No. 1 Kentucky 74, LSU 50
The Wildcats are in Beast Mode right now. They're just crushing teams. LSU entered this game following a tight road loss at Mississippi State. But the Wildcats are just a different animal.
Terrence Jones
led all scorers with a season-high 27 points and the Wildcats held LSU to a 1-for-9 clip from the 3-point line. Just two Tigers reached double figures.
Although LSU is only 2-5 in the SEC, you have to wonder how dangerous the Wildcats can be in March when a guy like Jones can explode despite some inconsistency this season. He entered the game averaging 11.6 ppg and he only scored five points against Georgia on Tuesday. But this game was further proof that Kentucky is a "pick your poison" kind of opponent. How do you defend a team with that number of studs? The Wildcats have so many weapons.
Syracuse is deep. Ohio State has balance. But no team in America looks as potent as Kentucky right now.
Some more observations from the afternoon games ...
January, 27, 2012
1/27/12
3:00
PM CT
Saturday


Texas at Baylor (Noon)
: The Longhorns are still maturing and likely will pull off at least one win against the upper-level teams. But it might be hard to get at Baylor after the Bears were beaten by Missouri at home this past Saturday. The Longhorns don't have the size to match Baylor if the Bears use it to their advantage.


Kansas at Iowa State (ESPN, 1 p.m.)
: This could be the upset pick of the weekend if the Cyclones' guards win the position battle against Kansas.
Royce White
must have the game of the season to outplay
Thomas Robinson
. Hilton Coliseum should be rocking like it once did. Iowa State should knock off someone elite at home. It almost did against Missouri. This could be the one.
January, 25, 2012
1/25/12
11:51
AM CT
By
Jeremy Lundblad, ESPN Stats & Info
Player of the Night - Perry Jones III

For all of the hype surrounding Jones in his two years in Waco, he'd never had a 20-point, 10-rebound game. Until last night. He helped
Baylor
snap a two-game losing streak with a
77-65 win
at
Oklahoma
. Jones finished with 21 points and 12 rebounds. Baylor had been 3-18 in Norman going into this one.
Ugly Stat Line of the Night - J'Covan Brown

The good news for
Texas
? The Longhorns beat
Iowa State
,
62-55
. The bad news? J'Covan Brown went 3-for-16 from the field with five turnovers. Over the past three games, Brown has a 25.7 field goal percentage. That includes 22.0 percent from two-point range.
January, 2, 2012
1/02/12
12:42
PM CT
Not much has changed in this week's Big 12 power rankings. But with each school beginning conference play, next week's list could look quite a bit different. Be sure to check back.
1. Baylor:
The Bears are off to their best start in school history at 13-0, and no one can say they accomplished the feat because of a weak schedule. Baylor touts wins against five top-50 teams, with the most recent triumph coming in a two-point victory Wednesday against Mississippi State. The Bears open Big 12 play Monday against struggling Texas A&M in Waco.
2. Missouri:
The Tigers had to come from behind in the final two minutes Friday to beat an Old Dominion team with a 6-7 record. Still, all road wins are big, and the close win against the Monarchs will help the Tigers down the road. Missouri faces a pesky, well-coached Oklahoma squad in Tuesday's conference opener in Columbia.
3. Kansas State:
The Wildcats have won six in a row since an overtime loss to West Virginia on Dec. 8. But tough times could lie ahead. Kansas State opens Big 12 play at Kansas on Wednesday before hosting Missouri and Baylor. Then comes a tough road game at Oklahoma. Does any school in the country have a tougher league-opening stretch than the Wildcats?
4. Kansas:
An eighth straight Big 12 title isn't out of the question -- especially if forward
Thomas Robinson
continues the dominance he displayed in Saturday's win over North Dakota (30 points, 21 rebounds). But the Jayhawks' bench continues to struggle, as Connor Teahan was the only non-starter to score against the Fighting Sioux.
5. Texas:
J'Covan Brown is averaging 19 points for a team that got back on the winning track Saturday against Rice. The Longhorns could establish a ton of momentum by beating Iowa State on the road in Wednesday's Big 12 opener, especially considering they have what should be two home wins after that against Texas A&M and Oklahoma State. A 3-0 start is definitely possible.
6. Oklahoma:
The Sooners dropped their second game of the season Thursday when they squandered a 12-point lead with six minutes remaining in a 56-55 loss at Cincinnati. Still, with a 10-2 record, Oklahoma has been the league's biggest surprise thus far. Mississippi State transfer
Romero Osby
is averaging 9.1 rebounds for a team that opens Big 12 play Tuesday at Missouri.
7. Iowa State:
The Cyclones survived a scare Saturday before pulling off a two-point home win against Mississippi Valley State. But it should be noted that leading scorer
Royce White
(flu-like symptoms) played just three minutes. Iowa State has been mildly disappointing thus far. The team appears to lack chemistry.
8. Texas A&M:
Highly touted freshman
Jamal Branch
announced last week that he was leaving the team, which certainly wasn't a good thing for an already struggling program. The Aggies had gone nine straight games without breaking the 70-point barrier before Saturday's 76-58 win over Arkansas Tech.
9. Oklahoma State:
This team is bad. The Cowboys needed double overtime to defeat SMU in Dallas last week before suffering a home loss to Virginia Tech on New Year's Eve, their second to the Hokies this season. It will be interesting to see what Oklahoma State's administration decides to do with fourth-year coach Travis Ford if things don't get better.
10. Texas Tech:
The Red Raiders have won four of their past six games and are steadily getting better. They're playing weak competition, sure. But that's just what this rebuilding program needs as new coach Billy Gillispie attempts to instill discipline and confidence in his players. Wednesday's game at Oklahoma State will be interesting.
December, 19, 2011
12/19/11
8:37
AM CT
Here are the latest Big 12 power rankings, which feature a few changes from last week.
1. Baylor:
The Bears notched one of the best road wins in school history Saturday when they knocked off BYU 86-83 in front of 22,700 in Provo.
Perry Jones III
scored a career-high 28 points, but things will only get tougher from here. Baylor plays St. Mary's and West Virginia in this week's Las Vegas Classic before taking on Mississippi State in Dallas on Dec. 28. Baylor needs to get tougher in the paint -- the Bears were outrebounded 41-26 by BYU.

2. Missouri:
The Tigers' biggest test to date comes Thursday when they play Illinois in the annual Braggin' Rights game in St. Louis. The showdown lost a bit of its luster when the previously unbeaten Illini were stomped by UNLV in Chicago on Saturday. Don't be surprised if Missouri wins in a blowout.
3. Kansas:
Just eight days removed from a minor knee injury, point guard
Tyshawn Taylor
is expected to return to the court when the Jayhawks face Davidson on Monday in Kansas City. Kansas, which is getting 17.8 points and 11.4 rebounds from
Thomas Robinson
, visits USC on Thursday to take on the undermanned Trojans.
4. Kansas State:
The Wildcats' 71-58 victory Saturday over Alabama was one of the best nonconference victories of the season for a Big 12 squad. Point guard
Angel Rodriguez
(13 points, seven assists) and forward
Jordan Henriquez
(17 points, eight boards) provided a huge spark off the bench for a K-State squad that opens play in the Diamond Head Classic on Thursday against struggling Southern Illinois.
5. Texas:
The Longhorns are getting better -- fast. Saturday's win over Temple was the seventh in a row for Texas, with each of the victories coming by double digits. After a somewhat slow start, freshman point guard
Myck Kabongo
is starting to catch on. He's averaged 12.2 points and 6.5 assists in his past five games.
6. Texas A&M:
Injured forward
Khris Middleton
(knee) has returned to the lineup, but it didn't make much difference in Saturday's 20-point loss to Florida. The Aggies, who have yet to beat anyone of any significance, continue to have trouble scoring. They've averaged just 60 points in their past seven games.
7. Oklahoma:
Steven Pledger
is averaging 19.5 points for a Sooners squad that has been the surprise team of the league. Last week's victories over Arkansas and Houston should provide a huge momentum boost for a team that's adapted quickly to first-year coach Lon Kruger.
8. Iowa State:
The Cyclones have just two games between now and Jan. 4. Coach Fred Hoiberg hopes to use that time to find the cohesion that has been missing from his team. Forward
Royce White
leads Iowa State in points, rebounds and assists.
9. Oklahoma State:
The Cowboys have lost four of their past seven games. Highly touted freshman wing LeBryan Nash is shooting just 37.4 percent from the field and 30 percent from beyond the arc. Oklahoma State will be hard-pressed Wednesday to beat an athletic Alabama team that will defend the Cowboys harder than they've been defended all season.
10. Texas Tech:
Billy Gillispie's rebuilding project continues in Lubbock, where the Red Raiders are preparing for a huge game Wednesday at Oral Roberts, which is coming off a blowout win at Xavier. A victory would give Texas Tech a much-needed jolt of momentum, which they'll certainly need for Gillispie's intense practices during winter break.
December, 9, 2011
12/09/11
1:46
PM CT
Based on results and not preseason expectations, here's my attempt at ranking the Big 12 teams one month into the season:
1. Baylor
: The Bears are the most talented team in the Big 12, and it's not even close. Just ask previously unbeaten Northwestern, which shot 24.1 percent in a 69-41 home loss to Baylor last weekend. The frontline is imposing, but guard play will determine the Bears' fate. Juco transfer
Pierre Jackson
(11.9 ppg, 4.4 apg) is off to a nice start.

2. Missouri
: Frank Haith's detractors are eating their words, as the guard-oriented Tigers have been one of the most impressive teams in the country thus far. Senior
Marcus Denmon
(21.8 ppg) has looked like an All-American candidate in victories against Notre Dame, Cal and Villanova.
Kim English
is playing the best basketball of his career.
3. Kansas
: We'll know a lot more about the Jayhawks after Saturday's game against Ohio State. For now, though, KU's streak of seven straight Big 12 titles appears to be in jeopardy. Forward
Thomas Robinson
(17.4 ppg, 12 rpg) will contend for national player of the year honors, but a lack of depth and poor guard play -- Kansas committed 22 turnovers Tuesday against Long Beach State -- have been issues.
4. Texas A&M
: The Aggies have done an admirable job in the absence of top player
Khris Middleton
, who is hoping to return in time for A&M's game against Florida on Dec. 17. Billy Kennedy's squad has won its past four games by an average of 16.3 points. Forward
Ray Turner
(14.3 ppg) and guard
Elston Turner
(12.2 ppg), a Washington transfer, have led the way thus far.
5. Kansas State
: The Wildcats aren't as strong as they've been the past few seasons, but Frank Martin has done an impressive job with a team that has a lot of nice pieces but no true star.
Jamar Samuels
is averaging 13 points and 9 rebounds for squad that beat Virginia Tech on the road before dropping a double-overtime heartbreaker to West Virginia on Wednesday.
6. Texas
: The Longhorns are rebuilding after losing Jordan Hamilton, Cory Joseph and Tristan Thompson to the NBA draft. But a pair of gut-wrenching losses (in overtime against Oregon State and by three to NC State) apparently didn't do anything to squelch Texas' spirits. Rick Barnes' squad is on a four-game winning streak thanks in part to J'Covan Brown (19.4 ppg).
7. Oklahoma State
: The Cowboys haven't been all that impressive. They lost to unranked Virginia Tech and Stanford in the NIT, and only managed narrow wins against UT-San Antonio and Tulsa. Highly touted freshman LeBryan Nash has been inconsistent, and is shooting just 40 percent from the field and 29 percent from 3-point range.
8. Iowa State
: Fred Hoiberg's squad has been the league's biggest disappointment thus far. Despite a cast of talented transfers and one of the top all-around players in the conference (
Royce White
), Iowa State finds itself toting losses to Drake and Northern Iowa, the latter of which came at home.
9. Oklahoma
: Lon Kruger is doing an excellent job during his first year in Norman, so don't be surprised if the one-loss Sooners move up a few spots in the rankings in the coming weeks. Nonconference wins against Houston, Arkansas and Cincinnati would do wonders for OU's confidence as it prepares to enter Big 12 play.
10. Texas Tech
: Billy Gillispie is doing the best he can, but he's basically working with a group of freshmen and junior college transfers who had never played a minute of Division I basketball prior to this season. The Red Raiders went 0-3 in the Old Spice Classic, losing to Indiana State, DePaul and Wake Forest. It's going to be a long season in Lubbock.