Dallas Colleges:

Russell Okung
January, 13, 2014
Jan 13
2:00
PM CT
After 16 years, the BCS era is finally over. Next season, college football will have a playoff instead.
With the BCS done, we've come up with our Big 12 all-BCS era team (1998-2013) below:
Offense
[+] Enlarge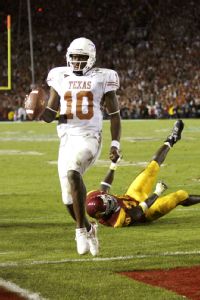 Scott Clarke/Getty ImagesWith Vince Young at the helm, Texas won a national title and Rose Bowl.
QB: Vince Young, Texas (2003-05) --
Young led Texas to its first national title in 35 years with an unforgettable performance in the Rose Bowl against USC. The Heisman runner-up also became the first QB in college football history to throw for 3,000 yards and run for 1,000 in the same season.
RB: Ricky Williams, Texas (1998) --
Williams was part of the BCS era for only one season, but what a season it was. He rushed for 2,327 yards and won the Heisman Trophy going away. Only Wisconsin's
Ron Dayne
has more career rushing yards than Williams (6,279).
RB: Adrian Peterson, Oklahoma (2004-06) --
Despite battling injuries throughout his career, Peterson still was a beast in college. After rushing for 1,925 yards while leading the Sooners to the national title game, he finished second in the '04 Heisman voting, even though there was still a stigma then in voting for a freshman.
WR: Michael Crabtree, Texas Tech (2007-08) --
Crabtree became the first two-time winner of the Biletnikoff Award, given to the nation's top receiver. In '08, he and QB
Graham Harrell
led the Red Raiders to an upset of Texas and a No. 2 ranking in the polls.
WR: Justin Blackmon, Oklahoma State (2009-11) --
Blackmon became the second and only other two-time winner of the Biletnikoff. In his final two seasons, he finished with 233 receptions, 3,304 receiving yards and 38 touchdowns, and he helped propel the Cowboys to their first Big 12 title in '11.
TE: Chase Coffman, Missouri (2005-08) --
Coffman had a monster statistical college career for a tight end with 247 catches for 2,659 receiving yards and 30 touchdowns. He won the '08 Mackey Award, given to the nation's top tight end. Missouri won 37 games during the four years Coffman was in the lineup.
OT: Jammal Brown, Oklahoma (2001-04) --
Brown was a unanimous All-American and a three-time All-Big 12 selection. He became the fifth Sooner to win the Outland Trophy, awarded to the nation's top interior lineman.
OT: Russell Okung, Oklahoma State (2007-09) --
In Okung's final two seasons, Oklahoma State led the Big 12 in rushing yards. The Cowboys were also third in the country in '07 in fewest sacks allowed with Okung at left tackle. He was a unanimous All-American and Outland finalist in '09 and became the sixth overall pick in the '10 NFL draft.
OG: Cyril Richardson, Baylor (2010-13) --
Richardson became Baylor's seventh all-time unanimous All-American. The Outland finalist was also a key piece on the nation's highest-scoring offense this season.
OG: Justin Blalock, Texas (2003-06) --
Though a guard in the NFL, Blalock actually started 50 games for Texas, most coming at right tackle. He was a three-time, first-team All-Big 12 selection and a consensus All-American in 2006.
C: Dominic Raiola, Nebraska (1998-2000) --
Raiola was the inaugural winner of the Rimington Award, named after former Nebraska center Dave Rimington, which recognizes the best center in college football. He was an Outland finalist and a consensus All-American.
APB: Darren Sproles, Kansas State (2001-04) --
One of the most prolific all-purpose performers in college football history, Sproles finished his career with 6,812 all-purpose yards. Among his 39 consecutive starts, his most memorable performance came in the '03 Big 12 championship, when he had 235 yards rushing and 88 receiving, as K-State upset top-ranked Oklahoma 35-7.
Defense
DE: Brian Orakpo, Texas (2005-08) --
Orakpo captured the '08 Nagurski Award as the most outstanding defensive player in the country, and the Lombardi Award, given to the best college lineman or linebacker. He also was the Big 12 Defensive Player of the Year and a consensus All-American while piling up 11 sacks his senior year.
DE: Von Miller, Texas A&M (2007-10) --
Out of a hybrid defensive end/linebacker role, Miller led the nation with 17 sacks in '09. He was a two-time All-American and won the Butkus Award in '10 as the nation's top linebacker.
DT: Ndamukong Suh, Nebraska (2005-09) --
There was no more dominant defensive player in college football during the BCS era. Suh finished fourth in the Heisman voting in '09 and won several national awards, including the Outland, Lombardi, Nagurski (most outstanding defensive player)and Bednarik (defensive player of the year). He was also a unanimous All-American and the Big 12 Defensive Player of the Year.
DT: Tommie Harris, Oklahoma (2001-03) --
Harris was a force from the beginning as a freshman on the OU defensive line. He won the Lombardi his junior year, and he was a two-time consensus All-American, garnering unanimous honors in '03.
LB: Derrick Johnson, Texas (2001-04) --
Johnson was a menacing linebacker for the Longhorns, earning consensus All-American honors in '03 and unanimous honors in '04. He was also a three-time, first-team All-Big 12 selection, and won the Butkus (best linebacker) and Nagurski awards as a senior. Johnson finished his career with 458 tackles.
LB: Rocky Calmus, Oklahoma (1998-2001) --
Calmus played a major role in OU's resurgence under Bob Stoops. He won the Butkus in '01 and was a finalist for the Nagurski and Bednarik. A three-time All-Big 12 pick, Calmus led the Sooners in tackles in all three of those seasons.
LB: Teddy Lehman, Oklahoma (2000-03) --
Lehman too won the Butkus, beating out Johnson for the award in '03. He also was Big 12 Defensive Player of the Year, captured the Bednarik, was a unanimous All-American and played in two national championship games.
[+] Enlarge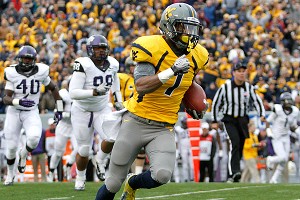 Justin K. Aller/Getty ImagesWest Virginia receiver and returner Tavon Austin had a huge 2012 season.
CB: Terence Newman, Kansas State (1999-2002) --
Newman was a solid player for Bill Snyder his first three seasons, then broke out as a senior. Newman was the Big 12 Defensive Player of the Year, a unanimous All-American and the Thorpe winner, given to college football's top defensive back.
CB: Derrick Strait, Oklahoma (2000-03) --
A four-year starter, Strait finished with a school-record 52 career pass breakups. He also won the Thorpe, and was a unanimous All-American.
S: Roy Williams, Oklahoma (1999-2001) --
Nicknamed "Superman," Williams was the Big 12's most dominating defensive player until Suh came along. He won the Thorpe and Nagurski in '01, and was the Big 12 Defensive Player of the Year and a unanimous All-American the same season. He also famously skied over the Texas offensive line to force the game-clinching interception to earn his moniker.
S: Michael Huff, Texas (2002-05) --
Huff became the first Longhorn to win the Thorpe, and was the leader of the '05 national championship defense. He was also a unanimous All-American that season.
Special teams
K: Mason Crosby, Colorado (2003-06) --
Crosby was three-time, first-team All-Big 12 selection, and twice was a consensus All-American even though he never won the Lou Groza Award, given to the nation's top kicker. He was also the Big 12 Special Teams Player of the Year as a junior, and converted 66 field goals in his career.
P: Quinn Sharp, Oklahoma State (2009-12) --
Sharp became the first three-time All-American in Oklahoma State history, and he earned All-American honors both as a punter and a kicker. He was twice named the Big 12 Special Teams Player of the Year. In his career, he made 50 of 59 field goals, averaged 45.9 yards per punt and missed only one extra point.
KR: Tavon Austin, West Virginia (2012) --
Austin was in the Big 12 only one season, but he was unstoppable that one season. On top of being one of the most dangerous kick returners in the country, Austin had 1,289 yards receiving and 643 rushing, and finished second in the country in all-purpose yards.
PR: Ryan Broyles Oklahoma (2008-11) --
On top of being a prolific punt returner, Broyles was one of the most efficient receivers in college football history. He finished his career with an FBS-record 349 receptions, and was a two-time consensus All-American before a knee injury cut his senior season short.
March, 11, 2013
3/11/13
4:00
PM CT
ESPN draft expert Mel Kiper has two Big 12 players -- Oklahoma's
Lane Johnson
and Texas'
Kenny Vaccaro
-- potentially going in the first round of this year's NFL draft.
Fellow expert Todd McShay has the same two as Kiper and also is optimistic about the chances of West Virginia's
Geno Smith
and
Tavon Austin
.
So let's split the difference and label the potential Big 12 first-round picks as an optimistic three, with Johnson being the only absolute first-round lock.
Those three would represent the fewest Big 12 players taken in the first round of the NFL draft since 2008. Even if four went, the Big 12 still would have the fewest since 2008.
That year, only Kansas -- yep, the Jayhawks -- managed a first-rounder,
Aqib Talib
to Tampa Bay with the 20th pick. In the four drafts that followed, the Big 12 has always put at least five players into the first round, including the first four overall picks in 2010.
How well this year's group of first-round picks will fare might not be known for years. What is known, though, is how well Big 12 players have done when they are selected in the first round. With that in mind, here is a ranking -- from worst to best -- of the Big 12's best first-round draft classes over the past 10 years.
2008
: It's all about quantity, and a little bit of quality. In 2008, the Big 12 only produced one first-round pick, Talib. He has not produced dramatic returns in the NFL. In the past two years, he has only started nine games. He was somewhat productive for Tampa Bay in the previous three seasons, starting 41 games and playing in 53. But, again, he was the only Big 12 player taken in the first round in 2008.
2006:
Vince Young
is working out at Texas' pro day at the end of March. Enough said.
Davin Joseph
and
Michael Huff
have been solid producers. But when the No. 3 overall pick is out of the league and having to work out at his alma mater's pro day, it means it was a bad year for the Big 12 in the first round of the NFL draft.
2004:
Tommie Harris
and Marcus Tubbs, the two defensive tackles taken in the first round, were productive for a few years, with Harris selected to Pro Bowls in 2005, '06 and '07 before he was beset by injuries. Tubbs lasted four seasons in the NFL. Roy Williams had 5,715 receiving yards but never lived up to the hype he generated coming out of Texas. Rashaun Woods played only two years and had seven career catches.
2005:
The lack of numbers might be what hurts this group the most.
Cedric Benson
,
Jammal Brown
,
Derrick Johnson
,
Mark Clayton
and
Fabian Washington
all proved they could play at the NFL level. Benson has had three 1,000-yard-plus seasons. Johnson is one of the top linebackers in the game. Brown remains a solid option on the offensive line. Clayton played seven NFL seasons; Washington played six. But there were only five guys selected and that isn't enough to push 2005 to the top of the list.
[+] Enlarge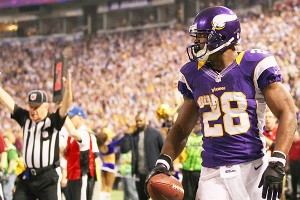 Andy Clayton King/Getty ImagesThe Big 12's 2007 draft class wasn't huge, but did feature 2012 NFL MVP Adrian Peterson.
2009:
Every Big 12 player selected in the first round in 2009 has produced and appears to be poised to continue to do so. Only
Jason Smith
didn't have a start last year. But the offensive lineman still played in all 16 games for the
New York Jets
.
Michael Crabtree
,
Brian Orakpo
,
Josh Freeman
,
Jeremy Maclin
,
Brandon Pettigrew
and
Ziggy Hood
are all starters for their respective teams.
2007:
It wasn't the biggest group, but it did include
Adrian Peterson
, so there could be some quibbling that maybe 2007 should be higher in the rankings. Throw in
Aaron Ross
and
Michael Griffin
and the debate could get even more heated.
Adam Carriker
was also taken this year. He started his career strong but suffered an injury and only played in two games last season.
2003
:
Kevin Williams
has been the standout of this group. The defensive tackle has started every game but four in his 10-year career.
Terence Newman
has been effective as a defensive back, first in Dallas and last season in Cincinnati. Tyler Brayton played at least 15 games on the defensive line in a nine-year career.
Ty Warren
played eight solid seasons for New England but tailed off last season with Denver. Andre Woolfolk lasted four seasons, mostly as a reserve.
2011:
Von Miller
, who was the highest pick among Big 12 players this year, has proved to be the top player so far.
Aldon Smith
is not far behind. Add in
Prince Amukamara
,
Phillip Taylor
, who when healthy is a starter at defensive tackle, a somewhat productive
Blaine Gabbert
and
Nate Solder
as well as reliable backups
Danny Watkins
and
Jimmy Smith
and this proved to be a successful year for Big 12 first-round selections.
2012:
Three quarterbacks, and all were not only starters as rookies but also made huge differences for their respective squads. Clearly,
Robert Griffin III
made the most dramatic impact, but
Ryan Tannehill
, with the Dolphins, and
Brandon Weeden
, with Cleveland, were both solid.
Kendall Wright
and
Justin Blackmon
each had 64 catches, for Tennessee and Jacksonville, respectively. Blackmon was targeted more (133 to 104) and had 200 more receiving yards.
2010:
This list maybe doesn't have the star power and is not littered with offensive playmakers, but six of the nine players picked were selected for the 2013 NFL Pro Bowl:
Gerald McCoy
,
Trent Williams
,
Ndamukong Suh
,
Earl Thomas
,
Russell Okung
and
Jermaine Gresham
. And the other three players --
Dez Bryant
,
Sam Bradford
and
Sean Weatherspoon
-- were vital pieces for their respective teams.
January, 9, 2012
1/09/12
10:30
AM CT
Finally, these two lovebirds made it official.
Really, though, it was a matter of time.
Flirtations with A&M
? An eventual breakup?
Please.
Mike Gundy loves Oklahoma State. Oklahoma State loves Mike Gundy.
They'll be together for eight years and Gundy
will be paid among college football's top 10 coaches
after agreeing to a contract extension and a big raise. As it should be.
That's what happens when one pays for the other's education and hires him as a 23-year-old assistant coach and 27-year-old offensive coordinator.
And that's what happens when a 44-year-old head coach (yes, he's a man) guides his alma mater to the two best seasons in school history in consecutive years.
These two belong together. Gundy, who hired agent Jimmy Sexton, grew uncomfortable as the process dragged on during his team's preparations for its Fiesta Bowl date with Stanford.
The Cowboys won to cap the first 12-win season in school history, which coincided with the school's first BCS appearance ever.
Uncomfortable or not, it shouldn't have come to this. "This," though is in the past and Gundy's gotten what's coming to him.
How many coaches have held the same job for seven years and had an equal or better record every season?
Not many, and Gundy's being paid like one. His deal reportedly averages out to about $3.75 million per year, up from $2.1 million this past season.
Kansas' Turner Gill and Texas A&M's Mike Sherman were paid more in 2011. They were both fired after the season. Now, only Texas' Mack Brown and Oklahoma's Bob Stoops are paid more in the Big 12.
Gundy was the 29th-highest paid coach nationally this season,
according to USA Today's coaching salary study
. His new raise puts him at sixth, ahead of guys like Bobby Petrino at Arkansas, Chip Kelly at Oregon and Bret Bielema at Wisconsin.
Gundy kicked off his career with a four-win season and two seven-win seasons. For some who saw those years, its hard to see Gundy, who first burst on the scene with his polarizing rant, as a coach who has ascended to the coaching elite.
But consider also: Gundy has as many BCS wins now as Petrino and Kelly, who both have earned reputations as offensive virtuosos. He has one more than Bielema, who is 0-2 in two Rose Bowl appearances.
He's developed offensive talent with the best of anyone in the country, sending stars like Dez Bryant, Kendall Hunter, Zac Robinson, Russell Okung and soon to be Brandon Weeden and Justin Blackmon to the NFL. On the way, he collected bushels-full of wins that Oklahoma State has never seen before.
This has been the best four-year period in
the history of Oklahoma State football
. Gundy is the biggest reason why.
This took too long. Why Oklahoma State wouldn't want to pay up for as long as possible, especially
with more Big 12 money on the way
, I have no idea.
But it's done now.
Oklahoma State paid up. Gundy is paid like one of college football's best coaches.
With a résumé like he's put together, with 41 wins, a Big 12 title, a BCS bowl win and a share of the Big 12 South all in the past four years, how else should he be paid?
April, 22, 2010
4/22/10
7:29
PM CT
There was no debate about the best left tackle in the Big 12 last season.

That was Oklahoma State's Russell Okung, the league offensive linemen of the year. Oklahoma's Trent Williams was also a first-team All-Big 12 player, but he wasn't nearly as dominant as Okung.

Williams might have better pro potential, though. At least, that's the opinion of the Washington Redskins.

The Redskins took Williams fourth overall, two spots before the Seattle Seahawks selected Okung. Those two tackles can count on being compared with each other for their entire careers.
January, 2, 2010
1/02/10
12:48
PM CT
ARLINGTON, Texas -- The NFL scouts in attendance eagerly anticipate watching the plays that pit Oklahoma State left tackle Russell Okung against Ole Miss defensive end Greg Hardy.
It's a matchup that almost didn't happen.
Okung's status was in doubt after he tweaked his knee during practice this week, but he will make his 47th consecutive start. Hardy's college career was thought to be over undergoing wrist surgery in November, but he progressed enough to play in the bowl game.
The consensus opinion of Okung (6-5, 300) is that he's an early first-round pick.
ESPN's Mel Kiper ranks him as the draft's top offensive tackle
and No. 6 overall.
The stock of Hardy, ranked by Kiper as the No. 3 defensive end in the draft, isn't so high. He's considered a first-round talent who has failed fulfilled his potential at Ole Miss. The Cotton Bowl matchup with Okung represents Hardy's final chance to impress NFL scouts on the field.
December, 31, 2009
12/31/09
10:53
AM CT
By
Jeff Caplan
| ESPNDallas.com
Three-hundred pound
Oklahoma State
left tackle Russell Okung has this whole thing figured out. Not only is he a standout footblal player who will be a high draft pick in April's NFL Draft, he also made sure he'd make it in the real world if he wasn't so dang good at football.
In fact, Okung was more receptive talking about the marketing degree he just earned after taking 18 class hours during the fall semester.
Eighteen hours? On top of football? When did you sleep?
"You know what they say, sleep is for the unsuccessful and the undriven mindset," Okung said. "So I didn't sleep at all.
"I worked hard and I persevered and I got my degree," said Okung, who follows his mother, a Texas Southern alum, as college graduates in his family. "It's been great and I have that piece of paper that says you're capable of learning. I'm just glad to get to go out in life."
Okung and the Cowboys take on
Mississippi
on Saturday in the Cotton Bowl Classic at Cowboys Stadium. The other day, Ole Miss coach Houston Nutt said innocently enough that playing in the bowl game should be a great motivator for pro prospects on both teams to show their stuff.
"I can't agree with him on that," Okung said, rather surprisingly. "Waking up everyday and playing football, that's a great motivator."
So you don't feel like you're on audition: "No, not at all," Okung said.
For a marketing major, the 6-foot-5 Okung isn't exactly doing a great job of marketing himself
"I know, I've been doing a horrible job," Okung said. "I'd rather market the team right now."
December, 29, 2009
12/29/09
7:00
AM CT
By
Jeff Caplan
| ESPNDallas.com
Gil Brandt, the longtime brilliant personnel director for the Dallas Cowboys and now the NFL Draft guru for NFL.com, provided his thoughts on who he believes are the top three draft prospects playing in the Jan. 2 Cotton Bowl.
The game features
Mississippi
vs.
Oklahoma State
(Brandt's list was provided by Cotton Bowl media relations).
(Drum roll, please...)
1. Russell Okung, Oklahoma State, OL - "He's a size guy that's got really good feet and has been well-coached. I think he's going to be a top pick. Ironically, I don't think he's as good as [former Ole Miss lineman Michael] Oher, but I think he will be drafted higher." (Note: Oher was drafted 23rd overall by the Ravens last spring).
2. Greg Hardy, Ole Miss, DE - "When he's healthy and wants to play, he's a pretty good football player."
3. Perrish Cox, Oklahoma State, CB - "He's short (Cox is listed at 6-0), but he plays a lot taller."
And one bonus scouting report from Brandt: "I think the real sleeper in this game is the Oklahoma State quarterback,
Zac Robinson
. I think he's the kind of guy you're going to take and develop. He's a lot like [Dolphins QB] Chad Henne. He's a smart guy and he moves around well."
There you have it folks, straight from the draft master himself, Gil Brandt.