Dallas Colleges:

Ryan Blake
June, 23, 2010
6/23/10
9:35
AM CT
By
Jeff Caplan
| ESPNDallas.com
Has there been a stranger trio of NBA draft prospects to come off one dysfunctional team as Oklahoma's
Willie Warren
,
Keith "Tiny" Gallon
and
Tommy Mason-Griffin
?
Talk about all over the board.
First there's Warren, the Fort Worth native who entered last season as a top 5 draft prospect. But, poor play, poor attitude, poor chemistry, injuries (and an apparent bout of mononucleosis) doomed the 6-foot-4 sophomore point guard to slide and slide and slide down the draft board. After averaging 16.3 points and 4.1 assists in just 21 games, he's projected to either go late in the first round or even perhaps slip all the way into the second round. The thing about Warren, though, is if he gets his head on straight and puts forth full effort, he could be a steal the farther he drops.
Then there's the pair of freshmen in Gallon and Mason-Griffin. They were ballyhooed recruits that had Sooner Nation and coach Jeff Capel pretty pumped about the possibilities. Now, everyone is glad to see them go.
The 6-8, 320-pound Gallon hauled in 10.3 points and 7.9 rebounds, but it was his other haul, an alleged $3,000 from a financial advisor, that apparently prompted Gallon to declare for the draft. He did so soon after reports surfaced. Gallon is a big man, but NBA scouts wonder if he has a position in the NBA. He doesn't have great leaping ability and has a penchant for drifting to the perimeter, not where a 320-pound man needs to be.
Gallon is projected to go really just about anywhere in the second round.
"I agree Gallon is a talent, but one year and some red flags, who's going to take a chance on that?" NBA director of scouting Ryan Blake said. "But, again, the guy has a lot of talent."
The same can be said for Mason-Griffin, who, at 5-11 and 170 pounds, has an odd shape for an NBA point guard. He surprised many by declaring for the draft and then stunned everyone when he signed with NFL agent Major Adams, agent and friend of the one and only Vince Young. Mason-Griffin and Young are both products of Houston's Madison High School.
Of course, Mason-Griffin is probably most known for his famous March 24 facebook announcement about turning pro: "On a mission. Its a official dat i am leavin skool and enterin draft. … i aint doin anotha yr."
Adams might be working the phones pretty hard once his client goes undrafted.
June, 17, 2010
6/17/10
12:17
PM CT
By
Jeff Caplan
| ESPNDallas.com
Texas coach Rick Barnes has deep affection for power forward
Damion James
and he thinks James will excel at the next level.
"I tell people all the time, I would love to have Damion James on my team because he's just getting started," Barnes said during the season. "He's improved so much and I don't care what you say, when there needs to be a big rebound, he's the best I've ever seen...Damion wants to be a pro for a long time. People pick players apart, but sometimes you've got to look at what guys do and say here's what he does. He does what he does."
At 6-foot-7, 225-pounds, the Nacogdoches native went through NBA workouts the summer after his junior year and decided one more season at Texas would improve his game. No one is arguing with the results. Everyone loves his determination, hustle, intensity, strength, athleticism and drive, but what is in question is exactly where he fits in the NBA game, particularly on offense. Defensively, scouts believe he can defend multiple positions, which could be his calling card upon entering the league.
"If you look at our game right now, we've got small ball, tall ball, all sorts. The teams are looking for players, not necessarily 6-10 power forwards, 6-6 two-guards and stuff like that. They look at guys they think can play," NBA director of scouting Ryan Blake said. "And again, when you get guys that are coming in, most of the first-round draft picks, [teams are] not looking for go-to-guys. These guys aren't going to go, 'OK, you're going to be our No. 1 option.' They're looking for guys that can fit in a role."
That could fit James to a T. Projected as the 20th pick to the San Antonio Spurs by ESPN.com's Chad Ford -- as well as on other mock drafts -- James would go to a solid, veteran club where he could gain tremendous experience and have time to learn about the NBA game, much the way
DeJuan Blair
did this year with the Spurs.
June, 16, 2010
6/16/10
10:19
AM CT
By
Jeff Caplan
| ESPNDallas.com
Casual basketball fans look at the wiry, 6-foot-3, 180-pound
Avery Bradley
, his 11.6-point scoring average and 43.2 percent shooting in just one year at Texas -- not to mention the Longhorns' catastrophic collapse from No. 1 -- and wonder what all the fuss is about.
Yet, come Thursday night, Bradley could be an NBA draft lottery pick, taken among the top 14 picks and higher than senior teammate
Damion James
. It's possible that Bradley is the first Big 12 guard selected, if not the first Big 12 player taken overall (Kansas big man
Cole Aldrich
and swingman
Xavier Henry
, plus Baylor power forward
Ekpe Udoh
likely have the inside track).
[+] Enlarge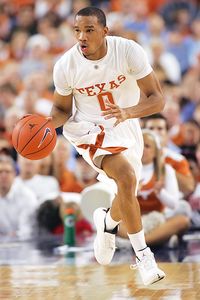 Ray Carlin/Icon SMIIn one season at Texas, Avery Bradley averaged 11.6 points and shot 43.2 percent from the field.
So what is all the fuss over Bradley? He's got what NBA types like to call "upside."
"He's got that strong, wiry body in a 2-guard and he prefers the up-tempo game," NBA scouting director Ryan Blake said. "He's got great speed end-to-end, sort of that attack mentality on offense and the ability to get to the line and finish -- even though he didn't show a lot of that this year. He's somewhat versatile and a pretty good shooter."
However, Bradley is just a freshman and at this point no one's certain if he's a point guard or shooting guard. No matter the upside, there is plenty of risk spending a lottery pick on him. Blake compares Bradley to Alabama senior
Mikhail Torrance
. At 6-5, 210 pounds, the combo guard averaged 15.6 points and 5.1 assists as a senior. Although Torrance is projected as a second-round pick, Blake said there's an argument to be made that Torrance is the player more suited to contribute to a team immediately.
If Torrance were only a freshman, he might get the nod over Bradley.
The other side of the coin is the
Brandon Jennings
argument. Jennings went straight to Europe after high school, but didn't play much last year. That didn't stop the Milwaukee Bucks from taking him 10th overall. The pick paid off as Jennings was a rookie of the year candidate throughout the season.
What to make of Bradley will cause some serious headaches for general managers. Even moreso now that Bradley is sidelined with an ankle injury and had to forego the remainder of his workouts, so a number of GMs and coaches won't get a hands-on workout before the draft.
As of today, Bradley is all over the board in mock drafts. Of the 12 mock drafts by various publications displayed on
NBA.com
, Bradley is now as high as No. 10 on two boards, at No. 13 on another and No. 14 on another. On eight boards, he has slipped out of the top 14.
ESPN.com Insider Chad Ford
is one of those who think Bradley will go early -- No. 13 to Toronto.
That doesn't mean he won't gain late momentum and wind up a lottery pick anyway.
"He could be. He could be a guy that doesn't get drafted in the first round," Blake said. "He could be a guy going low. Seriously, it's that type of draft."
And it could make for a long and nerve-racking night for Mr. Bradley.
June, 8, 2010
6/08/10
7:00
AM CT
By
Jeff Caplan
| ESPNDallas.com
The NBA Draft is 16 days away and
Tweety Carter
, the four-year guard with a significant footprint in the
Baylor Bears
' turnaround, can't find his name on any mock drafts.
At 5-11, 185 pounds, Carter is no doubt undersized, but if anyone possesses all the intangibles -- high IQ, terrific teammate, elevates those he plays with, extremely hard worker, extremely coachable -- Carter is it.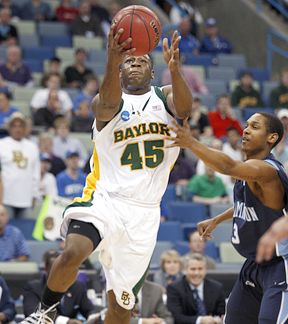 AP Photo/Patrick SemanskyTweety Carter averaged 15 points and 6.1 assists last season for Baylor.
He showed all those qualities in April at the Portsmouth Invitational Tournament where fringe players like Carter are invited to compete to prove to scouts that they're NBA material. Carter left Portsmouth with the tourney's sportsmanship award and scouts left with a positive impression.
"Everybody loved him. He was tough, but then we had a lot of tough guards there," said Ryan Blake, the NBA's director of scouting. "We had [California's Jerome] Randle. We had [Alabama's Mikhail] Torrance, and Tweety is such a good kid. But, you look at these guards and there is really a fine line between a kid that can make it or not make it."
Carter was Baylor's second-leading scorer at 15.0 points last season and he led the Big 12 at 6.1 assists. His leadership and talent helped the Bears advance to the NCAA Tournament in two of the past three seasons, including last season's milestone run to the Elite Eight.
"It doesn't matter if he gets drafted or not," Blake said. "He'll be a guy that will still get that opportunity. Come draft day, if his name doesn't get called, which a lot of people won't, his phone or his agent's phone number will be ringing."
Carter will likely be able to sign with a team after the draft and then get a shot to audition in one of the NBA's summer leagues. He could then get invited to training camp. If things don't work out for an opening-day roster, Carter is a prime candidate to play overseas or possibly in the D-League.
"If he can do it like an
Anthony Morrow
(Golden State) or anybody who's on that fine line and he convinces a team to give him that chance, because again he is a competitor, he's a guy that's been through it all," Blake said. "They [teams] go by the mental part of the game and he has a lot of physical attributes, too, and he's been running the show for a while."