Dallas Colleges:

Sam Acho
July, 22, 2014
Jul 22
9:40
AM CT
The Big 12 media days continue on Tuesday in Dallas, as Oklahoma's Bob Stoops and new Texas coach Charlie Strong each take the stage. Keep this page open throughout the day's proceedings as we bring you the latest from our reporters, who will cover all 10 teams at the event.
May, 5, 2011
5/05/11
9:35
AM CT
I've done it. You've done it.
"Hey, is that guy still around?"
Even with two fewer teams, it's hard to keep track. Our next series, which we did last year, too, takes a look at two key players for every team in the league that are taking their talents elsewhere, returning to campus, or arriving to try and write a legacy of their own.
So really, this series isn't so much for the fans of the teams in the posts, but more for everyone else. It wouldn't be a bad idea to bookmark this series.

Next up: Texas
Going:
Sam Acho, DE
Texas struggled last season, but Acho didn't. The senior lineman was the rock of the defense on and off the field, earning both All-Big 12 first-team honors and the Academic Heisman. He also accompanied his parents on mission trips to Nigeria during the summer and was a semifinalist for the Lombardi Trophy in 2010 and a semifinalist for the Lott Trophy in 2009. He'll be missed by the Longhorns after being drafted in the fourth round by Arizona.
Aaron Williams, CB
Williams crashed Texas' starting lineup for a game as a freshman, but has been a full-time starter for his past two seasons. Williams was one of just three players in the Big 12 to leave school early after last season, forgoing his senior year to have the Buffalo Bills make him the 34th overall selection of last week's draft. Williams played some nickel back, played some cornerback, and he was also the guy who ended Sam Bradford's career with a hit in the first quarter of 2009's Red River Rivalry. Last season, he was an All-Big 12 second-teamer and broke up 13 passes, making 46 tackles and forcing three fumbles.
Staying:
Keenan Robinson and Emmanuel Acho, LBs
This pair are close friends and should be the two vocal leaders of the defense in 2011 under new direction. Will Muschamp is gone, and Manny Diaz has arrived. Last season, Robinson and Acho combined for 187 tackles as the team's top two tackles. Emmanuel is Sam's younger brother, so it's clear he'll have somewhere to go if he has questions about stepping into the role as a team leader. Both have nice combinations of size and speed. Robinson (6-foot-3, 235 pounds) and Acho (6-foot-2, 240 pounds) should be among the Big 12's best at their position next season.
Foswhitt Whittaker and Cody Johnson, RBs
Whittaker and Johnson combined for 943 yards and eight scores last season. They'll have to be better this season for Texas to bounce back from its 5-7 record in 2010. Together, their efforts still would have only ranked 11th in the Big 12 if they were one back. Whittaker, a more balanced back, has dealt with a nagging shoulder injury and Johnson, though solid at the goal line for most of his career, doesn't give the Longhorns a big-play threat at 250 pounds. Both are seniors, but if they're not better next season, both could be out of a job.
D.J. Monroe
is likely to get more touches in space, and the nation's top running back is headed to Austin this fall.
Coming:
Malcolm Brown, RB
Brown is the guy Texas fans have been waiting for. Not since Jamaal Charles has Texas had what could be called a franchise back. Is Brown the guy? There's no way to know for sure until he gets to campus this fall, but the 6-foot, 215-pounder was among the nation's top recruits in the 2011 class and is a power runner with decent speed. The Texas 5A Offensive Player of the Year in 2010, the Cibolo, Texas native rushed for 1,800 yards and 23 scores while leading his team to a state title.
Quandre Diggs, CB
Texas fans have already had a chance to see Diggs, and they had to love it. The 5-foot-10, 190-pounder was the nation's top cornerback in the 2011 class, and after enrolling early, is already challenging for a starting spot in Texas' new defense. He was all over the place in Texas' spring game, and has already made a big impression on his teammates for his efforts. Off the field, he helped hold together Texas' top-flight recruiting class in the midst of upheaval on the coaching staff, too. He was on the phone with his future teammates, telling them to hold tight and let Mack Brown do his job. Diggs could be in store for a special, special career.
Click here for more from The Revolving Door.
May, 2, 2011
5/02/11
9:00
AM CT
The NFL draft has come and gone, and I hope you're all prepared for no more NFL anything for awhile. I know I'm not.
Anyway, here's how the Big 12 shook out over the weekend, with a few thoughts to follow.
First round (8)
Second round (2)
Third round (2)
Fourth round (6)
Fifth round (3)
Sixth round (1)
Seventh round (8)
No. 216: Mikail Baker, CB, Baylor (St. Louis)

No. 227: Scotty McKnight, WR, Colorado (New York Jets)

No. 229: Jonathan Nelson, DB, Oklahoma (St. Louis)

No. 232: Baron Batch, RB, Texas Tech (Pittsburgh)

No. 234: Andrew Gachkar, LB, Missouri (San Diego)

No. 246: Jay Finley, RB, Baylor (Cincinnati)

No. 247: Jeremy Beal, DE, Oklahoma (Denver)

No. 248: Eric Hagg, S, Nebraska (Cleveland)
Here's how the Big 12 teams ranked in terms of total draftees:
1. Nebraska
- 7
2. Baylor
- 4
2. Colorado
- 4
2. Oklahoma
- 4
2. Texas -
4
6. Missouri
- 3
7. Kansas State
-1
7. Oklahoma State
- 1
7. Texas A&M
- 1
7. Texas Tech
- 1
11. Iowa State
- 0
11. Kansas
- 0
And the major conferences (counting where players
actually
played):
SEC
- 38
Pac-12
- 33
Big 12
- 30
Big Ten
- 29
ACC
- 35
Big East
- 22
Texas A&M had just one player drafted, but the Aggies will have plenty next year, including a handful of possible first-rounders. Cyrus Gray, Ryan Tannehill and Jeff Fuller could all go very early in 2012, depending on what happens between now and then.

[+] Enlarge

Matthew Emmons/US PresswireOklahoma defensive end Jeremy Beal was drafted in the seventh round by Denver.

Interesting that Miller went 245 selections before the Big 12's Defensive Player of the Year, according to the media, Jeremy Beal. Also an interesting coincidence? The same team drafted both. I do think Beal will have a productive NFL career, and there's no denying what he did at Oklahoma, but the measurables were never quite there for Beal. What's not measurable? How difficult he is to block. That said, Miller was my vote for the Big 12's Defensive Player of the Year.

Good to see some hard-working, perhaps under-respected guys get drafted. This was an important year for that, considering those left over won't be able to get into NFL minicamps until the lockout ends and won't be able to do anything to further their NFL careers besides work out on their own. I'll have a post later today on some of those snubs. There's no guarantee that late-drafted guys like Baron Batch, Scotty McKnight, Jay Finley or Eric Hagg will catch on in the the pros, but I'd be willing to guarantee they'll do everything in their power to maximize what opportunities they get.

One of the most interesting selections? Mikail Baker. He wasn't invited to the combine, and played just one full season on defense at Baylor after working as a kick returner and a cornerback in 2009 before a season-ending knee injury. You don't see that kind of impressive athleticism at Baylor traditionally.

Let the debate continue: Kendall Hunter vs. DeMarco Murray. Murray getting drafted 40-some spots earlier only intensified that discussion, if you ask me.

Also, what's more impressive from Art Briles? That Baylor had four picks, the most in school history since 1996? Or that despite those four picks, Baylor's returning an even better team than last season, when it ended a 16-year bowl drought?

Colorado's draft, meanwhile? Not exactly a ringing endorsement for Dan Hawkins' coaching job in Boulder.

Alex Henery didn't win the Lou Groza Award, but his fourth-round selection makes him the earliest kicker draft pick since 2006. Will that end the state of Nebraska's blood feud against respectable OSU kicker Dan Bailey, who did win the Lou Groza Award? I doubt it. (Save your emails. For the 100th time, I agree, Nebraska fans. Henery > Bailey.)

A few guys who went way lower than I thought they would. In order of my surprise level: Beal, Gabbert, Amukamara, Hagg, Hunter.

A few guys who went way higher than I thought, in the same order: Aldon Smith, Batch, Gachkar, Baker.
April, 22, 2011
4/22/11
9:44
AM CT
The eighth in our series looking at the strongest and weakest position for each team in the Big 12: The
Texas Longhorns
.

Strongest position: Pass-rushers
Key returnees:
Keenan Robinson, Jackson Jeffcoat, Alex Okafor, Emmanuel Acho
Key losses:
Sam Acho, Eddie Jones
Analysis:
Sam Acho was the best of the bunch last year, but Texas is loaded with young talent up front that can put pressure on opposing quarterbacks. Robinson and Emmanuel Acho are budding stars who both were in the backfield plenty last year, and Jeffcoat showed potential to be the best defensive end in the league last year before being slowed by an ankle injury.
He should be much better this year and likely the most disruptive pass-rusher on the team.
Okafor, though, switched to defensive end from defensive tackle and drew rave reviews all spring, capping it with a five-sack performance in a spring game. Yes, it's a spring game, but still. He was impressive and constantly disruptive. Texas has a young secondary and a developing offense, but if the Longhorns bounce back in 2011, the front seven will be a big reason why.
Weakest position: Skill positions
Key returnees:
WR
Mike Davis
, QB
Garrett Gilbert
, RB
Fozzy Whittaker
, RB
Cody Johnson
Key losses:
WR
James Kirkendoll
, WR
John Chiles
, RB Tre' Newton
Analysis
: Texas has a lot of work to do here, but may rely on new faces heavily next year. Gilbert didn't show much last year, but he didn't have much help, either. He now has to win his job back, and there's no guarantee that will happen.
At running back, Whittaker and Johnson haven't shown much game-breaking ability or consistency, and they'll be seniors this year. Running back
D.J. Monroe
is the biggest home-run threat of the group, but a lack of playbook knowledge and pass-blocking acumen kept him off the field last year. In its spring game, though, Texas showed a strong intent to get him the ball in space. When that happens, he can make plays. Freshman running back
Malcolm Brown
also brings loads of expectations with him to fall camp.
Davis could blossom into a star this year at receiver, but he needs help from his quarterback.
Darius White
looked good at the spring game, but Texas also needs receivers like
DeSean Hales
and
Marquise Goodwin
to be more consistent.
Malcolm Williams
didn't do it, and as a senior this year, Texas' biggest target looks like he'll spend more time at H-back than he will at receiver.
More spring superlatives:
December, 7, 2010
12/07/10
2:06
PM CT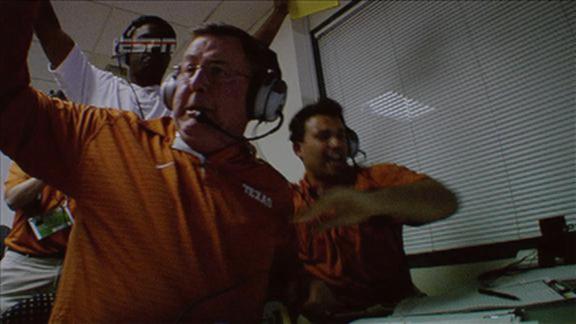 What season? Didn't Texas cancel 2010? You might hear something along those lines from Texas fans after a shocking 5-7 season that featured five home losses, with the only wins coming over ... wait for it ... Wyoming and Florida Atlantic. Ouch.

Most -- myself included -- figured Texas' defense would be good enough to carry the Longhorns to at least 8-9 wins while the offense suffered through what eventually became an identity crisis. Statistically, it was a great defense, but lapses against UCLA and Oklahoma turned into losses, and suddenly one-dimensional offenses like Kansas State looked just as dominant against the Longhorns as Oklahoma State's powerful, balanced attack.
Texas shuffled featured backs almost weekly, but no part of Texas running game was powerful, a stated spring goal that, to their credit, Texas tried to achieve for most of the season. It was a futile effort, and eventually cost the offensive line coach and offensive coordinator their jobs. Comically bad, recurrent punt-fielding decisions helped send special teams coordinator Mike Tolleson on his way, too.
Regardless, it was a year of losing in Texas that the program hasn't seen since the days of John Mackovic. Lucky for the Longhorns, by the end of the season, there was nobody left in the stands to see it.
Offensive MVP: Mike Davis, WR.
There wasn't much to pick from, but Davis' 47 catches and were a Texas freshman record, and give the Longhorns hope for the future for whoever is brought in to run the offense.
Defensive MVP: Sam Acho, DL.
Despite the disappointing showing from the defense as a whole, Acho put in an All-American effort and production every time he took the field. The senior led the nation with five forced fumbles, and was second in the Big 12 with 15.5 tackles for loss. He also had eight sacks and made 58 tackles.
Turning point: UCLA's 34-12 win in Austin.
It looked like a shocking upset at the time. The Bruins were an early disappointment, and Texas was 3-0 and ranked No. 7. It ended up just being a tussle between two mediocre teams who combined to finish 9-15. Texas extended its curious dominance over Nebraska with a win over the Huskers in Lincoln, but that win was more of an aberration produced by excellent game-planning from the Longhorns, rather than a second turning point.
What's next:
Good question. Who knows? Texas should field another excellent defense next season under Will Muschamp with plenty of new leaders like Keenan Robinson, Emmanuel Acho and Kenny Vaccaro, as well as Kheeston Randall and Blake Gideon, but offensively, anything could happen. I subscribe to the school of thought that, while
Garrett Gilbert
's numbers were average at best, he didn't have a lot of help. He wasn't the main problem. If Davis can continue to develop, and the running game can be a factor in 2011, he'll look like more of what most people thought he'd be. But much of that will depend on who Texas gets to replace offensive coordinator Greg Davis.
October, 1, 2010
10/01/10
8:00
AM CT
By
Jeff Caplan
| ESPNDallas.com
Reality grabbed the No. 21
Texas Longhorns
by the face mask last weekend and now their season is very much on the line.
Dreams of a return trip to the national championship game would seem all but dashed and a loss to the No. 8
Oklahoma Sooners
would put any shot at the Big 12 South title in serious jeopardy.
How can Texas (3-1, 1-0 in Big 12) regroup and surprise the Sooners (4-0, 0-0) in the 105th edition of the Red River Rivalry on Saturday afternoon at the Cotton Bowl?
Here's five ways:
1. No turnovers:
The oldest adage in football remains the truest and Texas knows it. The Longhorns have given away the football 10 times and fumblitis has been a serious issue. Six giveaways have come via fumble in four games, including three fumbles among four first-half turnovers last week against
UCLA
that buried the Horns in a hole that only grew deeper. Up next is another challenge. The active OU defense has surrendered points and has looked vulnerable, but it's also been opportunistic with six interceptions and six fumbles.
2. Explosive offensive line:
It's time for Kyle Hix and company to show they can take it to an opponent. Texas came into the season wanting to establish a ground game to complement first-year starting quarterback
Garrett Gilbert
, but it just hasn't worked out. The Longhorns have used four different tailbacks and now speedy
D.J. Monroe
seems to be next in line to get the majority of the carries. He'll need the help of an underachieving offensive line if he's going to get the job done.
3. Speed merchant:
If the Longhorns can't run the football, then they're going to need big plays to come from somewhere to get a sputtering offense in the end zone. Unfortunately for Texas, exciting freshman receiver
Mike Davis
, who leads Texas receivers with 16 catches and two TDs, is questionable with a left knee injury. Somebody has to step up, so why not the fastest guy on the field
Marquise Goodwin
? Goodwin has 14 catches on the season, none for more than 32 yards, and he has yet to hit paydirt. That must change.
4. Sack attack:
Texas leads the Big 12 in sacks with 14. Two players, defensive ends Eddie Jones (four sacks) and Sam Acho (three) both rank among the top five sack artists in the conference and freshman Jackson Jeffcoat isn't far behind with 2.5. The OU offensive line hasn't been immune to the pass rush in four non-conference games. Quarterback
Landry Jones
has been dumped eight times. By comparison, Texas has given up five sacks in four games.
5. Secondary showdown:
Why is the pass rush so important for Texas? His name is
Ryan Broyles
and he is lethal. His 41 receptions lead the nation and his 120.5 yards per game ranks fourth in the nation. Along with a strong pass rush, Texas will need a superior effort from its heralded secondary. Cornerbacks Curtis Brown, Chykie Brown and Aaron Williams, plus safeties Blake Gideon, Christian Scott and Kenny Vaccaro will have to be on their toes. But, they can't get lulled by Broyles or they'll get burned by tailback
DeMarco Murray
(16 catches) or
Kenny Stills
(13 catches).
July, 29, 2010
7/29/10
12:02
PM CT
By
Jeff Caplan
| ESPNDallas.com
With 21 tackles and three sacks last season,
Texas Longhorns
defensive tackle Kheeston Randall is the lone player at the position back with any siginificant experience.
And coach Mack Brown didn't sugarcoat what he needs from the 6-foot-5, 295-pound junior from Beaumont.
"It's our true key on defense," Brown said. "He needs to step up and play like Roy Miller and like Lamarr Houston from last year. we've got numbers at that position, but we do not have quality experience. We have to look at look at a number of guys to see what fits."
Brown said he has the option of going to a 3-4 scheme and moving defensive end Sam Acho in, but Brown said he'd prefer not to go that route.
"All of a sudden you're looking at Calvin Howell, Tyrell Higgins, Kyle Kriegel," Brown said. "You're looking at freshmen. That's one of the keys for us to determine in preseason."