Dallas Colleges:

Sam Montgomery
November, 16, 2012
11/16/12
12:00
PM CT
With the season winding down, we figured we'd start looking to the future. Like, beyond bowl games future.
We are looking into our crystal ball to check out some of the SEC best who could declare for April's NFL draft early. We've talked to people around the league, those in the know at ESPN when it comes to the NFL draft, and came up with the Texas A&M underclassmen we feel are the best bets to come out and go the highest in next spring's draft.
PODCAST
What's up with Ben Rogers' Fighting Texas A&M Aggies? The guys take a look at Ben's favorite college football team.

Listen

Draft guru Mel Kiper Jr. updated his
Big Board

this week and featured 12 SEC players in his top 25. Ten were juniors.
We're going in alphabetical order, so here are Texas A&M underclassmen we feel have the highest draft stock:
Luke Joeckel, OT, Texas A&M:
It's hard to find a better left tackle out there. Joeckel entered the season as a surefire first-round pick and has only helped his draft stock with an excellent junior season. He hasn't been rattled by the speed of opposing SEC ends, and has provided very good protection in the pass game. It sounds like he could be the first tackle off the board if he declares early.
Jake Matthews, OT, Texas A&M:
The Aggies are really getting greedy with their tackles. Matthews has been excellent all season, and could play either right or left tackle in the NFL. He's very powerful and moves well up front. He could be a late first-round pick if he decides to come out.
Damontre Moore, DE, Texas A&M:
Talk about really breaking out onto the national stage. He was excellent as an outside linebacker last season, but has been an absolute monster at defensive end in his first (and probably only) year in the SEC. He really adjusted to the new 4-3 scheme, and might have played himself into a top-10 pick. He has a team-high 74 tackles, leads the nation with 20 tackles for loss and is tied for first with 12.5 sacks.
October, 18, 2012
10/18/12
1:48
PM CT
For the past five weeks, teams have had no answer for stopping
Johnny Manziel
. Containment has been the goal, but the redshirt freshman quarterback has just been too slippery.
Since Texas A&M's opening loss to Florida, Manziel has averaged 424.6 yards of total offense per game and has scored 23 total touchdowns. He set the SEC record for total offense against Arkansas and then broke it last week when he put up 576 yards (395 passing, 181 rushing) on Louisiana Tech.
He has become a legit Heisman candidate, and has led the Aggies to five straight wins and to No. 18 in the BCS standings.
"If you watched the games, each week he's gotten better, especially with staying in the pocket and finding receivers down the field," center
Patrick Lewis
said. "I believe as the weeks go, he's getting better as a football player and he's helping this offense improve every week."
Manziel is third in the SEC in passing with 1,680 yards and has 14 passing touchdowns to three interceptions. He also leads the SEC in rushing (676 yards) and is tied for the league lead with 10 rushing touchdowns.
He just does it all, from sprinting by defenders to chucking passes over defenders. He even
saves kittens
in his spare time! He's your favorite All-American's favorite All-American.
But major obstacles wait in this fairy tale. We already saw Manziel struggle against Florida's top-notch defense, and now it's time for him to take on the nation's No. 2 defense in LSU. Manziel has toyed with subpar defenses for the majority of the season, but he'll be thrown into the Tigers' den Saturday.
"He's fast and what not, but you'd be surprised how fast our D-line is," LSU linebacker
Kevin Minter
said.
"Johnny Football" hasn't seen the likes of
Barkevious Mingo
or
Sam Montgomery
off the edge, and they could really stunt his growth with their speed. However, Manziel has a chance to do the same to LSU.
According to ESPN Stats & Information, more than 70 percent of Manziel's rushing yards (475) have come on scrambles. That's 90 more scrambling yards than
Denard Robinson
,
Braxton Miller
and
Collin Klein
combined. Manziel leads the SEC in rushing touchdowns (seven), 20-plus yard rushes (nine) and rushing yards per game (79.1) when scrambling.
LSU's opponents are averaging 7.7 yards per rush on 11 scrambles this season. And on third down, where Manziel leads the nation with 12 rushing first downs on third down and at least 5 yards to go, LSU opponents are averaging 11.5 yards per scramble and have three first downs on six scrambles, according to ESPN Stats & Information.
LSU coach Les Miles said he'd like to get at least two guys to "keep a wary eye" on Manziel on Saturday, but Minter said the Tigers will definitely have to spy to contain him.
"You got to. You gotta have somebody there to keep an eye on him," he said. "If not, he'll bust one for 70 [yards] real fast."
Florida coach Will Muschamp, whose defense held Manziel to just 51 total yards in the second half earlier this season, has the formula for stopping Manziel: constrict the pocket, eliminate running lanes and make him a true pocket passer. Making sure he can't escape the pocket is essential.
"That's where he scares you," Muschamp said.
But don't think Manziel can't launch a beauty when needed. Manziel has completed at least half his throws of 15 yards or more in each of his past three games. But he's facing a defense that hasn't allowed opponents to complete more than a third of their 15-yard throws this season, according to ESPN Stats & Information.
Still, Texas A&M offensive coordinator Kliff Kingsbury believes that as the season has progressed, Manziel has turned into a better pocket passer and his attention to detail in the passing game has been his most impressive attribute.
"He can throw with anybody," Kingsbury said.
"He's really focused on having a plan before every play, knowing what his reads are, what his hots are, what we're trying to accomplish with each snap."
The unstoppable Manziel has been on a tear, but he'll face LSU's immovable defense Saturday. The first side to give loses, and Miles is making sure his defense doesn't cave to Manziel.
"It's going to take all of the strategy and all of the calls to defend a guy like that," Miles said.
August, 31, 2011
8/31/11
5:49
PM CT
Everybody talks about Oregon's speed and explosiveness.
The Ducks are fast, and they play even faster. When a lot of teams are just trying to catch their breath at critical junctures in the second half, Oregon is trying to figure out a way to squeeze in a few more offensive plays.
"If you let them get on a roll, they're usually going to run you into the ground," LSU senior safety Brandon Taylor said.
The Tigers' defenders are confident they can match the Ducks' speed on the field. LSU defensive coordinator John Chavis thinks this might be the fastest defense he's ever coached.
[+] Enlarge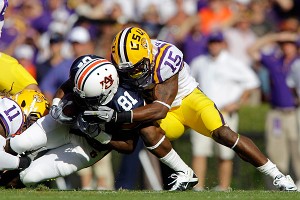 John Reed/US PresswireSlowing down Oregon's offense will be important for Brandon Taylor (15) and LSU.
It's not just in the secondary, either.
"We've got defensive ends who run like they should be playing back there with us," said Taylor, entering his third season as LSU's starting strong safety. "I think we match up with these guys in speed.
"What it's going to come down to is making sure we get our plays in and getting lined up on time."
LSU geared a portion of its offseason conditioning program to handling Oregon's blistering offensive pace and actually worked against two different scout teams. That way, the defense was always working against a fresh offense that was at the line and ready to snap the ball as soon as the last play ended.
One of the other things Taylor says this LSU defense has going for it is a keen understanding of Chavis' system, not to mention a deep bench. This is Chavis' third season in Baton Rouge, and if the preseason was any indication, Taylor said this defense will be the Tigers' most proficient yet.
"We know this defense inside and out now," Taylor said. "There's no hesitating on this defense. If you're out there hesitating and playing slow, you're going to get pulled, and the next man behind you is going to be in there.
"We've all seen what happens if you hesitate against Oregon. You better hit them before they hit you."
The Tigers have worn out the game tape from last season's BCS National Championship Game.
Oregon averaged 303.8 yards rushing in its first 12 games last season, but was held to 75 yards on the ground against Auburn in the championship game.
"Auburn's front seven did a great job of pursuing up the field and tackling the backs and quarterbacks," Taylor said. "If you don't tackle these guys, they're going to break a long one."
Nobody in college football was better last season than Oregon at scoring from long distance. Oregon tied with Auburn nationally for the most touchdown plays of 25 yards or longer (27).
The Ducks' 45 touchdown drives of two minutes or less last season were nine more than the No. 2 team nationally. Boise State had 36.
"It's an offense that commands your attention every snap," Chavis said.
One of the best things the Tigers did on defense last season was keep teams out of the end zone. They finished 11
th
nationally in scoring defense. They also led the SEC and tied for eighth nationally in forced turnovers (32).
What the Tigers didn't do as well was eliminate the big play, and it caught up with them in their two losses.
In fact, three big plays in particular might have cost them a shot at the national championship. In the Auburn game, Cam Newton scored on a 49-yard touchdown run, and
Onterio McCalebb
broke a tie game in the fourth quarter with a 70-yard touchdown run.
Then in the regular-season finale against Arkansas -- and with Taylor sidelined after injuring his leg against Alabama -- the Hogs hit the Tigers with an 80-yard touchdown pass on the final play of the first half.
If that wasn't enough, Arkansas also scored on touchdown passes of 85 and 39 yards in that contest.
Taylor's absence was a huge blow, and Chavis said the LSU defense also was never the same after end Sam Montgomery went down with a knee injury at the midway point of the season.
"We're all ready to go now, back to 100 percent," Taylor said. "I feel like I'm faster than I was last year."
The Tigers also get another shot at a spread offense after being shredded for 440 rushing yards by Auburn and Newton last season in that 24-17 loss on the Plains. It's the most rushing yards ever allowed by LSU.
"That's a game we didn't tackle well in, so we know what can happen if we don't get guys on the ground when we have a chance to make a play," Taylor said.
Chavis likes to play his "Mustang" package, which makes an already fast LSU defense even faster with six defensive backs on the field.
A former safety, Karnell Hatcher, is also playing some at middle linebacker for the Tigers.
"We've got enough depth that we're going to be able to rotate players in," Taylor said. "We know they're going to keep coming at us, but we're going to keep coming at them with a lot of fresh legs."