Dallas Colleges:

softball
June, 5, 2012
6/05/12
10:14
PM CT
By
ESPN.com wire services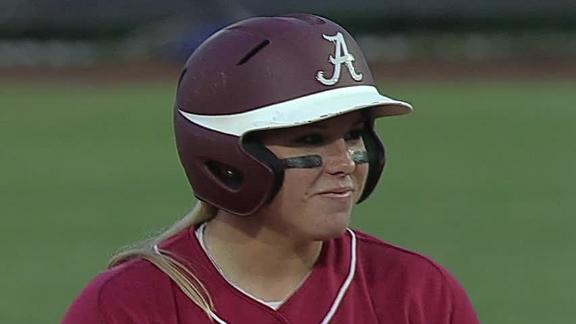 OKLAHOMA CITY -- Jackie Traina and Amanda Locke each had three-run doubles and Alabama forced a decisive third game in the Women's College World Series finals by beating Oklahoma 8-6 on Tuesday night.
Traina laced a double to the warning track in left-center field with two outs in the second inning, putting the second-seeded Crimson Tide (59-8) ahead to stay.
Game 3 of the championship series is Wednesday night.
Kaila Hunt added a sacrifice fly for the Crimson Tide, who are trying to become the first Southeastern Conference team to win the NCAA softball title. Alabama and Tennessee each have 12 World Series wins, the most for any team that hasn't won the championship.
Jessica Shults drove in four runs, including a three-run home run during a five-run rally by Oklahoma (54-9) in the seventh inning.
In a reversal of Game 1, which Oklahoma won 4-1, it was Alabama that roared right back after allowing the first run of the game.
Locke, who reached on third baseman Javen Henson's fielding error, came in to score when Henson couldn't catch a flip from shortstop Jessica Vest on Jennifer Fenton's two-out chopper as Jazlyn Lunceford slid in head first. Ricketts then hit Hunt on the right forearm for the second straight time, loading the bases before Traina cleared them with her liner to the track.
Locke made it 8-1 with her three-run double -- also with two outs and also to left-center -- off of reliever Michelle Gascoigne in the fourth.
Ricketts (37-8) lasted only 3 1-3 innings, giving up a season-worst six runs and setting a World Series record by hitting five batters with pitches as Alabama crowded the plate to limit the lefty's pitch selection. Ricketts had never hit more than three batters with pitches in a game previously. Only two of the runs she allowed were earned because of Henson's errors.
Oklahoma football coach Bob Stoops and men's basketball coach Lon Kruger were among a close-to-home contingent that came out to see the Sooners try to win their second World Series championship. The first one came in 2000.
Shults put Oklahoma on top in the bottom of the first, getting a bloop single to fall into center field and drive in Georgia Casey from second.
After that, the Sooners didn't get to Traina (41-3) until mounting a rally that fell just shy in the final inning. Destinee Martinez and Brianna Turang each had triples in the inning, and Erica Sampson's run-scoring groundout got Oklahoma within 8-6.
Traina then struck out Henson to end the game.
June, 4, 2012
6/04/12
10:26
PM CT
By
ESPN.com wire services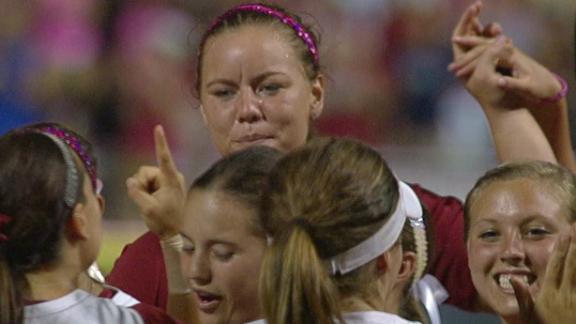 OKLAHOMA CITY -- Keilani Ricketts struck out 12 in a five-hitter and Oklahoma beat Alabama 4-1 on Monday night in Game 1 of the Women's College World Series final.
Jessica Shults drove in two runs, tying the game at 1 with a sacrifice fly in the fifth. The Sooners (54-8) went ahead to stay later in the inning on Brianna Turang's run-scoring grounder.
Shults tacked on an RBI single in the sixth before Katie Norris' squeeze brought in Ricketts.
Game 2 of the best-of-three series is Tuesday night.
The fourth-seeded Sooners had 11 hits, the second-most allowed by Jackie Traina (40-3) this season, to win their 12th straight game and snap the Crimson Tide's 11-game win streak.
Traina scored Alabama's only run on Kendall Dawson's sacrifice fly.
Ricketts, a 6-foot-2 powerhouse of a left-hander, now has 52 strikeouts in 28 innings at the World Series.
Shults was a shell of herself at last year's World Series after she was diagnosed with panulcerative colitis late in the season. She had hit 19 home runs but lost more than 20 pounds and was feeling especially fatigued. The Sooners ended up dropping their first two games in Oklahoma City and were eliminated.
Shults came back healthy this season and provided the go-ahead two-run double in Oklahoma's 5-3 victory against defending champion Arizona State on Sunday to get back to the championship round for the first time since winning the school's only NCAA title in 2000.
Alabama (58-8) is trying to become the first Southeastern Conference school to win the championship in a sport dominated by Pac-12 teams, which have won 23 of the 30 NCAA softball crowns.
The Sooners were all over Traina from the start but stranded eight runners through the first four innings, getting nothing out of back-to-back singles and a sacrifice to start the second or a bases-loaded situation with two outs in the fourth. Traina struck out Javen Henson and Georgia Casey to get out of the second and retired Destinee Martinez -- who had singled in five straight at-bats -- to end the fourth.
It wasn't until after Alabama broke through against Ricketts that Oklahoma got on the board.
Traina then led off the bottom of the fourth with a sharp single to left, starting a Bama rally. Ricketts hit Cassie Reilly-Boccia on her back foot with a pitch then bounced in a wild pitch to allow both runners to move up. She struck out Amanda Locke before Dawson's sacrifice fly, with Traina scoring standing up when right fielder Erica Sampson's throw drifted up the third-base line.
Traina issued a leadoff walk to Lauren Chamberlain and Ricketts -- who's also the cleanup hitter -- followed with a single, moving up to second as Chamberlain beat the throw to third. Shults then lofted a fly ball to center to open the floodgates as the Sooners finally turned all those hits into runs.
June, 5, 2011
6/05/11
7:28
PM CT
By
ESPN.com news services
OKLAHOMA CITY -- Dallas Escobedo threw a five-hit shutout, Mandy Urfer hit a two-run homer and top-seeded Arizona State beat Baylor 4-0 Sunday to reach the finals of the Women's College World Series.

Annie Lockwood added an RBI double and Lesley Rogers a run-scoring single for the Sun Devils (58-6), who will face Florida in the best-of-three championship series starting Monday night.

The offensive struggles continued for the Bears (47-15), who scored just two runs in four games at the World Series -- both on game-ending home runs in extra innings.

Escobedo (35-3) got the better of Aledo's Whitney Canion (31-12), who hurled a 13-inning shutout to get the Bears into the semifinals.

Baylor needed 13 innings to eliminate Missouri 1-0 on Saturday night, and Canion said she was "mentally exhausted" for the game against Arizona State.

"Our dugout last night was awesome and they didn't give up today," she said. "So I feel like that's what pushed me, was seeing my teammates around me.

"I feel like I stayed with all my pitches and everything because of the team around me," Canion said. "My gas tank was empty but they kept me going -- the dugout, everyone cheering for me. They kept saying they were behind me and everything and that just kept me going. So it was definitely the team around me. Everyone was just positive the whole time."

The Sun Devils are back in the championship series for the first time since winning the title in 2008.