Dallas Colleges:

Spencer Nealy
October, 21, 2014
10/21/14
12:00
PM CT
Texas A&M's
59-0 loss
to Alabama on Saturday raised a lot of questions about the Aggies. The team was inferior to the Crimson Tide in all three phases of the game -- offense, defense and special teams -- and the loss brings into question the direction the Aggies are headed.
One of the many areas of concern is a theme that hasn't drastically changed since last season: the struggles on defense.
Texas A&M's 2013 defense was poor by any measure. This season began with some promise, but many of the reasons for optimism have gone by the wayside with recent performances. Texas A&M head coach Kevin Sumlin, in discussing his team's loss Saturday, noted the Aggies had to evaluate where they are in all three phases of the game and that changes could be in store.
[+] Enlarge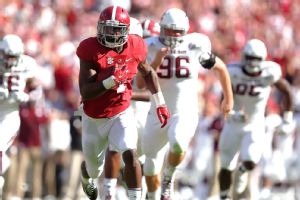 AP Photo/Brynn AndersonThe Texas A&M defense has been behind the curve far too often in the past four games.
Defensively, the question is whether the changes need to be in personnel, coaching staff or both. The reasons for the struggles have been varied, but let's take a look at each season and where the defense is under coordinator Mark Snyder, who is in his third season at the defensive helm.
The 2012 season was by far the Aggies' best under Snyder. Though depth wasn't ideal, the combination of experience and leadership in key areas in Texas A&M's first-team defense is something the group hasn't had since. Players like linebackers
Sean Porter
and Jonathan Stewart, safety
Steven Terrell
and defensive tackle Spencer Nealy (not to mention the pure pass-rushing production of defensive end
Damontre Moore
) are what the Aggies have been missing the last two seasons.
That season, the Aggies ranked in the top half or, in some cases, the top third nationally in several categories. They were 26th in scoring defense (21.8 points per game), 37th in yards per play (5.22), 31st in yards per rush (3.72), 43rd in yards per pass attempt (6.72) and 16th in third-down conversions (32.4 percent).
In other areas they weren't as strong but still respectable, like yards per game (390.2, 57th nationally), rushing yards per game (139.5, 35th), red-zone efficiency (58.1 percent, 51st) and goal-to-go efficiency (71.4 percent, 46th).
The 2013 season, on the other hand, was easily the worst so far. With those aforementioned veterans moving on as graduated seniors (or in Moore's case, early entry into the NFL draft), the Aggies plugged in a ton of youth and were a porous unit for virtually the entire season.
Last year's defense ranked worse than 100th nationally in yards per game (475.8), yards per play (6.36), rushing yards per game (222.31), yards per carry (5.38) and red-zone efficiency (71.4 percent).
Their rankings in several other areas weren't much better. Those included scoring defense (32.2 points per game, 95th), passing yards per game (253.46, 95th), yards per pass attempt (7.56, 91st), sacks (21, 84th) and third-down conversions (41 percent, 78th).
That brings us to 2014, where the Aggies have shown statistical improvement in every one of the above-mentioned statistical categories. A solid start in the first four weeks of the season against South Carolina and three non-Power 5 teams in nonconference play gave the illusion of marked improvement.
In addition, increased depth, particularly along the defensive line thanks to the 2014 recruiting class, has helped. A pass-rushing presence that was sorely missed last season has been found in a player like true freshman
Myles Garrett
, a four-star recruit who is closing in on
Jadeveon Clowney
's SEC freshman sack record.
Depth is still thin at linebacker, however, where the Aggies dismissed a starter this offseason (
Darian Claiborne
) and lost another to injury in the season opener (
A.J. Hilliard
). In the secondary, there's a mix of veterans and youth, seemingly plenty of depth but much inconsistency in terms of performance.
While the start to this season was good, the past four games, which have all been against SEC opponents (Arkansas, Mississippi State, Ole Miss, Alabama) have established an alarming trend. The Aggies' defense is trending statistically worse in that four-game stretch.
In just the last four games, the Aggies have allowed 42.5 points per game, which ranks 119th nationally. Yardage numbers have been poor, too: yards per game (495.8, 110th), yards per play (6.96, 117th), rushing yards per game (255.75, 117th), yards per carry (5.78, 117th) and yards per pass attempt (8.89, 115th).
In key conversion areas, Texas A&M has also struggled. The Aggies' third-down conversion defense in the last four games (41.2 percent, 75th nationally) is about where it was a season ago. Similar traits apply for red-zone efficiency (68.2 percent, 103rd) and goal-to-go efficiency (76.5 percent, 72nd).
And while the numbers tell enough of a story, so do a layman's eyes. It doesn't take a genius to understand the Aggies are struggling defensively. Just look at Saturday's game against Alabama and watch Crimson Tide quarterback
Blake Sims
evade about six Texas A&M defenders en route to a 43-yard touchdown run. Or
Amari Cooper
catch eight passes for 140 yards and two touchdowns. Or
T.J. Yeldon
run for 114 yards and two touchdowns on 13 carries. The Aggies allowed 602 total yards -- poor any way you slice it.
Senior linebacker
Justin Bass
put it plainly after Saturday's game.
"You can't play defense if you can't tackle," Bass said. "It's as simple as that. ... If you don't tackle, you aren't going to win games."
October, 25, 2013
10/25/13
11:45
AM CT
COLLEGE STATION, Texas — The words "youth" and "inexperience" are frequently used to describe the Texas A&M defense this season.
The struggles are significant. The Aggies rank near the bottom of the FBS in most defensive statistical categories. According to ESPN Stats & Information, the five teams that have allowed more yards per game than the Aggies -- New Mexico State, Idaho, California, Nevada and Indiana -- have a combined record of 8-27.
Texas A&M is fortunate enough to have a 5-2 record (2-2 in the SEC). It certainly helps to have one of the nation's most high-powered offenses and a reigning Heisman Trophy winner at quarterback (
Johnny Manziel
).
For defensive coordinator Mark Snyder and his staff, it has been a challenge from the start of the season. Suspensions, injuries and ineffectiveness are all to blame.
The Aggies currently have 11 freshmen in their defensive two-deep depth chart. Two true freshmen (defensive tackle
Isaiah Golden
and linebacker
Darian Claiborne
) are starting. The four defensive line first-team spots include Golden and two sophomores. At linebacker, a former receiver who moved to linebacker this offseason (
Nate Askew
) is the starter at strongside linebacker. Of the seven linebackers on the Aggies' two-deep, only one (
Steven Jenkins
) started a full season at the position before this year.
Head coach Kevin Sumlin's first signing class that was completely under his watch had 32 members, 18 of whom were on defense. Of those 18, a dozen have already played this season.
But how did the Aggies get to this point, playing this many freshmen and newcomers? There are some juniors and seniors on the field, but there aren't nearly as many as there were a year ago when the Aggies went 11-2 in their debut season in the SEC.
In 2012, the Aggies were fortunate to have the benefit of some good leaders on defense and others who were productive. At linebacker, Sean Porter and Jonathan Stewart both provided leadership and production. Along the defensive line, Spencer Nealy made the move from defensive end to defensive tackle effectively despite not having the ideal size for the position. Steven Terrell was a steady and heady player at free safety. All four of those players were seniors and part of the 2009 recruiting class. So was Dustin Harris, who didn't always start but played plenty at cornerback and was the team's primary punt returner.
One defensive player still remains from that 2009 class: defensive tackle
Kirby Ennis
, who started last season and this year but suffered a season-ending knee injury on Sept. 28 against Arkansas. But last year's A&M starting defense was more than half made up of what turned out to be a solid recruiting class on the defensive side of the ball.
So to understand why A&M is in the position it is now, take a look at the recruiting classes on defense since then:
In 2010, the Aggies signed seven defensive players and two more that were offensive players but eventually moved to defense. Defensive end Damontre Moore turned out to be a star, but declared for early entry into the 2013 NFL draft with a year of eligibility remaining. For a team that's lacking in its pass rush (only three FBS teams have fewer sacks than Texas A&M's seven this season) a guy like that could help. Of the remainders in that class, three are starting: Toney Hurd Jr. at nickel back, Gavin Stansbury at defensive end and Askew, who was recruited and spent his first three years at receiver, at strongside linebacker. Two others (defensive tackle Ivan Robinson and quarterback Clay Honeycutt, who's now a reserve safety) are playing but not starting. Nehemiah Hicks was considered to be either a defensive end or tight end and became a tight end. The other two players in the defensive class are no longer on the team.
The 2011 class -- the final class signed by former head coach Mike Sherman -- brought 13 defensive players. Deshazor Everett, a cornerback with ability to play safety, is currently the defense's best player. Safeties Howard Matthews and Floyd Raven and linebacker Steven Jenkins also emerged as starters out of that group. One of the big fish landed late in that class, defensive end Brandon Alexander, has rarely played. He's now getting some playing time at tight end. Linebacker Donnie Baggs entered this season as the starting middle linebacker but is now a reserve. Tyrell Taylor is rotating at defensive end. The rest of the group hasn't made any impact at all. Five players in that group are no longer with the program.
The 2012 class, the first one Sumlin signed after essentially two months on the job, had some holdovers that committed to the program under Sherman. It is a mixed bag. Four of those players are starting as either true sophomores (Julien Obioha at defensive end, Alonzo Williams at defensive tackle and De'Vante Harris at cornerback) or in one case, a senior (cornerback Tramain Jacobs, who was a junior college transfer). Defensive end Tyrone Taylor, brother of Tyrell, gets some playing time at defensive end. Edward Pope, who was a receiver/defensive back, is playing receiver for the Aggies. A car accident took away one member from that class -- defensive tackle Polo Manukainiu, who died in a crash in July and is being honored by the team every week this season. A spinal injury took away another member, linebacker Michael Richardson, who played as a freshman. He had successful surgery and was fortunate to not suffer any major physical issues, but is no longer playing football. Defensive back Kenneth Marshall, though on the team, was not part of the 105-man roster during preseason training camp. Linebacker Jordan Richmond transferred to Navarro College in the offseason and one player in the class, defensive tackle Edmund Ray, never made it to campus because of qualifying issues.
November, 24, 2012
11/24/12
10:37
PM CT
COLLEGE STATION, Texas -- Texas A&M put the finishing touches on a double-digit win season and
Johnny Manziel
made his final case for the Heisman Trophy as the Aggies coasted by Missouri
59-29
Saturday at Kyle Field.


The win makes Texas A&M 10-2 on the season (6-2 SEC), marking the first time since 1998 that the Aggies have finished a season with at least 10 wins. Let's take a look at the notable happenings from the night:
It was over when:
The clock hit triple zeroes at halftime. The Aggies started fast and didn't look back, jumping out to a 42-0 lead at the 3:33 mark in the second quarter. Missouri scored once before the half and added 22 points in the second half, but it was all for naught as A&M's lead was already insurmountable.
Game ball goes to:
Manziel. He was his usual productive self on Saturday, completing 32-of-44 passes for 372 yards and three touchdowns with one interception while running 12 times for 67 yards and two touchdowns. He became the SEC's single-season total yardage record-holder, eclipsing Cam Newton's mark of 4,327 (Manziel finished with 4,600 for the season, breaking Newton's mark in two fewer games).
Key stat: 12-of-16.
The Aggies' third-down conversion rate. All season, Texas A&M has called third down the "money down", and the Aggies have earned their money in that area on both sides of the ball. They converted their first 12 attempts on offense Saturday, which was a big reason why they took their commanding lead. They converted 75 percent of their third downs and were pretty good defending them on defense too (5-of-14, 35.7 percent).
Unsung hero of the game:
Spencer Nealy
. All season long, the senior defensive tackle has done dirty work for the Aggies, taking on double teams after switching positions from defensive end prior to the season. He shined in that role, and Saturday was the best example of that, when he was disruptive to Missouri quarterback
Corbin Berkstresser
and the Tigers' offensive backfield. Nealy finished with seven tackles, two tackles for loss, a quarterback hurry and a pass breakup.
Best call:
A&M head coach Kevin Sumlin applied a nice touch late in the game, allowing Manziel to come in for a play so that he could leave the field and get an ovation from the 87,222 in attendance. Manziel gave the "Gig 'em" thumbs up to the crowd as he exited. It was a nice moment and a fitting end to what has been a memorable season for the redshirt freshman quarterback and the Aggies.
What it means:
The Aggies' first SEC regular season is in the books and it's safe to say that they've arrived. With 10 wins, they exceeded expectations and they have a legitimate Heisman Trophy candidate (front-runner, even?) in Manziel. Texas A&M will go to a quality bowl game, likely either the Capital One Bowl, Cotton Bowl or possibly a BCS bowl, depending on how things shake out in the season's final weekend.
For Missouri, it means the Tigers will not go bowling, as they finish 5-7 (2-6 in the SEC). There were high expectations coming into the season and it's a disappointing end for the Tigers, who were without starting quarterback
James Franklin
on Saturday because of a concussion suffered last week.
November, 9, 2012
11/09/12
8:57
AM CT
COLLEGE STATION, Texas -- Tuesdays aren't
Spencer Nealy
's favorite.
The Texas A&M defensive tackle doesn't always look forward to practices on Tuesday. But with Alabama, the No. 1 team in the country, on deck for a showdown with the Aggies on Saturday, his feeling was different.
[+] Enlarge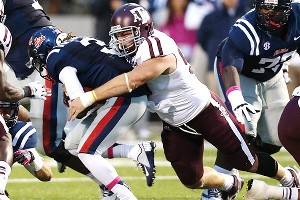 Fred Brooks/Icon SMITexas A&M defensive tackle Spencer Nealy said the Aggies are "jacked up" to play the Crimson Tide.
"We usually hate Tuesday practices and I'm pretty amped up right now," Nealy said Tuesday. "I don't like taking on those double-teams as much on Tuesdays, but today, we've got to get after them. I'm jacked."
Coach Kevin Sumlin has been adamant about having a consistent approach weekly and keeping the team's routine the same. But there's no denying that the feeling in the pit of the Aggies' stomachs is just a little different with the opportunity that awaits at 2:30 p.m. CT on Saturday in Tuscaloosa, Ala.
When it comes to playing Alabama, the team that has won two of the past three BCS championships and annually produces numerous NFL draft picks, there's often a David-versus-Goliath feel. Coming into this season, that would have applied for Texas A&M, too, when observers looked at the schedule and saw the trip to Bryant-Denny Stadium coming as the third of a three-game SEC road swing.
Expectations for the Aggies weren't extremely high. A seven-win season would have been considered respectable by many pundits nationwide, considering the caliber of the league Texas A&M entered. The Aggies have already met that total and are staring at the possibility of a nine or 10-win campaign.
And what once might have been considered a sure Alabama win is now a game that could very well be anybody's come Saturday.
"It's a big challenge for us," Alabama coach Nick Saban said. "They've got a really good team on both sides of the ball. Really explosive on offense, probably the best offensive team in our league, especially in their presentation, and their quarterback has played phenomenally well for them. Very athletic and it's going to be a real challenge. I think it's a real challenge for anybody that plays against them."
Sitting at 7-2 and second place in the SEC West (4-2), the Aggies have been lauded for what they've done so far but might still be flying under the radar. They're behind three other two-loss teams (LSU, South Carolina and Oklahoma) in the human polls (No. 15) and also behind Stanford in the BCS rankings (also No. 15). They aren't considered juggernauts by any stretch of the imagination.
Part of that could be attributed to the fact that their two losses came at home to two teams that are now ranked in the top 10: Florida (No. 6 BCS, No. 7 AP) and LSU (No. 7 BCS, No. 9 AP). But make no mistake, the Aggies showed they were capable of going toe-to-toe with each.
In both instances, the Aggies led those teams by double digits. In the season opener against Florida, the Aggies took a 17-7 lead in the second quarter. Against LSU, they jumped out to a 12-0 lead. Each team came back to take control, but the Aggies remained in the game until the final minute both times.
With a redshirt freshman at quarterback (
Johnny Manziel
) and receiver (
Mike Evans
) and two true freshmen starting on defense (defensive end
Julien Obioha
and cornerback
De'Vante Harris
), it hasn't always been perfect. There have undoubtedly been mistakes made, and that's part of the deal when you have young players in key spots, particularly when new schemes are installed, which the Aggies did on both sides of the ball this season. Turnovers were an issue against LSU. Against Florida, the offense stalled and there were many missed tackles on defense.
This is a different team now than it was in Week 1, or even on Oct. 20 when it faced LSU. Sumlin said the Aggies were able to take away something positive from both games.
"I think if there's anything out of it that we've gotten as a team, even though we were disappointed to lose those two games, I think that there's a little bit of confidence out of our football team from being able to handle the physical nature of this league," Sumlin said. "Understanding that Florida and LSU had a lot to do with the mistakes we made, but we can certainly play better. Our guys understand that.
"We haven't played a complete football game yet. I'm not talking about playing a perfect game, I'm talking about playing a complete game. Some of our games, our starters have been out in the third quarter. Other games we've turned the ball over and won or found a variety of ways to win, but we still haven't played a complete game yet. If we can do that, I think we can be dangerous for anybody."
Their past two outings have been resounding road victories at Auburn and Mississippi State. This Saturday's affair will be a completely different animal altogether. The Crimson Tide are the nation's best and right now are the gold standard in college football. Just the thought of the matchup has Nealy and his teammates fired up.
"We talked about it; we haven't played a No. 1 team ever [in our careers]," Nealy said. "Oklahoma State last year, we played them and they were No. [7], but it didn't feel like that. This is the No. 1 team. We've played the No. 5 team, which was cool. But this is big time, and we need to come out there and shock the world."
October, 6, 2012
10/06/12
11:25
PM CT
Despite turning the ball over six times, Texas A&M escaped Oxford, Miss., with a thrilling 30-27 win over Mississippi on Saturday at Vaught-Hemingway Stadium. Let's break it down:


It was over when:
Texas A&M junior defensive back
Toney Hurd
stepped in front of a
Bo Wallace
pass and intercepted it with 1:09 remaining in the fourth quarter. On a night when the Aggies turned it over so many times, it was Hurd who snagged an Ole Miss turnover to seal the deal and allow the Aggies to secure the victory.
Game ball goes to:
The Aggies' front seven. Despite being put in some tough positions, the Aggies defense made some big plays and key stops. One was a 37-yard interception return by linebacker
Steven Jenkins
, as
Sean Porter
forced Bo Wallace to rush the throw, that tied the ballgame 17-17 in the second quarter. Porter came up with a huge stop in the fourth quarter to keep
Jeff Scott
from getting a first down on third-and-2 and
Jonathan Stewart
came up with perhaps the biggest stop of the night, halting Scott on fourth-and-inches at the Ole Miss 39 with 3:02 remaining. That gave Texas A&M possession for its game-winning scoring drive.
Damontre Moore
was once again in the backfield, registering his seventh sack of the year and defensive tackle
Spencer Nealy
was a constant force.
Game ball, Part 2:
The Aggies' offensive line. They paved the way for
Ben Malena
to post a season-high 142 rushing yards and they gave redshirt freshman quarterback
Johnny Manziel
all kinds of time in the pocket. The unit has been solid in pass protection all season long and Saturday was no exception. It was probably their best effort in the running game.
Rising star:
Hurd. He's been coming on as of late and he came up with the huge play at a critical time, intercepting Wallace on the Rebels' final drive. Without the turnover, the Rebels were at least in game-tying field goal range. Hurd had six tackles in addition to the pick.
What it means:
The fact that the Aggies could have so many things go wrong -- six turnovers, Manziel looking like a freshman, missed tackles on defense -- and still come up with a road win in the Southeastern Conference says a lot. Texas A&M is now 4-1 overall and 2-1 in the conference and it's becoming more and more clear by the week that they're going to be a factor in the SEC West.
November, 2, 2011
11/02/11
1:45
PM CT
Unranked Texas A&M's 33-19 upset of then-No. 8 Oklahoma last season left two lasting images.
For the first time in a long time, players left the field to chants of "Wrecking Crew," the moniker ultimately reserved for the best Texas A&M defenses.
PODCAST
ESPN Dallas' Landry Locker is joined by Jake Trotter of SoonerNation to talk about the dominant win over Kansas State, the loss of Dominique Whaley, the new wrinkles to the offense and this weekend's game against a struggling, but talented Texas A&M team.

Listen

The other was the dominant play on the line of scrimmage that birthed those chants.
Three times, Von Miller's crew stuffed Oklahoma at the goal line, the biggest coming in the final minutes to seal the win, denying DeMarco Murray the end zone on three runs inside the 5-yard line.
Once again, Texas A&M is unranked and facing Oklahoma with three losses. This time, it travels to Norman, where it was beaten 65-10 in its last trip back in 2009.
The Sooners and Aggies are the two most physical offenses in the Big 12, and if A&M is going to spring another upset, it will have to win the battle of the line of scrimmage. The Big 12, with its elite skill-position talent and deep stock of quarterbacks, doesn't always have games decided up front. This one will be.
"Our offensive line is coming around," said Texas A&M coach Mike Sherman, who played true freshmen last year at both offensive tackle spots. "Until this last ballgame, defensively, we've been pretty good against the run."
Consider: Oklahoma leads the nation with 34 sacks. The Sooners have allowed three sacks, tied with Boise State for the fewest nationally.
Texas A&M, meanwhile, has given up just seven sacks and is third nationally with 30 sacks.
"A lot of us have definitely stepped up," said Texas A&M defensive lineman Spencer Nealy. "We definitely always play with a lot of effort, and at times, like any other position, we'll have mistakes, but as a whole, we played pretty good."
[+] Enlarge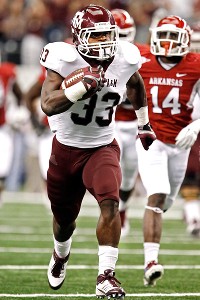 AP Photo/Brandon WadeChristine Michael will need room to run for the Aggies to upset Oklahoma on Saturday.
The Aggies, though, have ascended to second in the Big 12 at 224 yards rushing per game while Oklahoma has sunk to eighth, though the Sooners possess the league's top passing attack.
Oklahoma will be without leading rusher
Dominique Whaley
, too, who suffered a broken ankle in Saturday's win over Kansas State.
Texas A&M fields the league's best 1-2 punch at running back, and last year's growth took place without one of them even on the field.
"The maturation of [the offensive line] really helped us. We struggled early in the season. We gave up a lot of sacks in the first half of the season. We didn't run the ball very well," Sherman said. "We weren't protecting well, we weren't running the ball well. They started to come into their own. A couple of our young tackles were talented but they didn't have the experience. I thought they grew up in the second half of the season and we emphasized the run game more and took some pressure off the passing game and tried to stay out of long-yardage situations. ... They had a big part in the second-half run last season."
It's only continued into 2011.
Christine Michael
's broken leg that forced him out of the second half of the season has healed, and he's on course for a career season with 811 yards, third-most in the Big 12.
Cyrus Gray
has 704 yards of his own to rank ninth in the league.
Those two are fully capable of carrying the Aggies to the upset.
Despite the high sack numbers for A&M, it's given up more passing yards per game than any team in the country. How?
"It's not ability at all. We've got some of the best players in the Big 12," Nealy said, pointing to fundamentals.
The best way to slow Oklahoma's passing attack is to keep it off the field. That means running the ball well and pressuring
Landry Jones
.
Texas A&M's offensive and defensive lines can do that. They proved it last year.
Now, it's time to do it again.
October, 15, 2011
10/15/11
5:40
PM CT
COLLEGE STATION, Texas -- Baylor quarterback
Robert Griffin III
was wrapped up, all but down on fourth down deep in Texas A&M's red zone.
Somehow, he found a way to lob the ball to tight end
Jordan Najvar
. The ball fluttered over the hands of two Aggies defenders and Najvar, setting off a celebration on the way back to the sidelines and firing up the 87,361 comprising the fourth-largest crowd ever at Kyle Field.
Baylor didn't score again, and Texas A&M rolled to
a 55-28 win
over the Bears.
"Unstoppable. That's really what we thought," defensive end Spencer Nealy said.
Nealy led the team with seven tackles and 1.5 tackles for loss.
"After the fourth down stop, honestly, you look at every guy running off the field, jumping up and down. We really uplifted our confidence," he said.
Sometimes all it takes is one play to change the course of a game and perhaps a season. The Aggies led by 13, and if the Aggies hadn't made the stop, the odds of a third second-half nightmare in four weeks becoming a reality would have quickly risen.
"We knew it was big," said linebacker Jonathan Stewart, who had one of five sacks for Texas A&M. "We just knew we needed to grit our teeth and just get the stop."
The mistakes were there. Griffin torched this wrecked crew for a school-record 430 yards, the third quarterback in four weeks to write his name in the school record book at the Aggies' expense.
A few costly offside penalties in the first half extended Baylor drives.
"I'm sure we'll probably get yelled at for that during Monday morning film, but we had to get pressure on him," Nealy said.
Twice the defense got beat over the top for touchdown passes of 77 yards and 43 yards, and Griffin set up another touchdown with a 50-yard bomb to
Tevin Reese
, who drew pass interference on the play, too.
After the game, Sherman stopped Griffin.
"If you're III, I don't want to meet I and II," he told him.
[+] Enlarge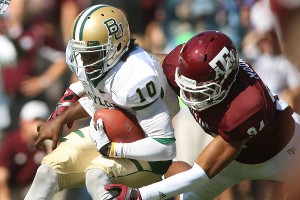 AP Photo/Jon EiltsTexas A&M's defense contained Robert Griffin III and the Baylor offense when it counted in the fourth quarter.
But for Texas A&M, it can focus on the day's biggest number: Baylor's gaping zero on the scoreboard in the fourth quarter.
"We're not going to shut this team out," Texas A&M coach Mike Sherman said of the Bears, who entered Saturday's game third nationally in total offense with the most efficient passing game in college football. "They will move the ball against anyone and everyone."
Except, apparently, Texas A&M in the fourth quarter.
"In the end, it came down to that fourth-down stop," Nealy said.
The stop allayed at least a few fears that this experienced team loaded with as much talent as any in the Big 12 can't perform in the second half.
This was a game complete with the end of a 22-quarter drought without a turnover. The Aggies did it with pressure on a previously unflappable quarterback in Griffin. He'd thrown just one interception with 19 touchdowns in 143 attempts entering Saturday's game, but the Aggies pressured him and he threw it up for grabs. Dustin Harris took advantage.
"We're taught to get takeaways. That's the first thing on our list," Harris said. "It was on our backs to get that pick or a turnover on defense and it happened on that play. Our offense went down and converted."
The last part was nothing new for the Aggies, who didn't punt in the second half. With the kind of firepower Texas A&M fields on offense, the defense's margin of error is only slightly wider than the separation
Ryan Swope
got on opposing defenders throughout Saturday's game.
Swope finished with a career-high 206 yards on 11 receptions and four of
Ryan Tannehill
's six touchdown passes.
"Our offensive line really set the tone of the game," Swope said. "People were just making plays. Coach strives on winning 1-on-1 matchups, and I feel like we did that."
Said Tannehill: "It was fun watching him play today."
The first-team offense scored on every possession in the second half, scoring 52 points in the game's final 39 minutes. The second-half failures that had become the team's defining trait through the first half of the season had, for at least an afternoon, disappeared.
Sometimes, all it takes is one play.