Dallas Colleges:

Stacy McGee
February, 7, 2013
2/07/13
2:00
PM CT
The NFL scouting combine is the biggest annual showcase of future football stars before the NFL draft, where players who have entered the draft get measured, run through drills and show scouts and coaches what they can do without any pads on.
This year, a record 333 players have been invited, and the Big 12 landed 30 invitations.
Draft stock can swing wildly during the week, with the main event -- the 40 time -- often serving as the catalyst for that stock. Call it silly, and in some ways it is, but it's the reality of the process. Here's who's headed to Indianapolis from the Big 12:
Pretty good set of players there. You can see them when the combine kicks off Feb. 20.
January, 7, 2013
1/07/13
2:00
PM CT
Oklahoma saw the
Landry Jones
Era end in unspectacular fashion on Friday night, with a 41-13 loss to ex-Big 12 rival Texas A&M. Jones is done, and the defense showed it needed some work under Mike Stoops for 2013, but that job just got a little bit tougher.
Colleague Joe Schad cited a source who told him safety
Tony Jefferson
and receiver
Kenny Stills
would be leaving early to enter the NFL draft
.
Jones is obviously the Sooners' biggest loss, but Jefferson's one of the defense's most talented members, and cornerback
Aaron Colvin
still has a draft decision to make. The transition to Jones' successor (
Blake Bell
,
Drew Allen
or scout team standout
Trevor Knight
?) gets a little rougher without an experienced receiver like Stills to smooth it over, too.
Oklahoma, though, will have a very tall order to try and restore a defense that struggled down the stretch after giving up 49 points to West Virginia and 48 to Oklahoma State, which was playing
Clint Chelf
, who began the season as the team's No. 3 quarterback.
Defensive tackle
Jamarkus McFarland
,
Stacy McGee
and
Casey Walker
are all gone, as is star defensive end
David King
. Safety
Javon Harris
, the Sooners' biggest standout in the Cotton Bowl loss, ended his career on Friday, as did cornerback
Demontre Hurst
.
Point is, if Oklahoma's going to fix its defense, it will have to do so without experience. That's difficult in any league, but especially so in the Big 12, where the only thing faster than the receivers is the rate at which offenses evolve and become more difficult to stop.
Expect the Sooners' spring depth chart to look a little crazy and be very fluid throughout spring practice, but without Jefferson and Stills, both sides of the ball will be moving on to 2013 without their most talented pieces.
September, 2, 2012
9/02/12
1:26
PM CT
EL PASO, Texas – It was ugly. But it's a win. The
Sooners finally pulled away from UTEP in the fourth quarter to win 24-7
.
It was over when
: OU running back
Damien Williams
went over right tackle, cut back across the field, then raced 65 yards for a touchdown, giving the Sooners a 24-7 lead with 2:55 to play. The Sooners entered the fourth quarter clinging to a 10-7 lead.
Game ball goes to
: UTEP running back
Nathan Jeffrey
, who kept the Miners in the game into the fourth quarter. Jeffrey rushed for 177 yards on 21 carries, nearly becoming the first back in a decade to run for more than 200 yards against the Sooners. Jeffrey also scored UTEP's only touchdown, scooping up a blocked punt and racing 24 yards in the first quarter.


Stat of the game
: If the Miners had a reliable field goal kicker, they might have won the game. UTEP missed all three of its field goal attempts, from 45, 31 and 41 yards out.
Dakota Warren
missed the first two.
Steven Valadez
misfired on the third, which would have tied the game late in the third quarter.
Unsung hero
: Defensive tackle
David King
, who spearheaded OU's consistent pass rush up the middle. The Sooners were without both of their starting in defensive tackles
Stacy McGee
(suspended) and
Casey Walker
(personal issue), but King, who flipped from end to tackle two weeks ago, made sure that
Nick Lamaison
never found a rhythm, as the UTEP quarterback completed just 6 of 23 passes for 39 yards.
What we learned about this team
: The Sooners have a long way to go to become a Big 12 title contender, much less a national championship one. Especially on the offensive side of the ball. UTEP ranked 104th in the country last season in total defense, but stymied the Sooners for three-and-a-half quarters. The running game was sporadic, and
Landry Jones
looked out of sync with his new receiving corps. If the Sooners are going to score with the likes of West Virginia and Oklahoma State, they are going to need to make a lot of improvement.
September, 2, 2012
9/02/12
1:17
AM CT
Oklahoma has made a living in the Big 12 of late on the back of its offense. The Sooners have the raw talent on this year's team, but the pieces have a lot of gelling to do in the weeks to come, or Oklahoma may be depending on its defense a whole lot in 2012.


The Sooners scored just 10 points in the first three quarters of their
24-7 victory
over UTEP that had everybody in the crimson and cream justifiably sweating.
The 10:30 p.m. ET road kickoff was a weird one, and the Sooners looked out of sorts from the start. The biggest problem? The offensive line. The unit lost starting center Ben Habern to retirement because of nagging injuries and starting guard
Tyler Evans
for the season after a knee injury. That left them looking to replace 59 starts on the line, and Saturday night, it showed.
Landry Jones
looked good moving, but you can't count on a quarterback to put up good numbers if he's rarely given a chance to set his feet and throw. That was Jones' night.
His numbers dipped late last season after Ryan Broyles' injury, and coach Bob Stoops spent the offseason defending his quarterback, reminding all who asked that a quarterback needs support for success.
Jones, yet again, didn't get it. His receivers and backs dropped passes, and his offensive line often looked helpless against a defense that ranked 104th nationally in 2011.
He finished with just 230 yards on 22-of-37 passing with two scores and no turnovers.
For now, Oklahoma can chalk it up to a young line and young receivers still getting used to their first real action. It's still plenty of reason to be concerned. Can it change by Big 12 play? Certainly. Oklahoma won't be tested until Sept. 22. The Sooners face FCS opponent Florida A&M next week, then have a bye before their Big 12 showdown with Kansas State.
The offense will have to be straightened out by then, not to mention a special-teams unit plagued by mistakes including a missed field goal and a blocked punt that gave UTEP its only points of the night.
The brightest spot was the defense that pitched a shutout, even though it got help in the form of three missed field goals from the Miners.
Nathan Jeffery
's 177 rushing yards are a red flag for sure, but the Sooners defensive backs were solid from start to finish, and UTEP quarterbacks combined to complete just 7-of-26 passes for 48 yards. That's got to make Mike Stoops, the man in charge of revitalizing Oklahoma's secondary, smile. Not many big busts in the secondary that became a hallmark of the Sooners' 2011 failures.
At least he'll get back some major pieces on his defensive line back soon. Defensive tackles
Casey Walker
(illness) and
Stacy McGee
(suspension) were missing, and we'll see how OU defends the run next week and in three weeks against Kansas State, one of the league's best running games.
Oklahoma's naturally going to be disappointed with its debut. It should be. The Sooners would have lost to every Big 12 team except Kansas playing like they did tonight, and the Jayhawks might have come close.
There's lots of work to do, but as always at Oklahoma under Bob Stoops, there's lots to work with.
July, 21, 2011
7/21/11
11:43
AM CT
We've tackled every other spot, and now we'll wrap up out Big 12 position rankings with the defensive lines across the Big 12.
Here are the rest of the position rankings.
Now that we've finished ranking the complete units, we'll start ranking the top 10 at each position very soon leading into the 2011 season.
This is a decent position for the Big 12 this season, and the top half of the league should feel pretty good about their group. There aren't many studs in this group, but there are a whole lot of solid players.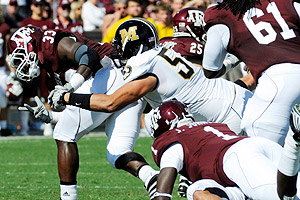 AP Photo/Pat SullivanMissouri has one of the Big 12's best pass rushers in Brad Madison.
1. Missouri --
Missouri has the Big 12's best returning pass rusher and a Defensive Player of the Year contender in Brad Madison, but its depth is what lands it on top of the list. Jacquies Smith is solid at the opposite defensive end spot, and Michael Sam and Kony Ealy provide great depth at DE. Dominique Hamilton's absence last season hurt after breaking his ankle against Oklahoma, but he's back, alongside Terrell Resonno. Sheldon Richardson, who may be transferring from junior college, is a wildcard that could be anywhere between a complete game changer, irrelevant or absent.
2. Oklahoma --
Oklahoma's defensive tackles are somewhat suspect, but the defensive end combo of Ronnell Lewis (provided he is eligible come fall camp) and Frank Alexander is on par with the best in the Big 12. Both were preseason All-Big 12 selections, but Jamarkus McFarland needs to make good on his potential. Stacy McGee and Casey Walker should both get time at the other tackle spot.
3. Texas --
Defensive end Jackson Jeffcoat is loaded with potential as the nation's former No. 1 recruit. He had a big impact early last season before being slowed by an ankle injury. Alex Okafor moved outside from defensive tackle just before spring and had five sacks in the spring game. Inside, Kheeston Randall is an All-Big 12 favorite, but Ashton Dorsey had a strong spring and could help out with Reggie Wilson opposite Randall.
4. Texas A&M --
The Aggies have one of the best linemen in the league in Tony Jerod-Eddie, but Jonathan Mathis, Eddie Brown Jr. and Ben Bass have a lot to prove around him after the loss of Lucas Patterson, who was outstanding in 2010.
5. Texas Tech --
Sam Fehoko has moved to defensive end from middle linebacker, and should provide some good speed to the front line. Scott Smith looked on his way to an All-Big 12 campaign last season, but was suspended for the remainder of the season by coach Tommy Tuberville and has yet to be officially reinstated. For now, Dartwan Bush and Aundrey Barr will help out at defensive end, outside of Donald Langley, Kerry Hyder and Pearlie Graves. The Red Raiders did snatch a big pickup from departed UNC signee Delvon Simmons, a defensive tackle that could have an impact immediately.
6. Oklahoma State --
Defensive line is the biggest weak spot for the Cowboys, who have a decent set of ends in Jamie Blatnick and former heralded recruit Richetti Jones, but an even bigger question mark at defensive tackle where Christian Littlehead and Nigel Nicholas enter fall camp as starters.
7. Kansas --
Top rusher turned defensive end Toben Opurum came on strong late last season and should be one of the most exciting Jayhawks to watch in 2011, but the rest of the line leaves a bit to be desired. Keba Agostino has the other starting spot at defensive end ahead of Pat Lewandowski, who had a great spring. Patrick Dorsey and John Williams enter fall camp as starters at defensive tackles.
8. Kansas State --
K-State recruited this position hard in its 2011 class. For now, defensive end Brandon Harold will try to bounce back from a disappointing 2010 after a promising 2009. Lance Dunbar and Taylor Martinez think this group is ranked too high, but Meshak Williams could start opposite Harold, while Ray Kibble and Raphael Guidry should be the tackles inside.
9. Baylor --
Tevin Elliott was limited this spring because of offseason shoulder surgery, and Terrance Lloyd exited spring practice as the starter, but I'd expect Elliott to regain the spot by the time the season arrives. Phil Taylor, a first-round pick, is a big loss, but Gary Mason Jr. will try to fill his spot next to Nicolas Jean-Baptiste.
10. Iowa State --
Having a pair of linebackers combine for 241 tackles is a good and bad thing. They've got outstanding linebackers, but the defensive line was the Big 12's worst last season for a unit that ranked 10th in rush defense and had just 11 sacks. That was the fewest sacks in the Big 12 and more than just three teams in all of college football. The good news is all four starters return, but for now, this is where the Cyclones start. Stephen Ruempolhamer has some promise, but Cleyon Laing, Jake McDonough and ends Patrick Neal and Roosevelt Maggitt have a lot to prove. Jacob Lattimer ran into offseason trouble, but re-appeared atop the depth chart released by the Cyclones on Wednesday.
January, 28, 2011
1/28/11
3:00
PM CT
Thanks for all the questions and comments, everybody.
Tarry Luna in McKinney, Texas, asks:
David,I know there has been a lot of discussion about the UT/ESPN deal. There has been a lot of speculation that UT originally offered TAMU the opportunity to be a part of it, but TAMU turned it down. Are you aware of this, and is there documentation to verify that UT did indeed offer it to TAMU, and that TAMU turned it down? Thanks!
David Ubben:
That's the first I've heard of that and I haven't seen any documentation to support it. That doesn't really make sense. Basically, what you'd have to have is one of two things.
1) You'd have to be convinced that Texas A&M content and money-making capability would be on par with Texas. I don't believe that's the case. The Aggies are right there alongside UT when it comes to alumni in the state, but Texas has way, way more casual fans. Those casual fans being willing to pony up for the network are a big reason why something like this is viable for a team like Texas and not for most programs.
Or...
2) Texas A&M joins up with them, but agrees to take a lower share of the profits from the network. Think that would go over well with the Aggies? No way.
Perhaps something like that was talked about, but your e-mail was the first I had heard of it. An interesting idea, but one that would never work. I do think, if Oklahoma's and Texas' networks are both successful, that an eight-team Big 12 Network is probably only a few years away from being a reality as long as Texas A&M doesn't get antsy and try to get into the SEC.
---
Brent in Stillwater, Okla., asks:
Yesterday
you said Leach would be an imperfect fit for OK State mainly because it would be a one year fix
, and leave the next OC with out Weeden and Blackmon. My question is this, what if Gundy likes the idea of promoting someone like Meacham, but doesn't think he knows the spread offense well enough yet, and would like to give him one more year to shadow an offensive mastermind? If that were the case would it not stand to reason the Leach would be a perfect one year fit? Give him a one year contract, and have Meacham watch and learn for one more season!
DU:
There's some merit to that idea. I could buy into that, and the immediate payoffs are obvious. I don't think Oklahoma State should rule out hiring Leach. I just don't think it's a perfect move. It comes with a lot of positives, and I think further training Doug Meacham is probably one of them.
There aren't a lot of exciting possibilities at offensive coordinator right now, so I could certainly be convinced that hiring Leach would work out well in the long run.
---
Daniel Hilburn in Pittsburgh, PA asks:
Mr Ubben:What is your take on paying college athletes?
DU:
I could write on this forever, but in short, it causes more problems than it produces.
How do you decide who makes what? Should Cam Newton make the same as a backup punter, even if they're both on scholarship? If you let the free market decide, isn't that a dangerous road for college sports? And considering most football programs aren't even in the black to begin with, where does that money come from?
Do you let teams like Texas pay more for players than teams like Baylor? Doesn't that already further eliminate parity in a sport that's running low on parity to begin with?
I don't think there are any good answers for any of those questions, and there are plenty of others, too. The current scholarship + stipend system isn't perfect, but it's better than the alternative. Paying players sounds great in theory, until you start trying to make it happen.
---
Frank in Oklahoma City, Okla., asks:
OK, so we know that OU is stacked for the 2011 season. What positions and who will need to step up for the Sooners? Who do you see as darkhorses on a team of a plethora of talent? You can never be good enough.
DU:
Well, obviously,
Landry Jones
has to continue to mature as a passer. He was a lot better in 2010 than in 2009. As for dark horses for the Sooners, they could use some big years from the defensive tackle spot. Jamarkus McFarland is loaded with potential and looked pretty good late last year, but a big year from him would be a huge help for the Sooners, who weren't fantastic against the run in 2010, especially early in the year. The same for Stacy McGee at the other tackle spot. He got some great experience this year after
Adrian Taylor
went down again.
---
Dennis in Irving, Texas, asks:
1. Would you recommend Bedlam moving to Cowboys Stadium championship week? 2. Look at OSU's 2011 schedule. If an unbeaten from the SEC, BIG 10, and OSU remain at the end of 2011, OSU will play for the NC, right? I don't see how they would get left out.
DU:
I'm not really a fan of that idea. Moving it to championship week is fine, and that should be a nationally relevant game next year, but it's the wrong game to move to Cowboys Stadium. Playing an Oklahoma in-state rivalry in Texas doesn't make much sense, does it? Bedlam is the game that makes the most sense during championship week, and I think that will happen, but it doesn't look like there's a big game that makes a ton of sense in Cowboys Stadium. The Lone Star Showdown won't work. Red River obviously won't, either.
It'll be interesting to see if that ever becomes a reality. My guess is if it does, it won't be anything close to a marquee game.
---
Corbin in Austin asks:
A&M's year was a fluke. I give them a 3% chance of competing for the conference championship next year. Especially since UT is going to be way better with our new coaching staff, and OU and OSU. Do you agree with me?
DU:
Uh, no.
---
Cliff in Nebraska asks:
David, Not trying to get rid of you or anything. Just curious when the official switch will be made and I'll have to start reading Adam's blog for Husker news?
DU:
We're discussing a transition date right now. It's coming soon, and you won't miss it. All I can tell you right now is to be patient, and be thankful we're both covering the Huskers for now.
---
Drew in Columbia, Mo., asks:
All the realignment talk got me thinking. Why doesn't the Big 12 raid the Dakotas for new members? The South Dakota State Jackrabbits have quite the following, and also have had successful basketball and football teams in the recent past. Also, they could go international and pick up schools like Oxford and Cambridge. Travel costs would be high, but the move would certainly improve the Big 12's academic perception. What do you think?
DU:
I like it. If the Big 12 is
supposedly sniffing around San Diego State
, why stop there? I studied abroad at Macquarie University in Sydney, Australia, and let me tell you, they had a solid rugby team. It's basically the same thing. Just teach them a few tweaks from rugby to football and let's let Macquarie into the Big 12. What better TV market for the Big 12 than the global market? London? Sydney? There's cash to be made!
---
Zachary Krider in Lewisville, Texas, asks:
It seems like Von Miller is exceeding the expectations of scouts at the Senior Bowl. Do you see him possibly going in the top ten if he has a great Senior Bowl game?
DU:
He definitely is. He, along with Colorado offensive tackle Nate Solder, have been two of the most impressive guys out there this week.
By most accounts, Miller has just been unblockable
and looks like he's played himself into the top 10. As for the game, it's not quite as important as the week of practice when coaches and scouts can get a front row seat to your workouts. The game doesn't matter all that much in the grand scheme, and unless he's just a completely different player on the field, and there's no evidence to suggest he will be, he's definitely helped his stock this week.
---
Jeff Fuller in College Station asks:
You forgot to add my left handed, behind my head leaping grab against Baylor in
your plays of the year.
Best catch of the year in the Big 12. Where's the love?
DU:
My bad on that one, it probably deserved a spot on the list. Same with the one-handed catch late against Missouri. Seems like nobody had more one-handed grabs this year than Fuller. Another year of those highlights should be fun to watch.