October, 14, 2014
10/14/14
3:30
PM CT
AUSTIN, Texas -- Charlie Strong and Vance Bedford knew they'd have to rebuild a defense before Texas would be ready to win and win big. Six games in, construction is unquestionably ahead of schedule.
Signs of how dramatically this group's production has been overhauled are all over the place. Even with two more losses, Texas' defense through six games this season has exceeded the midseason production of its 2013 counterpart in every way.
[+] Enlarge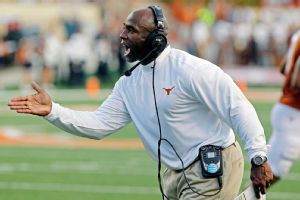 AP Photo/Michael ThomasThe Longhorns' record may not reflect it -- yet -- but Texas coach Charlie Strong has dramatically improved the defense in his first season.
This year's group has given up nearly 700 fewer yards and cut its yardage rate down a full 1.3 yards per play. The Longhorns rank No. 3 nationally in pass defense, No. 4 in yards per play, No. 2 in QBR defense and No. 3 in sack rate. And they've done it against a far tougher schedule.
Throw out two special-teams scores and two offensive turnovers for touchdowns and you get this: Texas' defense is responsible for giving up 99 points in six games, a 16.5 points-per-game average that would rank top 10 nationally.
In the three greatest tests of his tenure, Strong's defenders held the loaded offenses of UCLA, Baylor and Oklahoma to 20, 21 and 17 points. All three were losses. When the day comes that Strong can pair this D with a reliable offense and decent special-teams play, Texas could be poised to shake up the Big 12.
Still, ever since the 41-7 loss to BYU, a game in which a third-quarter implosion wiped out an otherwise fine day for this defense, they've been dominant. Yet that's not how Strong and his defensive coordinator, Bedford, want to perceive things.
"If we had been dominating," Bedford said last week, "right now we would be undefeated. We're not."
A variety of factors have coalesced to make this group great. It's a veteran-heavy unit. Texas has a
midseason All-American
in
Malcom Brown
setting the tone up front. Linebackers
Jordan Hicks
and
Steve Edmond
are playing the best football of their lives. The secondary hasn't had many busts, despite relying on three first-time starters at safety.
But there's plenty more to be said for how Strong and his staff have transformed Texas' work on weekdays. It's clear they value schematic versatility when it comes to coverage and defensive line fronts, and the blueprint can change on any given week depending on the opponent.
"You never know what to expect from our coaching staff," defensive back
Mykkele Thompson
said.
What they expect from the players has changed dramatically. Hicks credits the staff's insistence on an open-door policy in the coaches' office. Players are stopping by now more than ever to talk ball and delve deeper into the game plan.
"They're just so real about everything," Hicks said. "We trust them. They know we trust them. They've built that along this entire process. They explain things in our terms, tell us the purpose and context behind why they're doing things. It's not surface level."
When the staff's plan against Baylor called for dialing up major pressure from Edmond, he was in the office every day, working to further master what was being asked. He responded with a career-best 19 tackles and two sacks against the Bears.
Cornerback
Quandre Diggs
has been wowed by the buy-in from players this season. It's the concentration on weekday preparation that's creating the success on Saturdays.
"We prepare at a totally different level than everybody is accustomed to around here," Diggs said. "The way we prepare, it's crazy how all guys are on board with it. We have tremendous respect for the staff. Those guys love us to death. We'll be up here watching film on those iPads. When you go in there, they always have good tip sheets and a lot of stuff about tendencies. Those tendencies, they show up in the games and we take advantage."
Meanwhile, back at Louisville, the defense Strong and Bedford constructed hasn't slipped either. Their knack for talent evaluation and development continues to pay off: The Cardinals' defense, now led by Todd Grantham, ranks No. 1 nationally in total defense, rushing defense and QBR defense and No. 2 in yards per play.
Rebuilding Texas' defense on the same principles of preparation and information that made Louisville great is creating confidence that, when these crucial veterans -- Diggs, Edmond, Thompson,
Cedric Reed
, and possibly Brown and Hicks -- are gone next year, a younger defense won't take much of a step back in 2015 and beyond.
"I think the young guys are going to see the example that we've set," Hicks said. "This is the standard."