Dallas Colleges:

Taylor Bertolet
July, 22, 2014
Jul 22
9:40
AM CT
The Big 12 media days continue on Tuesday in Dallas, as Oklahoma's Bob Stoops and new Texas coach Charlie Strong each take the stage. Keep this page open throughout the day's proceedings as we bring you the latest from our reporters, who will cover all 10 teams at the event.
November, 14, 2013
11/14/13
1:15
PM CT
COLLEGE STATION, Texas — Even though Texas A&M sophomore running back and kickoff return specialist
Trey Williams
had a touchdown return nullified for a penalty, special teams coordinator Jeff Banks didn't rant to Williams about the miscue. He didn't have to.
[+] Enlarge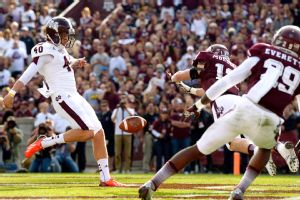 Thomas Campbell/USA TODAY SportsThe Aggies special teams unit, seen here blocking a punt against Mississippi State, has come up big in recent weeks.
"I told him 'I hate it for you because you took away what a great play you made. That's punishment enough. I don't need to yell at you,'" Banks recalled telling Williams.
Early in the fourth quarter of the Aggies' 51-41 win over Mississippi State last Saturday, Williams returned a kickoff 100 yards for a touchdown. As he approached the goal line, he kept in the air, diving in the end zone, but officials ruled it "unsportsmanlike conduct" as part of a new rule established in recent seasons. The fact that Williams began the act before the end zone meant the penalty would be enforced from that spot. The Aggies scored a few plays later and head coach Kevin Sumlin discussed the matter on the sideline with Williams shortly thereafter, but on Monday, Banks credited his return man anyway.
"I felt bad for Trey but yesterday, I rewarded him with an award [Monday] for having a [100]-yard return for a touchdown," Banks said. "I think he knows enough what happened. I'm sure he'll be on a 'Not Top 10,' or a 'C'mon Man!'"
Jokes and penalties aside, it was part of a solid special teams performance for Banks' group, something that turned out to be significant in Saturday's win. Throughout the season, the Aggies have had their ups and downs in the third phase of the game, but lately it appears they're steadily improving.
Banks noted in recent weeks that his kickoff return group was getting closer and closer to breaking free for a score. When it finally happened, it was the result of Williams' ability, blocking and coaching.
"This was a team that was pretty good at kickoff coverage, but at the same time they had done something different every week," Banks said. "And Trey Williams is phenomenal in improvisation and being able to make people miss in short space and get to the open field. So it was a combination of both of those things."
Because of the different looks Mississippi State showed every week in covering kickoffs, Banks chose to have his group block man-on-man rather than try to scheme something in particular to generate a return. It paid off.
Perhaps the most significant progress on special teams has come in the kicking game. After an inconsistent start to the season on field goals and point-after-touchdown kicks by placekicker
Taylor Bertolet
(which followed a rough freshman season), Banks made a change, going with walk-on
Josh Lambo
.
Since taking over, Lambo is 6-of-7 on field-goal attempts and 39-of-40 on PATs. Both misses were the result of miscues on holds. His success includes a game-winning 33-yard field goal as time expired at Ole Miss on Oct. 12.
Bertolet still has a role in the kicking game, serving as the kickoff specialist. He's averaging 62.4 yards per kickoff and has 34 touchbacks to his credit.
"It's huge peace of mind, both on kickoff and the field-goal kicking situation, to know what we're getting every game and to know that they can do it at a high level," Banks said. "I think that's probably more of why I'm feeling so good now. Taylor Bertolet's kicking off really well, kicking to the corners when we need him to, kicking it out [of the end zone] when we need him to and then Lambo's kicking really well. He just hasn't had a lot of opportunities to kick field goals. ... I'm looking forward to him being a big factor in the next two weeks."
And in each of the past two weeks, the Aggies have also come up with a blocked punt. They started the UTEP game on Nov. 2 by blocking a punt on the Miners' first possession that turned into a safety. On Saturday against Mississippi State, they did it again ... and again ... got two points.
"They run several different protections, this last team, and we didn't know which one they would run, so we had to bring an overload type of a block that would block it versus every protection," Banks said. "We got lucky that they switched their protection completely and we wound up getting two guys free as opposed to one. There were some schematics involved with that."
The performance is certainly something that made Sumlin happy.
"I thought all in all, it was another really good performance by our special teams unit again," Sumlin said. "We blocked a punt and a field goal. We had a great kickoff return. All those things helped us win that football game. Across the board, we did some things that were really good, but I thought our special teams unit was exceptional."
October, 15, 2013
10/15/13
6:00
PM CT
COLLEGE STATION, Texas -- The scene was one
Josh Lambo
might never forget.
As his game-winning 33-yard field goal sailed between the uprights with triple zeroes on the clock and fell to the turf at Vaught-Hemingway Stadium in Oxford, Miss., Lambo ran toward the Texas A&M sideline and performed a soccer-style celebratory slide, an homage to his pre-A&M background.
[+] Enlarge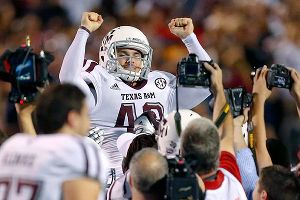 AP Photo/Rogelio V. SolisWalk-on kicker Josh Lambo was the Aggies' hero as he hit a 33-yard field goal to win the game vs. Ole Miss.
Aggies mauled him, screaming, yelling and jumping in joy as they reveled in the satisfaction of again escaping with a hard-fought
41-38 win over Ole Miss
. They lifted Lambo into the air and as the seconds passed, coaches and players came to Lambo to hug him, congratulate him, thank him.
Even
Johnny Manziel
, the Aggies' all-everything player and Heisman Trophy winner, approached the walk-on kicker. With his hand clutching the back of Lambo's head to bring him in close, Manziel shared more than a few private words into Lambo's left ear mere feet away from the goal posts that Lambo successfully split moments before.
It was a scene Lambo would have never pictured a couple years ago while playing goalkeeper for Major League Soccer squad FC Dallas.
"I could say I've had better [nights] but I'd probably be lying to you," Lambo said.
The journey to that moment is an unlikely one for the walk-on kicker. Before arriving in Aggieland in 2012, Lambo never put on football pads. He was a soccer player from Wisconsin and found his way to Texas through the 2008 MLS Super Draft, when FC Dallas selected him eighth overall in the first round.
Lambo was with the club through 2011. Before his final season, he was having a meal in a diner with his mother when she suggested he return to his home state and give college football a try. Lambo dismissed the idea initially.
"My mom said 'Come kick for the Badgers. Come back up to Madison,'" Lambo recalls. "I said 'No mom, there's no way I can kick. It's too boring, they don't do anything.'"
But throughout his last season with FC Dallas, he said the thought nagged at him. After his time with the club was up and he didn't get a new contract, he passed on other contract offers from other clubs and decided to give it a shot. He got in touch with former Wisconsin kicker Taylor Mehlhaff and asked if Mehlhaff could teach him how to placekick. Mehlhaff obliged and Lambo began training.
He walked on with the Aggies in 2012 and didn't see any on-field action but competed for a job during preseason camp prior to this season and became the backup to returning starter
Taylor Bertolet
. When Bertolet struggled early in the season on point-after-touchdown kick attempts, the staff turned to Lambo for that duty.
His first career attempt against SMU on Sept. 21 was unsuccessful as the result of a bobbled hold, but his next attempt went smoothly and his first field goal attempt that night, from 40 yards away, was also good.
Lambo has held on to field goal and PAT duties ever since, while Bertolet continues to handle kickoffs. But the transition Lambo had to go through to transition from goalkeeper on the soccer pitch to placekicker on the gridiron was a significant one.
"The biggest difference was definitely the pads and the helmet and having a snap and a hold," Lambo said. "Going toward a target where there's not a ball and then there's suddenly a ball appears and then you have to kick it, that took a little bit of time. I think my first couple of kicks with a snap and a hold here were pretty ugly last fall in 2012. But I kept on working at it and it paid off."
On Saturday, with the game tied at 38 and time ticking down, coach Kevin Sumlin knew where his offense had to go in order to get within range for a game-winning kick by Lambo. Special teams coordinator Jeff Banks told Sumlin prior to the game that the 33-yard line would be the goal, which would give Lambo a 50-yard attempt.
"I was not quite comfortable with the 33-yard line," Sumlin said with a laugh. "So we kept running the ball."
The Aggies eventually reached the 15, setting Lambo up for a 33-yard attempt. He drilled it, said after the game it was his "best kick" of the night and carved himself out a small spot in Aggie lore.
"I'm just really appreciative of the coaching staff giving me a chance to prove my worth and show them what I can do," Lambo said. "Unfortunately the circumstances came to where I got to go in [earlier in the season], but you know, whenever I got my chance, I knew I was going to take it and I just praise God that I've been able to utilize my opportunities."
September, 30, 2013
9/30/13
3:00
PM CT
Texas A&M is 4-1 after its first five games of the season. The Aggies split their first two SEC games and get a brief break with an open date this weekend. With the bulk of their league schedule coming up after the off week, let's analyze where the Aggies are and what's ahead:
The good
[+] Enlarge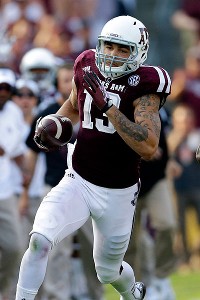 AP Photo/David J. PhillipTexas A&M's Mike Evans might be the best receiver in the nation and a Heisman candidate.
Johnny Manziel and Mike Evans:
These two had high expectations coming into the season based on their 2012 performances, and you could argue that they have exceeded them thus far in 2013, especially Evans. The sophomore receiver is making his case to be considered among the best receivers in the country, if not the best. Only Oregon State's
Brandin Cooks
has more receiving yards than Evans' 691, but Evans's schedule includes Alabama, which he torched for a school-record 279 yards. Manziel ranks in the top 10 nationally in several categories, including total offense, passing efficiency, QBR, touchdowns responsible for and passing yards. He has made a concerted effort to become a better pocket passer, showing more patience when dropping back, but it hasn't taken away from his signature scrambling ability that makes him such an offensive force. If the Aggies continue to win and these two continue to play as they have, one could make the argument that both deserve to be in the Heisman Trophy discussion.
The offensive line and running game:
There were some questions coming into the season about how the Aggies' offensive line would fare after losing Luke Joeckel to the NFL draft and center Patrick Lewis to graduation. So far, the Aggies have continued to shine in this area. The protection provided to Manziel when he passes has been stellar, and the Aggies have not had much trouble running the football, averaging 221.4 yards per game. On Saturday against Arkansas, the Aggies actually had more rushing yards than passing. And the last two weeks, we've seen the coaching staff use all four scholarship running backs (
Ben Malena
,
Tra Carson
,
Trey Williams
and
Brandon Williams
) effectively. Malena continues to be a steady force, Carson has provided a hammer who can break tackles and get short yardage but is explosive enough to get chunks as well, and the Williamses are both explosive talents with a lot of speed.
Deshazor Everett:
The junior defensive back has been the Aggies' best defensive player this year. Though cornerback is his usual home, he moved to safety for the last two weeks to help alleviate some issues in the secondary. He performed well in both positions, is second on the team with 31 tackles and leads the team with two interceptions, including a pick-six against Arkansas. If the Aggies had more Everetts, their defense would be better off.
Play-calling:
The offensive staff, led by offensive coordinator and play-caller Clarence McKinney has done a solid job of ensuring the offense utilizes its many weapons. There has been plenty of balance in the play calls (Texas A&M has run the ball 202 times and attempted 179 passes), the pace of the offense remains high, and it appears the Aggies have had an answer for almost anything opposing defenses have thrown at them. The one game in which the Aggies came up short was due to two turnovers against No. 1 Alabama.
The bad
The defense:
To say the Aggies have struggled defensively is an understatement. Texas A&M is 112th nationally in yards allowed per game (476.8), 109th in yards allowed per play (6.59), 107th in rushing yards allowed per game (214.8) and 94th in passing yards allowed per game (262). Some of those struggles were the result of missing personnel in the first two games because of suspensions, but that's not an excuse anymore. Alabama and Arkansas both moved the ball with relative ease against the unit. In the second half against Arkansas on Saturday, the A&M defense did show the ability to get some key stops and make a few plays, so that might be encouraging, but it will have to build on that when it faces Ole Miss on Oct. 12.
The kicking game:
The Aggies had to make a change at place-kicker, removing
Taylor Bertolet
from PAT and field-goal duty and replacing him with walk-on
Josh Lambo
. The issues haven't just been with the actual kickers, but there were also a couple of botched holds in the first four games. Leaving points on the board might not cost Texas A&M against nonconference foes like Sam Houston State or SMU, but it will cost them in SEC play if it continues to happen. Is Lambo the answer? He had a solid day on Saturday against Arkansas, going 6-for-6 on PATs and hitting a 39-yard field goal. So far he's 2-for-2 on field goals and 7-for-8 on PATs with his only miss coming as the result of a fumbled hold.
What's ahead
Texas A&M has a chance to heal up some injuries this week, which is critical after three starters -- defensive tackle
Kirby Ennis
, linebacker
Darian Claiborne
and Evans -- got banged up. Safety
Floyd Raven
, who has been out with a collarbone injury, continues to make progress in hopes of a return before long.
With the meat of the SEC schedule coming up, the Aggies have to get better on defense if they hope to realize some of their season goals. The offense continues to put up 40 points per game, but if for some reason it has an off night, A&M has to be able to rely on the D to help it pull through. Aside from the kicking game, special teams has been solid overall, and if Lambo is the answer at place-kicker, that's a positive for A&M moving forward.
Perhaps most notably, the drama is behind the Aggies. The constant headlines and media circus that followed the team, specifically Manziel, is in the rearview mirror. Led by Kevin Sumlin, the Aggies handled it well and didn't allow it to distract them from the task at hand.
September, 24, 2013
9/24/13
3:15
PM CT
COLLEGE STATION, Texas — The applause at Kyle Field were loud and boisterous.
After three consecutive point-after-touchdown kick attempts failed in
Texas A&M's 42-13 win over SMU
on Saturday, the volume level of the exuberant Aggies when
Josh Lambo
put one through the uprights with 11:34 remaining in the third quarter were nearly as high as it was when running back
Ben Malena
put six points on the board right before it.
Such is the life of the Texas A&M kicking game right now, where every point is appreciated.
Lambo, a sophomore walk-on, is now in what coach Kevin Sumlin called Tuesday an "ongoing competition," for placekicking duties with former starter
Taylor Bertolet
.
The transition took place on Saturday when the Aggies struggled on extra points. Bertolet missed consecutive attempts in the first half, reminiscent of his struggles in 2012 when he was 67-of-74 on PATs and 13-of-22 on field goal attempts. He is 23-of-26 this season on PATs and 2-of-3 on field goal attempts, with his lone miss being a 31-yarder against Sam Houston State.
After an inconsistent season in 2012 and some early struggles in the Aggies' first four games, the coaching staff decided to try someone new in Lambo, who competed with
Kyle Serres
during training camp.
"What we're doing is based on competition," Sumlin said Tuesday. "The ability to play in games and based on how you compete during practice and your success rate during practice, so that's where we are.
"That will continue to be the case. It won't change this week or next week. That's a work in progress. I think there's some things that both guys do that are positive, but in this business, life pays off on results, so that's where it is."
Lambo's first PAT attempt Saturday failed because of a fumbled snap by holder/punter
Drew Kaser
, but he connected on his next attempt as well as a 40-yard field goal late in the third quarter against SMU. Struggles with the hold is also something seen earlier this season.
"Drew's had a couple of those. ... The whole operation has to work," Sumlin said of the kicking game. "Those are things people take for granted. It's like any other position, where you have dropped balls -- concentration is part of that. We'll get that fixed and get that addressed. Like I said, competition is good for everybody."
Bertolet continued to handle kickoffs, as he has since last season. But at least for now, it looks like he has company in the kicking game in Lambo, a Middleton, Wis., product who transferred to A&M from Collin College.
"We're going to keep the competition up just like we do at every position," Sumlin said after Saturday's game. "The guys who compete earn the spot. Lambo came in and did a good job [Saturday]."
May, 6, 2013
5/06/13
4:00
PM CT
2012 record:
11-2
2012 conference record:
6-2 (tied for second, West Division)
Returning starters:
Offense: 6; defense: 6; kicker/punter: 1

Top returners
QB
Johnny Manziel
, RB
Ben Malena
, OT
Jake Matthews
, WR
Mike Evans
, DT
Kirby Ennis
, OLB
Steven Jenkins
, CB
Deshazor Everett
, S
Howard Matthews
Key losses
LT
Luke Joeckel
, C
Patrick Lewis
, WR
Ryan Swope
, DE
Damontre Moore
, OLB
Sean Porter
, MLB
Johnathan Stewart
, FS
Steven Terrell
2012 statistical leaders (*returners)
Rushing:
Johnny Manziel* (1,409 yards)
Passing:
Johnny Manziel* (3,706)
Receiving:
Mike Evans* (1,105)
Tackles:
Damontre Moore (85)
Sacks:
Damontre Moore (12.5)
Interceptions:
Deshazor Everett* and Steven Terrell (2)
Spring answers
1. Johnny Football:
The Aggies are in the rare position of returning the previous season's Heisman Trophy winner. Heading into his sophomore season, Texas A&M is hoping that quarterback Johnny Manziel can be even better than he was a season ago. This will be his second year in the offense and for quarterbacks who have played in this system, year two is typically a season in which they progress significantly as passers. That's one of Manziel's primary goals, even though he'll still run when the time calls for it. As long as he's healthy and playing well, things bode well for the Aggies.
2. Experienced secondary:
Last season, the defensive backfield was young and inexperienced. This fall, there are still young players back there, but it is the most experienced unit on the Aggies' defense. Three of the four starters in the secondary from the AT&T Cotton Bowl are back: Deshazor Everett,
De'Vante Harris
and Howard Matthews. Junior
Floyd Raven
has moved from cornerback to free safety and appears to have the skill set (range and tackling prowess) to fit into the position well.
3. Loaded backfield:
The Aggies have four good options in their offensive backfield for Manziel to hand off or throw to. Starting running back Ben Malena returns, as does
Trey Williams
, who returned kicks and received carries as a true freshman. Add to the mix a pair of transfer backs who sat out last season,
Brandon Williams
(Oklahoma) and
Tra Carson
(Oregon) and the Aggies have a quartet that gives them a multitude of options.
Fall questions
PODCAST
Texas A&M coach Kevin Sumlin talks about the improvements being made to Kyle Field, what those improvements will to for the program, the success of last year, Johnny Manziel's offseason and the expectations for the Aggies in 2013.

Listen

1. Front seven:
The Aggies are looking for someone to replace the production that third-round NFL draft pick Damontre Moore brought last season. Moore led the team in tackles, tackles for loss and sacks a year ago. Also, with two senior leaders gone from linebacker (Sean Porter and Jonathan Stewart) Texas A&M not only has to replace the bodies but also the leadership. Because of injuries, the Aggies were thin up front in the spring but when all their key players return in the fall, it will ease at least some of those concerns. Keep an eye on names like defensive end
Julien Obioha
(who started opposite Moore last year), defensive tackle
Alonzo Williams
and linebacker
Donnie Baggs
as players who have a chance to see their contributions increase significantly this year.
2. New receivers:
Only one starting receiver returns from last year's squad: Mike Evans. Four of the top six players in receiving yardage are no longer on the roster, including second-leading receiver Ryan Swope. So who will Johnny Manziel throw to? Keep an eye on guys like
Malcome Kennedy
, who caught a fourth-quarter touchdown against Alabama last season,
Derel Walker
, who had a strong spring game,
Edward Pope
, who was a star on the scout team when he redshirted last year and a host of recruits from the 2013 class like
Ja'Quay Williams
and ESPN 150 duo
Ricky Seals-Jones
and
Sebastian LaRue
. Developing other reliable pass-catching options is critical, so keep an eye on how they use the tight ends with newcomer
Cameron Clear
(6-foot-7, 270 pounds) on campus.
3. Kicking game:
One player who fans kept a close eye on this spring was kicker
Taylor Bertolet
. In his redshirt freshman season, the strong-legged kicker struggled with consistency, hitting just 13-of-22 field goal attempts and missing seven point-after attempts. With a new special-teams coordinator (Jeff Banks) who has college punting and kicking experience around to guide him, the Aggies are looking for an improvement from Bertolet this fall. Also the Aggies are working in a new punter,
Drew Kaser
, who takes the reins after senior
Ryan Epperson
graduated.
September, 19, 2012
9/19/12
12:11
PM CT
COLLEGE STATION, Texas -- With so much in and around the Texas A&M football program being new -- from the conference to the coaching staff to the schemes and even the uniforms -- it seems only natural that on the field, some of the most significant impacts have been made by new players.
Or, in other words, freshmen.
Some are true freshmen completely new to the program. Some are redshirt freshmen who have already spent a year as part of the Aggies' program. Across both spectrums are players who are already contributing significantly and will likely continue to do so throughout the season.
[+] Enlarge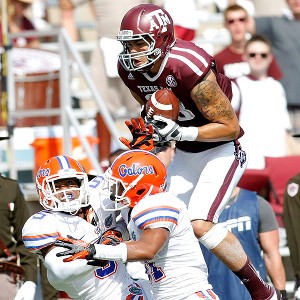 Brett Davis/US Presswire'Raw' receiver Mike Evans has proven to be one of Texas A&M's most-dynamic offensive options.
In the
Aggies' 48-3 win over SMU
on Saturday, freshmen were statistical leaders in six different categories: redshirt freshman quarterback
Johnny Manziel
led the team in passing yards (294), rushing yards (124) and all-purpose yards (418), redshirt freshman receiver
Mike Evans
led in receiving (six catches, 123 yards) and true freshman cornerback
De'Vante Harris
led the team in tackles (seven).
Naturally, much of the focus has been on Manziel, the quarterback who won the starting job during fall camp and is already beginning to dazzle observers with his athleticism and ability to freelance, which has resulted in a handful of big plays for the Aggies (1-1).
There is an adjustment period for those freshmen though, Texas A&M coach Kevin Sumlin said.
"You saw that in high school," Texas A&M coach Kevin Sumlin said of Manziel and his playmaking ability. "What he's finding out is that he's not the fastest or most talented guy on the field. So for a lot of players, they go through that, you have to figure out what you can do with your strengths and what you can't do with your weaknesses."
January, 27, 2011
1/27/11
10:09
AM CT
Signing day is exactly a week from Wednesday, and it's time to take a look at who needs what in its 2011 class.
Some schools have addressed these needs with their current class. Some haven't. Others are still trying.
Here's our look at the South, after running down the
Big 12 North
earlier this morning.

BAYLOR
Defensive tackle:
The Bears are loaded on offense and have a ton coming back, but anyone who watched Baylor in 2010 knows the big problems are on defense, starting with the front four. Phil Taylor is headed to the NFL and Nicolas Jean-Baptiste will be a senior next year. Reserve Chris Buford is gone, too. The Bears need to fill out some depth up front to avoid a repeat of their Texas Bowl debacle defending the run against Illinois.
Punter
: Derek Epperson was rock solid as a four-year starter for the Bears, averaging near 44 yards a punt for his past three seasons. He's gone now, and the Bears will need a replacement. The good news is Baylor's offense with
Robert Griffin III
doesn't make the position nearly as important as it used to be.

OKLAHOMA
Receiver:
Ryan Broyles
, a senior, and
Kenny Stills
look ready for big years in 2011, but senior
Cameron Kenney
is gone.
Trey Franks
,
Dejuan Miller
and
Joe Powell
could contribute in 2011, but beyond that, another big-time threat across from Stills would certainly help. One of the Sooners' top 2011 commits, Trey Metoyer, could become that player.
Safety:
Both starters, Quinton Carter and Jonathan Nelson, have graduated, and the Sooners will try to replace them with Sam Proctor, who has started plenty of games, and Javon Harris. The Sooners are pretty well-stocked about everywhere, but more depth in the secondary is always welcome.

OKLAHOMA STATE
Defensive line:
Three of the Cowboys' four starters are gone, and it's always necessary to fill in some depth behind them. Shane Jarka, Chris Donaldson and Ugo Chinasa all had good years in 2010.
Offensive line:
Oklahoma State brings back all five starters for 2011, but four will be seniors. That means replacing them in 2012, which will be a lot easier if those replacements don't end up being true freshmen. Oklahoma State kept offensive line coach Joe Wickline, a candidate for the same job at Texas, and his development of the line last year with four new starters was a big reason for the Cowboys' success. He'll need to do it again in 2012.

TEXAS
Running back:
Fozzy Whittaker
and
Cody Johnson
will both be seniors in 2011, and Tre Newton's career is over because of issues with concussions. Texas would be well-served if its top 2011 commit, Malcolm Brown, can come in and be effective immediately as a true freshman.
Cornerback:
Aaron Williams left early. Curtis and Chykie Brown graduated. Texas needs help at corner and will have big problems in the near future if they don't get it.
Linebacker:
Emmanuel Acho and Keenan Robinson will be seniors in 2011, and Dustin Earnest and Jared Norton already graduated. New talent behind them will help prevent a drop-off in 2012 after Acho and Robinson split.

TEXAS A&M
Kicker:
Randy Bullock will be a senior in 2011, but Texas A&M is already hoping his spot is filled by incoming freshman Taylor Bertolet, the nation's No. 2 kicker who won the Under Armour All-American game with a last-second field goal earlier this month.
Linebacker:
Michael Hodges and Von Miller have graduated, and Garrick Williams will follow them in 2011. The Wrecking Crew was pretty stout for most of 2010, but filling those holes in a four-linebacker front will be key in ensuring things stay that way.

TEXAS TECH
Secondary:
LaRon Moore and Franklin Mitchem are gone, so Texas Tech will be breaking in some new blood in the secondary for new coordinator Chad Glasgow and cornerbacks coach Otis Mounds. Freshmen cornerbacks Jarvis Phillips and Tre Porter made plays in 2010, but they also allowed offenses to make a few of their own. Stopping that will be a big step in Texas Tech getting things rolling under Tommy Tuberville.
Receiver:
Texas Tech already needs to replace
Detron Lewis
and
Lyle Leong
, and
Tramain Swindall
and
Jacoby Franks
will follow suit after 2011.
Alex Torres
was hampered by a back injury all year, but the Red Raiders will need some depth around him at receiver to keep the offense humming.