Dallas Colleges:

Terrance Frederick
March, 7, 2012
3/07/12
2:00
PM CT
We're moving on with our 2011 postseason position rankings. Today, it's time for cornerbacks. If you missed it,
here's how I ranked them in the preseason
.
Here are the other position rankings we've done so far:
Depth is somewhat of a factor here, but I weighted it heavily toward the top two starters at the position.
[+] Enlarge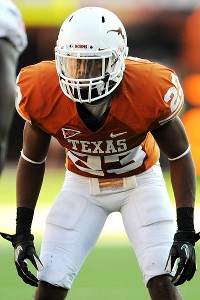 John Albright/Icon SMICarrington Byndom went up against some of the Big 12's top receivers and held his own.
1. Texas
— The Longhorns duo of
Carrington Byndom
and
Quandre Diggs
were by far the league's best at limiting the big play. Both are physical. Both return. Beware, Big 12 offenses. In just their first year as starters, they helped the Longhorns lead the league in pass defense. Diggs, a true freshman, led the team with four interceptions. Until the regular-season finale against Baylor, Texas and Alabama were the only teams that hadn't given up a touchdown pass longer than 20 yards. Obviously, that's way, way more impressive in the Big 12.
2. Kansas State
— K-State overachieved in a lot of ways this year, and perhaps nowhere more than at cornerback. Juco transfer
Nigel Malone
led the league with seven interceptions. Known entity
David Garrett
was even more solid, making 88 tackles and 6.5 tackles for loss. I ranked this unit 10th in the Big 12 before the season. They finished second. I was wrong.
3. Oklahoma
— The Sooners' corners were good, but not great, and underachieved slightly.
Jamell Fleming
and
Demontre Hurst
are supremely talented, but were susceptible to big plays this year. Granted, everybody in the Big 12 was, but the Sooners ranked fourth in pass defense. Fleming broke up 10 passes and intercepted two more. Hurst broke up 11 and had an interception.
4. Oklahoma State
— At times, Oklahoma State's
Brodrick Brown
was a legitimate shutdown corner.
Justin Gilbert
turned in a solid effort in his first year as a starter, which was much more important after a season-ending injury to
Devin Hedgepeth
in September. Gilbert picked off five passes, second-most in the Big 12.
5. Iowa State
—
Leonard Johnson
was quietly an NFL prospect that put together a huge year. He was a big reason for ISU's upset of No. 2 Oklahoma State, and helped shut down
Justin Blackmon
. He finished with 71 tackles, eight pass breakups and a pick.
Jeremy Reeves
added two picks and seven pass breakups.
6. Missouri
—
E.J. Gaines
led the Big 12 with 16 pass breakups, and the Tigers ranked fifth in the Big 12 in pass defense. Fellow first-year starter
Kip Edwards
added a pick and three pass breakups.
7. Texas A&M
— The team's top corner,
Coryell Judie
, was hampered by a hamstring injury all season, but production is production. It wasn't there for Judie, one of the league's top corners in 2010.
Terrence Frederick
had a good year with 13 pass breakups and a pick, but the Aggies were susceptible through the air all year.
Lionel Smith
and
Dustin Harris
filled in well in Judie's absence, but not well enough. A&M finished eighth in pass defense and helped five QBs set career highs for passing yardage in 2011.
8. Baylor
—
K.J. Morton
played well down the stretch for Baylor, but the Bears defense left a lot to be desired almost everywhere. They finished last in the Big 12 in pass defense, giving up over 290 yards a game. Morton picked off four passes and broke up six more. All four of his picks came in the final three games of 2011.
Chance Casey
broke up six passes and made 48 stops.
9. Texas Tech
— How's this for irony? The Red Raiders actually finished second in the Big 12 in pass defense. It doesn't matter much.
Tre' Porter
had the only interception for a cornerback all season, and broke up two passes. Injuries were a problem all season.
Cornelius Douglas
,
Derrick Mays
,
Jarvis Phillips
and
Sawyer Vest
filled the unit, but Tech faced 61 fewer pass attempts than Kansas and 111 fewer than the next team in the Big 12. That's what happens when you can't stop the run. Doesn't mean the corners played well.
10. Kansas
—
Greg Brown
picked off two passes and broke up three more.
Isiah Barfield
made 35 tackles and broke up five passes. The Jayhawks ranked ninth in the Big 12 in pass defense. They didn't get much of a pass rush to help the corners, but the corners were very poor in 2011.
December, 10, 2011
12/10/11
6:13
PM CT
Texas A&M has its man.
Kevin Sumlin is ready to get started in College Station, but he'll have to get his hands dirty very early.
Sumlin's become one of the hottest names in coaching after a 12-1 season in 2011, but he'll have a laundry list of things to prove during his first big-time job after leaving Houston.
The Cougars were his first head coaching job after stops around the Big 12 at Texas A&M,
his new home
, and in a variety of positions in five seasons at Oklahoma under coach Bob Stoops, including as offensive coordinator.
Every coach with a resumé comparable to Sumlin's faces the same question: Can that small-conference success translate into a bigger pond with bigger fish?
For Sumlin, it's tough to imagine a more difficult scenario for a coach taking over a major program for the first time, especially as a coach that has yet to guide a team to a conference title.
Texas A&M will head into the torture chamber that is the SEC West, where Arkansas went 10-2 with both losses this season to teams that will meet for the national title and finished third in the division.
Mississippi State? It won nine games in 2010 and finished fifth in the division.
[+] Enlarge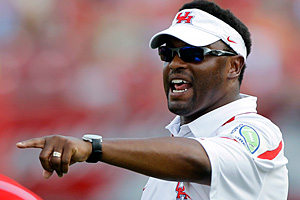 AP Photo/David J. PhillipKevin Sumlin spent four seasons guiding the Houston Cougars in Conference USA, and now he'll tackle the SEC as Texas A&M's newest head coach.
Sumlin knows Texas. He's recruited it for a decade and will continue to do so at Texas A&M, where he'll go head to head with former Big 12 rivals Texas and Oklahoma to convince players to help the Aggies ascend the SEC totem pole after going 6-6 in their final Big 12 season.
Sumlin's a man with spread sensibilities, though. He'll have to prove he can adjust that system as necessary to succeed in the SEC.
Success in the SEC, as national title participants Alabama and LSU can attest, correlates with defensive success, with rare exceptions for 6-foot-5, 250-pound Heisman winners/No. 1 picks at quarterback who can throw for 30 touchdowns, run for 20 more and rack up 1,400 yards rushing.
Sumlin's job in that department will be finding the right man to coordinate his defense. Current interim coach Tim DeRuyter could certainly stay in that role, despite a rough 2011 season in which the Aggies at one point went 22 quarters without forcing a turnover and finished 66th nationally in total defense and 76th in scoring defense.
The Aggies' linebacker-rich roster suits DeRuyter's 3-4 scheme well, and is better suited to defend the power running games in the SEC versus the pass-happy quarterbacks' league that is the Big 12.
If DeRuyter's not the right man, Sumlin better find the right one.
Can he carry over his success without
Case Keenum
? He threw an outlandish 45 touchdowns to five interceptions this year, including one game with nine scoring tosses.
Two of those interceptions came in the conference championship game loss to Southern Miss, where Sumlin was denied a league title for the second time in four seasons. Last year, when Keenum tore his ACL, the Cougars went 5-7.
The Aggies brass believed Sumlin could succeed without Keenum, and now, Sumlin will have to convince plenty of others.
Sumlin's personnel will look much different at Texas A&M. In the immediate future, his best player on offense will be former blue-chip recruit and 221-pound power back
Christine Michael
, who packs plenty of speed but will be coming off ACL surgery on his knee in 2012.
Sumlin will have a first-year starter at quarterback and loses his most physically gifted reciever,
Jeff Fuller
, while he'll retain his most productive receiver,
Ryan Swope
.
Defensively, the Aggies will lose top talents like four-year starter at safety, Trent Hunter. Cornerbacks Coryell Judie and Terrance Frederick will be gone. Defensive linemen Tony Jerod-Eddie and Eddie Brown will say goodbye, too.
Sumlin will have to adjust his wide-open passing attack at Houston that shredded Conference USA defenses to life amongst speedier, more instinctive SEC defenses.
He'll have the resources at Texas A&M, which built some recruiting momentum under Mike Sherman and will welcome a top-10 recruiting class in 2012 to some of the best facilities around.
Sherman proved that facilities and lots of talent don't equal wins. The Aggies were 1-5 in games decided by less than a touchdown in 2011.
Sumlin will set out to prove he's the right guy to fix that number and lots of others.
It won't be easy.
September, 23, 2011
9/23/11
9:30
AM CT
We spent a few minutes with No. 7 Oklahoma State quarterback
Brandon Weeden
on Thursday, and today, it's time for a look at the other side of Saturday's big game: No. 8 Texas A&M.
PODCAST
Landry Locker is joined by Brandon Leone of TexAgs.com to discuss No. 8 Texas A&M's upcoming game against No. 7 Oklahoma State.

Listen

Aggies receiver
Jeff Fuller
spoke to ESPN.com for a few minutes this week.
David Ubben: What do you remember most about last year's game?
Jeff Fuller:
That we lost, for sure. Last year was a tough loss with a lot of turnovers. Oklahoma State's a great team, but I feel like there's a lot of things we could have done ourselves to perfect our game dramatically so we could have less turnovers and things like that that would have given us a better chance to win the ball game.
What are you expecting from the crowd in a game like this?
Oh, man. I expect the 12th Man to be out there loud and proud like they are every game. This is the first time we've had two top 10 teams playing at Kyle Field [since 1975] and it's going to be a wonderful venue and we're just looking forward to going out there and playing my best.
What's the environment like inside the facilities in a week like this?
Everything is real tight. Every day we're in meetings and everybody is really engaged. Coach [Mike] Sherman keeps on harping on us to not beat ourselves, so it's just kind of staying on top of the little things, the details to kind of perfect everything so we'll be ready to play on Saturday.
[+] Enlarge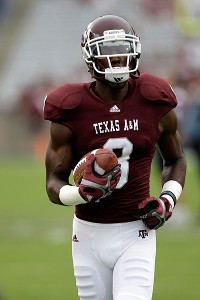 AP Photo/David J. PhillipTexas A&M wide receiver Jeff Fuller says beating Oklahoma State "would be huge."
Is this the most experienced team you guys have had in College Station?
I think so. We came in here with Coach Sherman, all of us. Tony Jerod-Eddie, Trent Hunter, Terrance Frederick. We're all Coach Sherman's guys and he kind of brought us up in his system and I think we started like, I don't even know how many freshmen, but I know we started more freshmen than anybody in college football my sophomore year, so we were young. That class is now seniors, and those freshmen are now juniors, and it's really exciting to see guys getting better and perfect things, all the little things, all the small details to make ourselves really a complete team.
Where does that experience pay off most on the field?
It pays off everywhere. Hopefully, we'll do a little bit better job of holding on to the football, we'll do a better job of just not turning the ball over and getting those small details right. Not miss one play and just get a lot of snaps.
What do you feel like a win in this game would mean to the program and fan base?
Being 3-0 would be huge. It would be a huge victory for us. The first two games, we had Idaho and SMU, two great teams, but they were nonconference games, but this is where it really counts. We're just trying to head into this game and try to put another victory on the board.
April, 1, 2011
4/01/11
3:44
PM CT
COLLEGE STATION, Texas -- It's tough to plan around which practices I'll get to see when I come to campuses during the spring or preseason camp, but it was a pretty ideal situation at Texas A&M on Wednesday. The team was in full pads, practiced for about an hour and a half, and the vast majority of it was 11-on-11 team drills.
Texas A&M's practices are open to the public, something that's increasingly rare in college football, but there were probably 70-80 fans who made it to the afternoon workout on a gorgeous day for spring football. To my knowledge, the only teams in the new Big 12 that open up spring practice to fans are Texas A&M, Missouri and Baylor.
Additionally, it takes a lot for women's hoops to generate buzz, but there was definitely a bit out at practice. The Aggies beat rival Baylor, featuring arguably the game's biggest star, 6-foot-8 Brittney Griner, in Dallas earlier this week to reach the first Final Four in school history. I'm sure there will be plenty of maroon in the stands in Indianapolis this weekend. (
More on that here
from colleague Mechelle Voepel.)
But back to football.
A few thoughts and observations from practice:
Two guys a bit under the radar who had great days: Receiver
Kenric McNeal
and running back
Ben Malena
. With all the skill-position talent at Texas A&M, both get a bit overshadowed, but Malena, at least for one day, looked every bit as good a runner as the backs ahead of him on the depth chart,
Christine Michael
and
Cyrus Gray
. He has a lot of development to do in things like feeling creases in the line but when he got a chance to get to the second level and let his instincts take over, he was giving the defense fits. He looked solid in the open field.
Additionally, McNeal has a reputation as a shifty slot receiver who works best underneath, but he was stretching the field on Thursday like I hadn't seen from him before. His two longest plays of the year (27 and 32 yards) came late last season, but he had a couple of deep catches in the end zone after slipping past the safeties and bringing it in behind the defense. He got open a few more times, and quarterback
Ryan Tannehill
missed a couple of deep balls to him, but it has to be encouraging for the offense to see him break a few off like that.
Michael looking confident on healed leg
[+] Enlarge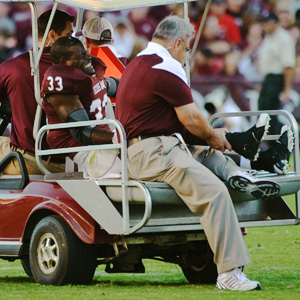 AP Photo/Dave EinselChristine Michael is working his way back from a broken tibia he suffered against Texas Tech.
Michael was one guy I wanted to see, and it was tough to get a read on his mobility -- he didn't get into the open field very much. But one encouraging sign was he didn't look like he was shying away from contact at all. That's exactly what A&M wants to see. Michael brings a mean running style that no other back on the roster can provide. Early in the conference season last year, he was running over plenty of linebackers. He looks like he wants to get back to doing exactly that, and he did it on Thursday, dragging a couple of defenders at times.
I don't think the mental side of returning from the injury will be an issue. He's never been quite as shifty as Cyrus Gray, but he runs with power that you won't find anywhere else in the Big 12, and considering how the rest of the league defended the run during the bowl season -- especially power runners -- the Aggies will once again be glad he's on their team this fall.
Wrecking Crew missing a few members
Diehard A&M fans are surely already aware, but the Aggies' defense is missing quite a few key pieces this spring, especially in the back seven. Defensive backs Terrance Frederick and Coryell Judie are both sidelined after offseason shoulder surgery and linebacker Sean Porter is out with an injury to his left foot from earlier in spring practice.
Lionel Smith is also out for spring ball.
Former Aggies on hand
It's always good to see alums and former coaches on hand for spring practice. Former Aggies linebacker Michael Hodges was milling around the practice field. He's one of just three defensive starters (Von Miller, Lucas Patterson) the Aggies have to replace this spring.
Additionally, former Aggies coach R.C. Slocum was in attendance.