Dallas Colleges:

Terrence Jones
March, 25, 2012
3/25/12
7:40
PM CT
ATLANTA --
Anthony Davis
finally left the game with 33 seconds remaining, and only because he had blood on his lip.
Kentucky was ahead of Baylor, 82-68, at the time.
Davis didn't want to leave the court. And why would he? Who wouldn't want to be a part of something that must have been as enjoyable to play as it was to watch?
Davis had suffered a left knee contusion in a collision with Baylor's
Perry Jones III
with 18:28 left in the second half and the Wildcats up 44-22. Davis was treated and sent back in, left again, then went back in because he couldn't get enough of this game.
"The knee is doing fine,'' said Davis after the Wildcats' South Regional-clinching
82-70 victory
over Baylor on Sunday afternoon at the Georgia Dome.
"I just bumped knees with Perry Jones, and it started hurting real bad. But I knew my team needed me to play. I wasn't going to sit out, especially with a trip to the Final Four, and all of us want to go to the Final Four. So I knew I needed to come in the game and help my team out, so I decided to come in.''
Davis finished with 18 points, 6 blocks and 11 boards. And the consensus national player of the year was hardly alone in another stellar performance.
This effort by the Wildcats was their best this season -- and that's quite a statement, considering they lost only one regular-season game to Indiana in December and one to Vanderbilt in the SEC tournament championship.
If you watched the way Kentucky flipped a 10-5 deficit into a 20-point lead in a matter of minutes, then you know.
Baylor coach Scott Drew had no clue the Wildcats could turn it on like that in a flash.
"I had no idea they were this good,'' Drew said as he walked out of the postgame news conference.
"We made one substitution, called a timeout and addressed within the team and said to each other, 'Let's go. Let's do it with defense, we've got to guard and let's put this thing away and be the aggressor and attack. Let's go.' It didn't look good to start the game, did it?''
Well, Baylor was the aggressor for a few possessions.
Then the Bears committed turnovers on successive possessions and it was on. Boy, was it on.
"I'd say we were just aggressive,'' said Kentucky's
Terrence Jones
. "I just think we got real aggressive on offense and defense and just mentally locked down on defense. It just led to fast breaks on offense.''
[+] Enlarge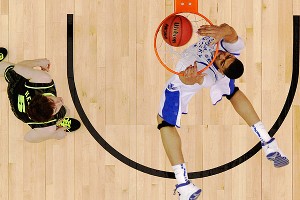 AP Photo/David J. PhillipAnthony Davis slams home two of his 18 points over Baylor's Brady Heslip during Sunday's first half.
Kentucky had the UNLV look about it when it flipped toward a fast-break team. The efficiency from
Marquis Teague
at the point, the acrobatic nature of Davis in retrieving errant passes, even when he's underneath the net, the way in which
Michael Kidd-Gilchrist
heads to the hoop without any fear of being hit, the unselfish play by Jones (6 assists) and the spot shooting from
Doron Lamb
and even
Kyle Wiltjer
off the bench makes this as complete a team as any John Calipari has had at UMass, Memphis or Kentucky.
"In that first half, we played flying up and down the court,'' Calipari said. "If it's not there, we run the offense. If you go zone, we're driving that ball. We're not settling.
"Defensively, we're swarming and blocking shots,'' Calipari said.
Kentucky did have some foul trouble, with Kidd-Gilchrist ultimately fouling out and Davis playing with four.
But who would quibble over officiating Sunday?
The unselfishness of this squad shouldn't be lost on anyone. Kentucky's two previous teams weren't this giving with each other. And both of them reached the Elite Eight, with last season's team losing in the national semifinal. This one should be able to take the next step.
"We've got seven players on this team that average 25 points a game in high school and all seven led us in scoring this year [at some point],'' Calipari said. "Anthony Davis, would you say he's pretty good? He's our fifth-leading shot-taker. Michael Kidd-Gilchrist is our fourth. When Kyle Wiltjer's in the game, they love it and they throw him the ball. They're fine with that. They're excited when he makes it. They figured it out that as a young team they had to do it together and they would all benefit.''
Calipari said he doesn't make any promises in recruiting. He won't say how many starts you'll get or shots you'll take.
"If you want to shoot 30 times a game, you're not coming here,'' Calipari said. "If you want to win a national title and the answer is, 'Yes I do,' then you can't do it alone. There are a bunch of other guys like you on the team so you'll have to share the ball.''
Kentucky faces Louisville in the national semifinal Saturday in New Orleans. The Commonwealth will implode in delight.
Calipari has already toned down the rivalry with Louisville coach Rick Pitino, saying they don't exchange cards but are friendly acquaintances. Calipari said if he had five players from Kentucky, he would be more worried about this being a big deal. He does not, so he's not. And the players don't seem too fazed by the Cardinals' matchup, either.
The fans? Well, that's another matter.
If Kentucky wasn't the favorite to win the title before Sunday then it must be now. The Wildcats were the No. 1 overall seed and played like it Sunday. They head to face Louisville, with Kansas playing Ohio State in the other semifinal, so this is still Kentucky's title to lose. The Wildcats can surely lose to Louisville or to KU or Ohio State. But they won't be the overwhelming pick to do so.
"Has my team ever been the favorite? Let me think,'' Calipari said. "At UMass, we were the No. 1 team but Kentucky had nine NBA players. And then the Memphis team, there was Kansas, North Carolina, we were a No. 1, but we weren't the number-one No. 1. No one picked us to win. Last year, no one picked us to win.
"Yeah, it's the first time. How about that. Are we the favorite?''
Yes.
"Wow. That's a good thing I guess.''
January, 28, 2012
1/28/12
6:57
PM CT
So much for a slow Saturday. College basketball fans and pundits alike should know better by now, but we always assume the worst on a supposedly "slow" weekend.
Let's change the rules, based on what we've seen today. If you survey the weekend slate and you can't find any meaningful games and potential upsets that you're overly interested in, that means it's time to call Earl and the crew (everybody has a friend named Earl), stock the fridge and get ready for some good basketball. If this was a lukewarm weekend in college basketball, what qualifies as a great one?


Iowa State 72, No. 5 Kansas 64
Many laughed when Fred Hoiberg began his tenure at Iowa State by recruiting from a pool of players known for their checkered pasts.
Royce White
, who left Minnesota two seasons ago after a tumultuous stay, led the bunch. But Hoiberg looks like a genius right now after the Cyclones handed No. 5 KU its first Big 12 loss of the season. The win snapped both the Jayhawks' 13-game winning streak over Iowa State and their 10-game overall winning streak (they hadn't lost since Dec. 19).
The postgame court-storming was well-deserved for the 'Clones and their fans. Hoiberg has as much job security as any coach in the country based on his legendary career in Ames, which allowed him to pursue so many transfers without worry. In other words, he'd get a mulligan if things didn't work out.
Against Kansas, however, Hoiberg proved that he's more than a risk-taking recruiter. He can coach, too. Iowa State, a squad that suffered an 82-73 loss at Kansas on Jan. 14, led by three points at halftime. But that didn't last. The Jayhawks scored 11 unanswered points early in the second half. The crowd's energy dropped after that KU run, but Iowa State kept fighting, something it had failed to do down the stretch in its earlier loss to the Jayhawks.
White led the charge. With his team leading 56-53 and five minutes to play, he scored the Cyclones' next eight points (three straight layups and a pair of free throws). He entered the game as a 51 percent free throw shooter -- ISU was the Big 12's worst free throw shooting team at 61 percent overall -- but he was 6-for-8 from the charity stripe in the second half. He finished with a team-high 18 points, nine rebounds and five assists, making up for his six turnovers. The team was 25-for-34 from the charity stripe.
So yes, the same Iowa State squad that lost at Drake Nov. 15 looks like an NCAA tournament team right now -- no matter what my colleague Doug Gottlieb might tweet. At 5-3, the Cyclones are off to their best Big 12 start in a dozen years and sure seem like they won't be fading away anytime soon.


No. 4 Syracuse 63, West Virginia 61
It just can't happen. Not in late January with the stakes so high. Not when it's so blatant. Officials in this game missed one of the more obvious and critical goaltending calls of the season. In the final seconds, West Virginia's
Truck Bryant
air-balled a 3-pointer that ended up in
Deniz Kilicli's
hands with his team down by a bucket. Kilicli's layup was swatted away in mid-air by Syracuse's
Baye Keita
, but replays showed what looked like a clear goaltending violation by Keita. Officials never blew their whistles.
West Virginia got the ball back and
Kevin Jones
(20 points, eight rebounds) missed a deep 3-pointer to win the game, but the final outcome might have changed had that crew flagged Keita for goaltending. Now granted, WVU had its chances.
Brandon Triche
(18 points) hit a pair of free throws with a minute and a half to play and the Mountaineers missed four consecutive shots. But the no-call clearly impacted the game.
Syracuse struggled in its third consecutive game without
Fab Melo
. The Orange just haven't looked like the same squad without him and his defensive presence. West Virginia secured an astounding plus-21 (41-20) rebounding edge over the Cuse and had nearly as many offensive boards (19) as the Orange had total. How does that happen? It's not like the Mountaineers are the biggest team in the country. They were just tougher than Syracuse most of the afternoon. And had it not been for that missed goaltending call, West Virginia might have avoided its 13th loss to the Cuse in 14 meetings.


No. 7 Baylor 76, Texas 71
With 4:09 to go, Texas'
Myck Kabongo
hit a 3-pointer as
Pierre Jackson
committed a ridiculous foul to put him on the line for a four-point play opportunity. Texas had been down by 12 points early in the second half, but Kabongo's shot cut Baylor's advantage to just one. Cameras panned to Baylor coach Scott Drew on the sidelines. He had the "I can't believe this is happening at home" look on his face.
Perry Jones
(22 points, 14 rebounds) was far more aggressive than he'd been in some of his efforts, but Baylor couldn't keep the pressure on the Longhorns and nearly blew one at home.
J'Covan Brown
scored 32 points (11-for-22), his third consecutive 30-point effort. But he had way more time to create a better shot than the deep 3-ball he took with 14 seconds on the clock. His team was down by three points in the closing seconds, so I understand why he'd take a deep shot, but he didn't have to shoot it when he did. He had more time on the clock.
Here's where you have to have more question marks about Baylor, though. The Bears are at home. Texas shot 36 percent from the field in the first half and was 1-for-12 from beyond the arc before halftime. Seemed like an opportunity for Baylor to flex its muscle. But it turned into another lukewarm finish for the Bears.


No. 13 Florida 69, No. 16 Mississippi State 57
The Bulldogs just couldn't handle Florida's inside-outside attack.
Patric Young
(12 points, six rebounds) was solid for the Gators, especially after halftime.
Bradley Beal
led the Gators' talented backcourt with 19 points. The nation's leaders in 3-point field goals hit 11 of them as they won their fifth straight and 17th in a row at home.
Arnett Moultrie
was 4-for-10 and scored 12 points for a Bulldogs team that committed 14 turnovers. It was MSU's third SEC road loss of the season. At 5-3 in league play, they'd better find a way to compete away from home. They're certainly talented, but the Bulldogs have really struggled on the road. Thought this one would have been a closer game, but give the Gators credit. They can spread teams out with their guard play and minimize their size disadvantages, a tactic they used to perfection against the Bulldogs.


No. 1 Kentucky 74, LSU 50
The Wildcats are in Beast Mode right now. They're just crushing teams. LSU entered this game following a tight road loss at Mississippi State. But the Wildcats are just a different animal.
Terrence Jones
led all scorers with a season-high 27 points and the Wildcats held LSU to a 1-for-9 clip from the 3-point line. Just two Tigers reached double figures.
Although LSU is only 2-5 in the SEC, you have to wonder how dangerous the Wildcats can be in March when a guy like Jones can explode despite some inconsistency this season. He entered the game averaging 11.6 ppg and he only scored five points against Georgia on Tuesday. But this game was further proof that Kentucky is a "pick your poison" kind of opponent. How do you defend a team with that number of studs? The Wildcats have so many weapons.
Syracuse is deep. Ohio State has balance. But no team in America looks as potent as Kentucky right now.
Some more observations from the afternoon games ...
February, 25, 2011
2/25/11
9:25
AM CT
Duncanville product
Perry Jones
of Baylor is one of five players selected as a finalist for the 2011 Wayman Tisdale Award, given to the national freshman of the year, the U.S. Basketball Writers Associated announced Friday.
Texas'
Tristan Thompson
, Ohio State's
Jared Sullinger
and Kentucky teammates
Terrence Jones
and
Brandon Knight
are the other finalists. The winner will be announced April 1 in conjunction with the Final Four in Houston.
Jones leads all Big 12 freshmen in scoring (14.1), field goal percentage (56.3) and minutes played (33.05).