Dallas Colleges:

Texas Rangers
November, 1, 2011
11/01/11
5:22
PM CT
By
Jeff Caplan
| ESPNDallas.com
FORT WORTH -- TCU coach Gary Patterson was born and raised in rural Kansas as a St. Louis Cardinals fan. He played second base, third base and designated hitter in junior college.

He's been around here long enough to be a converted Texas Rangers fan and he felt the team's heartache after blowing Game 6, and then losing the World Series to the Cards in Game 7. Patterson's Horned Frogs beat BYU at Cowboys Stadium on Friday night, playing at the same time as Game 7. Patterson said he was worried that the ending in St. Louis might not be a favorable one.

"You always worry about the team that has that we-got-nothing-to-lose attitude because maybe we maybe shouldn't have been here anyway," Patterson said Tuesday. "They beat the Phillies and then they beat the Brewers, so I feel bad because Texas has done everything to deserve a chance to win a World Series and just came up short."

The Rangers lost Game 7, 6-2, on the heels of a of most improbable string of events in Game 6 that saw the Rangers take two-run leads into the bottom of the ninth and 10th innings and both times coming within one strike of winning the World Series. It didn't happen and the Cards forced a final game with an 11th-inning win.

"It's a tough loss because it's so hard to get to that part of the mountain," Patterson said. "I can't even imagine what the feeling was of being so close in Game 6 like the Rangers were."

The closest Patterson could compare the heartache was the 2010 Fiesta Bowl loss to Boise State. TCU spent years trying to ascend to a BCS bowl game and finally there the Frogs fell victim to a Boise fake punt in the fourth quarter that led to the winning touchdown and a devastating 17-10 loss.

But, Patterson said, the response is what then matters most. The Frogs were led the next season by a veteran group that included quarterback Andy Dalton. They re-committed themselves, went 13-0 and won the Rose Bowl, something of a fairy tale come true.

"They could easily have said, 'there was our chance, we didn't get there, we got beat, didn't play very well," Patterson said. "And what they did, they came home and said, 'what do we have to do to raise our level so we can play at an even higher level and get back here again?' It usually comes down to ownership of the players, how badly they truly want it. It doesn't matter what the coach wants."

Rangers manager Ron Washington will likely quickly come to the same conclusion when his team reconvenes in Suprise, Ariz., for spring training in 3 1/2 months.
September, 29, 2011
9/29/11
1:31
PM CT
By
Richard Durrett
| ESPNDallas.com
ARLINGTON, Texas -- There shouldn't be many traffic issues for those planning on attending Saturday's Game 2 of the ALDS (on TNT and ESPN 103.3 FM) thanks to the 6:07 p.m. start time.
Texas A&M and Arkansas kick off at 11 a.m. at Cowboys Stadium on Saturday. That should allow time for much of the traffic to clear as Rangers fans arrive.
The league also set Game 3 at Tropicana Field in St. Petersburg, Fla., for 4:07 p.m. central time. The Yankees, as expected, are in primetime.
As a reminder, Game 1 of the ALDS against the
Tampa Bay Rays
starts at 4:07 p.m. on Friday.
July, 5, 2011
7/05/11
12:29
PM CT
ARLINGTON, Texas -- As Orioles pitcher Jake Arrieta stood in the outfield of Rangers Ballpark in Arlington during batting practice Monday, he found many familiar faces in the stands.

The former Plano East and TCU pitcher's request list was full of tickets for friends and family. But it's the chance to see fans who followed him through high school and college or a familiar purple Horned Frogs hat that makes his only homecoming trip of the season special.

"It brings back memories of college baseball and growing up as a kid," Arrieta said. "A lot of the supporters of TCU in Fort Worth an the DFW area come out to support myself … It's a good feeling to come back and play."

After his high school career at Plano East, Arrieta elected to stay close to home and pitch for TCU. He was the Mountain West Co-Pitcher of the Year and a second-team All-American in 2006. When the Orioles came calling in the fifth round of the 2007 draft, Arrieta left TCU to chase his pro dreams.

Arrieta, who is in his second year in the majors, is tied for 10th in wins with nine and has a 4.74 ERA. Since being called almost exactly a year ago, Arrieta said his experience has been a constant work in progress.

"I think it's made a lot of progress," He said. "Last year I was able to make some big adjustments toward the end of the year, things that really allowed me to be successful consistently at this level, and I've been able to carry that over for the most part."

Added Orioles manager Buck Showalter: "We like the makeup and the way he takes care of himself. Jake's got a chance to be pretty good, but it's going to be up to him. It's not a stuff question. It's if he can execute."

Arrieta is not scheduled to make an appearance in Arlington in the Orioles' only series with the Rangers at home, but he said he loves the feeling of being on the field at the ballpark he grew up idolizing.

"To be one of the select few who gets to grow up watching the game of baseball in the venue where you watch so many games as a kid -- being able to play here is very special," Arrieta said. "It's the exact same stadium I came to growing up. I have a lot of good memories here and pitching against guys like Michael Young is very surreal."
July, 2, 2011
7/02/11
5:00
PM CT
The ESPY ballot is out
, and it's no surprise that Dirk Nowitzki and representatives from your Dallas Mavericks are represented in multiple categories.
But they're not the only local representatives who are on the ballots.
Here are your local choices:
*
Male Athlete of the Year:
Dirk Nowitzki
*
Team of the Year:
Dallas Mavericks, Texas A&M women's basketball
*
NBA Player of the Year:
Dirk Nowitzki
*
Coach of the Year:
Rick Carlisle
*
MLB Player of the Year:
Josh Hamilton
*
MLS Player of the Year:
David Ferreira
So vote, and then tell your friends to vote.
Click here to get to the ballot.
Enjoy!
October, 21, 2010
10/21/10
10:45
AM CT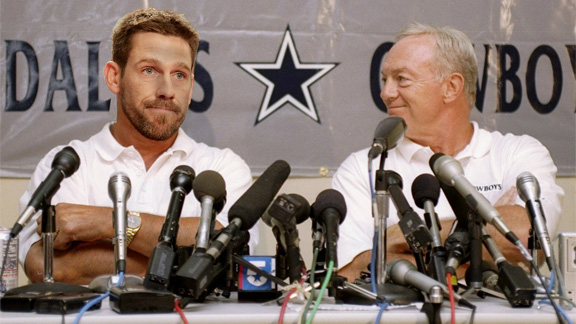 Getty Images/ESPN.com Illustration
Dave Wilson of ESPN Pg. 2 wondered what would it be like if a revered figure for one team opted to jump ship to a less-successful neighbor -- much like soccer star Wayne Rooney is pondering about a possible move from Manchester United to Manchester City.
If you have trouble picturing it, these illustrations can serve as your visual aid.
For more swaps (and photo illustrations),
go here.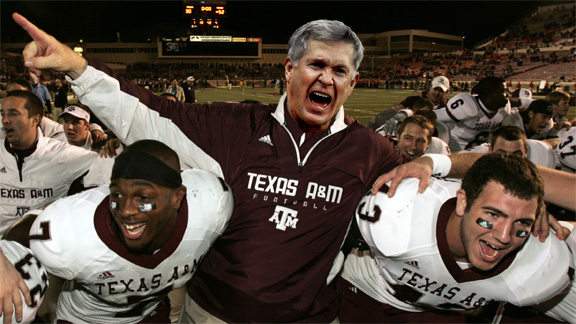 Getty Images/ESPN.com Illustration
July, 27, 2010
7/27/10
11:00
AM CT
By
Jeff Caplan
| ESPNDallas.com
IRVING, Texas -- Oklahoma State starting quarterback
Brandon Weeden
was born in Oklahoma City, was a two-sport star at Edmond (Okla.) Santa Fe High School and committed to play baseball and walk-on the football team at OSU -- in 2002.
The hard-throwing right-hander instead signed a $565,000 minor-league baseball contract after the New York Yankees drafted him in the second round, 71st overall, in the 2002 draft. He spent a couple years in the Yankees system before being traded to the Dodgers in a deal that included former Texas Rangers pitcher Kevin Brown. He also played in the Kansas City Royals system before a shoulder injury convinced him to put away the glove and return to school and put on the shoulder pads.
"I'm 26, be 27 quick, but feel 18," said Weeden, who is projected to be the Cowboys' starter in the season opener and leading a pass-intensive spread offense under new offensive coordinator Dana Holgorsen. "I had the quarterbacks all over dinner the other night, cooked them steaks, grilled out a little bit and hung out. I don't want to feel like I'm the old man, the boring guy, I just want to be one of the guys."
Weeden, 6-foot-4, 224 pounds, was the third-team quarterback last season behind three-year starter Zac Robinson. He's a junior now and if he shows he can run the Cowboys' offense in a transition season with plenty of turnover, OSU could be set behind center for the next couple seasons.
He had his big break out last season coming on in relief and guided OSU to a comeback win over Colorado. He threw for 168 yards and two touchdowns to rally the Cowboys from an 11-point deficit in the second half.
"We all know that we're different at 26 than we are at 18 and in order to handle the pressures of being a quarterback and playing at this level, maturity is an advantage," coach Mike Gundy said. "Brandon, obviously, signed to play professional baseball out of high school, so he's had a taste of what it's like to be there and to deal with the media and the public and have success. There's obviously tough days and I think that will help."
June, 27, 2010
6/27/10
2:10
PM CT

The Texas Rangers will honor the TCU baseball team, came up one win short of reaching the College World Series finals, before tonight's game against the Houston Astros at Rangers Ballpark in Arlington.

A ceremony is scheduled for approximately 6:45 p.m., prior to the 7:05 start. Also, TCU coach Jim Schlossnagle will throw out the first pitch.
April, 9, 2010
4/09/10
3:36
PM CT
Matt Purke, the first-round pick who turned down at least $2 million from the Texas Rangers, has not disappointed during his first season at TCU. His record: 3-0, 3.52 with 48 strikeouts and nine walks in 38 innings.
He's also been named Baseball America's top freshman at the midpoint of the season.
To read more,
click here.